Best Greek Restaurant In Every State
There's nothing like authentic Greek food.
The flavors of Greece are one of a kind and when done right, absolutely divine. Not only is Greek food flavorful, but it can be healthy and delicious. Built on the heart-healthy cuisine of the Mediterranean Diet, Greek food is filled with lean meats, fish, beans, and fresh vegetables. Next time you're craving some spanakopita, souvlaki, or fresh fish, regardless of where you are, consult this list to find the best Greek restaurant in every state.
From family-owned establishments to fast-casual restaurants, here are the best spots to grab some Greek food near you. Plus, many of them fit the bill in terms of aesthetics reminiscent of Greece, so consider a visit to these places like a staycation for your tastebuds.
Plus, if you want to cook something healthy at home, try one of our 22 Meals to Melt Belly Fat in 2022.
ALABAMA: Pappa's Grill In Vestavia Hills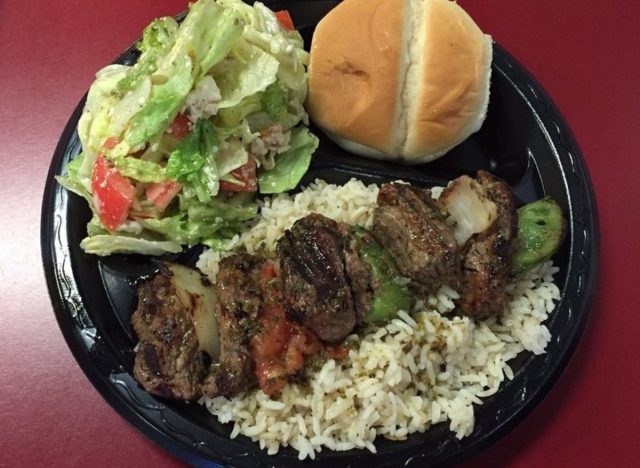 If you find yourself craving Greek food, head on over to this grill touted as "Greek done right" by the Birmingham News. Browse through a menu packed with fish, lamb, salad, and classic Greek specialties like lamb and spanakopita. One Yelp user recommends starting your meal with pita bread and hummus.
ALASKA: Pizza Olympia In Anchorage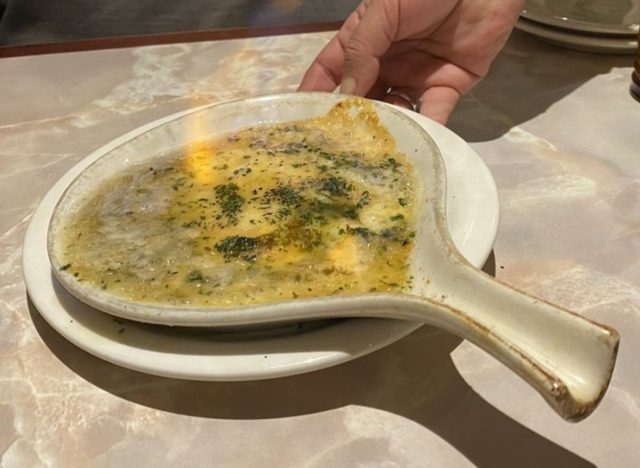 This local favorite combines Italian and Greek together for a menu packed with flavor. Start with some tzatziki with pita bread or saganaki and then choose an entree from one of two menus filled with classic Greek dishes (nisiotiko and pastitsio) and Italian dinners (ravioli al forno, veal parmesan, etc.)
ARIZONA: Nino's Greek Cafe In Phoenix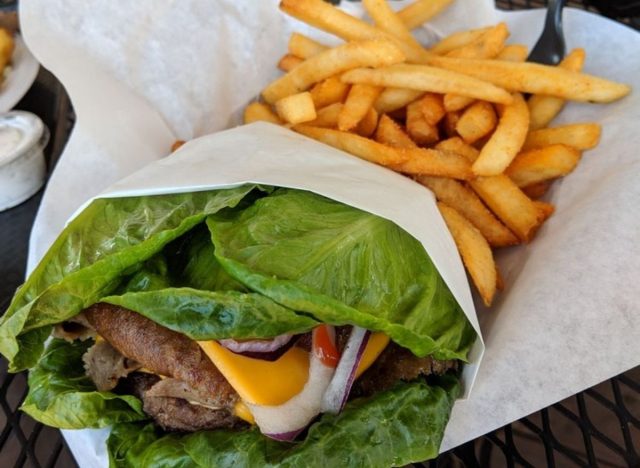 A neighborhood-favorite destination that takes Mediterranean cuisine to the next level. Chicken souvlaki, falafel, and lamb are just a few of the menu options customers can choose from at this quaint hole-in-the-wall cafe in the heart of Arizona. Yelp reviewers rave about the kind staff and generous portion sizes.
ARKANSAS: Little Greek Fresh Grill In Little Rock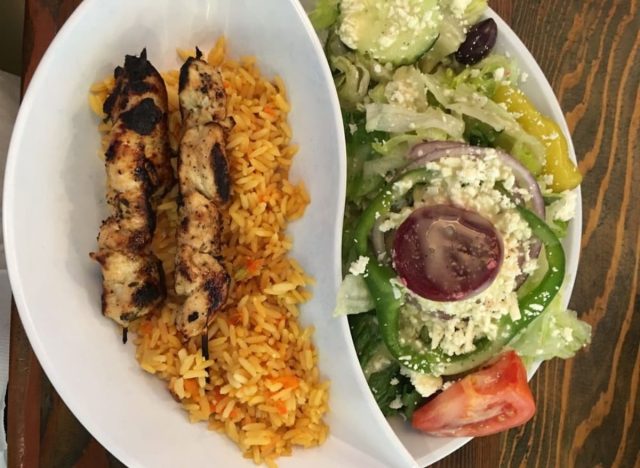 Open 7 days a week, patrons can dine on an assortment of soups, salads and other Greek favorites (spanakopita, souvlaki, and dolmades.) End your meal with some baklava or rice pudding for dessert before you head home for the night. Not in Arkansas? Find this grill in Florida, Illinois, Kentucky, Ohio, and Texas.
CALIFORNIA: Greek Bistro In Laguna Hills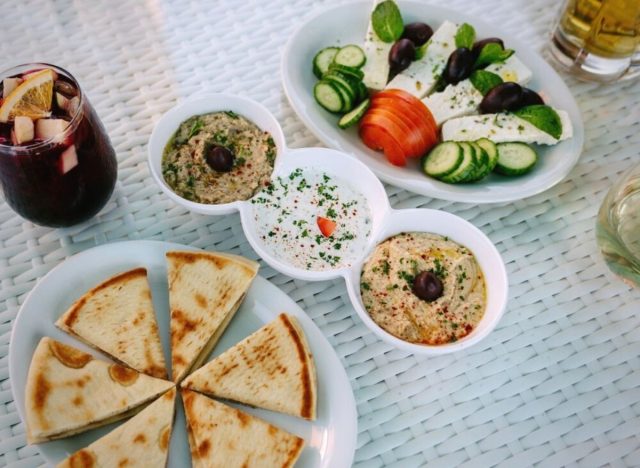 Customers can dine in at this casual Greek restaurant known for its high-quality food at affordable prices. From baba ganoush to moussaka, each bite transports patrons to the heart of Greece from sunny California. If you visit during the week during happy hour, take an additional 50% of domestic beers and cold appetizers.
COLORADO: Jake And Telly's Greek Taverna In Colorado Springs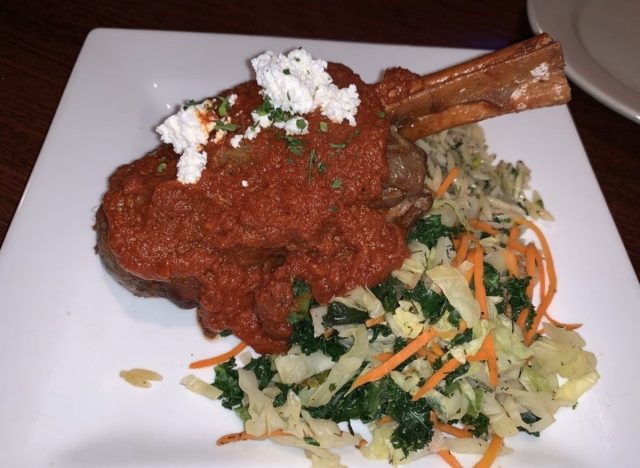 For over 25 years, Colorado locals and tourists venture to this tavern to get their hands on classic Greek wine and authentic cuisine. From imported stuffed grape leaves and Greek meatballs to lamb kabobs and casserole, customers can browse through the menu at their leisure as they dine inside or outdoors. Yelp reviewers advise the prices are on the higher side, but the food quality speaks volumes.
CONNECTICUT: Mykonos Mediterranean Restaurant In Newington
This family-owned restaurant is home to coveted Greek specialties and Italian dishes. Start your meal with their famous lemon chicken orzo soup followed by lamb chops, grilled octopus, etc. This happy Yelp reviewer has been coming to Mykonos for years and boasts about how the food remains fantastic each and every time.
DELAWARE: Semra's Mediterranean Grill In Rehoboth Beach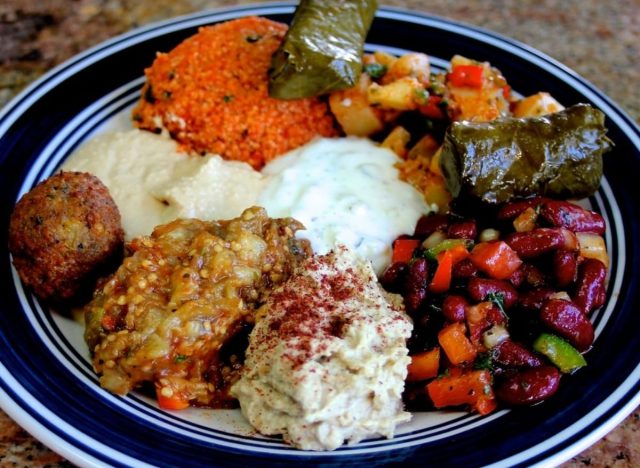 Treat yourself to authentic Mediterranean cuisine filled with vibrant colors and fresh flavors. With tons of vegetarian options, the menu is more inclusive than most making it a go-to spot for those with dietary preferences and restrictions. Whether it's a kabob platter or tray of pastries, patrons can't get enough of this restaurant that feels like home.
FLORIDA: My Big Fat Greek Restaurant In Fort Lauderdale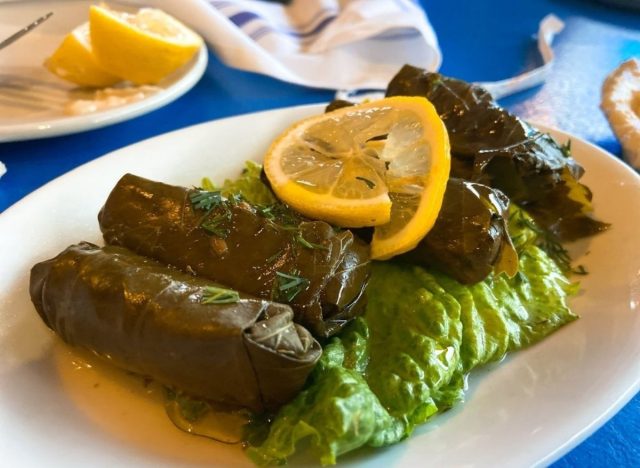 Customers can dine alongside belly dancers and musicians at this family-friendly Greek restaurant. Made from fresh, high-quality ingredients, take a bite into traditional favorites like loukaniko and mousaka. One Yelp reviewer said that she ate her food so quickly she forgot to take pictures, so you know it's good!
GEORGIA: Zeus Greek Street Food In Atlanta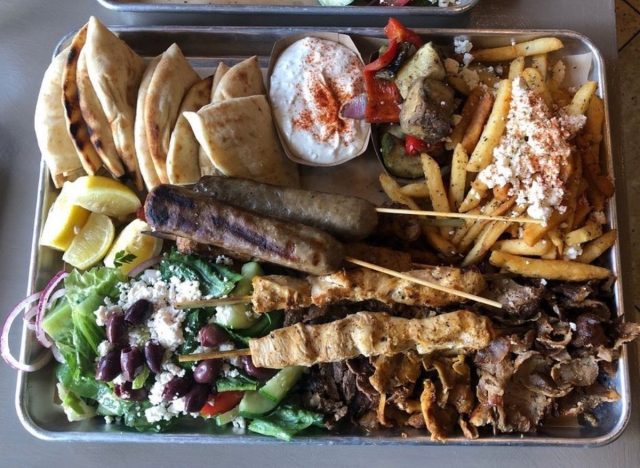 In the heart of Atlanta find this casual restaurant serving up some of the best Greek food in the south. Unlike other restaurants, salads are made fresh to order from local farms and hormone antibiotic-free meats are imported from Greece so you can feel confident with what you're eating. Whether you dine-in or take food to-go, you won't be disappointed with the traditional Greek plates this establishment has to offer.
HAWAII: Greek Marina In Honolulu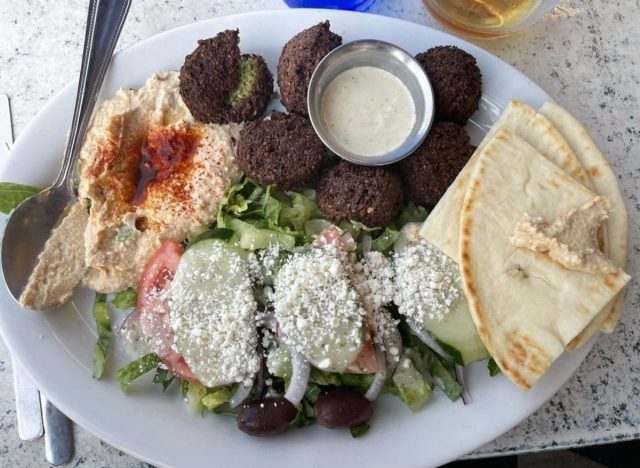 Take a bite into the flavors of Greece right along the water at this oceanfront restaurant. Start with a shareable plate of traditional appetizers (falafel, hummus, tzatziki) and then dig into salads, meats, and specialties fit for every palate. One Yelp reviewer shares how her kids call the gyros and fries platter the "best dinner ever."
IDAHO: Mazzah Mediterranean Grill In Boise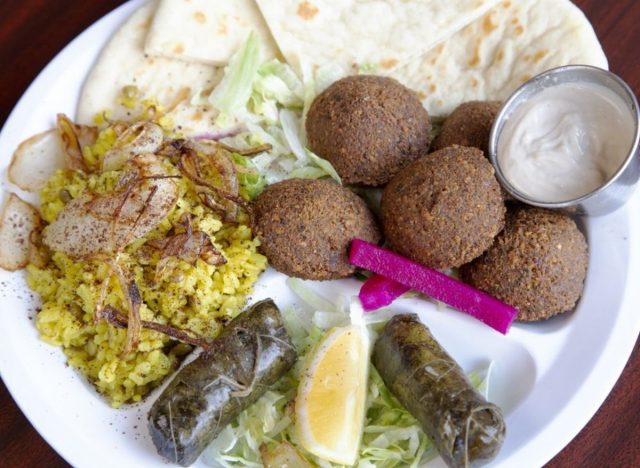 For over 12 years, Mazzah has received the title of the best Mediterranean in Boise. With multiple locations, customers are encouraged to dine on chef-prepared dishes at an affordable price point. Whether you're craving Greek salad or falafel, stop in or order online for a meal you won't stop thinking about.
ILLINOIS: Psistaria Greek Taverna In Lincolnwood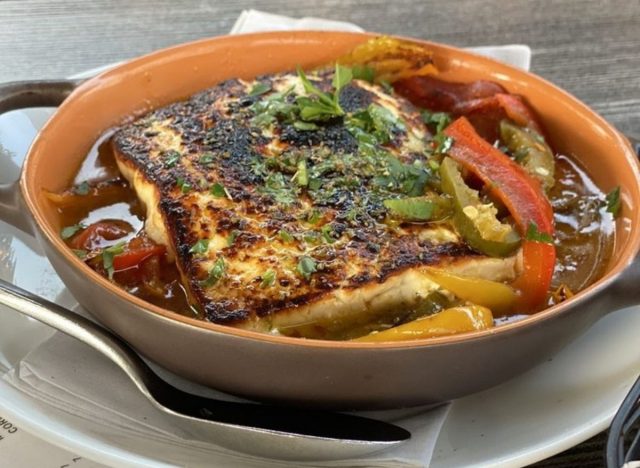 Over the past 15 years, customers have visited this tavern to get their hands on classic Greek cuisine like no other. With a menu full of pasta, seafood, vegetarian, and other traditional dishes, this restaurant provides a one-of-a-kind experience. One Yelp reviewer gives the entire experience from beginning to end a full five stars (and yes, that includes valet parking.)
INDIANA: Greek Islands In Indianapolis
This establishment is the longest-running Greek restaurant in Indianapolis (over 30 years.) Serving both lunch and dinner, customers can choose from a variety of soups, salads, and traditional Greek options (kreatopita, moussaka, saganaki, etc.) Stop on any day Tuesday through Saturday for a meal locals can't stop raving about.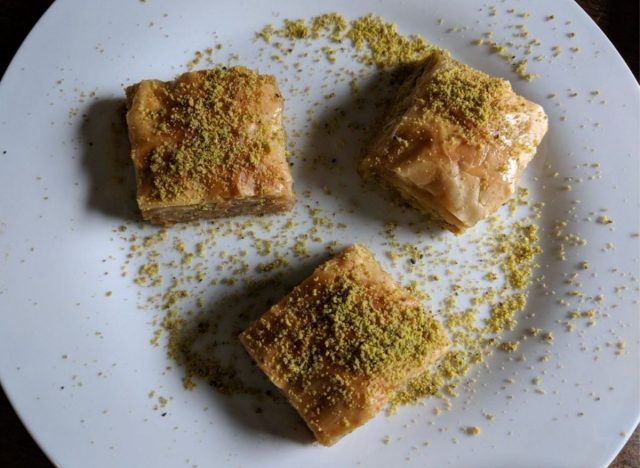 For over 40 years, Gazali's has been known as the best Mediterranean food in Des Moines, and for good reason. With a menu of traditional entrees (falafel, shawarma, hummus, etc.), stop by this popular restaurant for a show-stopping meal. Plus, there are vegan, vegetarian, and gluten-free options available.
KANSAS: Mr. Gyros Greek Food And Pastry In Kansas City
With three locations throughout Kansas, Mr. Gyros makes it easy to get your hands on great Greek food no matter where you are. Find a menu full of plates, wraps, soups, salads, and desserts that locals have been raving about for nearly 35 years. One Yelp reviewer touts the exceptional service that's a step above the rest!
KENTUCKY: Athenian Grill In Lexington
Owned by a native of Athens, stop by this grill to get a taste of fresh and authentic Greek cuisine in the heart of Kentucky. Whether dining in or ordering out, browse through a menu filled with baked dishes, soups, salads, and dips that locals have come to know and love.
LOUISIANA: Albasha Greek And Mediterranean Cafe In Metairie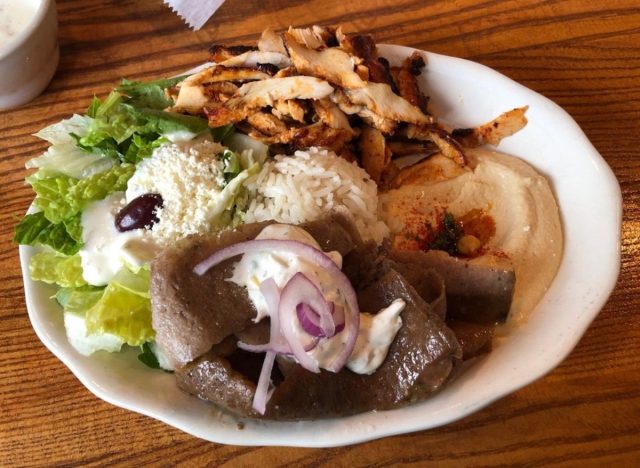 Touted as Metairie's favorite Mediterranean restaurant, this quaint cafe brings out the best of Greek and Lebanese cuisine with its classic dips (tzatziki, hummus, etc.), salads, and main plates (gyros, kabobs, etc). Yelp reviewers love the generous portions and polite waiters who take the dining experience to the next level.
MAINE: Papous Pita In Biddeford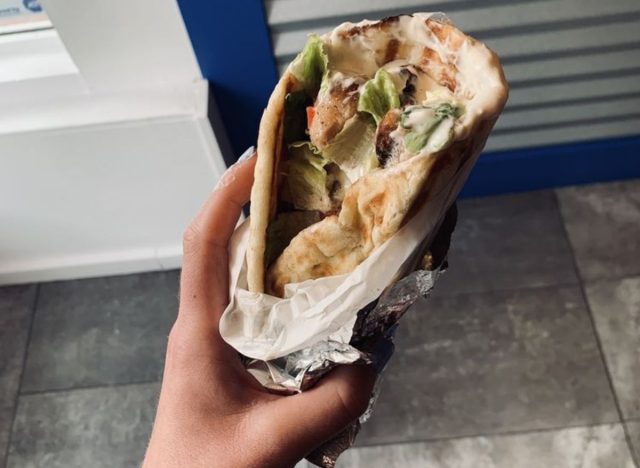 Each menu item is made from grandpa's old recipes so with each bite customers know they're getting authentic Greek cuisine. From pita sandwiches to rice bowls, choose an offering that catches your eye and get to work. Yelp reviewers rave about the high-quality taste and fresh locally sourced ingredients.
MARYLAND: Samos Restaurant In Baltimore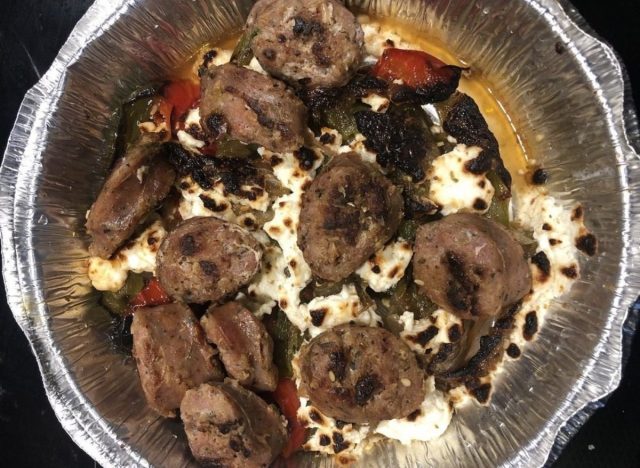 Over the years, this restaurant has evolved into serving some of the most delicious Greek food in all of Maryland. Find a menu filled with souvlaki, dolmades, and gyros that everyone can enjoy. Note: Samos is BYOB (bring your own beer) so if you're looking to drink, bring your favorite beverages with you.
MASSACHUSETTS: Greek Corner Restaurant In Cambridge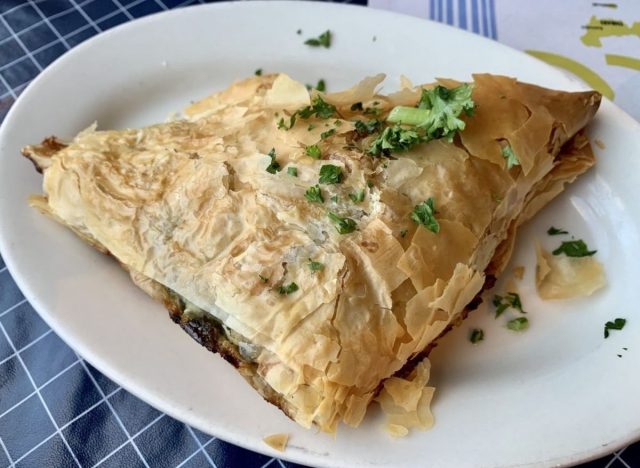 Since 1989, tourists and locals alike have enjoyed traditional Greek cuisine at this college-town restaurant. From samplers to sandwiches, each menu item is crafted with the freshest ingredients at an affordable price point. Yelp reviewers attest to the low prices yet high-quality food which has them coming back time and time again.
MICHIGAN: Golden Fleece in Detroit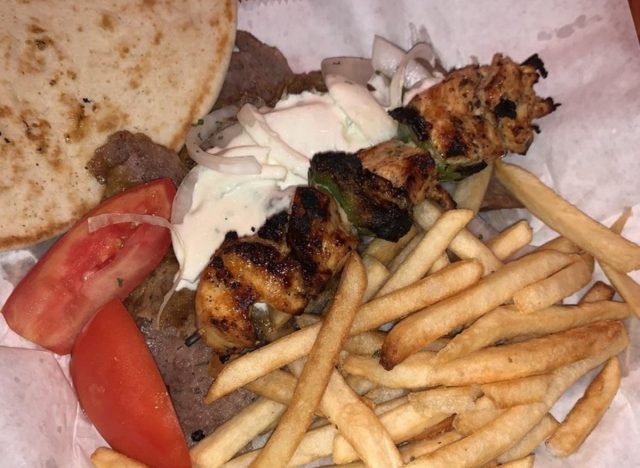 Over the past 50 years, the Dionysopoulos family has been serving some of the best Greek food in Detroit. Whether you're craving chicken souvlaki or moussaka, this restaurant has it all. To top it off, order a slice of baklava and enjoy it inside or from the comfort of your own home.
MINNESOTA: Gardens of Salonica In Minneapolis
On your next trip to the Twin Cities, make a pit stop at Gardens of Salonica for organic (milk and sugar) and locally sourced Greek food. Offering cafe service and traditional table-side service, dine on skordalia and patzaria to pastitsio and moussaka to get your Mediterranean fix.
MISSISSIPPI: Petra Cafe Greek And Mediterranean In Hattiesburg
Patrons will find authentic and fresh-cooked Greek cuisine at this local cafe. Munch on stuffed grape leaves, chicken kabobs, and other traditional Mediterranean food If you're looking to bring the flavors home with you, shop the pantry filled with imported Mediterranean kitchen staples to add to your pantry.
MISSOURI: Apollonia Greek Restaurant In St. Louis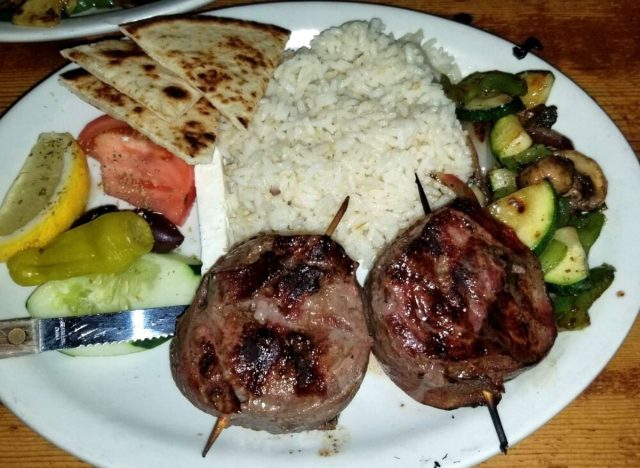 This family-owned restaurant has roots in Apollonia hence where the name comes from. Using recipes passed down from previous generations, stop in for either lunch or dinner for some traditional Greek favorites. The menu is full of dishes made from scratch like hummus, tzatziki, pasticcio, gyros, and more.
MONTANA: Z's Kitchen In Bozeman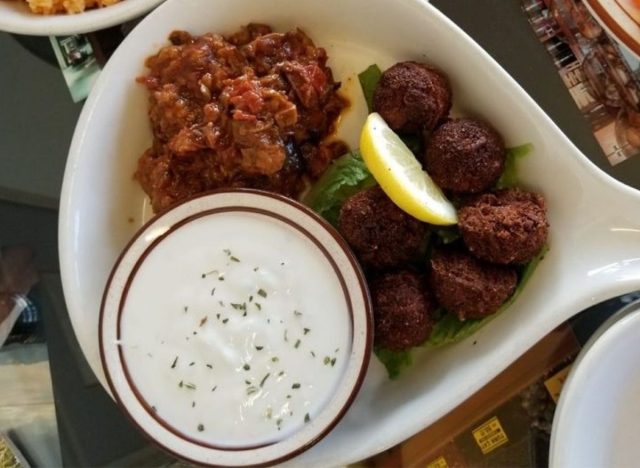 Dine with a picturesque view of the Bridger Mountains at this Greek restaurant. If you're looking for a great deal, the daily special includes a gyro with fries and a slice of baklava for $11.75. Yelp reviewers appreciate the family atmosphere and friendly service.
NEBRASKA: Greek Islands Restaurant In Omaha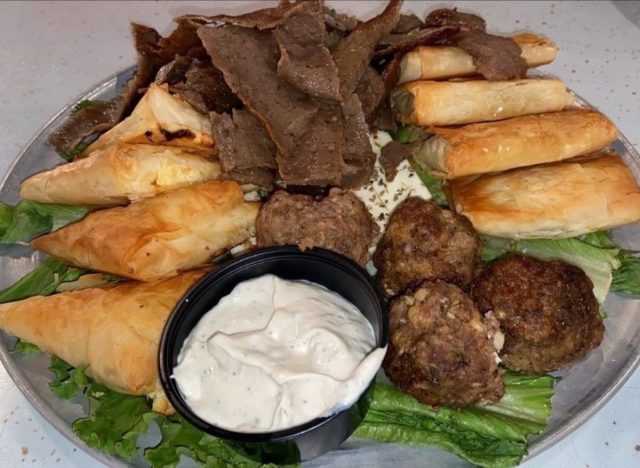 Patrons can choose from a plethora of Greek specialties (kebabs, souvlakis, salads, soups, etc.) at this family-owned restaurant. In 2020, Greek Islands received the title of 'Best Moussaka' by Restaurant Guru so there's no doubt you need to take a visit to Omaha to dine at this fine establishment.6254a4d1642c605c54bf1cab17d50f1e
NEVADA: Market Grill Cafe In Las Vegas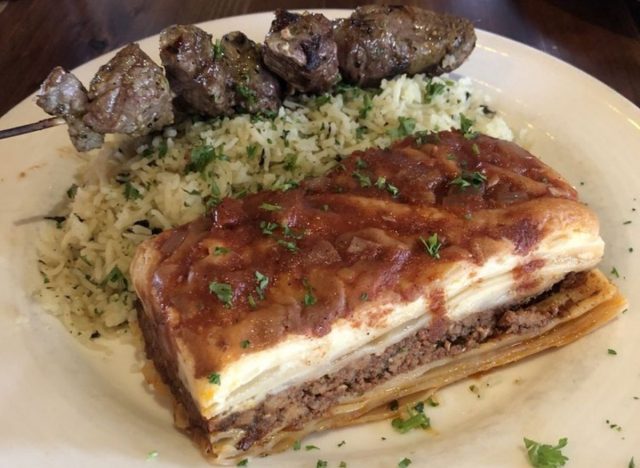 Find a menu full of classic Greek favorites alongside vegan, vegetarian, and gluten-free options. Touted as the Best of Las Vegas for six years in a row, customers keep coming back for high-quality food at affordable prices. One Yelp reviewer calls this cafe a "must stop" location when in Vegas.
NEW HAMPSHIRE: Tino's Kitchen And Bar In Hampton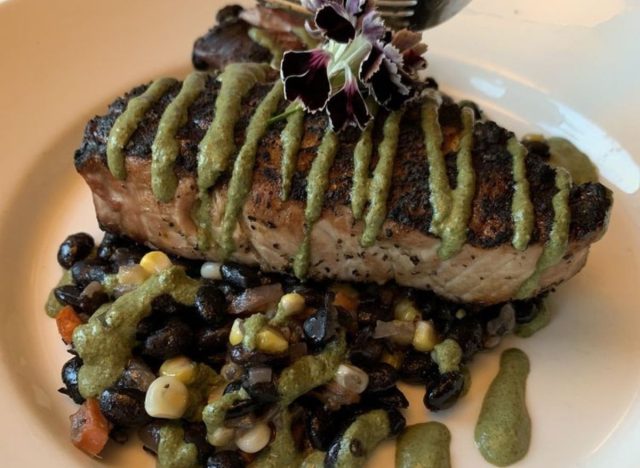 Enjoy wood-fired menu items and classic cocktails at this modern Mediterranean restaurant. From spanakopita to a half rack of lamb, there are options for every taste bud. One Yelp reviewer says "the decor is nice and the food is spectacular." Once you take a visit here, you'll be back for the friendly service and delicious food.
NEW JERSEY: Taverna Mykonos In Elmwood Park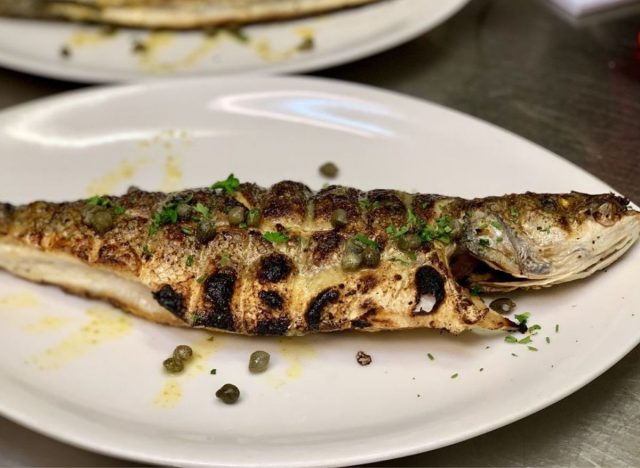 This restaurant is popular for its seasonal Greek dishes and bright, contemporary atmosphere. Find a menu full of fresh fish, high-quality meat, and vegetables. Plus, the dessert menu is out of this world with chocolate chip baklava to galaktoboureko. It's open six days a week and is closed on Mondays.
NEW MEXICO: Mykonos Cafe And Taverna In Albuquerque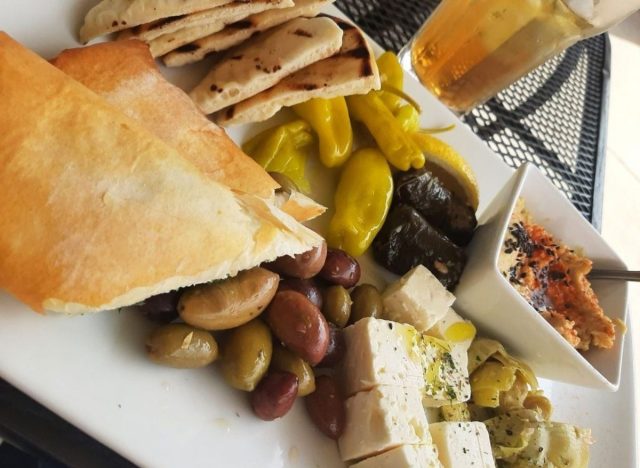 With tile floors and blue accents, this cafe transports diners to a beautiful Mediterranean oasis in the heart of New Mexico. On the menu, most dishes contain the staple ingredients of traditional Greek cuisine: olive oil, lemon, yogurt, goat cheese, etc. Yelp reviewers speak highly of the cafe's modern aesthetic and flavorful food.
NEW YORK: Lefteris Gyro In Westchester County
With four locations in New York, choose from a packed menu filled with classic Greek platters, fresh seafood, soups, salads, and more. Kick off the night with some shrimp saganaki followed by an Aegean platter and some baklava. One Yelp reviewer says that Lefteris is a hit no matter when you visit.
NORTH CAROLINA: Taverna Agora Greek Kitchen & Bar In Raleigh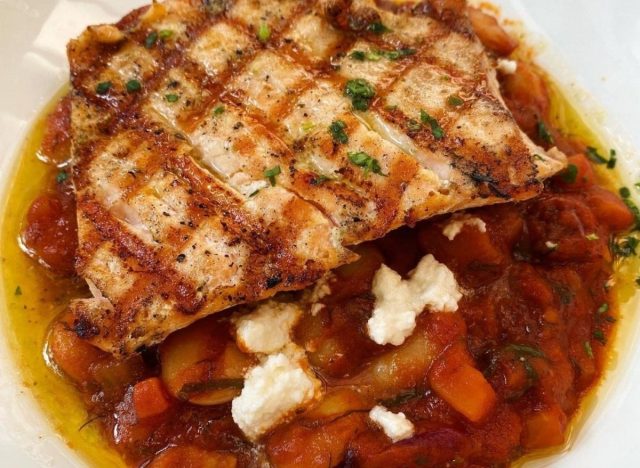 Taverna Agora took the title of "Best Outdoor Dining" in the WRAL's Voter's Choice Awards for its beautiful Mediterranean-inspired rooftop. Patrons can browse through a menu filled with traditional Greek dishes (tzatziki, spanakopita, dolmades, etc) and end the night with traditional baklava, baklava cheesecake, or limoncello cake.
NORTH DAKOTA: GP's Greek Kitchen In Fargo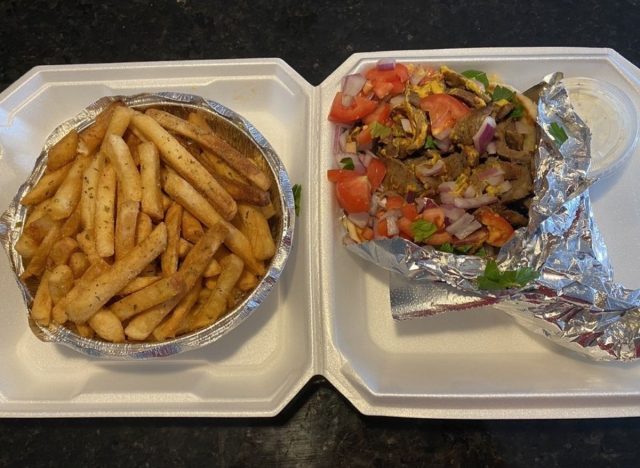 Featuring a new menu of fresh sauteed Greek dishes, customers can dine on chicken Santorini, a potato vegetable skillet, and other traditional gyros, soups, salads, etc. One Yelp reviewer says GP's has the best gyro in Fargo and praises the establishment for its top-notch service and friendly wait staff.
OHIO: The Happy Greek Restaurant And Pub In Columbus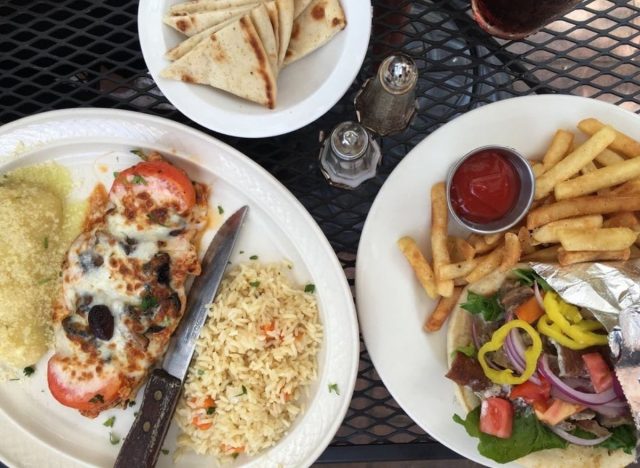 Dine on traditional Greek and Mediterranean cuisine in a casual environment fit for the whole family. Start off with a spicy feta cheese dip followed by a tray of baby lamb chops for a classic Greek meal. Looking for a drink? The drink menu is filled with martinis and beer selections to enjoy alongside your food.
Oklahoma: Zorba's In Oklahoma City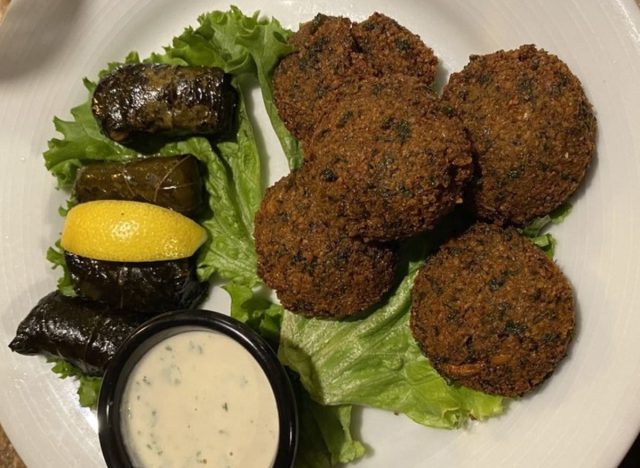 With every forkful, customers can indulge in worldly flavors that will transport them directly to Greece. Stop in for lunch or dinner for soups, salads, gyros, etc. at an affordable price point. Plus, for those with dietary restrictions, find tons of vegetarian options to choose from. One Yelp reviewer says if you have children, the kids' menu is a positive when dining out.
OREGON: Eleni's Philoxenia In Portland
For those looking for gluten-free options, Eleni's has a plethora to choose from. The menu boasts cheeses and spreads alongside traditional Greek specialties to indulge in on your next night out. One Yelp reviewer touts this restaurant as the best Greek place she's ever been to in the United States.
PENNSYLVANIA: Avlos Greek Cuisine In Phoenixville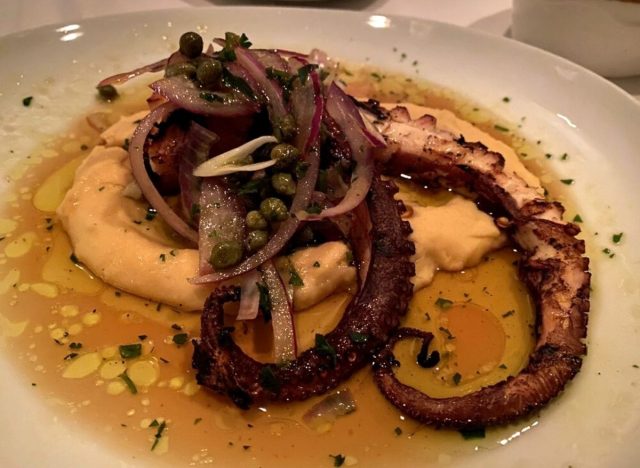 This restaurant prides itself on giving customers a taste of Greece with every bite. The menu boasts classic Greek favorites (spanakopita, pantzaria, lamb chops, souvlaki, etc) and savory desserts. Yelp reviewers praise the establishment's high-quality service in terms of pacing and interactions from waitstaff.
RHODE ISLAND: Andrea's Greek American Cuisine In Providence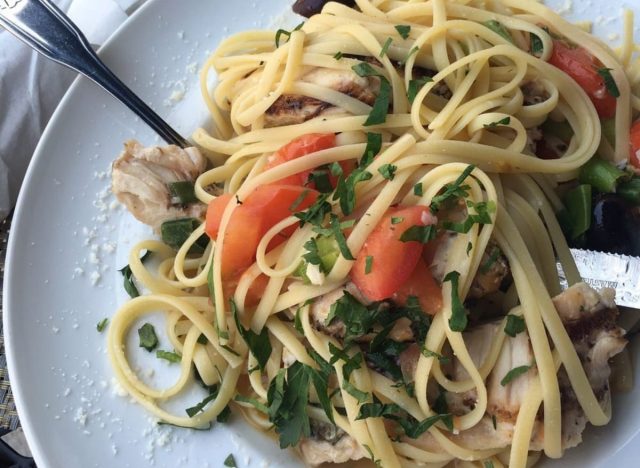 One reviewer describes everything on the menu as "authentic and delicious." From grilled octopus to signature burgers, choose a dish from the bountiful menu and enjoy. When it comes to dessert, find a wide selection of traditional Greek favorites (baklava and phyllo) and other more sweet options (lava cake, chocolate mousse cake, etc.)
SOUTH CAROLINA: Kairos Mediterranean In Charleston
If you're in a rush, stop by this fast-casual restaurant known for its delicious and nutritious Mediterranean food. With hand-crafted recipes developed by award-winning chef, James Beard, pop in to try pitas, salads, falafels, etc. Kairos has five locations in the low country and upstate throughout South Carolina.
SOUTH DAKOTA: Nick's Gyros In Sioux Falls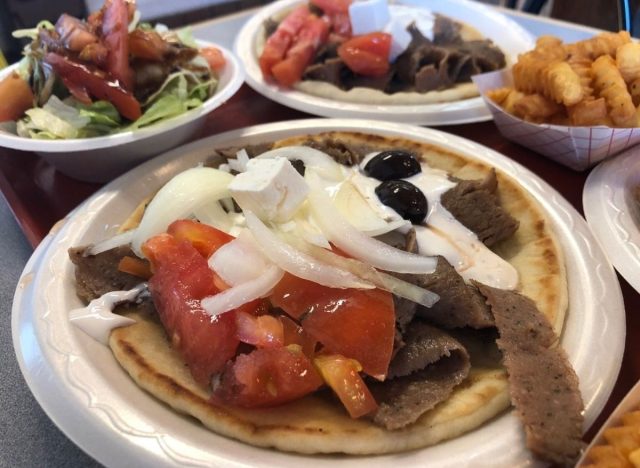 One Yelp reviewer calls this restaurant a Sioux Falls landmark so you know it's one heck of a place. Find a variety of salads, sandwiches, and other Greek specialties on the menu, plus check out their drive-through gyro station so you can order and eat while on the go.
TENNESEE: Fattoush Cafe In Nashville
With two locations in the state, customers can chow down on authentic Greek cuisine at affordable prices. Whether you dine in or take out, choose from a plethora of menu options including chicken shawarma, Greek salad, baklava, and more. Plus, it was featured on Diners Drive-Ins and Dives.
TEXAS: Fadi's Mediterranean Grill In Houston
Given the title "Best Mediterranean Restaurant" by the Houston Press, customers rave about this restaurant that greets customers with a smile and warm freshly baked pita bread. With locations throughout Houston and Dallas, munch on dips, salads, rice, and other Mediterranean specialties full of flavor and made from the finest ingredients.
UTAH: The Other Place Restaurant In Salt Lake City
Sit back, relax and enjoy a meal alongside friends and family at The Other Place. For over 35 years, this establishment has been serving traditional Greek cuisine for locals and tourists alike. Whether it's breakfast, lunch, or dinner, choose from a menu full of classics (moussaka, pastichio, dolmades, lamb, etc.)
VERMONT: Honey Road In Burlington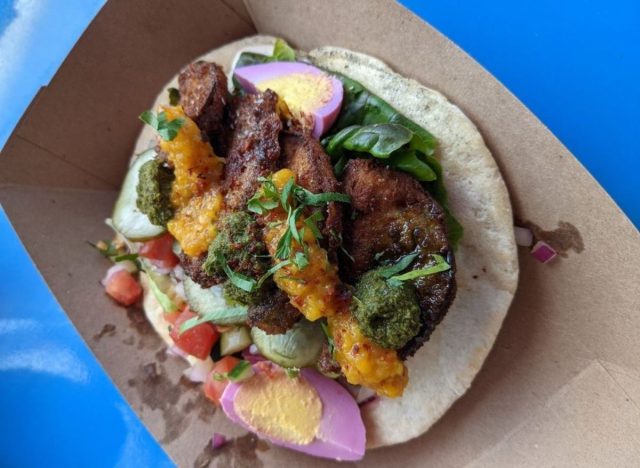 One Yelp reviewer describes Honey Road as "gorgeous and magical." Customers can choose from a selection of flavorful Greek favorites (whipped feta, baba ganoush, harissa chicken wings, etc.) and even order food to go if they don't feel like dining in.
VIRGINIA: Eleni's Greek Taverna In Springfield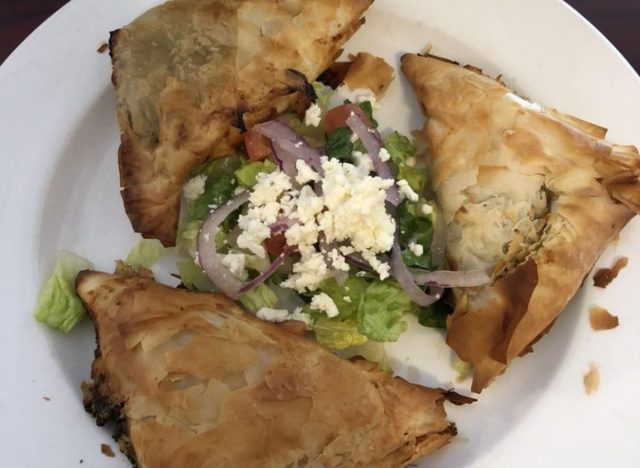 Customers become friends as soon as they step foot into this family-owned Greek restaurant. Offering both generous portions and numerous options, customers will find a meal they'll love. From moussaka and spanakopita to gyros and souvlaki, indulge in traditional Greek favorites at an affordable price point.
WASHINGTON: Samir's Mediterranean Grill In Seattle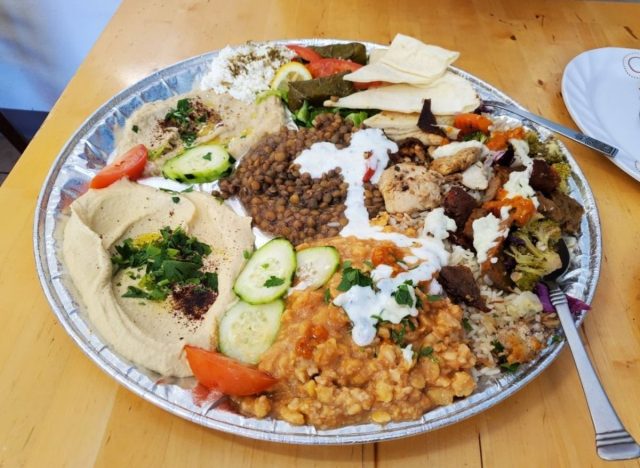 Customers describe this restaurant as having food "made with love." Browse through a menu of classic Greek dishes (gyros, lamb shanks, falafels, etc.) and finish off the meal with a slice of baklava drizzled with honey. Plus, the owner is super friendly and personable so you'll be instantly greeted with a warm welcome when you enter.
WEST VIRIGINA: Theo Yianni's In Weirton
Take a bite into lamb kabobs or spanakopita at this Greek restaurant that customers call a "hidden gem." With homemade Greek food and a huge wine and beer selection, stop by for a glass of wine and a savory and delicious meal.
WISCONSIN: Apollo Cafe In Milwaukee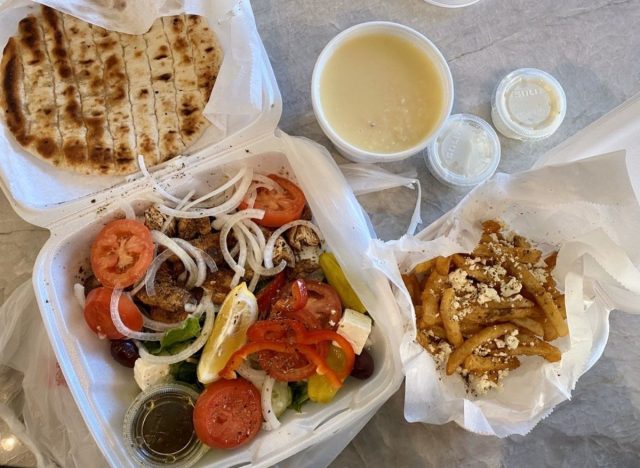 Featuring authentic Greek recipes handed down from generation to generation, customers are provided with top-tier cuisine at affordable prices. Dine indoors or outdoors and choose from a variety of menu options from saganaki and hummus to chicken souvlaki and pastitsio.
WYOMING: Sweet Zoey In Casper
One Yelp reviewer says everything on the menu at Sweet Zoey is so good that he could "go broke at this place." With a menu full of signature Greek dishes, you can't go wrong by stopping at this restaurant. Plus, you can order online for an even more convenient experience.
Plus, don't miss 9 "Greek" Foods No One Eats in Greece
Casey Clark
Casey Clark is a current journalism student at Hofstra University with a passion for food, beauty, and entertainment.
Read more about Casey