The Best Breakfast in Every State
We were able to determine exactly where you can get the best breakfast in every state, thanks to our friends at Yelp.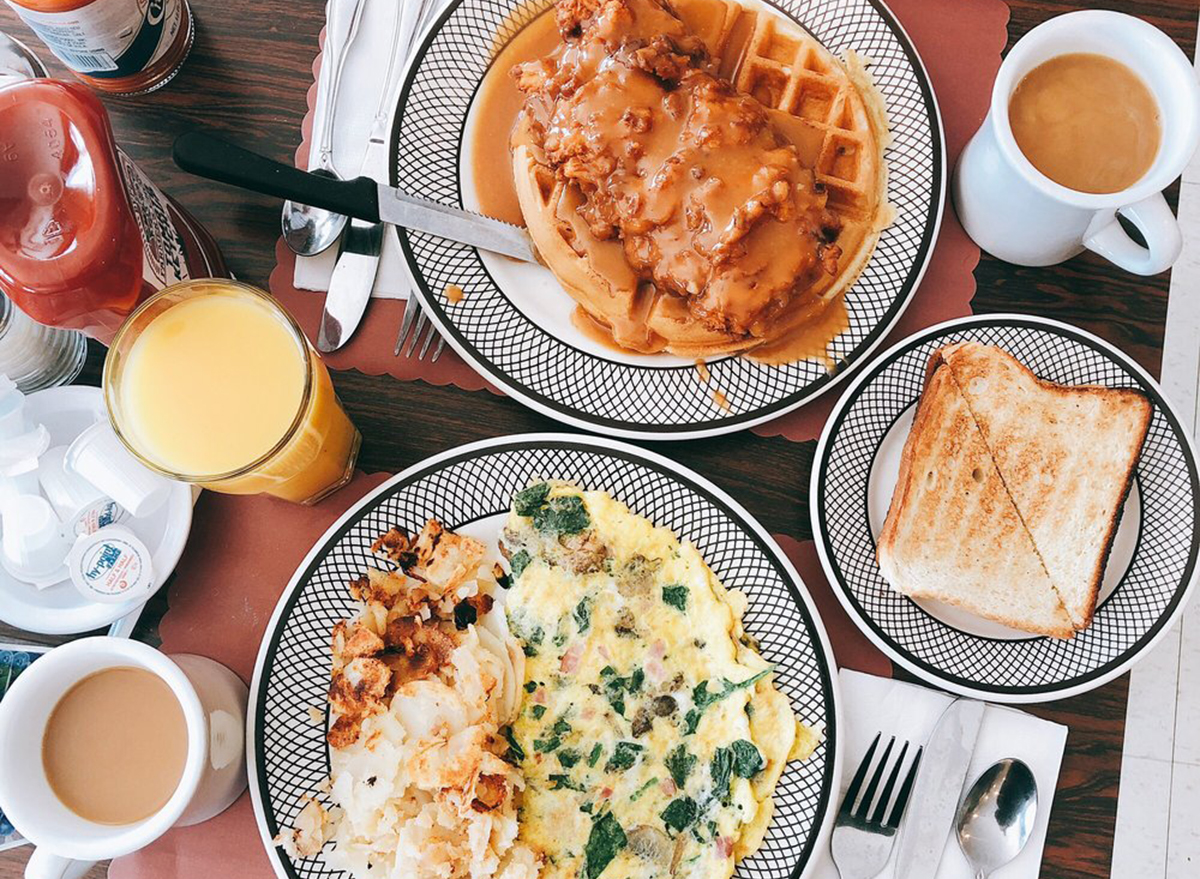 They say that breakfast is the most important meal of the day, and with good reason—it's the nourishment that energizes you to power through the first part of your day. But that's not all. Some days, a tasty breakfast is the one thing that can inspire you to get out of bed in the morning. Fortunately for you, we rounded up the best breakfast in every state—and the establishments on this list serve up exactly that: a meal worth waking up for.
Methodology: We worked with Yelp to determine the best breakfast in every state. Yelp notes, "This is an all-time list of the best breakfast places in the United States according to Yelp. All the businesses on this list are in the Breakfast + Brunch category. 'Best' is measured using an algorithm that looks at the number of reviews and star rating for a business."
After reviewing the top two or three breakfasts in every state according to Yelp's data, we selected one winning business that garnered exceptional reviews—and the restaurants chosen include a wide variety of settings, cuisine types, and price ranges.
Whether you prefer to indulge in Belgian waffles or burritos at breakfast time, make sure to swing by one of these standout establishments next time you're on the hunt for a mind-blowing meal to start your day.
Now, here are the best breakfast places in every state. And for more, don't miss The Best Bagel in Every State.
ALABAMA: D' Road Cafe in Montgomery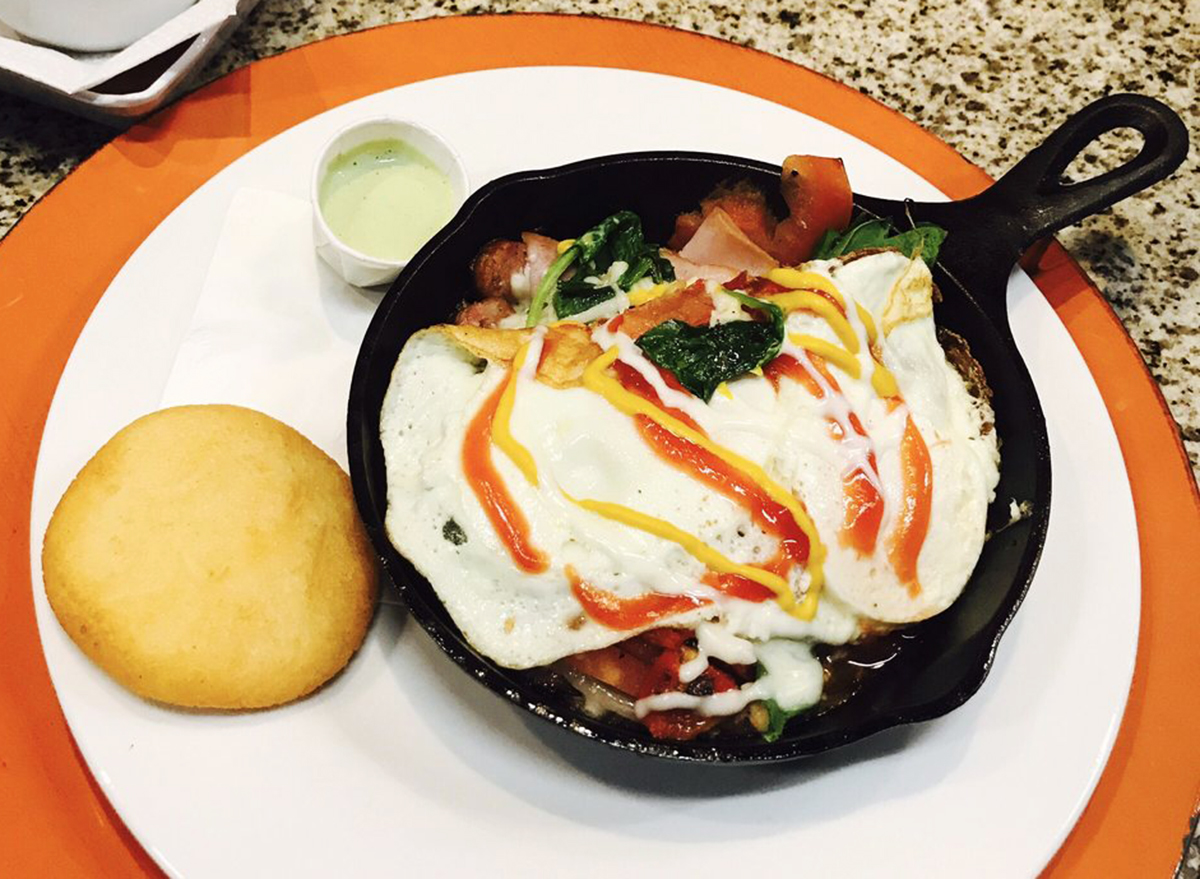 Who knew that a health-conscious Latin American restaurant would serve up such a killer breakfast? If you're feeling adventurous, try one of the Venezuelan-inspired dishes such as arepas, which consist of eggs, cheese and ham served in a cornmeal crust and are served with garlic aioli, or the cachapas, which are essentially sweet corn-based pancakes. If you're looking for a more traditional American breakfast though, D' Road Cafe also offers French Toast or eggs any way. Whatever you order, you might want to wash it all down with a cup of the "terrific" and "flavorful" java, according to Yelpers.
ALASKA: Snow City Cafe in Anchorage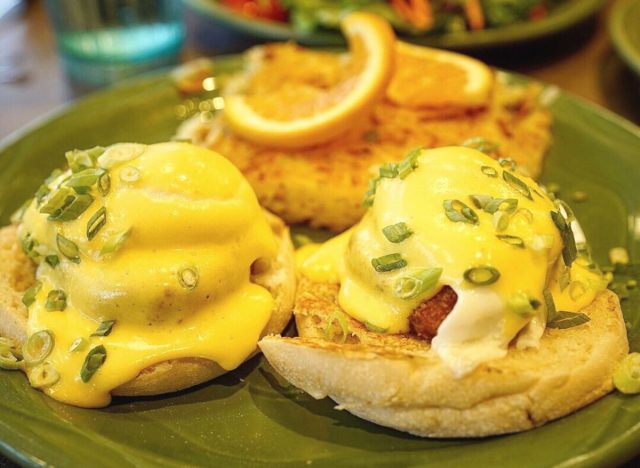 This adorable cafe is never not busy, but diners report that it is so worth the wait. Snow City Cafe is known for its creative Benedict dishes, including The Deadliest Catch which has a smoked salmon cake and a king crab cake. Also, don't miss one of the delicious coffee drinks like the Milky Way and Snickers.
ARIZONA: The Bread and Honey House in Phoenix
It's no surprise that The Bread and Honey House has quickly become a neighborhood favorite for locals and travelers alike (it's conveniently located right near the Phoenix Sky Harbor International Airport). While the menu may be small, it's packed with innovative options—like chilaquiles, a carnitas omelet, and a build-your-own breakfast burrito. But if you're especially hungry, Yelpers say you can't go wrong with the El Hefty Breakfast Sandwich, which features four scrambled eggs, a five-cheese blend, tomato, mayo, and onion on a fluffy, freshly baked challah sesame bun.
ARKANSAS: Oscar's Cafe in Eureka Springs
If you're on the hunt for a creative breakfast menu, Oscar's is the answer. This quaint cafe, which is located a short stroll from the bustling shopping district in Eureka Springs, boasts a number of unique dishes, such as a breakfast banh mi, and a breakfast banana split with yogurt, granola, and almonds. Yelpers rave about the Nordic waffles, which are served in a multitude of ways (but "super yummy" regardless of the style). Did we mention that the iced coffee comes with coffee cubes, so it never gets watered down? It's the little things that count.
CALIFORNIA: Uncle Af's in Agoura Hills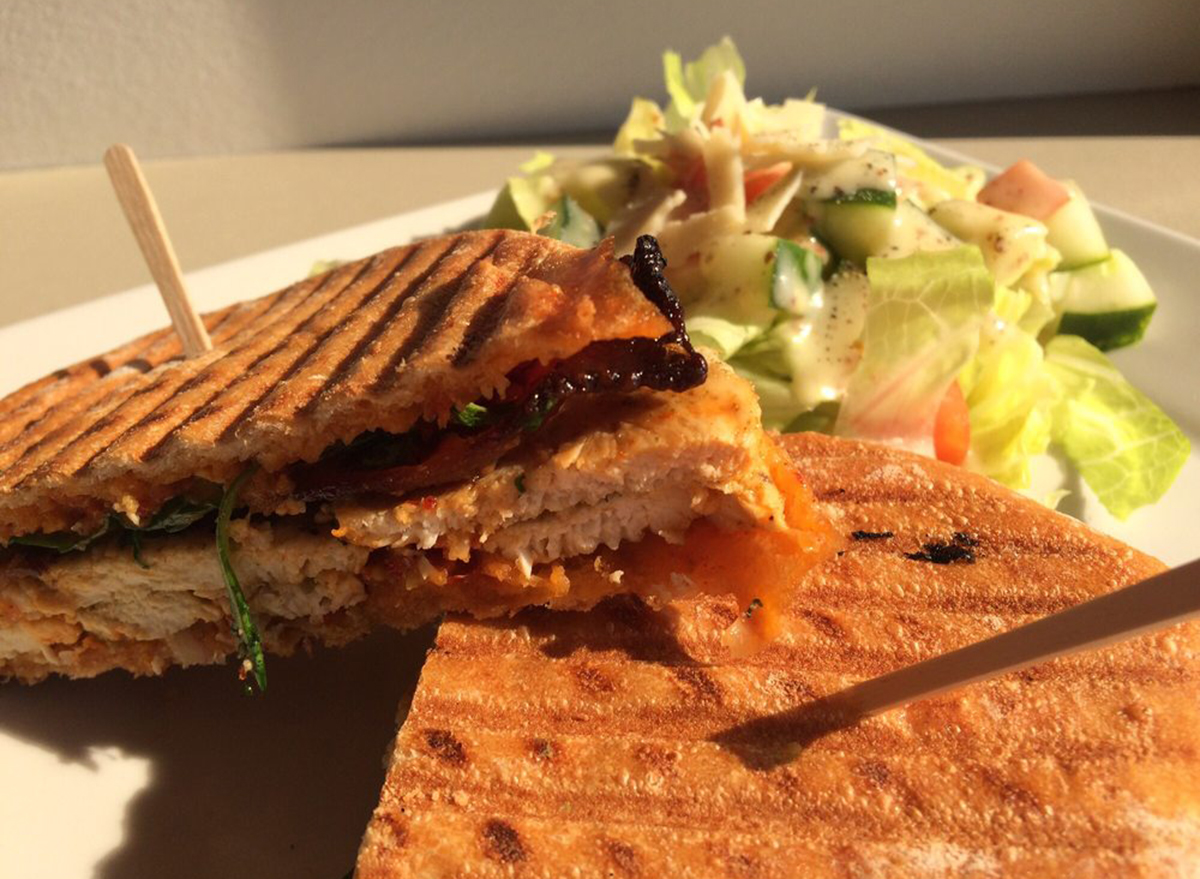 Craving a breakfast that's served between two slices of bread? Then you'll definitely want to stop by this international sandwich shop, which has won Yelpers over with its fresh, flavorful array of handheld eats. Consider the egg and avocado panini with bacon, cheddar, and pesto on ciabatta—or the classic lox bagel with all the fixin's. And because Uncle Af's has gluten-free bread, no patron has to miss out on all the carby goodness. Friendly service and quality, organic ingredients are just a couple more of the elements that set this establishment apart, according to Yelpers.
COLORADO: Cafe Miriam in Denver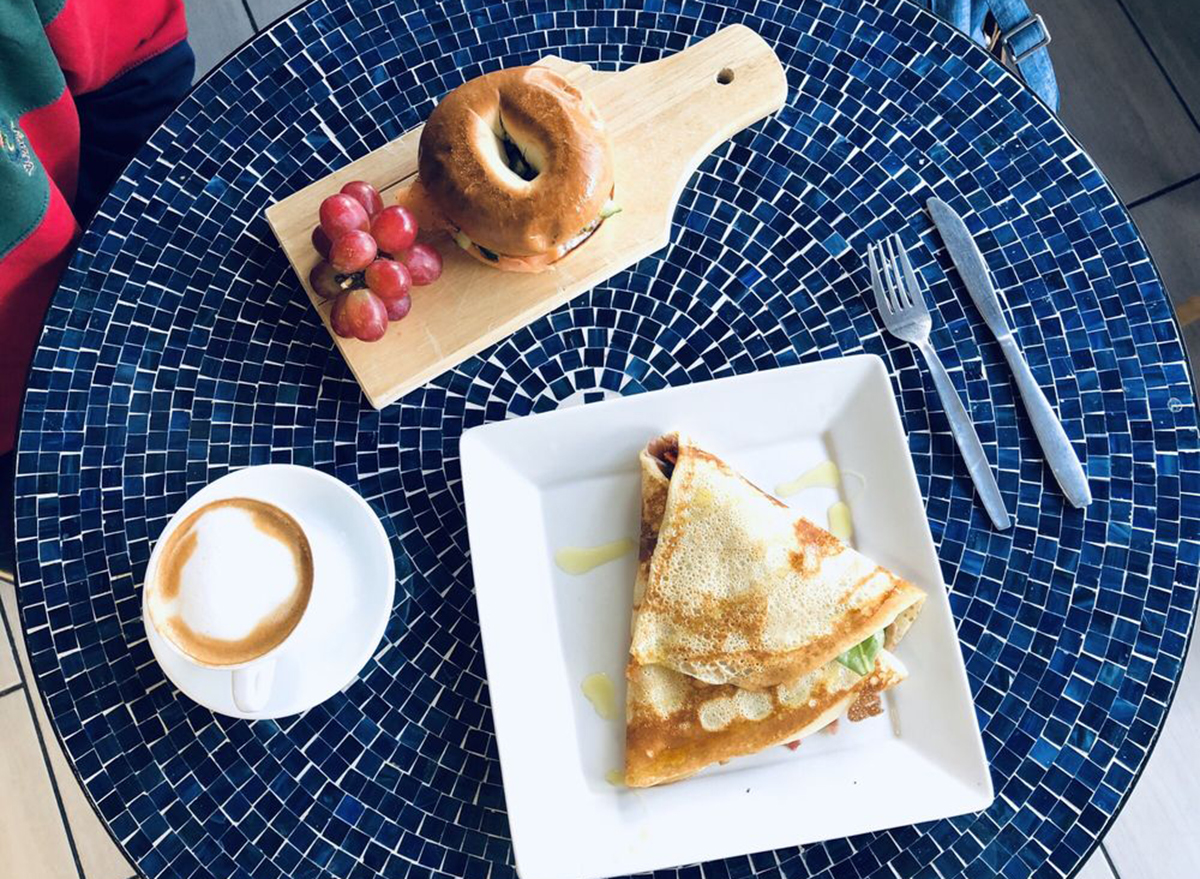 What do you get when you combine Moroccan and French cuisine? A memorable breakfast menu, apparently. Yelpers gush about the freshly made gourmet crepes at Cafe Miriam, which come in a wide range of sweet and savory styles as well as a gluten-free option. On the savory side, there's an American breakfast crepe (with scrambled eggs and crispy bacon), a ham and swiss crepe, and a Caprese crepe, among other choices. If you have a hankering for sweeter fare, try the indulgent dulce de leche crepe. And if crepes simply aren't your thing, there are a plethora of other equally crave-worthy breakfast sandwiches to choose from, such as an egg croissant-wich, or brie and Italian prosciutto on French bread with Lebanese fig spread and balsamic glaze. Yum!
CONNECTICUT: Brooklyn Baking Company in Waterbury
Come for a donut—stay for more donuts. That should be the motto of this no-frills bakery. Yelpers claim that these confections are the best they've ever had due to their light and fluffy texture (not to mention their massive size). In particular, reviewers seem to agree that the honey glazed, cinnamon sugar, and Boston cream stand out in all their simple glory. But let's be clear, that's not all that Brooklyn Baking's menu has to offer. The breakfast sandwich (two eggs, cheese, and your choice of meat) on a Portuguese roll should hit the spot if you'd prefer a savory meal.
DELAWARE: Legal Grounds Cafe in Wilmington
It's not just the chic decor and cozy ambiance that has patrons coming back to this classy little cafe. Yelpers are also blown away by the breakfast dishes, from the rotating quiche options to the delectable danishes, muffins, and croissants. But if there's one menu item that they consider to be a must-try, it's the salmon avocado toast on nine-grain bread, which is served with red onion, capers, tomato, and cream cheese spread. Don't miss the "rich, bold, and creamy" hot coffee drinks, which as complete with impressive latte art.
FLORIDA: Daily Eats in Tampa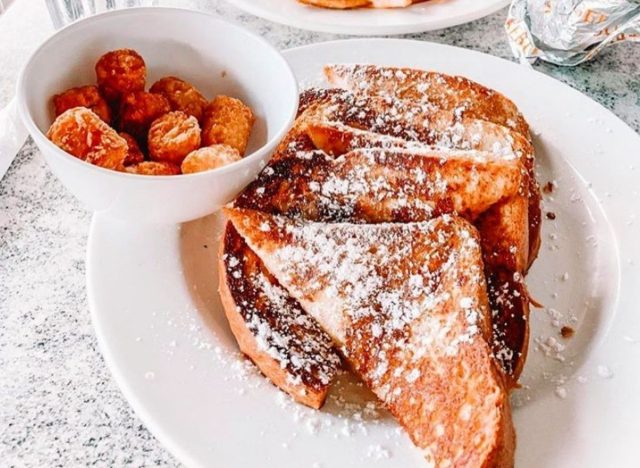 Diners absolutely rave about this must-try spot in Tampa. From the creative french toast dishes to the legendary breakfast bowls, there's something for everyone here. And, we mean everyone, because they have many gluten-free and vegetarian/plant-based options too.
GEORGIA: Fox & Fig in Savannah
The brunch-centric menu at this hip plant-based eatery is served all day long and includes such inventive dishes as tofu and chickpea-based eggless quiche, soaked chia porridge with orange-infused coconut cream, and oat milk pancakes with cold-smoked cashew butter and espresso dust. Pair your breakfast with an elderflower espresso tonic or spiced lavender mocha—or a bottomless drip coffee, if you're more of a java purist. Even Yelpers who aren't vegan or vegetarian highly recommend this hidden gem.
HAWAII: Hawaiian Island Cafe in Waimanalo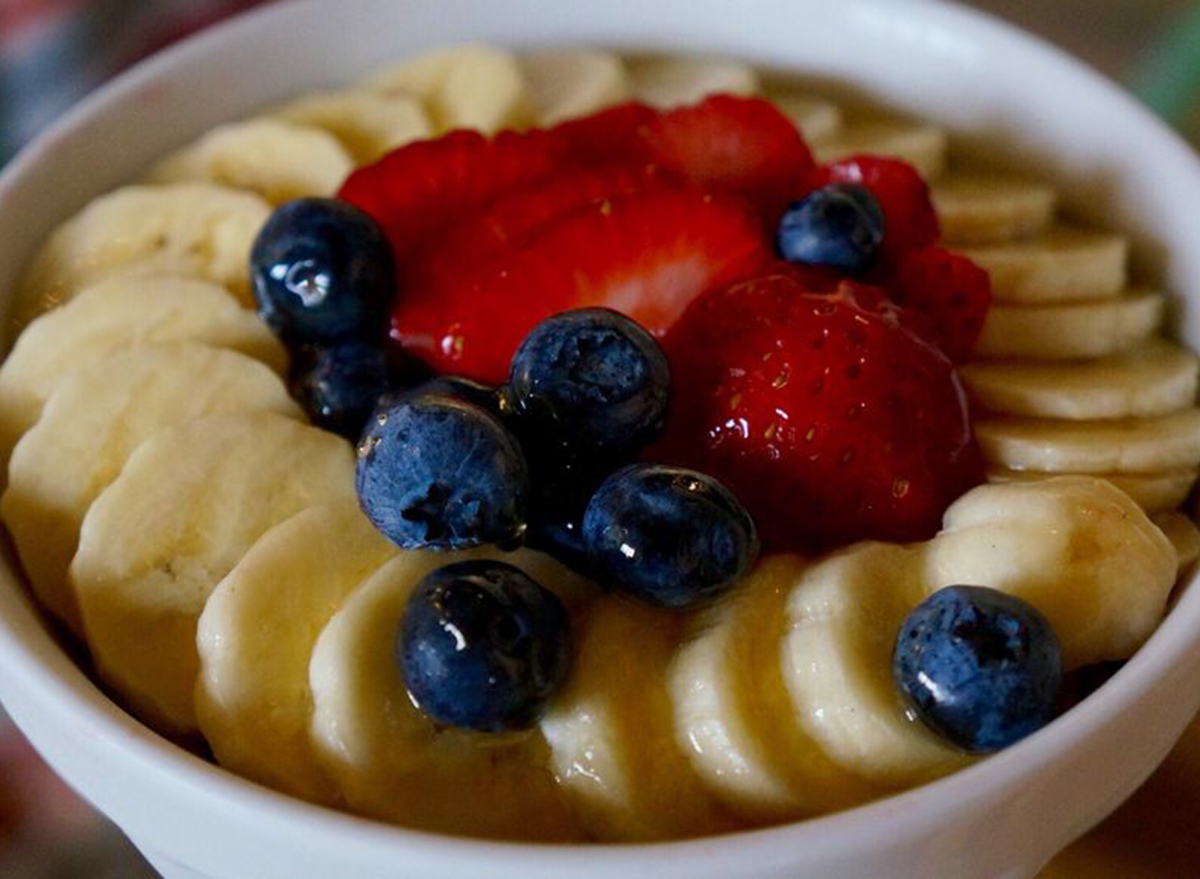 There's hardly an eatery that better captures the laidback island vibes of Waimanalo than this charming cafe, according to Yelpers. Among the famous croissant sandwiches is The Breakfast Gorg, a crowd favorite that features egg, bacon, Gorgonzola, spinach, artichoke hearts, cucumber, and mango salsa. But Yelpers also praise the Portuguese sausage breakfast plate which is served with eggs, hapa rice, organic greens, and multigrain toast. If you're in the mood for a sweeter brunch, try the Mauna Kea coffee-flavored waffle or one of the many unique acai bowls. While you're devouring your dish of choice, you might enjoy some live ukelele playing and a stunning view of the Koolau Mountains.6254a4d1642c605c54bf1cab17d50f1e
IDAHO: Ten/6 in Coeur d'Alene
Take your tastebuds along a scrumptious journey through the Cajun style of Southern cooking at this playful breakfast joint. Yelpers say Ten/6 stands out not only due to its eclectic Mad Hatter-themed decor, but also its filling French Quarter-inspired fare. Standouts include The Jazz Kitchen Hash with Andouille sausage, Tasso ham, pickled collard greens, and gumbo reduction, and Miss Ella's French Toast with a spiked banana rum sauce and toasted pecans. On the lighter side, there's a pink grapefruit brûléed with raw sugar and pink Himalayan salt and served with Greek yogurt, crunchy ginger granola, and seasonal fruit. Whatever you order, Yelpers insist that you leave room for an order of "delicious, piping hot" beignets.
NOTE: Ten/6 is currently closed and looking for a new location.
ILLINOIS: The Crepe Shop in Chicago
The name of this buzzy Lakeview East hole-in-the-wall says it all: Inspired by the street food of Paris, it specializes in crepes both savory and sweet. Yelpers say it's the perfect spot to enjoy a lazy Sunday brunch or bring a loved one or date you're trying to impress—between the Instagram-worthy dishes and decor, you can't lose. There are about nine different crepes to choose from at any given time, but Yelpers highly recommend the wild berry cheesecake, honey truffle, and the "fromage a trois," which is oozing with several varieties of cheese.
INDIANA: Bread Basket Cafe & Bakery in Danville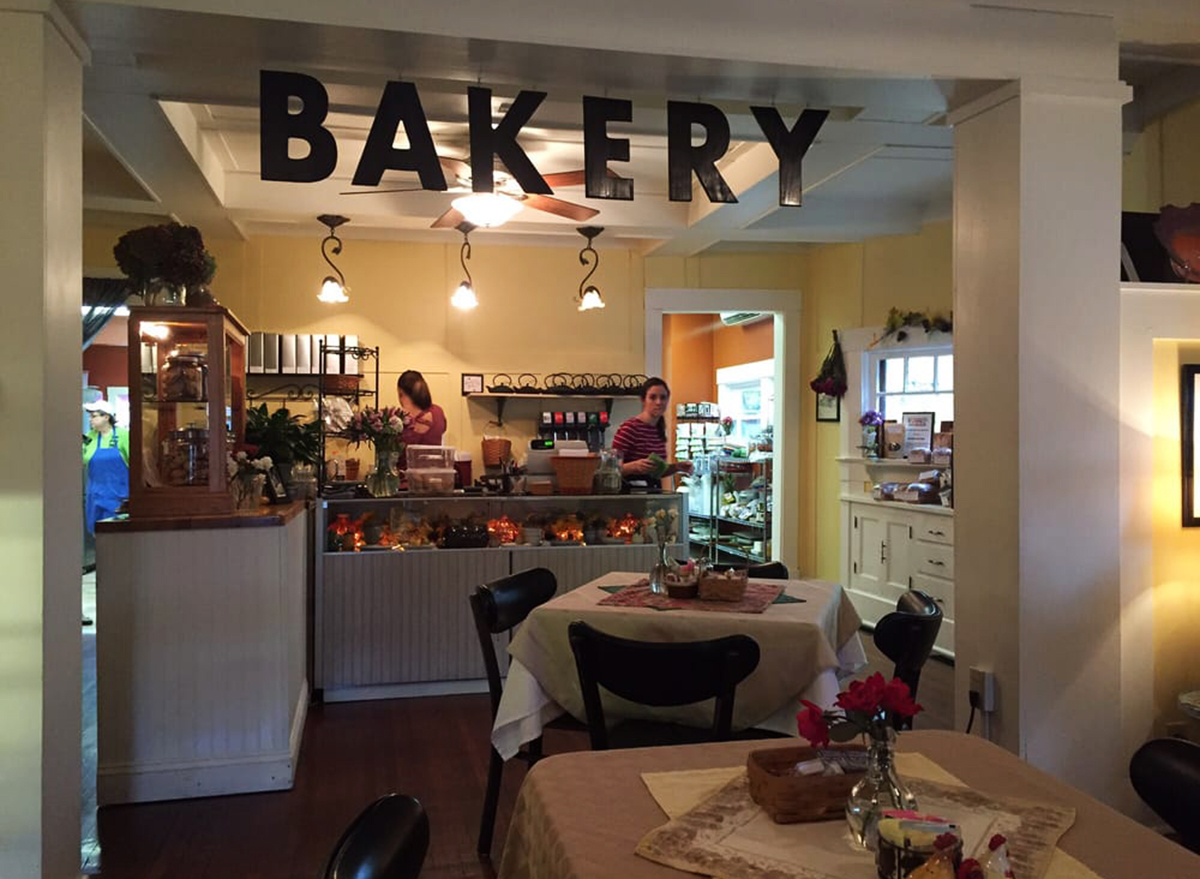 Comfort food with a contemporary twist—that's the best way to describe this homey cafe, which is located right near the historic Danville town square. Whether you opt for the cinnamon roll French toast, breakfast sandwich, or smoked salmon omelet with dill cream cheese, Yelpers have one tip: Save room for dessert. The Bread Basket Cafe & Bakery tends to get super busy on weekends, but while you wait, you can scope out the stellar baked goods in the display case (think maple pecan bread and strawberry lemonade cookies).
IOWA: 392 Caffé in Clinton
Craft coffee and unpretentious artisan eats made with locally-sourced ingredients—that's the name of the game at this trendy cafe. What the menu lacks in variety, it more than makes up for in deliciousness, according to Yelpers. Both paninis on the menu feature eggs, bacon, and garlic aioli and are pressed on homemade brioche—the breakfast version adds cheddar and ham while the brunch version has turkey, muenster, and avocado. Alternatively, you can go DIY at the toast bar, which allows you to choose from a multitude of bread, spreads, fruits, veggies, and other toppings. Other menu highlights, per Yelpers' guidance, include the seasonal lattes, refreshing smoothies, and homemade Pop-Tarts.
KANSAS: The Depot in Leavenworth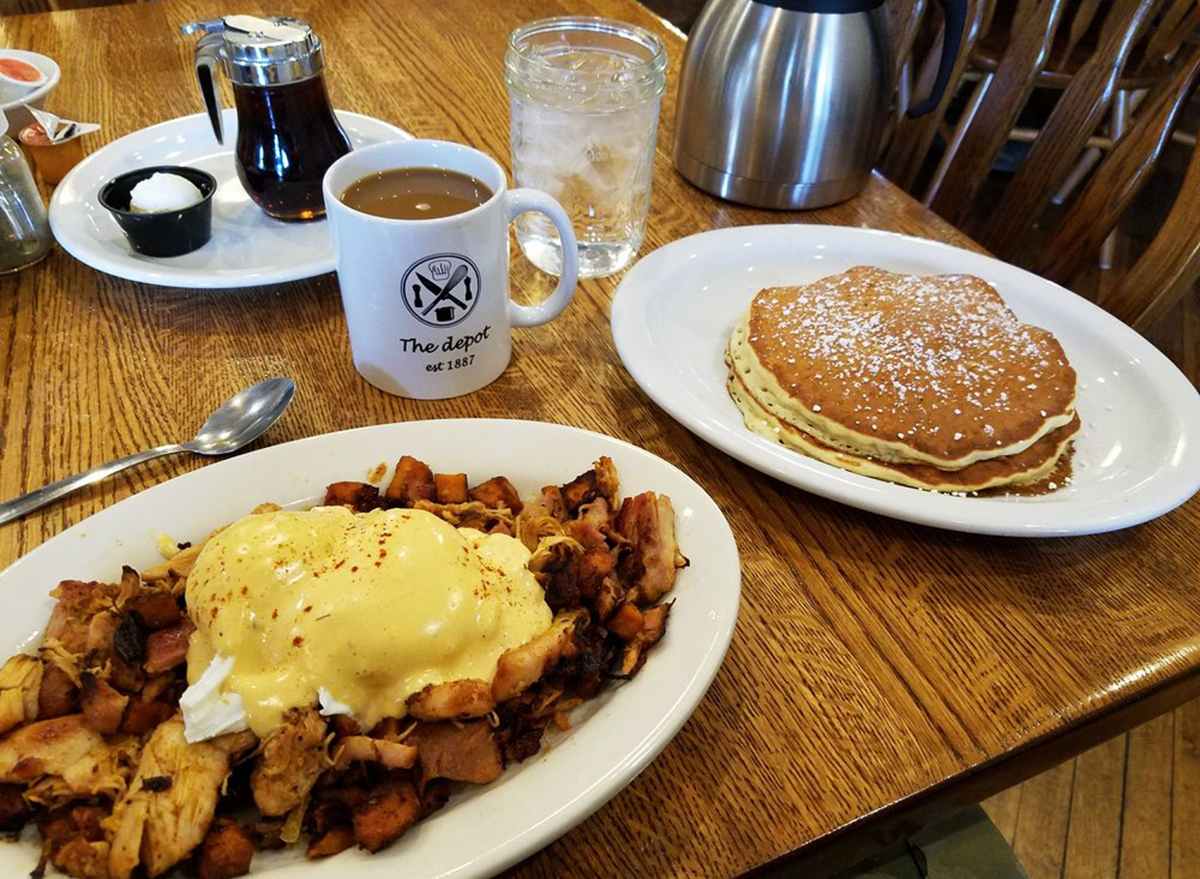 You definitely won't leave remotely hungry from this award-winning, historic breakfast joint, which serves up massive portions of stick-to-your-ribs dishes like chicken and waffles, biscuits and gravy, and three-egg omelets with crispy hash browns. Without a doubt, the dish that earned some of the highest praise by Yelpers is the smoked chicken hash benedict with sweet potatoes and chipotle hollandaise. But regardless of what you order, Yelpers say that the rustic decor and super personable staff will make you feel right at home. Pro tip: If you stop by on the weekends, you'll get served a fan favorite right when you sit down: cinnamon rolls the size of your face.
KENTUCKY: DV8 Kitchen in Lexington
"A hipster version of a greasy spoon diner"—that's how one Yelper describes this fast-casual joint, which prides itself on handcrafted 12-grain and sourdough bread, croissant-style cinnamon rolls, and brioche buns. The eggs benedict sandwich gets an upgrade thanks to a buttery Southern biscuit and fried green tomatoes, while chorizo and cilantro cream kick the breakfast tacos up a notch. Or, for an adult twist on a childhood favorite, try the nostalgia-inducing grilled PB&J on French toast. Yelpers suggest coming early to beat the crowds and snagging one of the house-made jams (which are available for purchase) before heading home.
LOUISIANA: Cafe Porch & Snowbar in New Orleans
Don't be surprised if you're greeted by the friendly owner herself upon entering this cute Creole restaurant, which features courtyard seating next to a picaresque garden. Yelpers strongly recommend the Lake View Morning, which includes grits or potatoes with two eggs and grilled/fried catfish, or the Good Morning Sweetness, which consists of French toast, seasonal fruit, and your choice of meat. For a true NOLA treat, try the smothered shrimp and grits, or the cheesy omelet with crab meat.
MAINE: Coffee ME Up in Portland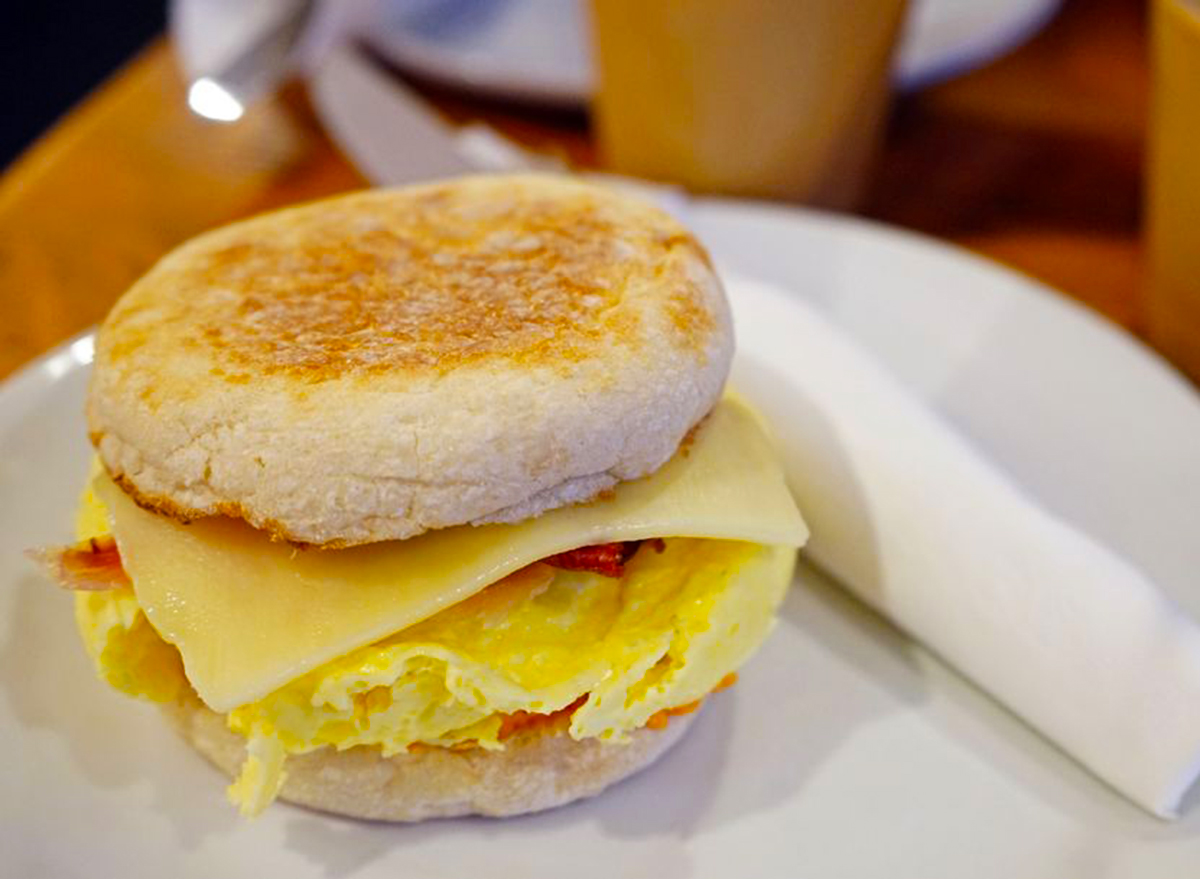 Positive vibes, comfy seating, and knowledgeable baristas are just a few of the perks that Yelpers point to in their rave reviews of this coffee shop, which is owned by a husband and wife team. Thanks to the awe-inspiring art on the walls and the bright, inviting atmosphere, this is the kind of cafe you'll want to stake out a spot at for a few hours. Each of the breakfast sandwich options comes with a spread of liptao, a mouthwatering blend of mashed potato, roasted red peppers, feta cheese, chives, and garlic. And because Coffee ME Up is known for its Instagrammable foam art, consider ordering one of Yelpers' favorite espresso beverages, like the salted caramel latte, or the chai.
MARYLAND: Waffie in Baltimore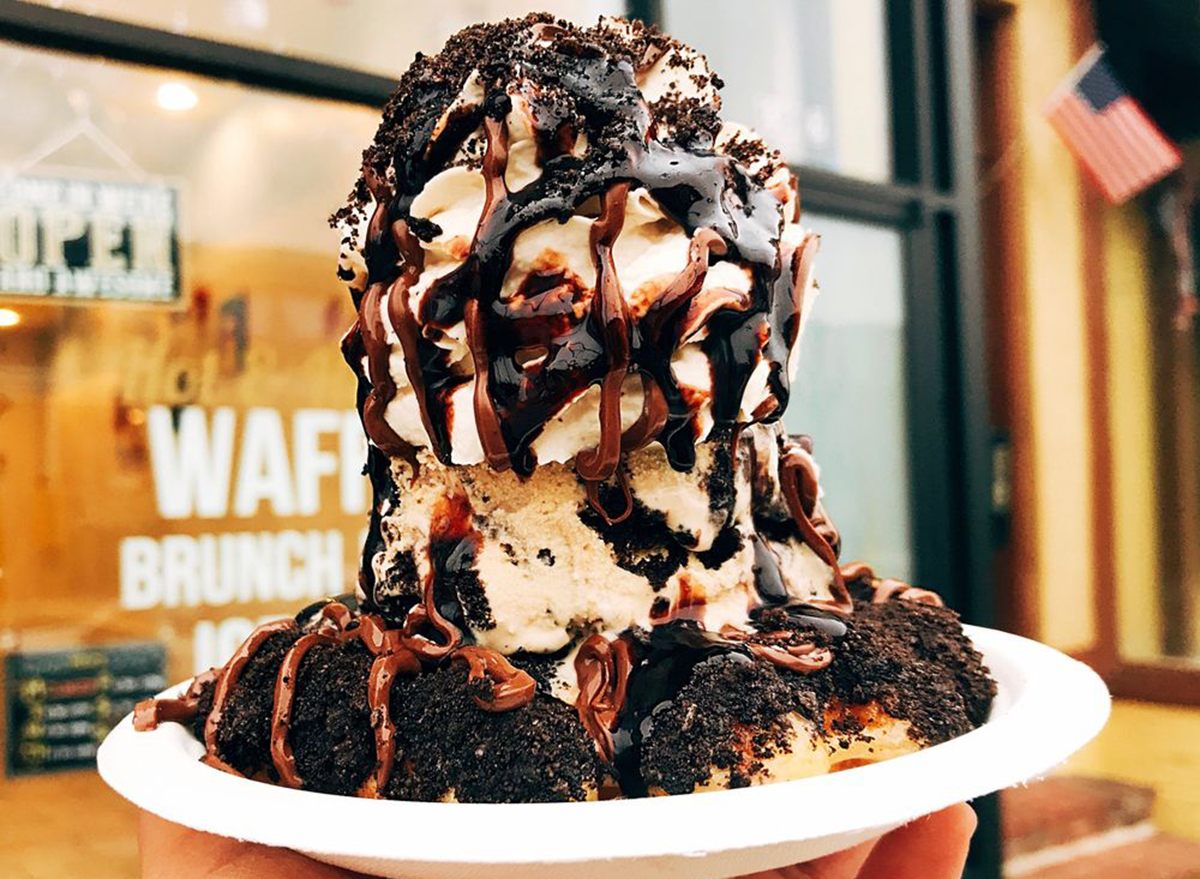 Some of us prefer to start our day with something sweet. If that's you, then stopping by this ultra-popular waffle shop is a must. You can choose from a wide variety of drizzles, syrups, and other toppings—from classics, like peanut butter, Nutella, and shredded coconut, to more innovative add-ons, like maple whipped cream, Cinnamon Toast Crunch, and Fruity Pebbles. If you're feeling particularly indulgent, make it a waffle sundae with a scoop of honey graham, vanilla bean, or cheesecake ice cream. Who says breakfast can't resemble dessert?
MASSACHUSETTS: JJ's Cafe in Brockton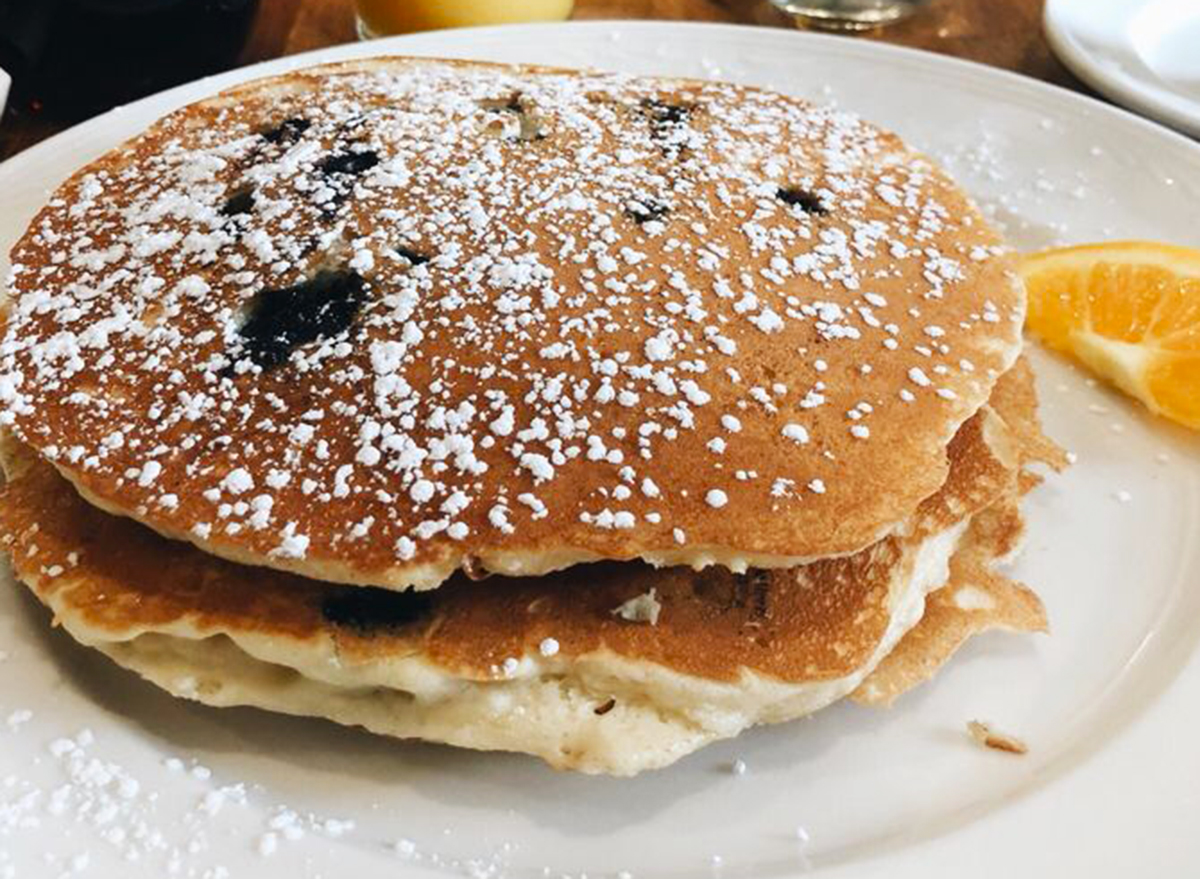 If you're seeking a homestyle breakfast with a lavish spin, look no further than this ever-popular brunch spot, which Yelpers agree is well worth the long weekend wait times. Seeking something simple? Then go for one of the classics, like a make-your-own omelet, steak and eggs, or brioche French toast. But if you're feeling bold (and super hungry), Yelpers advise ordering the hash bomb, which consists of three deep-fried corned beef hash balls stuffed with cheddar and hot sauce and then topped with sausage gravy.
MICHIGAN: Oaks Eatery in Three Oaks
One of the aspects that sets this farm-to-table restaurant apart is that it's super accommodating to all diets. Case in point: The sweet potato waffle is gluten-free, and every single one of the breakfast entrees can be made vegan by substituting tofu for eggs. Additionally, there's great attention to detail put into each and every dish—the jams, salsas, and hot sauces are all made in house, for example. The Mexican-inspired menu includes chilaquiles, huevos rancheros, and breakfast tacos, among other options. Bonus: according to Yelpers, you can also expect service with a smile from the attentive waitstaff.
MINNESOTA: Cedar Coffee Company in Two Harbors
Fair warning: If you find yourself at this quaint cafe, you're going to want to stay awhile. Chalk it up to the charming patio, the eye-catching art, or the fact that it's nestled in a picturesque area right in the woods. The innovative array of breakfast dishes don't hurt, either. Good luck choosing between an egg and cheddar sandwich with garlic onion jam on a wild rice baguette; a bacon roll-up with garlic cream cheese on a fresh lavash, and a Brussels sprout hash with multigrain sourdough toast. Or, if you're in the mood for something lighter, consider the fig toast or banana chai granola. And as far as beverages are concerned, Yelpers agree that you can't go wrong with the oat milk lattes and affogatos.
MISSISSIPPI: Sunrise Cafe in Bay Saint Louis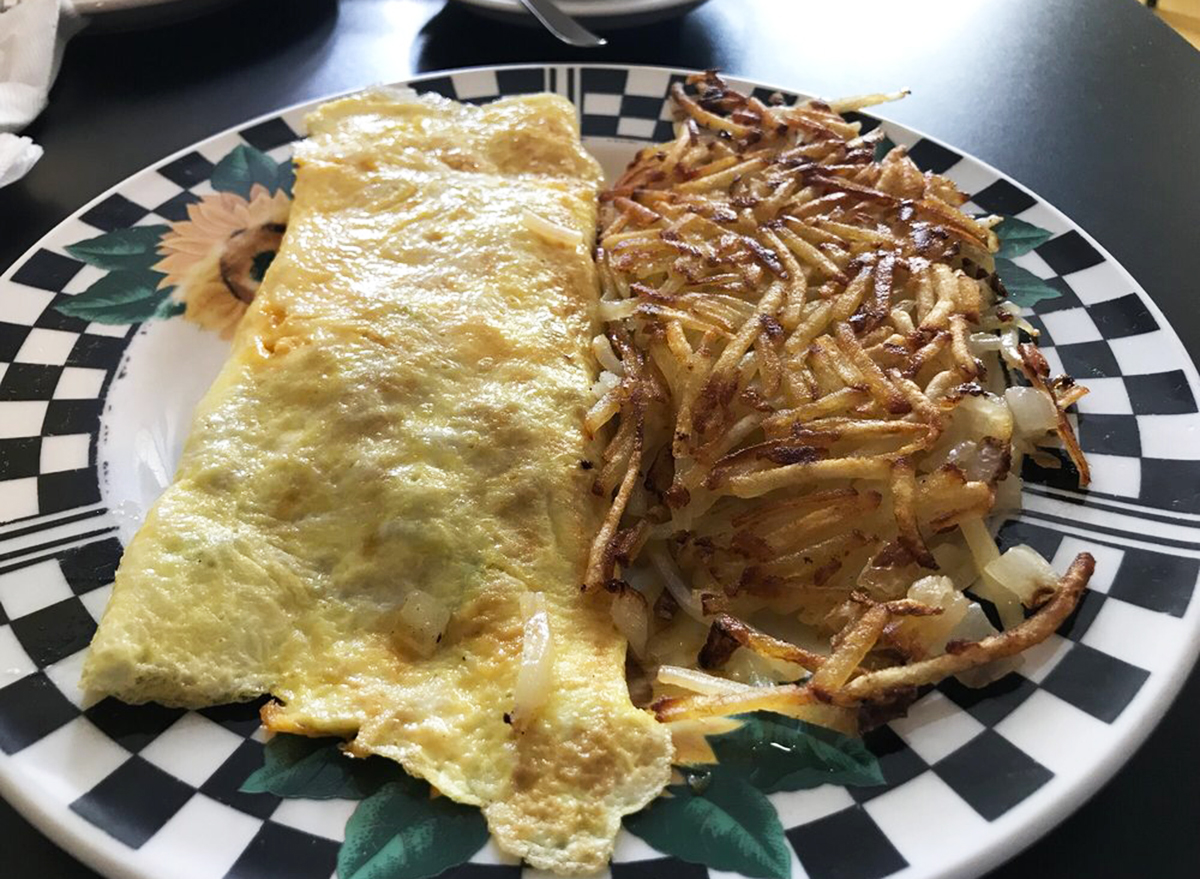 Yelpers say this spot is the "best-kept secret in Mississippi," thanks to the attentive staff and speedy service, and generous portions of unpretentious comfort food. Patrons also love the "intimate" environment, complete with plenty of colorful artwork on the walls to marvel at over breakfast. As for the food, Yelpers praise the "super fluffy" buttermilk pancakes and the "melt in your mouth biscuits and gravy."
MISSOURI: Scott's Kitchen in Kansas City
You might not expect to find a mouthwatering brunch at a Kansas City BBQ joint, but Scott's Kitchen is full of surprises. Some of the dishes on the no-frills morning menu include biscuits and gravy, classic buttermilk pancakes, and two eggs your way. But where this restaurant really shines is with their meats—like the breakfast tacos and burritos with a heaping pile of pulled pork house-made chipotle ghost pepper sausage, brisket, or burnt ends. While Scott's Kitchen requires a drive from downtown, Yelpers say it's definitely "worth a trip." And because it's right near the airport, it's the perfect spot to fill up before hopping on a flight or after landing.
MONTANA: Faye's Cafe in Livingston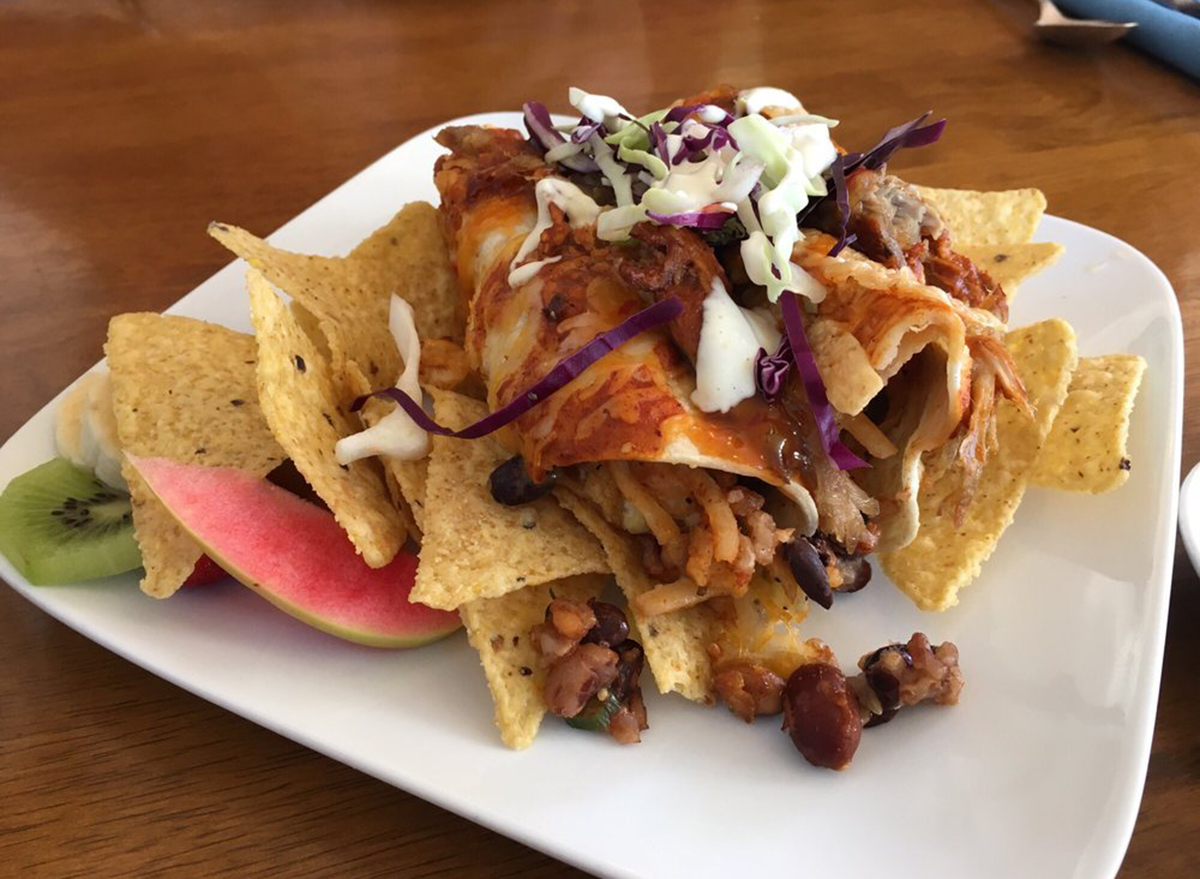 You may have to hit this charming cafe early, as they close up shop for the day after they've served 100 people (or 1 p.m., whichever comes first). But it's well worth the effort. According to Yelpers, the atmosphere "makes you feel like you're sitting in grandma's kitchen," and the food is to die for. One Yelper even went so far as to say that Faye's is reason enough to consider moving to Livingston. It's challenging to choose from the many creative entrees—such as the breakfast mac and cheese, and the eggs benedict with crab, mango flame sauce, and avocado. But if you're feeling indecisive, take a cue from many satisfied Yelpers and order "Faye's Choice," which allows the chef to whip up a unique one-of-a-kind dish for you.
NEBRASKA: Green Beans Coffee in Omaha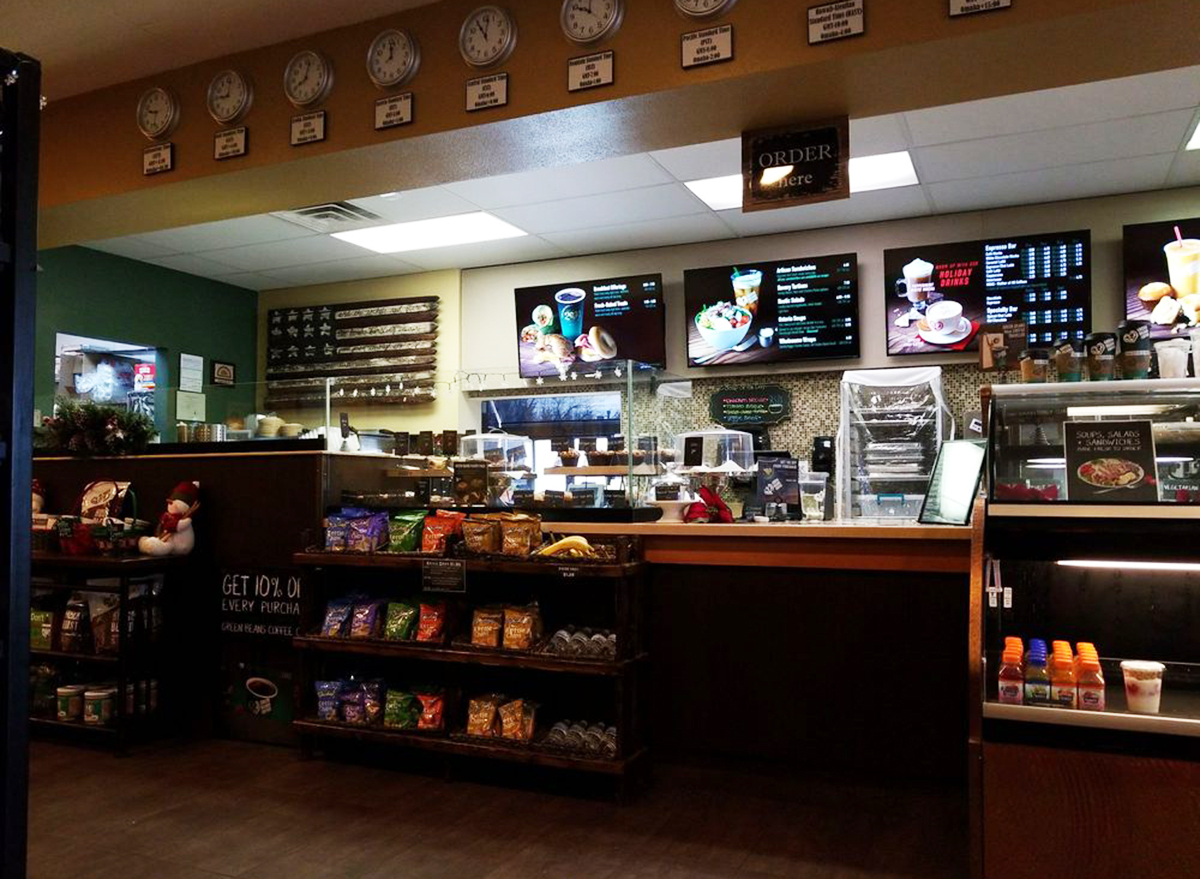 Teens and millennials love the free WiFi. Kids and their parents love the designated play area with books, toys, and a TV. Bookworms and coffee enthusiasts alike love the cozy lounge with a fireplace. There's truly something for everyone at this cafe and that goes for the menu, too. Carnivores drool over the breakfast burrito with your choice of meat, and the bacon egg and cheese croissant sandwich with hash browns and pepper jack cheese. Vegetarians, meanwhile, appreciate the yogurt parfait and harvest oatmeal. Whatever you order, Yelpers insist that a smoothie or frappe is a must, as is a giant cinnamon roll.
NEVADA: Zenaida's Cafe in Las Vegas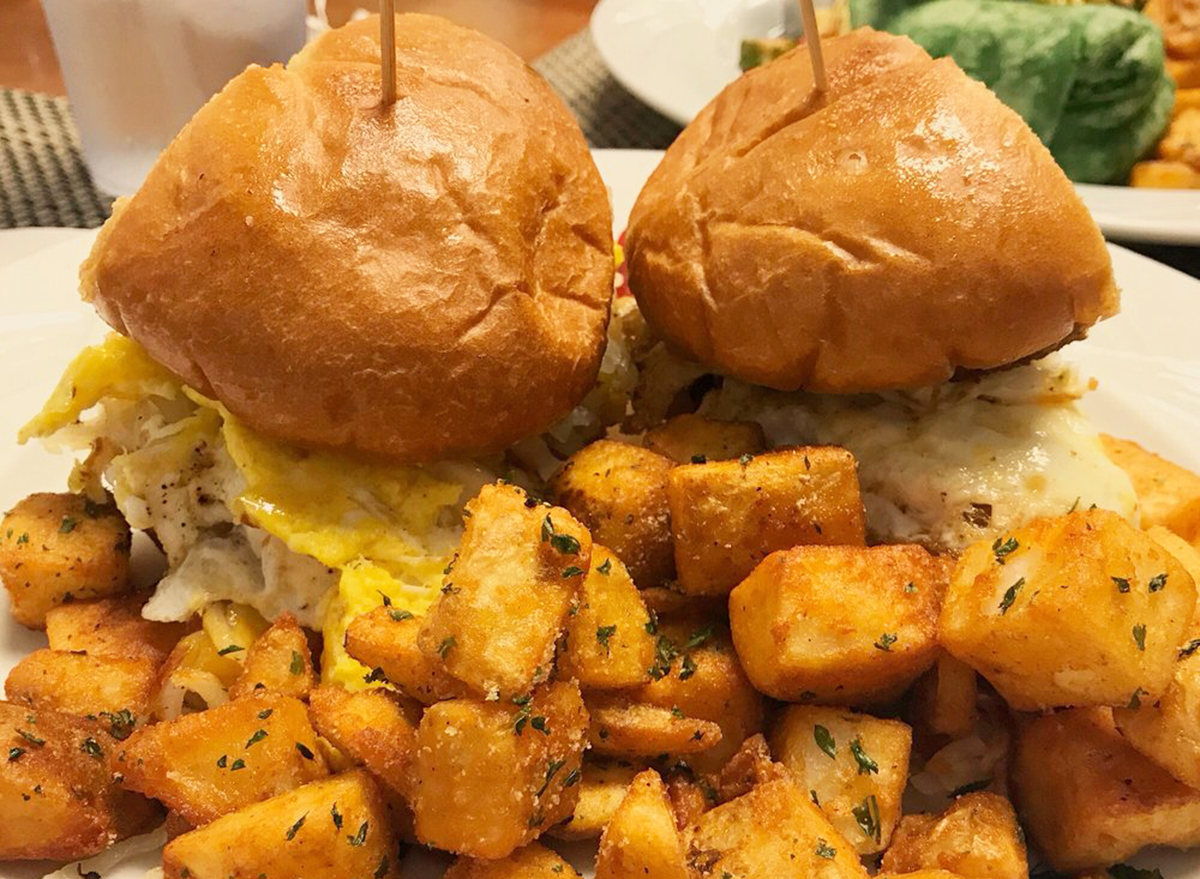 It's pretty tough to earn a five-star rating on Yelp, but this eccentric cafe has managed to do it. Between the funky jazz soundtrack and the wall art. Zenaida's definitely isn't short on character or satiating brunch options. Yelpers suggest starting with a daily made cinnamon roll (smothered in sweet cream and berries), and there is a slew of classic entrees to follow it up with, including waffles, eggs benedict, and a bagel and lox platter. While there are many vegan choices here, meat-eaters will appreciate the Angus breakfast burger with pepper jack, bacon and onion jam, and sriracha mayo, Z's Monte Christo, or the stacked breakfast sandwich with cheesy hash browns and turkey sausage.
NEW HAMPSHIRE: Colby's Breakfast and Lunch in Portsmouth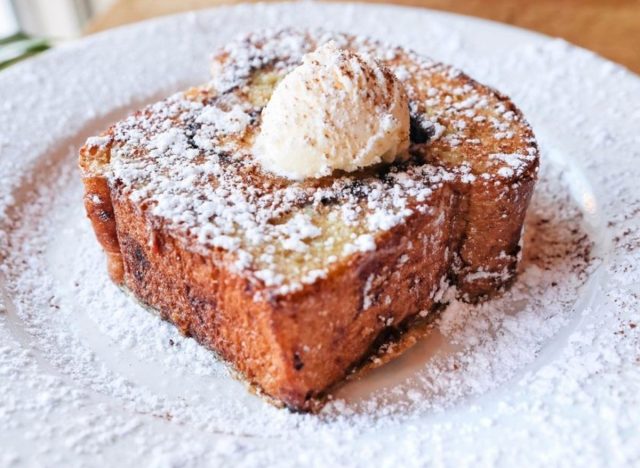 Everyone raves about the large portions and reasonable prices for breakfast at this cute breakfast and lunch spot. Colby's incredibly thick french toast is a must!
If you're looking for that perfect sweet treat to indulge in after your meal, allow The Most Magical Chocolate Shop in Every State to be your guide.
NEW JERSEY: JJ's Diner in

Township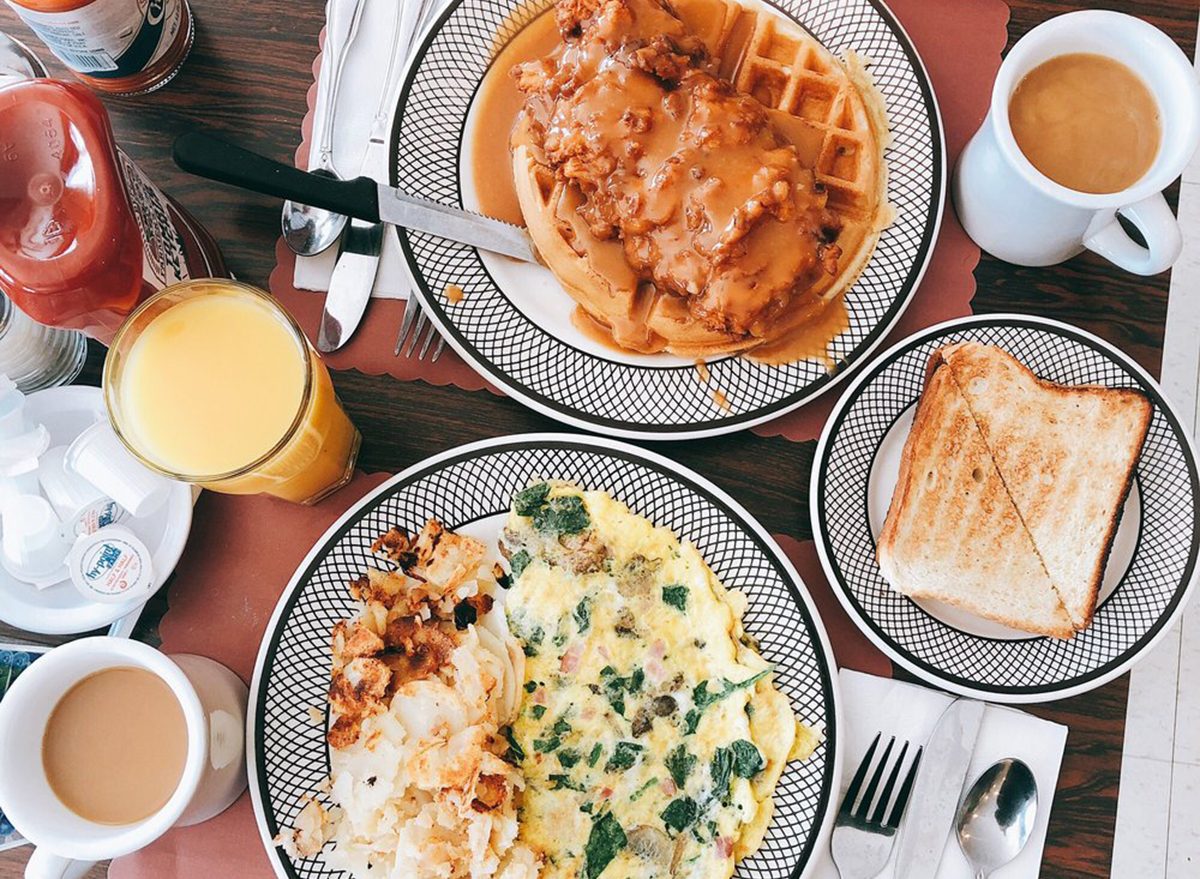 It should come as no surprise that this homey yet unassuming establishment has collected several awards. As you'd expect from a classic diner, the menu has just about any traditional breakfast dish you could possibly want—omelets, egg sandwiches, French toast, heaping piles of pancakes, and more. JJ's specialties include steak and eggs with grits, as well as brunch sampler platters with a little bit of everything if you're a tad indecisive. Just don't forget to snag an order of the bacon cheddar home fries, which Yelpers claim are a must.
NEW MEXICO: 2G's Bistro in Albuquerque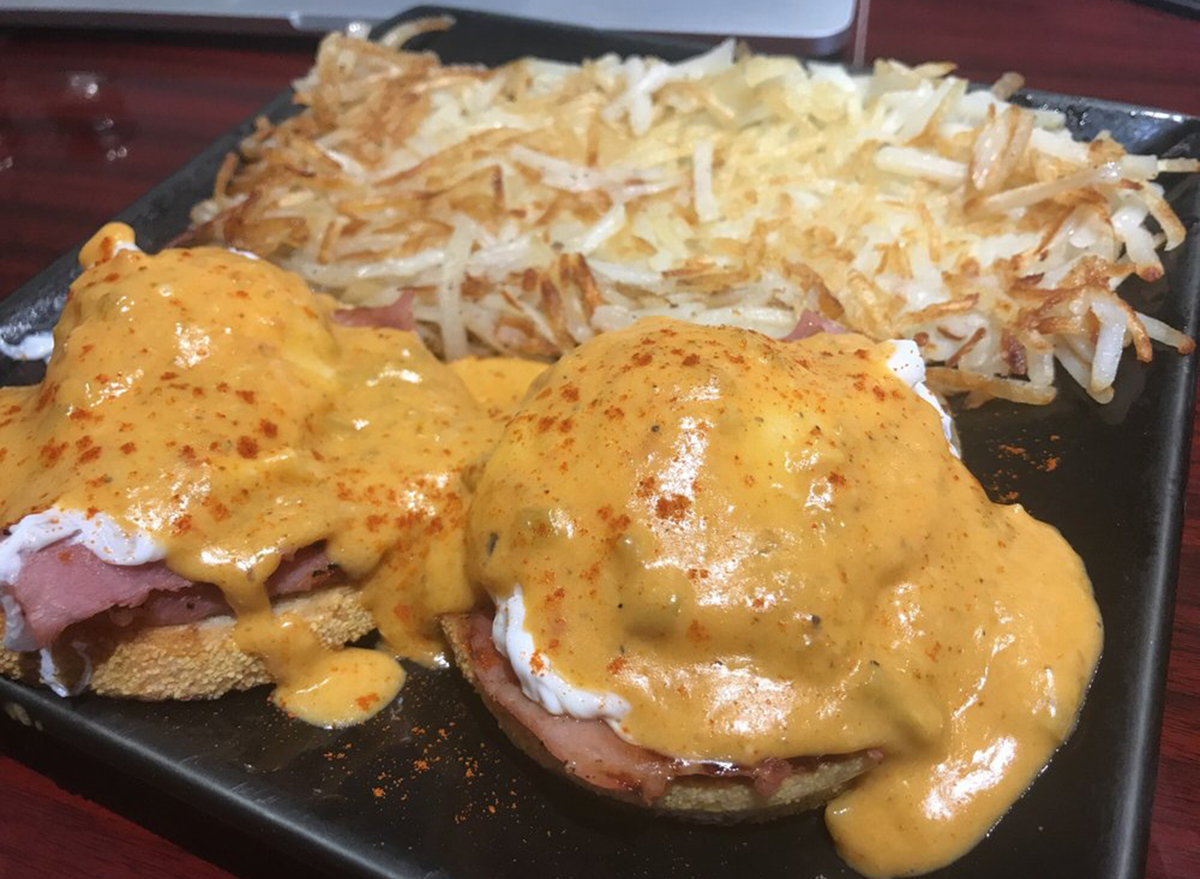 From the outside, it may look like a dive but inside, you'll be delighted to find a quaint setting with art-covered walls and bright, airy vibes. Sure, you could go for one of the classics, such as a three-egg omelet or a breakfast sandwich. But Yelpers implore you to try the Southwest Benedict or the Carne Plate, which consists of slow-roasted pork in a red chili sauce topped with beans, hash browns, and two eggs (any style) on a cheese-smothered corn tortilla.
NEW YORK: Dottie Audrey's Bakery Kitchen in Tuxedo Park
This rustic spot near the mountains is chock full of nostalgic vibes and scratch-made comfort food. Yelpers say you'll be lucky if you make it by the bakery counter without snagging a pastry, but if you can, save room for a frittata sandwich, brioche French toast, or a smoked salmon tartine. Vegan options include a chia pudding parfait with almond milk, agave, and strawberry puree; and a tofu and veggie scramble with soy cheese. If you're up for stepping outside of your tea or coffee comfort zone, try sipping on the acai berry or beetroot steamer.
NORTH CAROLINA: Savorez in Wilmington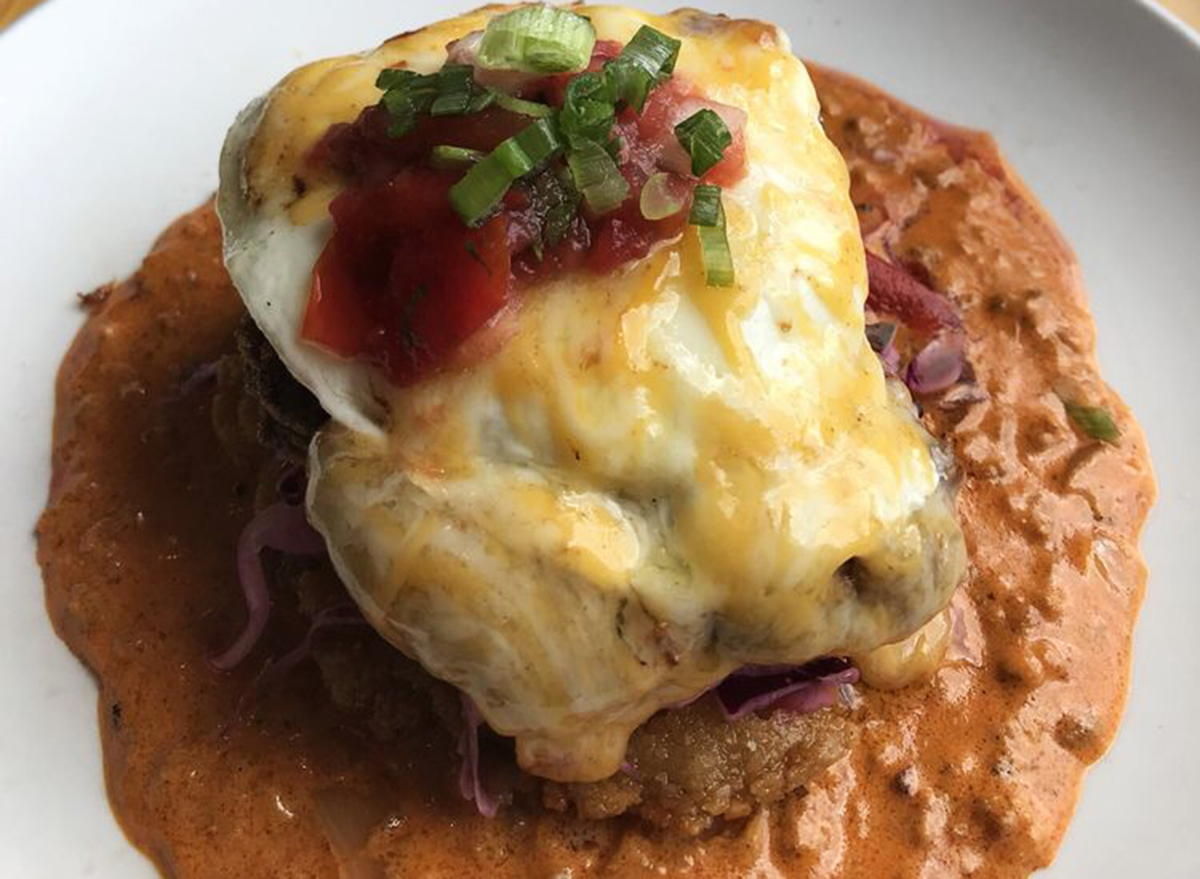 This trendy restaurant has no shortage of flavors, that's for sure. Savorez serves Latin American-inspired food in a modern atmosphere. While you may need to withstand a wait because it's quite small in size, you'll undoubtedly be impressed by the innovative brunch dishes and the "fun, festive presentation" of them. Yelpers suggest starting with the French toast (fried Cuban bread with brown sugar cinnamon syrup) to share. Then, fill up on shrimp and grits with chorizo gravy and goat cheese polenta, huevos rancheros, or green eggs and ham (with crispy pork belly and black bean bacon puree). Still hungry? Polish the meal off with some quinoa granola bars with fresh fruit and coconut panna cotta.
NORTH DAKOTA: Twenty Below Coffee in Fargo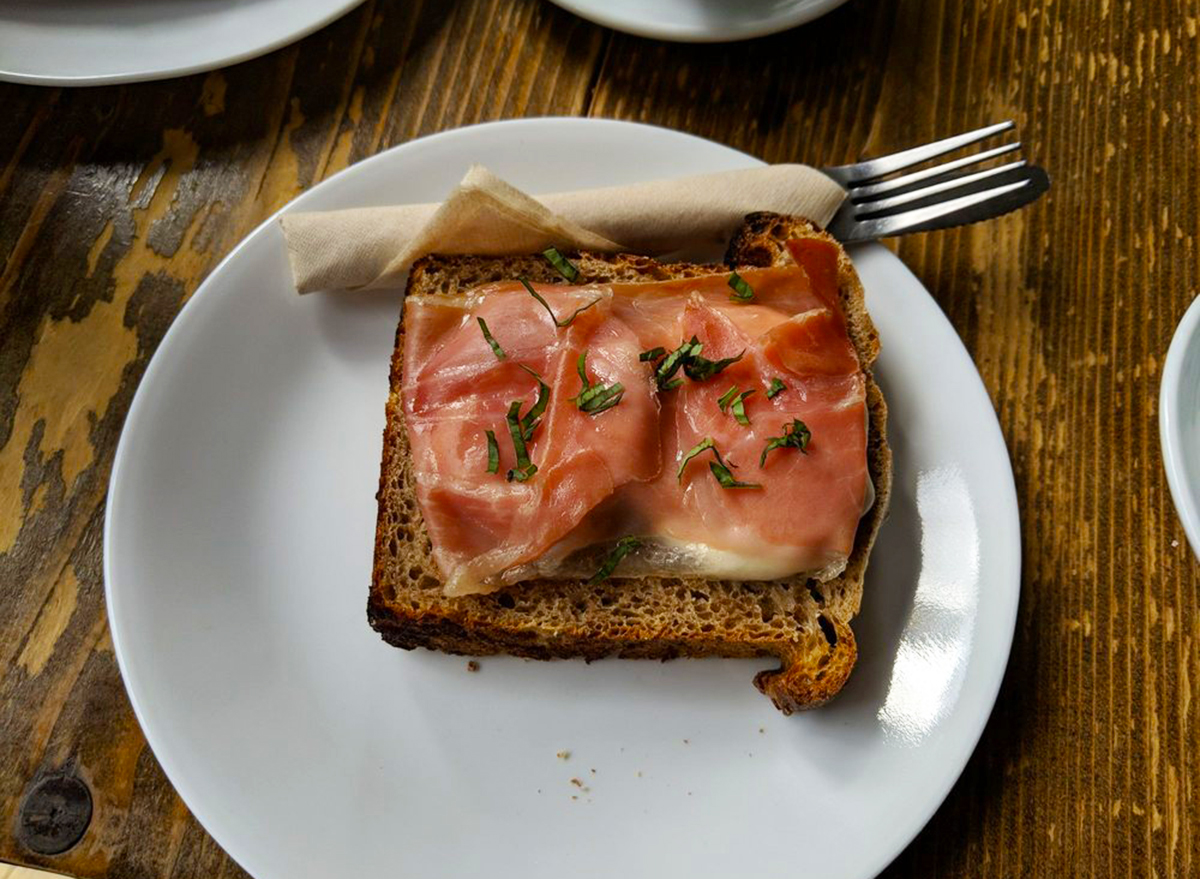 This community-focused cafe and roastery, which is owned by two couples, prides itself on a bright, cheery environment, addictive pastries, an impressive brew bar, and plenty of vegan and dairy-free options. There's even a "pay what you can" option for java lovers on a budget. Aside from sweet treats, the savory nosh here includes a bevy of toasts—for example, Whipped Feta Caprese, Fancy Ham + Cheese (with prosciutto, basil, and buttery garlic rub), and The Scenic Cafe (figs, walnuts, goat cheese, maple syrup, and rosemary). Polish things off your meal with a decadent espresso drink—Yelpers rave about the Nutella mocha latte and the crème brulée latte, complete with fire-torched cane sugar on top.
OHIO: Scotty's Cafe in Columbus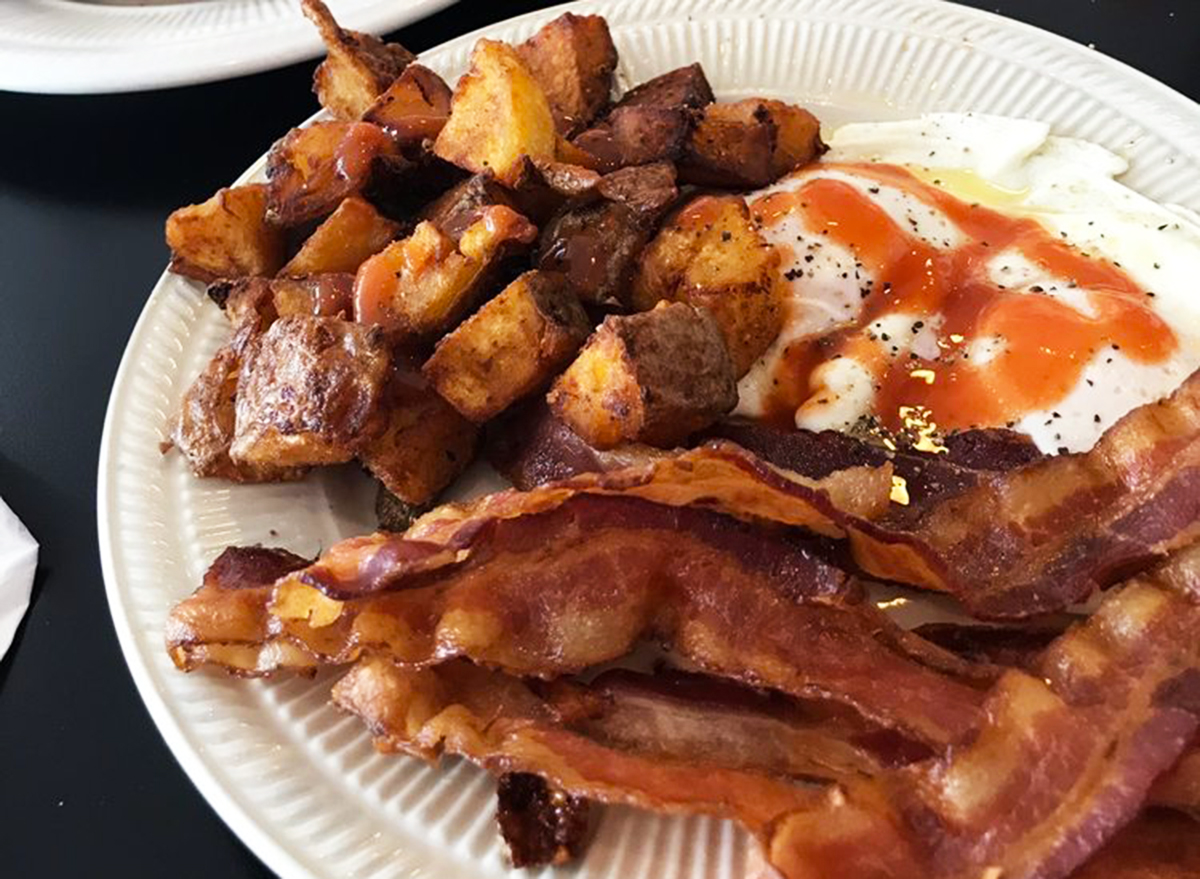 They say not to judge a book by its cover, and that expression applies to this strip mall deli, which has amassed quite a loyal customer base of locals. The staff seems to know half the patrons by name. Just like any other respectable greasy spoon diner, Scotty's serves breakfast all day long, which is good news given that Yelpers can't stop applauding the fluffy scrambled eggs, crisp turkey bacon, home fries "cooked to perfection" and of course, their famous challah French toast.
OKLAHOMA: El Huevo Mexi Diner in Norman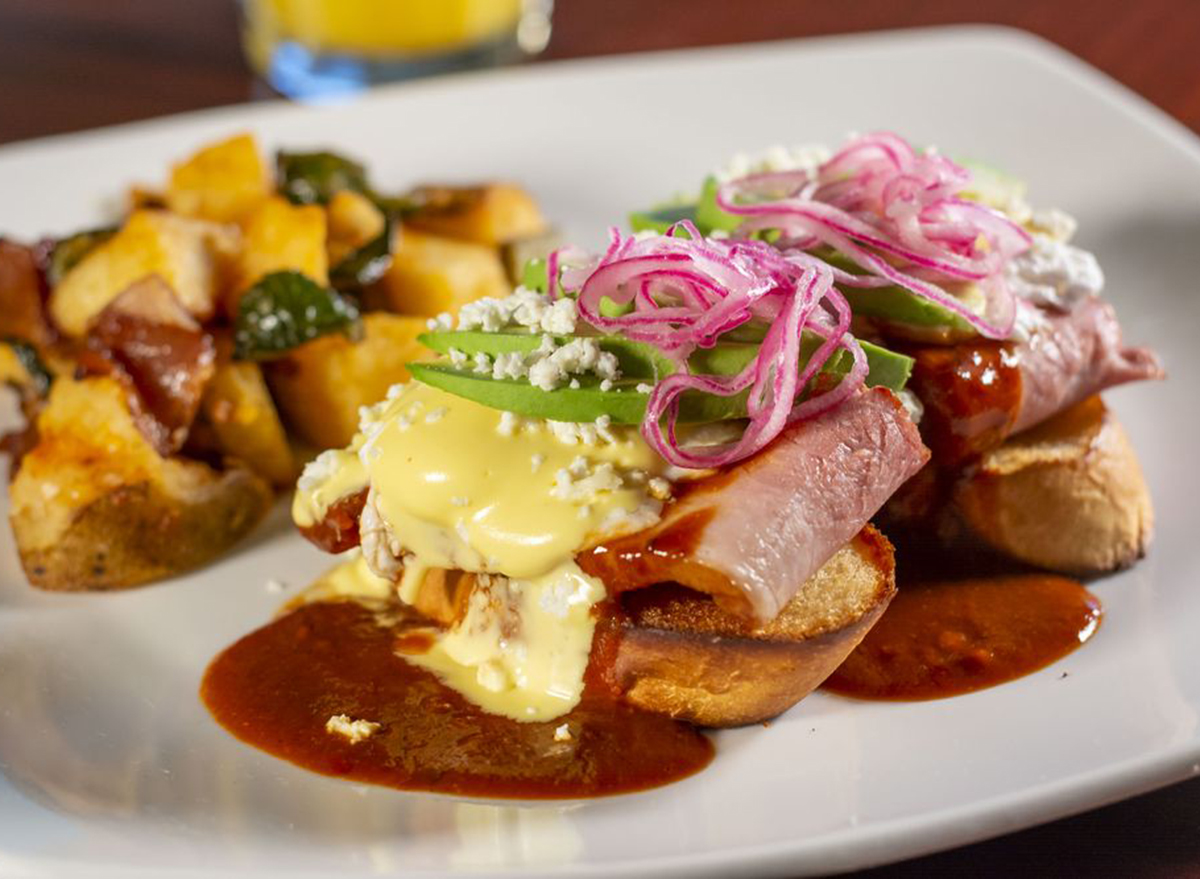 Every morning is a fiesta at this lively Tex-Mex bruncheria, which boasts a variety of breakfast-themed nachos, quesadillas, tacos, and more. If you're feeling something savory, take a cue from Yelpers and order the Hangover Burrito, or if you've got a sweet tooth, the Frosted Flake-crusted Cuban French toast with caramelized bananas and Mexican chocolate should satisfy it. Wash down your feast with some bottomless coffee or agua fresca—or take things up a notch with a frozen mimosa or BLT Bloody Mary.
OREGON: Ovation Coffee & Tea in Portland
Portland has no shortage of coffee shop options, but locals flock to this particular cafe for a morning bite thanks to its plentiful comfy seating, vast pastry selection, and out-of-this-world handcrafted espresso beverages. In particular, Yelpers can't stop gushing about the pistachio latte with a sprinkling of dried honey flakes, as well as the uniquely flavorful Moroccan chai. Pair your drink of choice with an egg patty breakfast biscuit (like turkey sausage and cheddar, veggie, or lamb gyro and goat cheese). Then grab a spot by one of the enormous windows for some epic dog watching, or take your meal to-go and eat it in the nearby waterfront park.
PENNSLYVANIA: Morgantown Coffee House in Elverson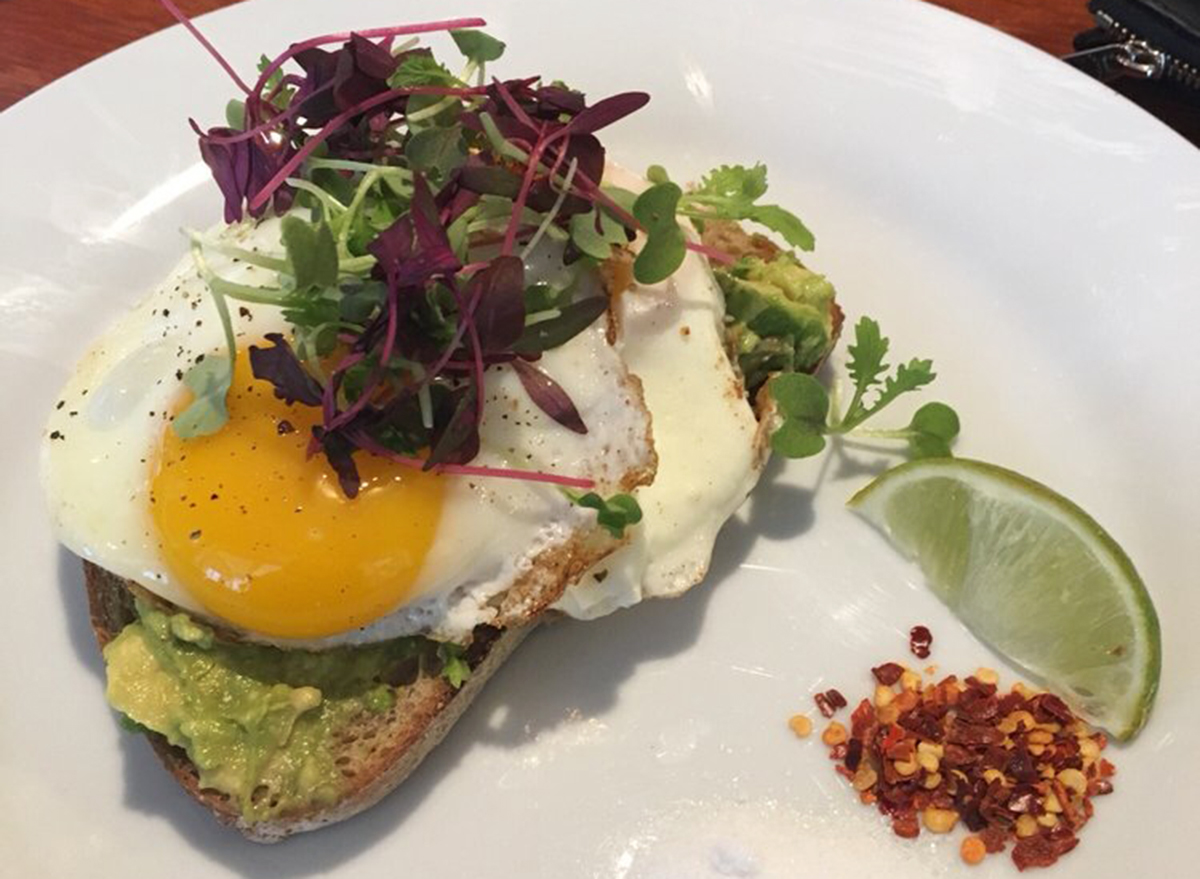 The menu at this farm-to-table cafe and espresso bar is constantly changing with the seasons, and patrons definitely don't seem to mind one bit. There's something about the country-chic decor and spacious setting (which happens to be a renovated farmhouse) that seems to win Yelpers over. And the grub doesn't hurt, either—think lemon verbena baked oatmeal, winter spice pancakes with ginger butter and candied pecans, a short rib omelet with rosemary whipped ricotta, and Thai curry potatoes with cage-free eggs.
RHODE ISLAND: The Rhody Hen Cafe in Pawtucket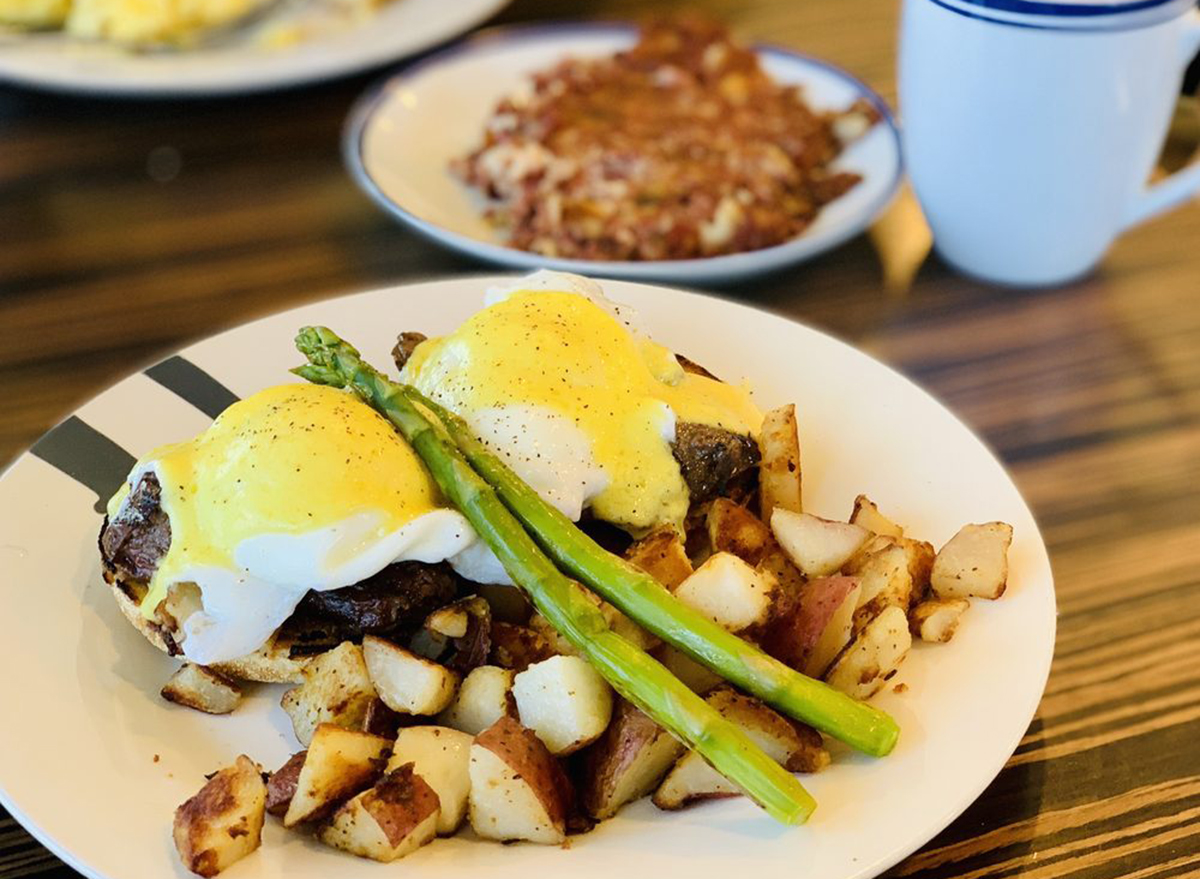 It's all in the details at this cozy cafe, where the husband and wife co-chefs source local ingredients, make everything from scratch and even pickle their own peppers and green beans to garnish the Bloody Marys. And Yelpers agree that those efforts make all the difference because the fare tastes ultra-fresh and flavorful. Standout dishes include the bacon avocado benedict, chicken and waffles, and carne asada huevos rancheros. And health-conscious choices include an egg-white veggie omelet and fresh fruit, and a piping hot stack of whole grain or gluten-free pancakes.
SOUTH CAROLINA: Maple Street Biscuit Company in Greenville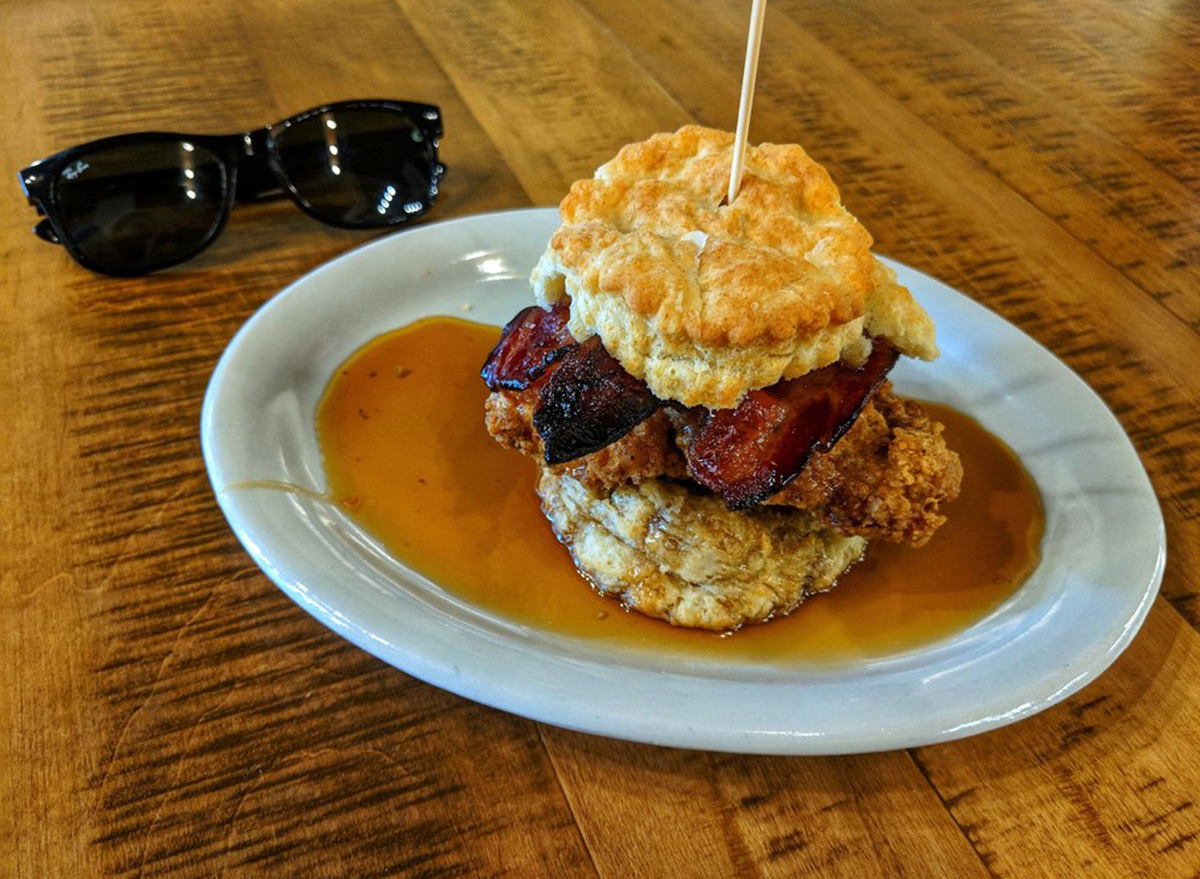 There's often a line out the door for this casual cafe, which bakes their flaky biscuits fresh every day with artisan flour, fresh squeezes their OJ, and makes their gravy and jams from scratch. One Yelper advises wearing your "elastic waist pants" for a trip here. And they may certainly come in handy for polishing off one of their inventive biscuit sandwiches such as the Extra Risky with sausage or shiitake gravy and an over-easy egg; the Garden Egg with collard greens, a fried egg and hot sauce; or the Sticky Maple with all-natural fried chicken breast, pecan wood-smoked bacon and farm-fresh real maple syrup. Be sure to save a little room for the complimentary iced cinnamon biscuits!
SOUTH DAKOTA: Josiah's Coffee House & Cafe in Sioux Falls
Thankfully, Yelpers say the sometimes daunting line moves pretty quick at this sunny breakfast hotspot, which is set in a historic building. Josiah's is known partly for its atmosphere—not only is it a spacious, thoughtfully decorated cafe, but it's dog-friendly and has massive community tables for working, reading, or mere people-watching. The crowd-pleasing pastry selection includes scones, biscotti, and jumbo muffins galore—but Yelpers are especially enthusiastic about the "outstanding" caramel roll and the homemade pop tarts. Egg plates (with your choice of meat and toast) and homemade granola and yogurt parfaits round out the breakfast menu, with omelets, five different waffles, and French toast bakes on the weekends. If you can, Yelpers suggest snagging a spot by the cozy fireplace to enjoy your meal.
TENNESSEE: Monell's Dining & Catering in Nashville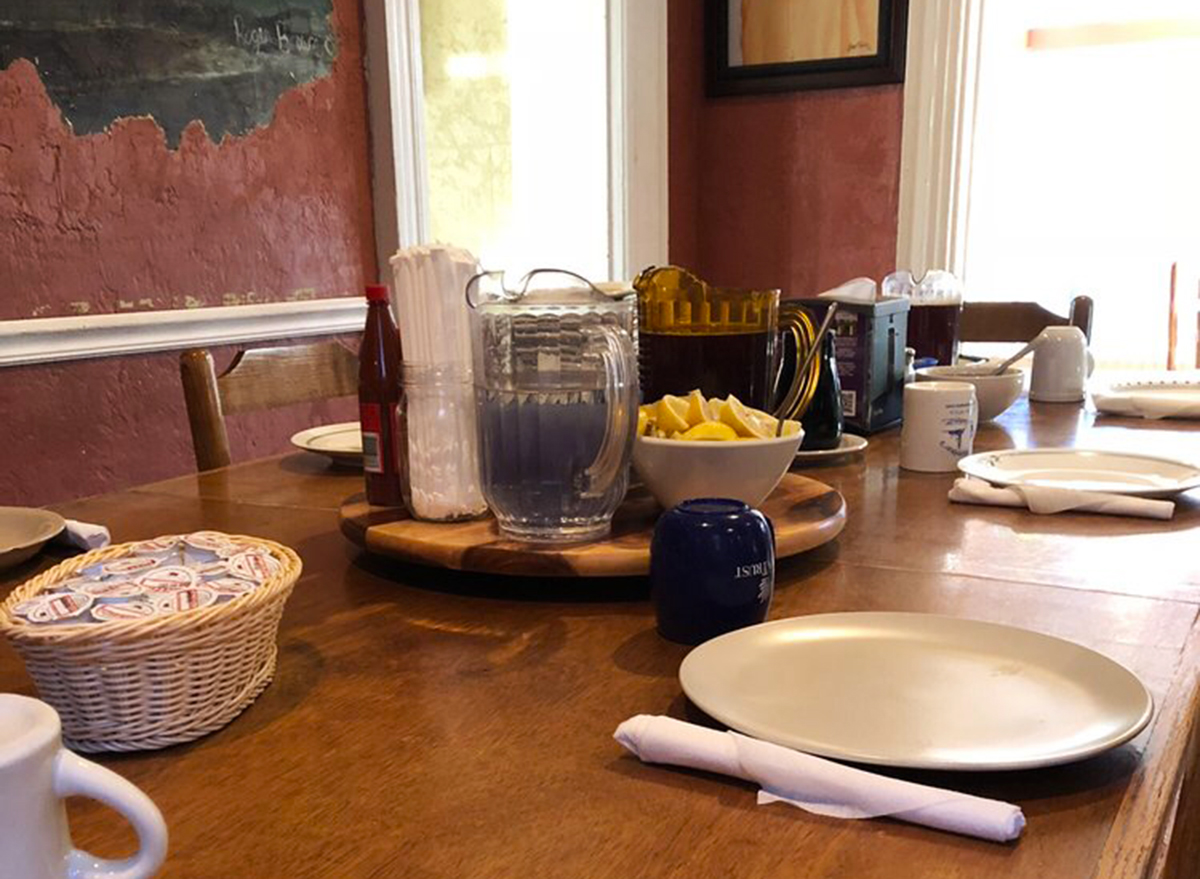 "Enter as strangers, leave as friends." That's the motto at this local favorite, which is known for its family-style seating, good old-fashioned Southern hospitality, and epic meals that are almost guaranteed to induce a food coma. While the breakfast menu changes slightly every day, you can expect classic dishes like pancakes, scrambled eggs, hash browns, smoked sausage, and bacon, as well as Southern staples like cheesy grits, skillet-fried chicken, corn pudding, and biscuits with homemade peach marmalade. Monell's serves breakfast seven days a week—as well as on Saturday nights from midnight to 3 a.m. And Yelpers say you won't just get a filling meal here—you'll also get a "memorable" and "special" experience.
TEXAS: The Aussie Grind in Frisco
You might not expect to find Australian fare in the middle of the Lone Star State, but that's precisely what you'll find at this bright, trendy suburban spot. The "breaky" menu consists of some traditional dishes such as omelets, avocado toast, and eggs benedict, as well as some more adventurous ones, such as a beetroot-cured salmon stack on sourdough, and hotcakes with berry compote, vanilla bean ice cream, and cotton candy. Without a doubt, one of their best-sellers is the breakfast gnocchi with sautéed bacon, two poached free-range eggs, baby spinach, and freshly grated parmesan.
UTAH: Cupla Coffee in Salt Lake City
Just follow the signs down to this hidden underground hotspot, which is both a small single-batch roastery and a health-conscious breakfast eatery. And patrons of all diets are welcome here—the in-house bakery whips up scrumptious gluten-free, vegan, paleo, and keto options alike, and there are plenty of non-dairy milk options. Yelpers highlight the croissant sandwiches and "expertly constructed" breakfast burritos, but there's also a wide selection of grab-and-go eats, including bagels, scones, danishes, quiches, and croissants, as well as chia pudding and overnight oats.
VERMONT: Butler's Pantry in Stowe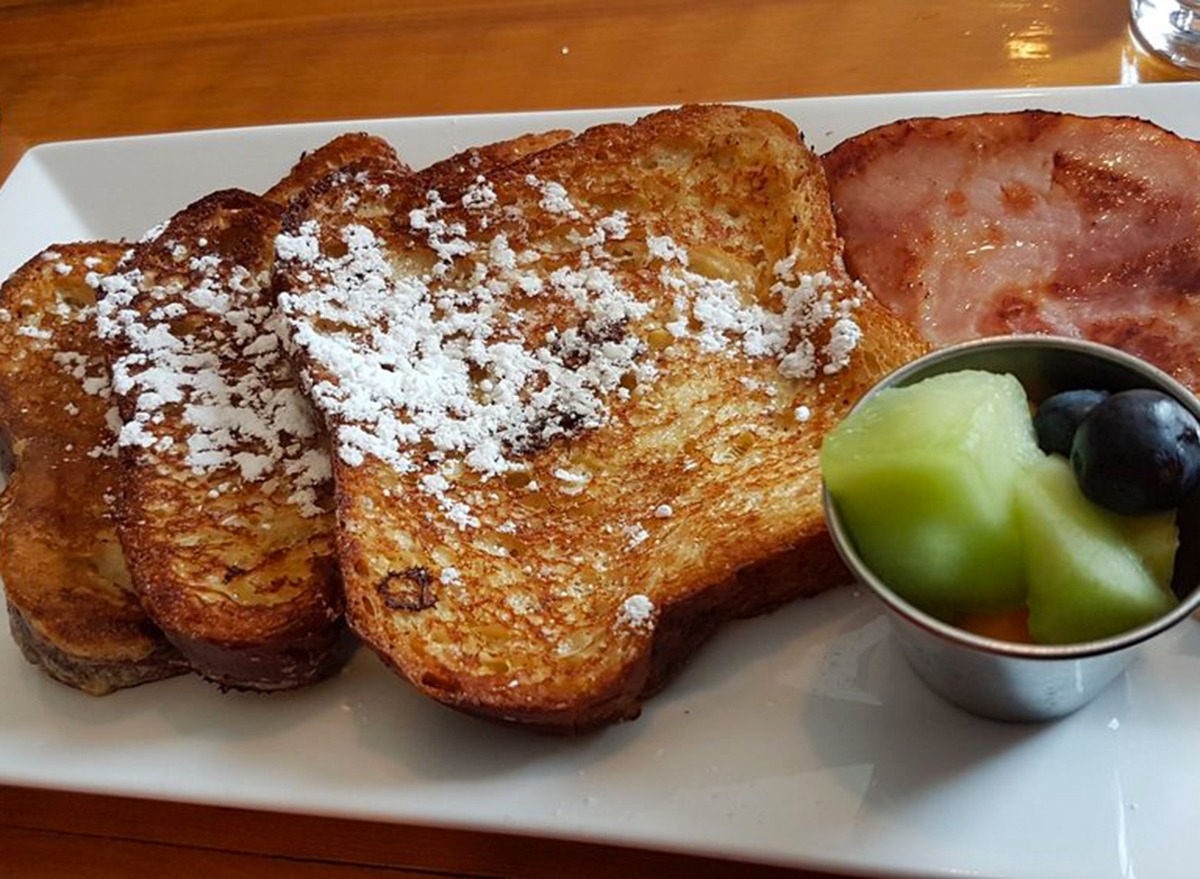 Looking for a hearty breakfast to fuel up before hitting the slopes or sightseeing around Stowe? Yelpers agree that this comfortable, country-chic breakfast joint, which is located in a historic inn, is well worth a trip. And if you're in a rush, you can join the waitlist online ahead of time, and skip the line when you arrive. The savory jalapeño cheddar pancakes, eggs benny on a biscuit, challah French toast, and acai bowl are just a few of Yelpers' go-to dishes. Apparently, the homemade maple breakfast sausage can't be missed, either. Did we mention they offer bottomless coffee?
VIRGINIA: Del Ray Cafe in Alexandria
This French cafe takes breakfast seriously, even flying in frozen croissants from France to bake on-site. They pride themselves on serving every as local and organic as possible. The entire restaurant was designed to be energy efficient. Fans can't stop raving about the variety of dishes and the care that this spot puts into serving the best French breakfast in the states.
WASHINGTON: Tibbitts @ Fern Hill in Tacoma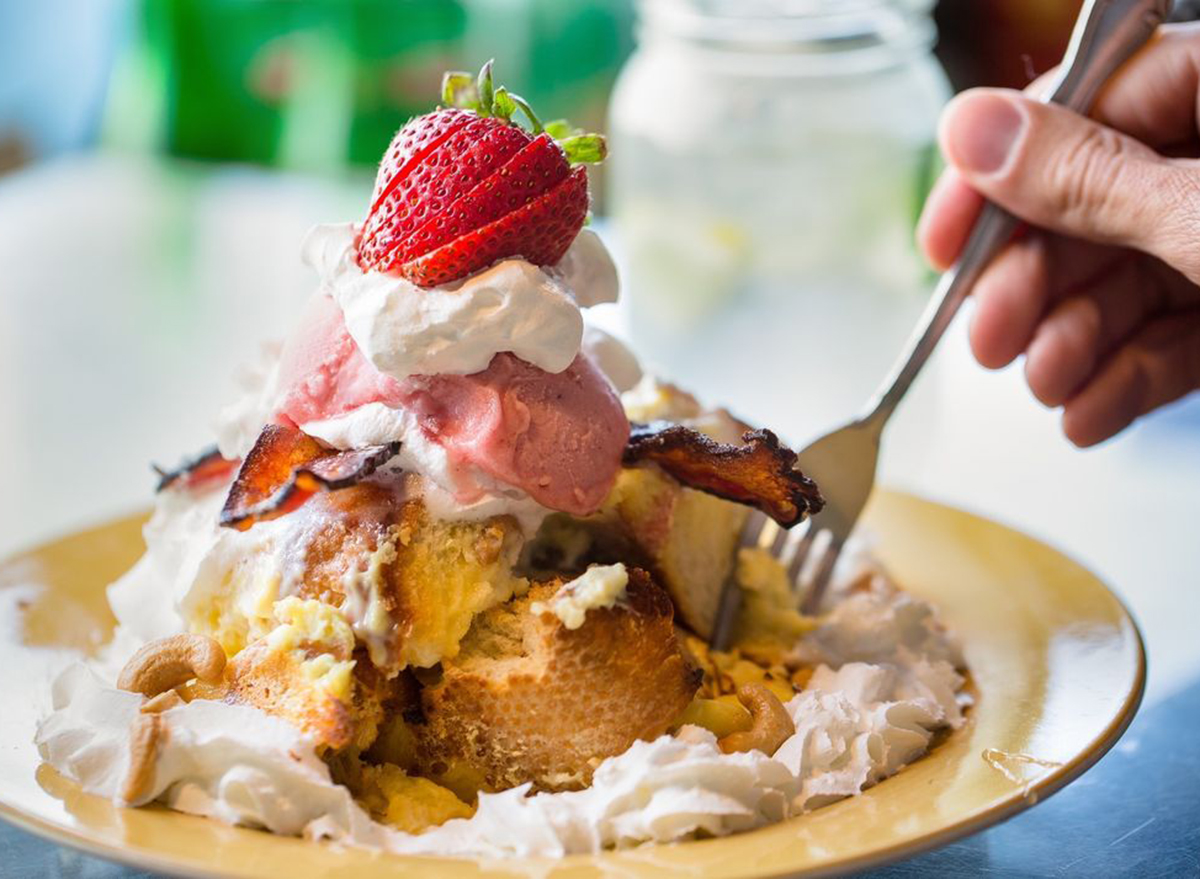 The menu may be somewhat small at this laid-back farm-to-table brunch restaurant, but Yelpers insist that every dish is unique, flavorful, and presented as a work of art. Not only that, but they offer a plethora of gluten-free, dairy-free, soy-free, and nut-free options. A few of the especially innovative menu items include a champagne-soaked lobster benedict with avocado, and sherry-fennel scrambled eggs; a zucchini pancake with candied bacon and lemon zest; and a bread pudding-style salted caramel pumpkin French toast.
WEST VIRGINIA: Wood Iron Eatery in Fayetteville
Yelpers simply can't get enough of the modern brunch fare at this hip espresso bar and eatery, which is located right near some of West Virginia's most beautiful hiking areas. Some of the fan-favorite dishes include the waffle with honeycomb butter (and your choice of crispy chicken or fresh blueberries), chilaquiles, tofu scramble, and the AM Handheld breakfast sandwich with house-made fennel sausage, hot sauce, and pepper jelly. But whatever you order, Yelpers highly suggest getting a side of the thick-cut candied bacon—which is seasoned with cayenne pepper and brown sugar. There's plenty of classic hot and iced lattes and coffee drinks to choose from, but if you're in the mood for something different, try the Zoey Crush, which blends espresso and milk with vanilla, orange, and soda water.
WISCONSIN: 5th and Jefferson Coffee House in Sturgeon Bay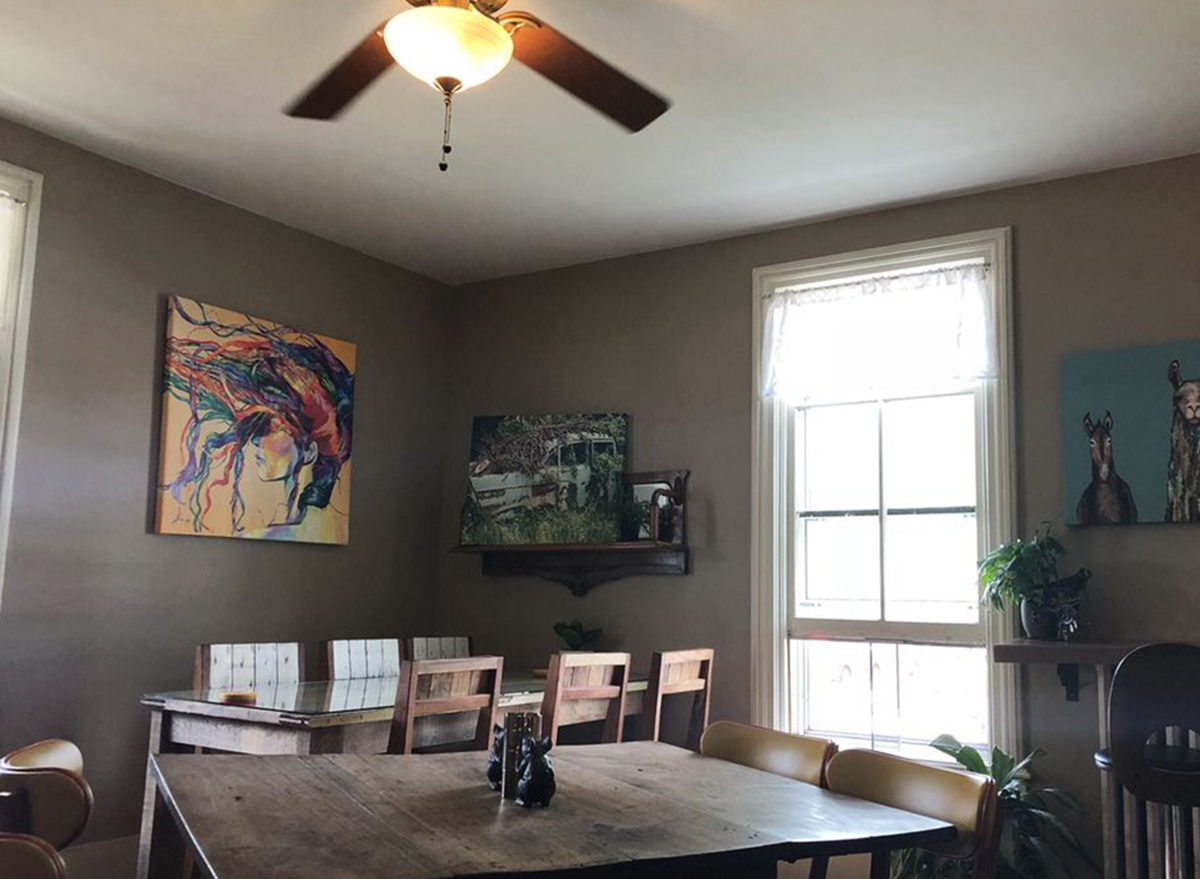 The first thing you're likely to notice about this quaint cafe is that it feels like eating at home—and it makes sense because it's set in a converted house. The former kitchen features countertop chairs, the living room has plenty of couches and tables, and outside, there's a front porch with seating, picnic tables, lawn chairs, and even hammocks to lounge in. A constant soundtrack adds to the ambiance, and there are even games on-site to play with friends, family, or whoever you meet here. Yelpers come from near and far for the Belgian bacon waffle, spicy egg bake, and freshly baked scones. For your java fix, try The Llama, a latte infused with maple syrup, or a Sweet Heat Mocha with a subtle kick.
WYOMING: Persephone Bakery in Jackson
When locals and travelers alike are in the mood for an après-ski treat, they swing by this bustling Jackson Hole bakery, where the bread and pastries are baked fresh every day. Healthy menu options include Persephone's Quinoa Porridge with fresh berries and toast cashews, and a Seeded Avocado Bowl with smoked salmon, goat cheese, and lentils. But if you've built up a big appetite, Yelpers advise going with the Croque Madame or croissant bread pudding French toast. They also note that it's nearly impossible to resist the unique sides, such as maple sage bison sausage and sweet potato Brussels sprout hash. During weekends in the colder months, it can get pretty packed inside. But when the weather permits, there's additional seating on the picaresque patio.
For more, check out these:
The Best Brunch Spot in Every State
The Best Bar Food in Every State
Rebecca Strong
Rebecca Strong is a Boston-based freelance health/wellness, lifestyle, and travel writer.
Read more about Rebecca