The Best Snacks to Buy at Walmart for Weight Loss, Says Dietitian
If you're trying to find snacks with weight loss-supporting ingredients at Walmart, you're in luck.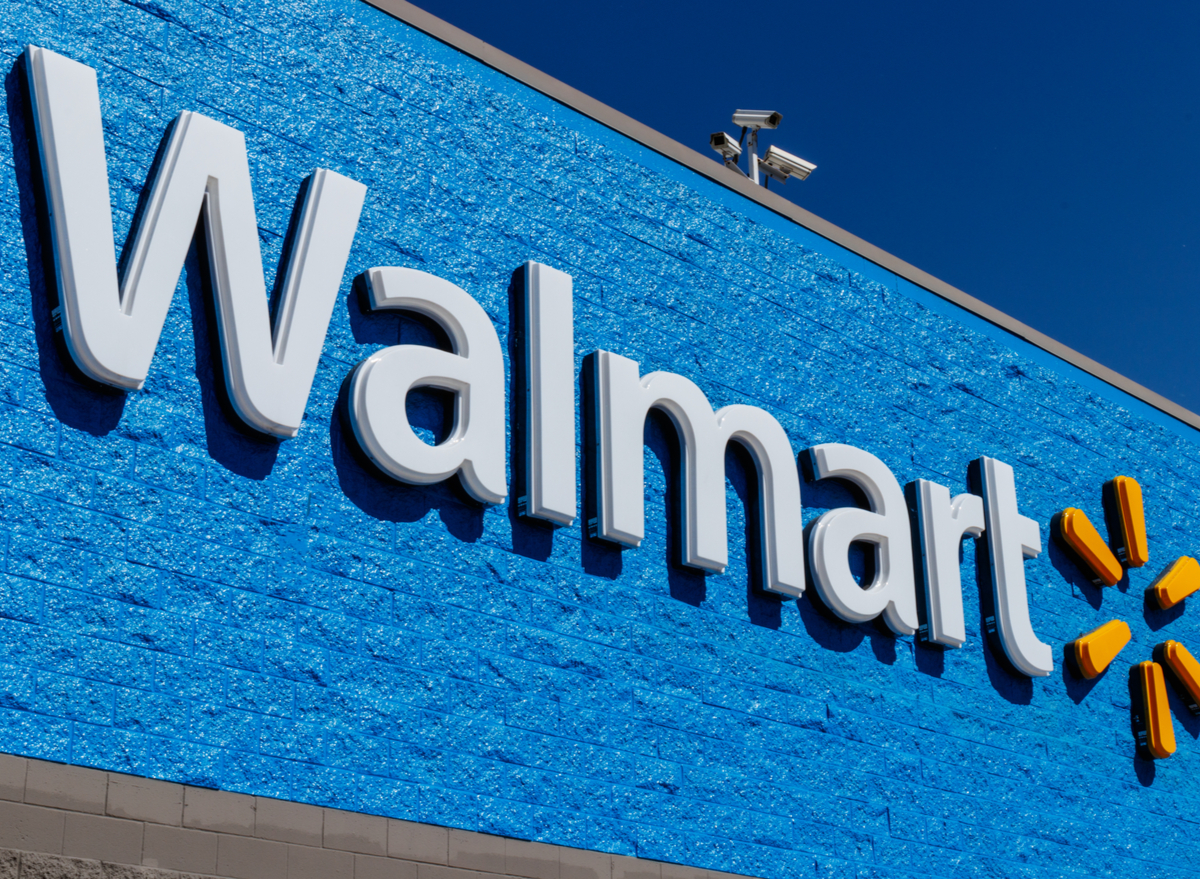 We all know that Walmart is the ultimate place to snag some sugary, salty, and high-fat snacks. But this superstore is also teeming with some impressive snacks that can support weight loss too. And no, we aren't talking about chalky weight loss shakes or cardboard-tasting bars.
From fruit snacks to crispy puffs, Walmart shelves are chock-full of a variety of snacks that can fuel your body with fiber, protein, and a slew of many other weight loss-supporting nutrients.
So, the next time you make a Walmart run, be sure to snag some of these yummy snacks if you are focused on weight management and good-tasting food. Read on, and for more on how to eat healthy, don't miss Eating Habits to Lose Abdominal Fat As You Age, Say Dietitians.
CLIF Thins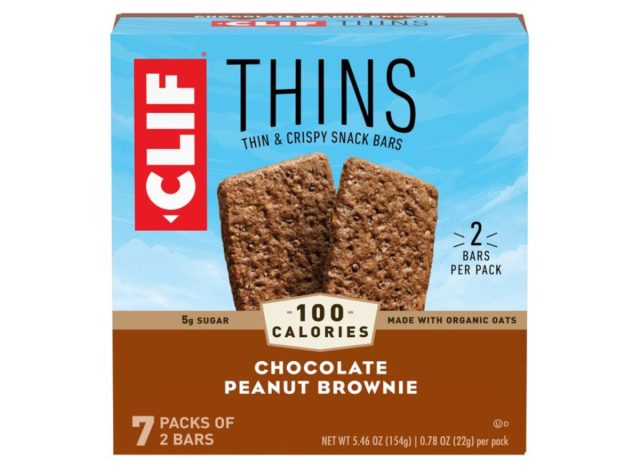 CLIF Thins are a crispy, crunchy snack bar with 100-calories and 5 grams of sugar per pack. They're made with plant-based ingredients you can see, like nuts and organic rolled oats. And since they come in craveable flavors like chocolate peanut butter brownie, they are perfect for people looking for a nutritious snack time pick-me-up that will also satisfy any sweet tooth.
ENVY Apples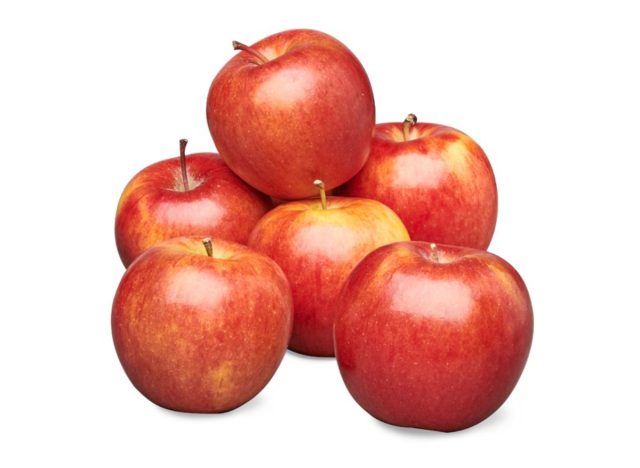 Apples are naturally fat-free and are sweet with no added sugars. Snacking on them may be one of the best things you can eat for weight loss, as data shows that the natural polyphenols found in this fruit likely promote anti-obesity effects. Eating them consistently is linked to weight loss, especially among people who are overweight.
Envy apples are a go-to variety of apples for a mid-day snack because their flesh stays whiter for a more extended period of time, making them an ideal choice for pre-slicing before snack time. As a non-GMO hybrid of the Braeburn Royal Gala apples, this variety offers a satisfying crunch and a naturally balanced sweetness.
Joolies Organic Medjool Dates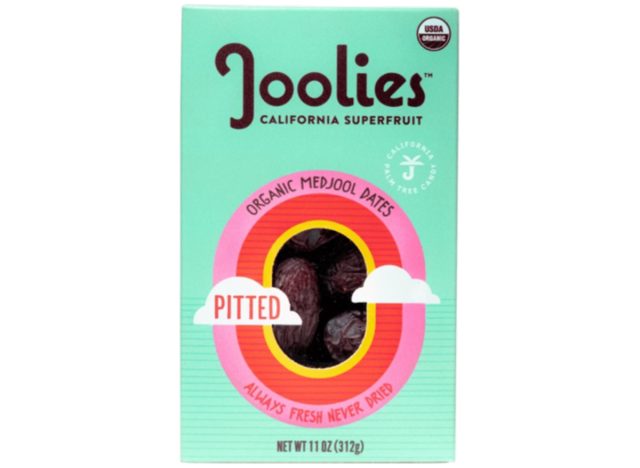 Joolies Organic Medjool Dates are herbicide-free fruits packed in the cutest snack-friendly packaging. Dates are naturally a lower glycemic index fruit choice, allowing for a slow and steady blood sugar rise instead of a spike, which could make you feel hungry shortly after you eat. The 3 grams of fiber provided per serving allows for a bit more of a satiety factor, making these fruits a fantastic addition to a weight-loss snack plan—especially for those who love a caramel-like sweet treat without any added sugars.
Pro tip: Stuff these pitted dates with natural nut butter and top with chocolate chips for a Snickers Bar-like snack that is packed with weight loss-supporting nutrients. (Related: The Best Snack Combinations for Faster Weight Loss, Say Dietitians.)
That's It Prebiotic & Probiotic Mango Fruit Bars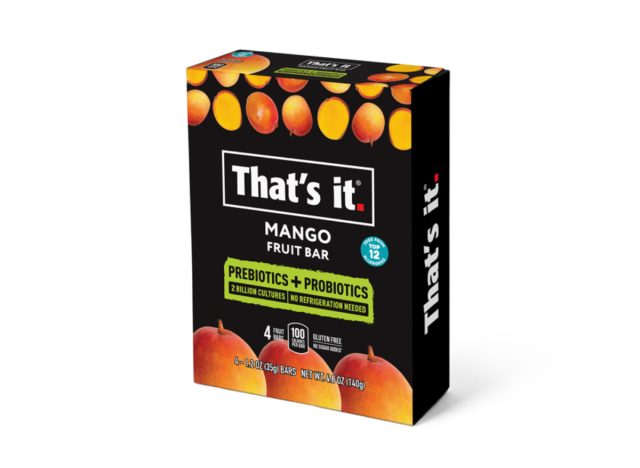 For a snack that can easily be tossed in a purse or gym bag, That's It Prebiotic & Probiotic Mango Probiotic Fruit Bars are a viable weight loss friendly snack for people who are trying to sneak in more in their diet in a convenient way. Probiotic intake is linked to reduced body weight in certain situations. So since these bars are made with live and active probiotic cultures (Bacillus coagulans), eating them gives a boost of probiotics to help possibly support your weight loss journey in a sweet and fruity way.
WHISPS Parmesan Cheese Crisps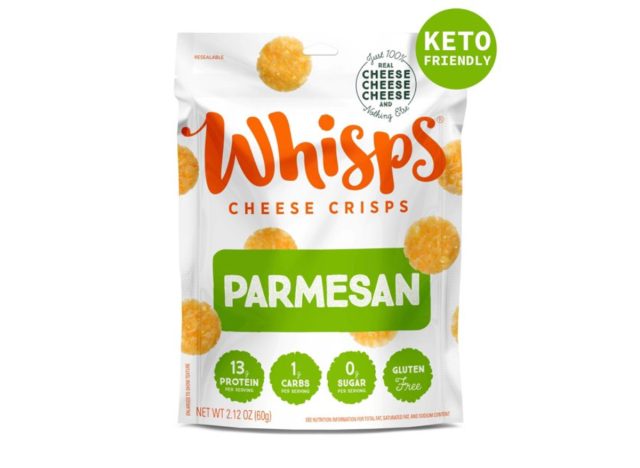 Regardless of whether you are team keto or not, Whisps Parmesan Cheese Crisps are a protein-packed and super-low carb (just 1 gram of carb) snack that can elevate snack boards, trail mixes, and can even be enjoyed on their own.
Made with 100% real cheese, Whisps' gives your snacktime some major protein, and in turn, some staying power. And since eating dairy products, like Whisps cheese crisps, may have modest benefits in supporting weight loss (especially in the short-term), including Whisps in your snacktime plan may be a wise choice when you are feeling a bit peckish.
APPLEGATE Naturals Gluten Free Chicken Nuggets
For a more substantial and protein-packed snack, Applegate Naturals Gluten-Free Chicken Nuggets are jam-packed with protein. They are free from many unsavory additions, including antibiotics and fillers. The chicken used in these nuggets is Applegate humanely raised and fed a 100% vegetarian diet. And even though these nuggets aren't deep-fried like fast food options, they still give a satisfying crunch that we all know and love.
UNREAL Dark Chocolate Coconut Bars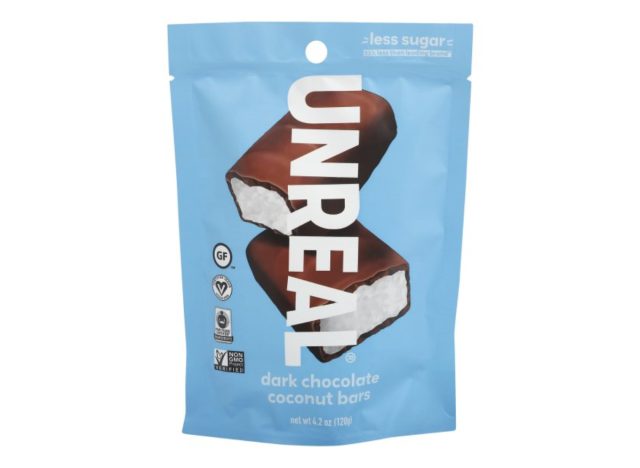 If you simply can't do without chocolate coconut bars (and we can't say we blame you), leaning on UNREAL Dark Chocolate Coconut Bars can satisfy your craving with 51% less sugar than the leading brand. No dairy, gluten, soy, or anything artificial will be found in these treats, allowing for a clean choice for people who need their chocolate and coconut fix.
Kettle & Fire Bone Broth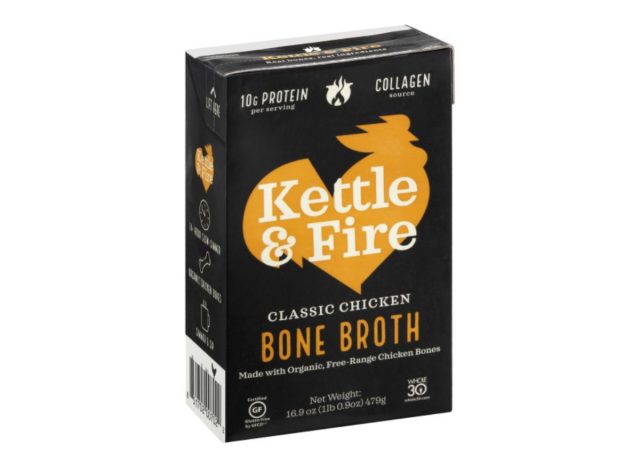 For more of a sippable snack, Kettle & Fire Chicken Bone Broth is a cozy broth to enjoy mid-day in your favorite mug a la a cup of coffee or tea. But unlike classic mid-day warm beverages, this bone broth provides a whopping 10 grams of protein per serving. Since higher protein diets are linked to improvements in appetite and body weight management, sneaking in this amount of protein simply by sipping on some broth may help people achieve their weight loss goals.
Kettle & Fire Chicken Bone Broth is made with organic, free-range chicken bones, and it is slowly simmered for 20+ hours with vegetables and apple cider vinegar to result in a rich and tasty liquid snack.
Wonderful Sea Salt & Vinegar, No Shell Pistachios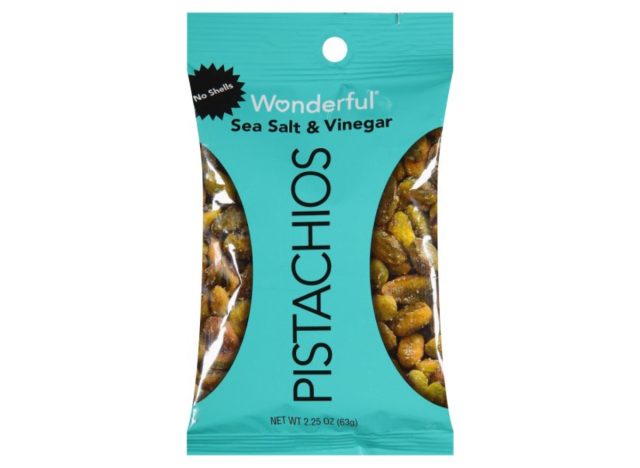 There is nothing quite like the taste of kettle-cooked salt and vinegar chips. But for how much these snacks offer in the taste department, they are certainly lacking nutrition-wise. Sure, a baked or boiled potato can be a part of a weight loss diet. But once they are deep-fried and made into a chip, they become a less-desirable addition to any healthy diet.
Wonderful Pistachios, No Shell, Sea Salt and Vinegar, gives the exact same satisfying taste combo you want from your classic chips, but with a boost of fiber, plant-based protein, and healthy fats—the weight management-supporting nutrient trifecta. Plus, pistachios give you 49 nuts per ounce, compared to just 15 potato chips, giving you more opportunity to snack when leaning on these nutritional powerhouses instead of chips.
HIPPEAS Organic Chickpea Puffs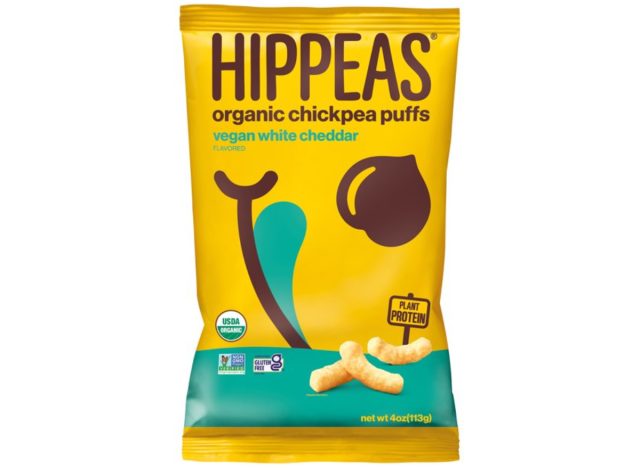 If you are a lover of the old-school puffed snacks that turn your fingers orange, you likely know that, while these snacks are delish, they aren't the best choice to eat when trying to lose weight. HIPPEAS Organic Chickpea Puffs in Vegan White Cheddar give a satisfying cheese-like crunch while being a dairy-free treat. Plus, since each serving provides plant-based protein and fiber—two factors that help promote satiety—including these puffs in your weight loss plan can be a satisfying way to sub out less healthy options in a totally enjoyable way.
Bob's Red Mill Classic Oatmeal Cups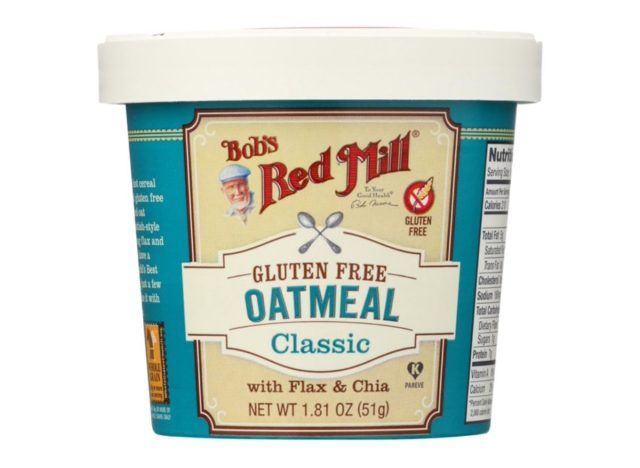 A cup of warm oatmeal can be a stick to your ribs snack that can help people achieve their weight loss goals very easily. Bob's Red Mill Gluten Free Classic Oatmeal cups only take two minutes to cook and are a perfect base for fresh berries, nut butters, or anything else you like to add to your oats.6254a4d1642c605c54bf1cab17d50f1e
When compared with the effects of eating ready-to-eat cold cereal, oatmeal suppresses appetite, increases satiety, and reduces energy intake to a greater extent, according to data published in the Journal of the American College of Nutrition. The β-glucan fibers appear to play a role in this positive weight loss effect.
HOPE Organic Thai Coconut Curry Hummus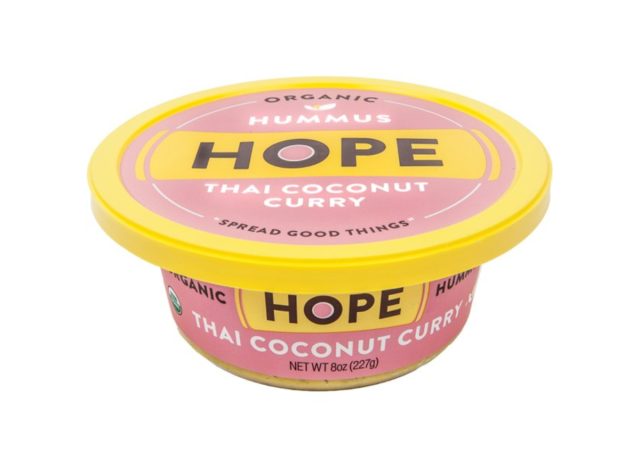 We all know that eating more veggies can help us achieve the weight loss we want to see. But if you are like the many people who aren't psyched at the thought of nibbling on a piece of raw cauliflower or carrot when there are so many other yummy options out there, leaning on a nutritious and tasty dip like HOPE Organic Thai Coconut Curry Hummus can help you elevate your vegetable snack and make it much more interesting to eat.
Dipping fresh carrot, cucumber, and pepper slices in this hummus can give your vegetable snack some zing while also providing some plant-based protein and healthy fats to add to the satiety factor. While you can use classic hummus for your veggie plate, the Thai coconut curry option adds a little more spice to your snack plate with minimal effort.
Lauren Manaker MS, RDN, LD, CLEC
Lauren Manaker is an award-winning registered dietitian, book author, and recipe developer who has been in practice for almost 20 years.
Read more about Lauren