12 Instant Ways Pesto Makes Any Recipe More Delicious
Is there anything pesto can't do?
Pesto is one of the most versatile sauces in the kitchen. As Chef Claudia Sidoti, a member of our expert advisory board, says in her article Secrets for Making the Best Pesto Ever, "Pesto elevates almost any dish and a little bit can go a long way."
The fact that you need such a small amount of flavor-packed pesto is key because it is a higher calorie sauce with upwards of 120 calories in just two tablespoons. However, when made right it contains fresh, vitamin-packed herbs, like basil, and healthy extra virgin olive oil as its main ingredients. Plus, if you have a food processor, it is super easy to make and it freezes incredibly well.
Sidoti's pro tip is to divide the sauce into ice cube trays and freeze, and then use one to two cubes as desired per recipe. Also, there's no need to thaw pesto if you are adding it to a hot dish, says Sidoti. While she usually makes pesto, she recommends Colavita as a good brand if you are short on time. We also have an article you can consult to navigate the different pesto brands: The Best & Worst Pesto Sauces on the Shelves—Ranked!
Read on for more tips on kicking your recipes up a notch with a dollop of pesto.
Use it to enhance pasta salad.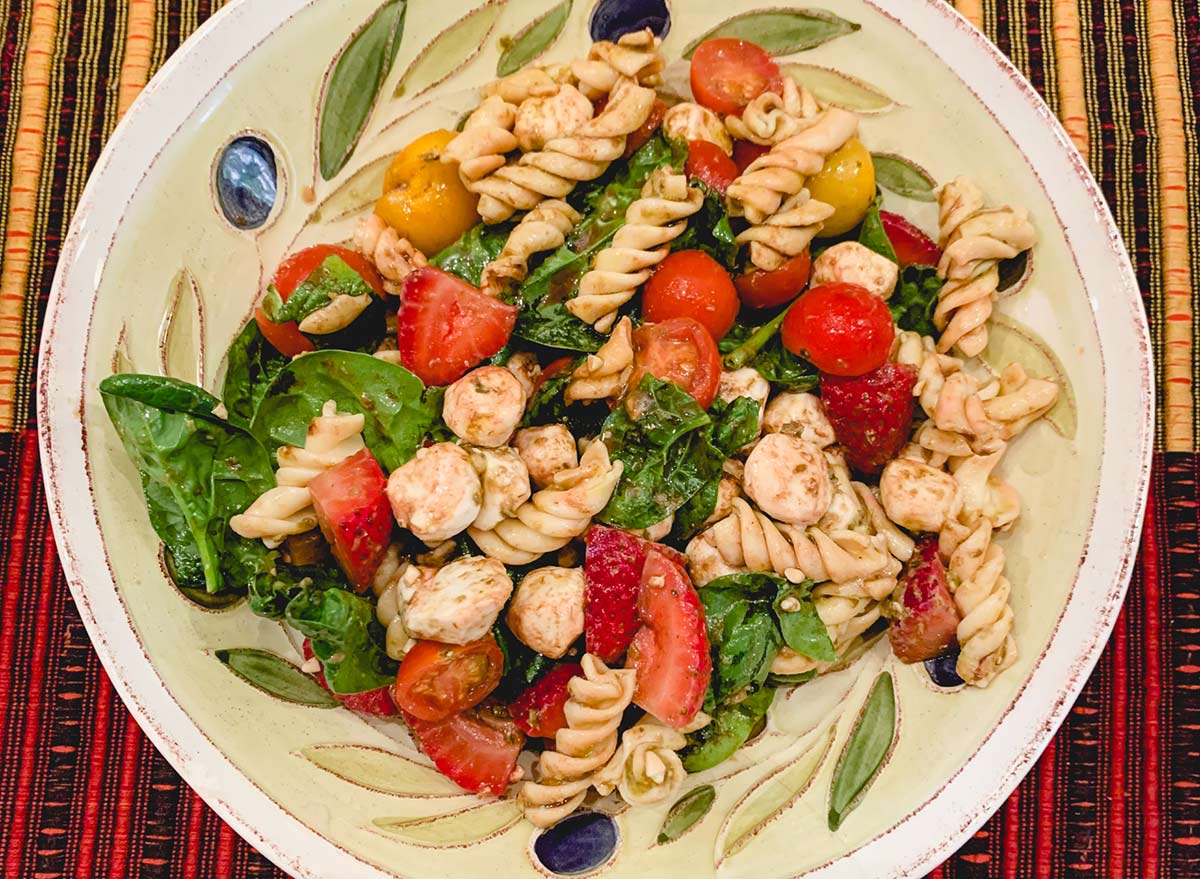 One of the most popular search terms surrounding pesto is its use with pasta. To be honest, there probably isn't a wrong way to do this, except maybe using too much. Remember each 2-tablespoon serving can have over 120 calories! The blank slate of pasta lends itself perfectly to the powerful flavors of pesto, so a small amount goes a long way.
This pasta salad, inspired by the beloved flavors of a Caprese salad, is made healthier by substituting pesto for the traditional mayonnaise.
Get our recipe for A Light Mediterranean Caprese Pasta Salad.
Sign up for our newsletter for more healthy recipes and essential cooking tips.
Use it to flavor lean chicken breast.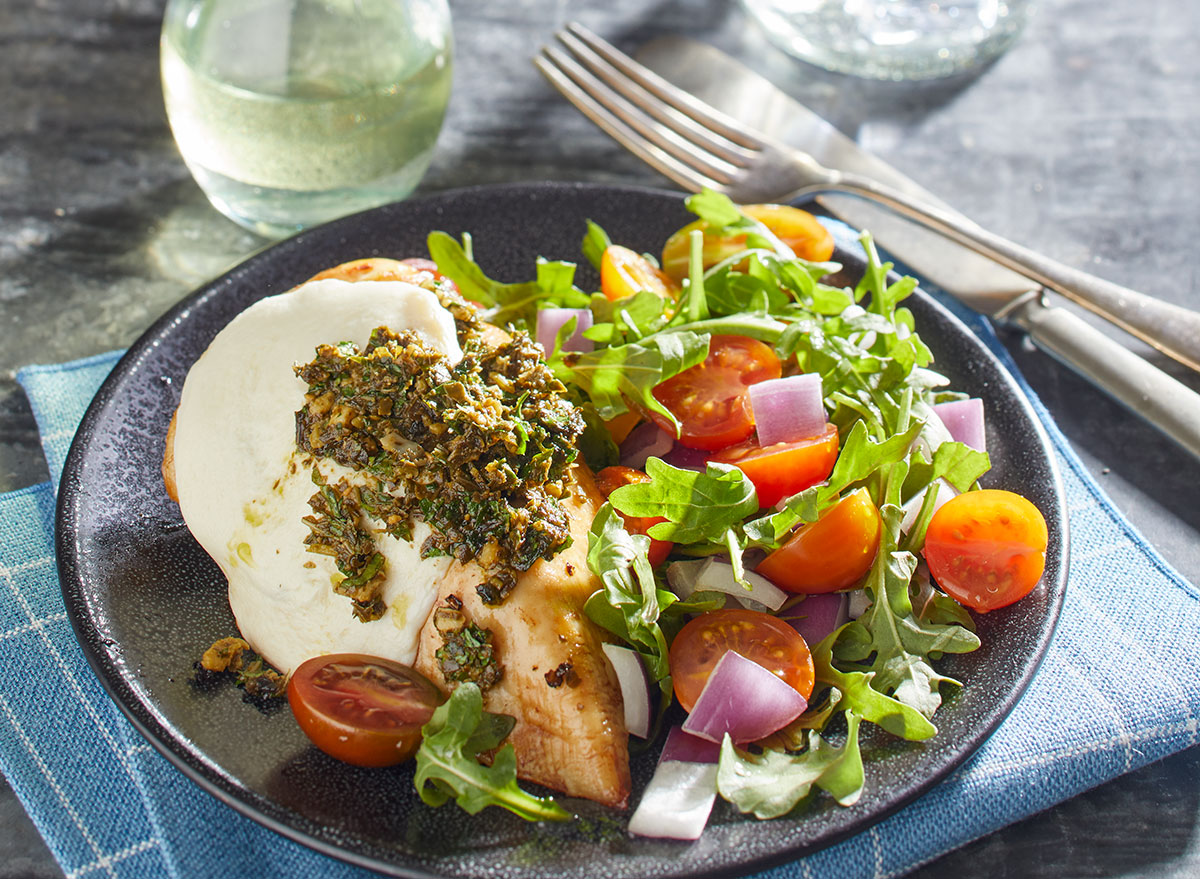 Newsflash: Chicken breast can be boring. Use a little bit of pesto to give it the flavor it needs. These baked chicken breasts come alive with a little help from pesto and bubbling mozzarella cheese.
Get our recipe for Keto Pesto Chicken.
Add it to soup.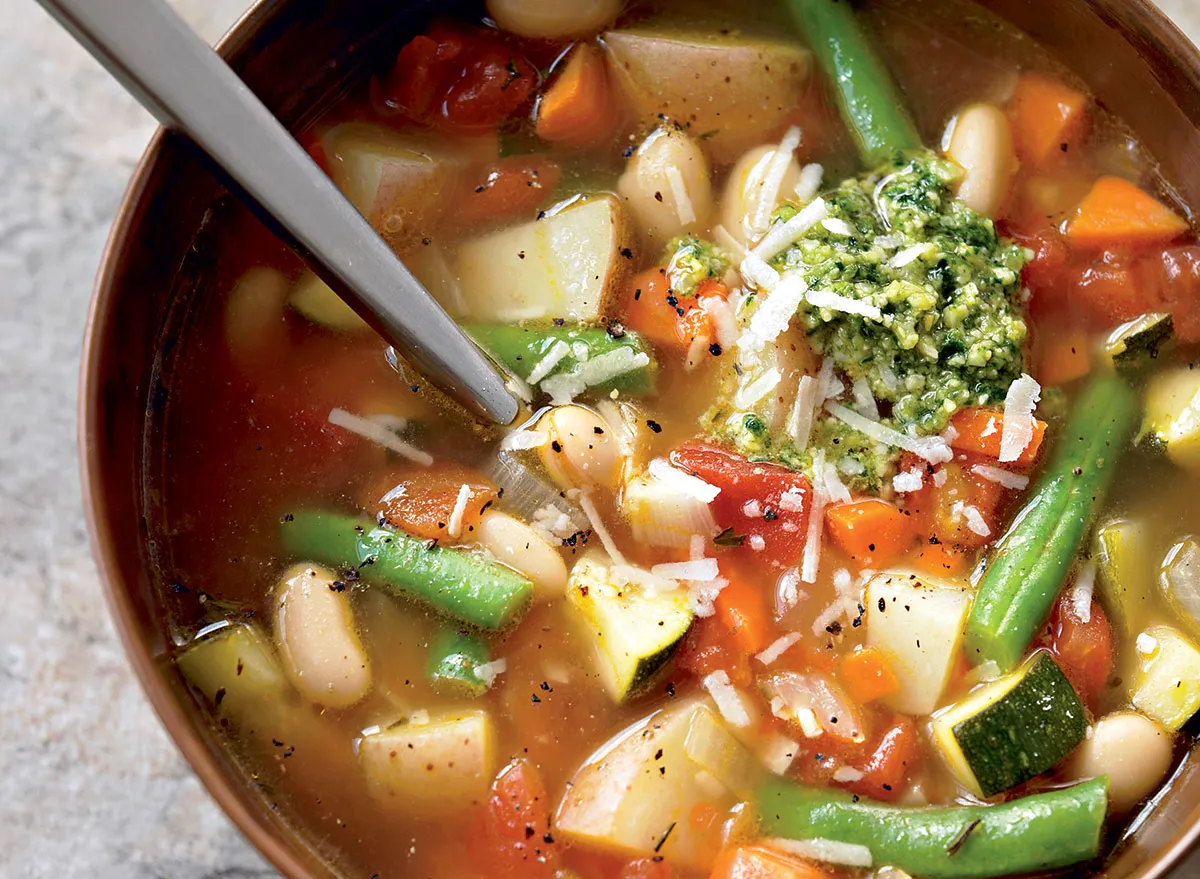 Minestrone loves the addition of pesto, try it swirled into creamy soups too. Chef Sidoti's trick for dressing up mundane tomato soup is to add a spoonful or two of pesto and then dust it with Parmesan cheese.
Get our recipe for Veggie-Packed Minestrone With Pesto Soup.
Add a cube to marinara sauce.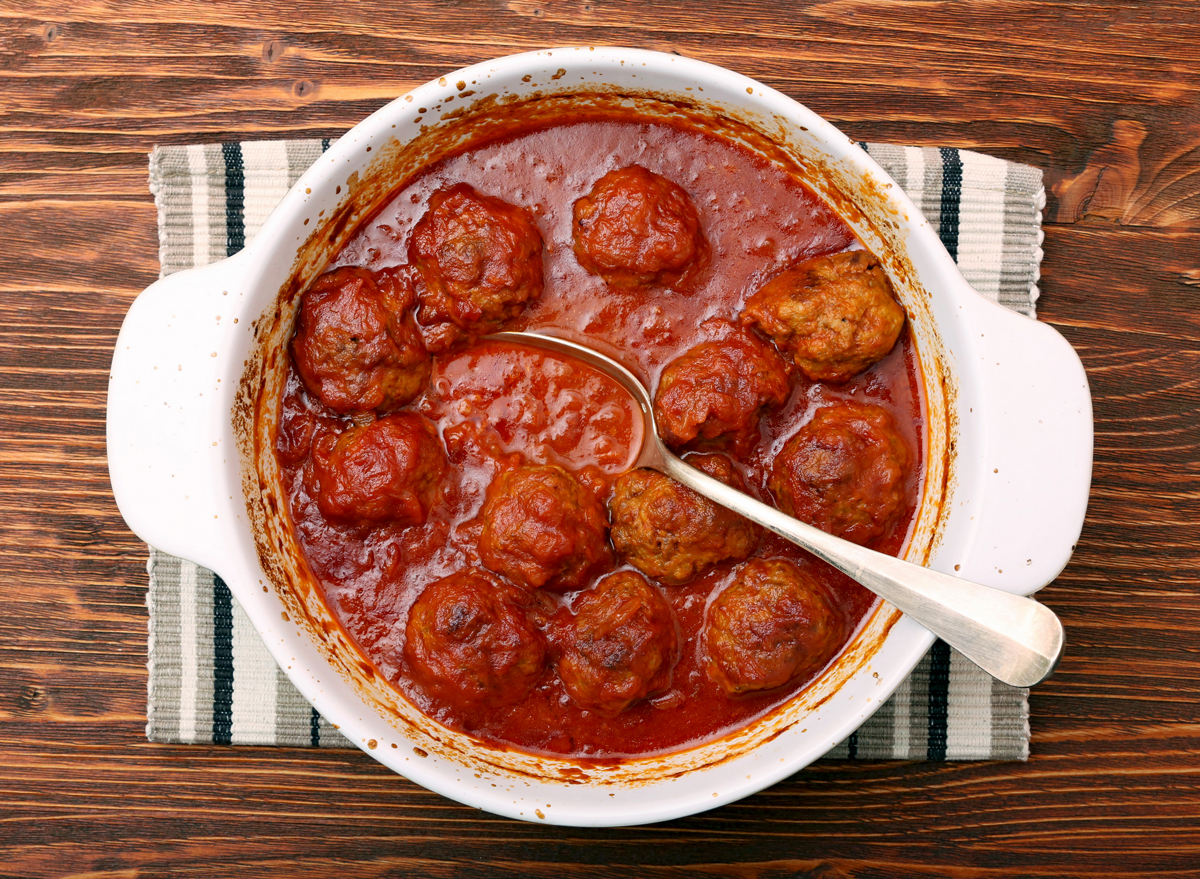 Did you run out of fresh herbs for the marinara sauce you've been simmering all day? Add a cube of your homemade frozen pesto or a dollop of good store-bought pesto, recommends Sidoti.6254a4d1642c605c54bf1cab17d50f1e
Make homemade pizza with pesto as the sauce.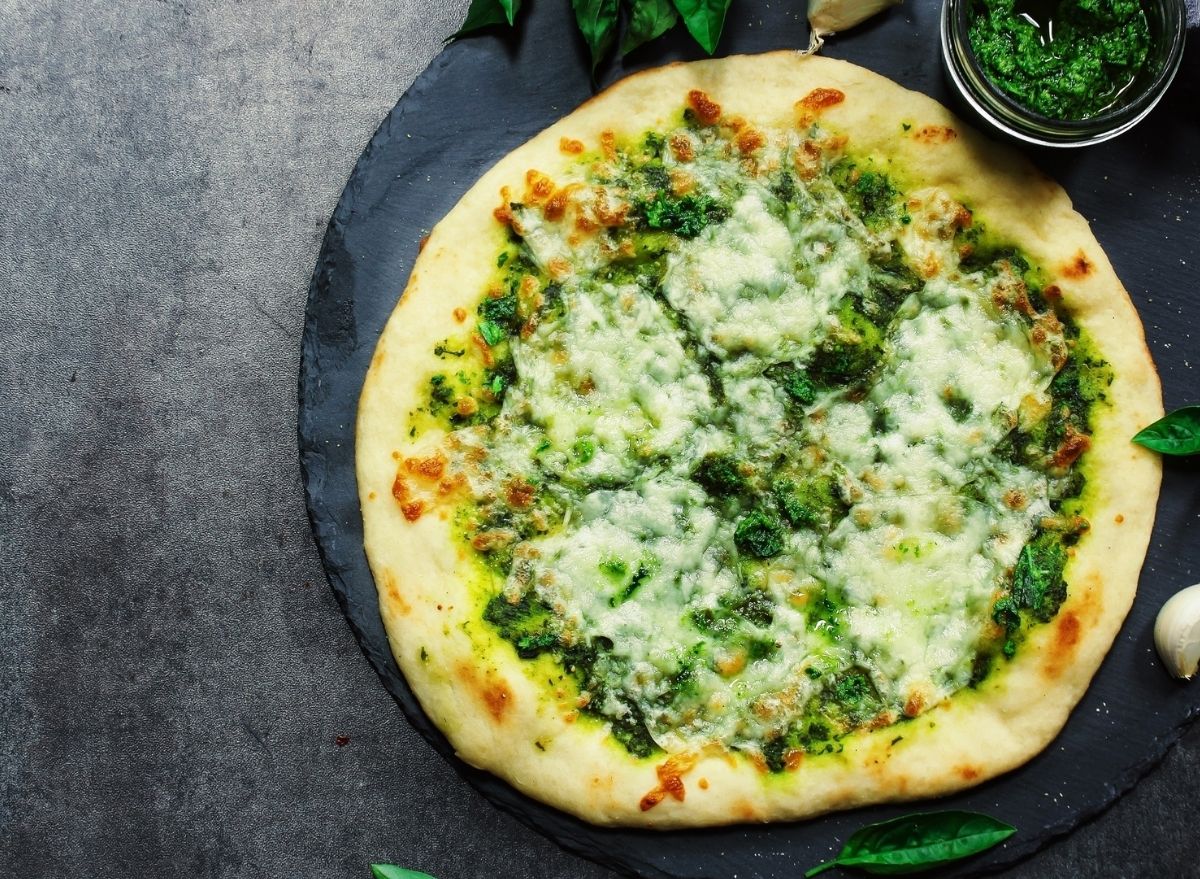 Take homemade or store-bought pizza dough, add a swirl of pesto to coat the dough, leaving an inch or so for the crust, and top with rounds of goat cheese. Cook on a preheated cast-iron skillet or pop it in a 425° oven until the crust is crackly.
Top fish with a spoonful.
Fish doesn't need a complicated sauce to make it delicious. Keep a jar of pesto in the fridge or freezer to enhance any healthy fish recipe. If anything needs a burst of flavor, pesto should be the first choice. Lean and meaty swordfish stands up to the powerful flavor punch of pesto in this recipe.
Get our recipe for Healthy Pesto-Topped Grilled Swordfish Steak.
Get trendy.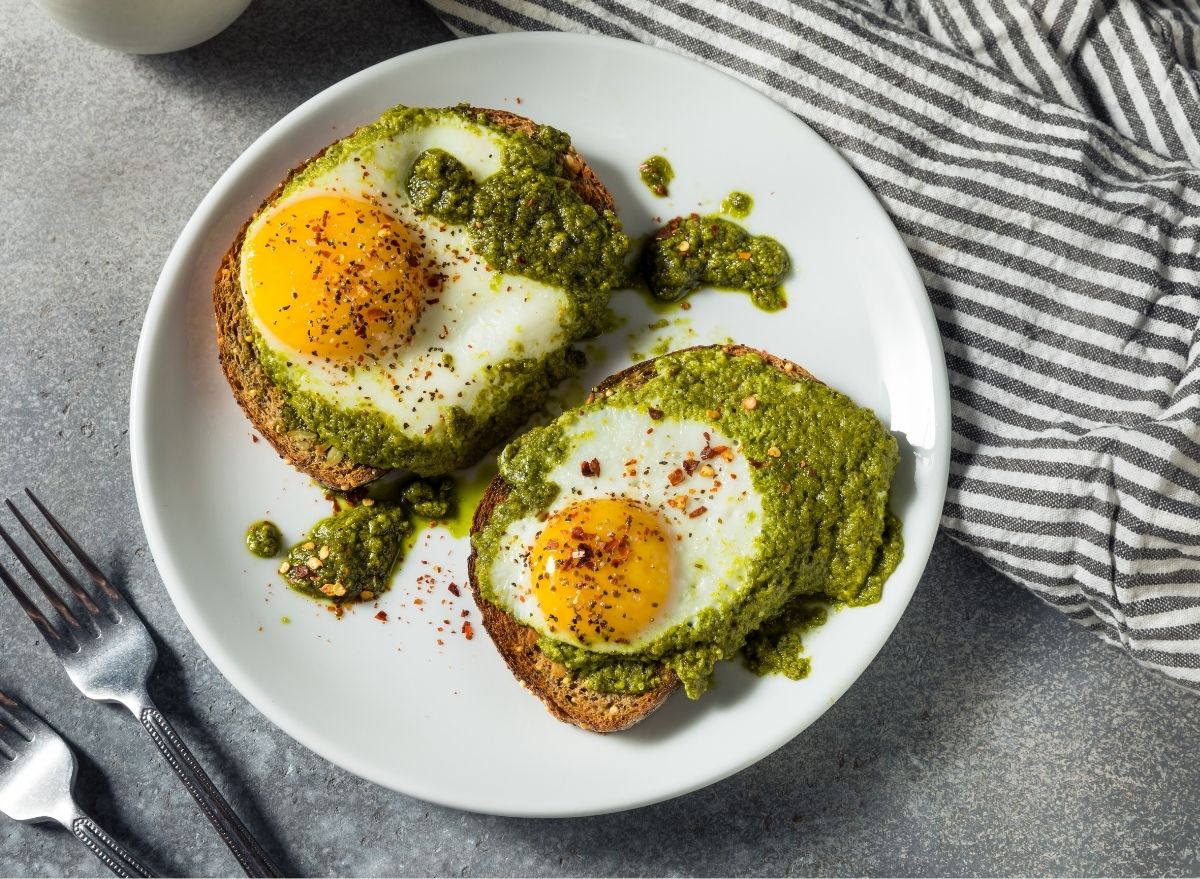 In a viral TikTok video, a woman uses pesto to coat the pan before frying eggs. This technique adds oil, to keep the egg from sticking, and adds a lovely fragrant flavor to the eggs. Egg and pesto is a perfect combo. Chef Sidoti also recommends jazzing up omelets or scrambled eggs with a spoonful or two.
Get the recipe for Tiktok Pesto Eggs.
Spoon on hard-boiled eggs.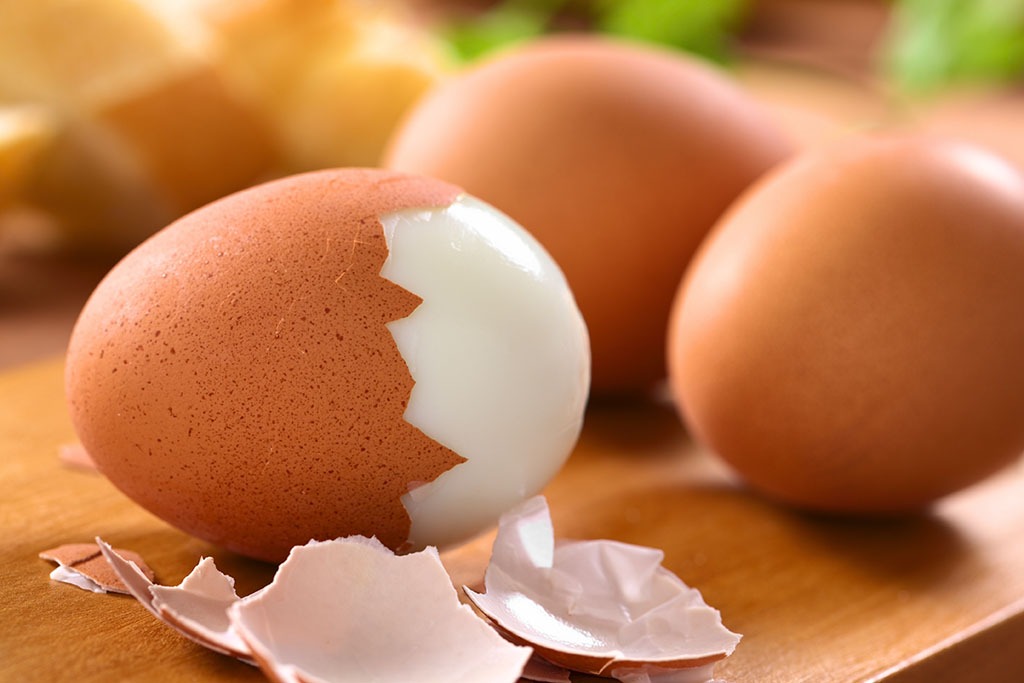 Speaking of eggs, a tiny teaspoon of pesto is phenomenal on hard-boiled eggs. You're welcome. And, in case you're wondering, this is the best way to cook hard-boiled eggs.
Spread on a sandwich.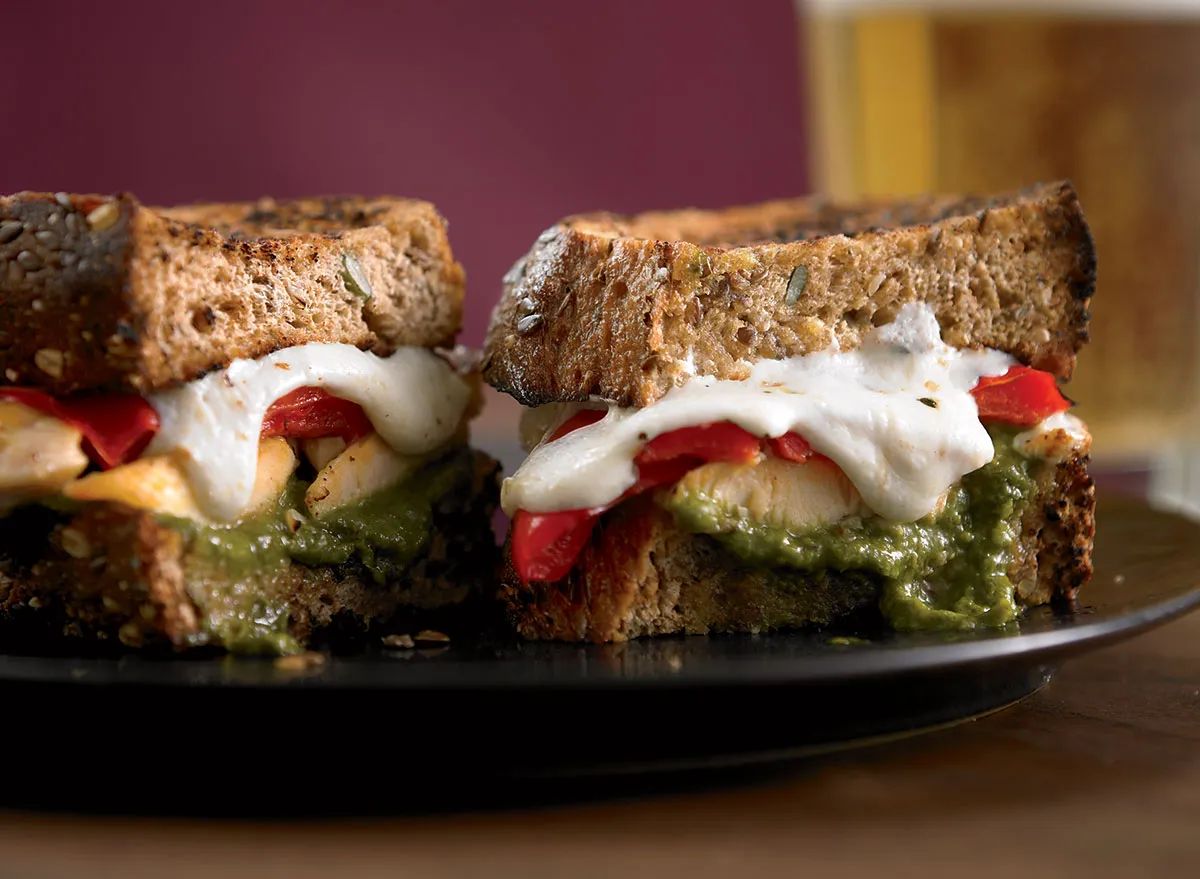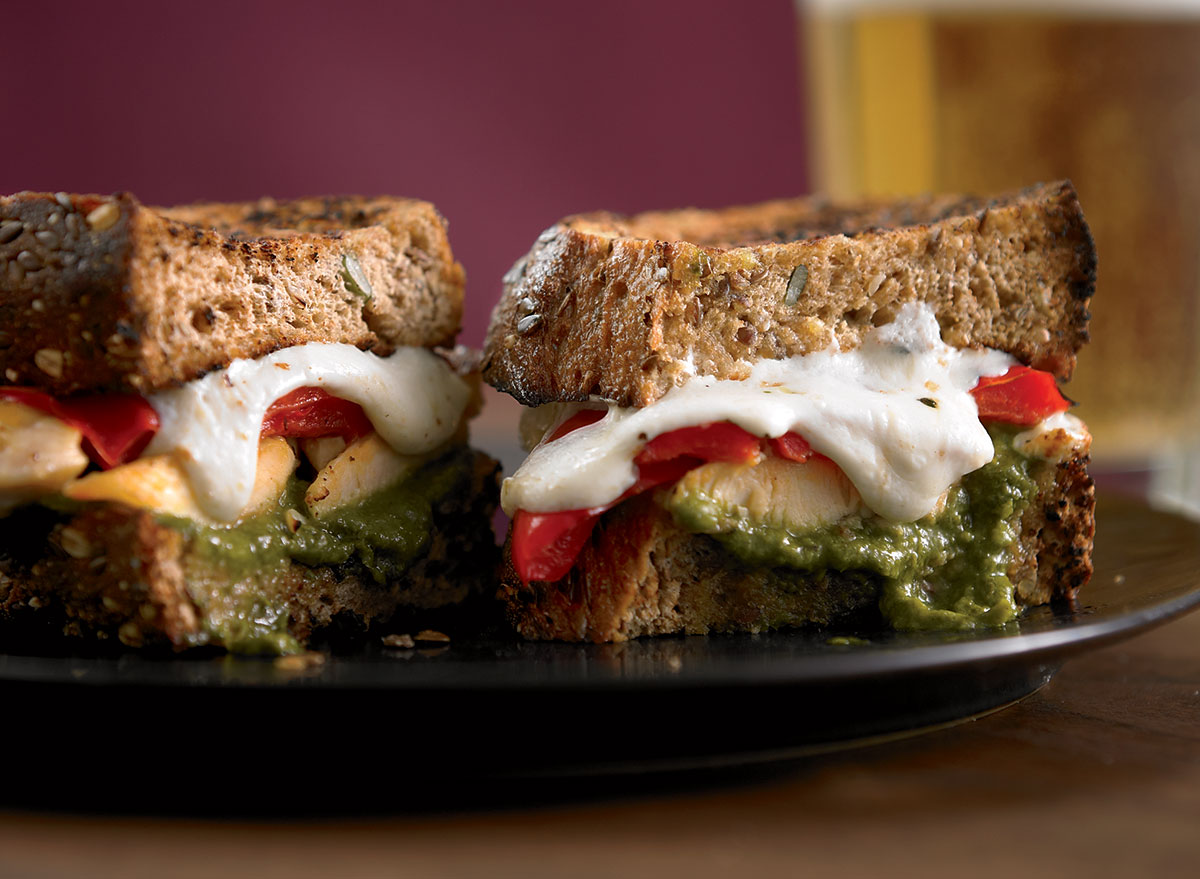 Pesto makes any sandwich better. Grilled cheese, roasted turkey, steak, tuna—it literally goes with everything. Use any leftover chicken, maybe even a Costco rotisserie chicken, to make this roasted red pepper and fresh mozzarella panini. Is there anything rotisserie chicken can't do? If you're looking for the best pre-made chicken, consult our rotisserie chicken taste test.
Get our recipe for Chicken Panini With Pesto and Peppers.
Make an easy bruschetta.
Chef Sidoti also uses pesto to make an easy bruschetta for unexpected guests. For every 1/4 cup pesto, she stirs in 1 diced tomato and 1 cup chopped arugula. She spoons this mixture onto toasted ciabatta or baguette rounds and sprinkles with additional Parmesan. Alternatively, she says, add a little bit of pesto to softened butter to make a spread that is perfect on toast.
Make a ​​spaghetti squash bowl.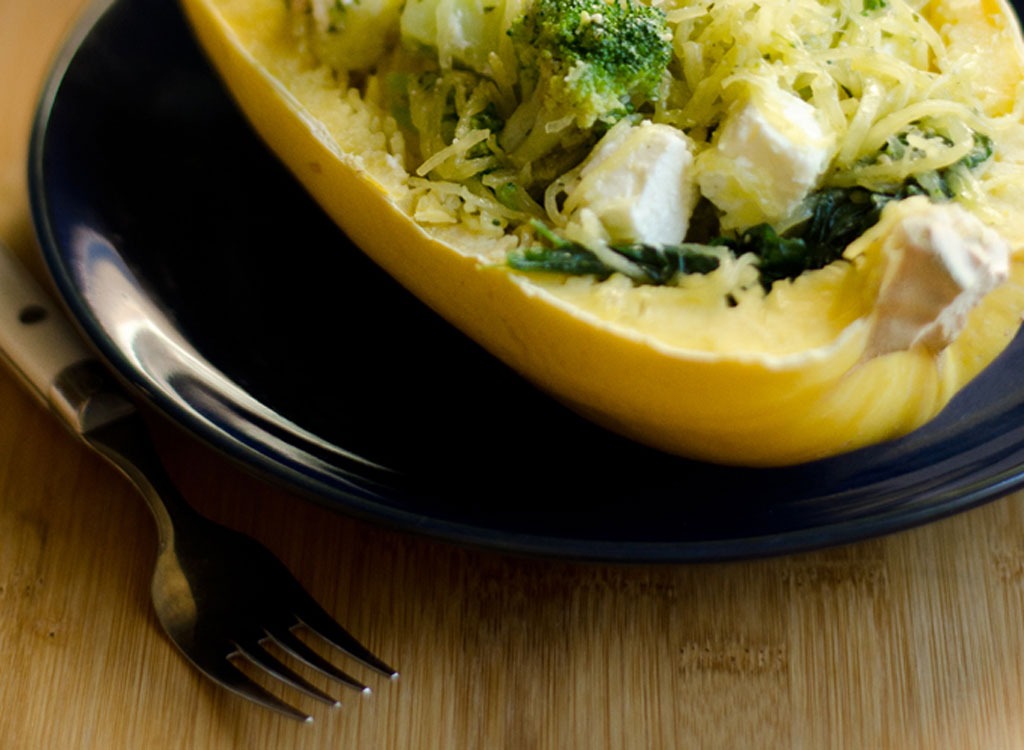 This recipe is from one of our favorite weeknight recipe collections, 40 Dinner Ideas That Don't Need a Recipe.
What You'll Need: Spaghetti squash (an uber low-calorie veggie that's filled with noodle-like strands), olive oil, spinach, jarred pesto, cubed feta cheese
Not only is this meal a no-brainer to pull together, but it also has next to no cleanup—it doesn't get much better than that. Start by preheating the oven to 375 degrees Fahrenheit. Then, cut the spaghetti squash in half lengthwise and scoop out the seeds. Brush it with olive oil and bake it, face down on a baking sheet for 45 minutes. Once the squash is done, use a fork to scrape long, spaghetti-like strands from the flesh onto your plate. Add the vegetables, pesto, and cheese into the squash cavity and mix so the cheese melts a bit.
Make a quick and easy dip for veggies.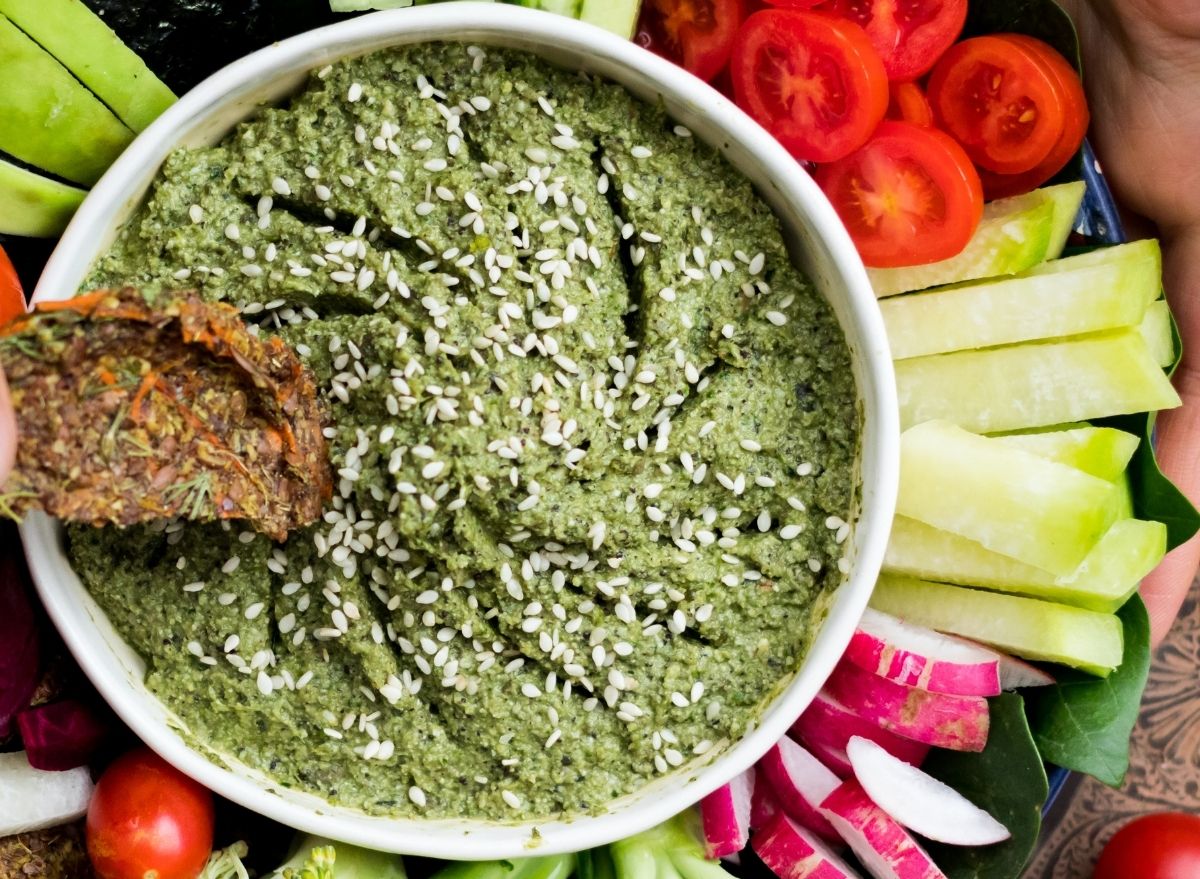 A bit of pesto takes a boring dip and makes it party-worthy. Chef Sidoti's magic ratio is to add 1/4 cup pesto to a mixture of 1/2 cup mayo and 1/4 cup sour cream, and then add the zest and juice of 1/2 a lemon. She serves the dip with fresh-cut veggies, you can even use the leftovers to top of a baked potato!
Whenever you need a burst of flavor, pesto is a great go-to. Don't be afraid to stir it into one of your favorite recipes today.
Read more:
20 Super-Simple Dinner Recipes with Just 5 Ingredients
70+ Healthy Chicken Recipes for Weight Loss