16 'Biggest Loser' Snack Combos for Weight Loss
The secret to losing weight and keeping it off for life is so simple that it can be summed up in just two words: healthful snacking.
At least that's what The Biggest Loser's dietician Cheryl Forberg, RD, says—and her advice shouldn't be taken lightly. Forberg has helped 15 seasons' worth of Biggest Loser contestants cook and nibble their way to trimmer bodies and healthier lives. But before you get too excited and buy everything in the supermarket snack aisle, realize that we're not giving you permission to nosh on whatever you choose (sorry!). It does mean, however, that we're saying you can snack two or three times a day on a mini-meal of 150 to 250 calories, so long as it's low in added sugar and includes a lean protein and a healthy carbohydrate. This combination of nutrients will help maintain your blood-sugar levels, keeping you full and preventing your body from storing excess fat. Although these guidelines may seem really specific, the options are endless.
To help you snack your way slim, we asked Forberg (who recently authored the book A Small Guide to Losing Big) to reveal her go-to snack combinations for weight loss—all of which fit the nutritional bill. And for even more healthy snack ideas, check out these 25 Best High-Protein Snacks in America.
Hummus with Carrots & Celery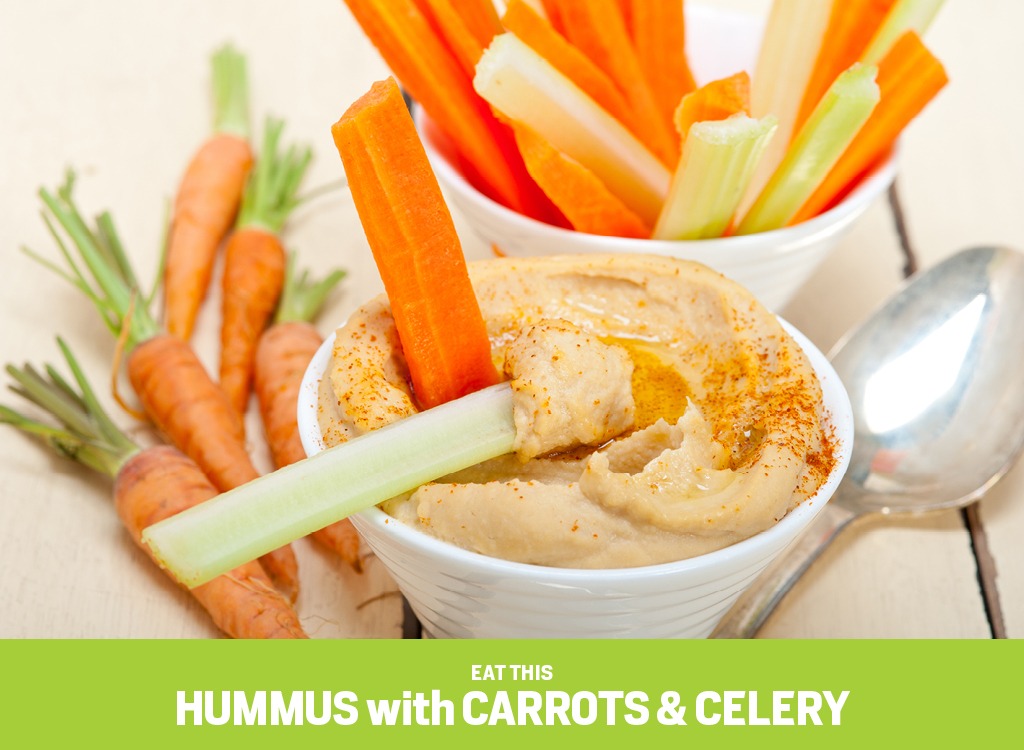 Eat This!: 2 tablespoons hummus + ½ cup each celery and carrot sticks
Drink This!: 8 ounces iced green tea with lemon
This crunchy and creamy duo is a perfect low-calorie nosh to tide you over between meals. Thanks to their high water content, carrots and celery are two of the most satiating low-cal veggies out there. And pairing them with protein- and fiber-rich hummus makes for a near-perfect weight loss snack.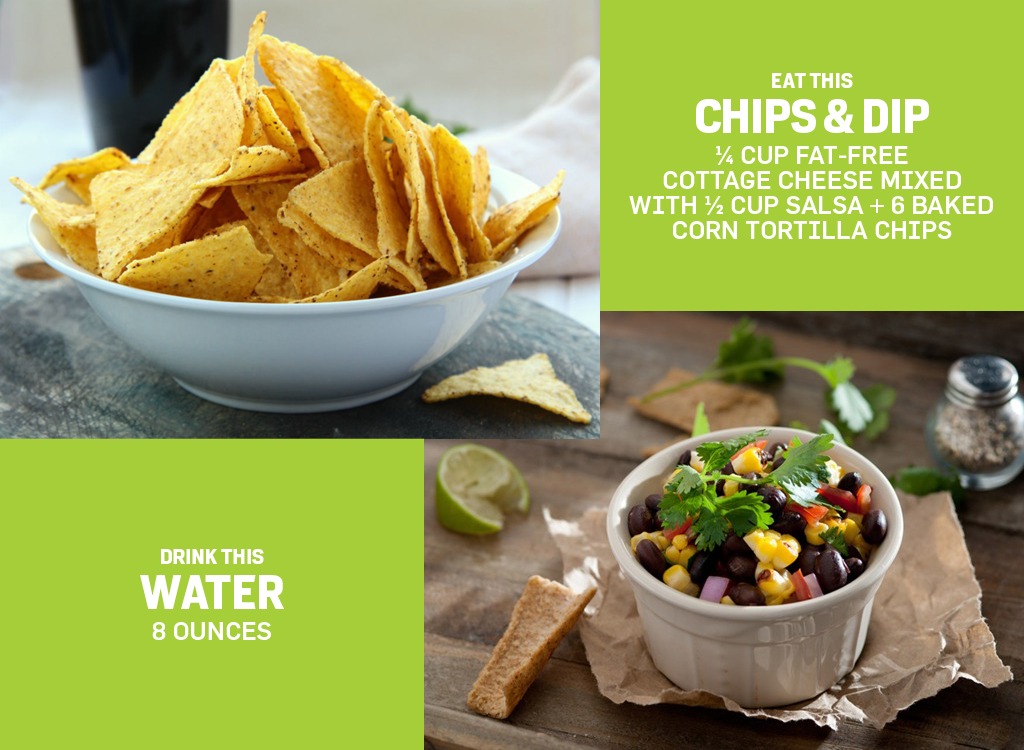 Eat This!: ¼ cup fat-free cottage cheese mixed with ½ cup salsa + 6 baked corn tortilla chips
Drink This!: 8 ounces water
Yes, that's right! You can still enjoy chips and dip and lose weight. The trick to success, however, is sticking to Forberg's recommended portion size and following her healthy recipe tweak. Instead of mixing salsa with high-cal condiments like sour cream, she adds protein-filled cottage cheese. The combo will give you the creamy taste you crave—along with a solid hit of muscle-building protein—for a fraction of the calories and fat of traditional dips.
Not keen on tortillas? Check out these 11 Best Brand Name Chips for Weight Loss for some other healthy picks.
Eat This! Tip
Since cottage cheese can sometimes pack excess salt (which can make you bloat), we recommend sticking to a low-sodium salsa. We're fans of Newman's Own Mild.
Greek Yogurt with Nuts & Berries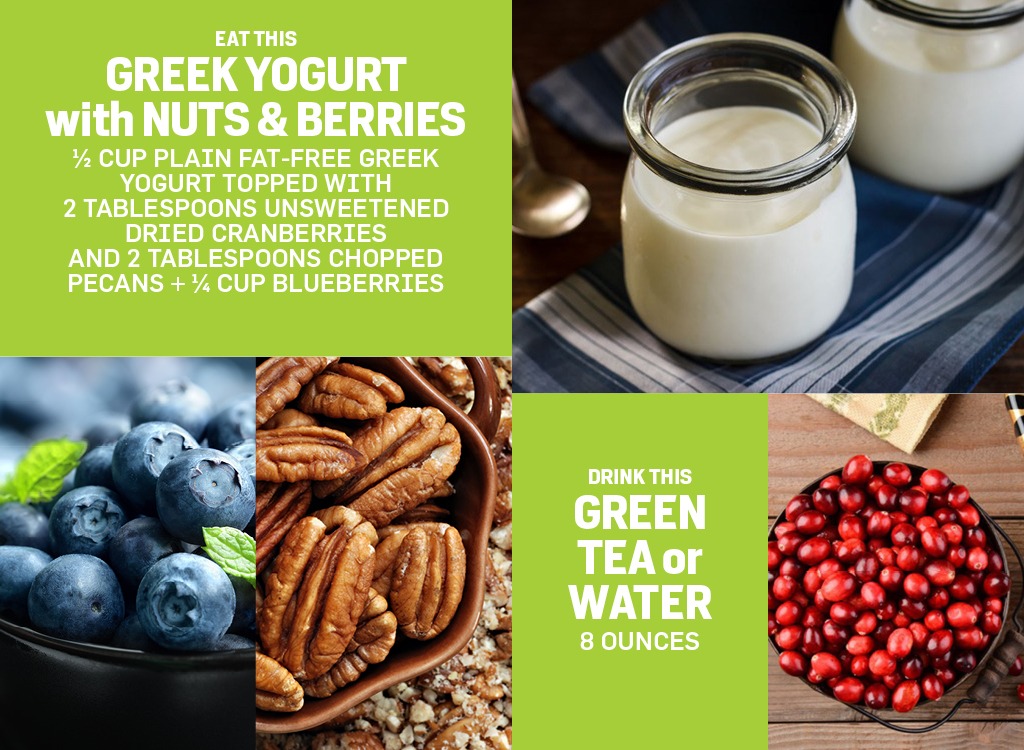 Eat This!: ½ cup plain fat-free Greek yogurt topped with 2 tablespoons unsweetened dried cranberries and 2 tablespoons chopped pecans + ¼ cup blueberries
Drink This!: 8 ounces green tea or water
Filled with protein and essential amino acids, Greek yogurt is a weight loss legend—but the plain variety isn't exactly a known taste-bud pleaser. Pairing it with crunchy pecans and dried cranberries helps make this snack more palatable without adding a large number of calories. Not only will pairing your yogurt with a side of blueberries keep your belly full and satisfied, it'll help blast away belly fat and keep blood pressure levels in check. To learn more about the amazing blueberry, check out these 6 Reasons to Stock Your Kitchen with Blueberries.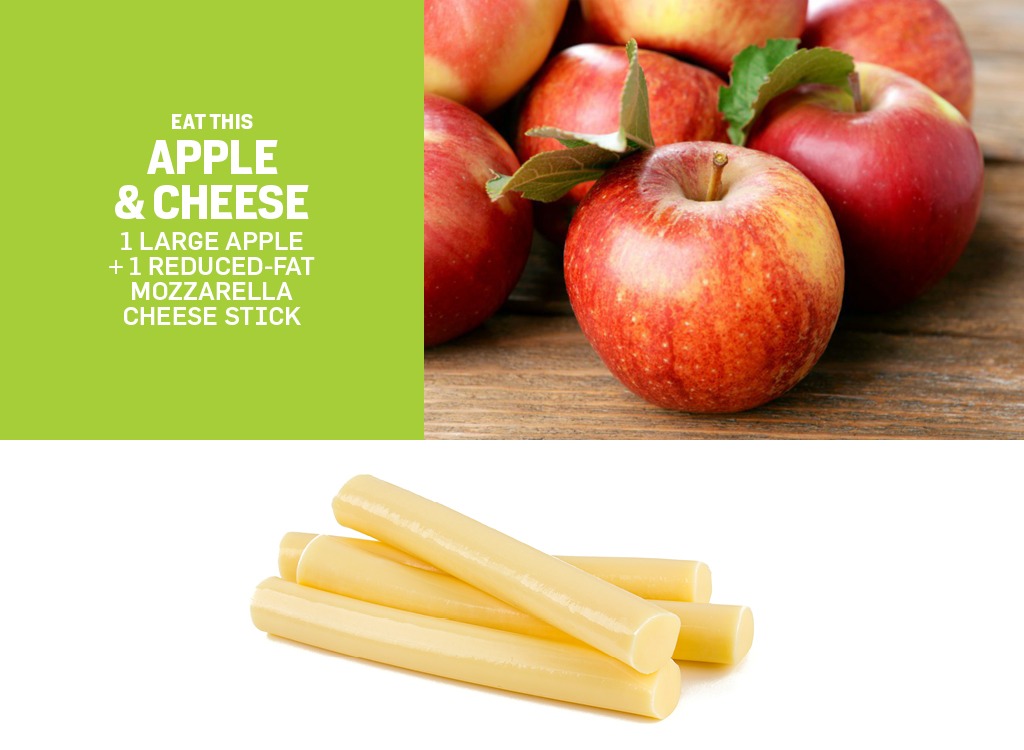 Eat This!: 1 large apple + 1 reduced-fat mozzarella cheese stick
Drink This!: 8 ounces spring water
This delicious mix of sweet and salty flavors is sure to make your taste buds sing! And thanks to the belly-slimming fiber in the apple and the cheese's high protein content, this eat-on-the-go snack duo will also keep your stomach from rumbling for hours.
Looking for more super satiating noms? Check out these 10 Most Filling Snacks!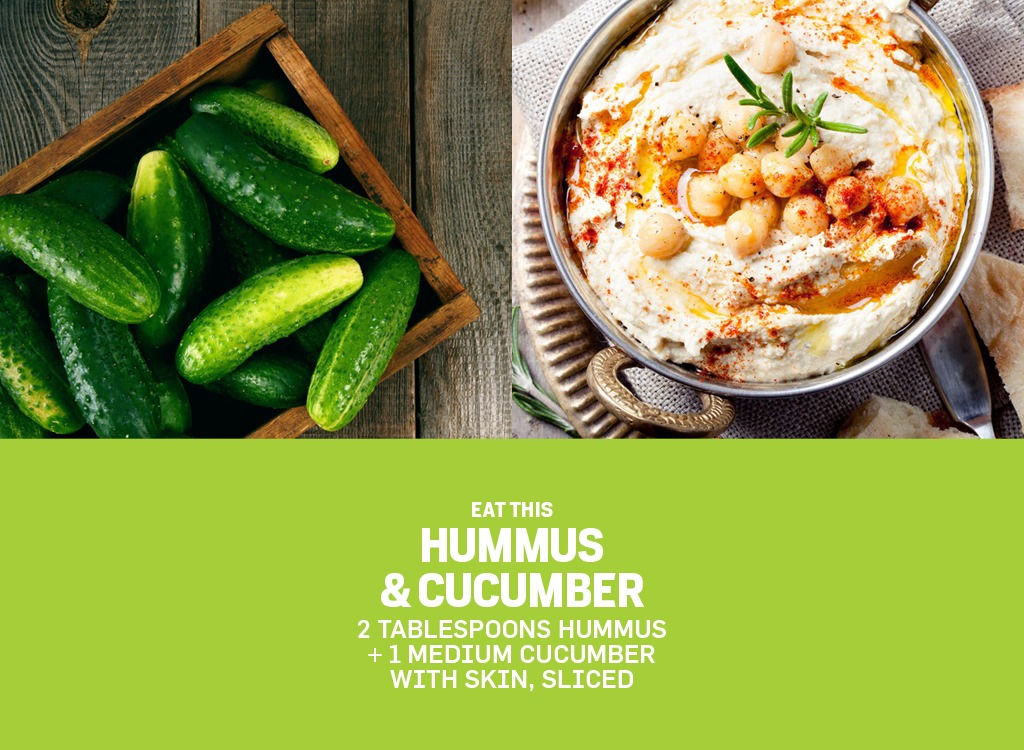 Eat This!: 2 tablespoons hummus + 1 medium cucumber with skin, sliced
Drink This!: 8 ounces water or iced green tea with lemon
At about 95 percent water, cucumbers contain an even higher percentage of H2O than watermelon—which is good news for your belly. Why? Eating foods that are low calorie and filled with water are very filling, which means you can take in fewer calories without going hungry. (And isn't that the ultimate goal?) In fact, one medium-sized cucumber contains only about 45 calories, so chomp away guilt-free.
Vanilla Ricotta Cheese with Nuts & Berries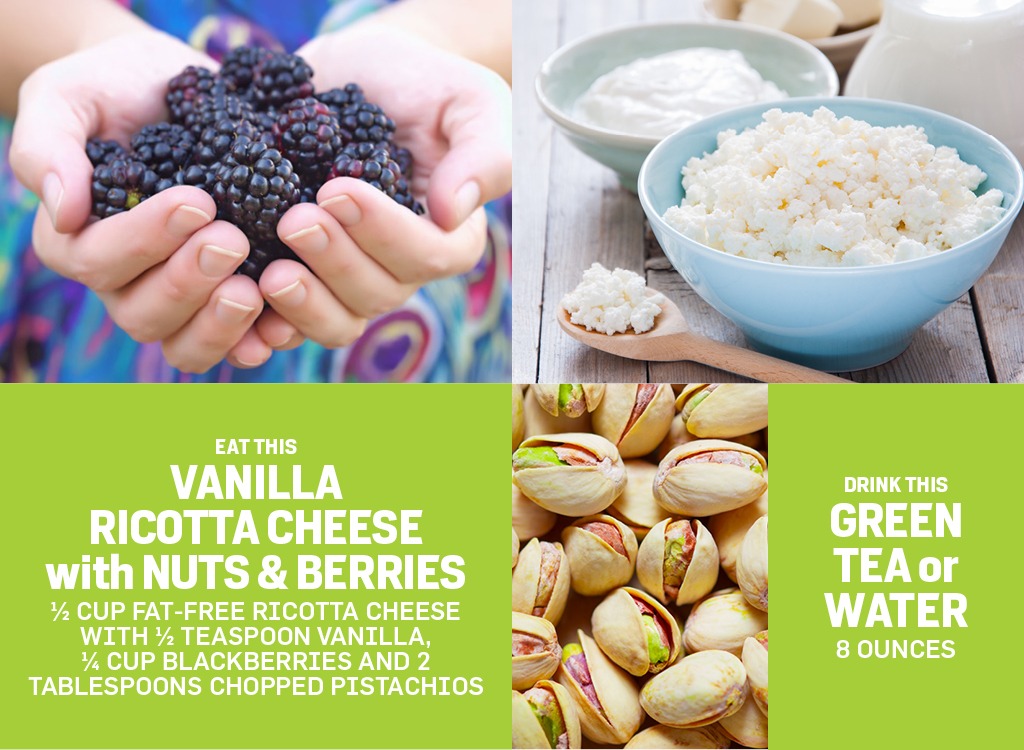 Eat This!: ½ cup fat-free ricotta cheese with ½ teaspoon vanilla, ¼ cup blackberries and 2 tablespoons chopped pistachios
*Drink This!: Green tea or water
This healthy, protein-rich spin on pudding is so delicious that you may just forget you're on a diet. Topping the cheese with fiber-filled blackberries and pistachios (one of the lowest-calorie and lowest-fat nuts out there) adds a satisfying crunch and dimension of flavor that will have you craving seconds.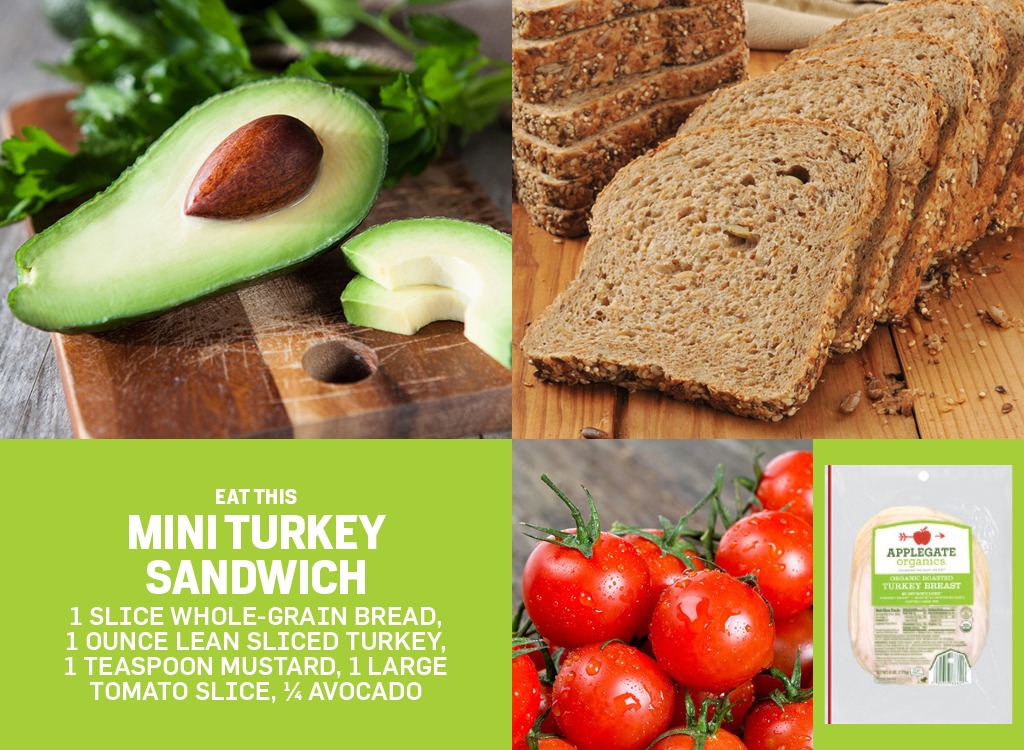 Eat This!: 1 slice whole grain bread, 1-ounce lean sliced turkey, 1 teaspoon mustard, 1 large tomato slice, ¼ avocado
*Drink This!: 8 ounces iced green tea or water
If you want to get flat abs, you've got to give up bread, right? Wrong! Whole grain bread serves up a solid hit of fiber, a nutrient that aids weight loss and helps the body absorb vital nutrients. Paired with protein-rich turkey and slow-digesting, bloat-banishing avocado, you've got a healthy snack that's sure to help you reach your goal weight—without going hungry.
Not sure which bread is the best bet for your diet plan? Check out these 10 Best Brand Name Breads for Weight Loss.
Strawberry Kefir Smoothie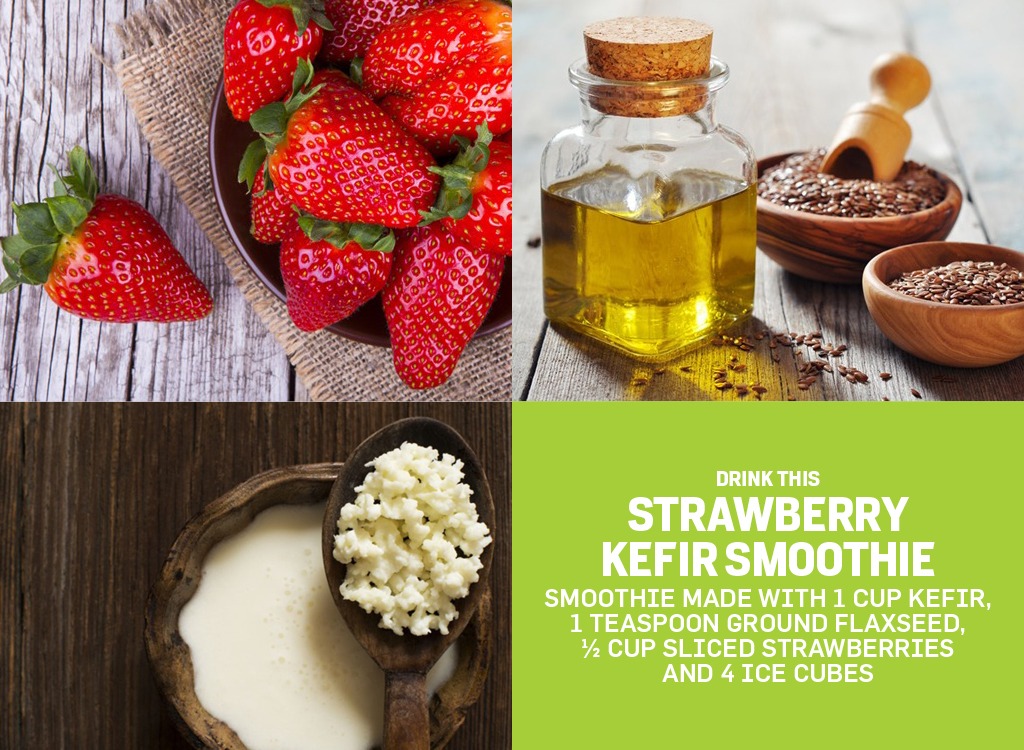 *Drink This!: Smoothie made with 1 cup kefir, 1 teaspoon ground flaxseed, ½ cup sliced strawberries and 4 ice cubes
Want a flatter belly stat? Whip up this Biggest Loser-approved sip. Ohio State University researchers found that drinking the tangy drinkable yogurt can reduce bloating and gas brought on by lactose consumption by a whopping 70 percent! Sure, you can buy a strawberry kefir smoothie at the supermarket, but making it at home allows you to incorporate weight-loss super foods like flaxseed into the recipe. The ultra-powerful seed is filled with fiber and omega-3 fats, which help reduce inflammation, ward off mood swings and help prevent heart disease and diabetes.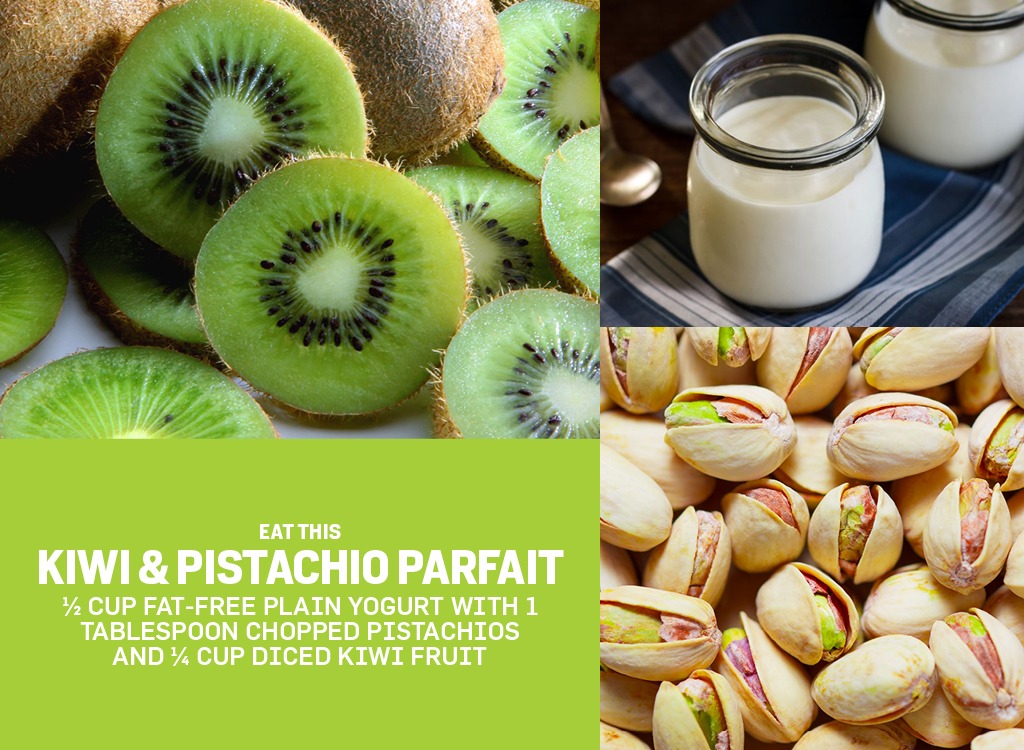 Eat This!: ½ cup fat-free plain yogurt with 1 tablespoon chopped pistachios and ¼ cup diced kiwi fruit
Drink This!: 8 ounces water or unsweetened iced tea
Berries and yogurt may be a delicious combination, but the duo is a bit overplayed. Mix up snack time by adding vitamin C rich kiwi and chopped pistachios (a nut that's kept in ample supply at 'The Biggest Loser' ranch) to your calcium-filled pot instead.
For more slimming eats packed with vitamin C, check out these 7 Best Vitamin C Rich Foods.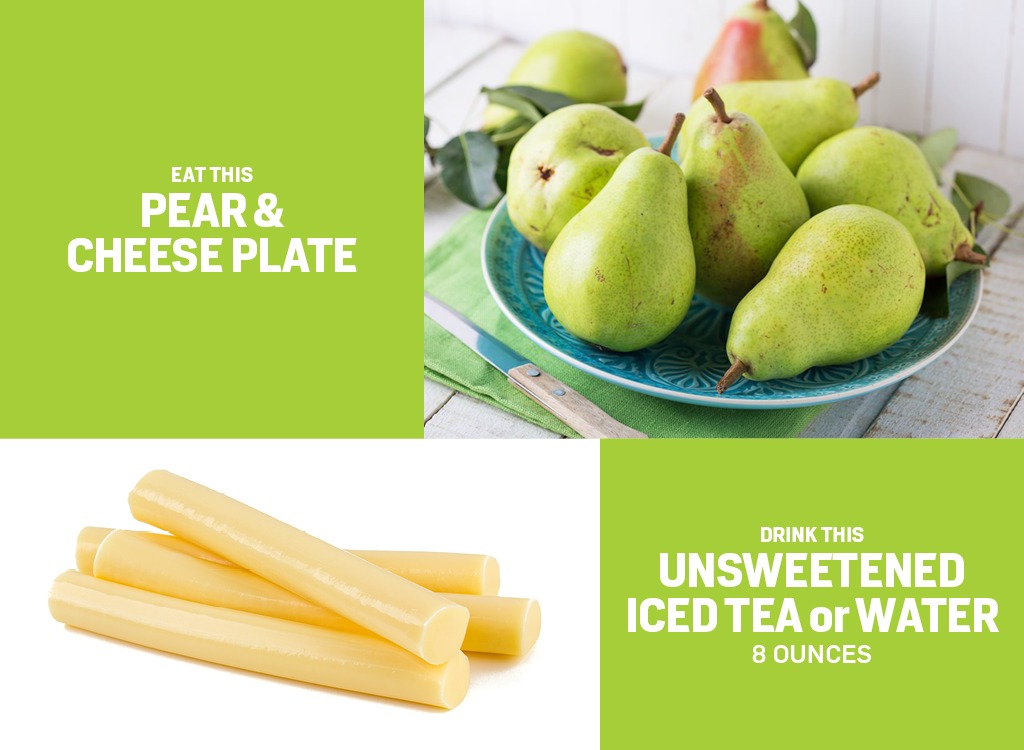 Eat This!: 1 low-fat cheese stick + 1 pear
Drink This!: 8 ounces water or unsweetened iced tea
You may already know that green tea contains catechins, an antioxidant that hinders the storage of belly fat, but did you know that it's lurking in pears, too? But that's not all: Pears also contain a whopping six grams of satiating fiber—all for about 100 calories. Paring the superfruit with some cheese helps amp the protein content and filling factor.
And speaking of protein, be sure to add some of these 29 Best-Ever Proteins for Weight Loss to your diet plan.
Smoked Salmon Wrapped Asparagus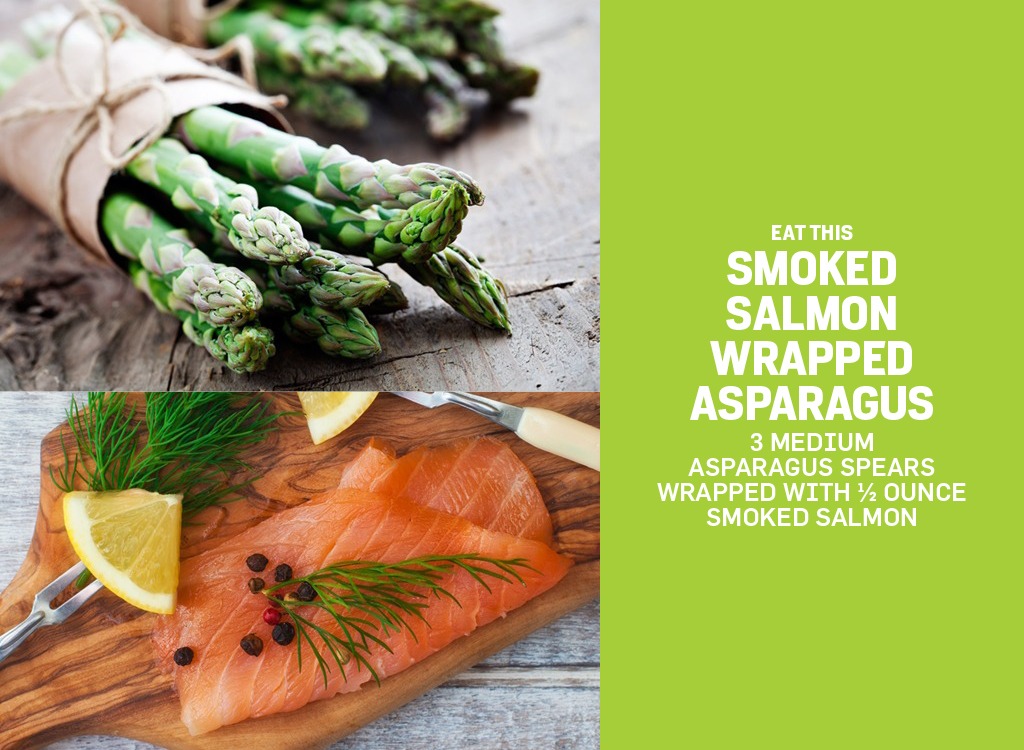 Eat This!: 3 medium asparagus spears wrapped with ½ ounce smoked salmon
Drink This!:8 ounces iced tea or water with lemon
"Though the farm-raised variety falls short in the health department [more on that here], wild salmon is a nutritional star," Forberg tells us. "Not only is it rich in omega-3, a healthy fat that fights off metabolism-slowing inflammation, but it's also a great source of protein, a nutrient that increases post-meal calorie burn by as much as 35 percent," she adds.
Forberg is such a big fan of wild salmon that she named it one of her 20 Best Weight Loss Foods from the 'Biggest Loser.'. Check out her other picks to start losing weight today!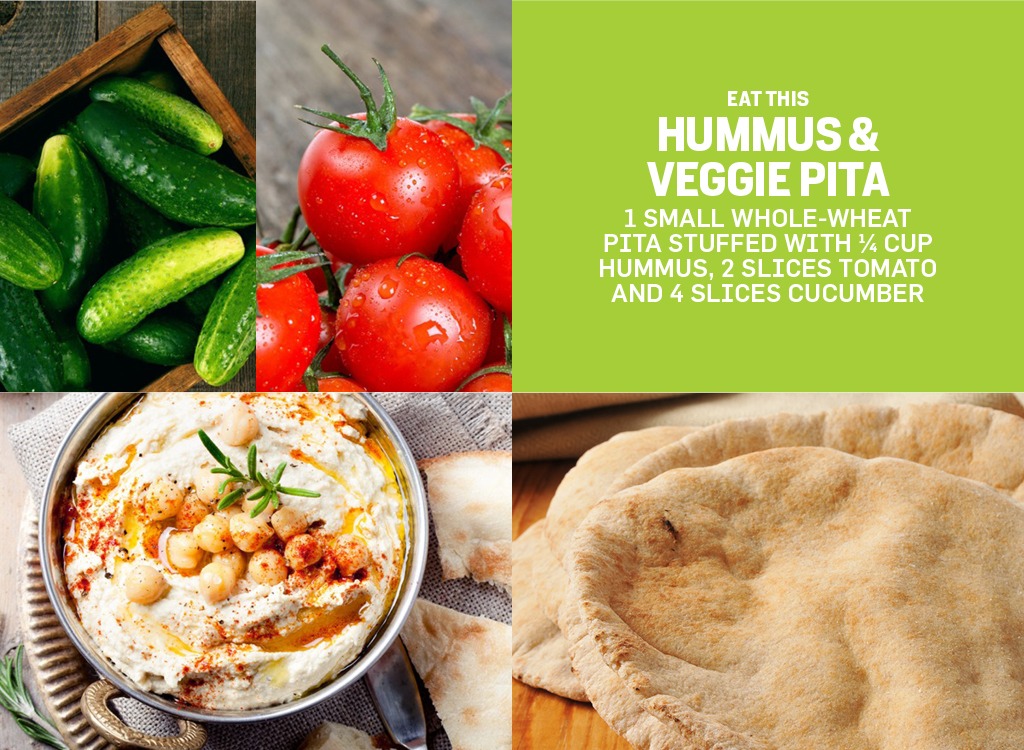 Eat This!: 1 small whole-wheat pita stuffed with ¼ cup hummus, 2 slices tomato and 4 slices cucumber
Drink This!: 8 ounces water
This snack serves up plenty of water, fiber and protein, making it a filling pick for any diet plan.
Eat This!: 2 Wasa Crispbreads with 1-ounce lean ham or roast beef and 1 tablespoon mustard
Drink This!: Unsweetened iced tea
Crackers and lunch meat are rarely considered "diet food," which makes this snack all the more appealing.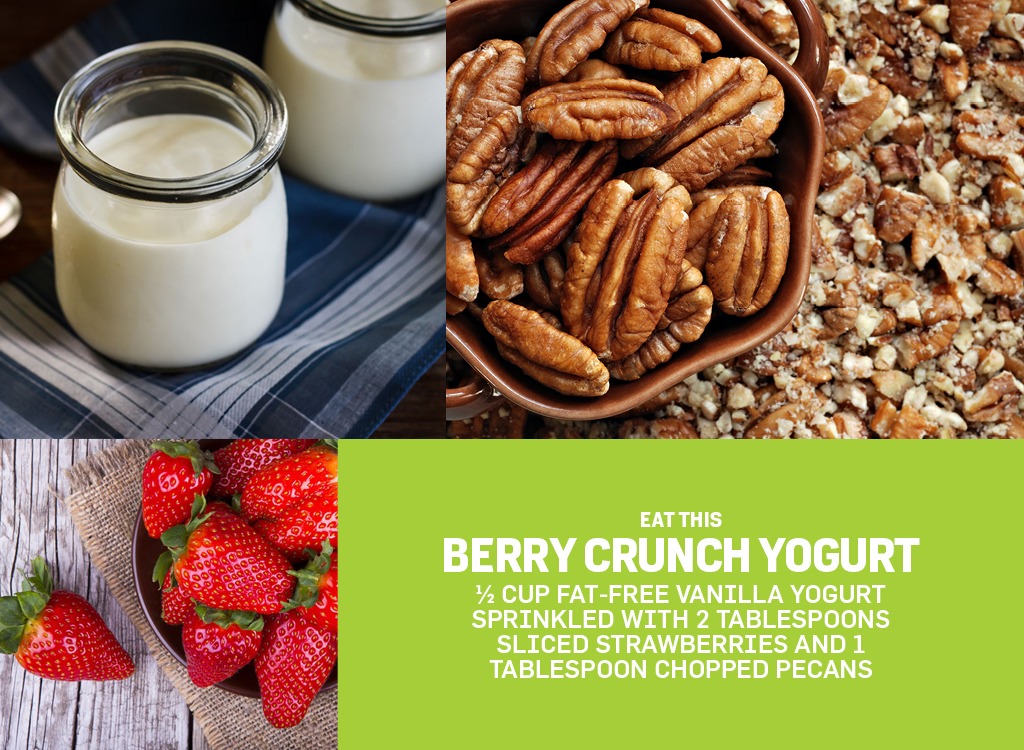 Eat This!: ½ cup fat-free vanilla yogurt sprinkled with 2 tablespoons sliced strawberries and 1 tablespoon chopped pecans
Drink This!: 8 ounces water
This is a classic snack combination—and with good reason: Although the berry's polyphenols help burn fat and even stop it from forming, the protein in the yogurt and nuts helps to ward off the munchies, accelerating your weight loss wins. And for more slim down hacks, check out these 20 Weight Loss Tricks You Haven't Tried.6254a4d1642c605c54bf1cab17d50f1e
Chocolate Covered Strawberry Smoothie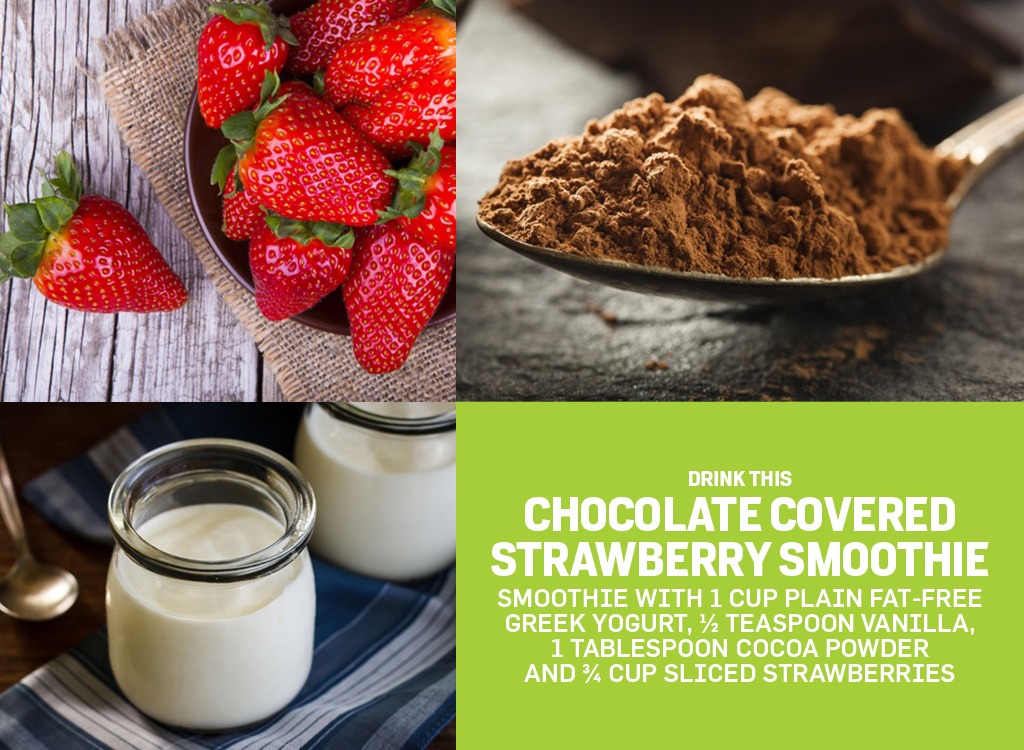 Drink This!: Smoothie with 1 cup plain fat-free Greek yogurt, ½ teaspoon vanilla, 1 tablespoon non-alkalized cocoa powder and ¾ cup sliced strawberries
With the right smoothie recipe, you can tickle your taste buds without sucking down a kajillion calories. In fact, the right smoothie ingredients can actually help you burn belly fat and improve your health without sacrificing flavor—and this drink is a prime example. While the berries work to ward off belly fat, the flavonols in cocoa can lower blood pressure, improve your cholesterol profile, and lower your risk of heart attack by up to 31 percent, according to a British Journal of Nutrition study.
For more smoothie inspiration, check out these 10 Smoothie Recipes for Weight Loss.
Eat This!: 1 peach + ½ ounce almonds (about eight pieces)
Drink This!: 8 ounces water or mint tea
What do you get when you combine one of the 6 Best Nuts For Weight Loss with a fruit that incinerates flab? This sweet and crunchy snack. New studies by Texas AgriLife Research suggest stone fruits like peaches may ward off metabolic syndrome — a name for a group of risk factors, of which belly fat is a predominant determinant, that increase the risk for obesity-related diseases including diabetes. This fruit is a definite "Eat This!"