The Worst Burger You Should Never Order From Burger King
You'll want to stay far away from this nutritional nightmare.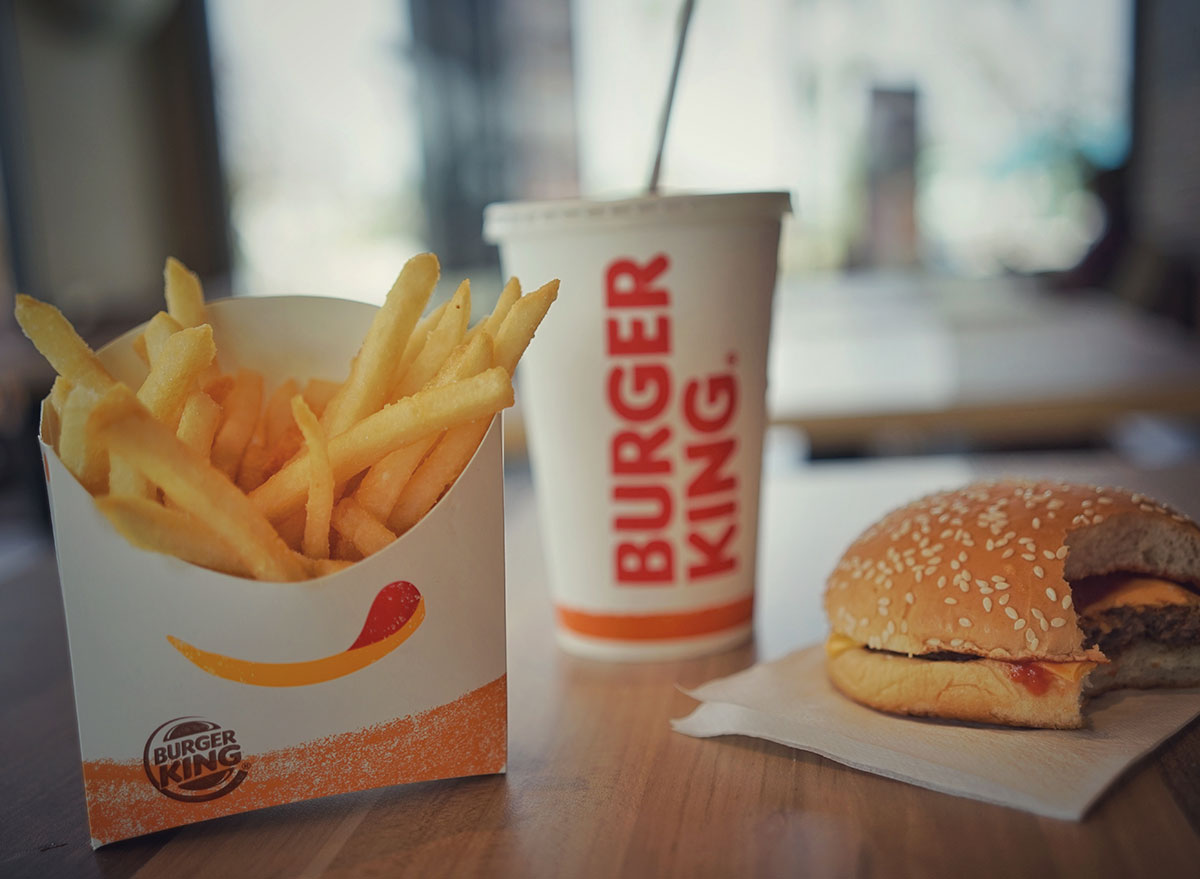 If you're committed to doing all you can to drop those unwanted pounds once and for all, then you know paying frequent visits to fast-food restaurants isn't something you should be doing anymore. But hey, everyone needs a cheat meal every once in a while and if you happen to a Burger King fan, there's nothing wrong with indulging. If you're doing it the right way, that is.
Yes, there is a wrong way, and that's by ordering the worst burger possible. And there is one burger off the BK menu that is just downright scary, as it's a true nutritional nightmare.
In order for you to be armed with all the information you need so you can choose the best option when the drive-thru starts to call your name, we're exposing just what the worst burger is so you can avoid ever ordering it. (If you're looking for more helpful tips, your ultimate restaurant and supermarket survival guide is here!)
The worst burger at Burger King is…
Triple Whopper With Cheese
6254a4d1642c605c54bf1cab17d50f1e
Per 1 burger
: 1,220 calories, 82 g fat (32 g saturated fat, 4.5 g trans fat), 1,470 mg sodium, 50 g carbs (2 g fiber, 11 g sugar), 71 g protein
The gut-busting combination of three quarter-pound beef patties that are topped with mayo, ketchup, and cheese contains more than 4 grams of health-harming trans-fats and more than half a day's calories. The 2015-2020 American Dietary Guidelines say it's best to limit trans fats to as low as possible. What does that mean exactly? Well, ideally, a person would be consuming zero grams of trans fats each day.
Besides the fact that it's also extremely high in fat and saturated fat, the sodium is another reason to stop you right in your tracks. As you most likely already know, The American Heart Association recommends a healthy person should consume no more than 2,300 milligrams a day of sodium, with hopes of moving toward an ideal limit of no more than 1,500 milligrams per day. This one burger has more than half of your daily sodium max and nearly wipes out your entire day's worth if you're looking at the 1,500 milligrams limit. Researchers at Deakin University actually found that having too much salt can lead you to crave and eat more fatty foods overall, which (as a surprise to no one!), can lead to weight gain. Big yikes.
What burger should you order instead from Burger King?
The best swap for your waistline? It's none other than the plain ol' hamburger. It clocks in at 240 calories and 380 milligrams of sodium. That swap alone will save you more than 1,000 milligrams of the salty stuff. If you're worried the smaller burger will leave you a bit hungry, have no fear. You can pair it with a Garden Side Salad and if you throw a few of the unsalted French fries in the mix—and we really mean only a few—you're on your way to satisfying your craving a much smarter way.
Eat This, Not That!
Inspired by The New York Times best-selling book series, Eat This, Not That! is a brand that's comprised of an award-winning team of journalists and board-certified experts, doctors, nutritionists, chefs, personal trainers, and dietitians who work together to bring you accurate, timely, informative, and actionable content on food, nutrition, dieting, weight loss, health, wellness, and more.
Read more about Eat This