The Best & Worst Menu Items at Burger King, According to Dietitians
Experts share their picks for the healthiest and unhealthiest menu options at one of America's favorite fast-food burger joints.
Founded in 1954, Burger King—the "Home of the Whopper"—is the second-largest fast-food restaurant in the United States (behind McDonald's). Famous for its char-broiled burgers, one of which (the Whopper) is considered to be "America's Favorite Burger" based on a May 2023 nationwide survey, BK offers a variety of menu items for every meal and every palate–from savory to spicy to sweet. But like most fast-food restaurants, there are plenty of options at Burger King that can be unhealthy for you due to the chain's fried options and large portion sizes.
Thankfully, picking healthy options at BK isn't totally impossible. Whether you dine in or order food from the drive-thru, here are the best and worst menu items at Burger King, from burgers to chicken to desserts and sides, according to registered dietitians. Read on, and for more, don't miss The Best & Worst Menu Items at McDonald's, According to RDs.
Burgers
Best: Hamburger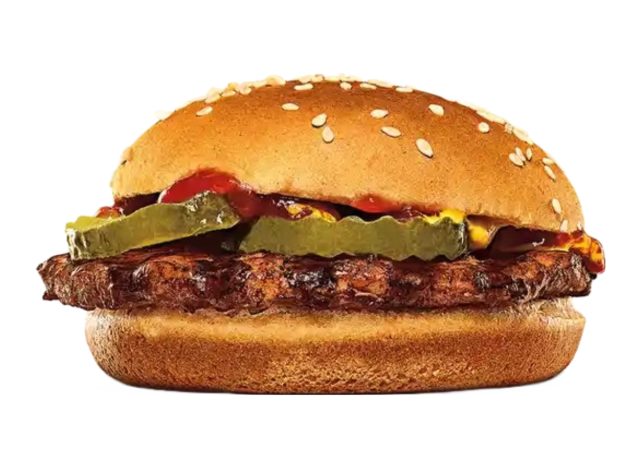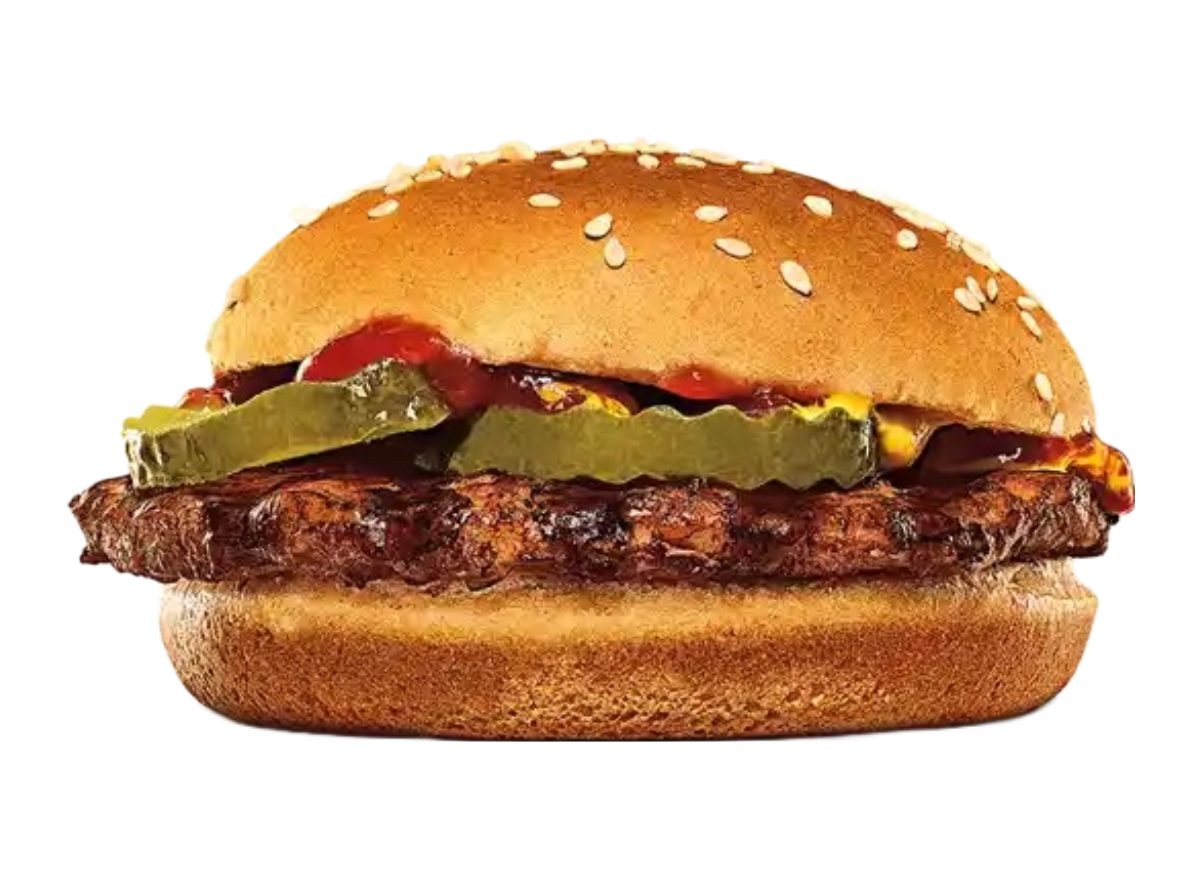 Per serving
: 250 calories, 10g fat (4g saturated fat), 560mg sodium, 29 g carbs (1.1g fiber, 7.1g sugar), 13.1g protein
If you're in the mood for a burger, the best health-minded pick is for a plain, straightforward burger. "Burger King's plain hamburger, is the lowest calorie burger on the BK menu containing just 250 calories per burger," says Roxana Ehsani, MS, RD, CSSD, LDN, a registered dietitian nutritionist in Miami, Florida. "It's your best pick when you are craving a fast-food burger, but don't want to completely overdo it calorie-wise. It also contains a good amount of protein, about 13 grams which will keep you feeling satisfied post-meal."
Worst: Triple Whopper with Bacon & Cheese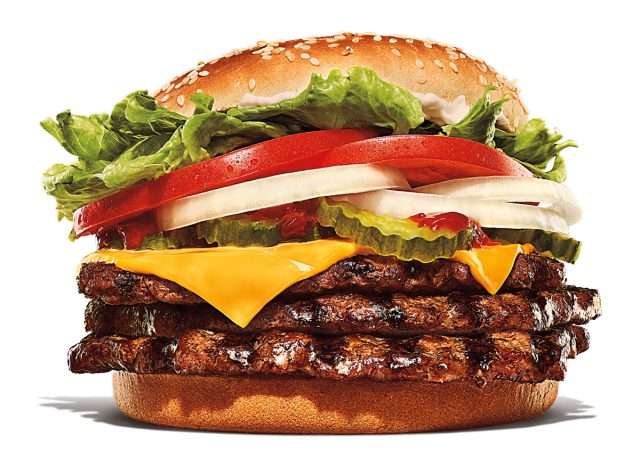 Per serving
: 1,350 calories, 94g fat (33.1g saturated fat), 1,990.3mg sodium, 59.5g carbs (4.3g fiber, 15.1g sugar), 82.5g protein
The Triple Whopper with Bacon and Cheese is made by stacking bacon and cheese on top of three quarter-pound patties and slathering it all with mayo (and, yes, there is also a minimal amount of lettuce, tomato, and onion). "This burger is the highest calorie burger on the BK menu. It contains over half of your days' worth of calories in one burger," says Ehsani. "It's very high in total, saturated fat and sodium. It also exceeds the daily recommendations for saturated fat. Saturated fat should be no more than about 13 g of saturated fat per day, and this burger is almost three times this amount. It is also very high in sodium, nearly hitting the daily recommendation limit of 2,300 milligrams of sodium per day. Skip this one!"
Breakfast
Best: Pancake Platter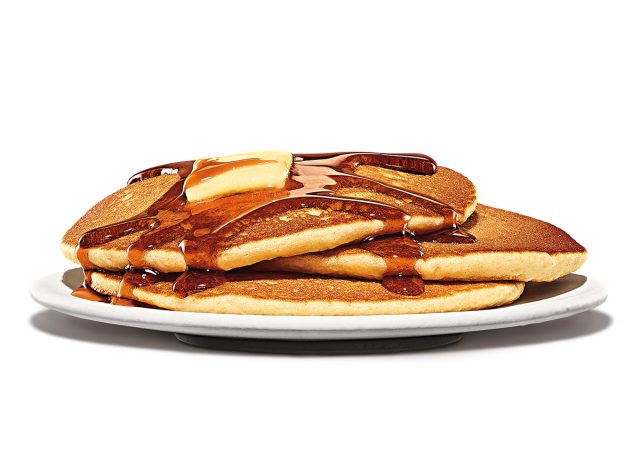 Per serving
: 235.1 calories, 6.9g fat (1.8g saturated fat), 250.3mg sodium, 41.9g carbs (0.4g fiber, 23.2g sugar), 1.7g protein
"Although BK has a lot of easy-to-grab, on-the-go breakfast options like croissant sandwiches and biscuit sandwiches, those options are sky high in calories, fat, and sodium," says Ehsani. "The pancake platter is your best choice at BK when searching for breakfast, although it lacks fiber and protein, it is the lowest in calories amongst the other options, and you can pair it with a side of fruit to get the fiber and throw on some mixed nuts to get you some protein."
Worst: Double Sausage, Egg & Cheese Croissan'wich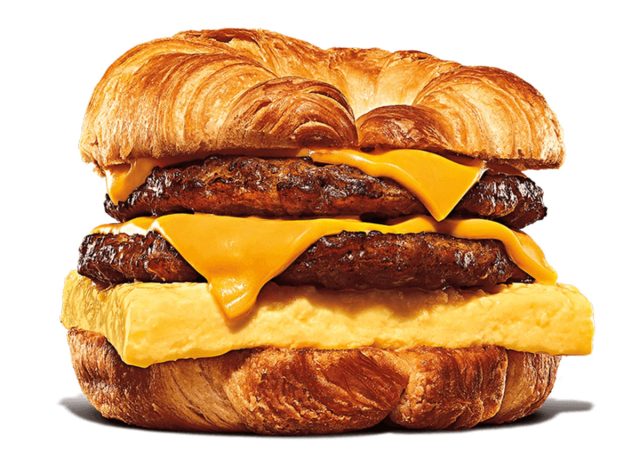 Per sandwich
: 882.9 calories, 65.7g fat (28.6g saturated fat), 2,196.1 mg sodium, 33.3g carbs (1.1g fiber, 4.6g sugar), 39.3g protein
"Croissants on their own are high in total calories, fat, and saturated fat as they are made from lots of butter. When you fill it with sausage, egg, and cheese, you are really loading up on the calories, fat, and sodium," says Ehsani. "This sandwich nearly hits your total sodium allowance for the day in just 1 sandwich and contains double the amount of recommended daily needs for sodium."
Chicken
Best: Chicken Jr.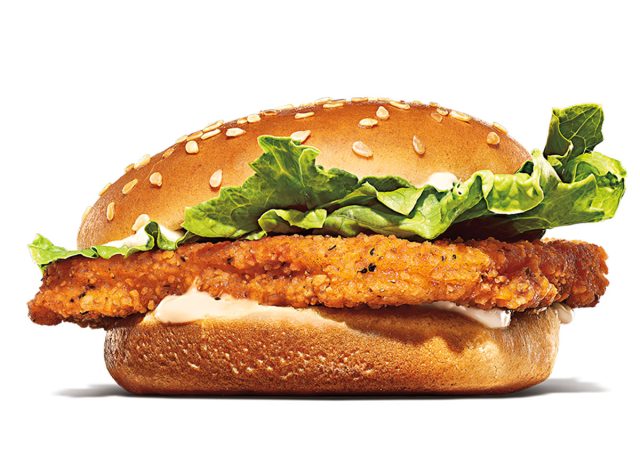 Per serving
: 440 calories, 27 g fat ( 5g saturated fat), 700 mg sodium,  39g carbs ( 2g fiber,  5.4g sugar),  13.3g protein
"For chicken sandwich lovers, the chicken jr is your best option, it's the lowest calorie sandwich on the menu at BK, and contains under 500 calories, which is a good target to shoot for at meal times," says Ehsani. "It also contains 5 grams of saturated fat, so not going over your daily amount, and gives you 13 grams of satisfying protein, so won't need to go back for more!"
Worst: Spicy BK Royal Crispy Chicken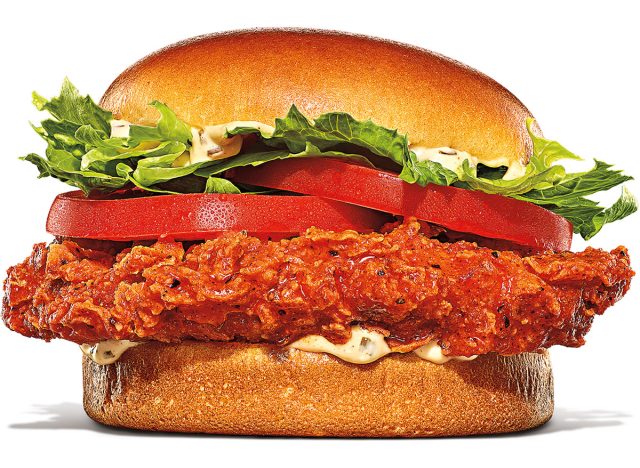 Per sandwich
: 760 calories, 49g fat (8g saturated fat), 1,580 mg sodium, 58 g carbs (4.1g fiber, 11.5 g sugar), 31.4g protein
"Unfortunately for chicken sandwich lovers, the spicy BK royal crispy chicken sandwich is one you should skip. It's high in calories, fat, and sodium," says Ehsani. "It's the highest calorie chicken sandwich on the menu and contains nearly 70% of the daily recommendations for sodium."
Sides
Best: Value Onion Rings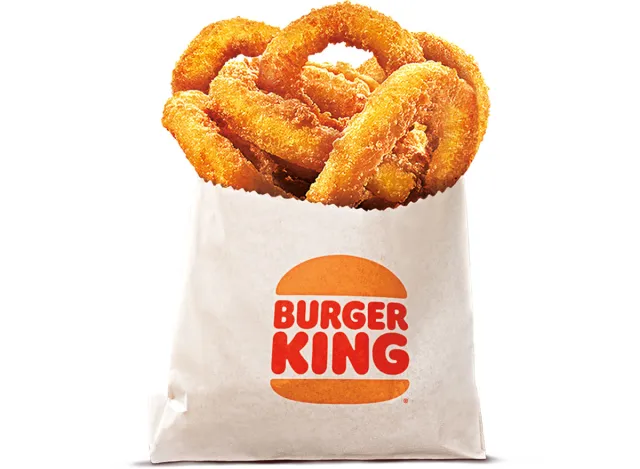 Per serving
: 200 calories, 9 g fat (1.5 g saturated fat),  370 mg sodium,  27g carbs (3g fiber, 3 g sugar),  3g protein
"Out of all the fried side options, this one would be the best in terms of portion size and nutrition," says Amber Pankonin, MS, RD, registered dietitian, and owner of the food blog Stirlist. "With only 200 calories per serving, this side contains 1.5 grams of saturated fat, 370 milligrams of sodium, and 3 grams of fiber which is naturally going to be more filling."
Worst: Large Onion Rings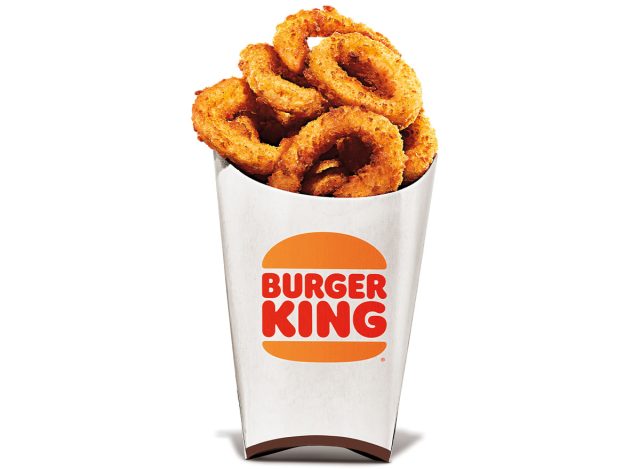 Per serving
: 520 calories, 24 g fat (4 g saturated fat),  950 mg sodium,  70 g carbs (7 g fiber,  7g sugar),  7g protein
Although the value-size onion rings are considered one of the "best" items at Burger King, the minute you super-size your order, this side quickly becomes one of the "worst." "The large onion rings at Burger King contain more calories than half the burgers on the menu," says Pankonin. "When compared to the other sides, it contains the most calories from fat, 950 milligrams of sodium, and 70 grams of carbohydrate. Keep in mind the recommended amount of daily sodium intake should be less than 2,300 milligrams per day, so you could easily get almost half a day's sodium in only one side item."6254a4d1642c605c54bf1cab17d50f1e
Dessert
Best: Chocolate Chip Cookies (2)
Per two cookies
: 161 calories, 7 g fat ( 4 g saturated fat), 111 mg sodium,  23 g carbs (.9 g fiber,  13 g sugar),  2 g protein
Yes, you can eat not one but two cookies at Burger King if you're looking to order some of the healthiest options. "If you compare this option to the other dessert options on the menu, this one contains the lowest number of total calories and it is also the lowest in sugar," says Pankonin. "I also like that there are two cookies so you could eat one and save the other for a treat later on."
Worst: Chocolate Oreo Shake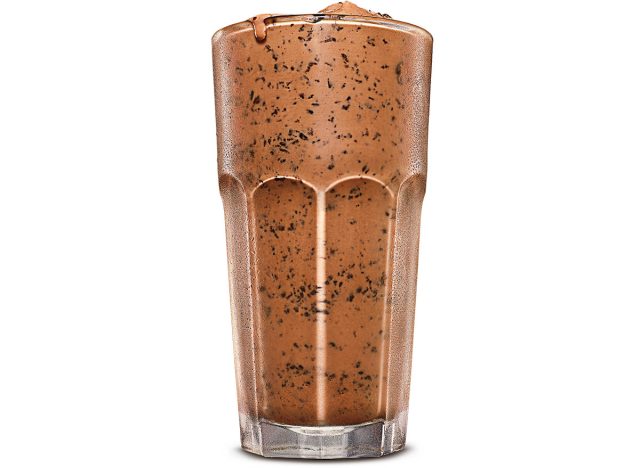 Per serving
: 670 calories, 17 g fat ( g saturated fat),  470 mg sodium,  116 g carbs (2g fiber,  91g sugar), 13 g protein
"This dessert option contains 670 calories and most of them are coming from sugar," says Pankonin. "With so much sugar and little fiber, this can easily spike blood sugar which could cause fatigue and headaches."