26 Things You Can Make with Yogurt
These versatile recipes will have you cooking and baking with yogurt immediately.
You may be used to thinking of yogurt as a quick breakfast or snack, one you buy in a small single-serving container and loaded with fruit flavors. But yogurt is so much more and deserves to be used to its full potential. Its tanginess makes it the perfect candidate for baking recipes, meat marinades, and creamy sauces and dips. We want to open you up to a world of possibilities with these versatile yogurt recipes.
Grilled Fruit Kebabs with Yogurt and Honey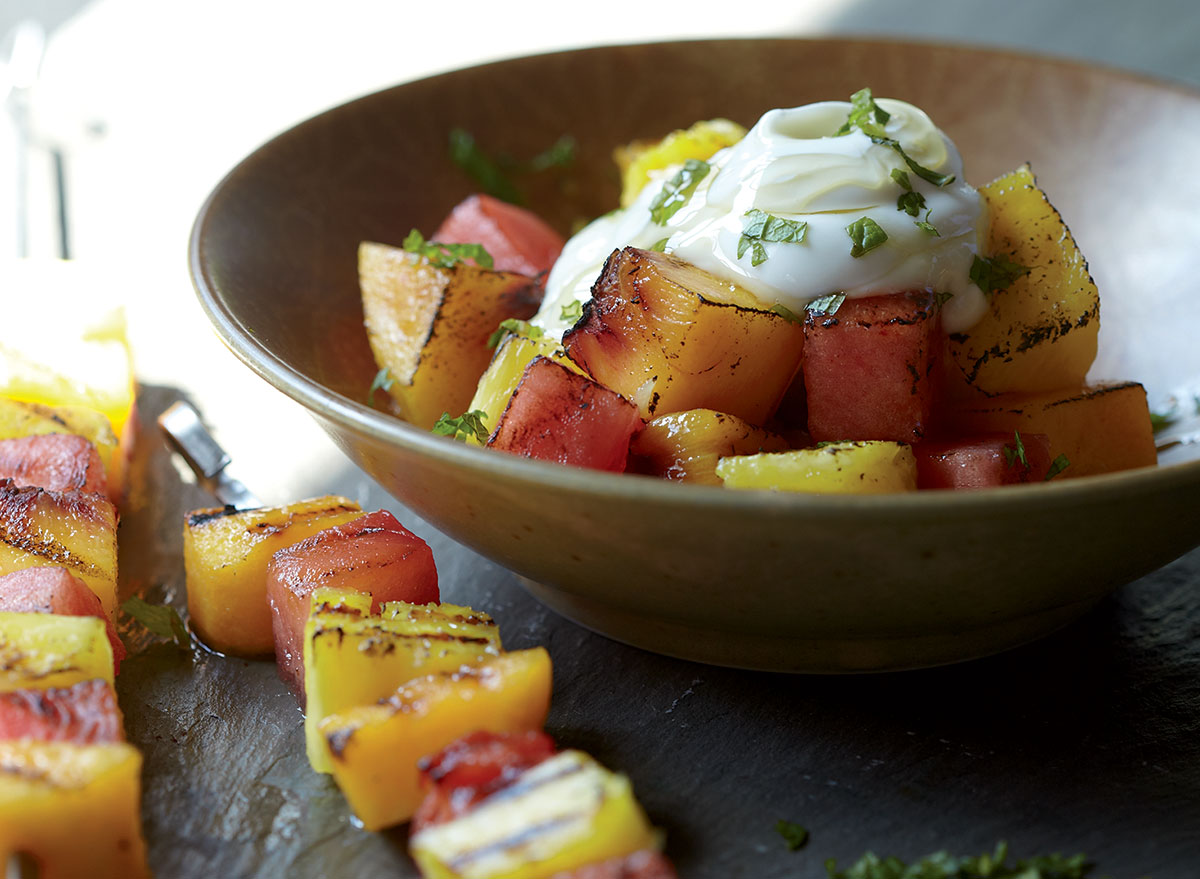 Mix Greek yogurt with honey and mint and you're basically making a delicious dessert sauce for your fruits. Think of this recipe as a deconstructed fruit yogurt, where the flavors are deeper, because your fruits are grilled and starting to caramelize.
Get our recipe for Grilled Fruit Kebabs with Yogurt and Honey. 
Yogurt Parfait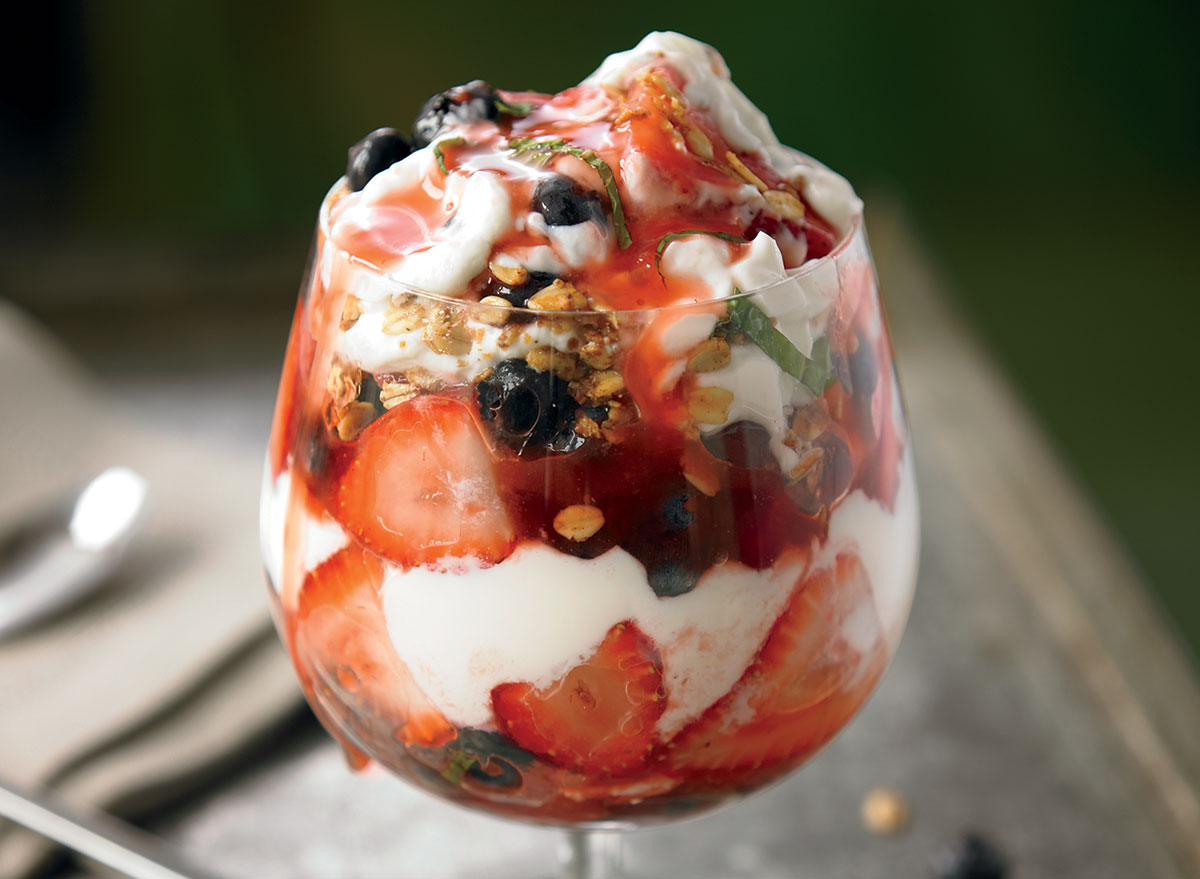 Parfaits are obvious yogurt territory, but it doesn't hurt to remind you that you can make them as indulgent as you want, and you're still probably better off eating that than you are eating a pre-flavored packaged fruit yogurt. A little granola goes a long way for the crunch, as does fresh mint.
Get our recipe for a Yogurt Parfait. 
Beef Stroganoff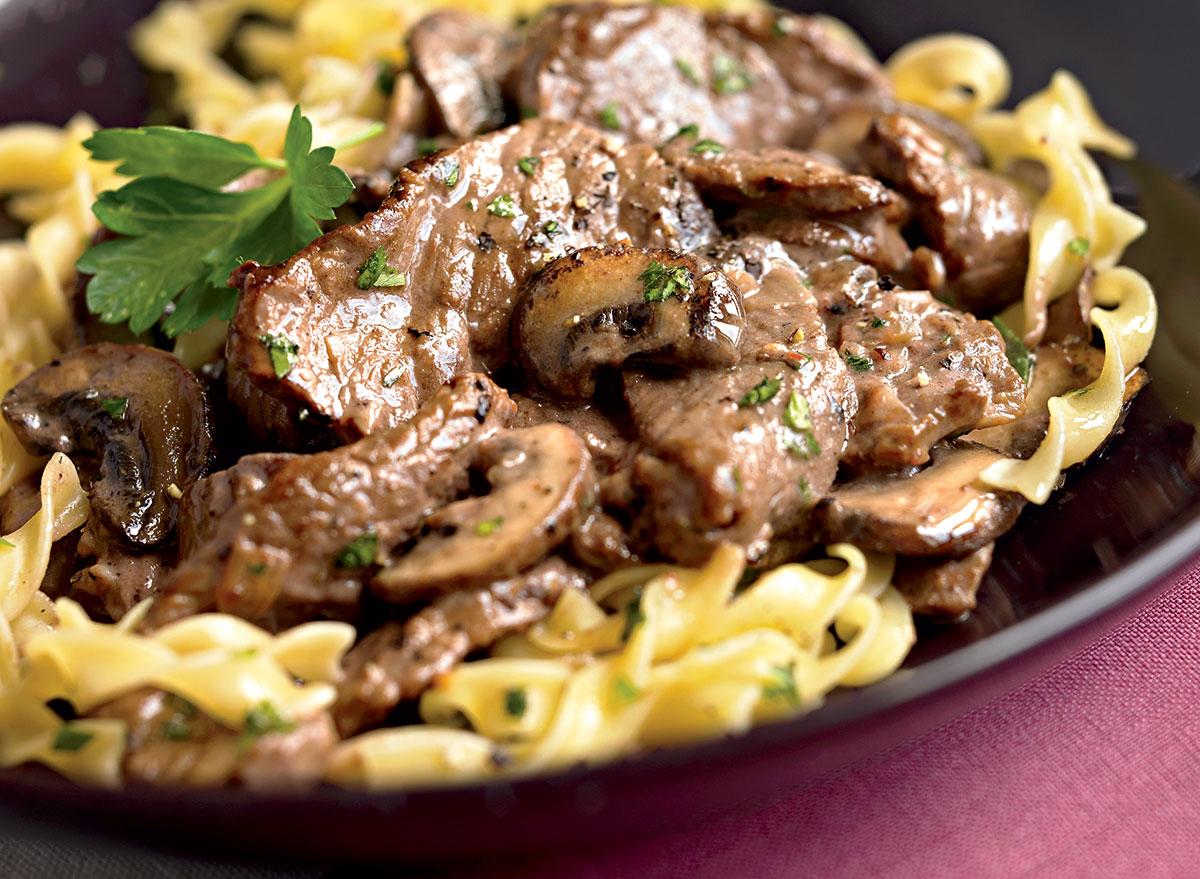 A beef stroganoff recipe will usually have sour cream stirred into the sauce last-minute, to get that smooth creaminess that makes this comfort dish so craveable. But yogurt can successfully replace sour cream, and the whole thing will taste just as great, but pack fewer calories.
Get our recipe for Beef Stroganoff. 
Tandoori Chicken Legs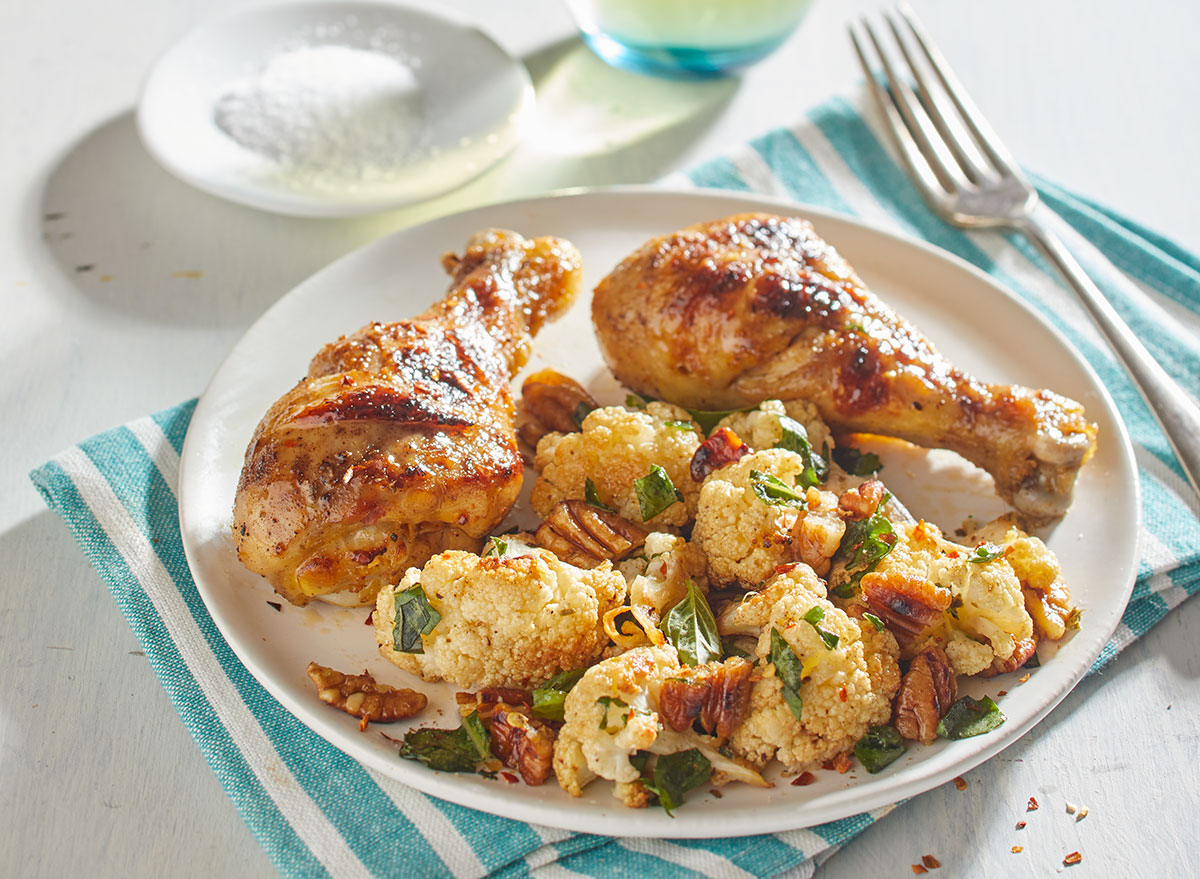 These beautifully crispy chicken legs are marinated in yogurt and spices before being roasted to perfection in the oven. A classic move in Indian cuisine, marinating chicken meat in yogurt will tenderize it and give it a delicious zesty flavor.
Get our recipe for Tandoori Chicken Legs. 
Mac and Cheese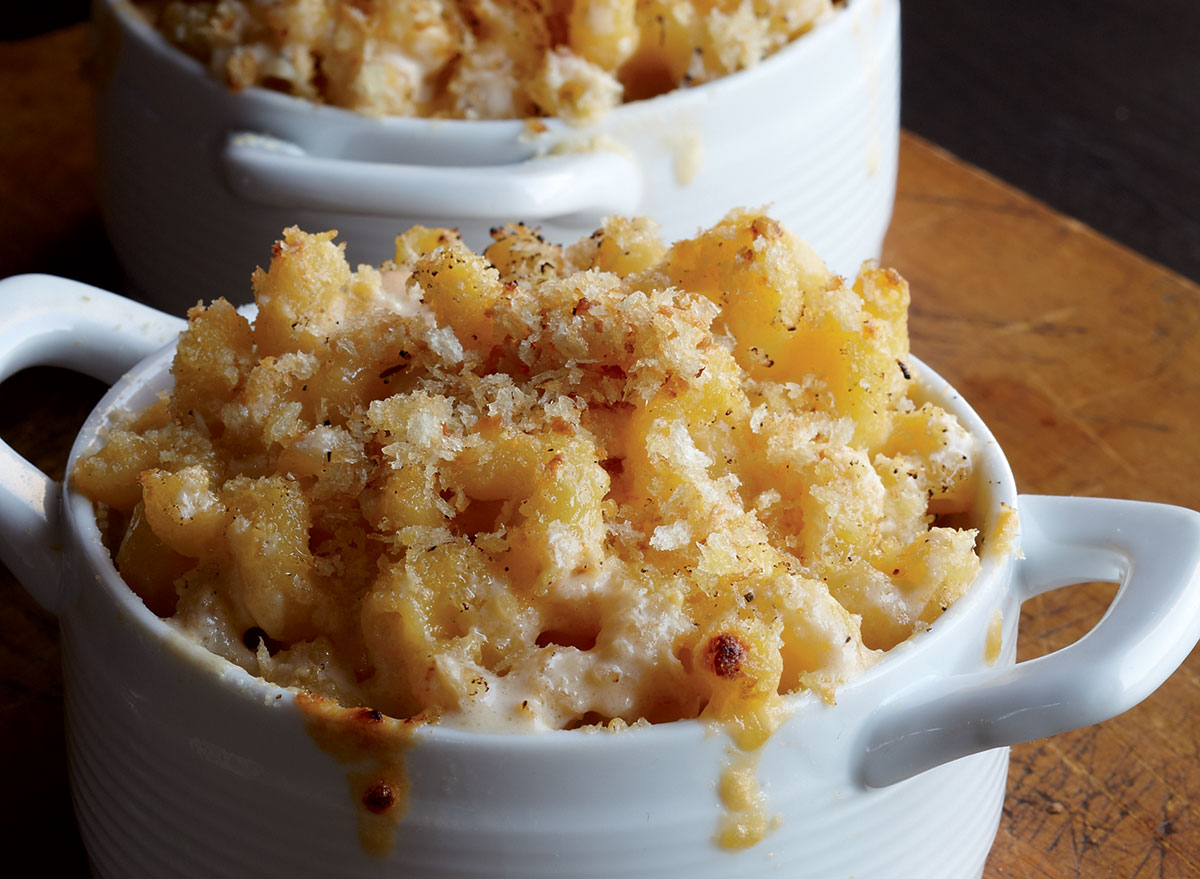 In this recipe, you'll use yogurt for your mac and cheese sauce, and you'll delight in how creamy the whole thing ends up being. If you have some cheese, macaroni, and yogurt in your fridge, you can make some version of this oven-baked pasta dish.
Get our recipe for Mac and Cheese. 
Blueberry Lemon Ricotta Pancakes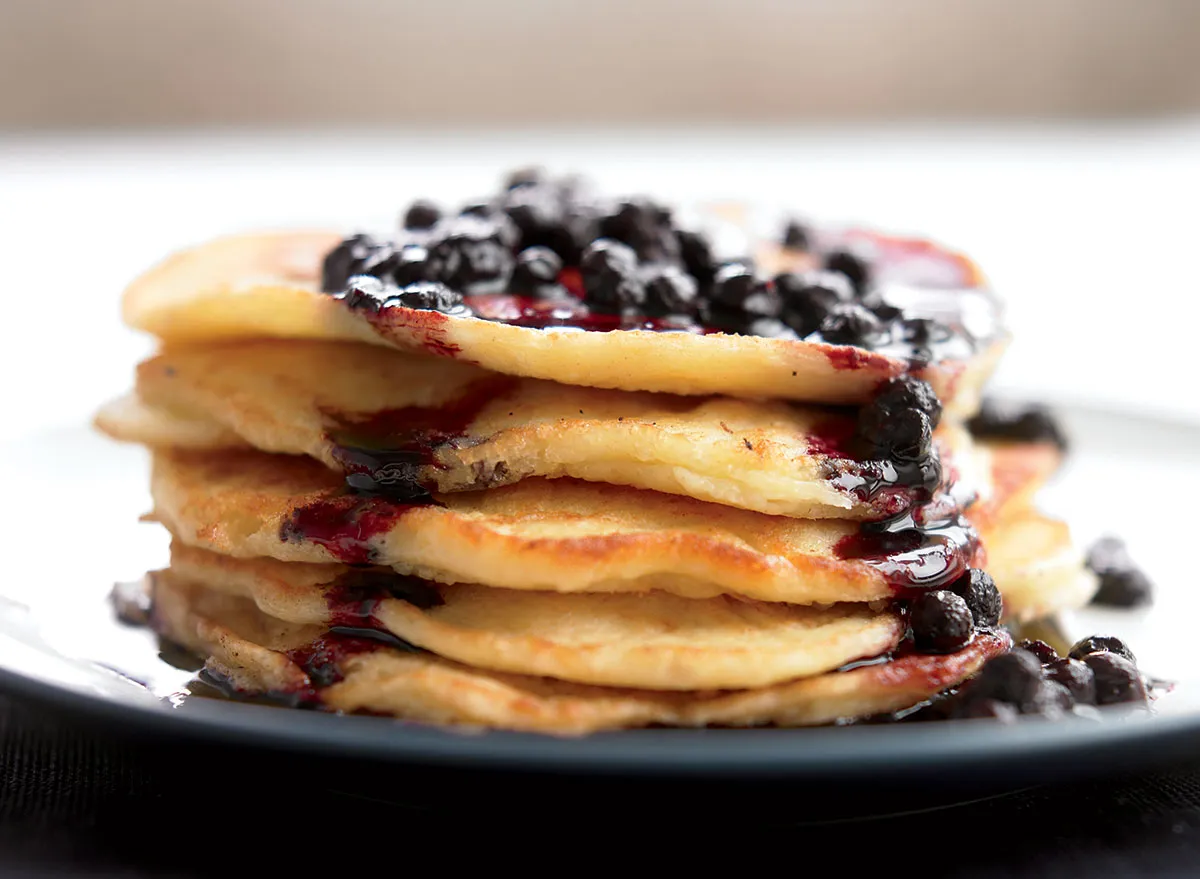 The amount of ricotta in this recipe is match by the amount of yogurt, and the combo makes these pancakes lighter than air. The reason for that is because the tanginess in the yogurt encourages leavening, which means more air pockets and a fluffier texture.
Get our recipe for Blueberry Lemon Ricotta Pancakes. 
Loaded Sweet Potatoes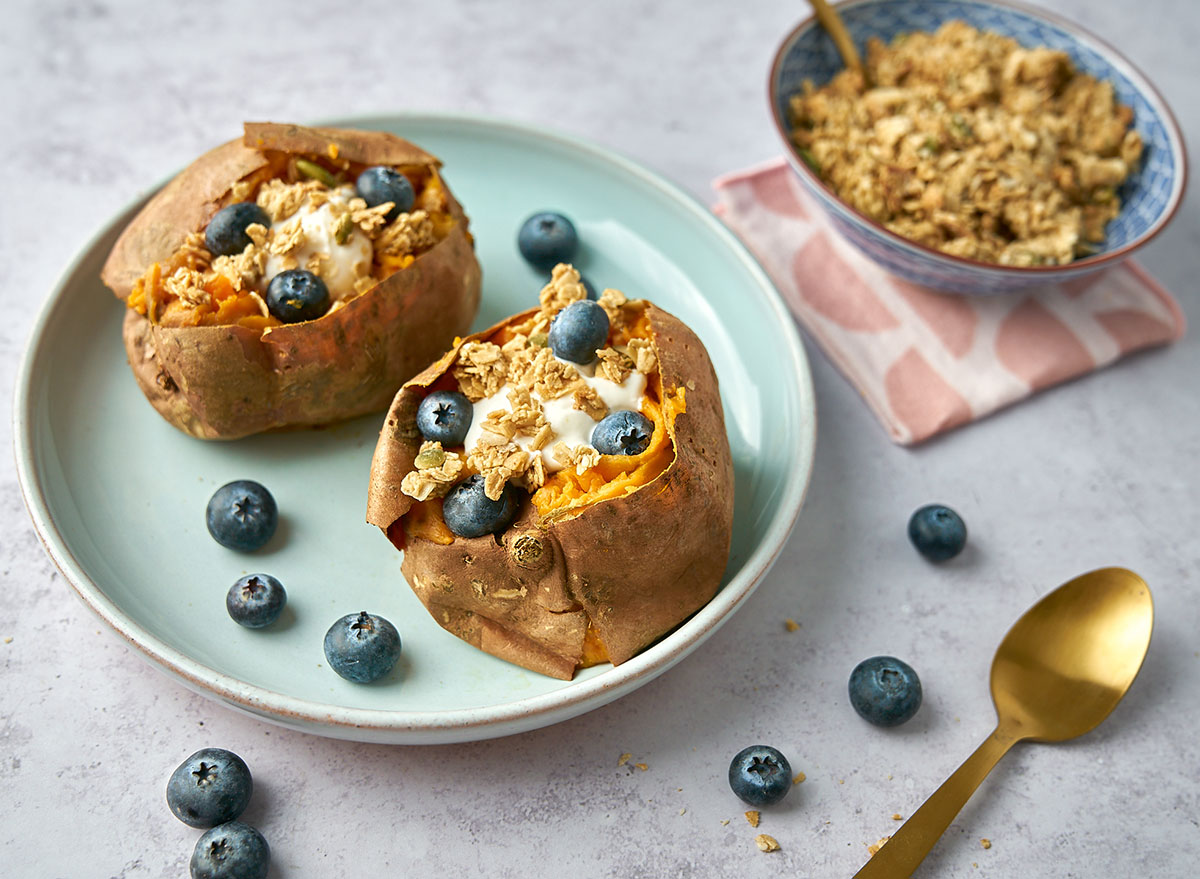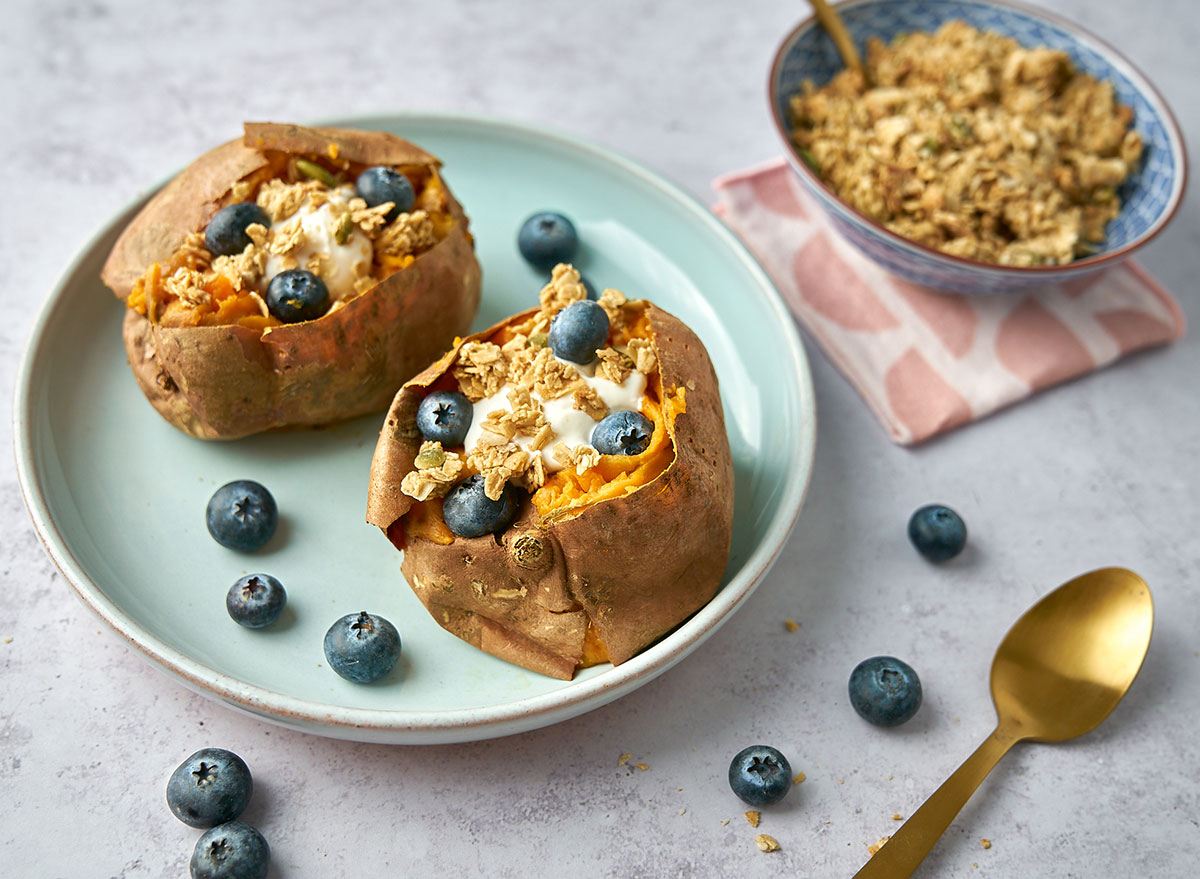 This genius plant-based breakfast builds a yogurt and granola parfait on top of a baked sweet potato. The key here is the yogurt's zest, which cuts through the intense sweetness of the potato. But if anything, this should give you ideas on other types of potato dishes you can top with yogurt.
Get our recipe for Loaded Sweet Potatoes. 
Protein Muffins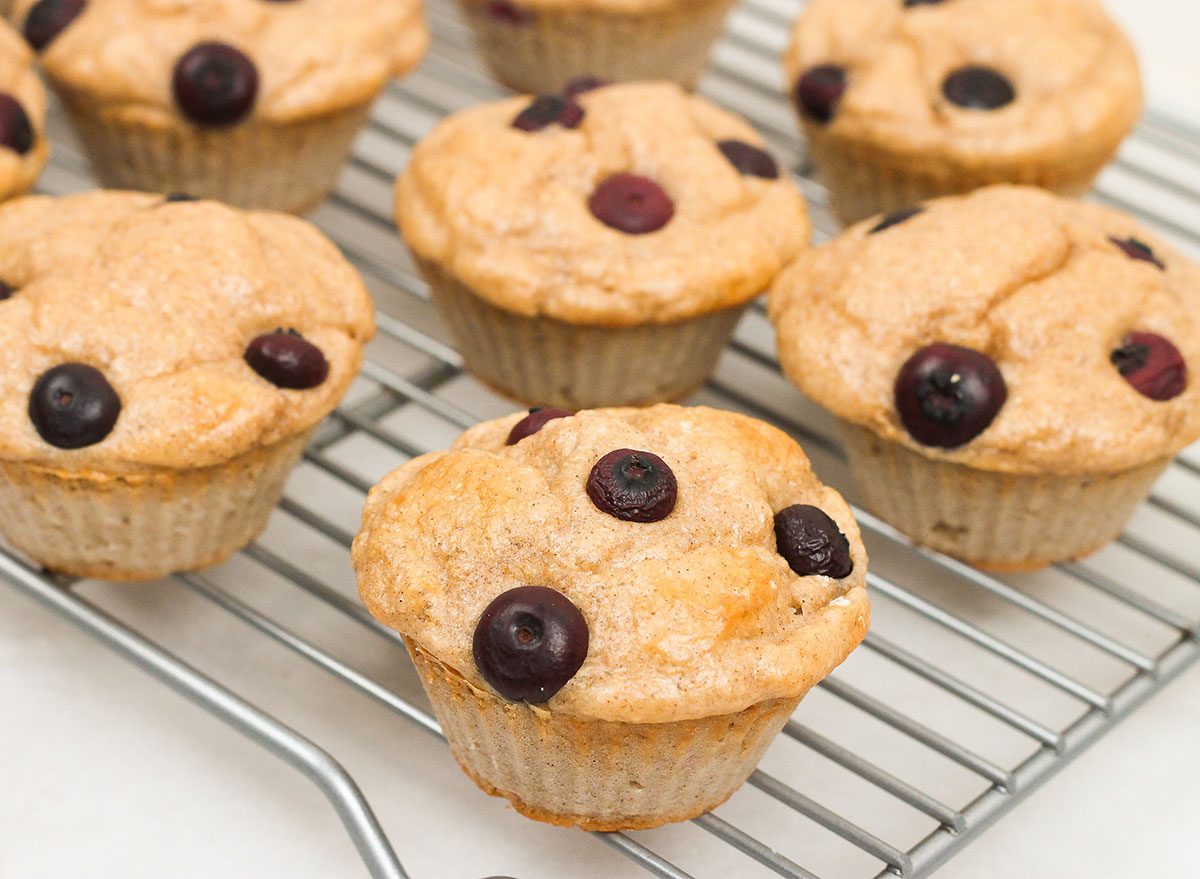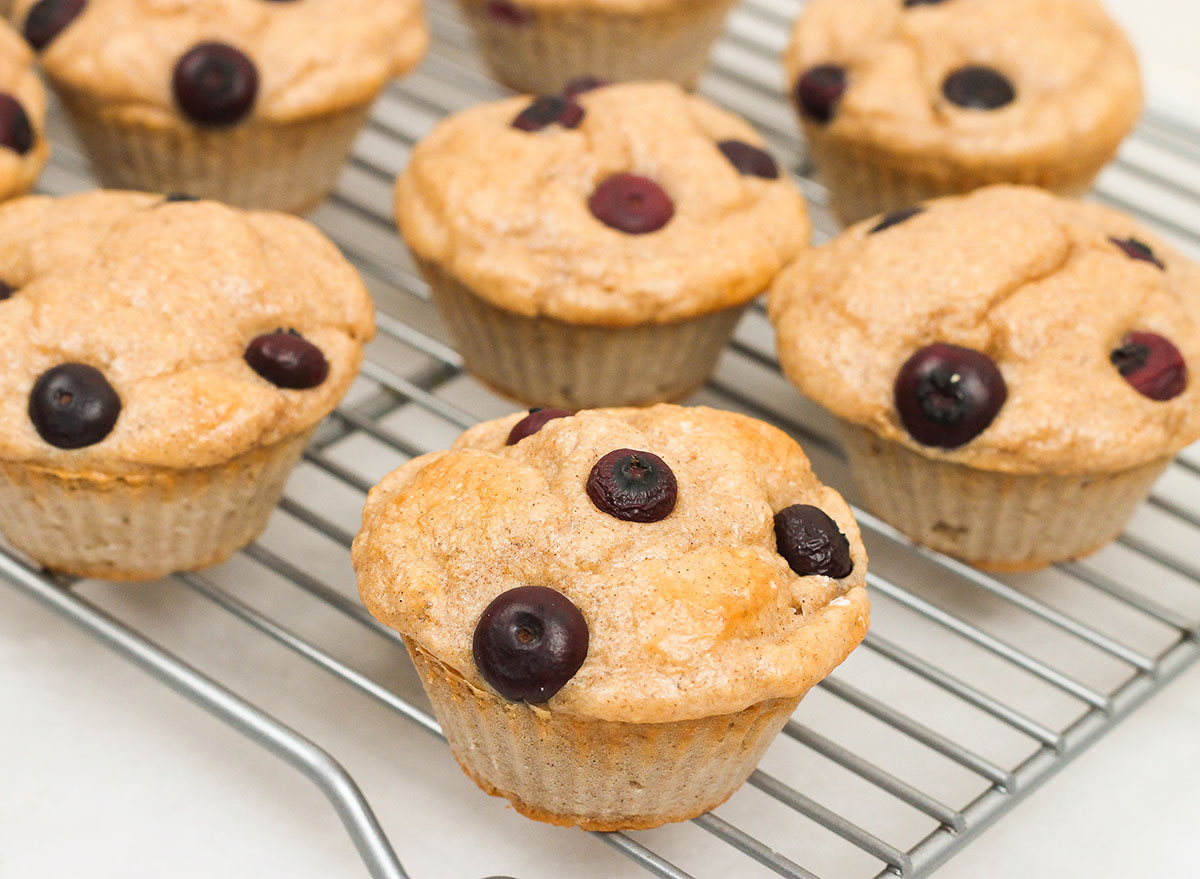 Muffins are another baked good that benefit greatly from the use of yogurt in the batter. The yogurt will react with the baking soda to encourage leavening, and your muffins will develop a fluffy, airy texture. Although you can add yogurt to many different muffin recipes, this one has the added benefit of extra protein, should your breakfast go-to be a muffin.
Get our recipe for Protein Muffins. 
Coconut Yogurt Waffles
Here's a perfect demonstration of baking with dairy-free yogurt, too. This recipe uses a coconut and vanilla–flavored vegan yogurt which works the same magic on the texture as an actual yogurt, but also infuses the batter with a subtle flavor and sweetness.
Get the recipe from Minimalist Baker. 
Turkish Fried Eggs in Herbed Yogurt
Think dairy on dairy sounds off? Not when it comes to this delicious eggs-on-yogurt breakfast flatbread. You'll turn the yogurt into an herby sauce, spread it on naan or pita bread, and top with fried eggs and a spiced butter sauce. All in all, one of the best breakfast ideas we've seen lately.
Get the recipe from Half Baked Harvest. 
Naan Bread
And why not make your naan from scratch, too, while you're at it. And yes, you'll want to use yogurt in here, too. We love this recipe because it creates perfectly soft flatbreads that crisp up on the pan nicely.
Get the recipe from Lil Luna. 
Greek Yogurt Coleslaw
Yogurt can replace mayo in homemade salad dressing and dips, and there are two benefits to that. For one, you're cutting down on unnecessary calories, and two, you're replacing a nutritionally empty ingredient like mayo with an ingredient that has the added benefit of probiotics, but won't compromise the texture. Using yogurt to dress your coleslaw is a great place to roll out the swap.
Get the recipe from Gimme Some Oven. 
Lemon Yogurt Breakfast Cake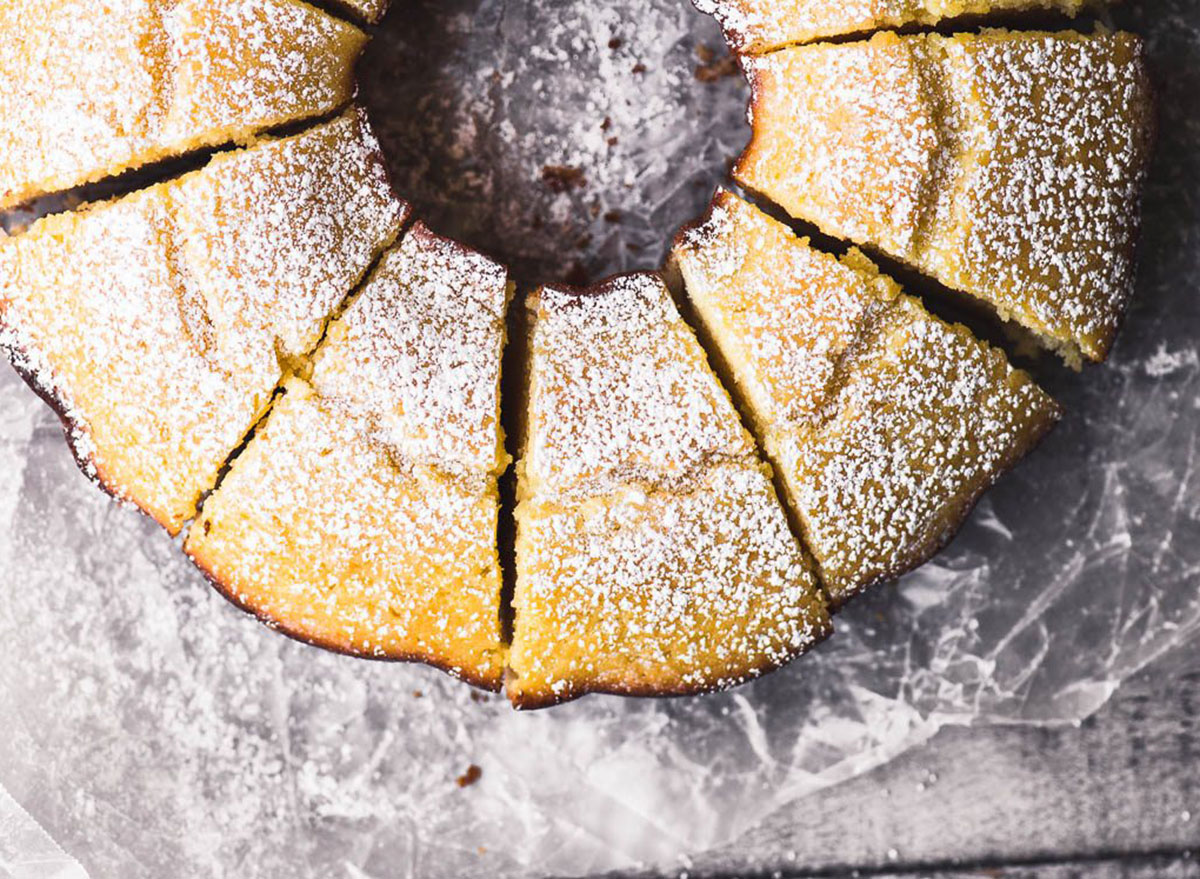 Sponge cakes have a tendency to end up too dense, so let yogurt lighten up some of that texture for you. This beautiful breakfast cake only needs a few very simple ingredients and a bundt pan, and as the blogger suggests, "A little jam, lemon curd, or a nice dunk in your coffee wouldn't be a bad idea either."
Get the recipe from The View from Great Island. 
Greek Yogurt Zucchini Bread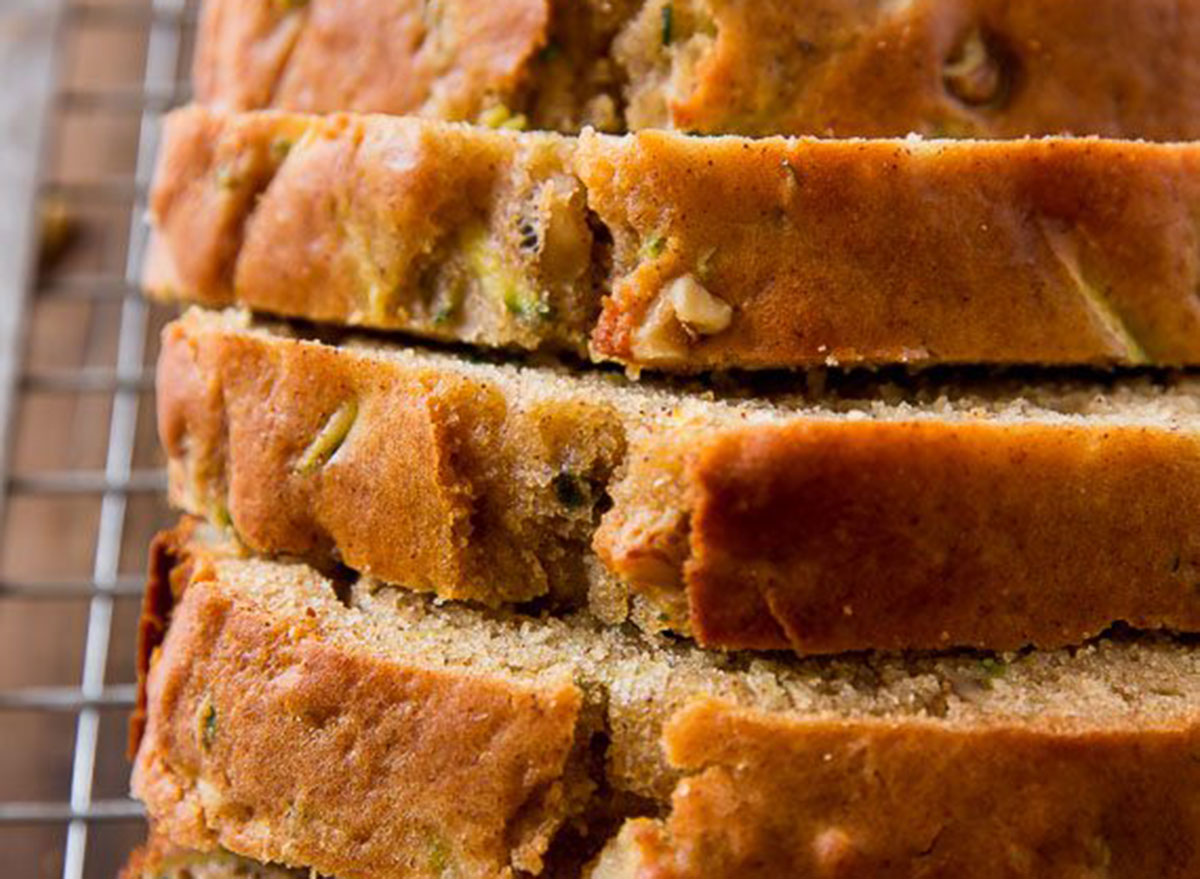 This zucchini bread features a tender, moist crumb, which is what you get when you mix zucchini with yogurt. The recipe cuts down on oil and foregoes white sugar completely, so note this one down if baked desserts are your guilty pleasure.
Get the recipe from Sally's Baking Addiction. 
Tzatziki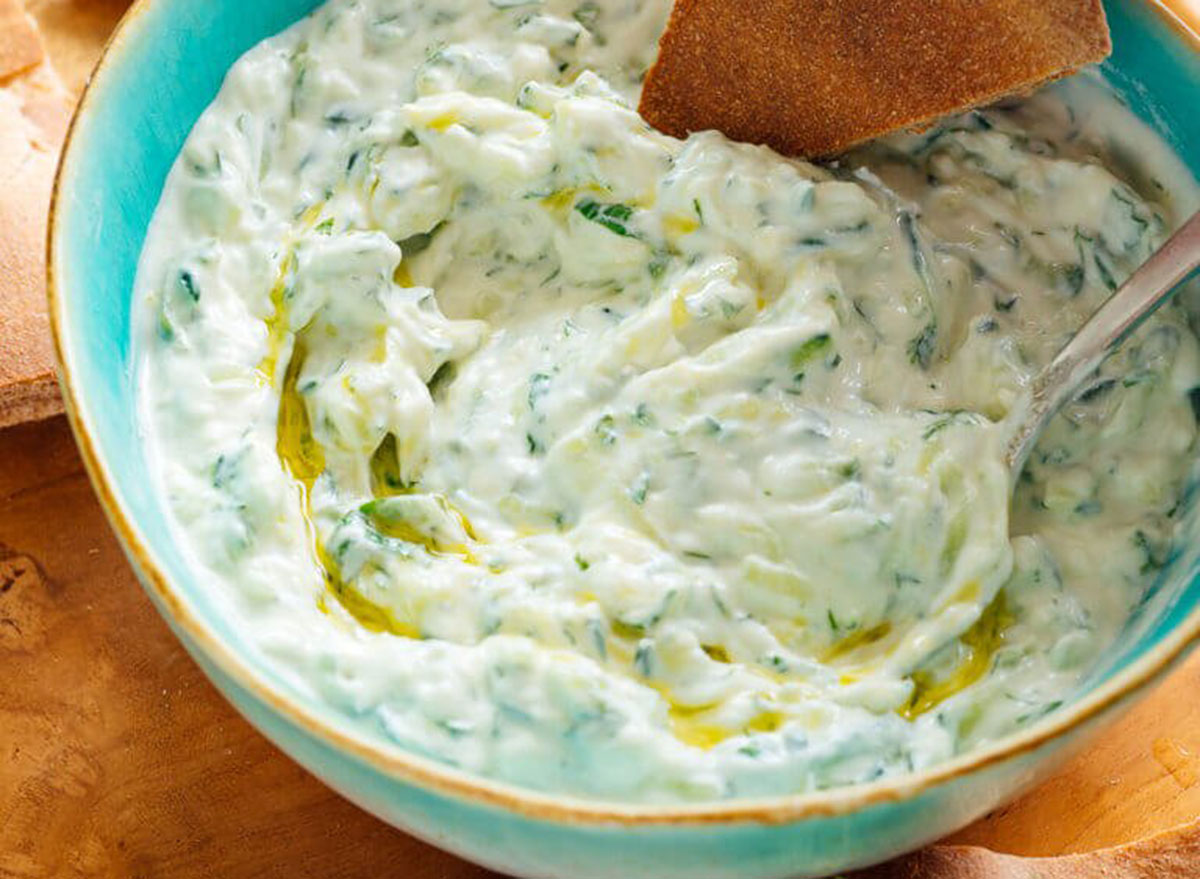 The traditional Greek dip is one of the tastiest yogurt-based sauces around. The main flavor-makers here are cucumbers, fresh herbs, lemon juice, and garlic, which all mesh beautifully with the creaminess of the yogurt. We suggest making a bigger batch and keeping it in an air-tight container in the fridge to us at every meal for the next few days (there are few things that aren't made better with tzatziki).
Get the recipe from Cookie and Kate. 
Garlic-Yogurt Baked Chicken
Chicken breasts are simple to prepare, but difficult to prepare well. They're such a delicate protein and can easily become tough when cooked improperly, or rubbery when marinated with harsh acids like vinegar or lemon juice. Plus, they don't pack a lot of flavor on their own, let's be honest. That's why using this simple yogurt marinade is such a great move for chicken breasts: it'll add a flavor profile to the bland chicken, and marinated it to perfect tenderness, no matter how long you keep the marinade on there.
Get the recipe from Diethood. 
Alfredo Sauce
Yogurt replaces heavy cream in this better-for-you version of Alfredo sauce. Put it on any/all pasta shapes and never go back to store-bought Alfredo again.
Get the recipe from Creme de la Crumb. 
Greek Yogurt Parmesan Tilapia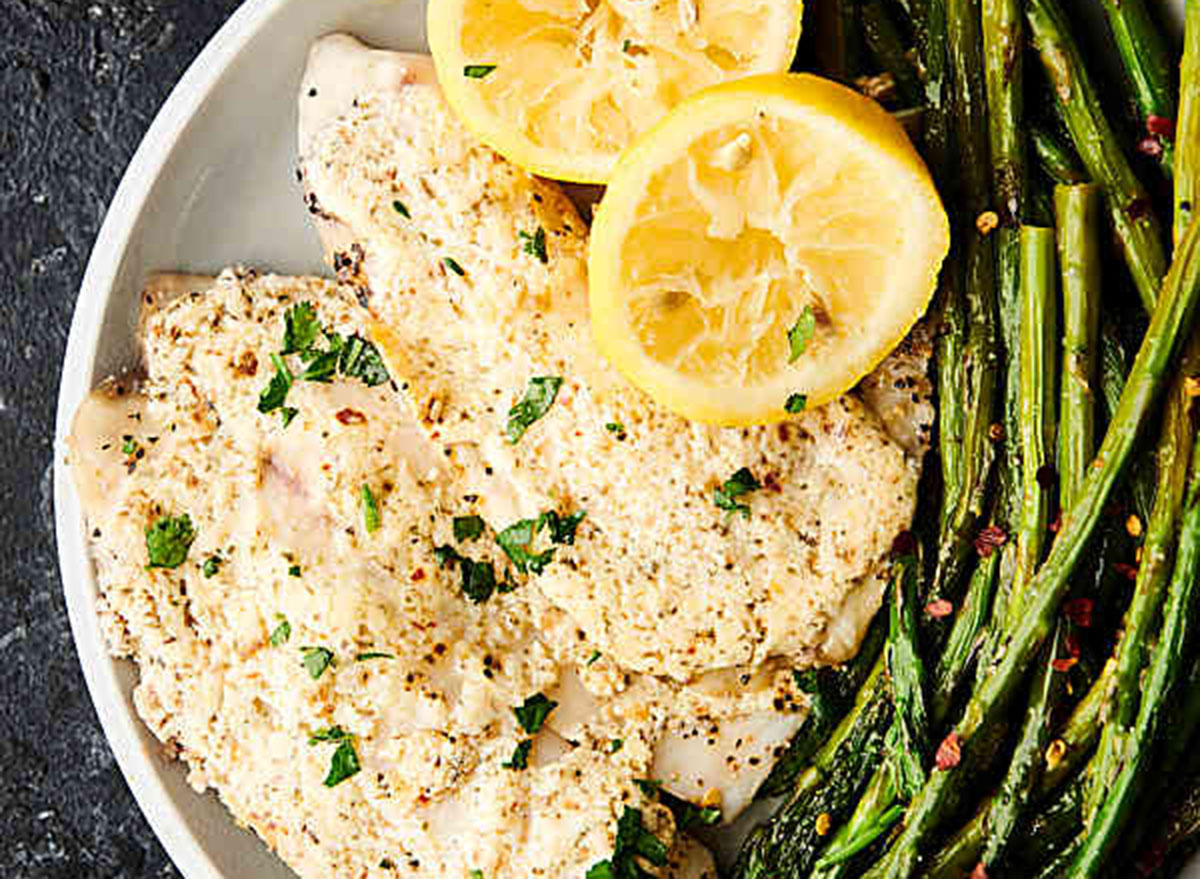 Yogurt pulls double-duty in this recipe, as a marinade and a baking sauce for the tender white fish. You'll pour the parmesan-yogurt batter over the tilapia fillets and bake it in the oven until the sauce starts to look like a breading.
Get the recipe from Show Me The Yummy. 
Flatbreads
You only need three ingredients for these simple, crispy, crepe-like flatbreads. The yogurt is the moisture agent and only dairy in this dough. Top the flatbreads with a bit of garlic and olive oil for a deliciously quick afternoon snack.6254a4d1642c605c54bf1cab17d50f1e
Get the recipe from Bigger Bolder Baking. 
Brownies
This blogger adds yogurt to a plain old store-bought brownie mix, and the result is a moist, tangy brownie that's hard to resist. She gives you a simple formula on how to sub yogurt into any boxed brownie recipe.
Get the recipe from Love from the Oven. 
Avocado Greek Yogurt Ranch Dressing
There are few things in life that'll make you feel more accomplished in the kitchen than making your own ranch dressing. Normally, ranch is made by combining a dairy base with herbs, spices, and some acidity. There are many different combos to try, and we particularly like the use of Greek yogurt as the base for this homemade ranch.
Get the recipe from Cooking Classy. 
Chicken Biryani with Cilantro Yogurt Sauce
A cilantro yogurt sauce is used as a creamy base in this Biryani, but you'd be smart to make extra and serve it dolloped all over the finished dish, too. Frequently used as a cooling agent that combats the heat of spices, yogurt is an especially popular ingredient in Indian-inspired cooking.
Get the recipe from Feasting at Home. 
Zhoug Sauce
This recipe will teach you how to make zhoug, a herby, fresh, spicy green sauce used in Middle Eastern cuisines. Once you make it, one of the best ways you can use it is by mixing it with some yogurt for a spicy, creamy green sauce that's perfect for dolloping and dipping.
Get the recipe from Feasting at Home. 
Pizza Dough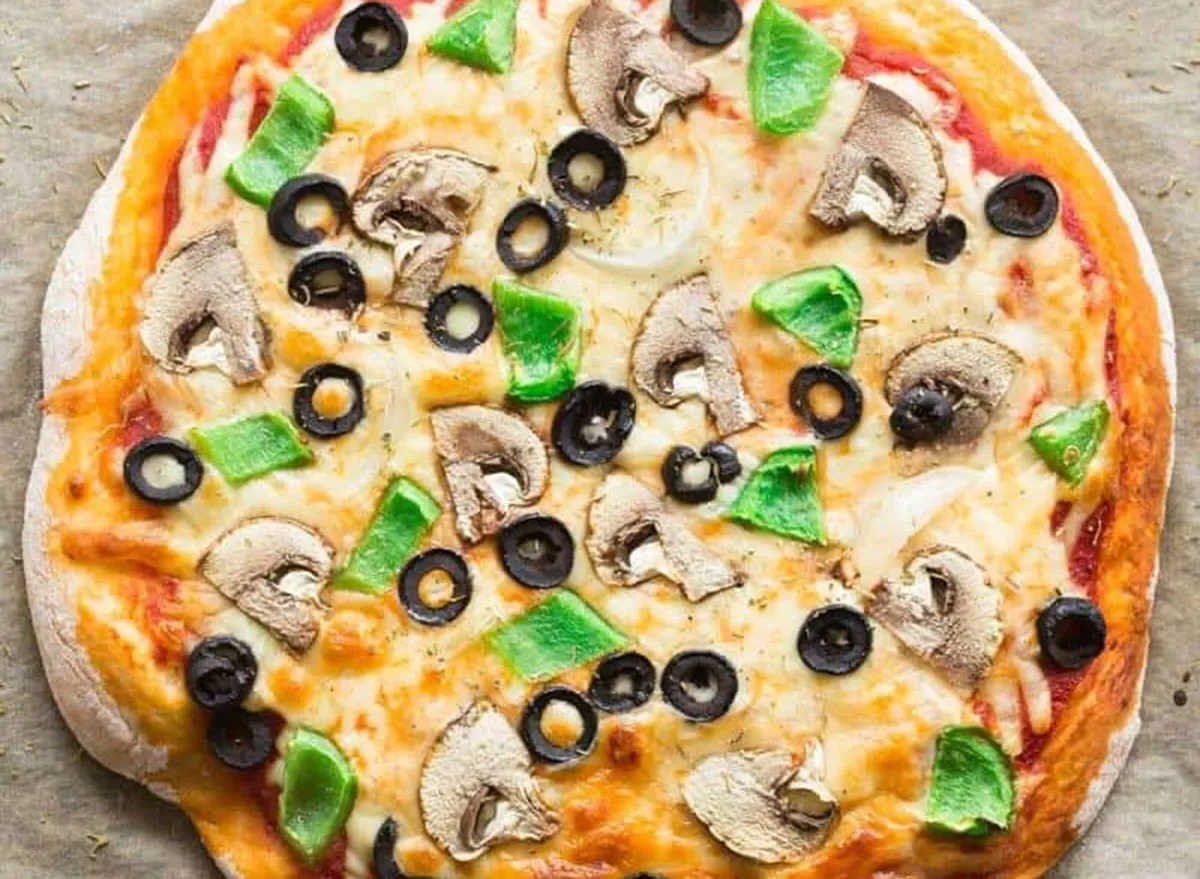 It was only a matter of time before yogurt was used in pizza dough—it already makes so many other baked goods taste better. All you need to do to make this simple recipe is to combine it with some self-rising flour, and you've got homemade dough for pizzas, flatbreads, and naans.
Get the recipe from The Big Man's World. 
Peanut Butter Yogurt Fluff Bowl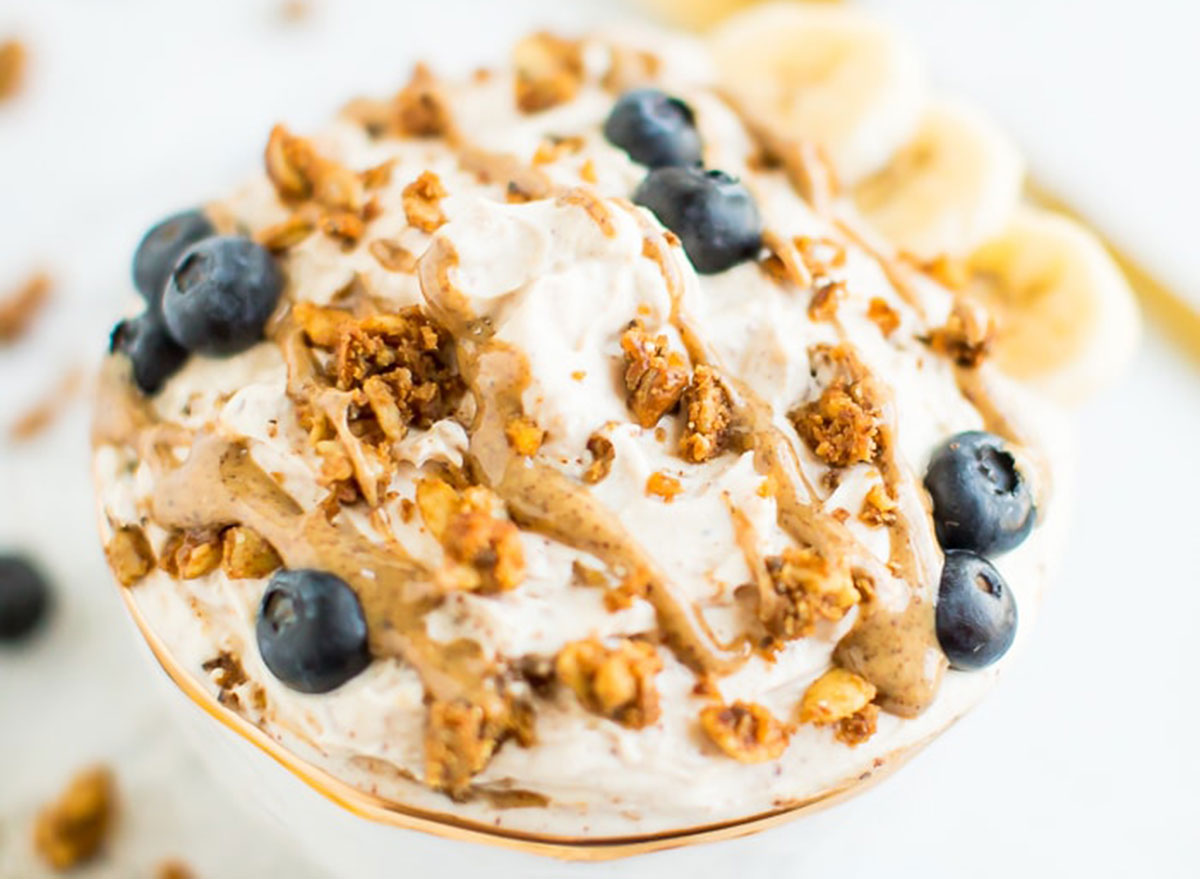 Have you ever tried mixing yogurt with peanut or almond butter? The result is a heavenly creamy spread that tastes like ice cream. This recipe serves it up with a bit of a sweetener and blueberries for breakfast. It doesn't get more protein-licious than this!
Get the recipe from Eating Bird Food. 
French Yogurt Cake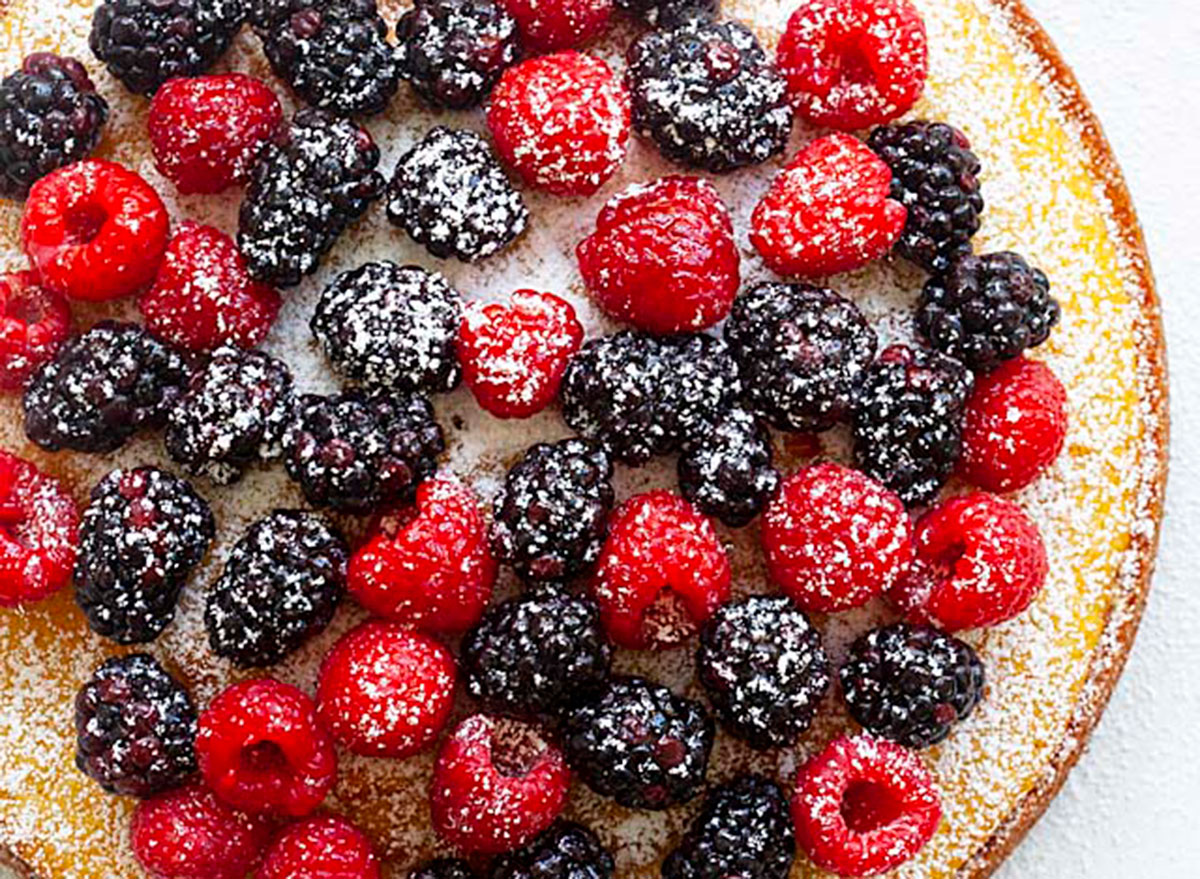 A delicate, moist vanilla sponge, topped with powdered sugar and fresh berries. What could be better than this! And have we mentioned how difficult it is to mess up a yogurt-based sponge?
Get the recipe from Rasa Malaysia. 
STAY INFORMED: Sign up for our newsletter to get the latest coronavirus foods news delivered straight to your inbox.
Mura Dominko
Mura is ETNT's Executive Editor, leading the coverage of America's favorite restaurant chains, grocery stores, and viral food moments.
Read more about Mura