5 Big Changes You'll See at Chick-fil-A This Year
The popular chicken chain is exploring a number of different ways to attract more customers.
Chick-fil-A has never been more popular or profitable. Visit your nearest local location on any given day (except Sundays) and odds are you'll find a long, congested drive-thru lane and a packed parking lot.
Pioneers of the pressure-cooked chicken sandwich, Chick-fil-A comes from humble beginnings dating back nearly 80 years. Eventual Chick-fil-A founder S. Truett Cathy first opened a tiny diner called the Dwarf Grill in Georgia in 1946, where he first perfected the recipe for what would eventually become Chick-fil-A's signature dish: The Chicken Sandwich. This classic is a refreshingly simple sandwich made up of nothing more than hand-breaded and perfectly seasoned chicken breast, a toasted buttery bun, and two pickles.
Fast forward to 1967, and the first "official" Chick-fil-A restaurant opened inside the Atlanta Greenbriar Mall food court, one of the first indoor malls in the U.S. Southeast. The idea of an eatery in a mall hardly sounds all that exciting in 2023, but back then Chick-fil-A was one of the first restaurants to open inside a mall. Interestingly, Chick-fil-A locations were actually exclusively located inside malls for roughly the next 20 years until the chain's first free-standing restaurant opened in the Atlanta suburbs in 1986.
On a somewhat somber note, that historic first location in the Greenbriar Mall just shut its doors permanently this month, possibly due to lower overall foot traffic. While the loss of that location no doubt stings a bit from a symbolic standpoint, Chick-fil-A is still doing incredible business right now.
Boasting roughly 2,800 restaurants all over the United States, Chick-fil-A's earnings topped $1 billion for the second straight year in 2022. Domestic system sales, meanwhile, increased by close to 13% compared to 2021. Those numbers suggest Chick-fil-A is the third largest restaurant brand in the world (!) behind only Starbucks and McDonald's.
One of the key aspects of Chick-fil-A's success is the high profitability of its locations. The chicken brand may not operate nearly as many restaurants as its competitors, but each unit is doing its part in a major way. Per Restaurant Business, the average franchised Chick-fil-A location brings in about $8 million annually; that's double what a typical McDonald's restaurant reports, and four times more than an average Wendy's.
It's clear Chick-fil-A is doing a whole lot right now, but there's always room for improvement. The popular chicken chain is exploring a number of different ways to attract more customers, encourage more seamless eating experiences, and boost brand awareness. Let's take a look at five big changes you'll see at Chick-fil-A this year.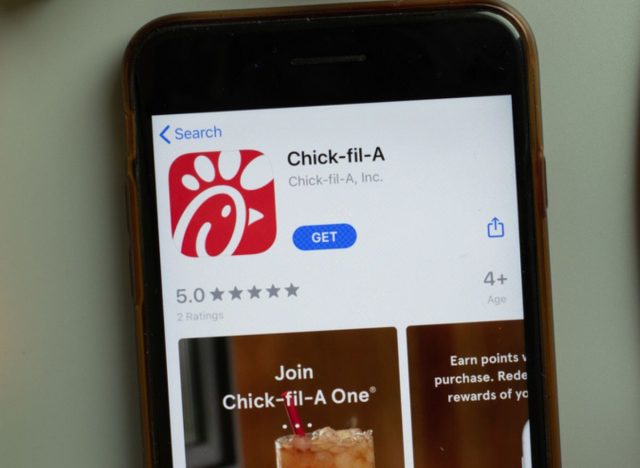 It's hardly a secret that everything is going digital nowadays, and modern consumers want to be informed about their meal every step of the way when ordering online. Chick-fil-A recently announced two new exciting updates to their mobile loyalty app aimed at making the ordering process even more convenient and smooth.
Rolling out across all locations throughout summer 2023, the first update will put in place "geofencing," meaning crew members will be notified when a customer is close to the restaurant so they can start cooking their curbside or take-out order. Ideally, patrons will then be greeted by the freshest possible food upon arrival.
Meanwhile, the second update will provide customers with an estimated completion time for each order (curbside, take-out, and dine-in) placed on the app. Chick-fil-A explains these updates are all about saving their valued customers precious time.
"By timing a customer's arrival with their order, we can ensure they're getting a meal that is both fresh and served quickly," commented Morgan Anderer, senior project lead on the customer digital experience team at the Atlanta-based chain.
These new features were tested at select Chick-fil-A locations last year, with the company reporting customers enjoyed an average reduced wait time of between one to two minutes. Estimated wait times produced by the app, meanwhile, turned out to be accurate across more than 90 percent of instances. Customers will have to turn on location services to enjoy these features.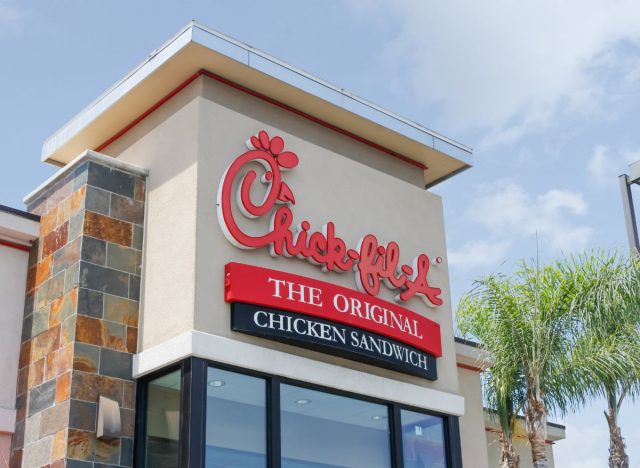 Chick-fil-A may have built up a chicken sandwich empire over here in the USA, but the brand hasn't found much success internationally—at least not yet. Besides a few failed attempts to enter foreign markets such as the United Kingdom and South Africa, the chicken chain has never aggressively pursued international expansion.
That appears poised to change, according to current Chick-fil-A CEO Andrew Cathy. He recently told the Wall Street Journal that the chicken brand is planning to invest $1 billion on an expansion plan throughout Europe and Asia. More specifically, Chick-fil-A is aiming to open units in Europe and Asia by 2026, with locations across at least five international markets by the end of this decade.
"We feel like it's time to continue to innovate and try [to] test how we will do in international markets so that we can learn," Mr. Cathy said. He went on to add that the international locations Chick-fil-A is focusing on are ​​"countries in Asia and Europe with stable economies, dense populations and a demand for chicken."
Plant-based items and innovation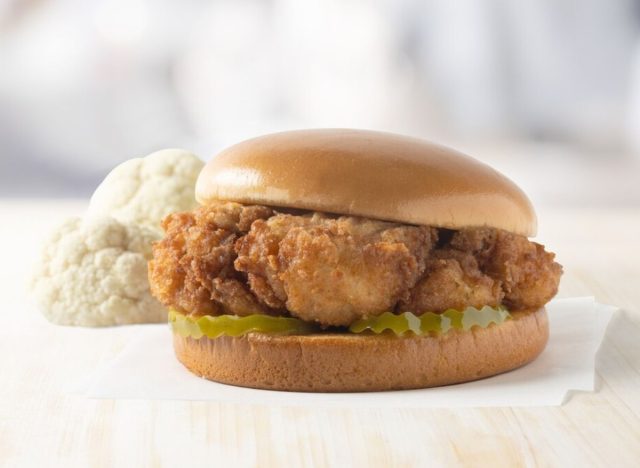 Plenty of fast-food menus can be absolutely overwhelming. Variety is nice, but at a certain point 25+ different burger combinations become a bit much. Chick-fil-A, on the other hand, has always stood out from the pack by virtue of taking the opposite approach. The chicken chain's menu has always been short, straightforward, and highlighted by stalwarts like the Chicken Sandwich, Spicy Chicken Sandwich, and Grilled Chicken Sandwich.
That's why it was so surprising when Chick-fil-A announced the debut of the new Cauliflower Sandwich earlier this year. Currently only available in select areas of Denver, North Carolina, and South Carolina, the sandwich is a truly unique fast-food plant-based option in the sense that it's made with a filet of whole cauliflower and not a fake-meat alternative. Just like the chain's trademark chicken sandwiches, the cauliflowers are marinated, breaded with seasoning and pressure cooked, and served on a toasted bun with two pickles.
The unusual new menu item has certainly generated conversation, if nothing else. While the sandwich had been met with a notable amount of criticism online, other reports indicate most patrons are enjoying the Cauliflower Sandwich. One recent survey found 68% of diners who tried the sandwich thought it was somewhat or much better than they had anticipated.
"We explored every corner of the plant-based space in search of the perfect centerpiece for our plant-forward entrée," said Stuart Tracy, culinary developer of the Chick-fil-A Cauliflower Sandwich, in a press release. "Time and time again, we kept returning to cauliflower as the base of our sandwich. After a significant amount of development, we knew we had a one-of-a-kind entrée; one that puts a delicious spin on what we're known for – great tasting food with ingredients you can trust."
Shoes, sauces, and salad dressing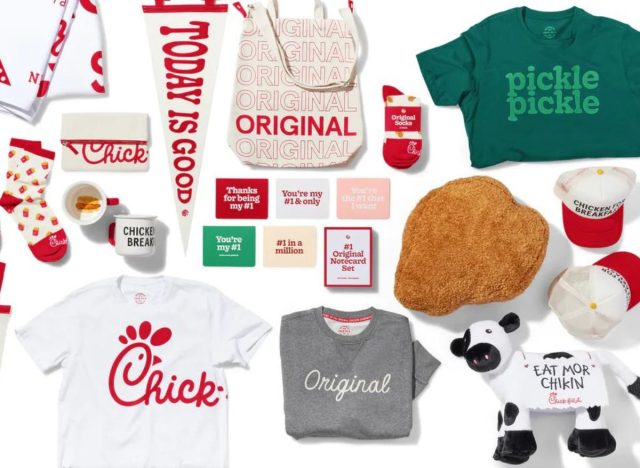 Chick-fil-A is no stranger to the retail game. In 2020, the chicken brand began selling its signature sauces at participating retailers, and at the end of last year Chick-fil-A launched its very own online shop featuring items like hoodies, coffee mugs, and tote bags.
That first online retail collection sold out quickly last November. In response, Chick-fil-A just released a new, limited-edition, sauce-themed merchandise line this spring featuring a range of colorful items like shoes, hats, watches, crewnecks, and socks. Each collection and color scheme corresponds to a different Chick-fil-A sauce. So, for example, Polynesian sauce items are colored purple, while the Sweet & Spicy Sriracha collection is green-themed.
Meanwhile, two more bottled Chick-fil-A sauces have been added to the retail line; barbecue and sweet & spicy sriracha. The new sauces can be found at participating grocery, Walmart, and Target locations nationwide.
And that's not all: Chick-fil-A continues to expand its retail offerings with the addition of four of its most popular salad dressings to grocery shelves nationwide. Shoppers will soon find Avocado Lime Ranch, Garden Herb Ranch, Creamy Salsa Dressing, and Zesty Apple Cider Vinaigrette available in 12-ounce bottles at participating Walmarts and other grocers.
"Our dressings bring versatile flavors to the table, making them perfect for marinating chicken, drizzling on tacos or whipping up a pasta salad," said Chick-fil-A Chef Christy Cook in a statement. "Now, we can't wait to see what they create with our bottled salad dressings in their own kitchens."
Service with a (computer) server
Restaurants of all shapes and sizes, from smaller singular eateries to full-blown mega-chains like Burger King or KFC, are in the midst of a major tech transition period. Automation and AI is revolutionizing virtually every industry, and the world of quick-service dining is no different.6254a4d1642c605c54bf1cab17d50f1e
Never a brand to be left behind, Chick-fil-A has started exploring multiple avenues of incorporating automation and robotics into their company. Just last summer, the chain announced that a select set of locations in Texas, California, and Florida would be testing out a fleet of autonomous delivery robots. Made possible by collaborating with Refraction AI, an Austin-based leader in autonomous delivery, these delivery bots are capable of navigating around busy roads, sidewalks, and pedestrians—and can even reach speeds up to 15 miles per hour.
"It's always going to be about well-prepared, quality food," explained John Featherston, senior director of new ventures, in a press release. "But where and how you consume your Chick-fil-A meal based on your daily needs is constantly changing. We want to learn how to extend our hospitality from our restaurants to meet you where you are."
Besides delivery, Chick-fil-A is also experimenting with robotic servers in dining rooms. One such automated waiter was being tested at a Chick-fil-A location in Atlanta late last year, and a recent piece in the Dallas Morning News from March 2023 describes encountering a robotic waiter at a local Chick-fil-A.
John Anderer
John Anderer is a writer who specializes in science, health, and lifestyle topics.
Read more about John