Chick-fil-A Plans To Serve You Fresher Food, Faster—Here's How
Chick-fil-A customers can expect to see some useful app upgrades this summer.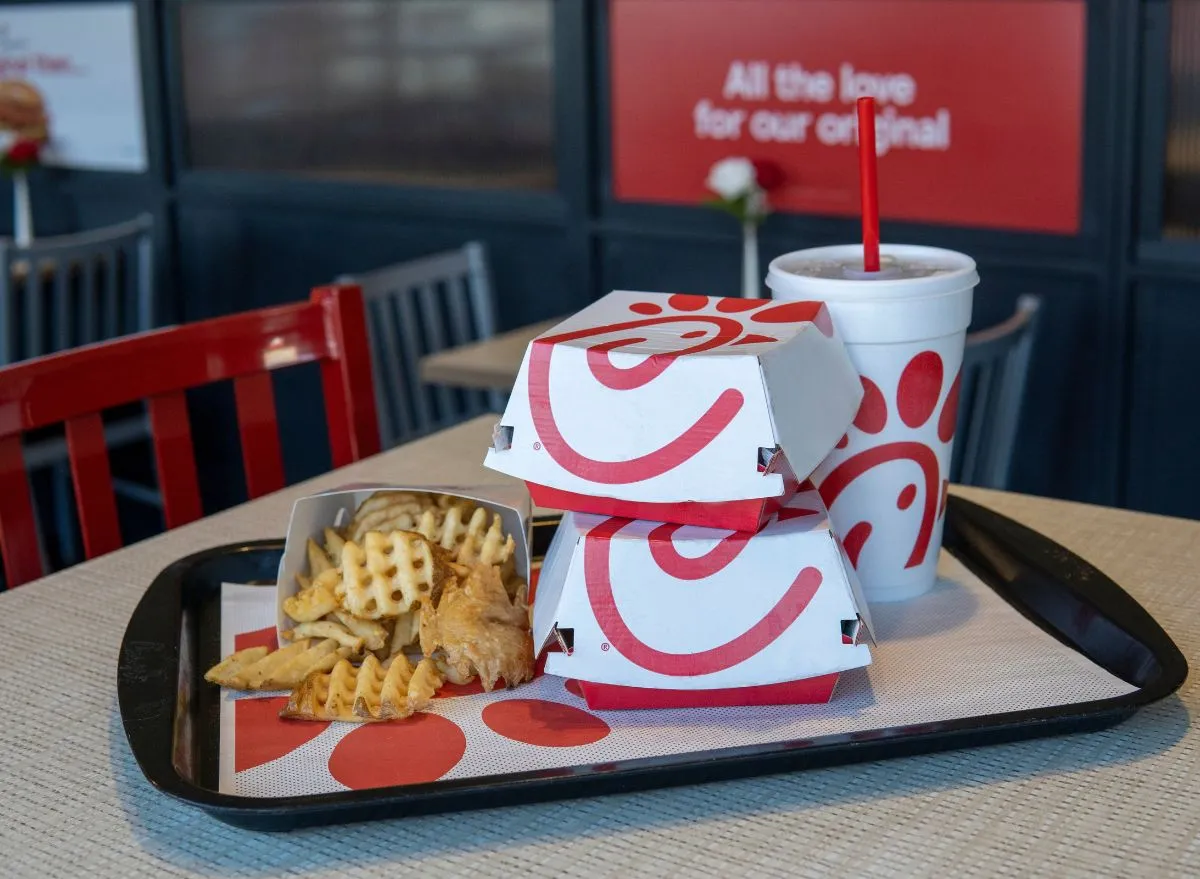 One of the biggest draws to fast-food is the convenience of getting a quick, hot meal when you don't have the time to cook or sit down at a full-service restaurant. However, popular restaurant chains can get extremely busy and long wait times can chip away at the convenience factor. Even when customers have the forethought to order their meals ahead of time, there's often no guarantee that their food will be ready right when they arrive—or that it hasn't been sitting around and getting cold for 15 minutes.
Luckily, for Chick-fil-A fans, the chain has some major plans to remedy these common fast-food woes with two new upcoming app features.
One of these new features is a useful trick for customers who order a curbside or carryout order through the Chick-fil-A app. If location services are enabled on the app, the app will be able to tell when a customer who ordered ahead is close to the restaurant so workers know when to start preparing an order.
"Also known as geofencing, this technology allows the kitchen extra time to prepare your meal and reduces your wait time," Chick-fil-A said in an announcement this week.
In addition to getting customers their food faster, preparing their meals once they're close to the restaurant ensures that their food will still be hot and fresh when they pick it up.
Several other major restaurant chains have also adopted geofencing technology in recent years. This includes Panera Bread, which launched a service in 2020 that automatically notified restaurants when a customer arrived for a curbside pickup order. Like Chick-fil-A's new feature, McDonald's also recently started using geofencing technology on its mobile app to notify workers to start prepping curbside and dine-in mobile orders when customers are close to the restaurant, Marketing Dive reported.
The second new Chick-fil-A app feature will provide estimated wait times for carryout, curbside, and dine-in orders. Chick-fil-A said that while it is only an estimate, that estimate is "pretty accurate." The feature predicts wait times based on factors like order complexity, size, and "proprietary restaurant analytics," according to Chick-fil-A.
The chicken chain tested the geofencing technology and wait times feature over the past year at 100 restaurants across the United States, and reported success with the trials. Chick-fil-A says that customers waited one to two minutes less for their orders on average and the wait time estimates were correct more than 90% of the time.
"By timing a customer's arrival with their order, we can ensure they're getting a meal that is both fresh and served quickly," Morgan Anderer, senior project lead on the Customer Digital Experience team at Chick-fil-A, said in a statement. "We don't believe our customers should have to compromise, and these new features truly balance what our restaurants do best: exceptional quality and efficient service."
Both new features are launching at Chick-fil-A restaurants "through early summer," the chain said. Customers can take advantage of these features once they're available by turning on location services for the Chick-fil-A app on their phones.
These are not the only major changes to come out of Chick-fil-A recently. The chain began testing its first-ever Cauliflower Sandwich in February and brought back its seasonal Watermelon Mint beverages in March. Chick-fil-A also recently launched two more flavors of its dipping sauces–Barbecue and Sweet & Spicy Sriracha–at retailers nationwide so customers can enjoy the condiments at home.6254a4d1642c605c54bf1cab17d50f1e
Zoe Strozewski
Zoe Strozewski is a News Writer for Eat This, Not That! A Chicago native who now lives in New Jersey, she graduated from Kean University in 2020 with a bachelor's degree in journalism.
Read more about Zoe