The Best & Worst Menu Items at Bonefish Grill
Two registered dietitians closely examined the menu so next time you dine out, you know what to order and what to avoid.
In some restaurants, fish is often an item that you have to search for on the menu. But at Bonefish Grill, it's seafood that shines. Eating seafood has been associated with boosting brain health, including reducing the incidence of depression, elevating mood, and even improving a baby's IQ. In addition to being the richest source of omega-3 fatty acids, seafood also provides selenium, iron, and B vitamins and a host of other valuable nutrients. As far as protein goes, seafood weighs in with perhaps the least amount of calories while packing a protein punch at around 7 grams protein per ounce.
Yet in spite of its many benefits, seafood is a category of foods that Americans just don't seem to get enough of. We're supposed to be eating seafood at least two times a week, but there seems to be a disconnect between knowing that it's good for us and knowing how to select seafood. In a restaurant like Bonefish Grill, there are lots of types of seafood to choose from, but you'll need to swim through the menu cautiously to pick the dishes that won't undermine the positive attributes that seafood provides.
Let's take a closer look at the best and worst dishes you can order off the Bonefish Grill menu.
Appetizers/Starters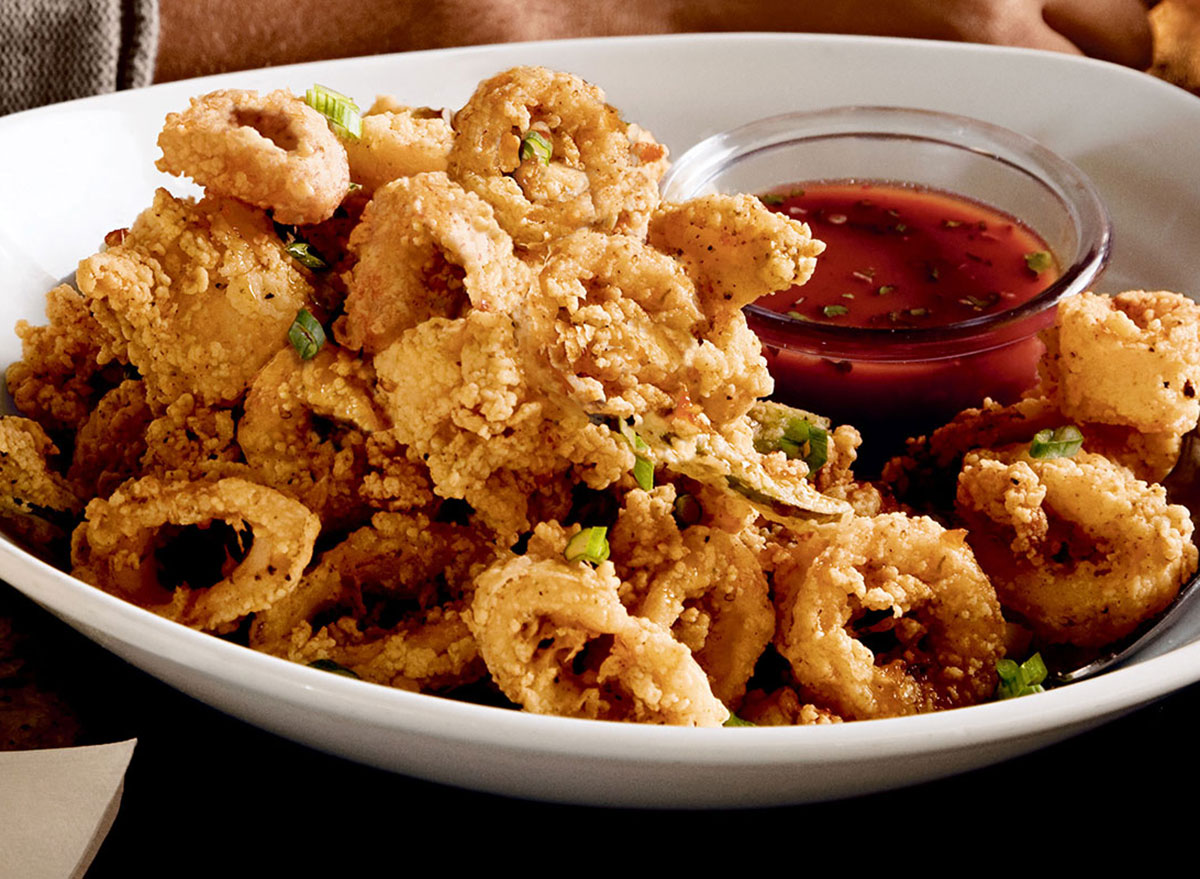 1,230 calories, 74 g fat (12 g saturated fat, 0.5 g trans fat), 2,600 mg sodium, 116 g carbs (10 g fiber, 18 g sugar), 26 g protein
The calamari weighs in at 1,230 calories, of which 660 calories come from fat. Although such a high-fat item would seem to attract keto diet fans, even they'd take a pass on this dish because the carb count supplies 116 grams of carbs. Sodium-wise, this dish has a whopping 2,600 milligrams of sodium —more than the amount recommended for an entire day, let alone in an appetizer. This dish's redeeming number is the 26 grams of protein it provides, but that doesn't make up for the other damage.
Best: Ahi Tuna Sashimi, Regular Size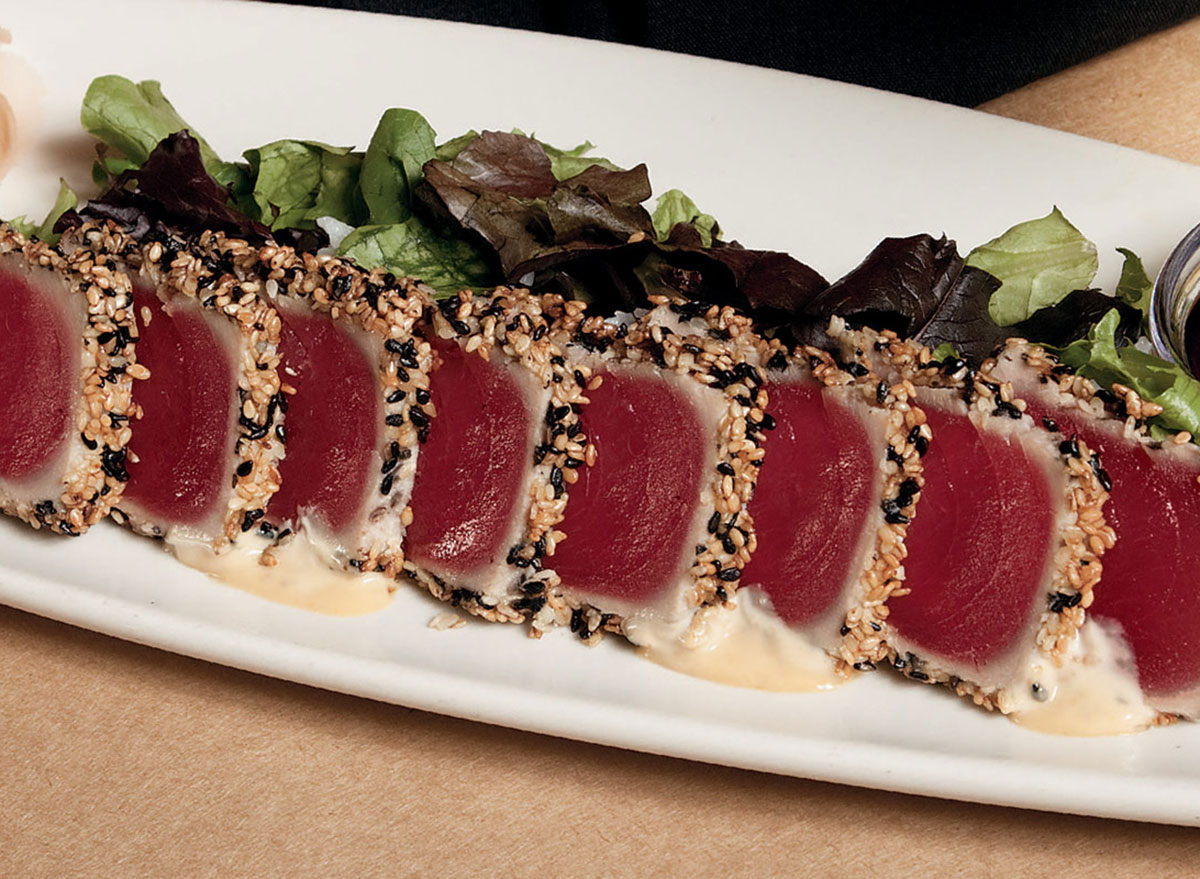 340 calories, 17 g fat (3 g saturated fat, 0 g trans fat), 2, 220 mg sodium, 12 g carbs (3 g fiber, 4 g sugar), 35 g protein
Ahi Tuna Sashimi may be a bit caloric for some people who are trying to lose weight, and while the 35 grams of protein within will keep you feeling full and satisfied, the 2,200 milligrams of sodium may give you pause. You could make this a main dish and pair it with a few sides or a salad though, something dietitian nutritionist Lauren Harris-Pincus, MS, RDN, founder of NutritionStarringYOU and author of The Protein-Packed Breakfast Club, suggests doing, as it's simple to customize a meal to your particular tastes and dietary preferences.
Soups & Greens
Worst: Grilled Salmon Superfood Salad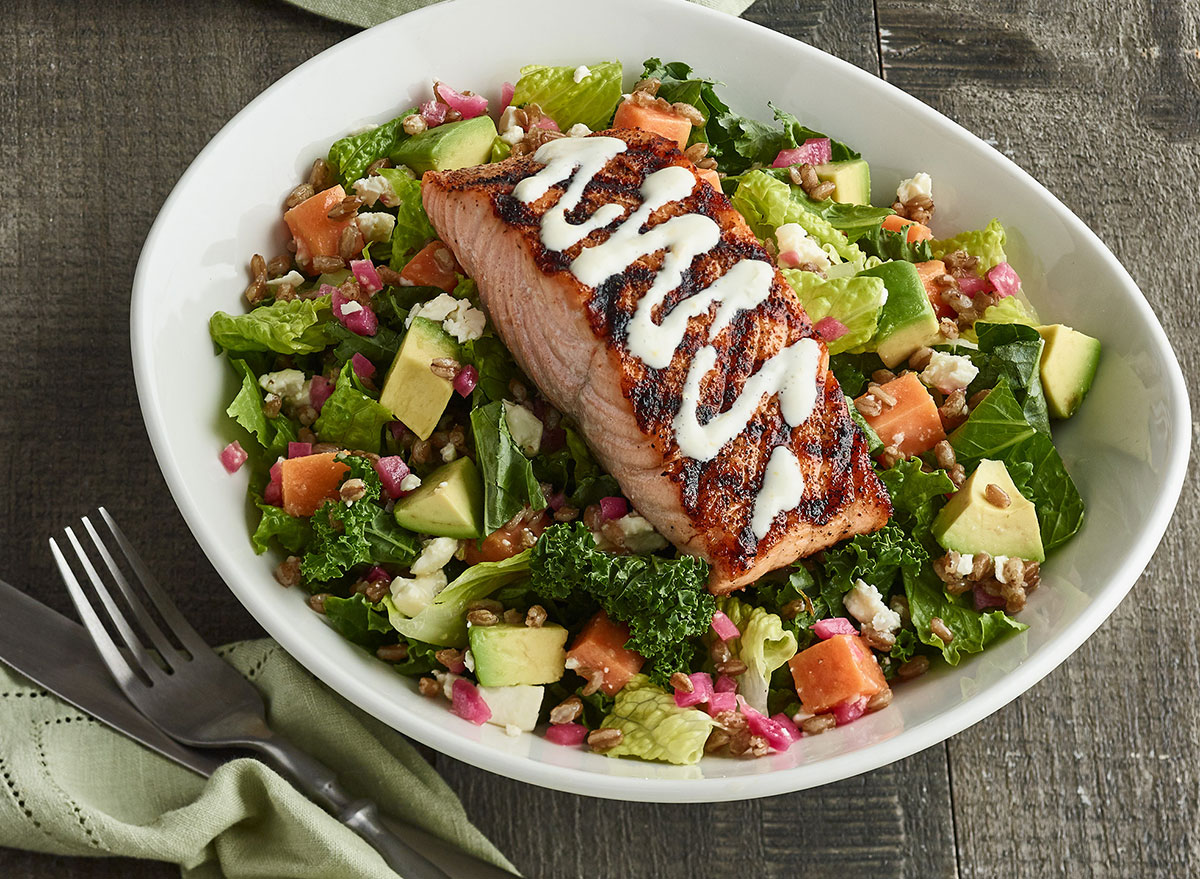 1,180 calories, 68 g fat (15 g saturated fat, 0.5 g trans fat), 2,980 mg sodium, 88 g carbs (12 g fiber, 32 g sugar), 57 g protein
Although the Grilled Salmon Superfood Salad has a super name, this fish dish brings nearly 3,000 milligrams of sodium, going beyond the amount recommended for one day and 68 grams of fat. As a frame of reference, there are 5 grams of fat in one teaspoon of oil, so this dish has the equivalent of about 13 teaspoons of fat. Plus, 32 grams of sugar? No, thanks.
Best: Bonefish House Side Salad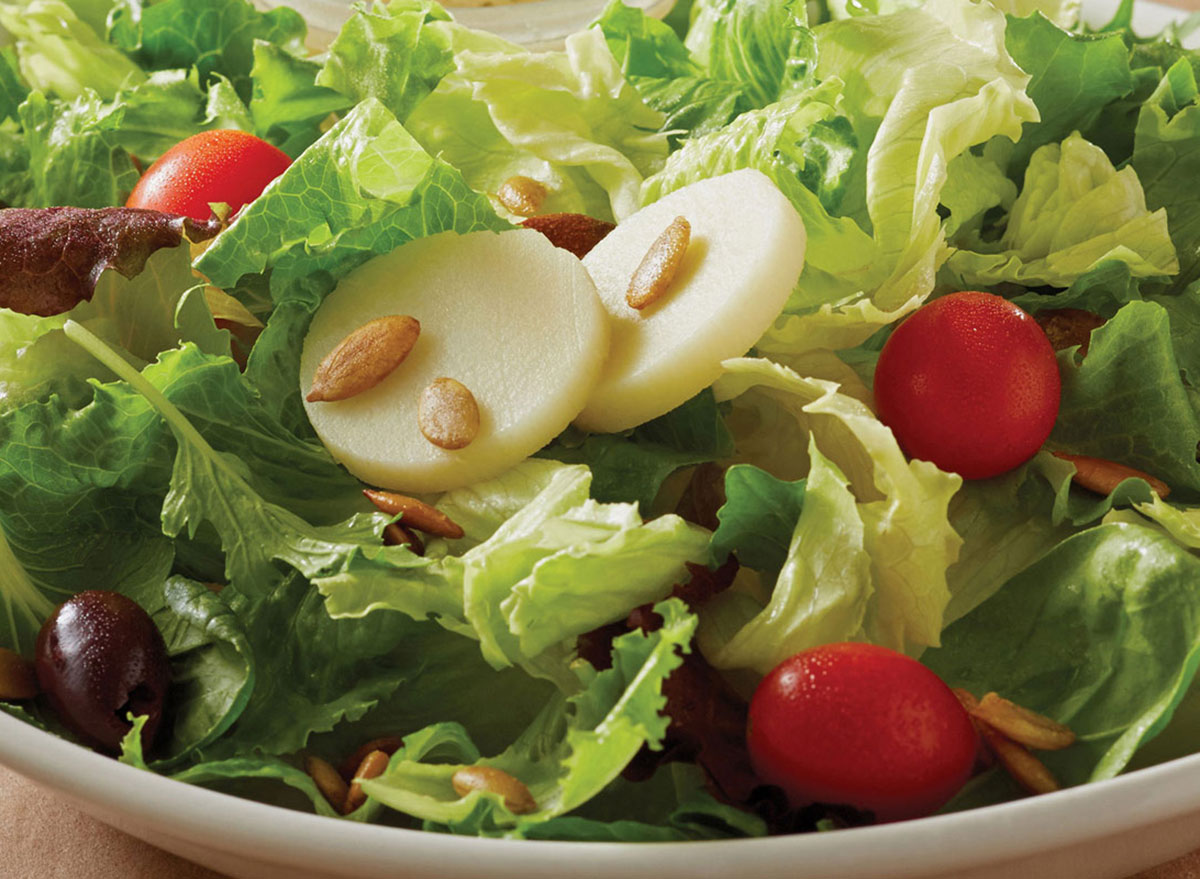 240 calories, 19 g fat (1.5 g saturated fat, 0 g trans fat), 370 mg sodium, 13 g carbs (4 g fiber, 5 g sugar), 6 g protein
The Bonefish House Side Salad gives you a veggie hit without breaking the calorie bank. One salad provides 240 calories (of which 170 come from fat), but if you ask for dressing on the side, you can save lots of calories by keeping yourself in charge of how much you add. The sodium content of this salad is 370 milligrams, less than the amount appearing in most other soups or salads offered.
Seafood
Worst: Bang Bang Shrimp Tacos with French Fries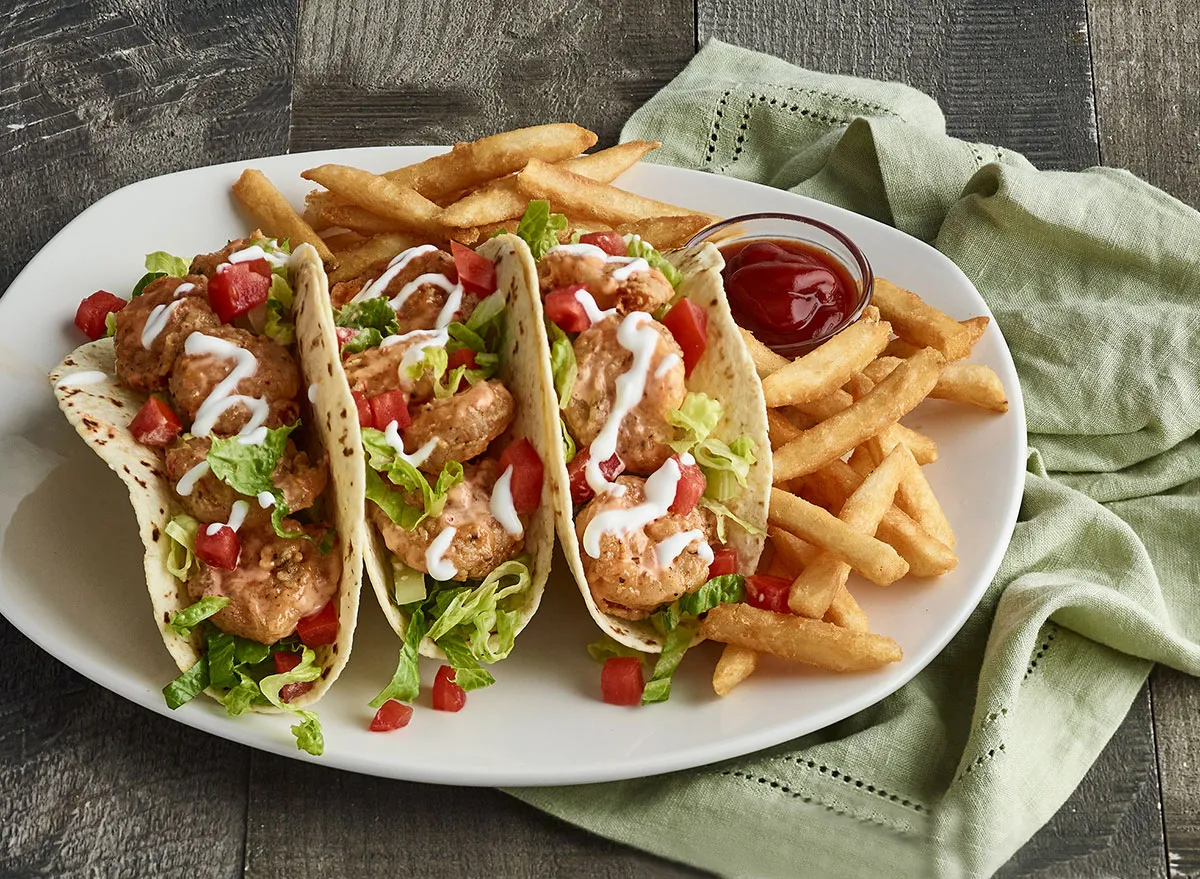 1,570 calories, 98 g fat (23 g saturated fat, 1 g trans fat), 3,830 mg sodium, 129 g carbs (14 g fiber, 20 g sugar), 42 g protein
"If you desire a waistline-friendly meal," says Harris-Pincus, "avoid the Bang Bang Shrimp Tacos with fries, which [packs] over one and a half days' worth of sodium in one meal."
Best: Georges Bank Scallops and Shrimp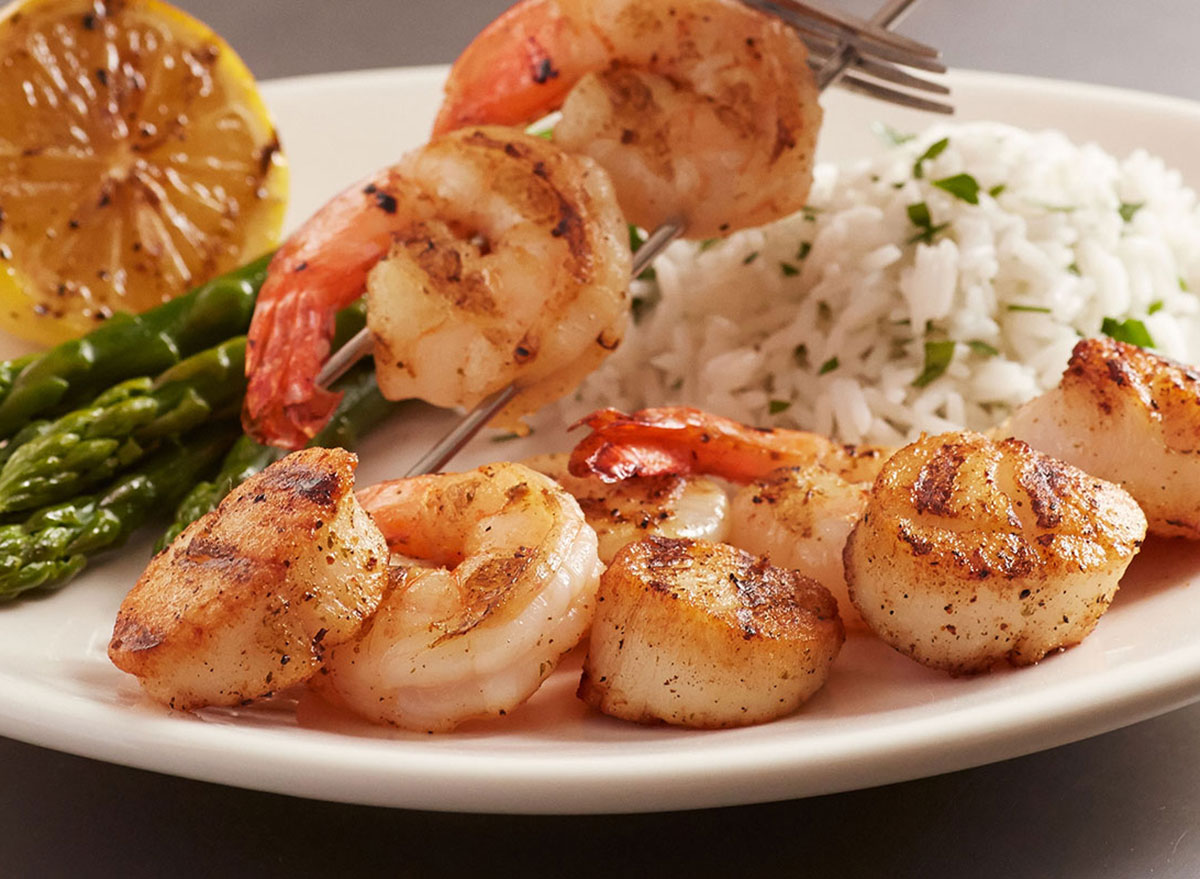 250 calories, 9 g fat (1.5 g saturated fat, 0 g trans fat), 1,040 mg sodium, 4 g carbs (0 g fiber, 0 g sugar), 38 g protein
Harris-Pincus recommends checking out the Georges Bank Scallops and Shrimp grilled with Lime Tomato Garlic sauce on the side. "You can order two seasonal vegetables steamed, like spinach and broccoli instead of rice or potatoes, to provide a protein and fiber-filled meal for just over 400 calories," Harris-Pincus says. Mixing and matching can bring you the best experience without compromising taste.
"For something light, I order the house salad as an entree salad topped with grilled salmon or shrimp and dressing on the side, which I fork dip to save calories," Harris-Pincus says, Her favorite dressing is their citrus vinaigrette.
From the Land
Worst: Bone-in Ribeye Steak, 18 oz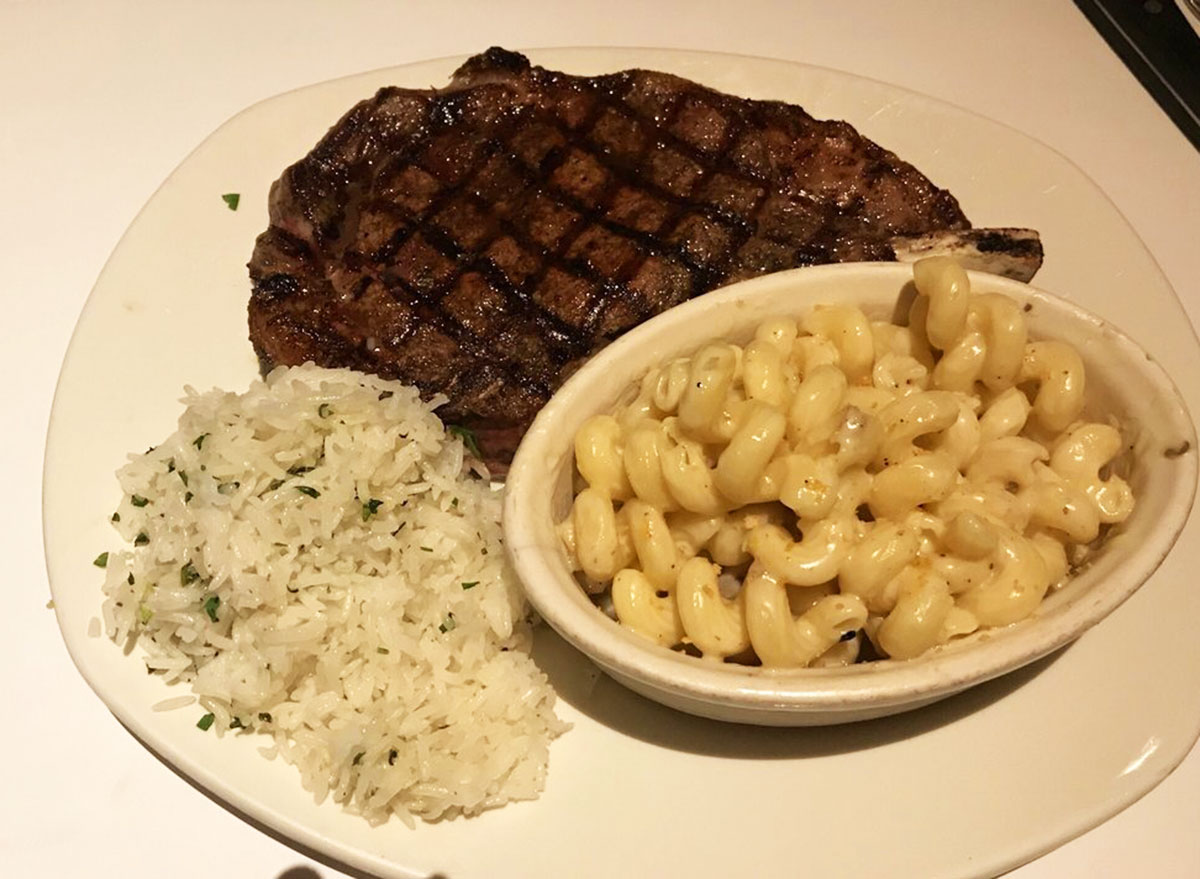 1,150 calories, 93 g fat (43 g saturated fat, 4.5 g trans fat), 1,020 mg sodium, 1 g carbs (0 g fiber, 0 g sugar), 78 g protein
Size does matter when it comes to calories, and the Bone-in Ribeye Steak is proof of that. Come in at 18 ounces, this meal provides both a high amount of calories, sodium, and trans fat. If you have a hankering for a ribeye, perhaps you can share one and add a few fresh sides to balance the meal.
Best: 6-ounce Filet Mignon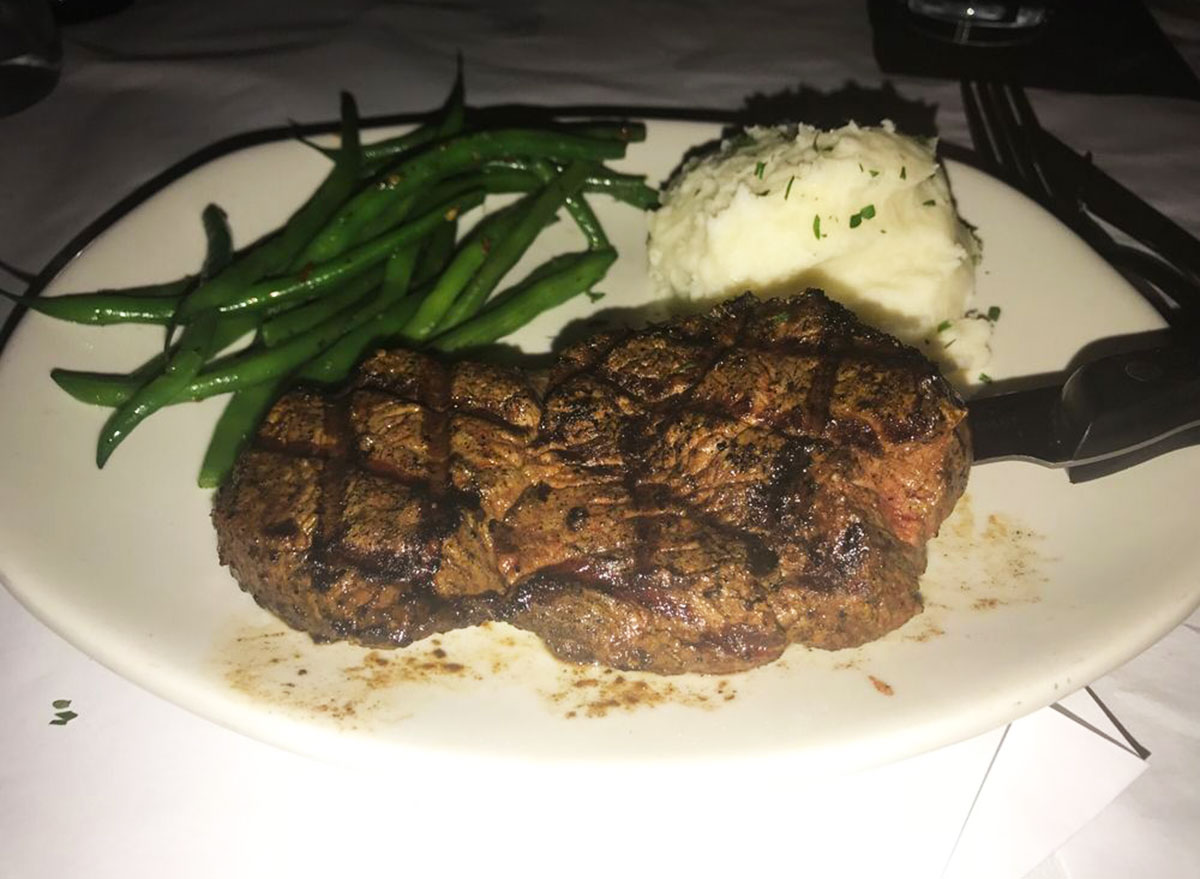 240 calories, 9 g fat (4 g saturated fat, 0 g trans fat), 320 mg sodium, 0 g carbs (0 g fiber, 0 g sugar), 41 g protein
Although poultry is generally lower in calories, fat and, saturated fat than beef, on the Bonefish menu, the 6-ounce Filet Mignon comes out on top, weighing in at just 240 calories, 9 grams of fat and 320 milligrams sodium compared to Lily's Chicken, which brings almost double those numbers at 470 calories, 21 grams of fat, and 780 milligrams of sodium.
Sides
Worst: Applewood Bacon Mac and Cheese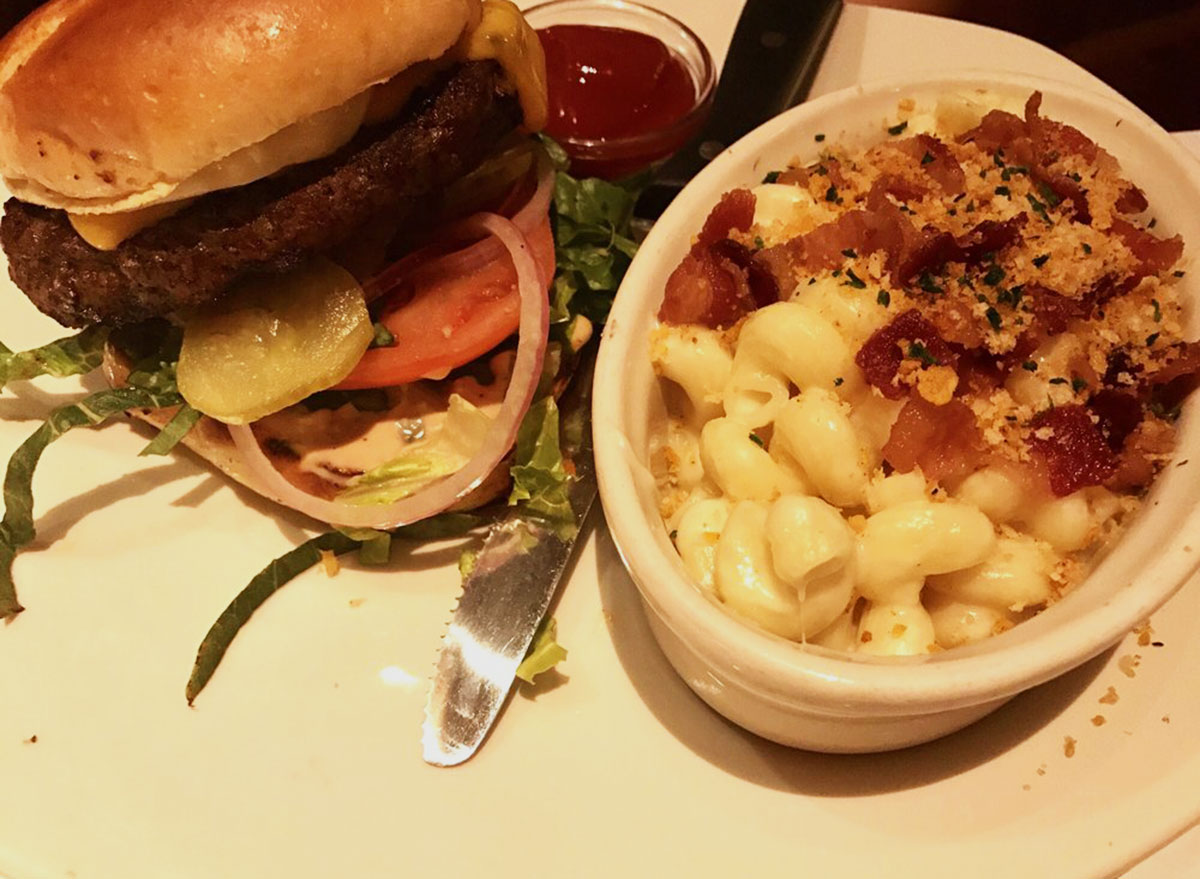 690 calories, 37 g fat (22 g saturated fat, 0 g trans fat), 2,090 mg sodium, 59 g carbs (3 g fiber, 8 g sugar), 30 g protein
Keep this in mind: Premium Sides bring paramount numbers, and this Applewood Bacon Mac and Cheese is simply just over the top for a side dish, as you're eating this alongside something else as part of your entree.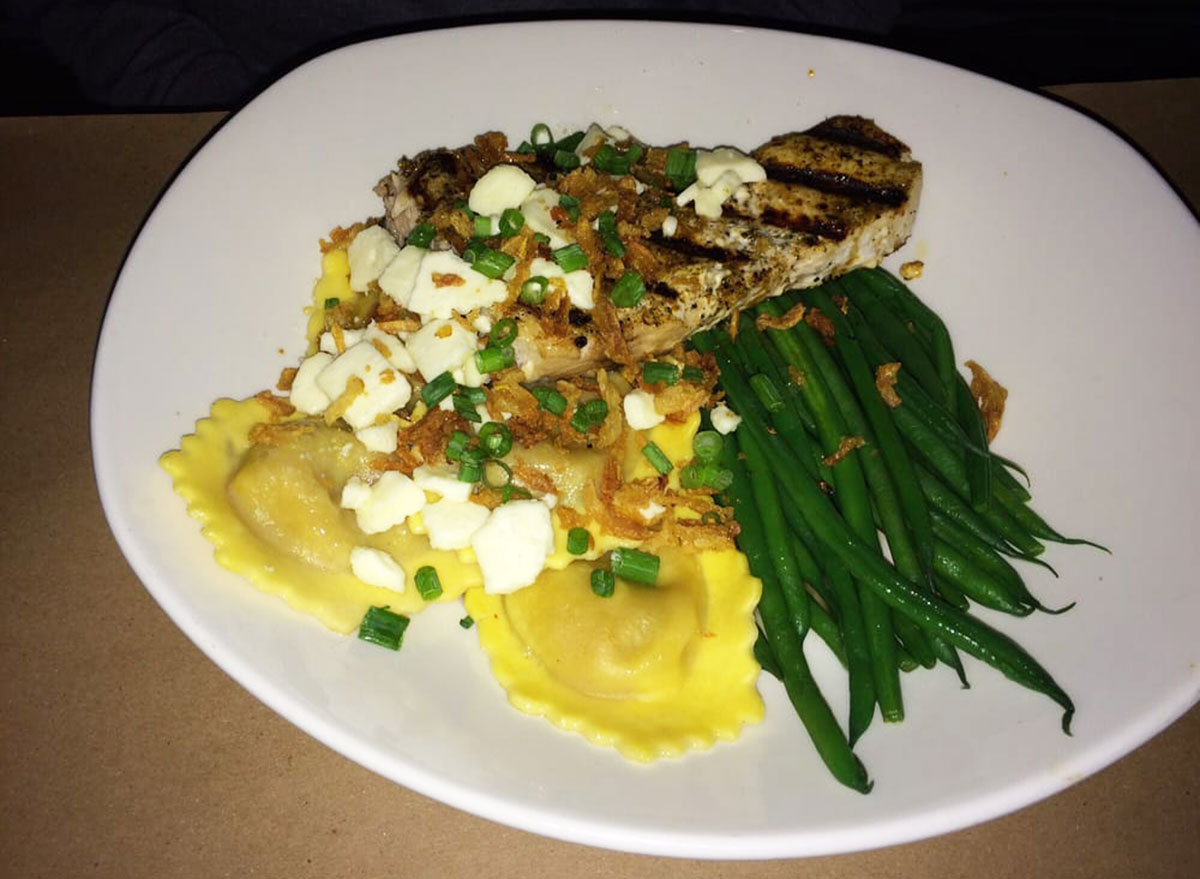 6254a4d1642c605c54bf1cab17d50f1e
50 calories, 3.5 g fat (1.5 g saturated fat, 0 g trans fat), 115 mg sodium, 4 g carbs (3 g fiber, 2 g sugar), 2 g protein
Choosing the Fresh Side on the Bonefish Grill menu is going to be your best bet for getting the value of veggies. Besides crunch, a seasonal vegetable, like green beans, will provide just 50 calories and barely any carbs at just 4 grams.
Desserts
Worst: Macadamia Nut Brownie
990 calories, 51 g fat (31 g saturated fat, 1 g trans fat), 220 mg sodium, 122 g carbs (8 g fiber, 100 g sugar), 14 g protein
If you still have room for dessert, I'd steer clear of the Macadamia Nut Brownie. Half the calories in this nearly 1,000-calorie dish come from fat, most of which are saturated fats. This treat also provides 100 grams of sugar—equivalent to about 25 packets of the sweet stuff!
Best: Seasonal Pumpkin Creme Brulee
410 calories, 26 g fat (22 g saturated fat, 0 g trans fat), 140 mg sodium, 38 g carbs (3 g fiber, 34 g sugar), 4 g protein
If you're thinking of indulging in dessert at Bonefish Grill, you may want to consider sharing. The Seasonal Pumpkin Creme Brulee is the choice with the lowest calories, sodium, and sugar. The numbers are far from a healthy dessert, but it sits above the rest on this menu.
Bonnie Taub-Dix, MA, RDN, CDN
Bonnie Taub-Dix, MA, RDN, CDN is an award-winning author and the director and owner of BTD Nutrition Consultants, LLC.
Read more about Bonnie