11 Breads with the Highest Quality Ingredients
Dietitians choose their favorite healthy breads to look for next time you're out shopping.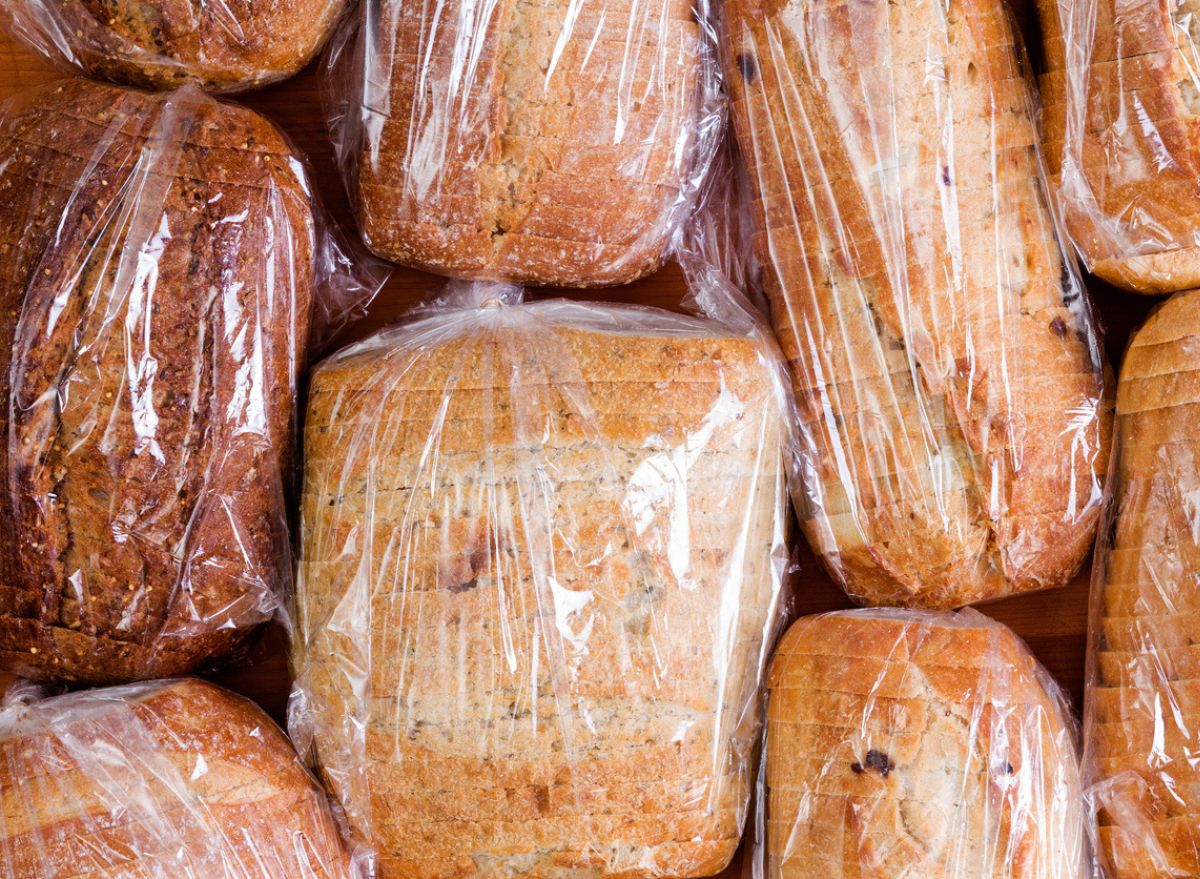 The product recommendations in this post are recommendations by the writer and/or expert(s) interviewed and do not contain affiliate links. Meaning: If you use these links to buy something, we will not earn a commission.
Carbs are not the enemy. Despite what you may have heard in the past about having to steer clear of your favorite carb-heavy foods, there are many health benefits that can come from consuming high-quality carbohydrates. For example, eating a diet with plenty of whole grains can ensure your body is getting enough fiber on a daily basis, and whole grains have been found to help reduce the risk of diabetes, heart disease, obesity, and even certain cancers. One way to incorporate more whole grains into your diet is to find healthy bread made with high-quality ingredients.
However, trying to shop for the products with the best ingredients can be extremely overwhelming. Many types of bread on grocery store shelves are made with refined carbs as well as synthetic ingredients and preservatives in order to help them stay fresh on the shelf for longer periods of time. Some even contain surprisingly large amounts of sugar.
We asked dietitians to weigh in on their picks for the grocery store breads that are made with the highest-quality ingredients so that you can feel confident sticking to your health goals on your next shopping trip. Read on, and for more, don't miss 7 Worst Breads to Eat for Inflammation.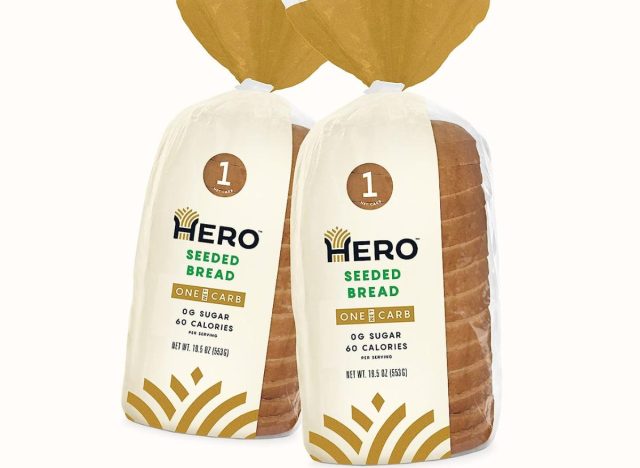 Per slice
: 60 calories, 2.5 g fat (0 g saturated fat), 260 mg sodium, 13 g carbs (12 g fiber, 0 g sugar), 6 g protein
For a bread with plenty of fiber and zero sugar, Hero Seeded Bread is the perfect choice. According to Tammy Lakatos Shames, RDN, CDN, CFT, and Lyssie Lakatos, RDN, CDN, CFT, also known as The Nutrition Twins, "Hero Bread contains a host of ingredients that are good for your blood sugar and gut, with resistant starch as the first ingredient."
Getting enough resistant starch in your daily diet is important for a number of reasons. "Resistant starch has been shown to be good for your metabolic health, with benefits like reduced blood sugar levels, improved insulin sensitivity, and appetite reduction," say The Nutrition Twins. "What's more, resistant starch acts as a prebiotic fiber, and Hero Bread contains another prebiotic fiber—guar gum—which means these are both feeding your good gut bacteria and positively impacting overall health."
In addition to the resistant starch and guar gum, Hero Bread contains "polyphenol-packed pumpkin seeds, flax seeds, and sunflower kernels, which add more prebiotic fiber and health benefits, helping to round out this bread as quite a boost for your overall digestive health," say The Nutrition Twins.
One Mighty Mill Organic Whole Wheat Everything Bread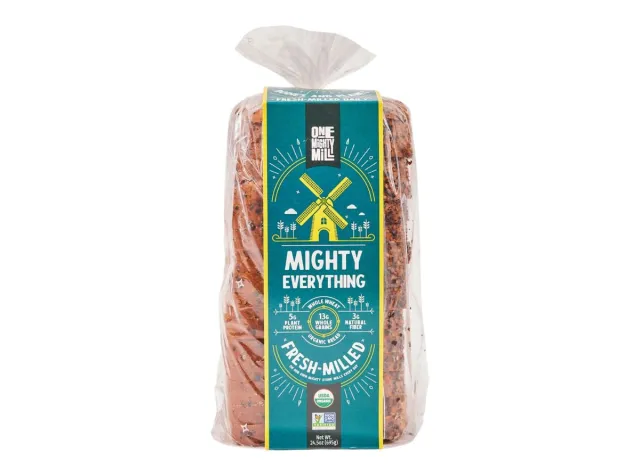 Per slice
: 110 calories, 1.5 g fat (0 g saturated fat), 180 mg sodium, 19 g carbs (3 g fiber, 1 g sugar), 5 g protein
The Nutrition Twins swear by the ingredients used in One Mighty Mill Whole Wheat Everything Mighty Bread. "Packed with good-for-you ingredients, the first one listed is organic stone-milled whole wheat flour, which is a whole grain, and higher whole grain consumption is linked to lower incidence and mortality from cardiovascular disease, type 2 diabetes, and cancer," say The Twins.
They also elaborate further on the specific effects that the ingredients found in One Mighty Mill can have on the health of your gut microbiome. "Minced onions contain potent antioxidants that protect the cells against damage, organic black sesame seeds contain powerful antioxidants that may help to reduce oxidative stress in the body, and poppy seeds are rich in protein and fiber and have been used to enhance immunity."
Base Culture 7 Nut & Seed Bread
Per slice
: 110 calories, 7 g fat (1 g saturated fat), 180 mg sodium, 8 g carbs (4 g fiber, 0 g sugar), 4 g protein
Base Culture 7 Nut & Seed Bread keeps it simple with their ingredients and uses nutrient-dense foods that you can actually pronounce. "The golden flaxseed meal and hemp seeds are rich in omega-3s to keep your cholesterol levels in check, and high in antioxidants to help fight against diseases like cancer, and almond butter can help to lower blood sugar, blood pressure, and cholesterol levels," say The Nutrition Twins. "Also, flax, pumpkin, and chia seeds are good sources of fiber and antioxidants, while psyllium husk powder can help your body detox naturally by helping to move wastes out."
Silver Hills Bakery Sprouted Power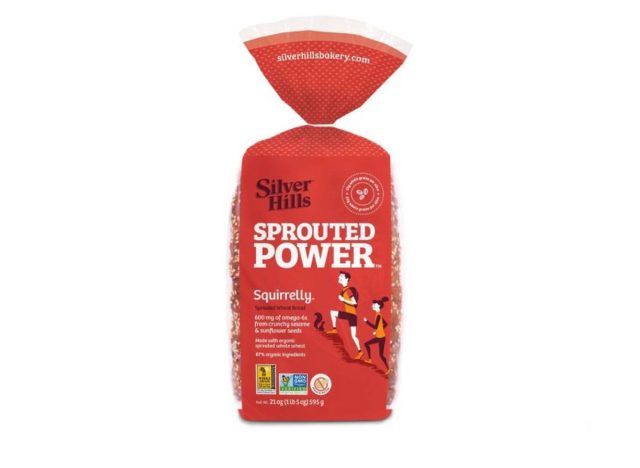 Per 2 slices
: 170 calories, 2.5 g fat (0 g saturated fat), 340 mg sodium, 29 g carbs (8 g fiber, 2 g sugar), 11 g protein
For yet another option of healthy bread to buy at the store, Silver Hills Sprouted Power Bread will give you 8 grams of fiber and 11 grams of protein, with only 2 grams of sugar in each serving. Not only that, but the list of ingredients is short and simple, containing items like sprouted whole grains, raisin nectar, yeast, sesame seeds, and sunflower seeds.
But what does it mean for a grain to be sprouted? When you see the term "sprouted grain" on a product, it means the grain has begun to germinate. According to a report published in the journal Nutrients, a sprouted grain may make the grain easier to digest and the nutrients easier for your body to access.
RELATED:

5
Angelic Bakehouse Sprouted Whole Grain Bread
Per slice: 90 calories, 1 g fat (0 g saturated fat), 170 mg sodium, 18 g carbs (3 g fiber, 2 g sugar), 5 g protein

Another option for a sprouted grain bread, Angelic Bake House Sprouted Whole Grain Bread gives you a boost of protein and fiber, while also providing your body with nutrient-dense ingredients, such as wheat berries, quinoa millet, amaranth, oat groats, barley, and rye berries.6254a4d1642c605c54bf1cab17d50f1e

Out of this list of ingredients, amaranth stands out as a popular gluten-free grain that contains a number of important vitamins and minerals like manganese, phosphorus, magnesium, and antioxidants.

6
Ezekiel 4:9 Sprouted 100% Whole Grain Bread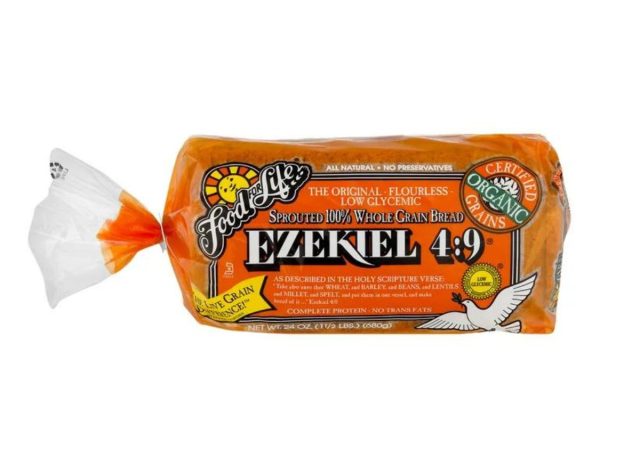 Per slice: 80 calories, 0.5 g fat (0 g saturated fat), 75 mg sodium, 15 g carbs (3 g fiber, 0 g sugar), 5 g protein

"Ezekiel 4:9 is the ultimate healthy bread. Made from sprouted grains and legumes, this bread is jam-packed with nutrients and loaded with fiber. No fillers, no added sugar, and with a small amount of salt, this bread is of the utmost quality," says Lauren Manaker, MS, RDN, author of The First Time Mom's Pregnancy Cookbook and Fueling Male Fertility, and member of our expert medical board.

7
365 by Whole Foods Sprouted Multigrain Bread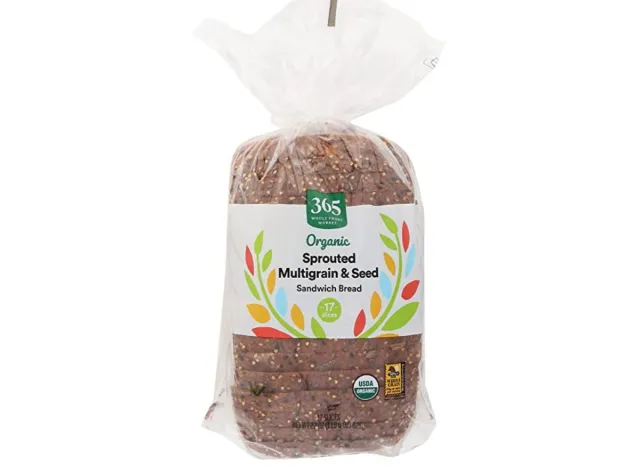 Per slice: 90 calories, 1.5 g fat (0 g saturated fat), 160 mg sodium, 16 g carbs (3 g fiber, 3 g sugar), 4 g protein

"This Multigrain bread is made with organic sprouted whole wheat and a slew of good-for-you-additions like quinoa, millet, and barley. This bread is loaded with quality ingredients and contains key nutrients," says Manaker.

8
Dave's Killer Bread 21 Whole Grains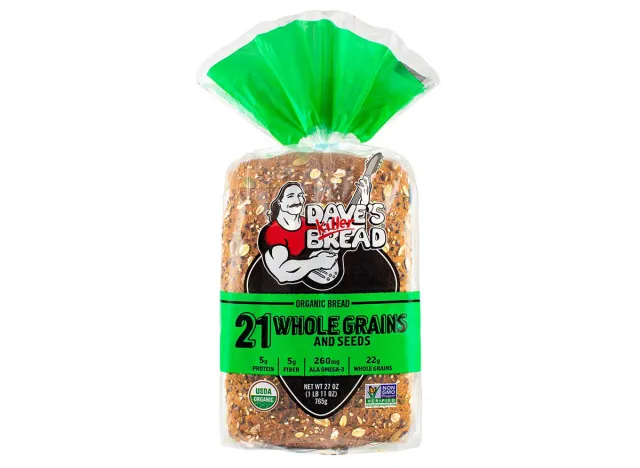 Per slice: 110 calories, 1.5 g fat (0 g saturated fat), 170 mg sodium, 22 g carbs (5 g fiber, 5 g sugar), 5 g protein

"Dave's Killer Bread is a dietitian favorite pick for me because it typically contains 3-4 grams of fiber and 4-5 grams of protein per slice! Both protein and fat slow digestion, helping you get full faster and stay full longer," says Amy Goodson, MS, RD, CSSD, LD, author of The Sports Nutrition Playbook and member of our expert medical board.

Not only does it give you fiber and protein in every slice, Dave's Killer 21 Whole Grains and Seeds Bread also provides high-quality ingredients like flax seeds, sunflower seeds, pumpkin seeds, rolled oats, barley, and much more.

RELATED:

9
Mighty Manna Bread Banana Walnut Hemp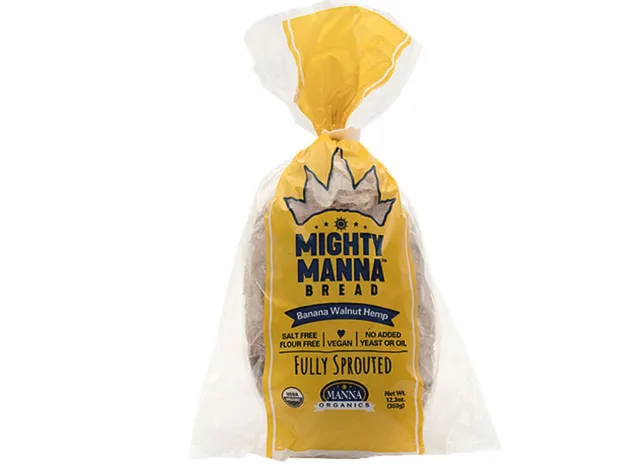 Per serving (50g): 140 calories, 2.5 g fat (0 g saturated fat), 0 mg sodium, 26 g carbs (5 g fiber, 3 g sugar), 5 g protein

"This vegan, organic sprouted bread line is made with whole wheat, whole rye, whole seeds, and dried, no-sugar-added fruits and shelled nuts. It only uses the highest quality ingredients and leaves out ingredients that can sacrifice health like oils and salt," say The Nutrition Twins. "Most breads contain a hefty dose of salt, comparable to the amount found in a serving of potato chips, so Manna bread is very unique and a great option for people who need to avoid sodium due to high blood pressure and other health issues," they add.

10
Ezekiel 4:9 Cinnamon Raisin Bread
Per slice: 80 calories, 0 g fat (0 g saturated fat), 65 mg sodium, 18 g carbs (2 g fiber, 5 g sugar), 4 g protein

For a sweeter version of the Ezekiel 4:9 Bread mentioned earlier on our list, you can try the Ezekiel 4:9 Cinnamon Raisin flavor.

"Made with non-GMO, organic sprouted wheat, barley, beans, lentils, millet, and spelt, there are no preservatives, shortenings, or refined sugars in these nutrient-packed breads. The sprouting process is used to break down the starches in the grains so the body can digest them more easily and absorb more minerals like calcium, magnesium, iron, copper, and zinc. Sprouting also increases vitamin C and B vitamins and Food for Life even uses filtered water in the sprouting process," say The Nutrition Twins.

11
Happy Campers Ancient Grain Bread
Per 2 slices: 171 calories, 4 g fat (0 g saturated fat), 226 mg sodium, 32 g carbs (5 g fiber, 0 g sugar), 4 g protein

"Unlike the majority of gluten-free breads that contain refined grains and more salt, sugar, and preservatives and fewer nutrients compared to regular bread, Happy Campers throws all of that out the window. This certified Gluten-Free and USDA Organic bread is made from all whole Ancient Grains including millet, sorghum, buckwheat, quinoa, and amaranth, and research shows that ancient grain consumption improves cardiovascular health, blood sugar, and digestion. Happy Campers' ingredients also include prebiotic fiber psyllium husk and acacia fiber, all fibers that are good for your gut," say The Nutrition Twins.

A previous version of this story was published on July 4, 2022. It has been updated to include additional copy and proofreading revisions, additional product entries, and updated contextual links.
Sources referenced in this article