17 Delicious Recipes Featuring a Simple Can of Beans
If you don't already have canned beans in your pantry, go get some for these for quick and healthy recipes.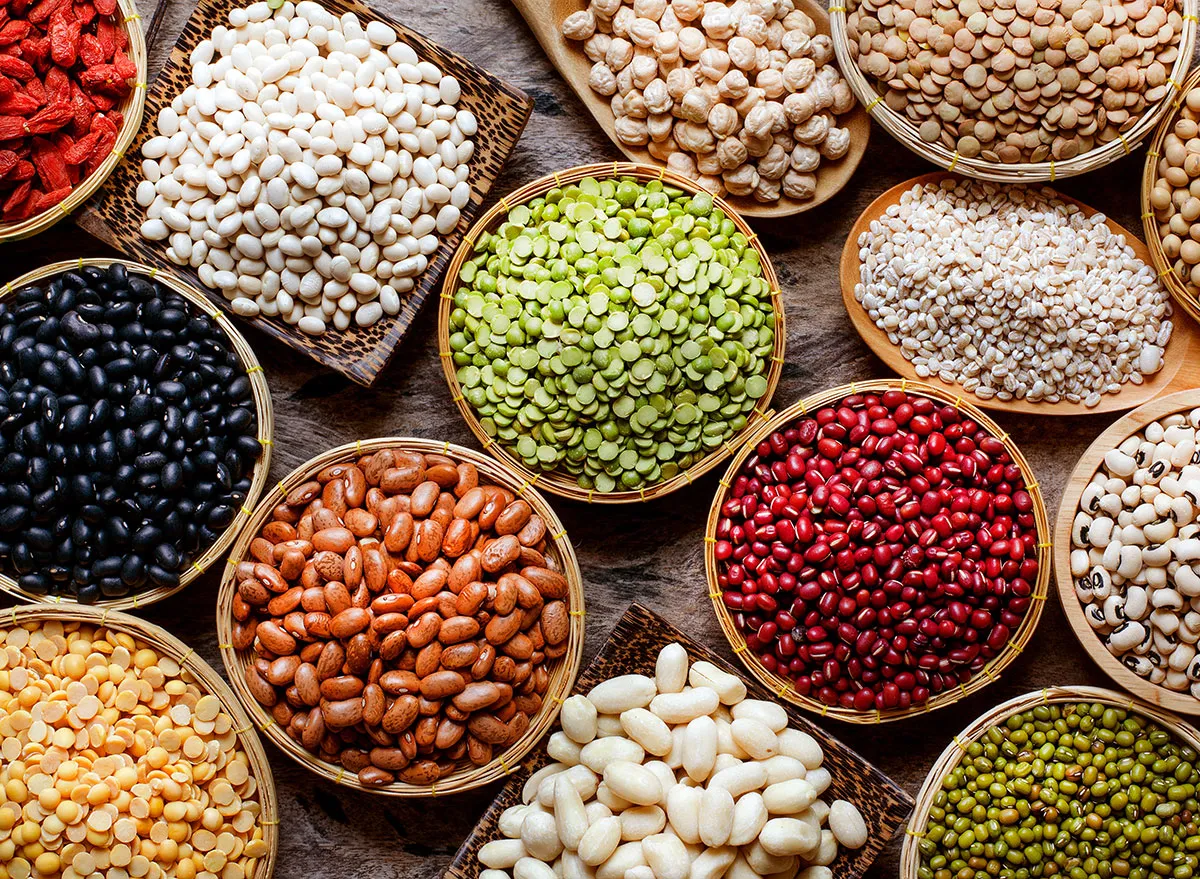 Consider this a formal petition to make this year The Summer of The Bean. Beans are versatile! Beans are high in protein! Beans have playground rhymes about their benefits and flatulent side effects! And, most importantly, beans are convenient. Almost everyone has a can of beans in their pantry at any moment, which makes these canned bean recipes must-know information for your repertoire of easy, healthy dinner recipes.
Whether you're feeling motivated to go meat-free or are just looking for some simple bean recipes to make when you're in a cooking rut, welcome. Beans are here to feed your heart, mind, soul, and stomach. They are the flavor-neutral canvas upon which you can create delicious, spice-laden masterpieces.
Here are 17 delicious, simple, and healthy recipes you can make with a can of beans. And for even more easy recipes to make tonight, check out these 50 Cheap and Easy Slow Cooker Recipes.
Pinto Bean and Pumpkin Mole Chili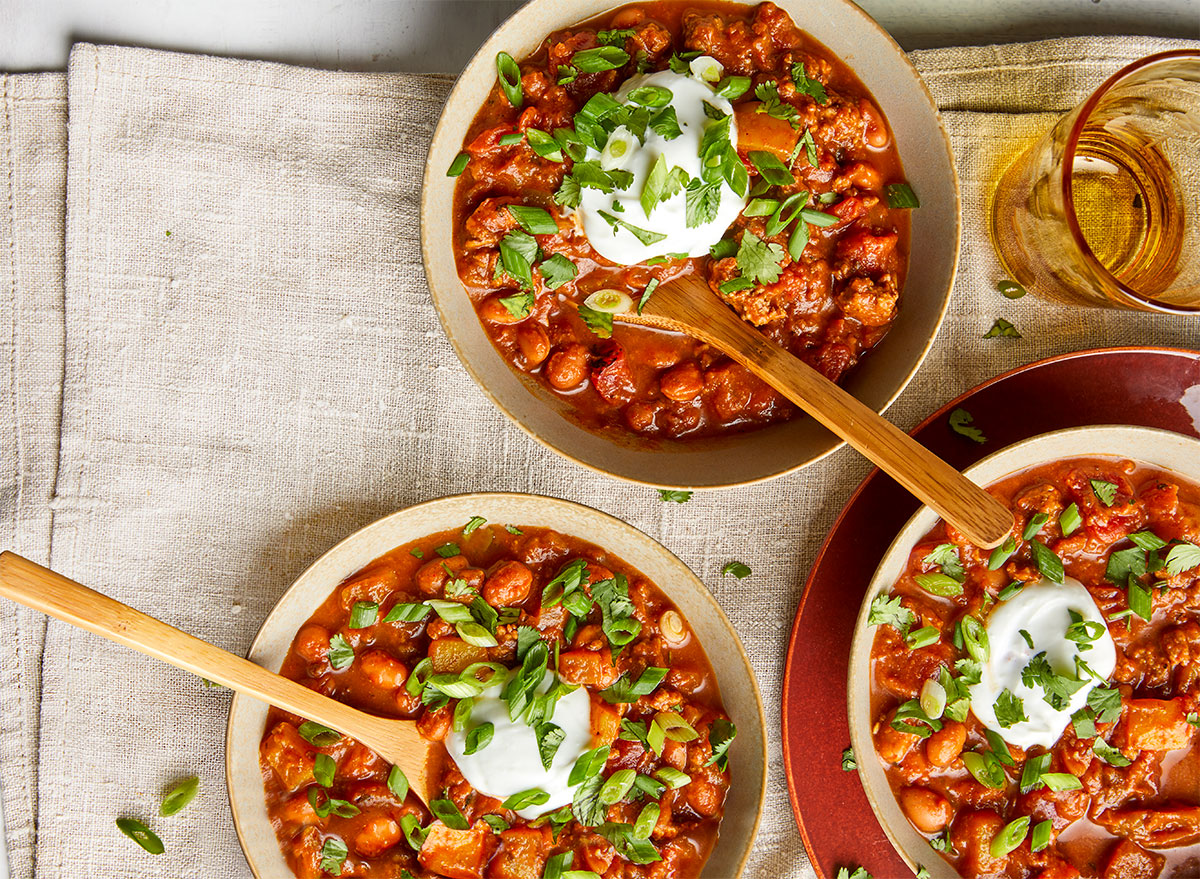 If you thought you could make it through a list about beans without seeing at least one chili recipe, you were fooling yourself. However, not all chilis are created equally. Some are made with pumpkin and mole sauce and, in turn, are superior.
Get our recipe for Pinto Bean and Pumpkin Mole Chili.
Hummus
Have more chickpeas than you know what to do with? This is exactly what hummus was made for. Plus, you'll have yet another dip in which to bathe your bland chips or crunchy veggies.
Get our recipe for the Creamiest Homemade Hummus.
Lemony White Beans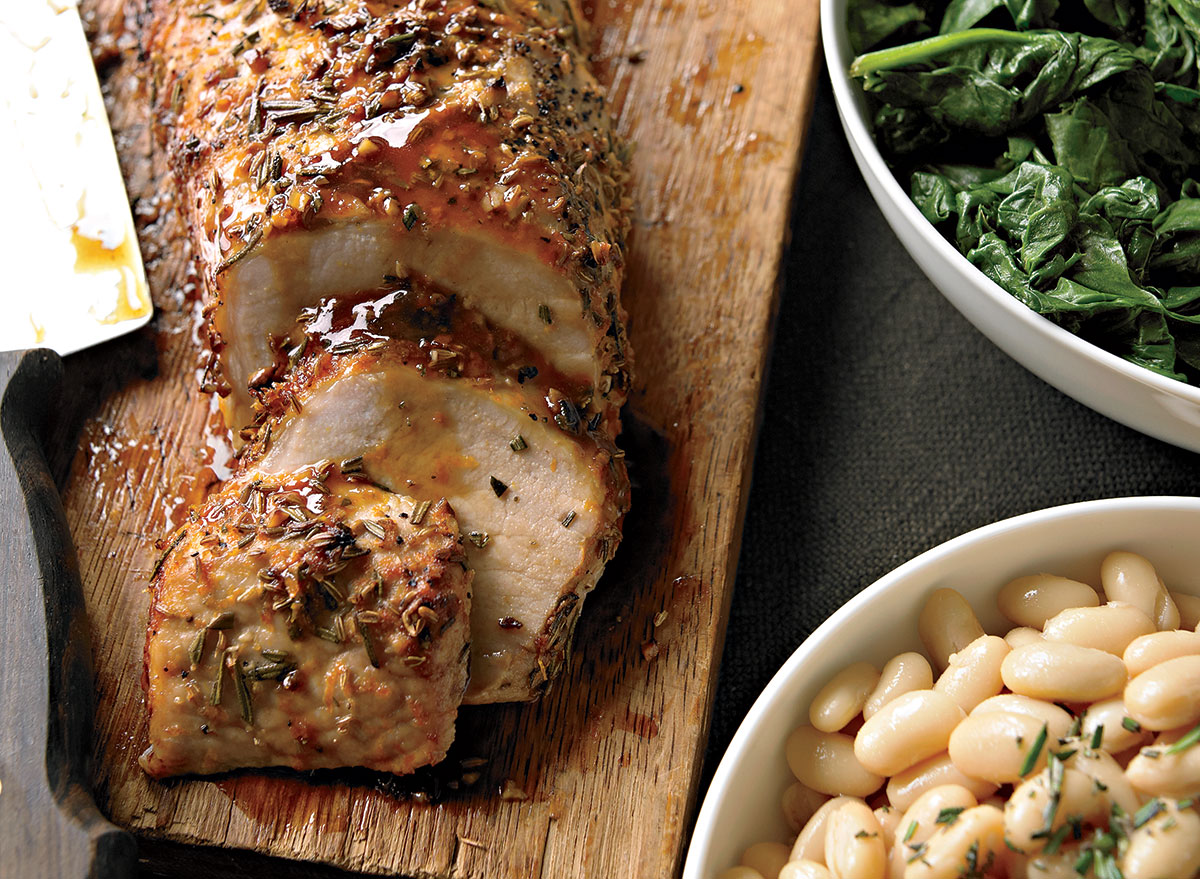 In need of a simple side dish to accompany your main meal? Combine a can of rinsed cannellini beans (Great Northern or white kidney beans will also work) with some lemon juice and rosemary. Voila! A quick, easy, and delicious addition to any dish.
Get our recipe for Roast Pork Loin and Lemony White Beans.
Homemade Baked Beans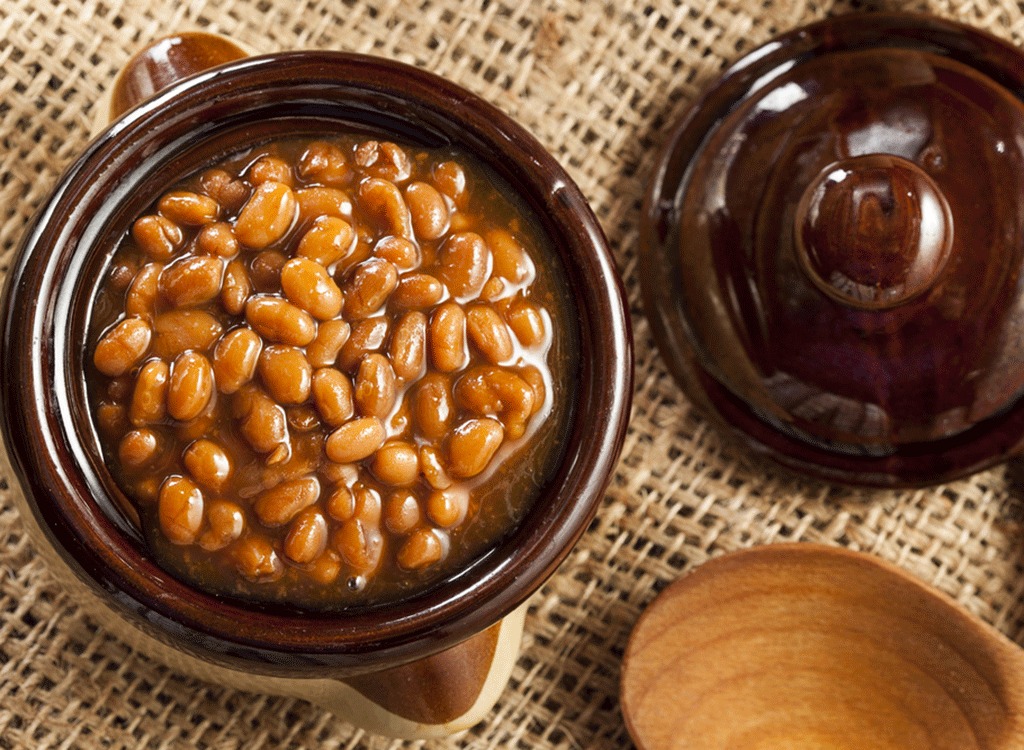 Did you accidentally buy pinto beans instead of baked beans? Were you tasked with providing a BBQ side dish but your pantry is lacking? Homemade baked beans to the rescue! Chances are good you've already got all the necessary ingredients in your kitchen: onion, garlic, ketchup, brown sugar, and, of course, a couple of cans of pinto beans.
Get our recipe for Homemade Baked Beans.
Black Bean Nachos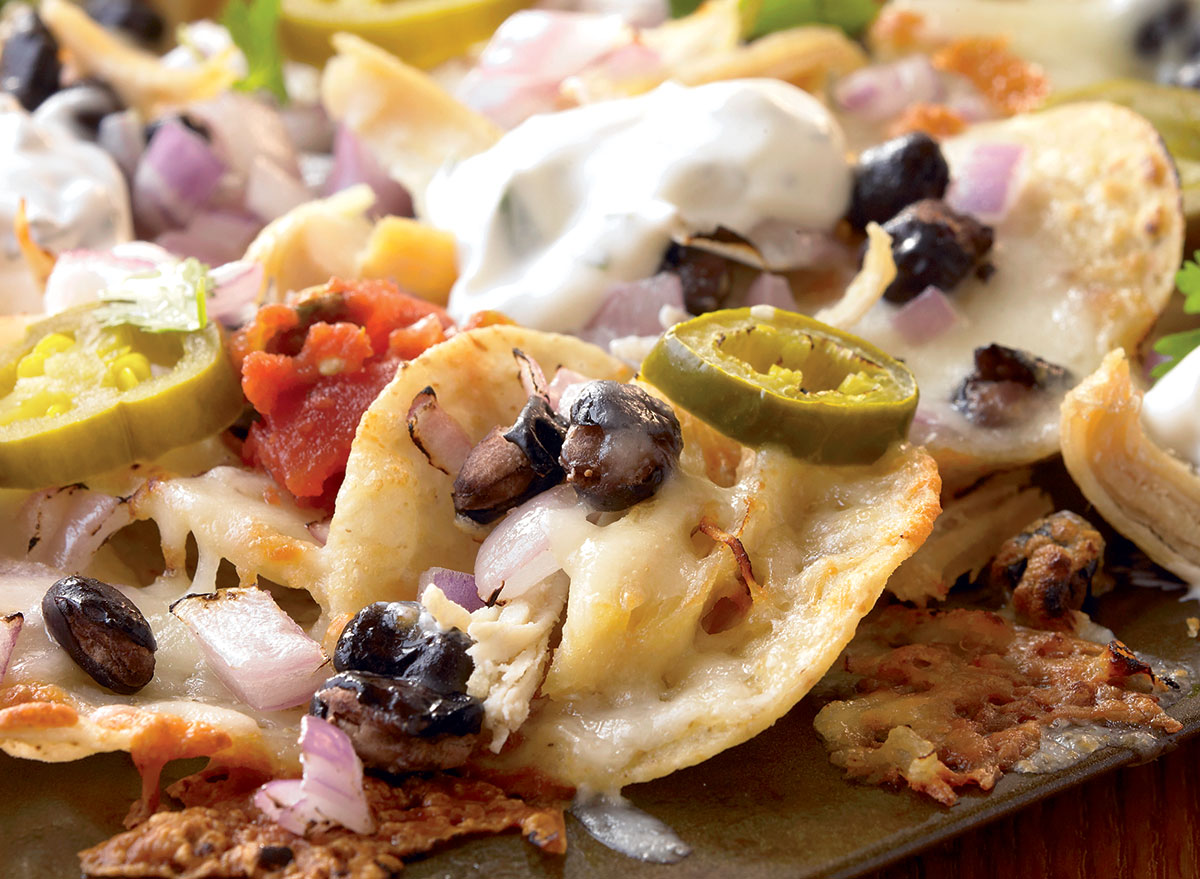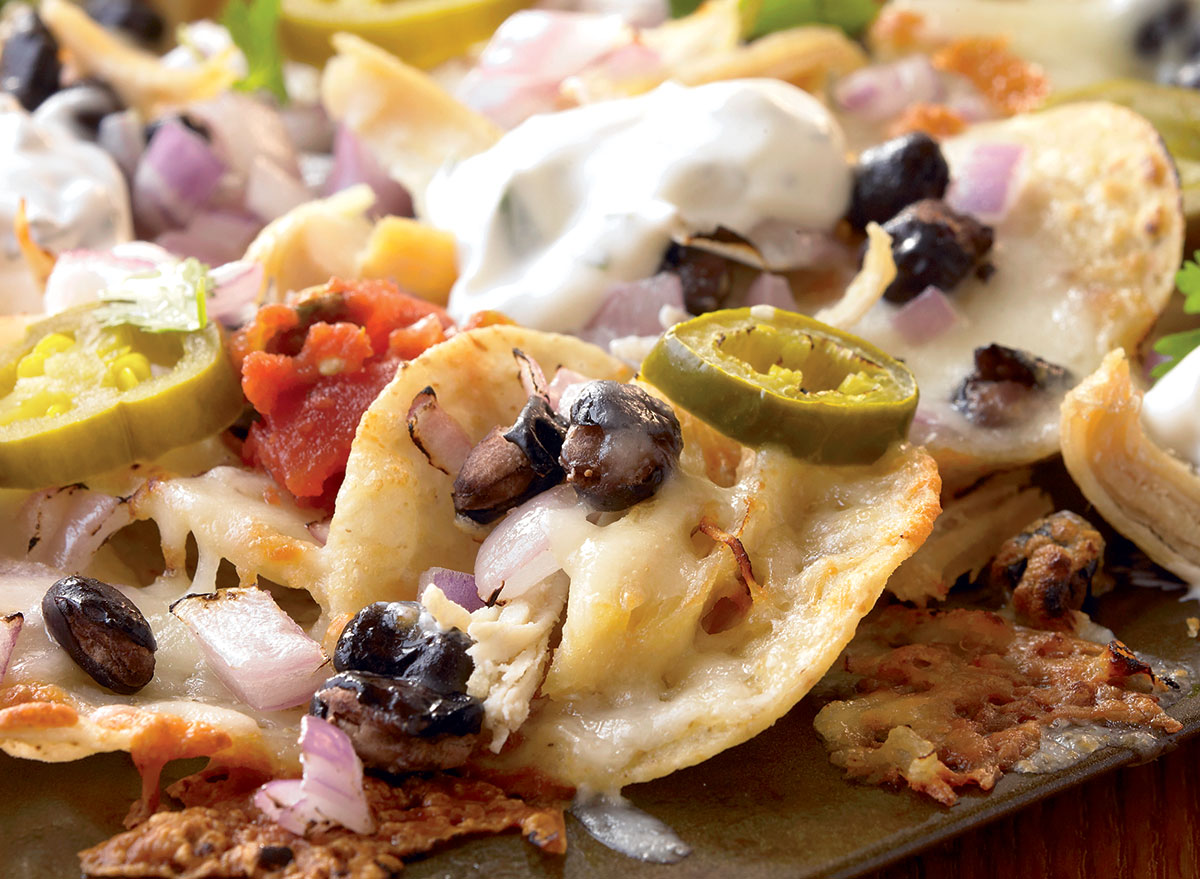 Next time you need a quick snack and are craving nachos, throw a can of black beans on that bad boy for additional protein. They'll help fill you up and assuage any guilt about having nachos for dinner.
Get our recipe for Black Bean and Chicken Nachos.
Leveled Up Green Beans and Bacon
Not sure what to do with that can of green beans that didn't make it into your holiday casserole? Toss it will some butter, chopped walnuts, salt and pepper, and a bit of bacon if that's your thing. There is very little that chopped, crispy bacon can't improve.
Get our recipe for Roast Chicken and Green Beans.
Black Bean Breakfast Burritos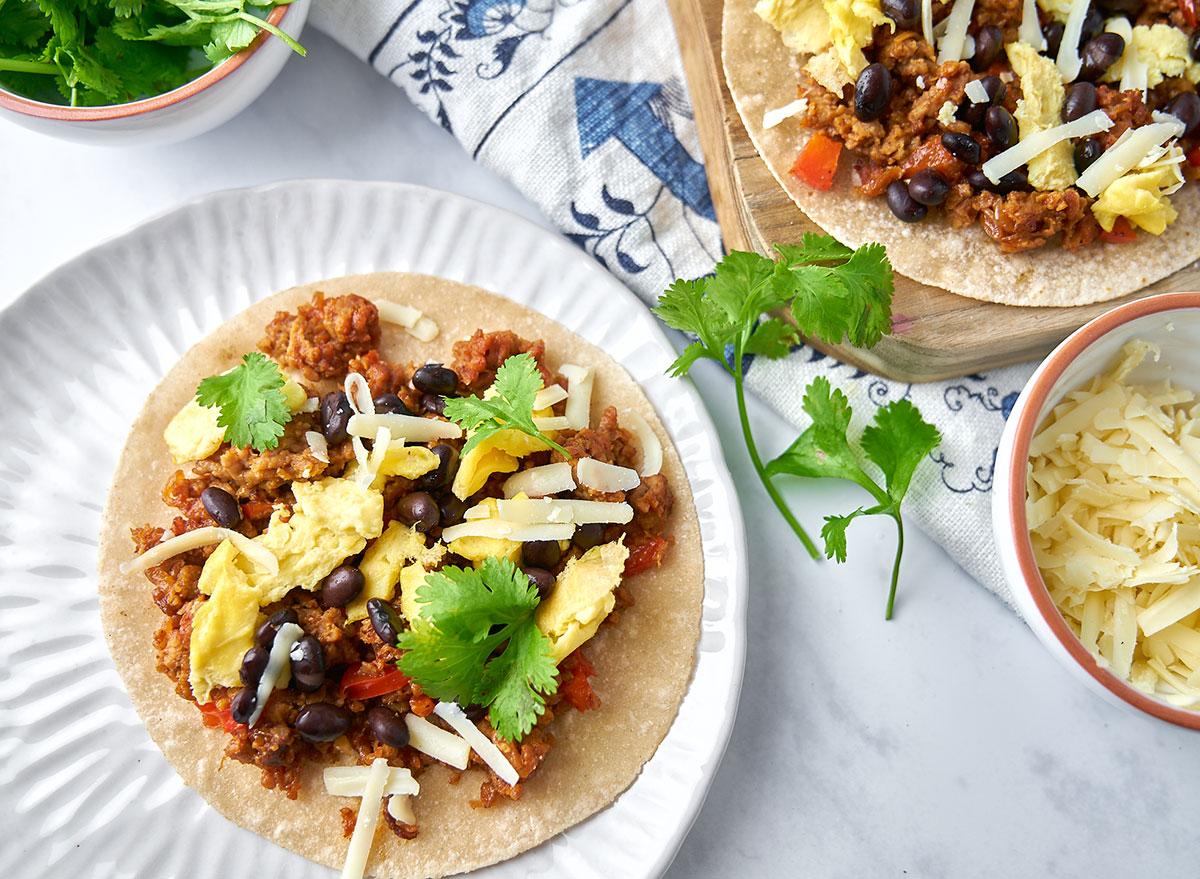 Morning beans are the best beans! Add a can of beans to your scrambled eggs and sauteed veggies for an even better breakfast burrito.
Get our recipe for Black Bean Breakfast Burritos.
Pasta Fagioli Soup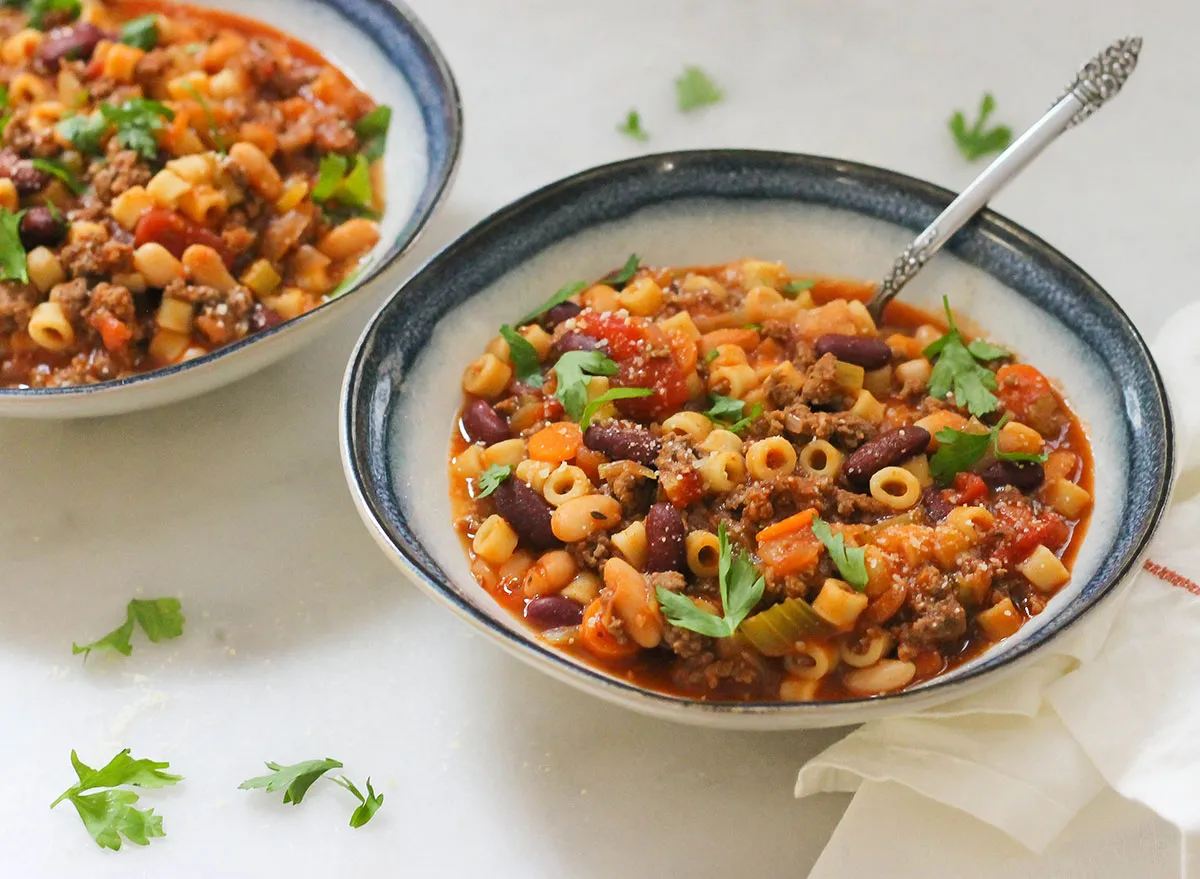 If you have a can of kidney beans you've been dreading, let them fulfill their delicious destiny with a copycat Olive Garden Pasta Fagioli soup. It's the perfect dish when you need to use up a couple of cans of kidney beans and white beans as well as some near-expiration veggies. Bonus points if you make your own breadsticks.
Get our recipe for copycat Olive Garden Pasta Fagioli.
Black Bean Salsa
Stop snacking on plain tortilla chips. Starting now, we're counting dipping your chips as a form of self-care. Mix a can of drained black beans with frozen corn, cilantro, white onion, and lime juice. Throw in some salt, pepper, chili powder, and chipotle peppers if you like spice. And ta-da! You have a delicious dip to grace your otherwise bland tortilla chip.
Cheesy, Spicy Refried Beans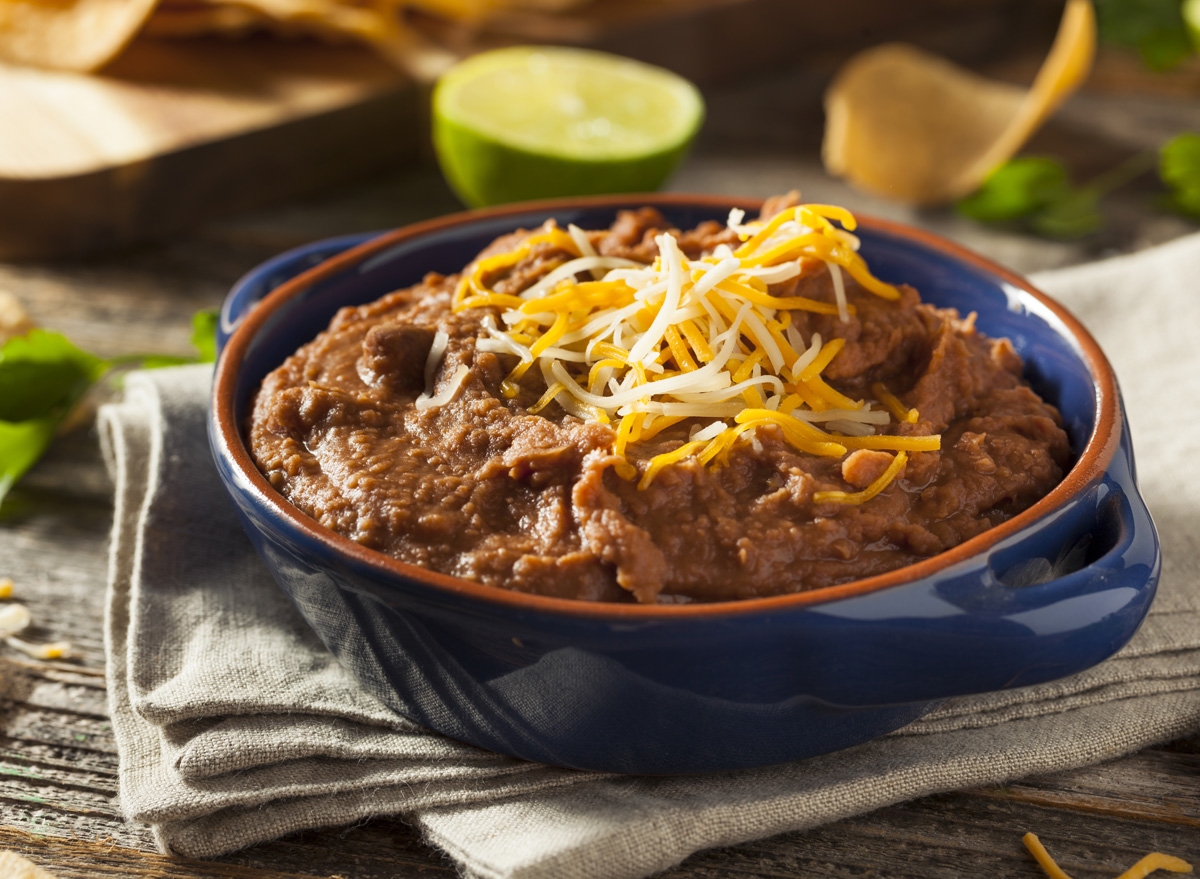 No matter how hard I try, there always seems to be a can of refried beans lingering in my pantry. If you find yourself in a similar situation, combine a can of refried beans with some cayenne, garlic powder, and chili powder. Heat it up and top it with your shredded cheese of choice and some sliced jalapenos. It's a simple addition to your nachos, your Tex Mex dish, your fried eggs, or just something to dip your chips into.
Vegan 'Tuna' Salad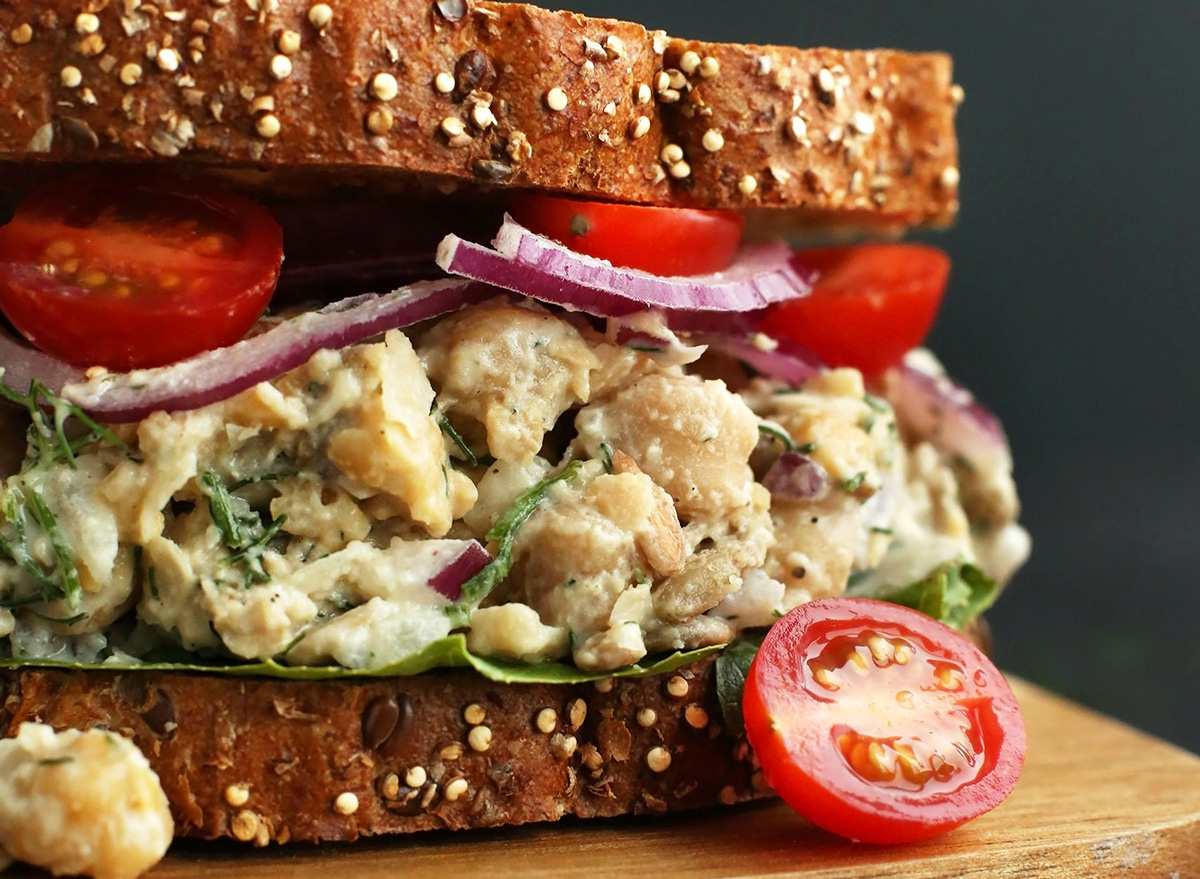 Garbanzo beans are magical in that, with a little bit of effort and a few other ingredients, they can become tuna. Or, rather, a plant-based tuna replacement. Next time you want a quick sandwich, sub out your can of tuna for a can of garbanzo beans in your favorite tuna salad recipe.
Get the recipe from Minimalist Baker.
Vegan Meringue with Aquafaba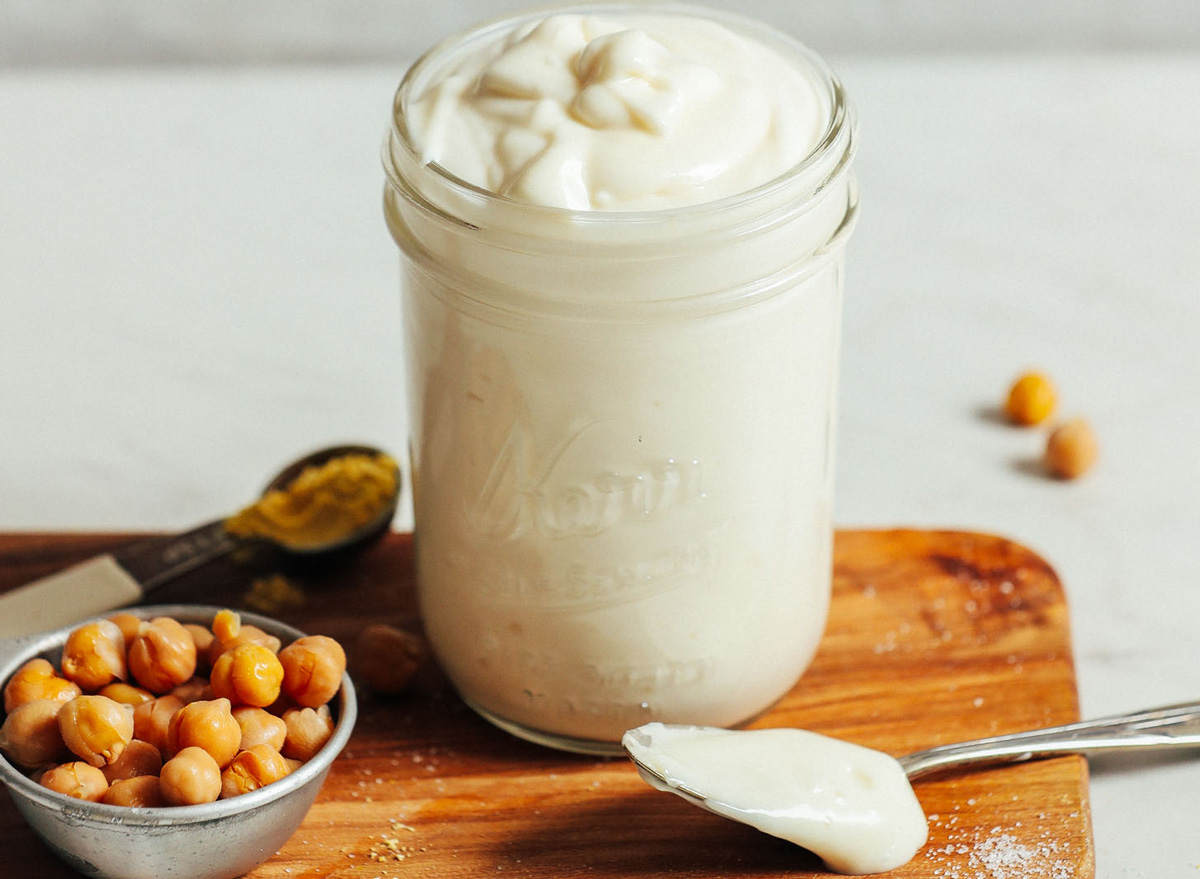 While you're draining your chickpeas, don't forget to reserve that bean water for another recipe. Aquafaba, which is quite literally "bean water", can be used as a plant-based replacement for eggs in everything from meringue to mayo.
Get the recipe from Minimalist Baker.
Chana Masala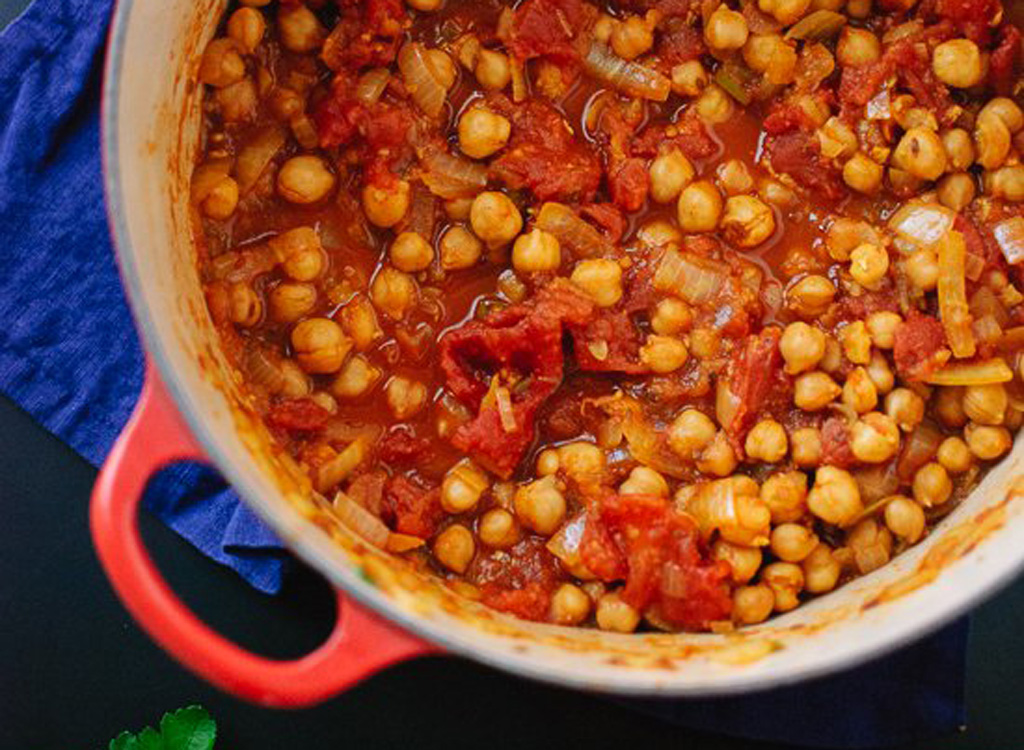 Beans will take on pretty much whatever flavor you choose to douse them in. So, when you're in the mood for Indian, that can of chickpeas you've got lying around will come in handy. Put your garbanzo beans to task with chana masala, which combines a can of coconut milk with fragrant spices like garam masala, ground coriander, and ground turmeric.
Get the recipe from Cookie and Kate.
Black Bean Brownies
If you've yet to try the long-fabled black bean brownie, the time is now. All you need to do is swap out one cup of flour for one cup of black beans in your brownies. They're perfect for when you want to sneak some protein into your dessert or trick your friends into eating beans when they least expect it.
Get the recipe from Ambitious Kitchen.
Roasted Spiced Chickpeas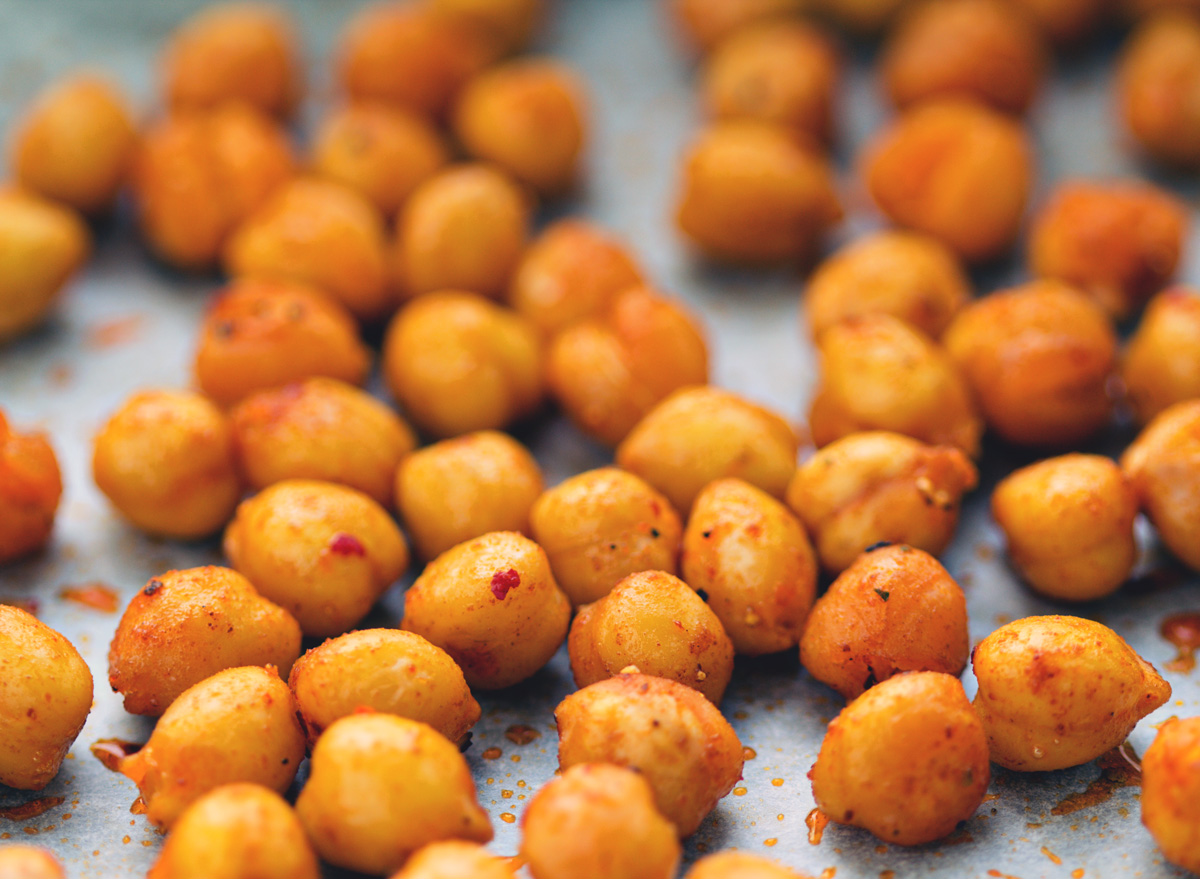 Whether your craving something savory or sweet, roasted chickpeas will hit the spot. Toss a can of drained and dried chickpeas with some olive oil and add whatever seasonings you want. Some good combos are cinnamon and sugar, garlic and dill, or cayenne and honey. Roast them in the oven at 400 degrees Fahrenheit, and in 25ish minutes, you'll have a crunchy, delicious snack!
Black Bean Burgers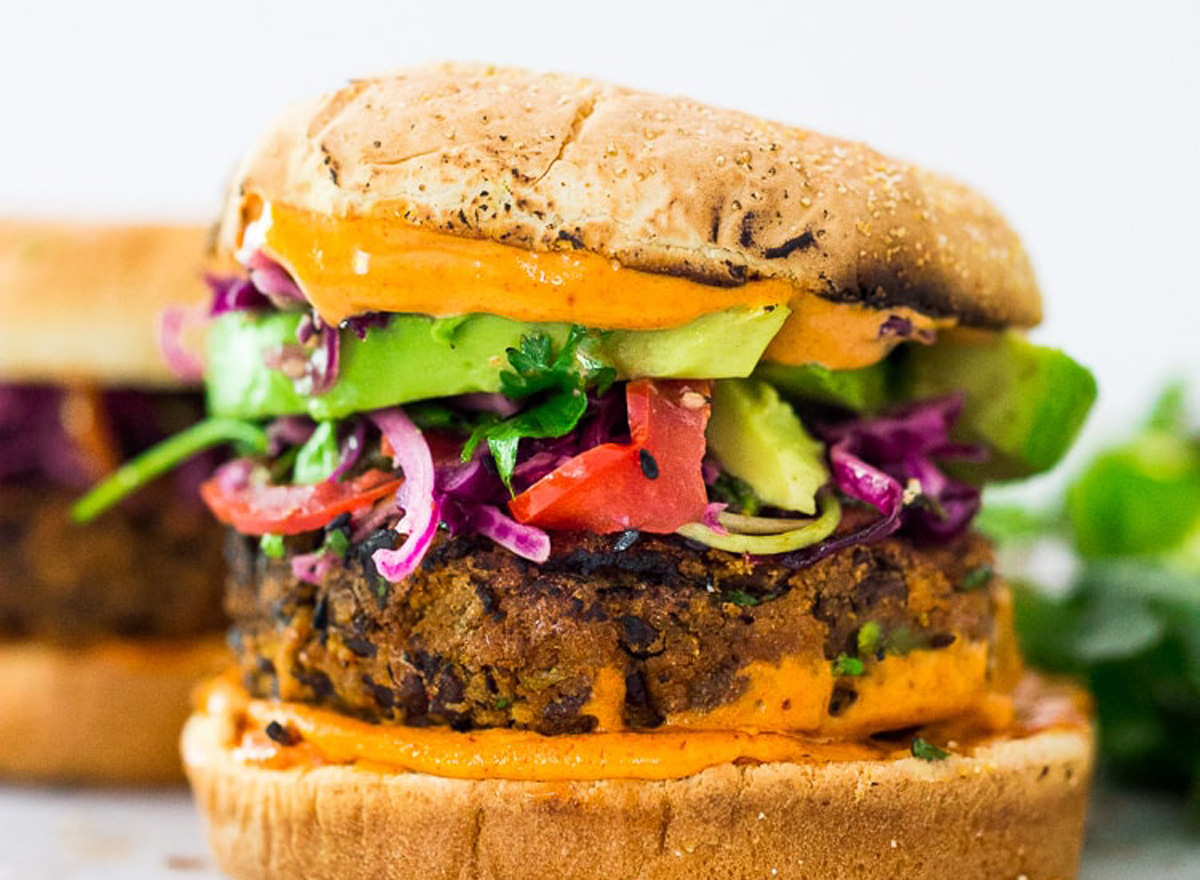 Time to put your food processor to good use. Turn a can of black beans into a smoky chipotle burger patty with just a few spices, like cumin and smoked paprika, and a little bit of patience.6254a4d1642c605c54bf1cab17d50f1e
Get the recipe from Feasting At Home.
Beans on Toast
Pretty much any can of beans—navy beans, black beans, garbanzo beans—make for a delicious toast topping. Just smash your beans of choice atop a slice of toast, add a little olive oil, maybe some garlic, and whatever other spices and toppings your heart desires and your kitchen could stand to get rid of. Or do it like the Brits do and top your toast with some Heinz baked beans in tomato sauce. Besides substituting beans for meat during your next meal, you can save even more cash with these 30 Ways to Save at the Grocery Store—Without Coupons!
Mia Mercado
Mia Mercado is a writer from Kansas City whose work has appeared in places like Bustle, The New Yorker, New York Times, and McSweeney's.
Read more about Mia