I Tried 12 Canned Coffees & the Best Is Perfectly Frothy & Lightly Sweet
You have so many options when it comes to ready-to-drink coffees, but which one tastes the best?
The product recommendations in this post are recommendations by the writer and/or expert(s) interviewed and do not contain affiliate links. Meaning: If you use these links to buy something, we will not earn a commission.
If your mornings are too busy to wait for coffee to brew, or you simply love the jolt of cold brew in the a.m., canned coffee is a great time-saver that's portable and often highly caffeinated. But, if you swing by the ready-to-drink coffee section of most grocery stores, you'll likely come across a wall of colorful options with enticing matte labels and flashy promises like "with adaptogens," or "ultra-smooth." It can be hard to know which cans actually hold great-tasting joe, and which are trying to distract you with marketing lingo.
Whether you're looking for black jet fuel without a touch of dairy or sweetener, or you're looking to savor a frothy latte, you have no shortage of options in the canned coffee department. So, as a daily coffee drinker who values convenience, I decided to find the best-tasting canned coffee drinks that will start your day on the right foot. I bought 12 popular cold brew drinks from several grocery stores and sampled each one with my husband. We tried each brew straight from the can and decanted into a glass to judge flavor, foaminess, texture, and color.
Here's how the 12 canned coffee drinks tasted in descending order from our least favorite to the smoothest and most drinkable.
Wegmans Vanilla Latte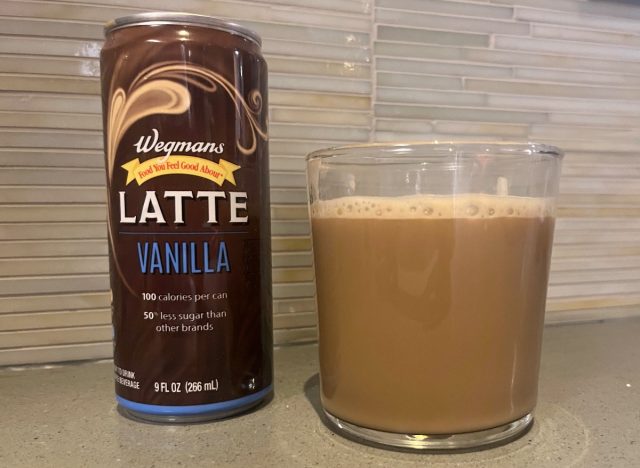 PER SERVING (1 can)
: 100 cal, 2.5 g fat (1.5 g saturated fat), 40 mg sodium, 14 g carbs (0 g fiber, 14 g sugar), 4 g protein
Wegmans Vanilla Latte claims to contain "50% less sugar than other brands." Of course, it's unclear which "other brands" this refers to. And one sip will tell you straight away that this drink is loaded with sugar. (I wouldn't want to come near those "other brands"). Each nine-ounce can contains 14 grams of sugar, including eight grams of added cane sugar.
Aside from sweetness, the other leading flavor in this latte is vanilla. But, it's not the subtle hint of vanilla you might get from a barista-made latte. The Wegmans canned coffee screams vanilla flavor so loudly, it tastes fake. Overall, we found this drink way too treacly sweet to sip in the morning, or really any time of day.
We did notice that the latte had a nice layer of foam on top when poured into a glass, which is likely thanks to the reduced-fat milk it's made with.
Rise Brewing Co. Original Black Nitro Cold Brew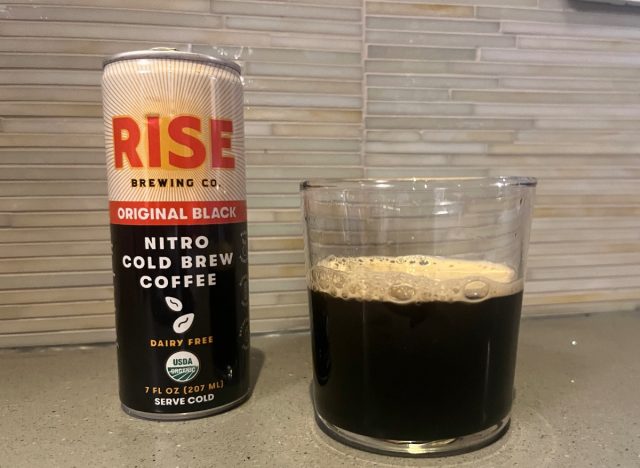 PER SERVING (1 can)
: 10 cal, 0 g fat, 15 mg sodium, 2 g carbs (0 g fiber, 0 g sugar), <1 g protein
Rise Brewing Co Original Black Nitro Cold Brew Coffee was the most bitter of the pure-black coffees we sampled. It's made with organic coffee, which is a plus, but it was hard to get past the harsh flavor. It tasted tannic, like a very dry red wine or over-brewed tea, and dried out our mouths, which is unpleasant in the morning.
This can is more highly carbonated than others we tried, and the coffee did produce a nice foam when poured into a glass. It also has 180 milligrams of caffeine per seven-ounce can, which is in the middle compared to most other canned cold brew options, so this is nice for cold coffee lovers trying to limit their caffeine intake.
Starbucks Nitro Cold Brew Black Unsweetened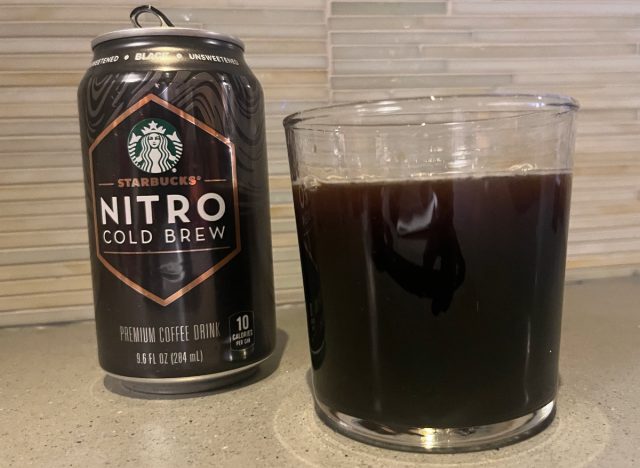 PER SERVING (1 can)
: 10 cal, 0 g fat, 0 mg sodium, 2 g carbs (0 g fiber, 0 g sugar), 1 g protein
You can find Starbucks Nitro Cold Brew in grocery stores now, but the canned stuff falls short in flavor and bubbliness compared to the nitro cold brew that baristas pull from the tap at a brick-and-mortar location. Though the black-and-tan packaging is sleek and cool-looking, the coffee left something to be desired.
We found the flavor to be bland, dry, and generally lacking. Our can was also a bit flat and had zero foamy head or bubbles when decanted into a glass. Oddly, it was also difficult to open the can using the pull tab on top. The Starbucks cans are slightly larger than most cold brews we tried, at 9.6 fluid ounces, and the coffee contains a reasonable 155 milligrams of caffeine per serving.
La Colombe Oatmilk Vanilla Latte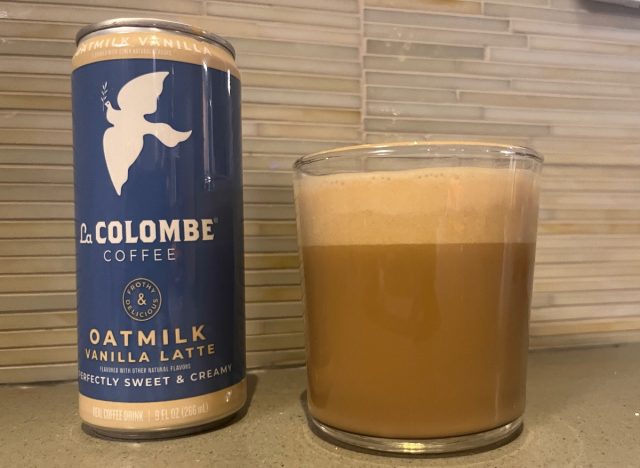 PER SERVING (1 can)
: 120 cal, 4.5 g fat (0 g saturated fat), 100 mg sodium, 22 g carbs (4 g fiber, 0 g sugar), 2 g protein
This pretty baby blue can entices you with a promise to be "perfectly sweet and creamy." And though the oat milk vanilla late from La Colombe is certainly creamy, I wouldn't call it perfectly sweet. It tastes a bit like canned vanilla frosting and though it's less cloying than the Wegmans vanilla latte, it's still quite sugary and contains 22 grams of carbohydrates, of which just four grams are fiber.
This latte is plant-based, so it's a good option if you're avoiding dairy or lactose and want a canned coffee that's more mild and creamy than straight-up cold brew. But, oat milk is notoriously high in sugar, which can cause a blood sugar spike. That, along with the caffeine in this drink, might leave you jittery and anxious. It's worth noting, however, that the La Colombe latte has a more mellow 120 milligrams of caffeine per nine-fluid ounce can. This creamy drink also produced some major foam in the glass, which added a nice textural element to it.
Stumptown Hair Bender Nitro Cold Brew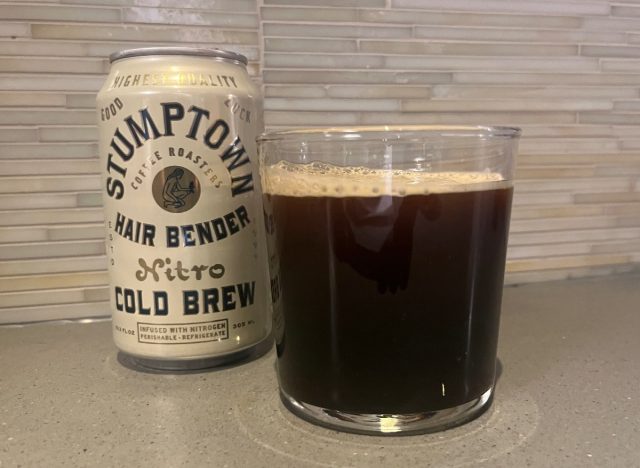 PER SERVING (1 can)
: 90 cal, 2.5 g fat (1.5 g saturated fat), 95 mg sodium, 14 g carbs (2 g fiber, 10 g sugar), 5 g protein
Warning: this nitro cold brew from Stumptown Coffee Roasters is not for the caffeine-sensitive. Each 10.3-ounce can is loaded with 373 milligrams of caffeine, which is close to four times the amount in a standard cup of drip coffee.
We found that this can had a distinctly smoky flavor, possibly from the nitrogen gas or the way the beans were roasted. It wasn't overly acidic, but definitely dry and had a hint of cocoa flavor. Unfortunately, there's no way I could finish a can without ruining my morning (and potentially my entire day), but if you're a caffeine fiend or an energy drink lover, you may appreciate the extra kick. This drink was also more fizzy and carbonated than many of the other canned coffees we tried, and it had a deep color and light foam on top.
Blue Bottle Coffee Single Origin Bright Cold Brew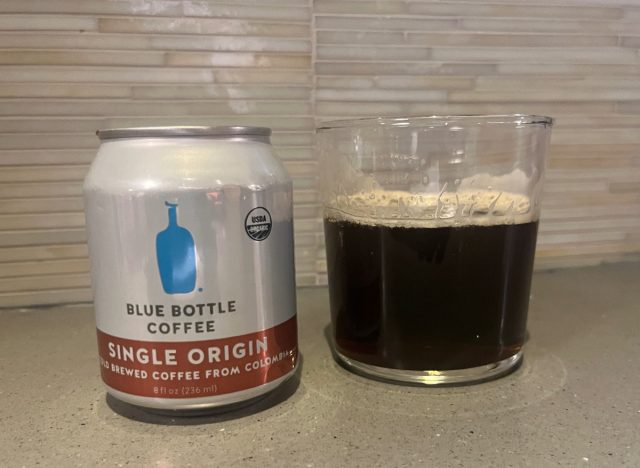 PER SERVING (1 can)
: 0 cal, 0 g fat, 0 mg sodium, 0 g carbs, 0 g protein
This smaller can of single-origin cold brew from Blue Bottle Coffee is a great pick-me-up if you don't want to commit to a full 10- or 12-ounce can. It's made from nothing but organic coffee and water and has the nutrition facts to prove it. You'll find no sugar, fat, or even sodium in this simple brew.6254a4d1642c605c54bf1cab17d50f1e
Though it wasn't super carbonated or fizzy (because it's not made with nitrogen like a nitro cold brew), the coffee tasted smooth and fruity. According to Blue Bottle, this fruitiness comes from leaving "trace amounts of the coffee cherry" on the beans before they're roasted. The first sip is a bit astringent and bitter, but it quickly mellows out and even becomes a bit sweet-tasting.
Sail Away Nitro Classic Black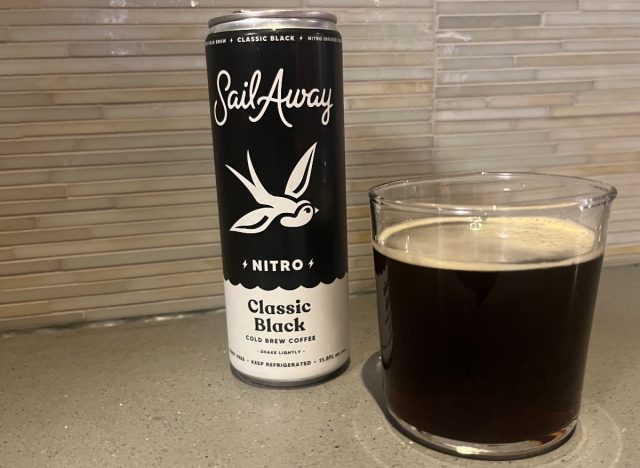 PER SERVING (1 can)
: 0 cal, 0 g fat, 0 mg sodium, 0 g carbs, 0 g protein
This is another super simple cold brew made from just two ingredients: organic coffee and purified water. It comes from a smaller coffee brewer and canner in New York, and the label has all the charm of craft beer branding. The can instructs you to shake it before cracking it open, which helped activate the nitrogen inside to give the coffee a rich, creamy body that we loved.
It does come in a larger can size at 11.5 ounces and has a solid amount of caffeine: 220 milligrams per serving. We liked that this cold brew contained enough nitrogen to add texture that enhanced its silky smooth flavor. Of course, it's still black, unsweetened coffee, so you can expect some acidity and bitter notes.
Pop & Bottle Vanilla Cold Brew Oatmilk Latte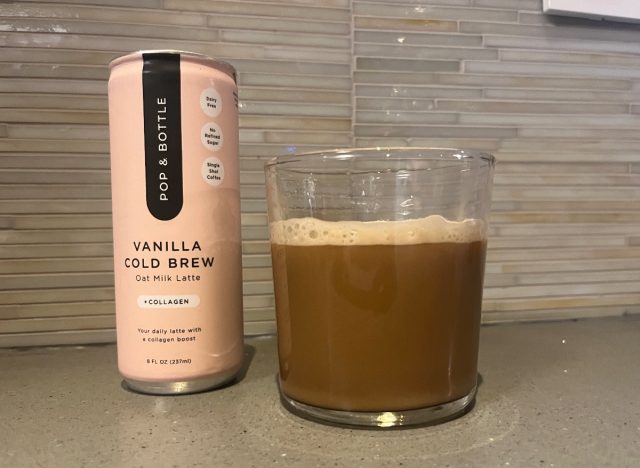 PER SERVING (1 can)
: 100 cal, 2.5 g fat (1.5 g saturated fat), 65 mg sodium, 16 g carbs (2 g fiber, 8 g sugar), 5 g protein
This was the least sickly sweet vanilla-flavored latte we tried, likely because it's sweetened with dates rather than cane sugar. It's also boosted with collagen, which adds five grams of protein in addition to potential benefits to your joints, skin, and hair. Most of the ingredients are organic, including the oat milk, coffee, and dates.
The latte gets its thicker texture from coconut cream, rather than an infusion of nitrogen, so it's not very bubbly. It does have a subtle vanilla flavor that's not overpowering, and just 80 milligrams of caffeine per eight-ounce can, which makes this the least caffeinated drink we tried. In fact, one can contains less caffeine than a cup of coffee. This would be a great afternoon pick-me-up if you're craving something sweet and feeling the 3 p.m. slump.
Taika Black Coffee with Adaptogens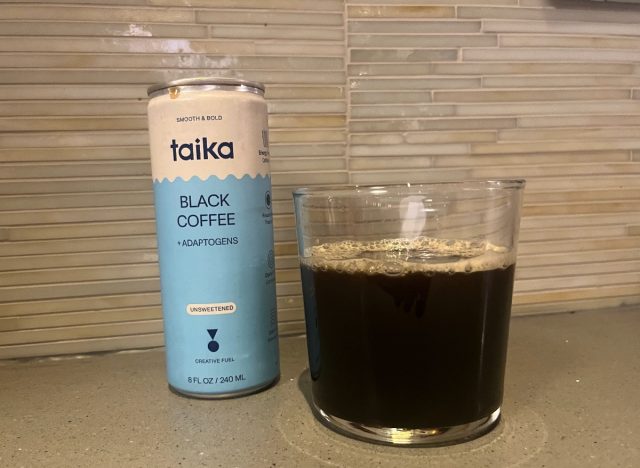 PER SERVING (1 can)
: 10 cal, 0 g fat, 0 mg sodium, 3 g carbs (0 g dietary fiber), 0 g protein
If you're looking for a dose of calming adaptogens to counteract your caffeine consumption, this can of pure black coffee from Taika is a good option. This 8.4-ounce can contains a mild 100 milligrams of caffeine, which is about what you'd get from a cup of drip coffee, as well as ashwagandha, cordyceps, lion's mane, and reishi.
The coffee is totally sugar-free and contains no dairy or other sweeteners, and because you can't taste the adaptogenic mushrooms, it has a nice coffee flavor that's not too strong or bold. This is a smooth, balanced brew that's light on bubbles (it's not nitrogen-infused), so it's the closest to a cup of pour-over or drip coffee that we found in a can.
Illy Classico Cold Brew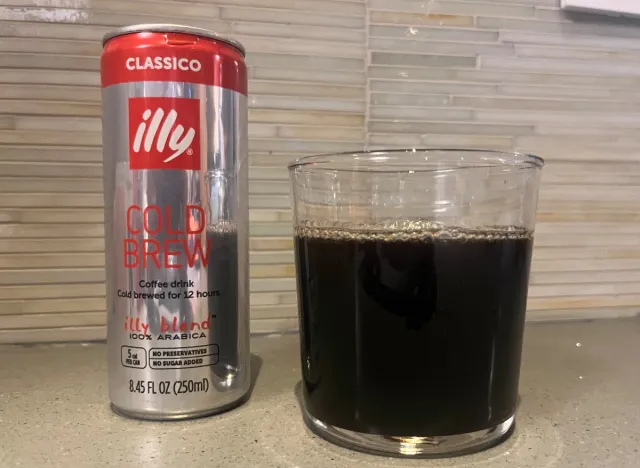 PER SERVING (1 can)
: 5 cal, 0 g fat, 0 mg sodium, <1 g carbs (0 g dietary fiber), 1 g protein
It's no secret that Italians take their coffee seriously, so it makes sense that Italian coffeemaker Illy would produce a tasty can. The 100% Arabica coffee is brewed for 12 hours, which produces a mild but complex flavor that's not as tannic or bitter as other cans we sampled. Since this is cold brew, not nitro, the coffee is flat and has no foam, but it's reliably tasty and simple.
The Classico is Illy's most mild ready-to-drink coffee (the other two options are Intens and Forte), and it contains 190 milligrams of caffeine per 6.8-ounce can. You can easily sip this cold brew straight from the can or mix it with a creamer of your choice for some extra texture and sweetness. As a bonus, Illy is a Certified B Corporation, thanks to its sustainability efforts, so you can feel good about what you're drinking, too.
Lavazza Classic Cold Brew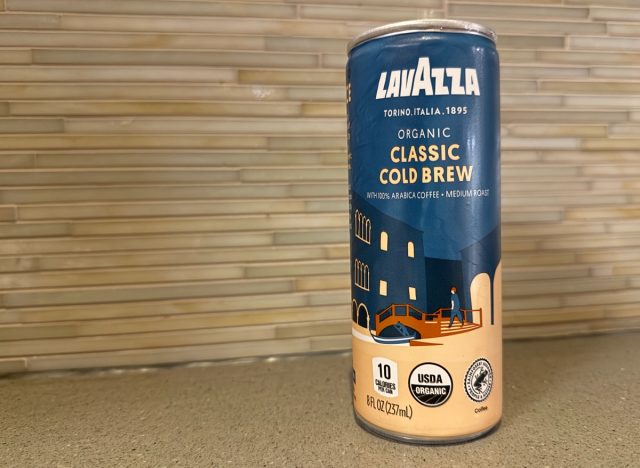 PER SERVING (1 can)
: 10 cal, 0 g fat, 10 mg sodium, 2 g carbs (<1 g fiber, 0 g sugar), 0 g protein
Lavazza's canned cold brew has the smoothest, richest flavor of the cans we tried. It has light toasted chocolate notes with no added sugars. Each slim eight-ounce can contains 160 milligrams of caffeine, which is a good middle ground in the world of ready-to-drink coffees. It's flat, not fizzy or nitrogen-infused, so there's no head on this pour.
The can design in itself is enough to make you reach for it, thanks to Lavazza's classic image of an Italian cityscape. This coffee has a delicious flavor all on its own. It goes down smooth and is easy to sip on your way to work, or you can dress it up in a nice glass with a bit of creamer or sweetener (or even warm it for a cozy drink).
La Colombe Double Latte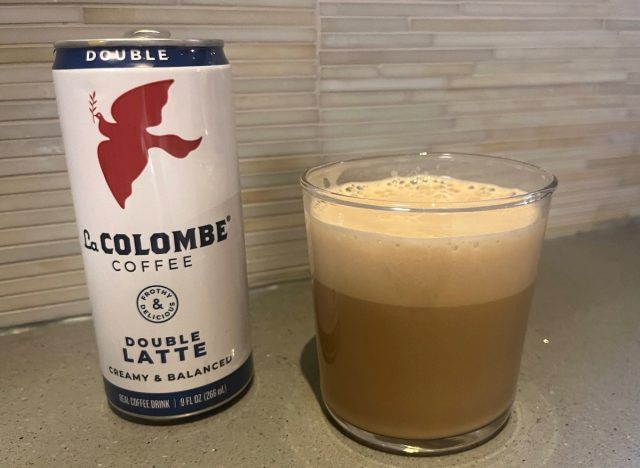 PER SERVING (1 can)
: 90 cal, 2.5 g fat (1.5 g saturated fat), 95 mg sodium, 14 g carbs (2 g fiber, 10 g sugar), 5 g protein
This ultra-foamy, creamy latte strikes the perfect balance between tasting lightly sweet, but still coffee-forward. The cold brew is smooth and well-balanced without any bitterness, and the milk adds wonderful body and a gentle sweetness.
This latte is made with low-fat milk and sweetened with three grams of added cane sugar. It contains 120 milligrams of caffeine, which is equivalent to about two cups of brewed coffee, so it won't leave you feeling jumpy or jittery all morning. We were also pleasantly surprised when we poured this canned coffee into a cup, where it developed a thick and sturdy head of foamy bubbles. My personal favorite coffee drink to get at a cafe is a La Colombe draft latte, and this canned version is a very close runner-up to a latte freshly pulled from the tap.
Lizzy Briskin
Lizzy is a trained chef, food writer, and recipe developer for print and digital outlets including Insider, Real Simple, and the Chicago Tribune.
Read more about Lizzy