7 Fast-Food Chains That Serve the Best Iced Coffee
Hit the drive-thru for your daily pick-me-up.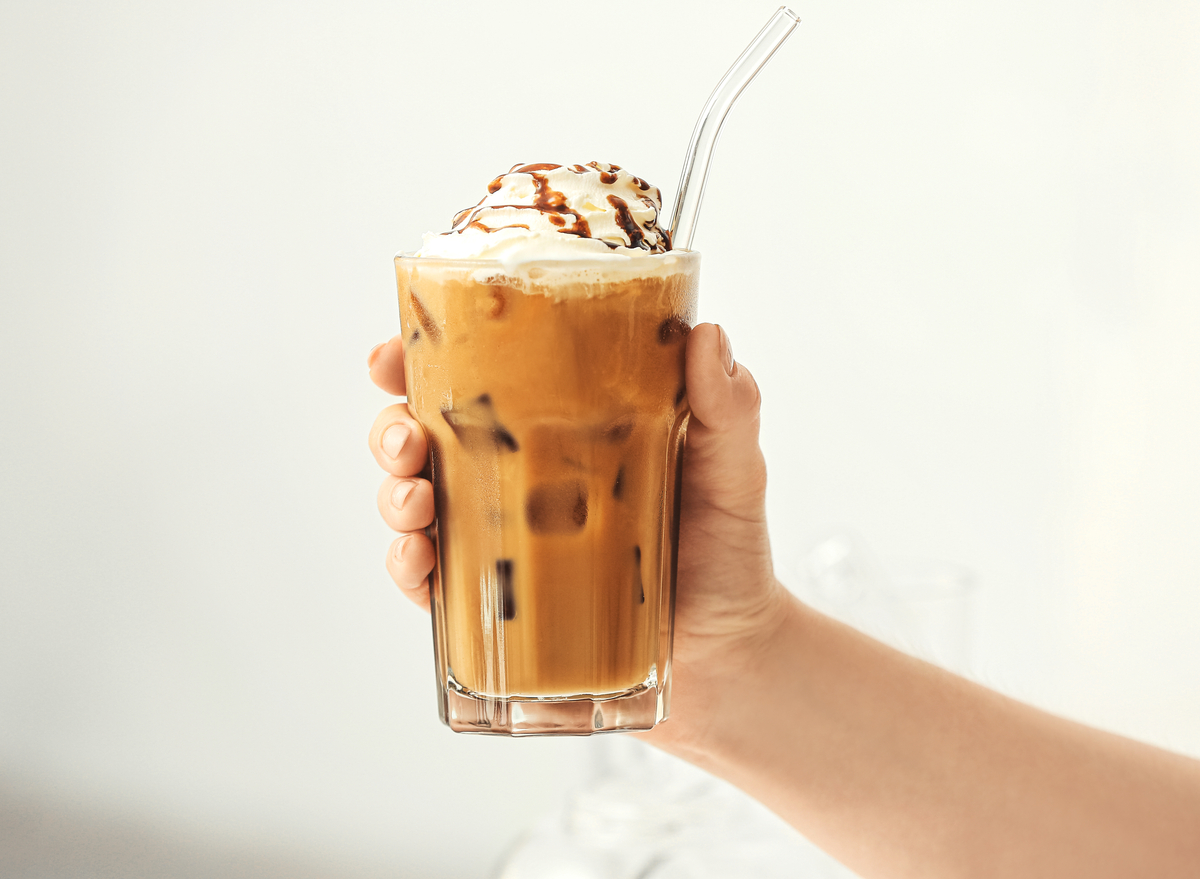 The product recommendations in this post are recommendations by the writer and/or expert(s) interviewed and do not contain affiliate links. Meaning: If you use these links to buy something, we will not earn a commission.
Move over, Starbucks and Dunkin'. Major fast-food chains better known for slinging burgers and fries are getting in on the iced coffee game, and the results are surprisingly good.
Lately, iced coffee orders have climbed in popularity. Between April 2021 and 2022, customers ordered 2.8 billion servings, an 11% jump from the year prior, according to the NPD Group. Last August, Starbucks reported record revenue–specifically driven by Gen Z's love for iced bevvies.
Chilled coffee drinks have even managed to thrive outside of the warm summer months. Java drinkers sip the stuff year-round: cold drink sales account for 60% of Starbucks' beverage sales, even in the dead of winter. It's no wonder that fast-food chains like McDonald's and Chick-fil-A are taking note of the frenzied pace at which some of us guzzle iced coffee. And while Starbucks, Krispy Kreme, and Dunkin' Donuts may have tasty iced beverages—they're coffee shops, after all!—you won't find them on this list.
Instead, we've rounded up seven fast-food chains that serve the best iced coffees, in no particular order. So let's cruise by the drive-thru and order an iced coffee to go with your fries or breakfast sandwich!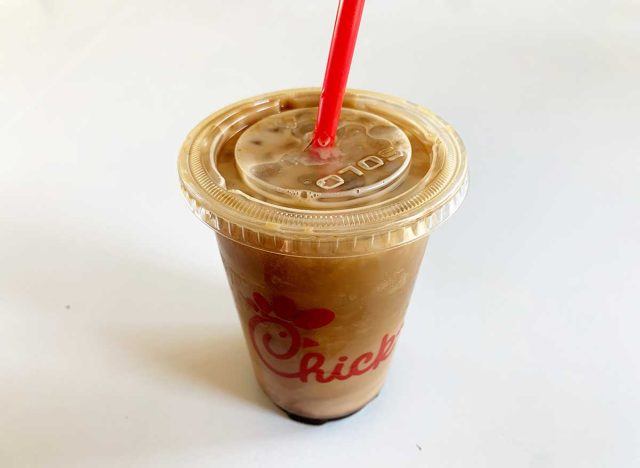 Per Serving
: 150 cal, 2.5 g fat (1.5 g saturated fat), 75 mg sodium, 30 g carbs (0 g fiber, 24 g sugar), 5 g protein
Who would have thought? Chick-fil-A isn't messing around when it comes to iced coffees. Clocking in at just under $3 for a small, the chicken chain's iced blend is ultra creamy with a smooth aftertaste and packs a hint of nuttiness. The coffee flavor is strong—you can still taste it through the optional syrup and milk.
One fan on Reddit lauded this pick as the absolute best among all the fast-food shops, due in part to an excellent ice to coffee ratio: "You'd think you're drinking some real quality iced coffee from [an] independent roaster."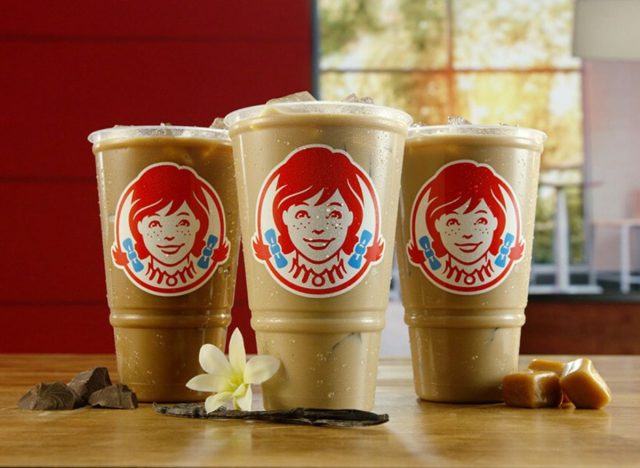 Per Serving (small cold brew)
: 15 cal, 0 g fat (0 g saturated fat), 15 mg sodium, 2 g carbs (o g fiber, 0 g sugar), 1 g protein
Wendy's is a good option for those who are just starting to dip their toes into iced coffees. (Not literally, of course.) Its cold brew is steeped for 12 hours, but you can expect a blend that's not overpowering coffee-wise. However, Wendy's may not be the spot for those who are sensitive to sugary coffee drinks—you can't order it black, and it comes in flavored varieties like caramel, vanilla and mocha. Last week, the quick-service chain launched its new Frosty Cream Cold Brew lineup, with special Frosty-style creamer. Now, that sounds like a caffeinated dessert!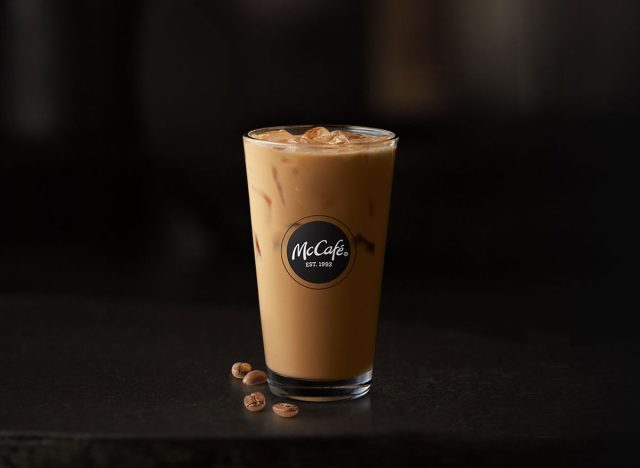 Per Serving (small iced coffee)
: 140 cal, 5 g fat (3.5 g saturated fat), 50 mg sodium, 24 g carbs (o g fiber, 22 g sugar), 2 g protein
No shock here: McDonald's McCafé line is heavily advertised and widely available, so it's a solid option if you're craving a caffeine hit. It's highly customizable and the chain stocks sugar-free syrup, which is nice. While some reviewers contend that this iced coffee is too watery, too sweet, and not coffee-y enough, sometimes the mix is just right and it's actually the perfect iced coffee. "The quality of the coffee comes down 100% to the employee making it," one reviewer wrote. Embrace that frustrating hit-or-miss gamble and drink it quick before the ice melts and dilutes your beverage.
Per Serving (iced coffee with creamer)
: 45 cal, 1 g fat (0.5 g saturated fat), 15 mg sodium, 8 g carbs (o g fiber, 7 g sugar), <1 g protein
Taco Bell serves iced coffee and it's a somewhat polarizing option. As is typical in the iced coffee fast-food scene, some people hate it and others love it. A recent Eat This, Not That! taste test likened it to drinking a gourmet iced Americano from an independent coffee shop.
Another reviewer tasted the Mexican-inspired chain's Iced Cinnabon Delights version and said, "I'm sure coffee snobs would be disgusted by it, but I'm not ashamed to admit that I enjoyed it." Hot tip: don't panic when you see the employee pour hot coffee over a large cup of ice, that's just how it's done at Taco Bell.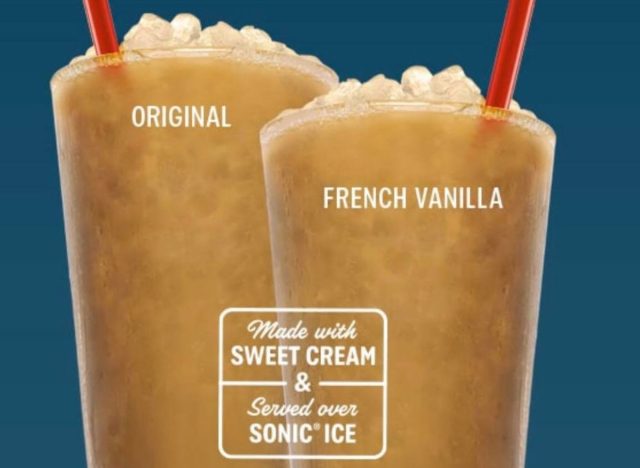 Per Serving (original small cold brew)
: 190 cal, 9 g fat (6 g saturated fat), 110 mg sodium, 24 g carbs (o g fiber, 12 g sugar), 4 g protein
Some aficionados have dubbed Sonic a winner of the fast-food iced coffee race. Sonic's Arabica coffee beans are supplied by Green Mountain, and while it's not a specialty roaster, the blend is complex, flavorful, and subtly sweet on its own. For that reason, Uproxx suggests that you skip the optional flavor shots (chocolate, praline pecan, or French vanilla) and instead order it black. But if you're into the sweet stuff, you may be delighted by the sweet cream base and velvety smooth mouthfeel.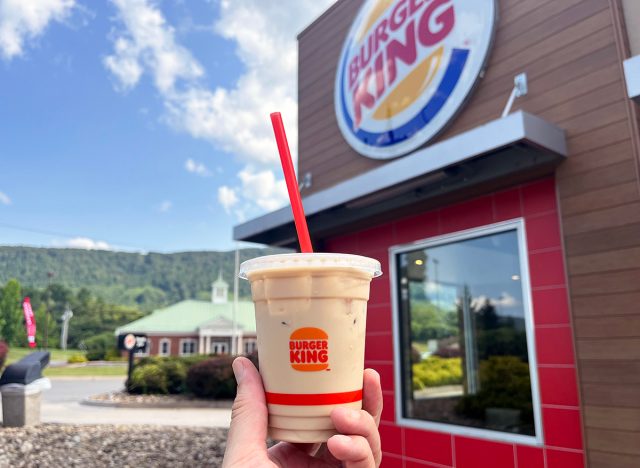 Per Serving (12-ounce iced vanilla coffee)
: 1450 cal, 8 g fat (4 g saturated fat), 30 mg sodium, 21 g carbs (o g fiber, 21 g sugar), 1 g protein
Fancy a sweet iced coffee to go with that Whopper? Burger King may not be the first place that comes to mind when you're craving an iced coffee, but online reviewers say it's worth a try—at least once. Expect a sweetened, creamy iced drink, light on the actual coffee flavor…that may possibly taste like a watered-down coffee milkshake.6254a4d1642c605c54bf1cab17d50f1e
No judgment, some people really like it. And hey, if your expectation is hovering around zero and you like a saccharine iced coffee, you may just be pleasantly surprised!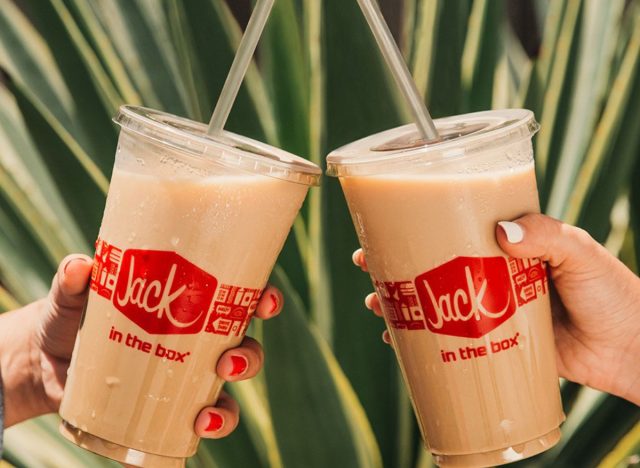 Per Serving (original iced coffee)
: 170 cal, 3 g fat (2 g saturated fat), 100 mg sodium, 29 g carbs (o g fiber, 28 g sugar), 7 g protein
In a pinch and need a jolt of caffeine and sugar? Jack in the Box iced coffees are brewed with High Mountain Arabica coffee beans, and reviewers say it's pretty mediocre. No need to go out of your way to try this one, but if you're already swinging through the drive-thru for a couple tacos or the 24-hour breakfast menu, why not throw in an iced coffee? It's got heaps of both cream and sugar, so those in the anti-sweetened coffee camp will likely not vibe with it.