I Tasted 6 Store-Bought Cake Frostings & This Is The Best
Which effortless store-bought frosting will to bring your next cake to a whole new level?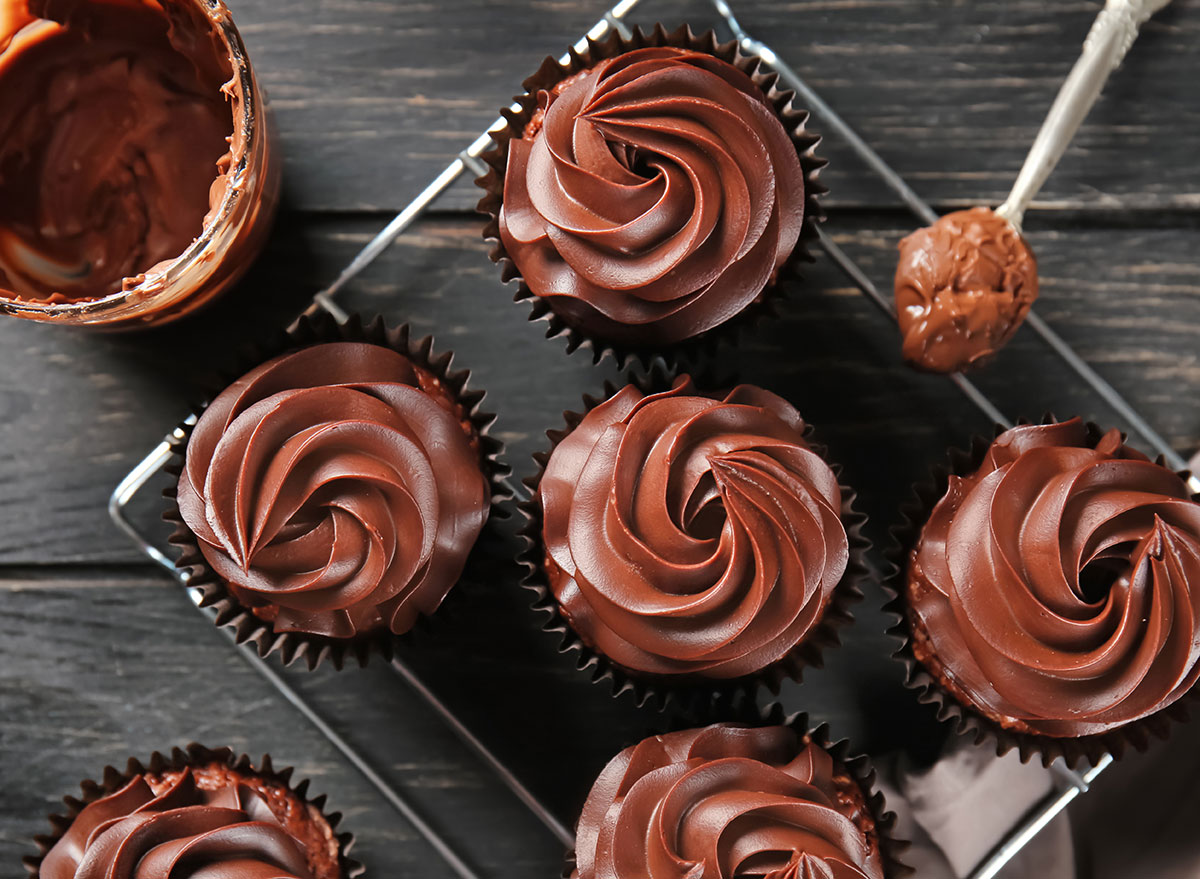 The best part of any cake is the frosting, right? Agree to disagree, but a cake without frosting just isn't the same. Frosting adds sweetness and extra flavor that plain cake or cupcakes just don't have. With that said, if you don't have time to whip up your own at home, then store-bought will have to do. Luckily, there are plenty of delicious frostings on the shelves, you just a little guidance on picking the best tasting frosting.
Whether you prefer chocolate or vanilla frosting (maybe even funfetti), there are a handful of brands that make this rich sweet cake topping that you can get at the grocery store for under $6. I tried 6 store-bought frostings to find the very best-tasting one. During my taste test, I looked for a frosting that was sweet, smooth, and creamy.
Here's how the store-bought frostings ranked in my taste test, listed from worst to best. Plus, if you're looking for a cake mix to spread these on, check out: We Tested 5 Boxed Cake Mixes & This Is the Best!
Simple Mills Organic Chocolate Frosting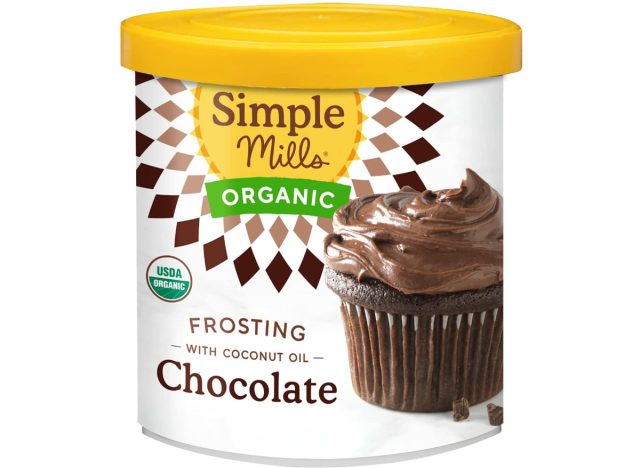 This was probably the most difficult taste test I've done to date because all of the frostings were tasty, but with some slight differences. The chocolate flavor from this frosting was superb for one with all organic ingredients (cocoa powder, powdered sugar, rosemary extract, etc.) However, the consistency ruined it for me. I'm not sure if it's because this frosting is made with coconut oil, but it was very runny and hard to spread. It didn't stay on top of my cupcake how I wanted it to, but instead formed a puddle-like shape. A pro to this frosting is that it's tasty and packed with nutrients, but if you're looking for that classic frosting look this is not it.
Miss Jones Baking Co. Organic Vanilla Frosting
6254a4d1642c605c54bf1cab17d50f1e
As a fan of Miss Jones Baking Co. vanilla cake mix, I was super excited to try the brand's frosting. This vegan and gluten-free frosting is comparable to its counterparts with a sweet flavor and creamy consistency perfect for cake. I could really taste the vanilla, unlike other vanilla frostings which sometimes just taste solely like sugar, which I enjoyed. However, I wasn't a fan of the graininess. It wasn't as smooth as I would have liked, but a bit more crunchy. When consumed alongside a cupcake it wasn't too noticeable, but afterward I had some residue that was more annoying than tasty.
Birch Benders Keto Chocolate Frosting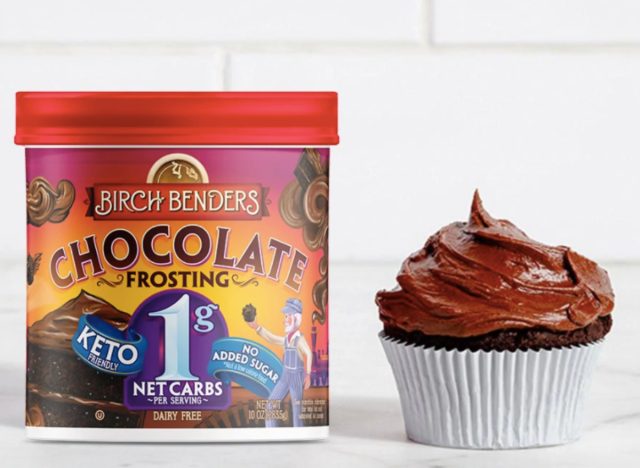 Normally frostings have a lot of sugar in them, but not this one from Birch Benders. This keto-friendly frosting is sugar-free and has 0 net carbs. Since that's the case, then you might be wondering how it tastes. Well, the answer is pretty darn good. Now, don't get me wrong, there is a slight chalky aftertaste, but definitely not too much. I liked the consistency of this frosting as it was similar to its counterparts and spread on my cake seamlessly. Plus, the taste was spot-on and it was pretty hard to tell the difference between this one and Duncan Hines in terms of chocolate flavor.
Betty Crocker Rich & Creamy Vanilla Frosting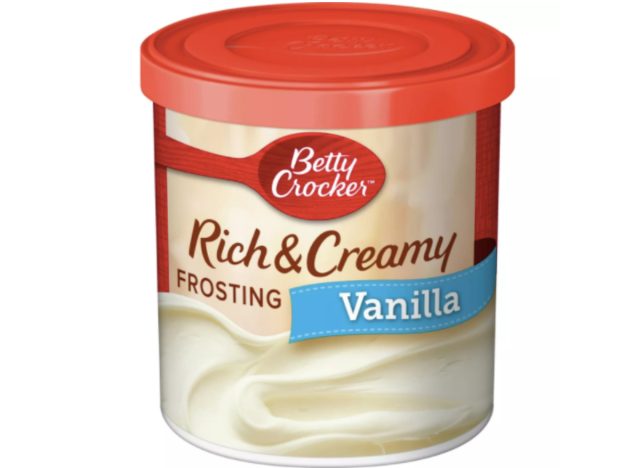 I feel that Betty Crocker has some of the best baking products on the market. The same applies to its vanilla frosting. It's ultra-smooth, fluffy, rich, and sweet with each spoonful and easily spreads on a cake. However, I found it to be extremely sweet. I have a major sweet tooth, but after a few bites, I had a headache from this frosting. Now, that's not to say it's bad by any means, but it's definitely a factor to consider. This frosting is great for those with gluten intolerance and allergies since it's gluten-free and free from the eight most common allergens.
Pillsbury Creamy Supreme Vanilla Frosting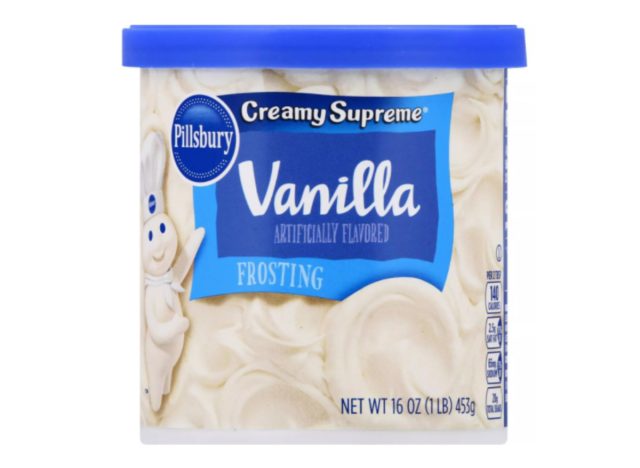 When I think of vanilla frosting, this is how I imagine it to be–smooth, decadent and creamy. Both gluten-free and kosher, this frosting was made to pile high on cakes, cupcakes, brownies, and anything else you can think of. It spreads easily with a butterknife or can be eaten by the spoonful (and no, I didn't do that…). Plus, if you're looking to make a colorful cake, this frosting lends itself well to adding food dye to achieve bright colors (pink, green, blue, etc.)
Duncan Hines Creamy Chocolate Frosting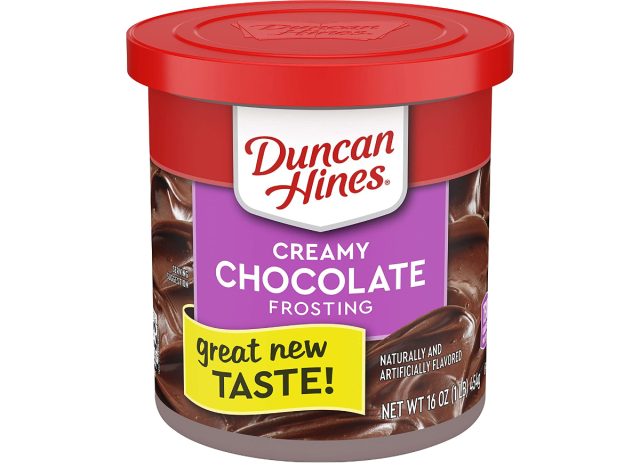 As a self-proclaimed chocoholic, this is by far my favorite store-bought frosting. It's rich, sweet, decadent, and chocolatey unlike any other I've ever tried. It seamlessly glides onto any cake for an added layer of flavor and compliments nearly any cake (chocolate, vanilla, red velvet, funfetti, etc.) If you have allergies, this frosting is also free from the most common allergens making it a safer choice for those with dietary restrictions.
Check out more exclusive taste tests:
We Tasted Every Starbucks Frappuccino & This Is the Best
We Tasted 5 Fast-Food Vanilla Ice Creams & This Is the Best
Casey Clark
Casey Clark is a current journalism student at Hofstra University with a passion for food, beauty, and entertainment.
Read more about Casey