The Best and Worst Foods on the Carl's Jr. Menu
Known for their towering burgers and decadent shakes, here are the healthiest and unhealthiest dishes.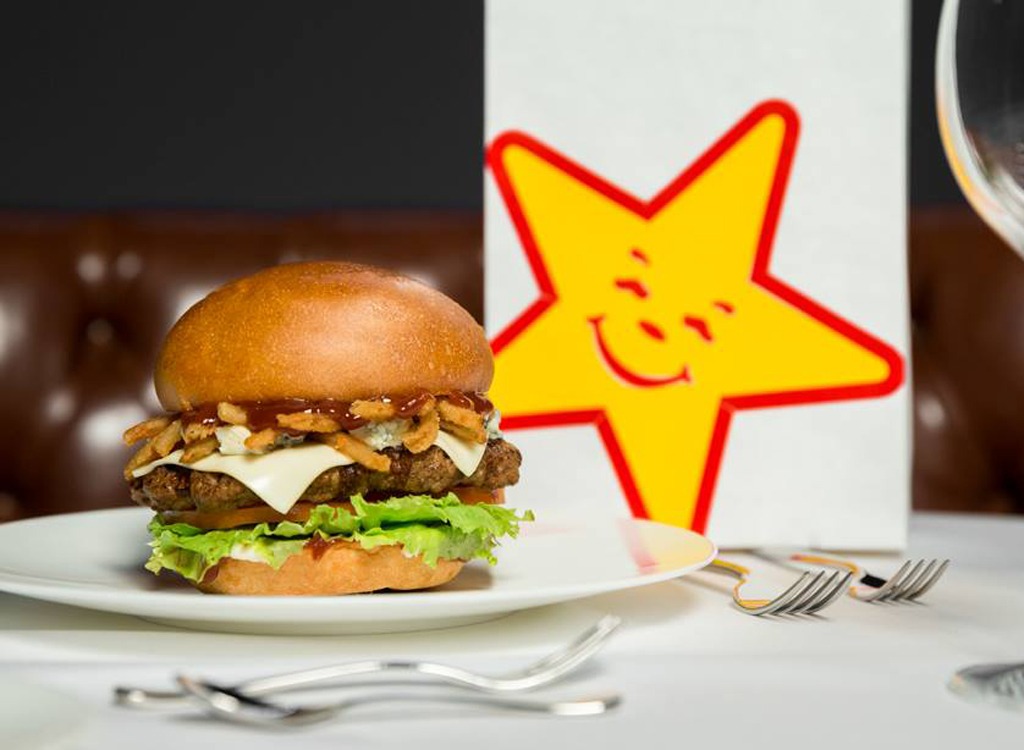 Whether you call it Carl's Jr. or Hardee's, this fast-food chain is the place to go if you're craving a thick, juicy gut-busting charbroiled burger. Known for its super-stacking buns, decadent milkshakes, and sodium-laden sides, the Carl's Jr. menu is a far cry from healthy fare. But there are some surprisingly decent choices on the menu that won't completely sabotage your diet. Under the guidance and help fo Jane Ujoatu, RD, we handpicked the absolute best items to order and also listed all the red flags to avoid. Stick to our top picks and you'll be golden.
The Best Burgers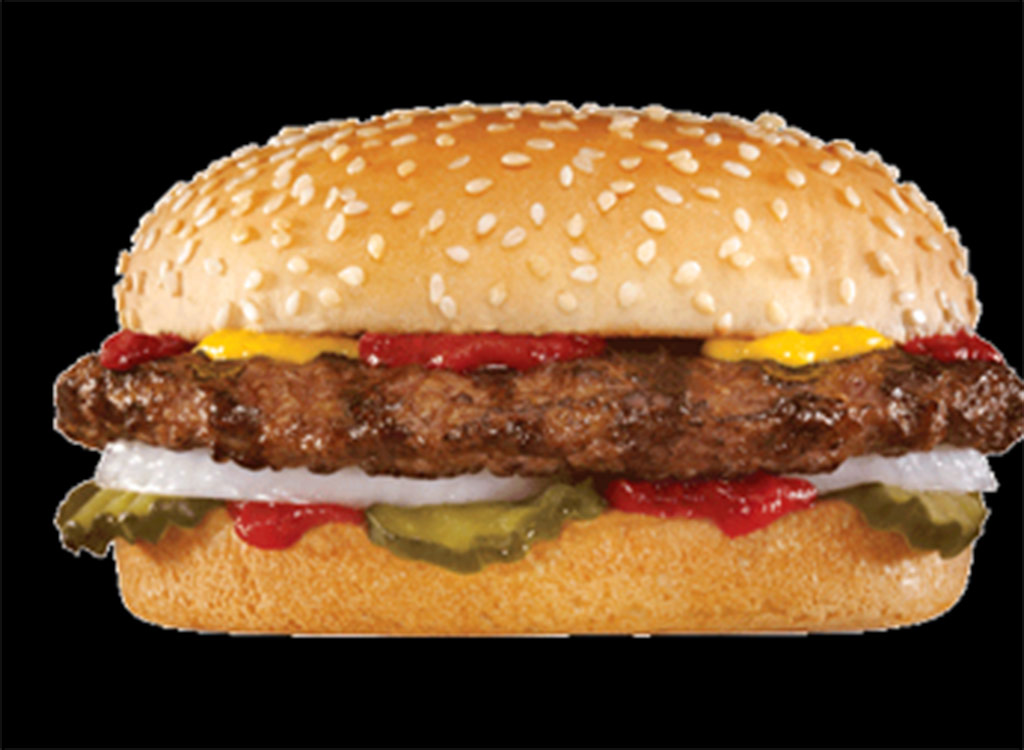 480 calories, 18 g fat (8 g saturated fat, 0.5 g trans fat), 870 mg sodium, 56 g carbs (3 g fiber, 13 g sugar), 25 g protein
You might be shocked to find out that this classic burger on a sesame seed roll is a better choice than the lettuce-wrapped burger on the menu, clocking in 200 milligrams less sodium. Simply dressed with mustard, ketchup, onions, and dill pickles, this patty doesn't pack on unnecessary fat-packed cheese. If you've got a hankering for a juicy patty, this is the way to go.
1/3-Pound Lettuce-Wrapped Thickburger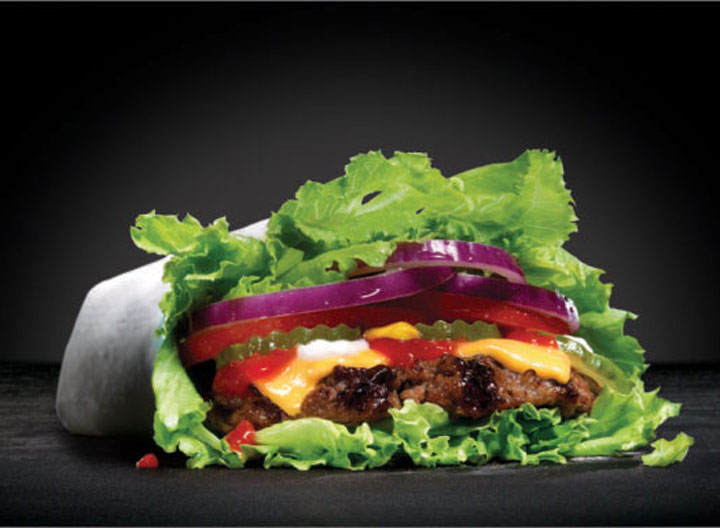 420 calories, 33 g fat (13 g saturated fat), 1,630 mg sodium, 11 g carbs, 30 g protein
If you absolutely must order a cheese patty, opt for this bun-less number. While it's got the least number of calories among all the burgers, the hidden punch comes courtesy of high sodium and a whopping 300 calories from fat (over 70 percent of your calories) alone.
"In terms of calories and carbs, this looks like a pretty good option. The issue here is that it contains more than half the salt you should consume in an entire day," Ujoatu says. "And that 1/3-pound patty is more ground beef than necessary, adding extra fat and protein you don't need." The additional fat also comes from two slices of American cheese. Instead, Ujoatu recommends ordering the burger without mayo and sticking to only one slice of cheese to help curb some of the saturated fat and sodium.
The Best Chicken
3-Piece Hand-breaded Chicken Tenders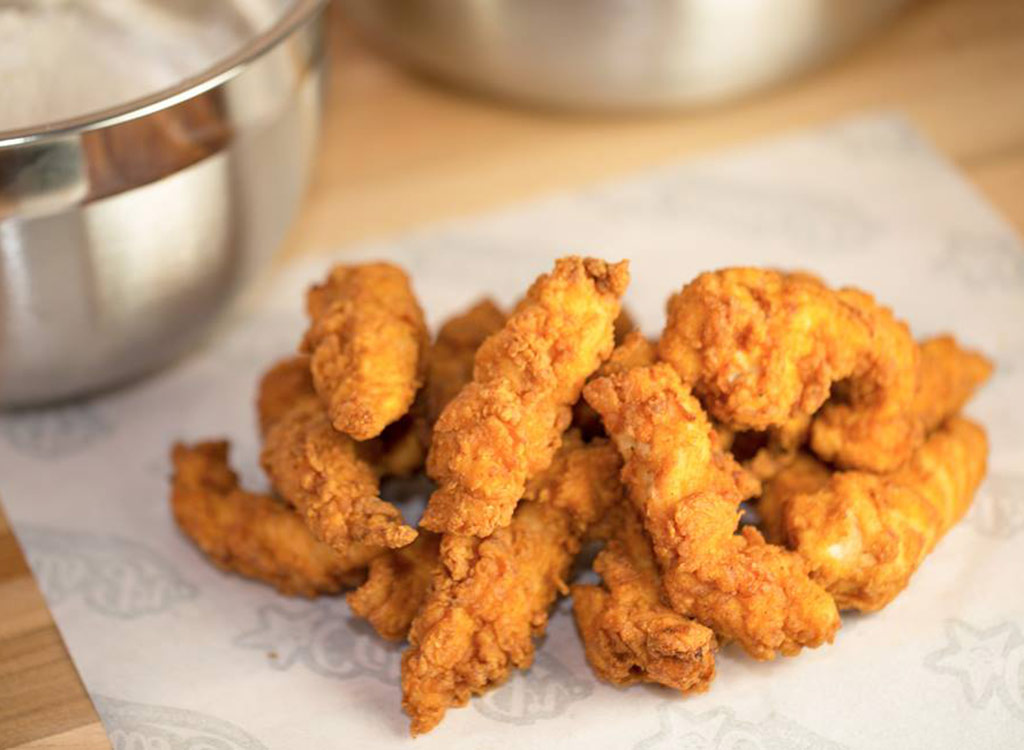 260 calories, 13 g fat (2.5 g saturated fat), 770 mg sodium, 13 g carbs, 25 g protein
Ditch the sandwiches, which are packed with extra sodium, and opt for this trio of tenders that offer a little crunch and some protein with pretty minimal fat and calories, comparatively. Ujoatu strongly suggests pairing these tenders with a tall glass of water to balance out the salt and opt for a side salad instead of fries as your side.
The Best All-Star Meal
Handbreaded Chicken Tender All-Star Meal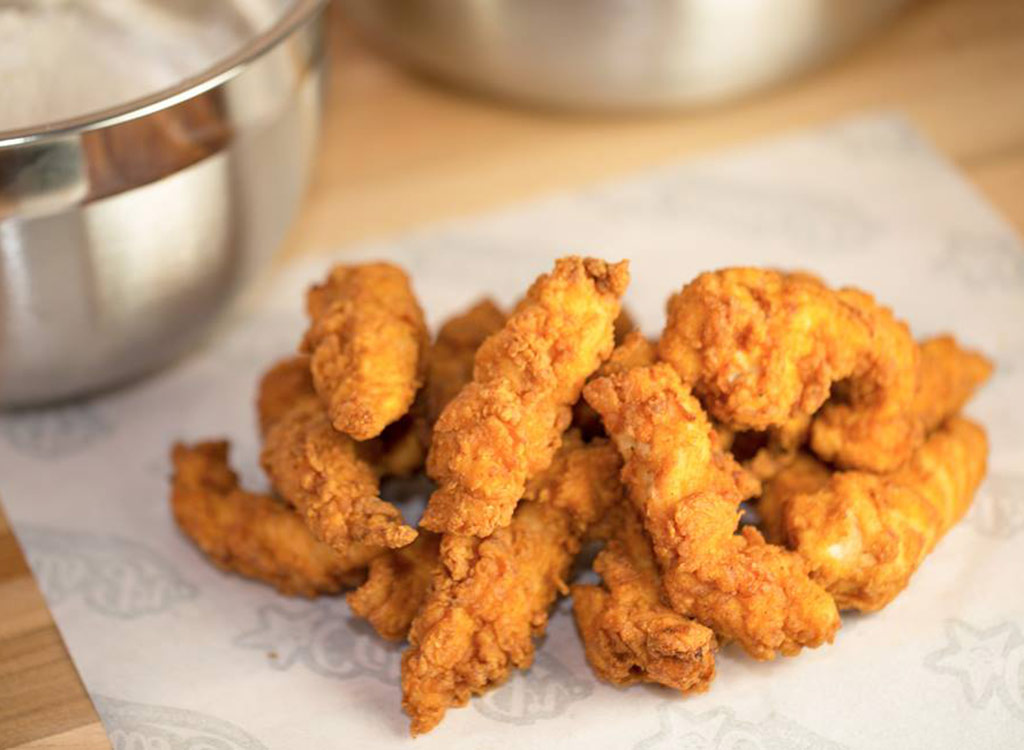 700 calories, 35 g fat (10 g saturated fat), 1,440 mg sodium, 70 g carbs, 29 g protein
While the chicken tenders meal is the best all-star option, it still clocks in an alarming 1,440 milligrams of sodium and is the least of all evils in this case. The 700-calorie and 70-gram carb counts aren't ideal either, but it's much better than the other meals that have as many as 1,320 calories and 2,850 milligrams sodium.
The Best Breakfast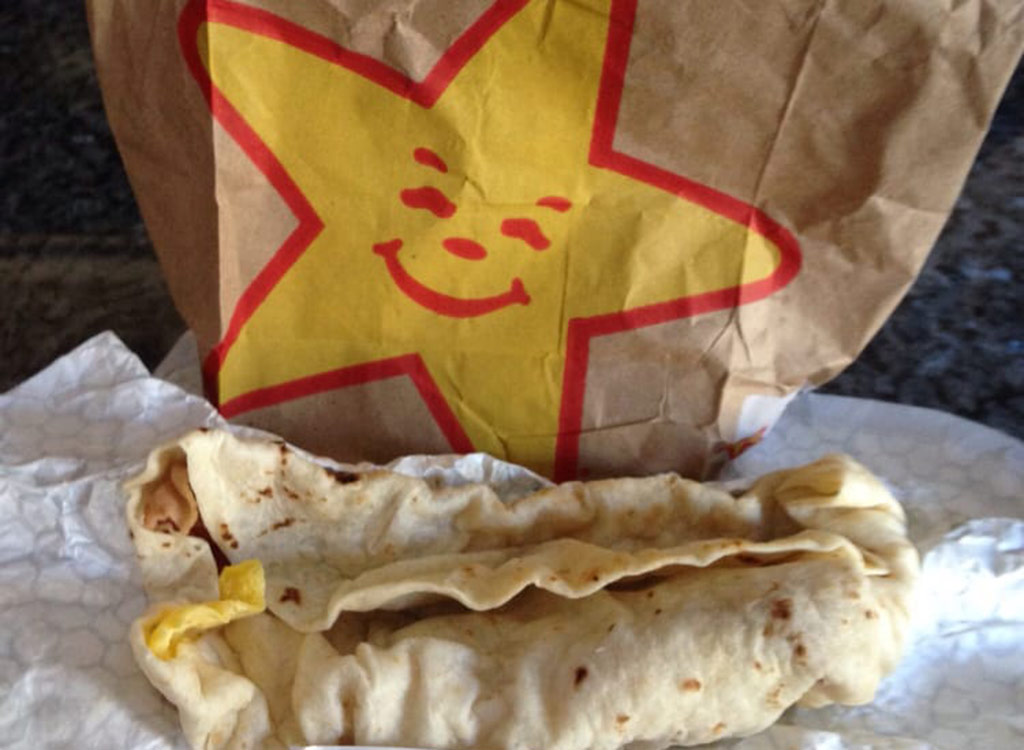 570 calories, 35 g fat (12 g saturated fat), 1,000 mg sodium, 32 g carbs, 29 g protein
Again, another simple option is the best meal on the menu. This wrap is filled with bacon, scrambled eggs, and cheddar cheese and has the best ratio of calories to fat and carbs to protein.
"But there is more protein here than you need. Overeating anything—even protein—can cause your body to store that excess as fat," Ujoatu points out. "The average person only needs about 50 grams per day." And even though this contains the least amount of sodium (still a high of 1,000 milligrams!) of all the items on the morning docket, it's still excessive. "That's definitely very high in salt for any meal but especially a small breakfast," she emphasizes. Removing the bacon would cut this down drastically, by over 300 milligrams.
The Best Salad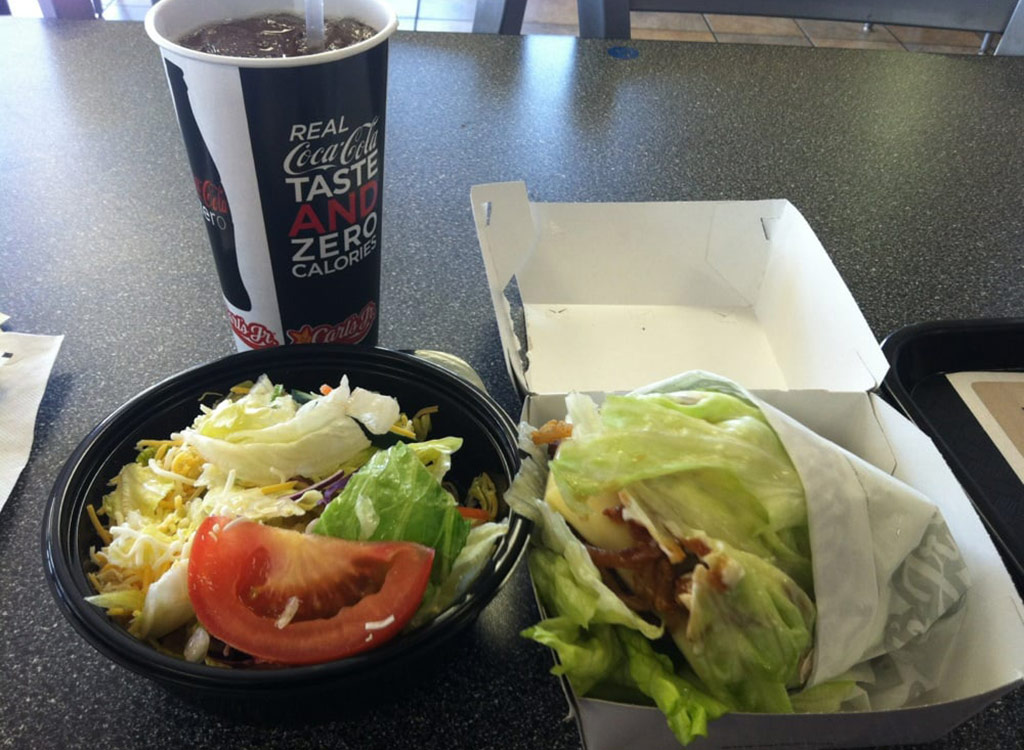 140 calories, 7 g fat, 240 mg sodium, 15 g carbs, 6 g protein
A mix of iceberg lettuce, red onion, tomatoes, shredded cheese, and croutons makes this fairly nutritious and smart choice. Though Ujoatu recommends leaving off the croutons and cheese to cut back on sodium. Still, adding a grilled chicken breast would add extra protein and make for one of the healthiest possible meals on the menu. Just be sure to choose your dressing wisely. The low-fat balsamic is best, with just 35 calories (compared to 220 in the house dressing) and only 1.5 grams fat—just use it sparingly since you'll be adding an additional 480 milligrams sodium as well. "It's easy to only look at the fat content and think that vegetables are always the best choice, but you're still getting a bit too much salt with this," Ujoatu points out.
The Best Side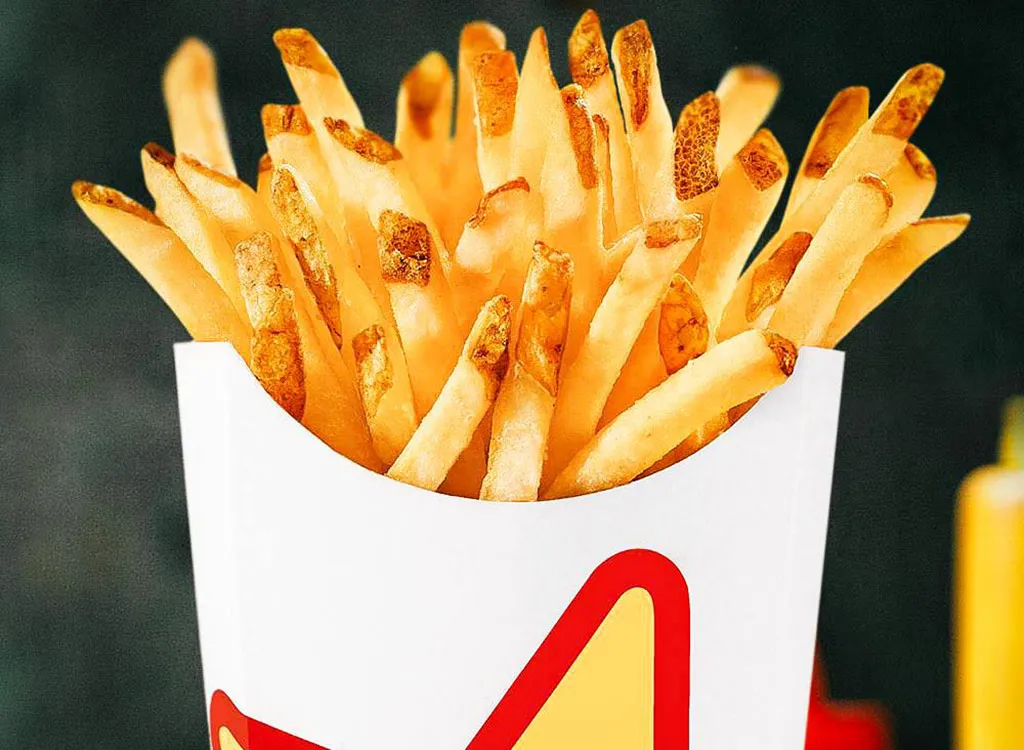 160 calories, 17 g fat (2 g saturated fat), 220 mg sodium, 39 g carbs (1 g sugar)
Surprisingly, if you're going to order a side at Carl's Jr. that's not a salad, fries are your best bet. Just make sure you stick with a small. "I often suggest ordering from the kids' menu so that you can fulfill a craving with a smaller portion," Ujoatu says. "Because sometimes you're feeding your eyes, not your stomach." In this case, a small fry is more nutritionally sound than the fried zucchini on the menu. "Zucchini is naturally a really great, low-calorie food," she explains. "But now that it's been fried and salted, it's got as many calories as a scoop of ice cream. And half of the calories here are coming directly from fat. So you may as well get the fries."
The Best Better-For-You Option
Low-Carb Charbroiled Chicken Club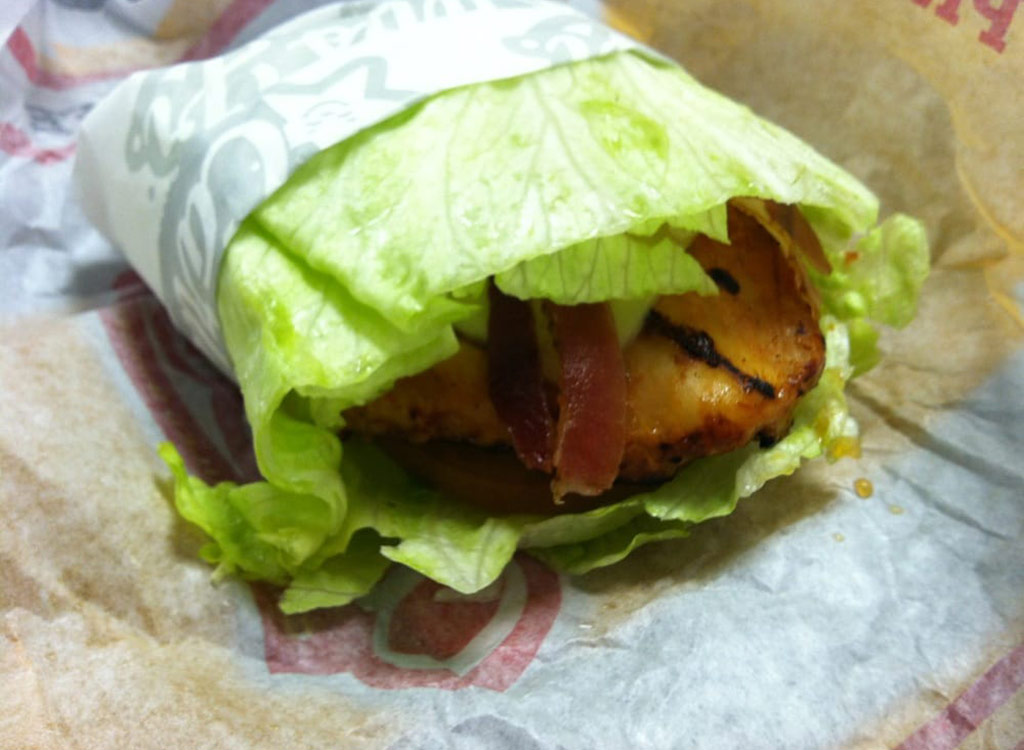 6254a4d1642c605c54bf1cab17d50f1e
370 calories, 24 g fat (7 g saturated fat), 950 mg sodium, 8 g carbs, 30 g protein
At first glance, that 370 calorie count seems pretty awesome. Then you see that 220 of those calories are coming from fat, a whopping 60 percent. And then there's that creeping sodium level, which is three times higher than the amount recommended for a single meal (about 300mg). But, as Ojoatu points out, why do we need meat on top of meat? "You already have chicken, and something's gotta give here. Just by taking off one slice of bacon, you can cut that sodium down to 750 milligrams," Ojoatu says. "If you take off both, you push it down to 580 milligrams, which is much more manageable."
The Best Desserts at Carl's Jr.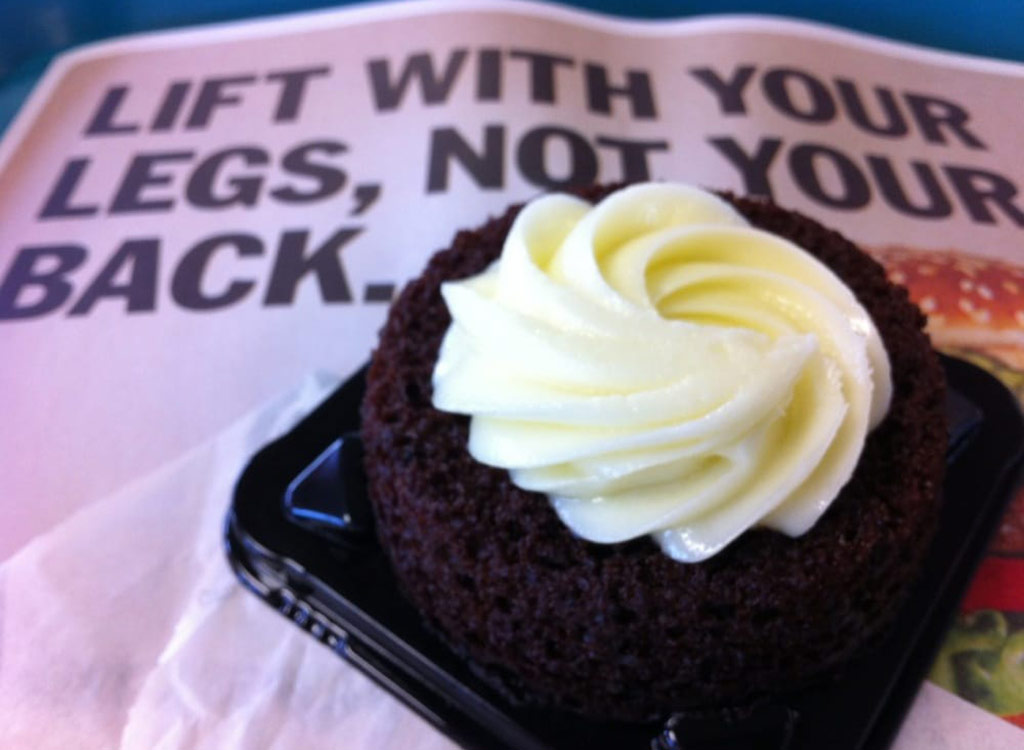 290 calories, 11 g fat (3.5 g saturated fat), 240 mg sodium, 46 g carbs, 35 g sugar
This rich, chocolate cake came out on top as the best dessert choice, beating out seemingly innocent chocolate chip cookies. With 30 fewer calories and 6 grams less fat than both the two cookies and a strawberry-swirled cheesecake slice, it's a smart-ish choice. However, it still contains more salt than our liking. "The goal is to be under or at 300 milligrams of sodium for an entire meal, so this is a little too much for dessert," Ojoatu says. "But anything that's commercially made is expected to be high in salt and fat." That said, choosing this petite treat over a fat-laden milkshake is a great choice in our book.
The Worst Burger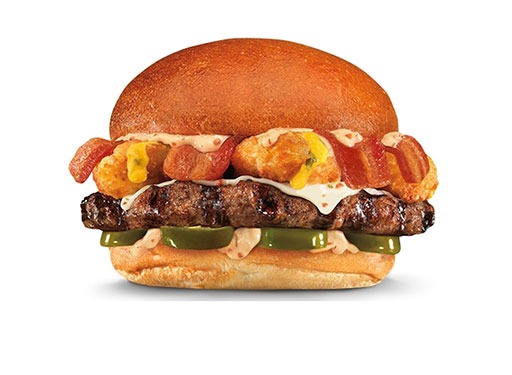 1,180 calories, 73 g fat (29 g saturated fat), 2,210 mg sodium, 74 g carbs, 55 g protein
Welp, this baby is aptly named. The "devil" burger is jam-packed with calories, an exorbitant amount of fat, and sky-high levels of sodium. Thanks to uber-indulgent toppings like fried jalapeno poppers, bacon, pepper-jack cheese, and bacon-ranch sauce, this charbroiled burger clocks in more calories, fat, and sodium than you should consume in an entire day. "I don't believe someone can actually eat this. And all those values don't even include a side of fries or drink," Ojoatu scoffs. "This is absolutely crazy." Whatever you do, avoid this burger at all costs—it's a total pit.
The Worst Chicken
Bacon Swiss Crispy Chicken Filet Sandwich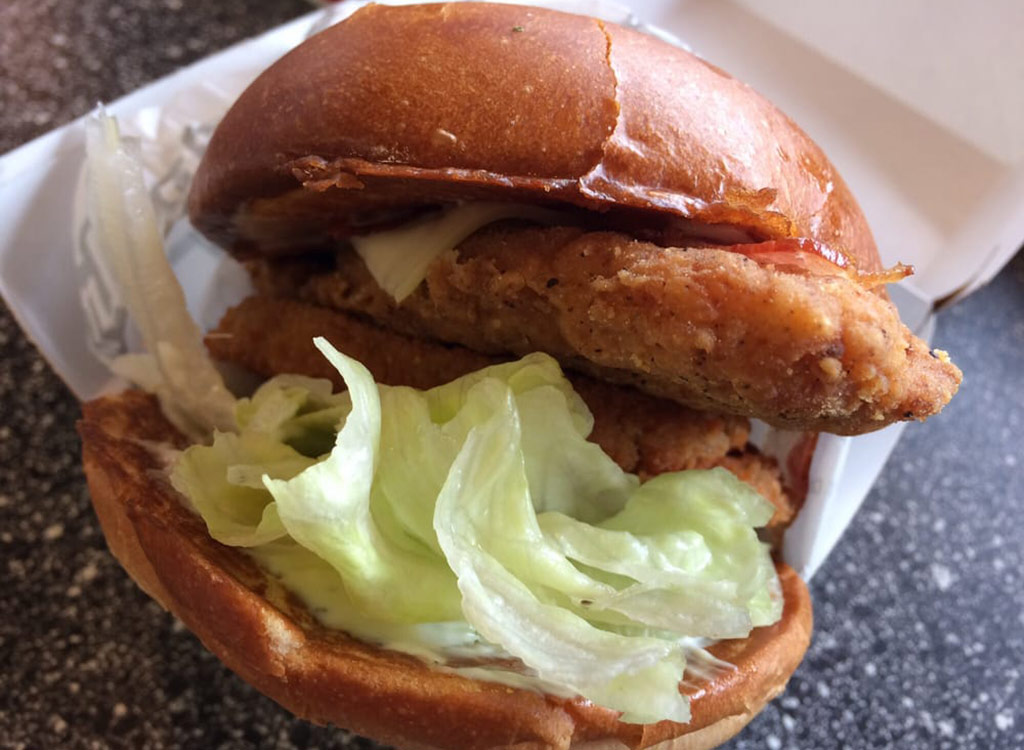 770 calories, 41 g fat (11 g saturated fat), 1,980 mg sodium, 58 g carbs, 42 g protein
Sorry, bacon lovers: Your favorite crispy addition is racking up far too much salt on that fried chicken filet. Jacked up with nearly a whole day's worth of sodium and a whopping 41 grams of fat, this chicken sandwich just isn't worth it. Instead, choose the Sante Fe-style charbroiled chicken (560 calories, 27 g fat) on a wheat bun—but hold the cheese. "Another important thing to keep in mind is that many kinds of cheese, like American and Swiss, especially in the fast-food world, are highly processed and contain much more salt than fresh cheeses," Ojoatu explains. "Cut back to one slice or none at all."
The Worst All-Star Meal
Double Cheeseburger & Spicy Chicken Sandwich All-Star Meal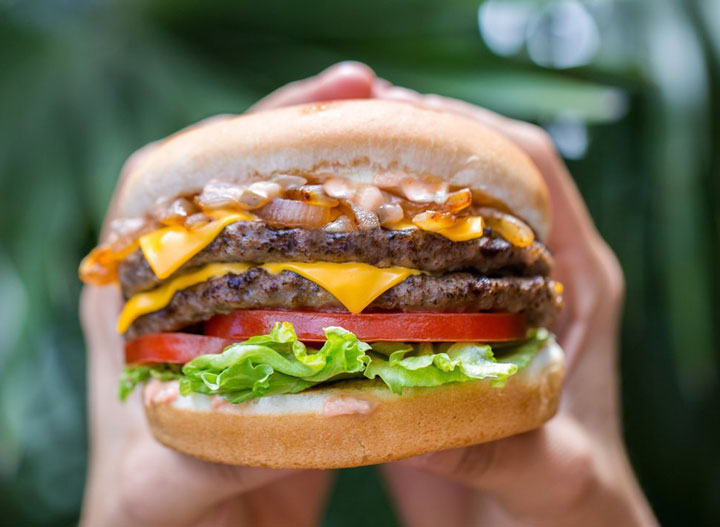 1,320 calories, 70 g fat (7 g saturated fat), 2,370 mg sodium, 79 g carbs, 26 g protein
Holy heck, we don't even know where to start with this one. The astronomical amount of fat? The ridiculous calorie count? Or perhaps the thirst-inducing sodium level? This combo is the definition of over-the-top, loaded with a double-stacked cheesy burger, spicy fried chicken sandwich, fries, and a chocolate chip cookie. It stands on its own with more calories and sodium than you should have in an entire day, and more fat and carbs than we even want to think about. Avoid it at all costs!
The Worst Breakfast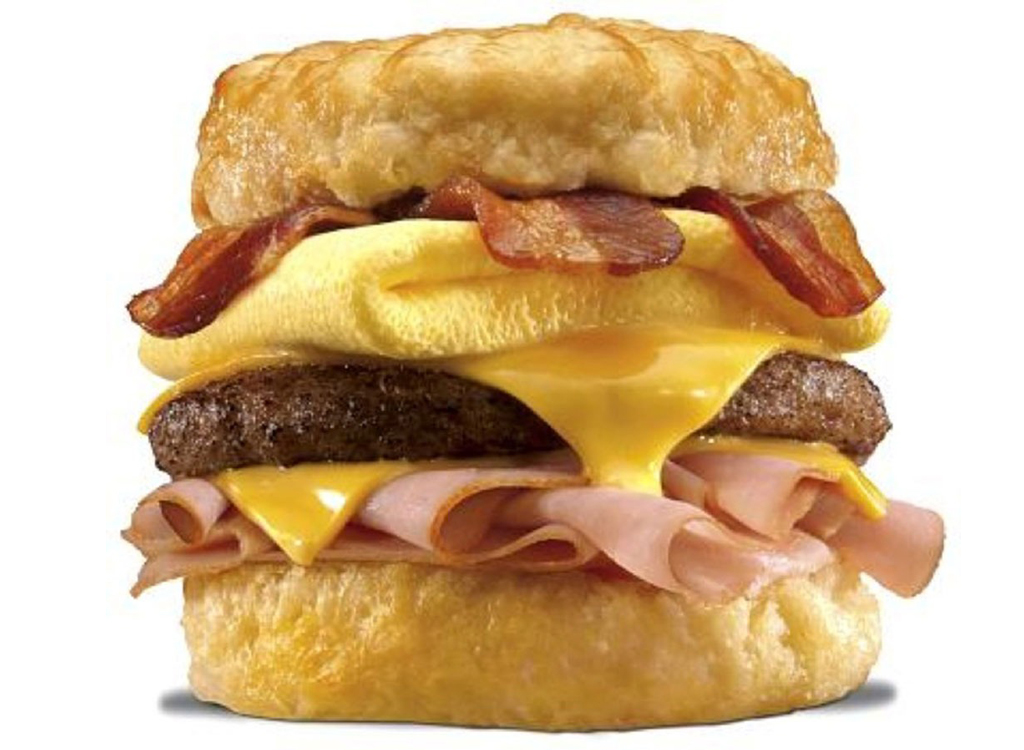 820 calories, 59 g fat (24 g saturated fat), 1,930 mg sodium, 39 g carbs, 32 g protein
"This is definitely a no-no food. There's no need to order this—ever," Ojoatu declares. Nearly toppling over with sausage, bacon, scrambled eggs, and both Swiss and American cheese, this biscuit sandwich will virtually top out your suggested calorie, fat, and sodium consumption for the day—all in one morning meal. That's insane. Steer clear of this truly monstrous creation.
The Worst Better-For-You Option
Veg-It Guacamole Thickburger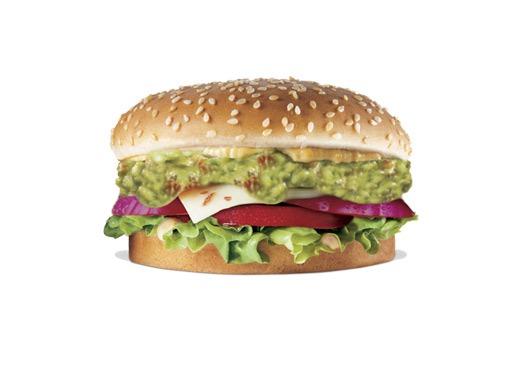 670 calories, 46 g fat (10 mg saturated fat, 0.5 g trans fat), 1,330 mg sodium, 56 g carbs (4 g fiber, 13 g sugar), 14 g protein
Wow, what a trap! Sans burger, you'd think this sandwich would be full of fresh, nutritional veggies and healthy fat-packed guacamole. Sure, it's only 670 calories, but this sandwich is totally oversaturated with tons of sodium. "Just because you see 'low carb' or 'guacamole' or even 'lettuce wrapped' or 'zucchini,' it doesn't mean it's actually a good choice," Ojoatu explains. This salt bomb of 1,330milligrams makes up more than half of your daily recommended value, but what's even more concerning is that 60 percent of those calories are all from fat. Yikes.
The Worst Side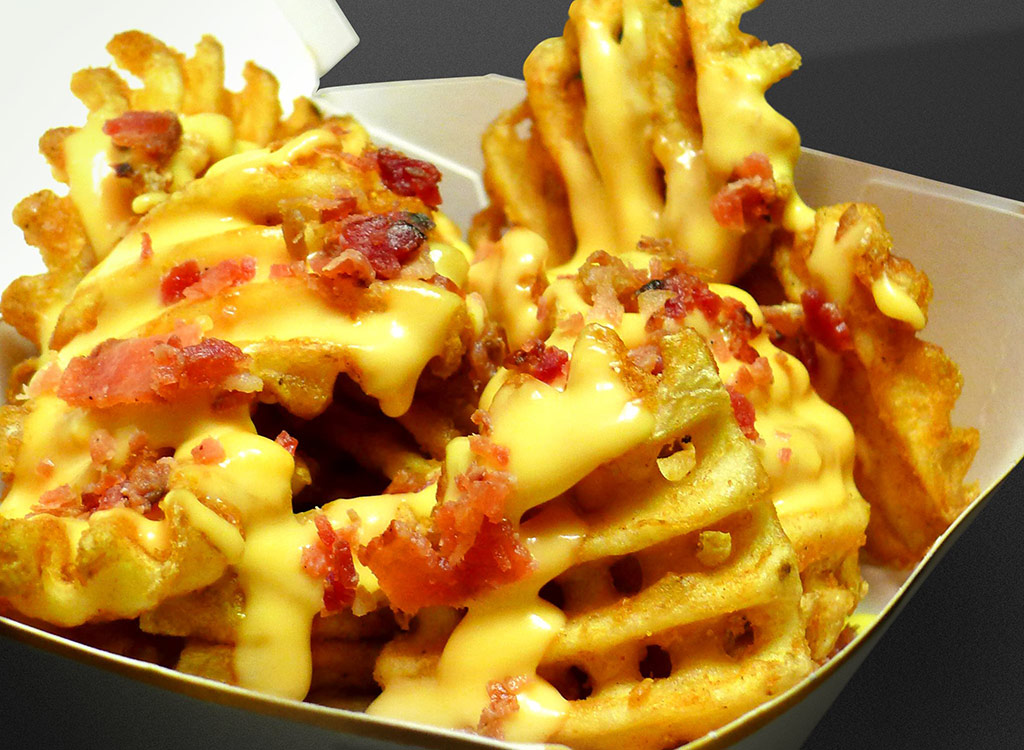 450 calories, 29 g fat (5 g saturated fat), 900 mg sodium, 42 g carbs, 5 g protein
While waffle fries are always a favorite, these bad boys are serious salt catchers. A small order of just a few ounces is packed with a startling 900 mg. "Salt on fries is always in question," Ojoatu says. "It's up to whoever is salting them at the restaurant. There could actually be much more salt in your order than what's reported on the site because these values are based on an average of how they're prepared."
The Worst Dessert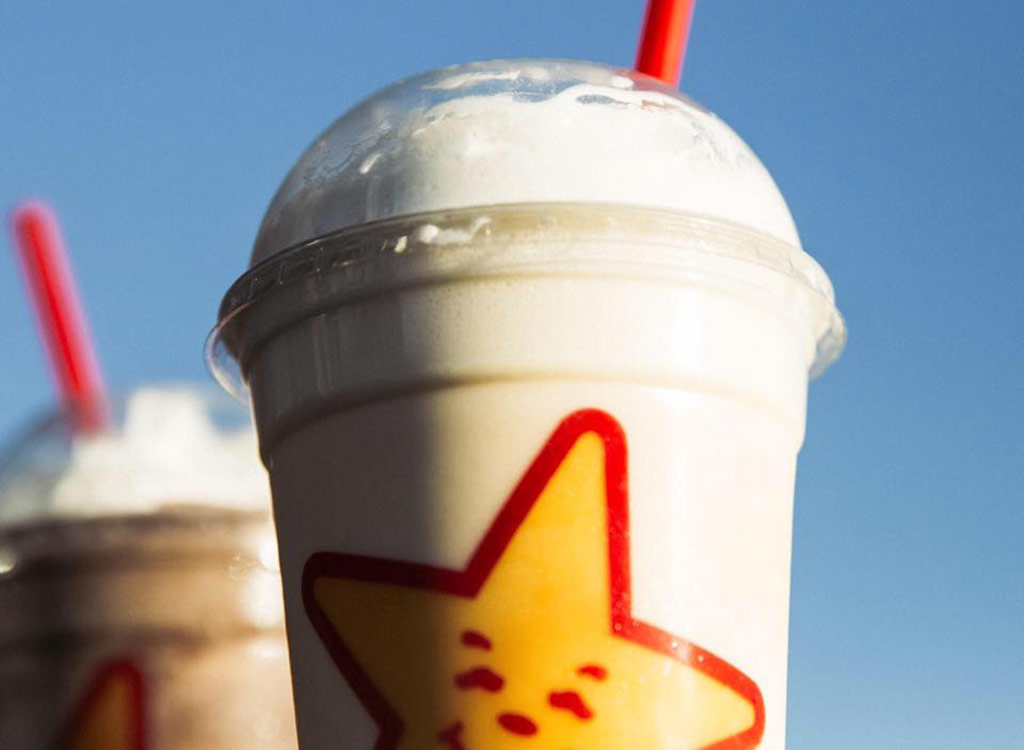 810 calories, 38 g fat (9 g saturated fat), 270 mg sodium, 33 g carbs (88 g sugar), 5 g protein
Caution: This is an atomic bomb of sugar. Brimming with a mind-boggling 88 grams (that's over 40 teaspoons!) of sugar, this candied milkshake is a serious disaster waiting to happen. "Most milkshakes are using the heaviest dairy products, so that's where all that fat is coming from," Ojoatu explains. "But then you add the Jolly Ranchers and the whipped cream, which are solely fat and sugar. This is an avoid-at-all-costs item." You heard the lady, folks.