The Most Popular Chain Restaurants—Ranked by Health!
Find out who flunked and who graduated with top honors as we dish out grades in our ranking of these popular chain restaurants.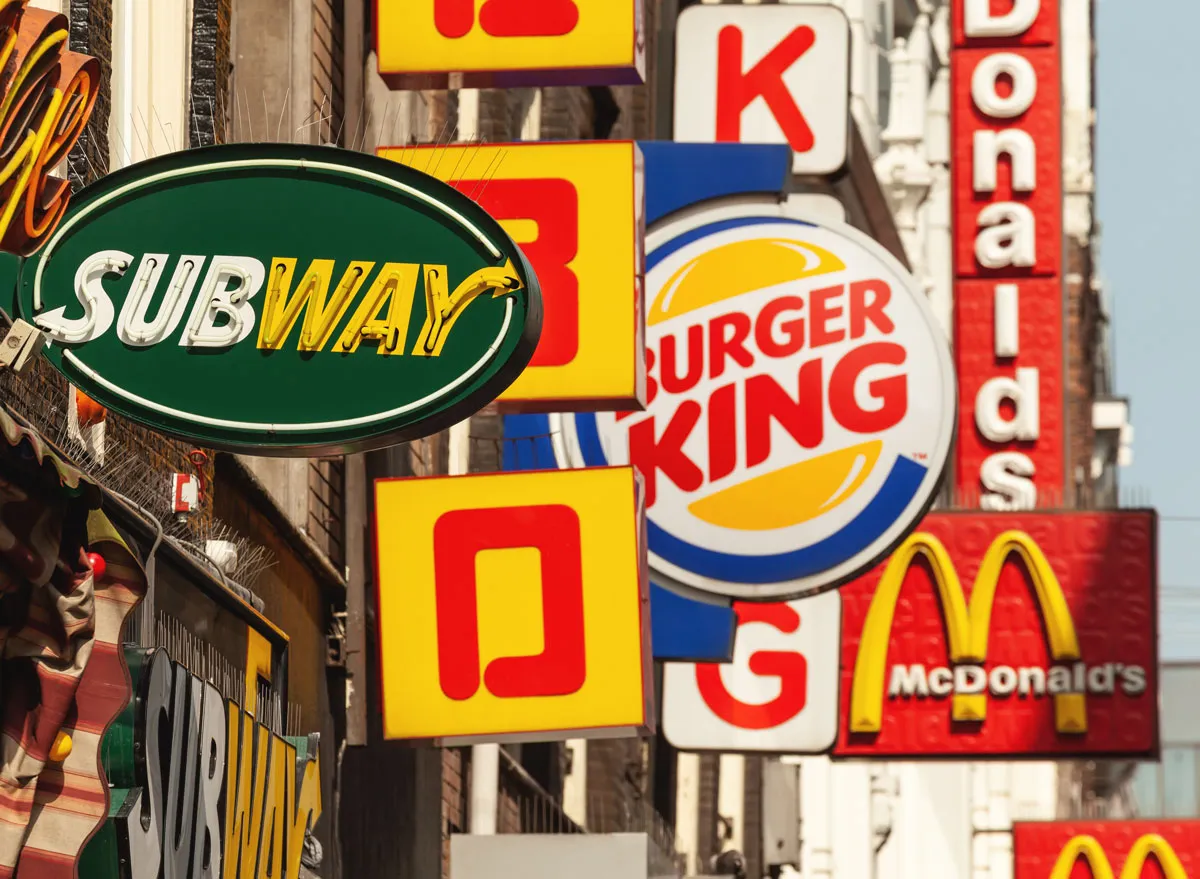 You don't have to eat at home for every meal when you're on a diet, but determining which chain restaurant to visit can keep your weight loss success from stalling. Depending on your choice of dining establishment, you may not have the proper tools to navigate through a minefield of belly bombs, missiles that can accelerate aging, and antibiotic-ridden proteins that make you sick and fat.
That's why Eat This, Not That! put 12 popular chain restaurants under the nutritional microscope. We graded each chain restaurant based on four standard metrics to determine which dining establishment would be safest for your waistline and for your overall health. Did your favorite restaurant make the grade?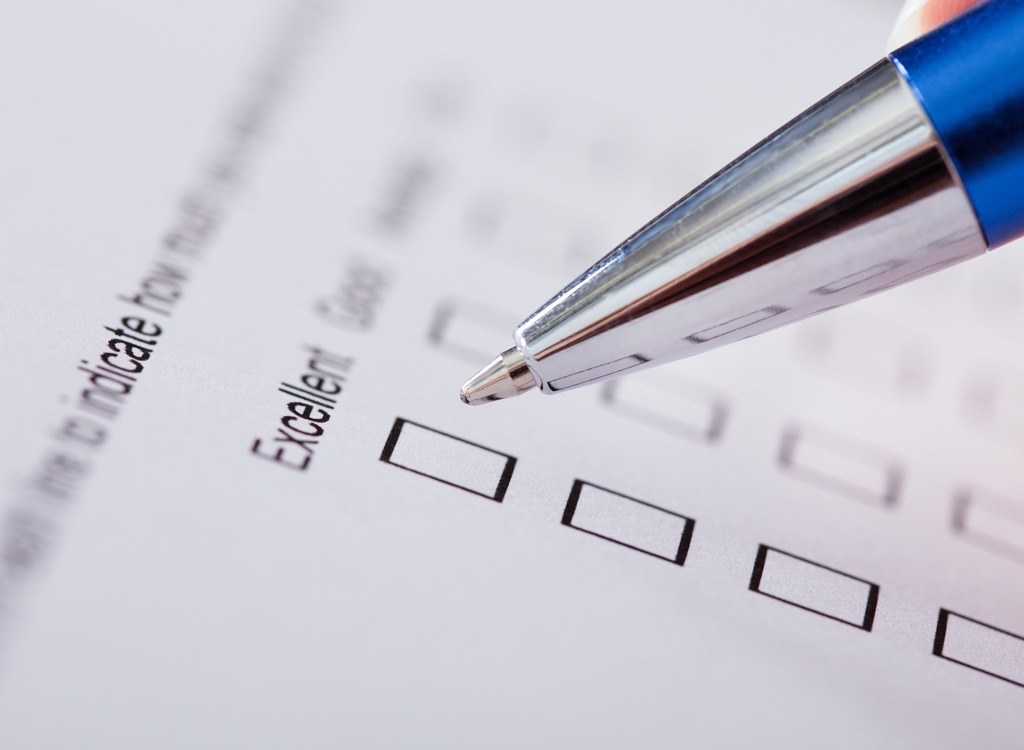 Here are the four metrics we used to determine each chain's final grade.
Stance on Antibiotics
We borrowed the grades from the 2018 report, Chain Reaction IV, Burger Edition put out by the Natural Resources Defense Council (NRDC), the Center for Food Safety, Consumer Reports, and several other organizations. It ranks the nation's fast-food and fast-casual restaurant chains on "their antibiotics use policies and practices for sourcing meat and poultry." Advocates say the continual use of antibiotics significant to human medicine in livestock helps create bacteria that's immune to standard antibiotics. The potential result: The next time you get really sick, there may no longer be a drug that can make you healthy. In fact, the CDC estimates antibiotic-resistant bugs account for 23,000 human deaths and 2 million illnesses in the United States every year.
Quality of Ingredients
Fast food shouldn't be synonymous with chemicals and preservatives. These brands are serving millions of people each day, so it shouldn't be hard to go through fresh foods at a rapid pace. We'd like to see fresh, simple ingredients from real food in these dishes, and any restaurant still using preservatives, artificial ingredients, or bad-for-you additives received deductions.
Healthy Options & Customization
We evaluated the presence (or absence) of healthy offerings, along with the ability to customize your order to fit your diet. We also took into consideration what the proportion of healthy offerings to unhealthy options is.
Stance on Antibiotics: C. Applebee's significantly improved from its usual "F" to a "C" because they source some chicken and pork that's been raised without medically important antibiotics. Furthermore, this boost in rating is also thanks to Applebee's stepping up to require annual third-party auditing of their suppliers to ensure antibiotics standards are met, and intend to publicize that progress.
Quality of Ingredients: F Because Applebee's no longer discloses the ingredients they use in each dish, we can't comment on their quality.
Healthy Options: F. Applebee's no longer offers "Lighter Fare" options, but perhaps worst of all is the fact that the rest of the menu is straight up bad for you. We calculated the average nutrition information for each menu section on Applebee's menu—ranging from their salads and burgers to fajitas and ribs. No main menu section averages less than 1,000 calories or 2,000 milligrams of sodium, which means the likelihood of you consuming nearly an entire day's worth of sodium and half a day's worth of calories in a single meal is high. In our report on Applebee's nutrition, we found that a significant percentage of their dishes contain more than your entire day's recommended allowance of fat, saturated fat, trans fat, sodium, and sugar.
Final Grade: D-
Trying to find a healthy dish on Applebee's menu is like walking through a diet-destroying minefield. You'll want to keep your trips to this neighborhood grill to a minimum if you're watching your weight.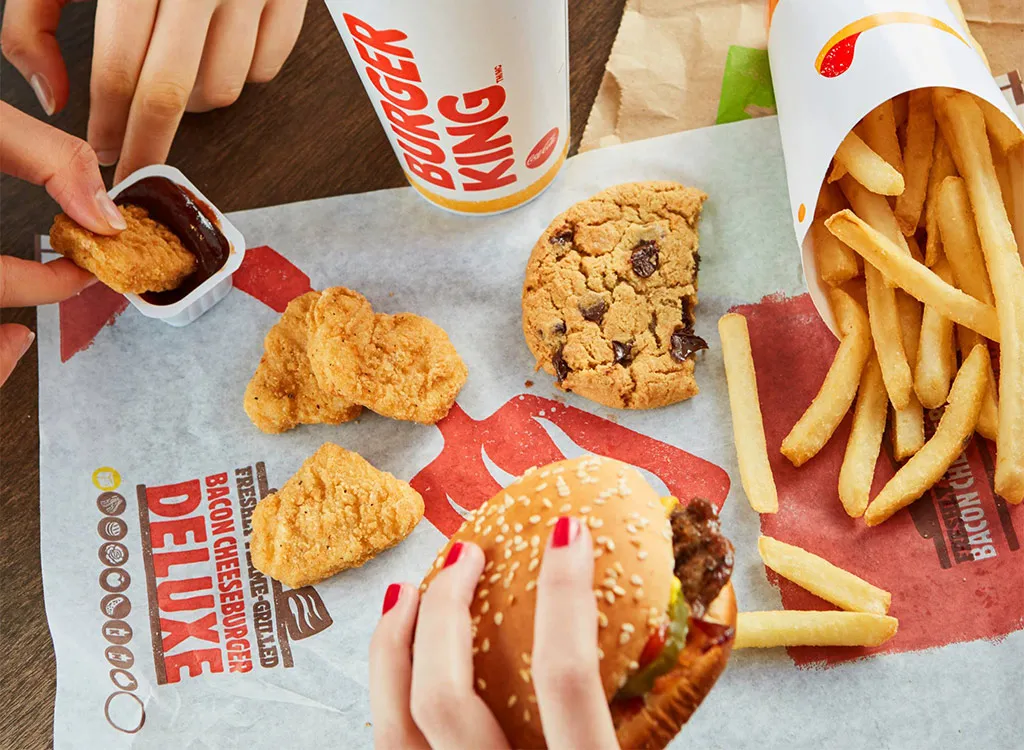 Stance on Antibiotics: F. Despite pledging to remove antibiotics from its chicken supply by 2018, Burger King has not reported on their progress since making the pledge. Because of their lack of transparency, the Chain Reaction IV report downgraded BK from a "D" grade to an "F."
Quality of Ingredients: D-. Hydrogenated oils, artificial flavors, preservatives, and inflammatory fats are among the ingredients found in nearly every menu item.
Healthy Options: D+. Almost every sandwich has an extra 90-calorie smattering of fat from a heaping serving of soybean-oil-based mayonnaise. There are only a few salads (many of which come with calorically dense dressings). But there are some simple burger options that ring in at under 400 calories.
Final Grade: D-
The only way you can eat at BK and still wear skinny jeans is a two-word strategy: NO. MAYO. Our favorite picks are in this exclusive guide: Every Burger King Menu Item—Ranked!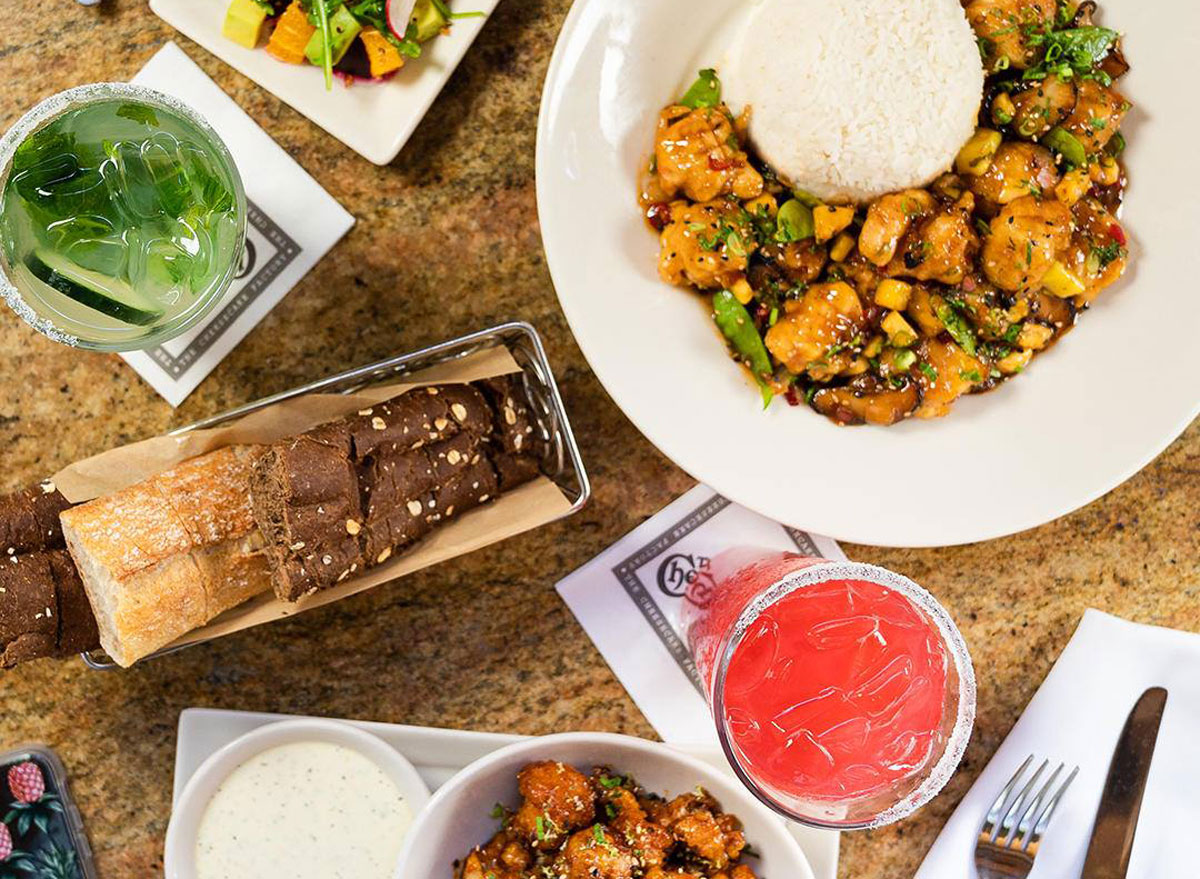 Stance on Antibiotics: F. So far, Cheesecake Factory has not mentioned any plans to reduce antibiotic use.
Quality of Ingredients: D-. We see that they use what looks to be whole food ingredients (avocado! Tomatoes! asparagus!), but because the Cheesecake Factory doesn't disclose their ingredient or nutritional information, we couldn't give them a better grade.
Healthy Options: D. The Cheesecake Factory prides themselves on having the "world's largest menu" of more than 250 dishes, and they also happen to have the world's largest portions. (Which is probably why their dishes claim 10 of the top 21 spots of the highest calorie meals in America.) The only redeeming part of the menu is SkinnyLicious—their collection of 50 dishes with 590 calories or less. Even their "Super Foods" section, which touts clean ingredients with superpowers, can topple over 1,000 calories. Because of the super-huge portions, The Cheesecake Factory basically fails in this category.
Final Grade: F
The Cheesecake Factory is the least diet-friendly restaurant on the planet because its humongous portions could feed a family of five with just one dish. The best strategy for a visit to the Factory? Read up on our dietitian-approved orders on The Cheesecake Factory menu to start. And if you really want to go for your favorite dish, ask your waiter to box up half your meal before it even reaches the table.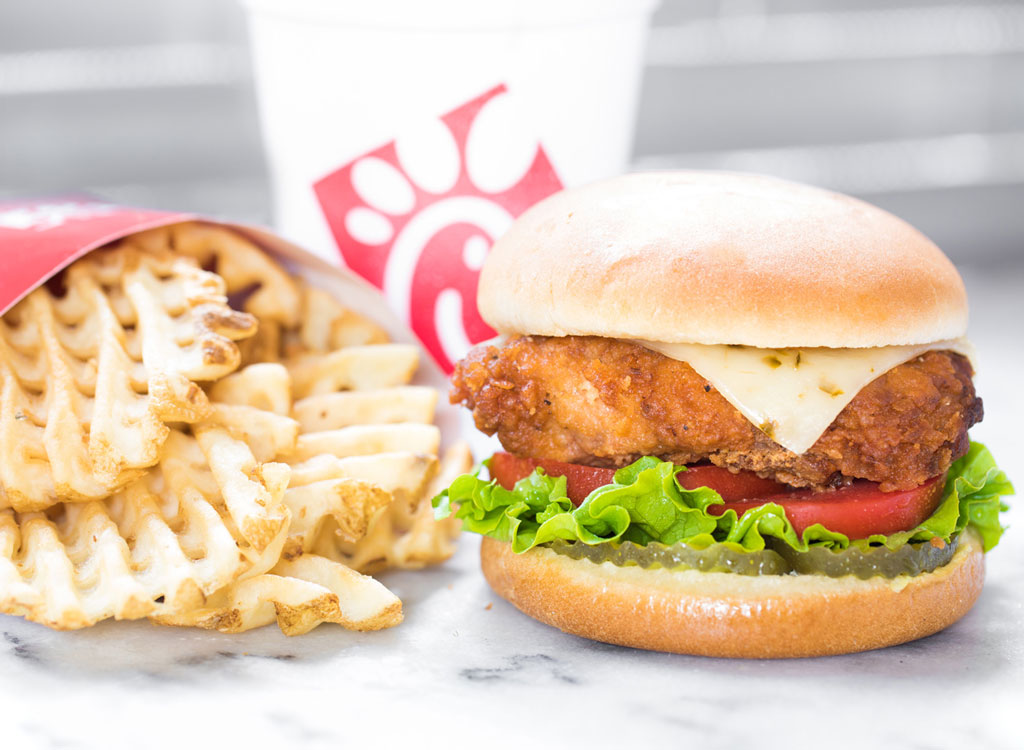 Stance on Antibiotics: A. The chicken chain gets an "A" grade because it is on track to reach its "No Antibiotics Ever" standard by the end of 2019.
Quality of Ingredients: B-. Chick-Fil-A prides itself on its fresh-squeezed lemonade, handmade biscuits, and chicken breaded and seasoned to order. You know some ingredients are fresh, but the chain still uses some questionable ingredients like vegetable oil shortening, "natural butter-type flavor," phosphates, preservatives and nitrites.
Healthy Options: B-. Chick-fil-A ranks among the best of the country's major fast-food establishments, thanks to a line of low-calorie chicken sandwiches and an impressive roster of healthy sides like yogurt parfaits and various salads. That said, they're still purveyors of fried chicken sandwiches and milkshakes which exceed that amount of added sugar you should consume in a day, so we couldn't give them too high of a grade.
Final Grade: B
Steer clear of the breakfast platters and milkshakes and go for the grilled chicken sandwiches or a classic fried chicken sandwich. And sub in a healthy side—a salad or soup— for the standard fried fare.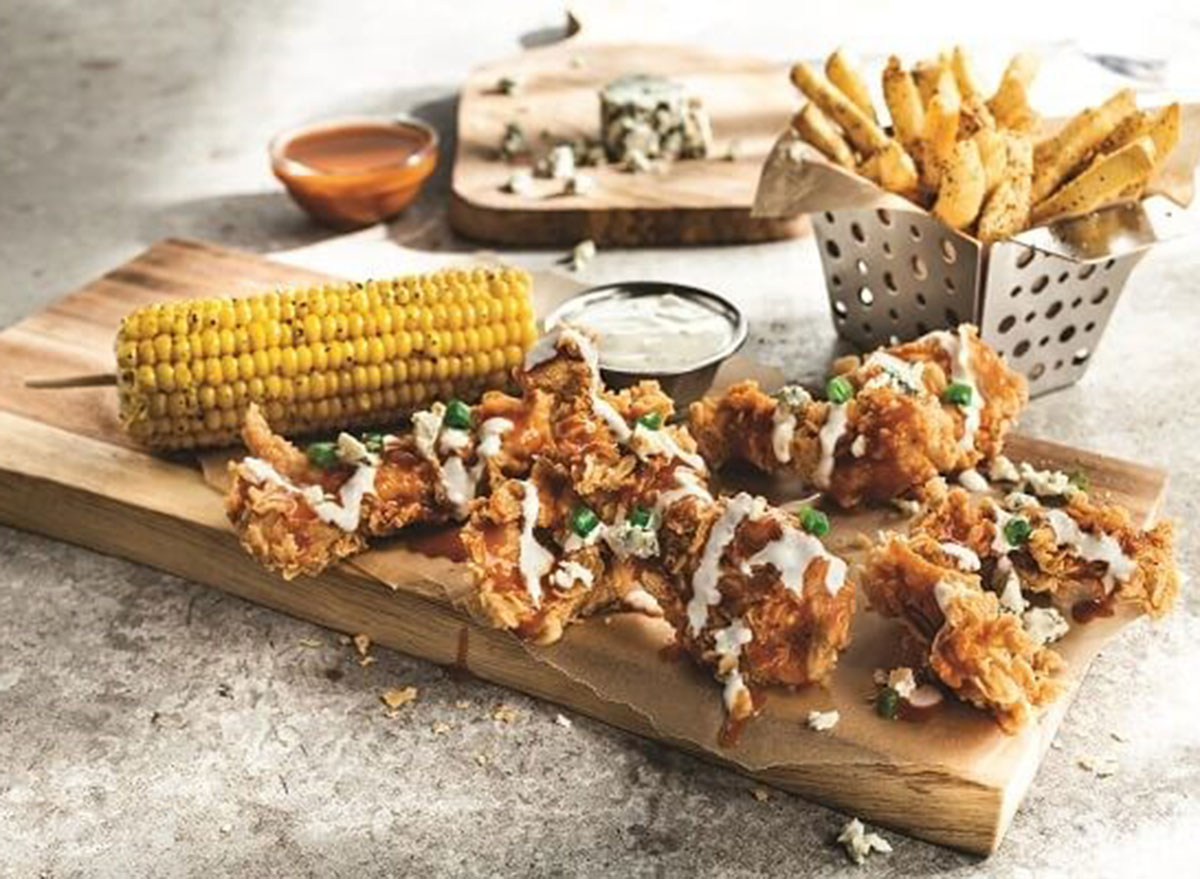 6254a4d1642c605c54bf1cab17d50f1e
Stance on Antibiotics: F. So far, Chili's has not mentioned any plans to reduce antibiotic use.
Quality of Ingredients: D-. We don't know what Chili's uses in its food, so we couldn't give the chain a good grade. That said, there are more whole-food ingredients used in its dishes than you'd find in a fast-food restaurant, so we gave them a passing grade.
Healthy Options: D+. Chili's has a "Guiltless Grill" section with five menu items of 630 calories or less, and the items are pretty well-rounded. (Note that none of the nine salads Chili's offers falls in this "healthier" section, but six of them would qualify.) Plus, their large menu contains sides and soups that aren't exploding with calories. That said, the majority of Chili's dishes are high in calories and many appear on our lists of salads worse than a Whopper, dishes with more fat than a Big Mac, and even has a salad with more than a day's worth of added sugars.
Final Grade: D-
Chili's serves up some of the country's saltiest, fattiest, and most calorie-laden fare. Plus, their "Guiltless Grill" menu is a failed attempt at healthier meals. It has only a handful of options (literally) and a sky-high average sodium count of 1,696 milligrams: 74 percent of your daily value of sodium intake. Don't make dining at this restaurant a daily affair.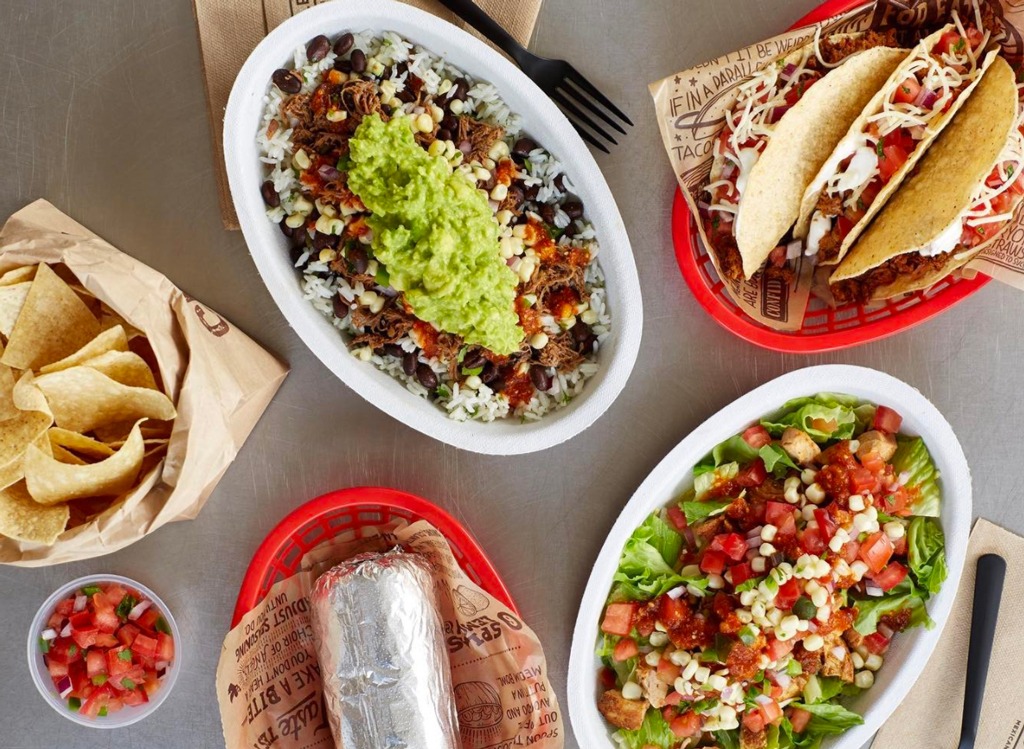 Stance on Antibiotics: A. Chipotle has offered antibiotic-free meat and pork for years (founder Steve Ells has testified before Congress in favor of reducing antibiotics given to farm animals). In response to the report, Chipotle has every right to brag. "While many people are just starting to pay attention to the issue," they said, "we have known for a long time that it is the right thing to do, and we are pleased to see others taking even small steps to curb antibiotic use in livestock."
Quality of Ingredients: A. We've always commended Chipotle for the integrity of its ingredients. As of March 2017, the chain has eliminated artificial ingredients and preservatives from its menu. (They were lurking in the Mexican restaurant's tortilla recipe.) In a press release, Chipotle touted that it's the only "national brand" to introduce a preservative-free menu. On top of being free of nasty additives, Chipotle is GMO-free, most of its dairy products are from "Pasture-Raised" cows, and all of its food is fresh (from farms, not factories). (Anything left over from service one day is tossed or donated.)
Healthy Options: A-. Chipotle is all about customization, and its menu is very flexible. You can order one or two tacos instead of having to get three every time, you can leave out calorie-dense add-ons like sour cream, and you have the option to order your burrito in a bowl rather than in a sodium-heavy tortilla. Our only concern is that portion sizes for the bowl and burrito are still fairly large, and smaller options aren't available.
Final Grade: A
Choose a bowl over a burrito, don't be afraid of leaving leftovers, skip the white rice and sour cream, load on the lettuce, and you'll do just fine. For more guidance, check out Every Dish at Chipotle—Ranked!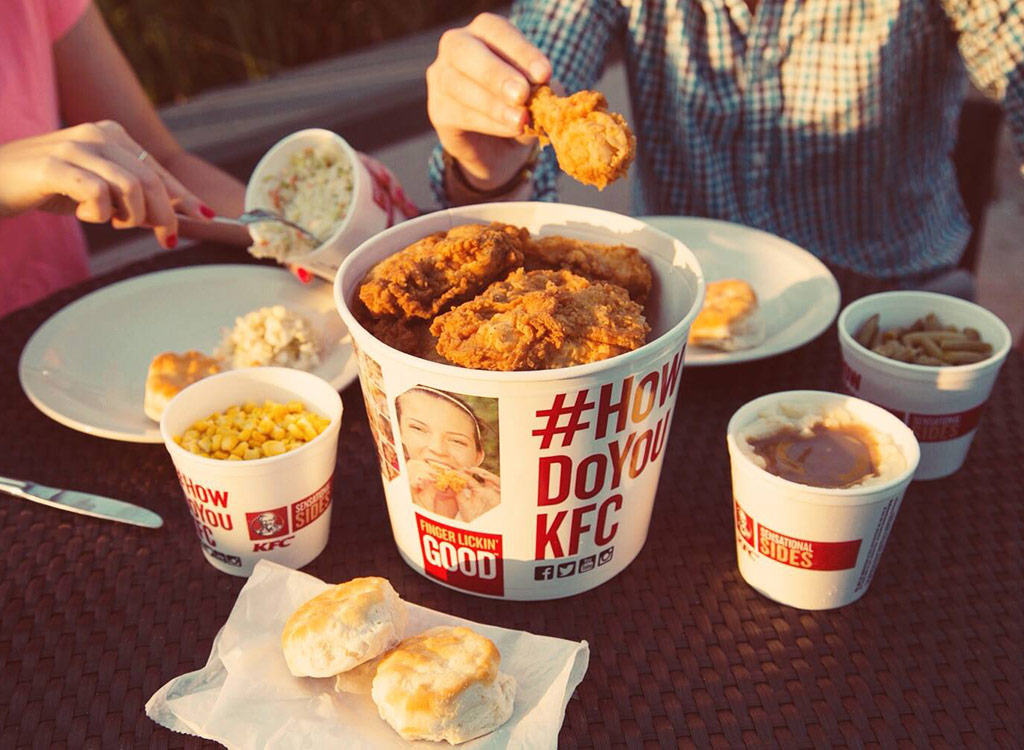 Stance on Antibiotics: B+. Although KFC's website states that they "work closely with suppliers to minimize the use of antibiotics important in human medicine at the farms that supply our restaurants," the brand hadn't made any commitments to that pledge until recently. Now, KFC says it will transition its entire product line, all chicken, to being raised without antibiotics important in human medicine by the end of 2018. Although the Chain Reaction report gave them a "B-," since the report came out, KFC fulfilled that promise and so we bumped them up to a "B+" rating that is consistent with Subway's grade.
Quality of Ingredients: C+. Their menu is 100 percent free of food dyes (excluding third-party products and beverages), artificial colors and flavors from their core products, according to the brand. It sounds like a step in the right direction, but as of now, KFC is still using artificial sweeteners (like sucralose in their BBQ baked beans), caramel coloring, soybean oil, preservatives, MSG alternatives like disodium inosinate, disodium guanylate, liquid margarine, and monoglycerides. So they still have some work to do.
Healthy Options: C-. Surprisingly, KFC has more than a few things going for it. The menu's crispy bird bites are offset by skinless chicken pieces, low-calorie sandwich options, and a host of sides that come from beyond the fryer. However, the bulk of the menu is still deep-fried chicken.
Final Grade: C+
Avoid the bowls and pot pies, and choose your chicken wisely: The difference between an Original Recipe breast and an Extra Crispy is 170 calories; order Kentucky Grilled and you'll save another 100 calories. Then adorn your plate with one of the Colonel's healthy sides.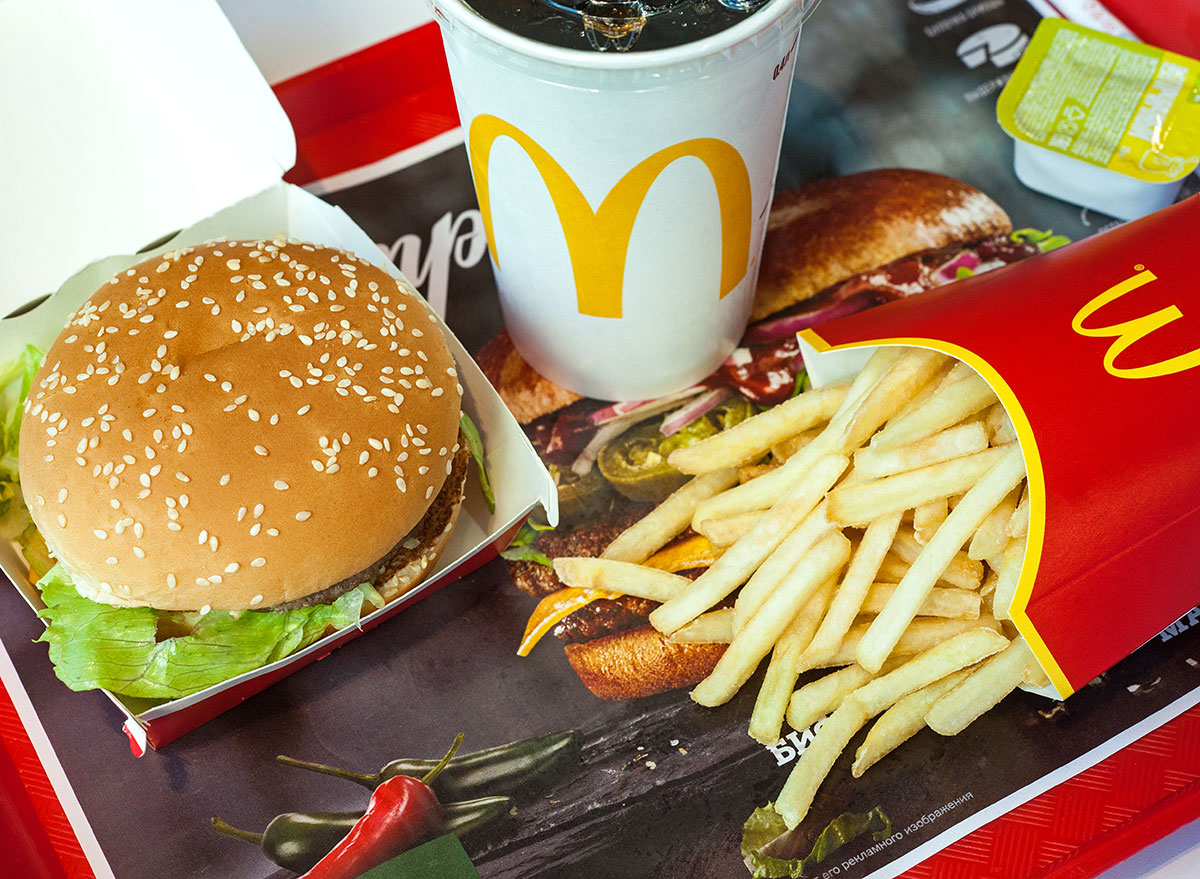 Stance on Antibiotics: B-. McDonald's is the biggest purchaser of beef in the United States, according to the Chicago Tribune. And yet, the fast food chain receives a failing "F" grade in the Burger Edition report because McDonald's does not provide any publicly-available policy governing antibiotic use in their beef supply chain. However, since the report came out, McDonald's made a strong commitment and crafted a policy to reduce medically important antibiotic use in its beef supply starting in 2020, so we bumped the report's overall antibiotic grade from a "C+" to a "B-."
Quality of Ingredients: B-. The trans fats are gone from its oils, the number of calorie bombs has been reduced, the chicken nuggets recipe got a makeover that eschews preservatives, phosphates, and artificial ingredients, and the chain transitioned to using fresh beef for their Quarter Pounders in 2018 (but they will continue to use frozen beef for the other burgers). An ingredient list that still contains preservatives, corn syrups, phosphates, palm oil, palm kernel oil, and mono and diglycerides are keeping this chain from getting the highest marks.
Healthy Options: B-. The world-famous burger baron has come a long way since the publication of Fast Food Nation—at least nutritionally speaking. McDonald's may have trimmed the menu of their healthy offerings (killing the McWrap, Chicken Selects, and many salad items), but it is focusing on improving what's left. Its breakfast menu (a favorite now that it's served all day) offers many well-rounded items, and it serves many low-calorie burgers. Still, too many of the breakfast and lunch items top 500 calories, the dessert menu is a total mess, and the McCafe menu is hit or miss.
Final Grade: B-
We're pleased with the direction of McDonald's. This is no longer an "avoid at all costs" fast-food joint anymore. See how the entire menu stacks up in our exclusive report: Every Menu Item At McDonald's—Ranked!.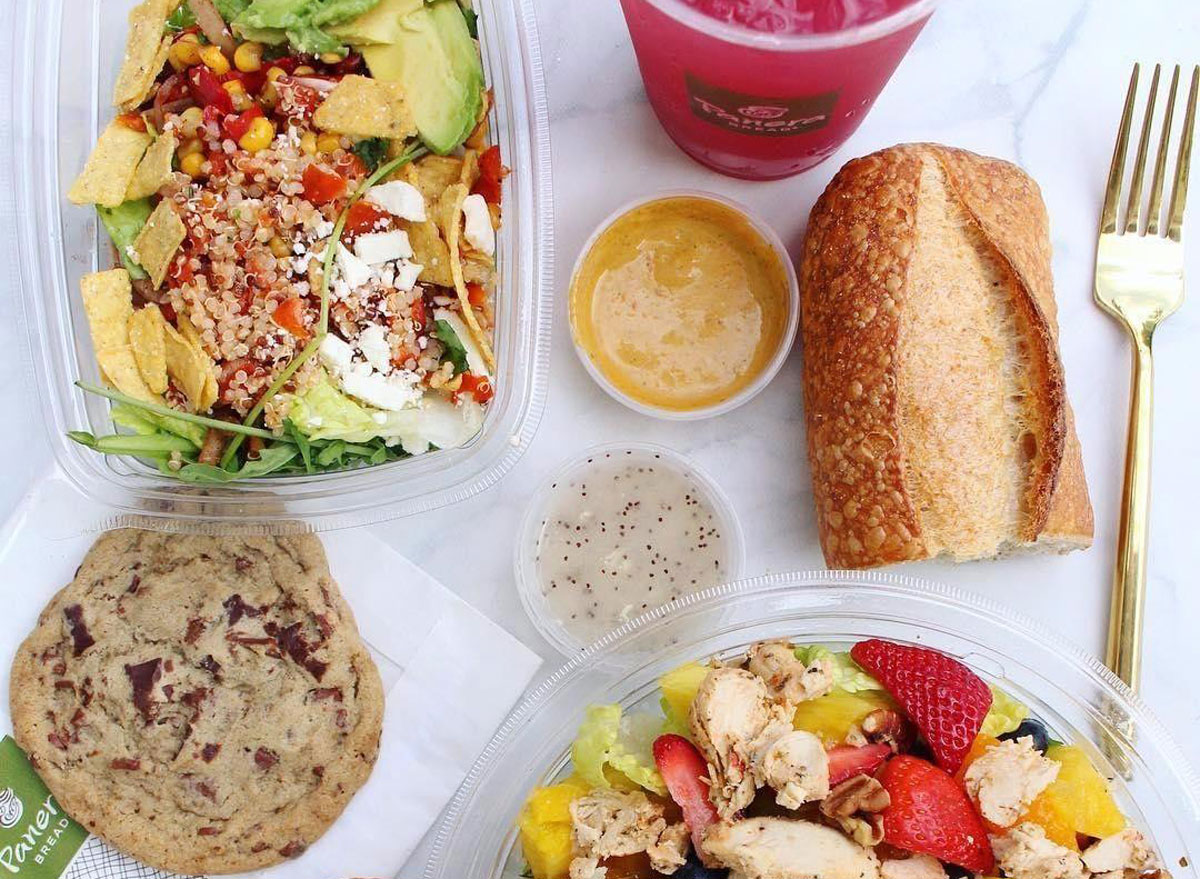 Stance on Antibiotics: A. Armed with a new tagline, "Food as it should be," Panera touts that it serves chicken, pork, and beef that are antibiotic-free.
Quality of Ingredients: A. As of January 2017, Panera's menu is 100 percent free of artificial flavors, preservatives, sweeteners, and colors from artificial sources. They were one of the first chains to dispose of artery-clogging man-made trans fats, and they're pioneers of offering clean food, making healthy choices easy. In March 2017, Panera became the first national restaurant chain to label added sugar alongside calorie information for every beverage it serves.
Healthy Options: A-. Their menu features a roster of mostly great salads and soups, but the sodium count of many of these offerings can soar far beyond 1,250 milligrams per serving (or about half of the recommended sodium intake per day). If you're watching your sodium, at least Panera always offers the option to get most dishes in a half portion.
Final Grade: A
You can feel assured that your diet likely won't be thrown off course if you stop at Panera. Find out how your favorite stacks up, nutrition-wise, by checking out our exclusive report, Every Soup, Sandwich & Salad at Panera—Ranked.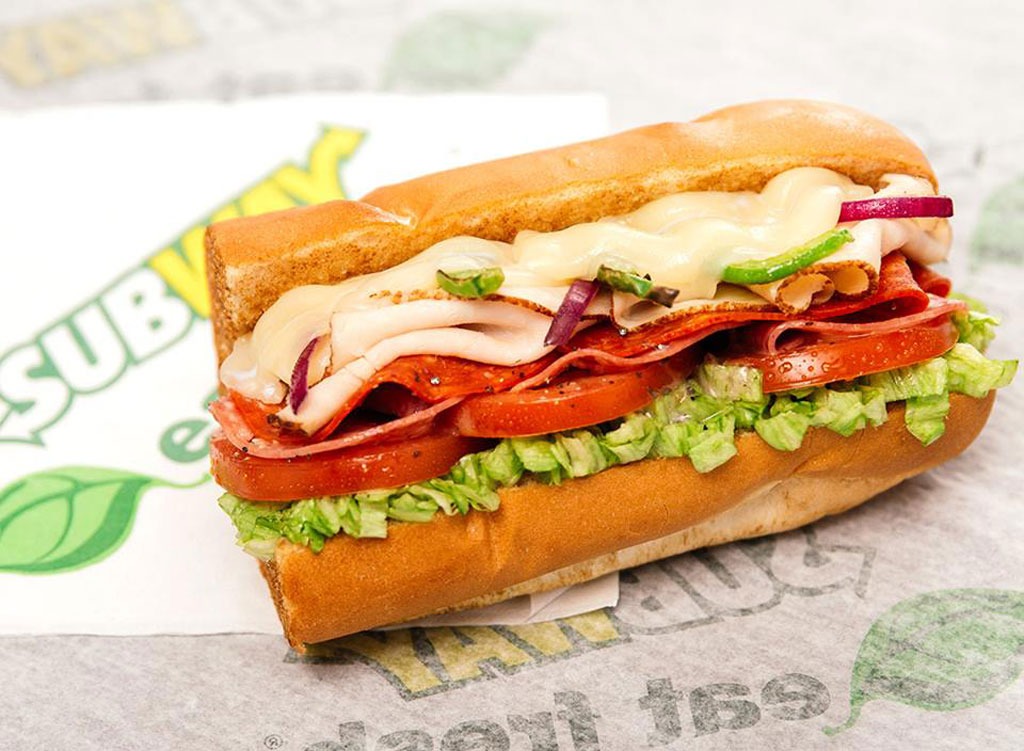 Stance on Antibiotics: B+. Subway fully implemented their "no antibiotics ever" policy for chicken in 2016. They started serving "no antibiotics ever" turkey in 2016 and are on track to complete this transition by the end of 2019. Because the sandwich chain set a long timeline for acquiring antibiotic-free pork and beef (2025) as well as cage-free eggs (2025), the chain earned a "B+" rating.
Quality of Ingredients: B. In 2014, Subway removed azodicarbonamide, a plastic dough conditioner also used in yoga mats, from its breads and increased their offerings of whole-grain breads. Although they've made some steps to improve their formulas, they still use inflammatory soybean oil in their bread and soybean protein in their chicken. Their deli meats still contain phosphates, which have been linked to accelerated aging, corn syrup (a cheap alternative to real sugar), and nitrites (which are currently under scrutiny for their potentially carcinogenic properties). Otherwise, the only other ingredients they use are whole veggies!
Healthy Options: B. The chain offers subs in different sizes (so you can grab a shortie if you're watching your waistline) as well as a variety of different meats and toppings. Unfortunately, nearly half their offerings exceed 1,000 milligrams of sodium per sub—and that's without any condiments.
Final Grade: B
Load up on veggies, steer clear of the saucy chicken sandwiches, and be extra careful about your condiment choices. To find our favorite sandwiches, don't miss these Every Subway Sandwich—Ranked for Nutrition!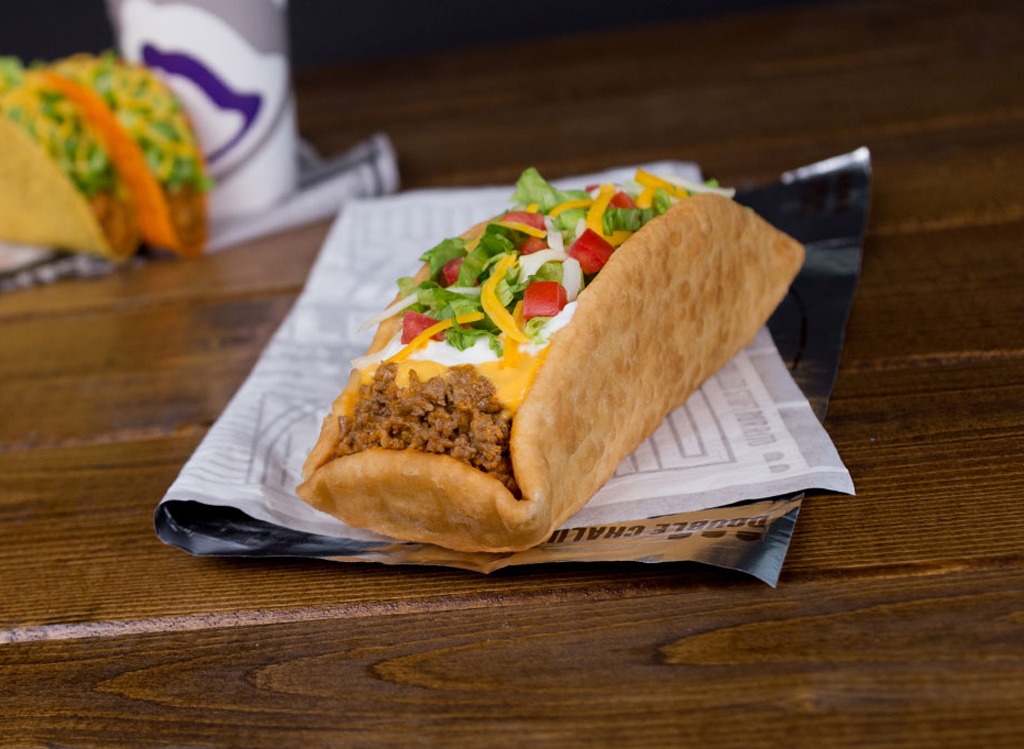 Stance on Antibiotics: B-. Taco Bell—a Yum! Brands restaurant—switched to cage-free eggs in 2016, and they expanded that commitment to source 100% cage-free egg ingredients for their core menu in 2018. The Bell officially only sources chicken raised without antibiotics important to human medicine, but we're still waiting on that beef.
Quality of Ingredients: B+. Since 2008, Taco Bell has reduced sodium across its menu by 15 percent and is now pushing to grow that number to 25 percent by 2025. They've removed all artificial flavors and colors—replacing them with natural alternatives—as well as removed added trans fat, high fructose corn syrup, and unsustainable palm oil from our food. The only grief we have is that they still use preservatives, additives with known negative side effects in humans, and inflammatory oils.
Healthy Options: C. According to Taco Bell, 60 percent of orders are customized, so the calorie cutting power is in your hands. You can reduce calories and fat by choosing "Fresco style" or up the protein count by adding extra servings of meat. Although you can customize many items, the majority of Taco Bell's menu is high in calories, fat, sodium, and carbs, and are missing veggies.
Final Grade: B-
Stay away from anything "smothered," "XXL," or "Supreme" and be skeptical of the salads. If you want to "Live Mas" without expanding your waistline any mas, check out our guide, Every Menu Item at Taco Bell—Ranked!.
Stance on Antibiotics: B. As of the 2017 Chain Reaction III report, Wendy's had sourced 50 percent of its poultry from chicken raised without antibiotics important in human medicine, and promised that all chicken would meet this policy by the end of 2017. Chain Reaction IV awarded Wendy's the third-best grade of "D-" in regards to their beef supply as the company currently sources 15 percent of its beef from producers that have cut the use of one medically important antibiotic by 20 percent. Because we now know Wendy's accomplished this, we bumped the report's grade of a "C+" up to a "B," which is in line with Chick-fil-A's grade when they had the same standards.
Quality of Ingredients: C-. Wendy's may use fresh—never frozen—beef and tries to avoid artificial additives whenever possible, but the chain still loads up its chicken patties with phosphates, preservatives, hydrogenated oils, and creepy anti-foaming agents like dimethylpolysiloxane, and their buns are full of trans-fat-contaminated mono and diglycerides, fake fiber, and high fructose corn syrup.
Healthy Options: C-. Scoring a decent meal at Wendy's is just about as easy as scoring a bad one. It's great that Wendy's offers a handful of Jr. Burgers that stay below 400 calories, but there are still many burger and chicken sandwiches that are high in calories and high in fat. They do have the most impressive assortment of salads out of the big three fast food burger joints. Just don't pick anything served with ranch dressing.
Final Grade: C+
Choose a grilled chicken sandwich—they don't exceed 350 calories—opt for a small burger, or check out their salads with grilled chicken and ask for a balsamic dressing on the side.
Olivia Tarantino
Olivia Tarantino is the Managing Editor of Eat This, Not That!, specializing in nutrition, health, and food product coverage.
Read more about Olivia