Chick-fil-A is Removing a Beloved Side from the Menu by April 3
Chick-fil-A fans will have one less healthy option to choose from starting in early April.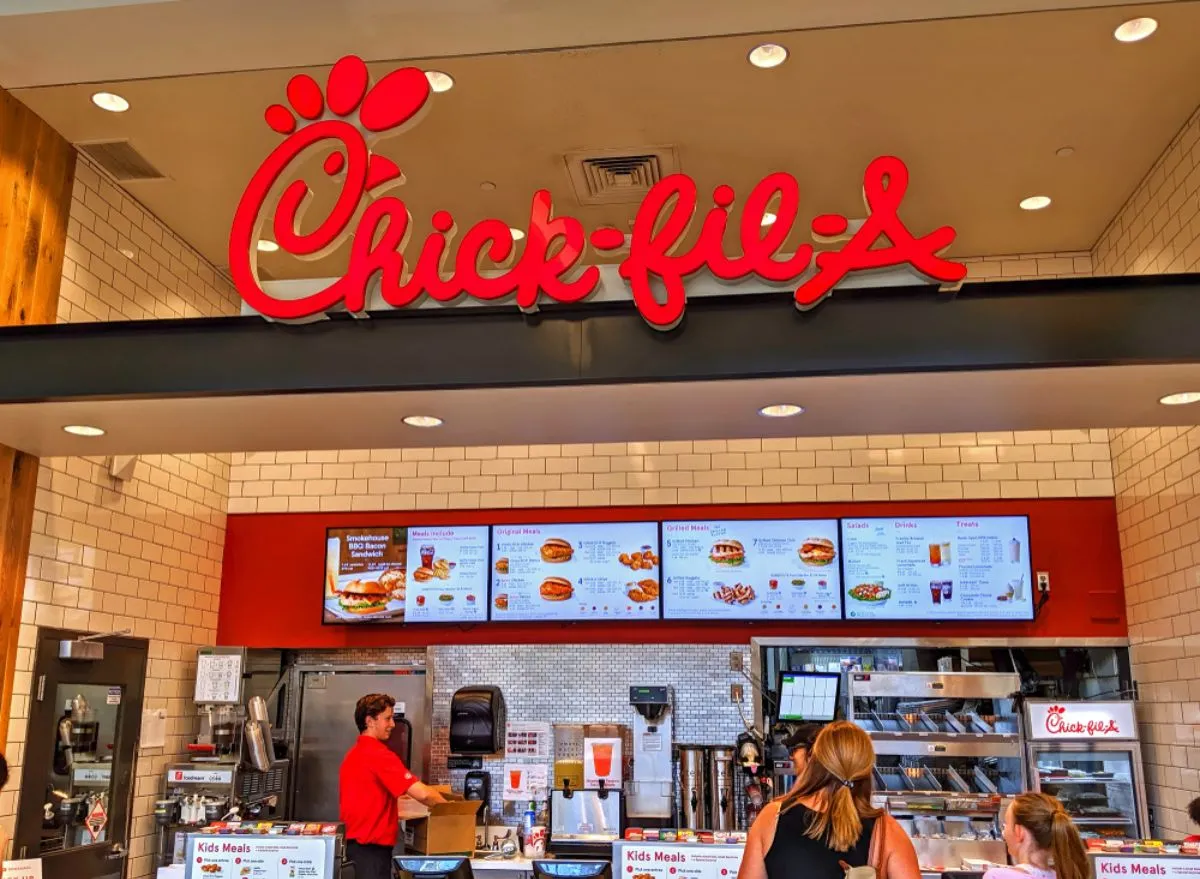 UPDATE: Monday, April 3, 2023 at 4 p.m.
Following the publication of this story on March 24, Chick-fil-A announced that it had decided to keep the side salad on the menu: "At Chick-fil-A, our guests come first. Based on feedback, we have decided not to proceed with removing our Side Salad from the menu. We will continue serving the item at participating restaurant locations and hope customers continue to enjoy this menu offering," the company said.  
The original story follows below. 
Fast-food lovers have been forced to make their peace with losing several fan-favorite items in recent weeks, including Taco Bell's Quesarito, the Dunkin' Dunkaccino, and Starbucks' raspberry syrup. And now, consumers will yet again have to come to terms with the imminent retirement of a comparably healthy but still well-loved option from Chick-fil-A: the side salad.
Speculation that the side salad was on its way out began swirling earlier this week when a Chick-fil-A location in Tifton, Ga., announced on Facebook that customers wouldn't be able to order the menu item after April 1.
"We are spring cleaning here at Chick-fil-A and taking this opportunity to refresh our menu," the post read. "The side salad's last day will be April 1st! Come and get them while you can!"
Though some Facebook users who commented on the post wondered if it was a premature April Fool's Day joke, this is not the case. The company has officially confirmed that the side salad will be retired starting April 3.
"Serving guests is at the heart of all we do at Chick-fil-A," Chick-fil-A, Inc. said in a statement. "In order for our Restaurant Team Members to continue to deliver quality food and signature hospitality, at times we have to make difficult decisions to help simplify our menu. Starting April 3, the Chick-fil-A Side Salad will no longer be offered in our U.S. restaurants."6254a4d1642c605c54bf1cab17d50f1e
This means that Chick-fil-A customers will have one less healthy option to choose from at a chain best known for its fried chicken sandwiches and nuggets, though Chick-fil-A still offers grilled alternatives and a handful of regular salads meant to be eaten as a full meal.
The side salad includes mixed greens, grape tomatoes, a blend of shredded Monterey Jack and cheddar cheeses, charred tomato, crispy red bell peppers, and a choice of dressing. Per the Chick-fil-A website, the salad has 470 calories, 42 grams of fat, 16 grams of carbs, and 7 grams of protein.
In terms of side dishes, Chick-fil-A's other offerings include waffle fries, fruit cups, mac and cheese, soups, Greek yogurt parfaits, and the Kale Crunch Side, which is a blend of kale and green cabbage tossed with vinaigrette and roasted almonds. In the statement confirming that the side salad is being discontinued Chick-fil-A said that it is increasing the size of the Kale Crunch Side to a large and noted that it could be an alternative option for guests.
To no one's surprise, fans of the salad haven't not taken too kindly to the news it will be retired.
"Y'all I'm so torn up over losing Chick-fil-A's side salad. I literally get it every time," one fan wrote on Twitter earlier this week.
"RIP healthy options," another customer commented under a Reddit post about the salad leaving menus.
This is not the only recent change at Chick-fil-A that has angered fans. The chain faced backlash last month from some customers who accused the company of being too "woke" due to its decision to start testing a Cauliflower Sandwich. Some fans have also lamented Chick-fil-A's recent announcement that rewards members will have to accrue more points in order to redeem certain items.
Zoe Strozewski
Zoe Strozewski is a News Writer for Eat This, Not That! A Chicago native who now lives in New Jersey, she graduated from Kean University in 2020 with a bachelor's degree in journalism.
Read more about Zoe