I Tried the Wings at America's 4 Most Popular Chicken Chains & One Reigns Supreme
Certain restaurants are widely revered for their wings, but which one is truly the top of its flock?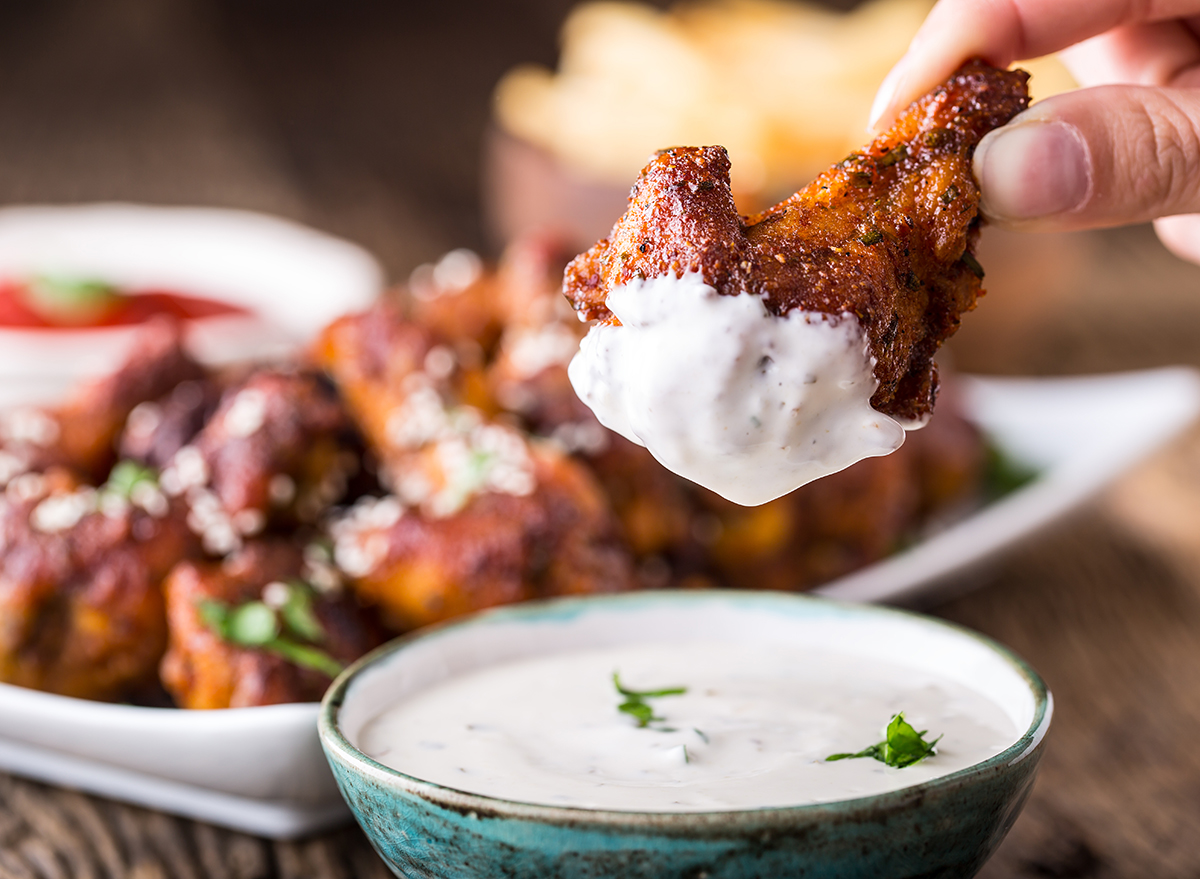 The product recommendations in this post are recommendations by the writer and/or expert(s) interviewed and do not contain affiliate links. Meaning: If you use these links to buy something, we will not earn a commission.
Long before fall became synonymous with pumpkin-spiced everything, autumn in America was really about one thing: football. And no finger food pairs better with the annual gridiron-gladiator spectacle than chicken wings.
Since the dawn of cable and satellite TV, bars and restaurants have lured patrons with the promise of cheap wings, cold beer, and action-packed sports on flickering screens. And while broadcasting technology certainly helped to forge the poultry-pigskin connection, it was Americans' changing tastes that allowed chicken wings to really take off.
According to the National Chicken Council, many U.S. households switched from whole chickens to lean, breast meat during the fat-phobic 1980s, leaving a lot of other bits of the bird unused. Wings became a dirt-cheap by-product as a result, and restaurateurs took full advantage, positioning the low-cost meat on the bone as beer-friendly, easily shareable bar food. Many operators adopted the classic hot sauce-laden preparation first developed at the Anchor Bar in Buffalo, N.Y. in 1964, but as its popularity soared, the versatile chicken wing has taken on countless other flavors, too.
Nowadays, these delicious, former discards have risen to star-attraction status for many restaurants.
At the kickoff of yet another football season, I sought out some select spots where the wing is king, in order to find out whose deep-fried delicacies are most deserving of your hard-earned dollar. I specifically hoped to find a place that reliably delivers all the qualities of a truly superior wing: crispy outside, juicy and tender inside, and perfectly balanced in terms of flavor and spicy heat.
Here's how each wing joint stacked up, ranked in descending order from my least favorite to the absolute top flier.
Hooters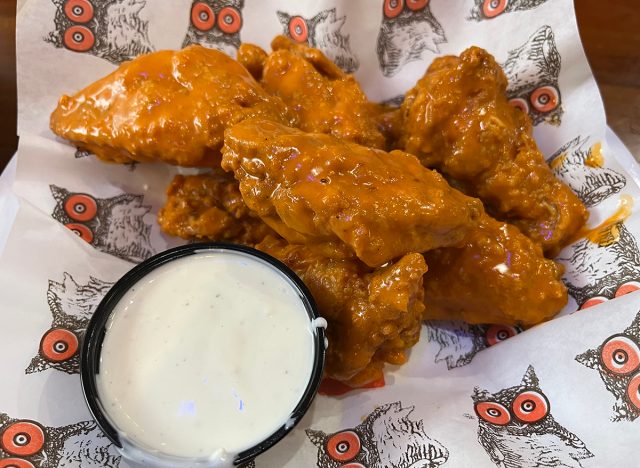 Hooters Style Original Wings With Hot Buffalo Sauce (6 pieces)
: 650 cal, 42 g fat (9 g saturated fat), 1530 mg sodium, 18 g carbs (5 g fiber, 2 g sugar), 45 g protein
Among other things, Hooters is well known for its wings. Roughly one third of the entire menu is devoted to the variously prepared poultry parts. You can choose from six different styles—breaded or "naked," bone-in or boneless, smoked or roasted—10 signature sauces, six dry rubs, and four separate spice levels of the original Buffalo-style preparation. It's probably all too much, frankly, but this longstanding chain has always gone big by reputation.
On my recent visit, I ordered 15 original-style wings, half with the classic hot Buffalo sauce, the rest with Chipotle Honey, which cost me $22.79—roughly $1.52 per piece. I later tacked on an additional six pieces of the smoked wings with a garlic habanero rub, just to compare. The smoky kind is a bit more expensive, priced at $13.55 for six, or $2.25 per piece.
The look: A bit overdressed. The original-style wings came densely breaded and doused in sauce. Both saucy varieties arrived in their own separate baskets. Both left deep puddles after I gnawed them down to the bone. The portions were considerable. One bulbous baseball-sized drumstick, in particular, looked almost deformed from all the masses of excess deep-fried breading that clung to the meat. Comparatively, the smoked wings arrived later with minimal, if any, breading at all, but sparkled with seasonings.
The taste: Flavorful but mild. The hot Buffalo wings hit the tongue a nice bright tang, while the Chipotle Honey arrived super sweet and sticky. Neither packed much heat. The best thing about these original-style wings was the crunch. Each crackly bite proved immensely satisfying, though the effect diminished the longer these heavily breaded beauties soaked in their respective sauce baths. The smoked wings, meanwhile, proved salty and intensely garlicky outside, and the meat itself offered a deeper flavor than its contemporaries. They were a little crispy, but not crunchy like the others. Overall, I liked these Hooters wings a lot more than I expected, but not as much as other chains.
Buffalo Wild Wings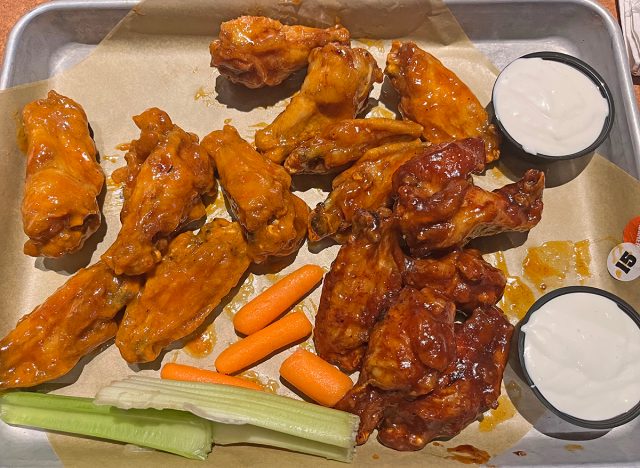 Traditional Wings With Original Buffalo Sauce (6 count)
: 540 cal, 20 g fat (3 g saturated fat), 1050 mg sodium, 1 g carbs (0 g fiber, O g sugar), 53 g protein
Buffalo Wild Wings is one of America's leading sports bar chains, with over 1,200 locations nationwide and sales surpassing $3.7 billion in 2021, according to Statista. And, of course, the operators know a thing or two about wings, hence the name. The restaurant offers both traditional and boneless varieties with over two dozen different sauce options. I ordered 15 on the bone, evenly divided between the chain's Original Buffalo, the popular Mango Habanero, and the brand-new Bulleit Bourbon BBQ. Both the Buffalo and Mango rank among the chain's top-five spiciest selections, as indicated by the handy heat scale printed on the menu. The whole platter cost $23.99, or roughly $1.60 per wing.6254a4d1642c605c54bf1cab17d50f1e
The look: Glistening in their respective glazes. All three varieties arrived on the same metal tray with a sheet of parchment paper underneath and a few baby carrots and celery sticks alongside. By and large, these wings were a bit smaller than the kind at Hooters, but they made up for it in a big way. I could smell the habanero pepper immediately upon arrival.
The taste: Formidable. A noticeable but not unpleasant burn began with the first bite of Original Buffalo. The lip-tingling, nose-running effects were in full force by the end of wing one. And that's before I even tried the Mango Habanero, which tasted purely sweet and fruity at first, then smacked me with intense heat on the backend. The fiery impact could be felt along all the tongue. Meanwhile, the new whiskey-kissed barbecue sauce tasted rich, sweet, and mild—the perfect foil for the other scorchers.
The first two varieties were hands-down the spiciest wings I sampled in this entire survey, but B-Dubs' wings had other strong qualities, too. The chicken had that ever-desirable fall-off-the-bone tenderness that you love to experience with any kind of bony meat, making them really easy to eat. On the flip side, though, they lacked the external crispness that many rivals possess.
Wingstop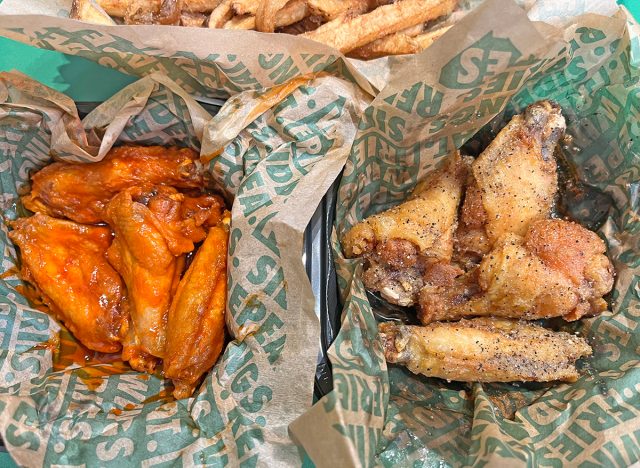 Original Hot (1 piece)
: 90 cal, 5 g fat (1.5 g saturated fat), 230 mg sodium, 0 g carbs (0 g fiber, O g sugar), 10 g protein
Wingstop boasts the most cred among all the wing-centric restaurant chains right now. For one thing, it's the preferred chain for many professional chefs, who know good-quality food better than anyone. It's also among the fastest-growing, top-selling restaurant chains overall, demonstrating just how much its food resonates with regular folks, too. Wingstop offers a dozen flavors of both classic and boneless wings. I first stopped in for an eight-piece combo of the classic kind—half Original Hot, half Mango Habanero. The combo cost me $16.99, which works out to $2.12 per wing, although the combo also includes a side and drink. I later went back to try the chain's beloved Lemon Pepper dry rub, too.
The look: Small but saucy. The Original Hot came in a darker reddish tint than the usual traffic-cone orange of many Buffalo-style varieties, suggesting a much heftier dose of hot sauce or otherwise different brand altogether, while the Mango Habanero arrived in a more true-to-form yellow-orange. Meanwhile, the Lemon Pepper showed up with a golden crust, dotted with black specks. These wings were all on the smaller side, but size alone doesn't necessarily affect the quality.
The taste: Fresh and zesty. The Original Hot had a bright, tangy flavor with noticeable but manageable heat, while the fruit-forward Mango Habanero packed a little more oomph but wasn't nearly as raging as the Buffalo Wild Wings version. Both flavors were nicely crisped, but the dry-rubbed Lemon Pepper naturally proved much crisper and delighted me with its zesty, citric notes. Wingstop in general came much closer to hitting the perfect crispy-juicy-spicy trifecta. But, there's another chain that dazzled me even more.
Bonchon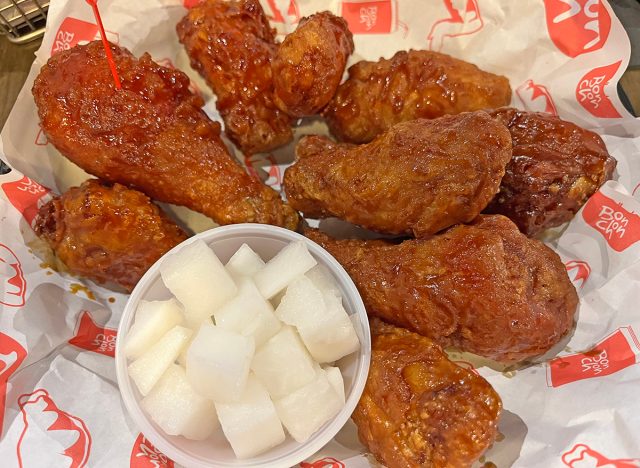 Small Combo Spicy (9 pieces)
: 971 cal, 55 g fat (11 g saturated fat), 904 mg sodium, 11 g carbs (0 g fiber, 4 g sugar), 55 g protein
If you've never been to Bonchon, you should ask yourself what you've been doing with your life. I know I did. With over 100 locations nationwide, the increasingly popular South Korean-launched chain has been called "the gold standard for fried chicken." Once you visit, it's easy to see why. One thing that sets this restaurant apart from the rest: its wings are "double fried." That's probably not great for your arteries, but it feels mighty good for your soul. 
Another major difference? Bonchon offers only two flavors—Spicy and Soy Garlic. The limited curation feels especially refreshing after scanning the sprawling menus at other places. I ordered a nine-piece combo (six flat wings and three drumsticks), split however unevenly between the two options. This small combo cost me $16.95, or $1.88 per piece, which is a bit more expensive than other places, but certainly worth it. 
The look: Ginormous and gently glazed. Bonchon's wings were easily the biggest in this survey. The drumsticks, in particular, come full size, not the mini drums you normally find at a wing joint, which probably explains the higher price. And unlike the sauce-drenched wings served elsewhere, these appear very lightly brushed. The sauce is there—it's visibly glinting—but there's hardly a dab on the paper underneath.
The taste: Perfectly balanced. The Spicy ones packed a palpable but appealing burn, while the Soy Garlic was lip-smackingly savory. Both glazes provided sufficient flavor but neither was overpowering like the scorchers at Buffalo Wild Wings. The best part, though, was the crunch. Bonchon's double-fried wings easily out-crackled the Hooters-style wings with hardly half the amount of breading. The thin crisp coating shattered like glass, or better yet, like the caramelized sugar atop a freshly torched creme brûlée. The meat itself may have seemed a little less tender than others, perhaps due to the double frying, but you hardly notice amid all the other goodness. Moreover, the accompanying side of juicy, pickled radishes beat the heck out of the standard carrots and celery as a palate cleanser.
The Verdict
It may feel less traditional than your usual wing spot, and the restaurant itself lacks the wall-to-wall flatscreens of the prototypical sports bar—although I still spotted a few TVs, mounted behind the bar in downtown Brooklyn, N.Y. Even so, Bonchon clearly makes the biggest, best-tasting wings you're going to find from a chain restaurant today.
If you miss the old-school sports bar vibe, you can always order them to go.
Chris Shott
Chris Shott is the Deputy Editor covering restaurants and groceries for Eat This, Not That!
Read more about Chris