7 Restaurant Chains That Serve the Best Chicken Wings
When cooking your own wings is the last thing you want to do, consider one of these chains.
Chicken wings aren't just an excuse to indulge in some deep-fried comfort–they're a wildly popular staple in American diets. The National Chicken Council projected that Americans would eat a record-breaking 1.45 billion chicken wings during Super Bowl weekend alone this past February–and that's just one weekend!
While there are many reasons that chicken wings are so popular, one of the biggest has to be their adaptability. You can just as easily grab a few wings as a starter before your dinner as you can devour a full plate as your meal. They can take on practically any flavor you throw at them, from hot buffalo sauces to sweet and smoky dry rubs. There's tons of creative potential when it comes to cooking wings too: you can fry them, bake them, grill them, or smoke them. So if you're a carnivore, there's a good chance at least one wing flavor or style appeals to you.
For those instances when you're craving wings but don't feel like cooking them yourself, the good news is that most Americans probably aren't too far from a joint that serves these fried meaty morsels. And when you want a more elevated chicken wing experience than you can get at your local fast-food restaurants, some restaurant chains serve wings that are especially creative, tasty, and highly praised among customers.
From a barbecue joint to a major steakhouse brand with an excellent wing starter, here are the seven restaurant chains that serve the best chicken wings.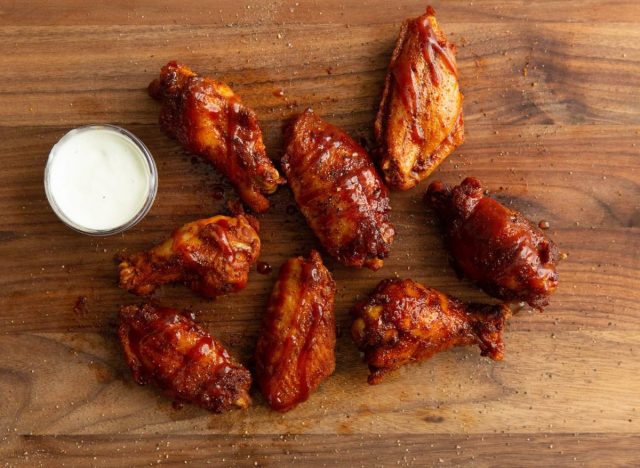 If there's one type of restaurant that you can count on to serve some great chicken, it's a barbecue joint. Smokey Bones, a barbecue chain with a few dozen locations across the United States, is a shining example of this rule. The chain offers the more traditional fried bone-in and boneless wings you'll find at other restaurant chains. But the true star of its wing lineup is the Jumbo Smoked Wings, which are infused with those classic savory barbecue flavors from their time in the smoker.
Whichever you choose, Smokey Bones will toss the wings in your preferred sauce or dry rub. Or, you can ask to get them the "Bones Way" and Smokey Bones will dust them in its house seasoning and drizzle them with a sweet bbq glaze. Customers say that these aren't just great chain restaurant wings, but they also have the potential to be some of the best wings you'll try ever.
"First, let me say these are the best wings I've ever had. And I'm very picky about my wings," one Yelp reviewer wrote.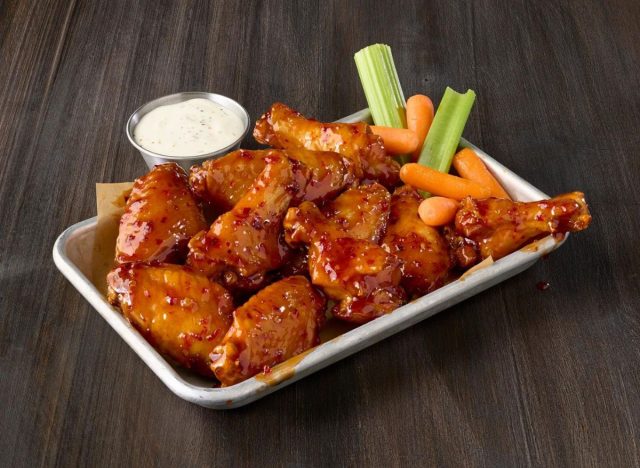 If you couldn't tell from the name, it's all about the wings at this popular sports bar chain. Buffalo Wild Wings serves up classic Buffalo, N.Y.-style chicken wings, as well as the less traditional (and more controversial) boneless wings.6254a4d1642c605c54bf1cab17d50f1e
Once you choose whether to go for bone-in or boneless wings, the tasty decisions don't stop there. Buffalo Wild Wings currently boasts 26 different signature sauces and seasonings, from milder favorites like Sweet BBQ to fiery picks like Mango Habanero. 
And while the chain's staple flavors like buffalo and lemon pepper are always available, it isn't afraid to update its menu with new flavors from time to time. So the chances that you'll ever get bored of all the different chicken wings flavors and options at Buffalo Wild Wings are slim to none. 
Even people who admit they're not usually big chicken wing fans have found a style or flavor they love at Buffalo Wild Wings.
If there's one thing that Hooters is known for aside from the scantily dressed servers, it's the chicken wings. This sports bar chain has wing options galore between all of the different cooking styles (think breaded, smoked, boneless, and roasted) and sauces you can dress them with.
As Hooters notes on its website: "Whether you like 'em hot as hades or just kissed with a tasty combination of seasonings, there's a dry rub or signature sauce that fits the bill.
Just make sure to pair those popular wings with one of Hooters' cold beers when you settle down to watch an afternoon of sports on the chain's signature big-screen TVs.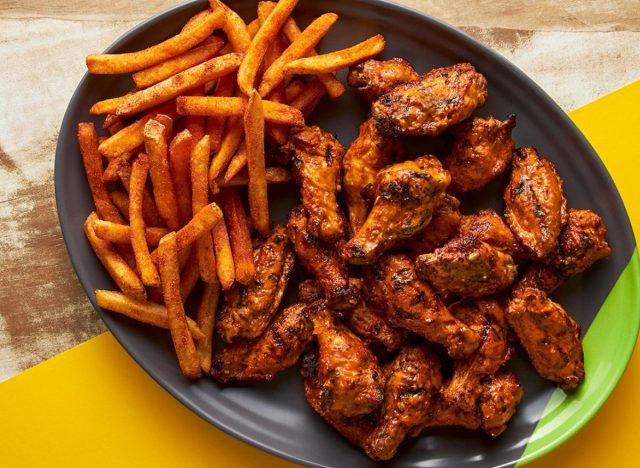 Nando's PERi-PERi, a South African chain with a few dozen locations across the United States, doesn't serve up your typical chicken wings. That's because Nando's is all about the peri peri pepper that not only provides great flavor but also packs some sense-stimulating levels of spice.
Those peppers are a key ingredient in the marinades Nando's uses for all of its chicken, which is flame-grilled instead of fried and never frozen. People who are more sensitive to spice need not fear either because Nando's offers milder heat levels for the poultry in addition to its more fiery options.
The end result? Chicken wings that customers rave are both "moist and perfect." Even if you're not lucky enough to live by a Nando's, the chain sells its signature PERi-PERi sauces at major retailers like Walmart, Whole Foods, and Amazon, so you can recreate its popular chicken wings at home.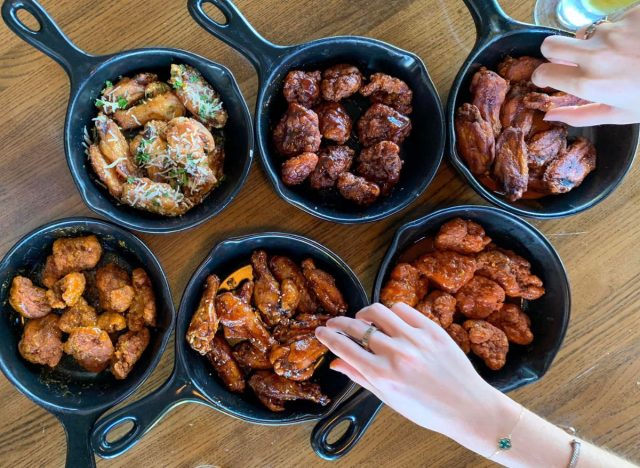 Wings are far from the only options you'll find on the menu at your local TGI Friday's. However, they're still a standout option at this American casual dining chain because of the sheer variety and popularity with guests.
TGI Friday's offers both bone-in and boneless chicken wings in a range of sauce options, from Garlic Parmesan to Whiskey-Glaze. Customers who can't pick just one flavor can also opt for the chain's Wings Roulette Platter which allows them to mix and match three different wing options, paired with their choice of ranch or blue cheese dressing.
If all of this didn't sound enticing enough, the chain also has a running promotion where you can get wings for 50 cents on Monday evenings every week.
As is the case with Hooters, wings may not be the primary attraction at Twin Peaks. But the "breastaurant" chain specializes in classic American fare and does an excellent job of serving up juicy chicken wings. To say that the options are plentiful would be an understatement.
There are bone-in wings, boneless wings, breaded wings, naked wings, and a slightly lighter Smoked & Grilled wing option. Once you've pinned down your preferred chicken wing style, you can also choose from a dozen different rub and sauce options that offer a variety of interesting flavors and spice levels.
The main takeaway is that you should go for the stellar service and stay for the wings, which customers attest are "amazing."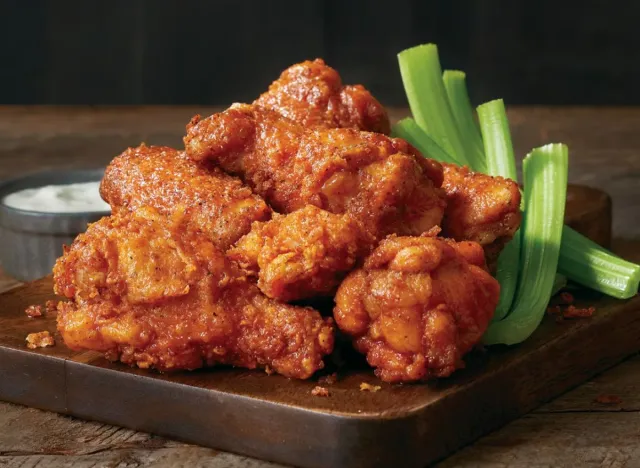 Sure, most people go to Outback Steakhouse for the beef and the Bloomin' Onion. But if you find yourself craving some top-notch chicken wings before diving into your steak dinner, just know that customers have high praise for the chain's Kookaburra Wings.
Unlike unbreaded buffalo-style chicken wings, Outback's Kookaburra Wings have a crispy coating and are dusted with "secret spices" for extra flavor and texture. And while Outback may not offer the wide range of sauce and style options that you'll find at other chains on this list, there are a few different spice levels to choose from. So whether you prefer mild or fiery wings, you should be able to find an option that you'll enjoy at Outback.
Just be warned: if you do decide to give the Kookaburra Wings a try, you might find yourself ordering them time and time again. Customers have described them as "top tier" and even "addicting."
Zoe Strozewski
Zoe Strozewski is a News Writer for Eat This, Not That! A Chicago native who now lives in New Jersey, she graduated from Kean University in 2020 with a bachelor's degree in journalism.
Read more about Zoe