11 Best Tips for Safe Grocery Shopping Amid Coronavirus Concerns
Follow these guidelines to limit your risk of contracting or spreading the virus at the supermarket.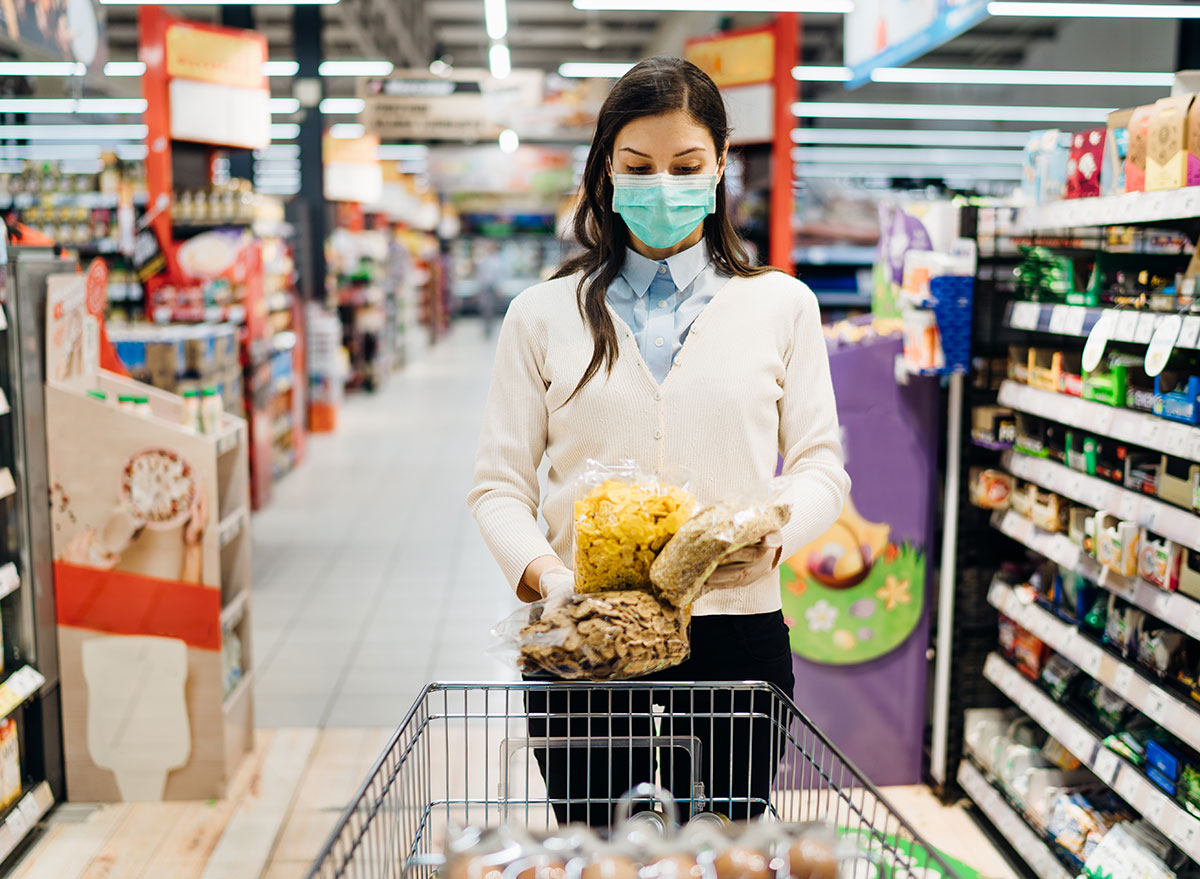 Even those of us who are safely hunkered down at home can't avoid having to make an occasional trip to the grocery store to stock up on food and household goods like cleaning supplies and toilet paper (assuming shelves aren't empty because of hoarders). By this point in the COVID-19 pandemic, the phrase "social distancing" has become part of the national conversation. Aside from standing six feet apart from others, do you know all of the best practices to prevent the spread of the new coronavirus?
Below you'll find advice for what to do—and what not to do—when you're outside shopping for groceries. Follow these guidelines to protect you and those around you from contracting or transmitting the virus. As the saying goes, we're all in this together.
For more on ways to protect yourself, here is The One Vitamin Doctors Are Urging Everyone to Take Right Now.
Wash your hands.
You may have heard this particular tip 1,000 times by now, but here comes your 1,001st reminder. The best way to avoid contracting the coronavirus is still washing your hands thoroughly with hot water and soap for at least 20 seconds. The last thing you should do before leaving home—and the first thing you do when you're back—is thoroughly wash your hands. If you choose to wear surgical gloves, don't be lured into a false sense of security when it comes to touching your face.
Related: 8 Grocery Items That May Soon Be in Short Supply
Go early.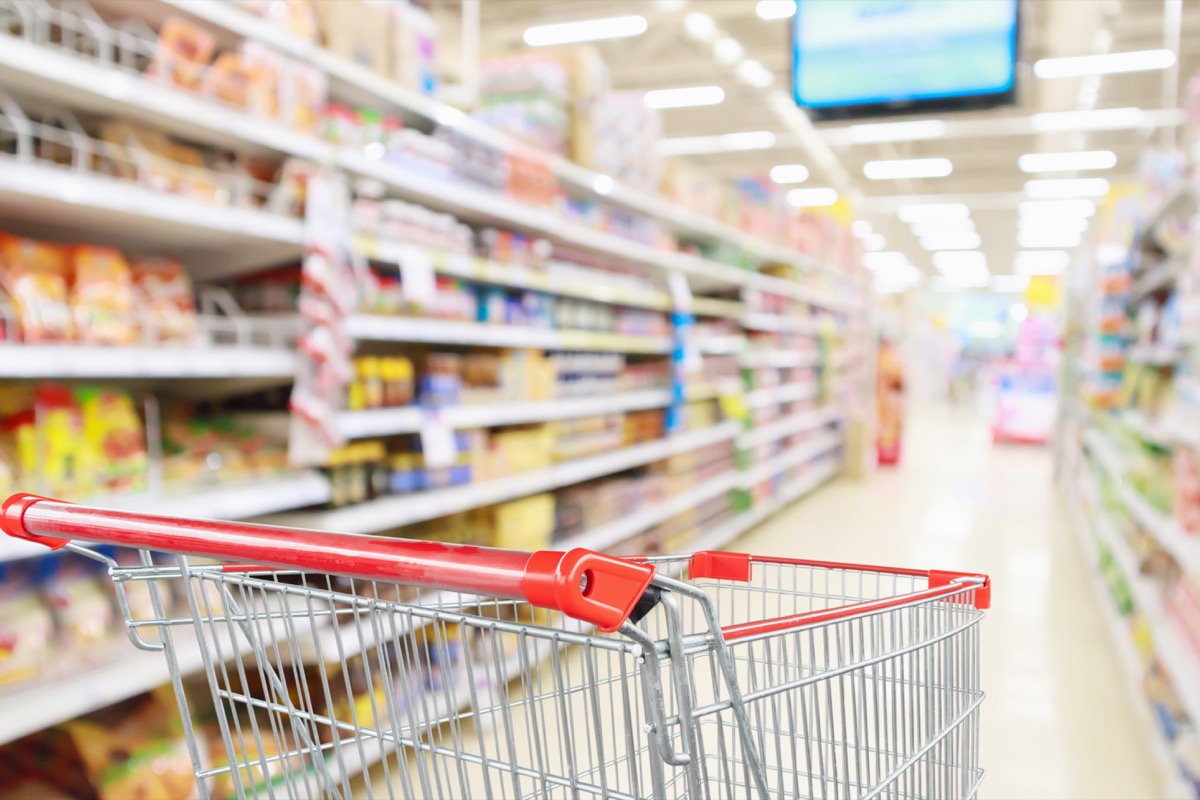 Pandemic era data from Google Maps reveals that Monday at 8 a.m. is the least crowded time to grocery shop. (Can you guess what the busiest day and time is?) Along this topic, Costco just announced it's keeping senior shopping hours indefinitely. And it's not the only major retailer who offers them—Walmart, Trader Joe's, and Kroger also do. Going immediately after the hour ends is a good idea for those who aren't in the senior age bracket or immunocompromised, because stores are the best stocked and the cleanest at these times. Early birds get the worm and the toilet paper!
Avoid open food items.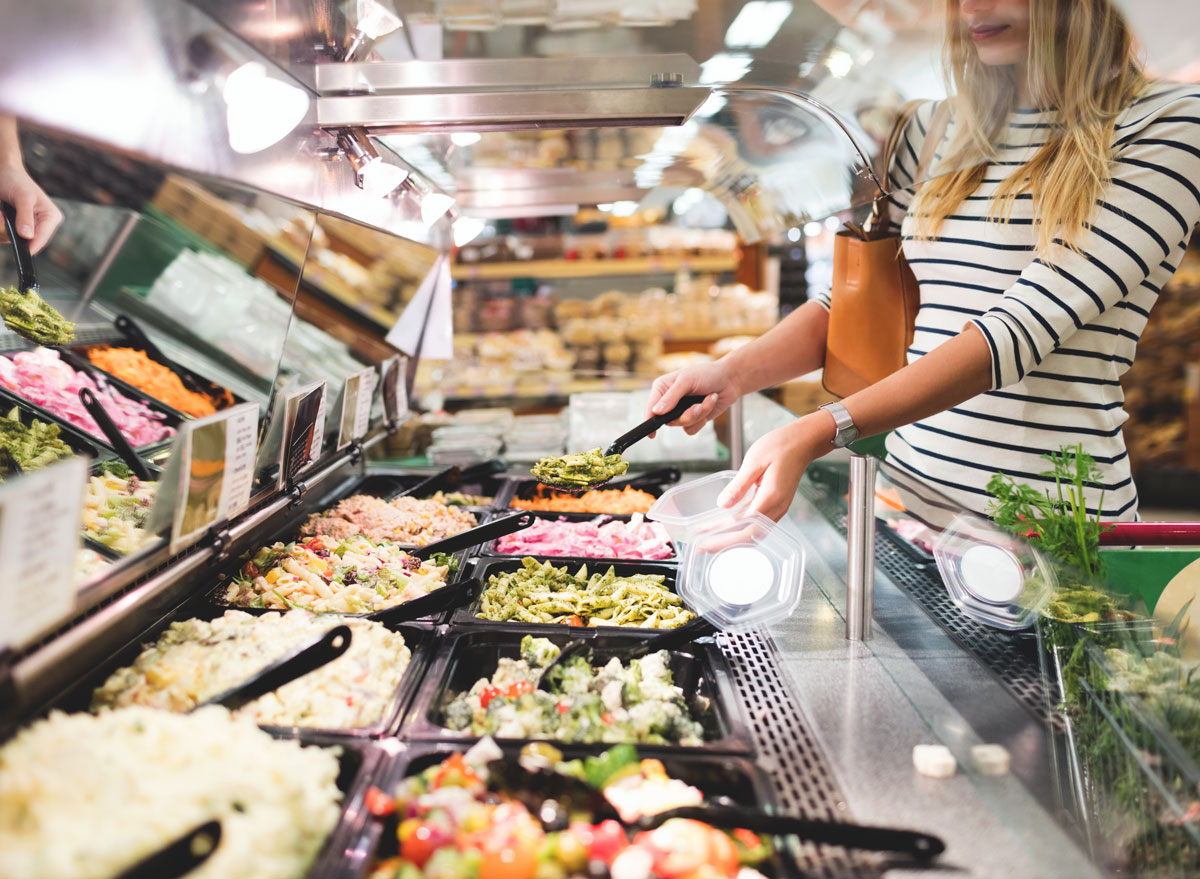 Buffet restaurant chains have not faired well during the pandemic. Many grocery stores offer hot and cold food bars for shoppers to load up on prepared foods, too. While all feature a federally mandated "sneeze guard," it's best to avoid food that is open and vulnerable to any airborne particles at this time. (Even if we weren't in the middle of the coronavirus pandemic, food bars would still be vulnerable to potential germs.)
For more on this, here are the 11 Unsafest Things You Can Do at the Grocery Store, Say Doctors.
Be prepared.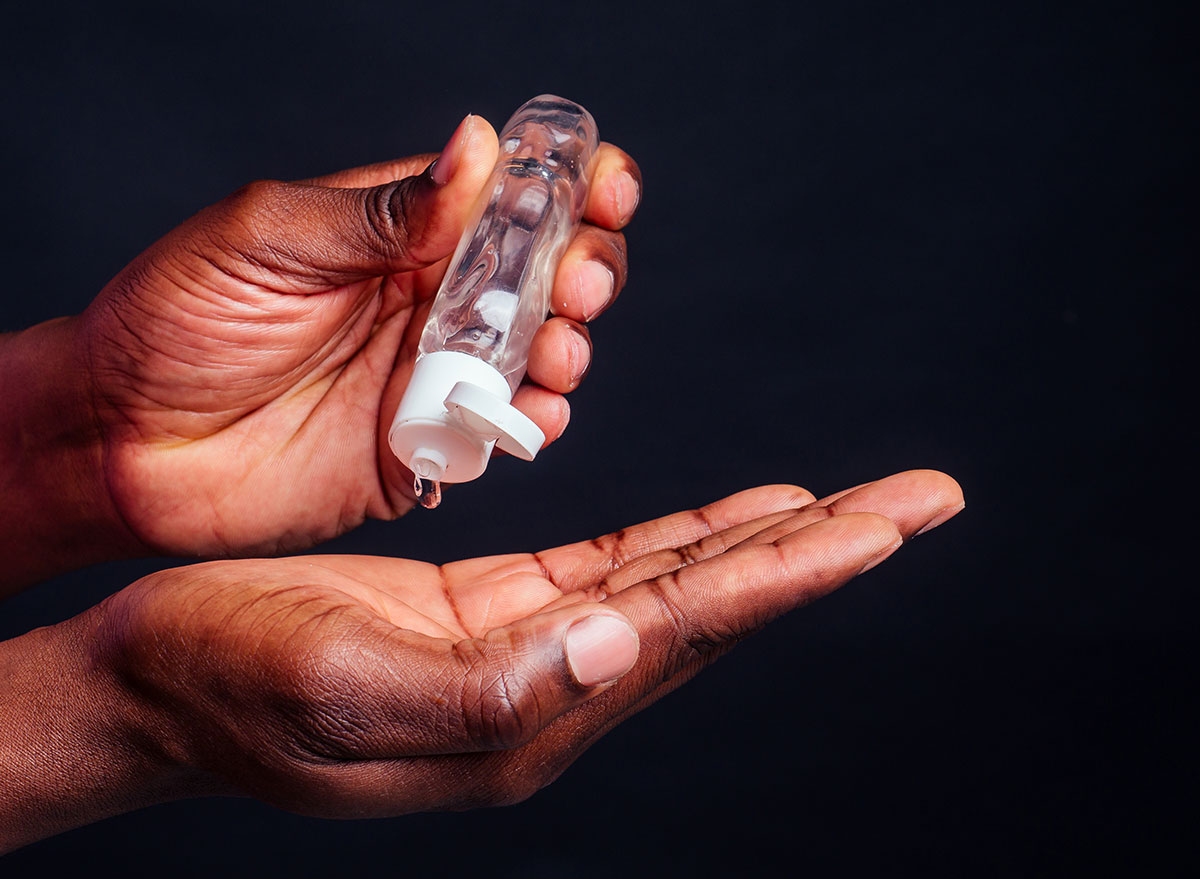 Before you head out, make sure you have everything you need: reusable shopping bags, hand sanitizer, and disinfecting wipes. Make a detailed list of the groceries you need, and order the items on your list according to how you'll navigate your neighborhood store. You'll reduce your risk by limiting your time spent indoors outside of home. Fomites are particulates that put you at risk and exist on door handles and shop counters—pack hand sanitizer, and don't hesitate to disinfect anything you need to touch.
Related: 100 Easiest Recipes You Can Make
Go alone.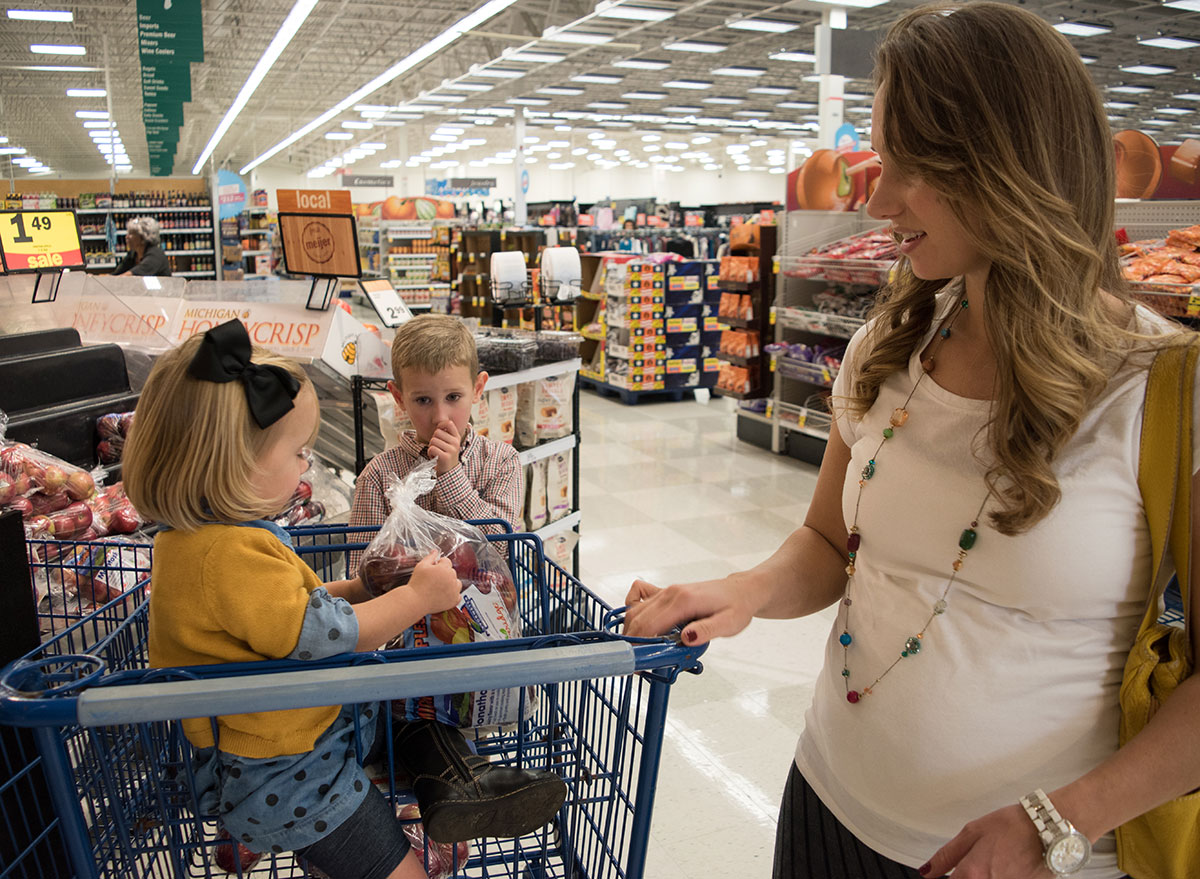 Unless you need to keep an eye on your kids at the same time, plan to shop alone. The more people who are in the store, the higher the risk. As things stand, many grocery stores are limiting the number of customers who can enter at one time amid government mandates. In some states, operating capacities are restricted to 20%.
Limit what you touch.
Be both mindful and deliberate as you shop. Limiting the number of items you handle decreases your risk of contracting or transmitting the virus. While palming your favorite piece of fruit for ripeness is a time-honored tradition in the produce section, you may want to put this particular best-practice aside until the pandemic subsides.
Don't hoard.
An endless source of controversy throughout the pandemic? Hoarders. Panic buying of essential items like cleaning supplies and toilet paper has led to empty shelves and purchase limits into the winter. Be thoughtful and courteous of your neighbors by buying only what you need.
Related: 8 Grocery Items That May Soon Be in Short Supply
Stand at a distance from others.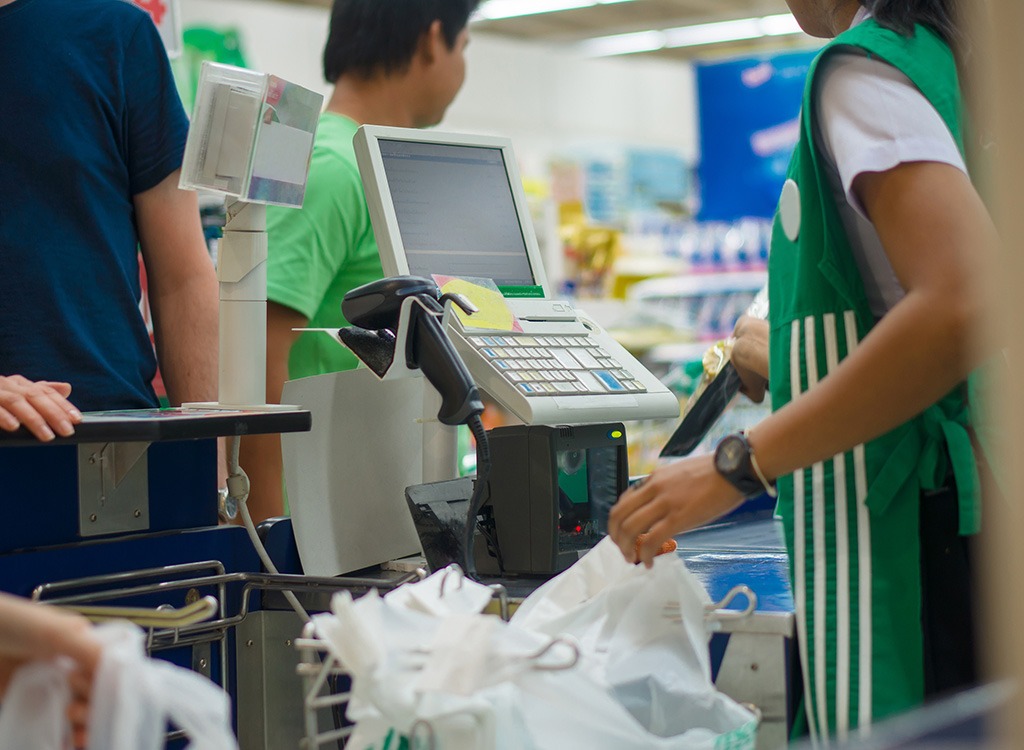 We all know the importance of practicing social distancing. Most supermarkets have implemented a six-feet apart rule at checkout lines, but don't forget to maintain a safe distance from others while you're steering your cart down the aisles. If someone reaches for a tub of ice cream as you're heading toward the freezer, consider circling back after you pick up other items to avoid overcrowding. Speaking of which, here are 31 Healthy Store-Bought Frozen Foods To Stock In Your Freezer.
Don't shop if you feel sick.
If you are exhibiting any symptoms of COVID-19, you should avoid leaving home unless you need medical assistance. There are several contactless grocery services you can shop from the safety of your home as you avoid unknowingly spreading the coronavirus to others. If you would like to take a test, here's Where to Get a Free Test for COVID-19.6254a4d1642c605c54bf1cab17d50f1e
Touch your face and your phone as little as possible.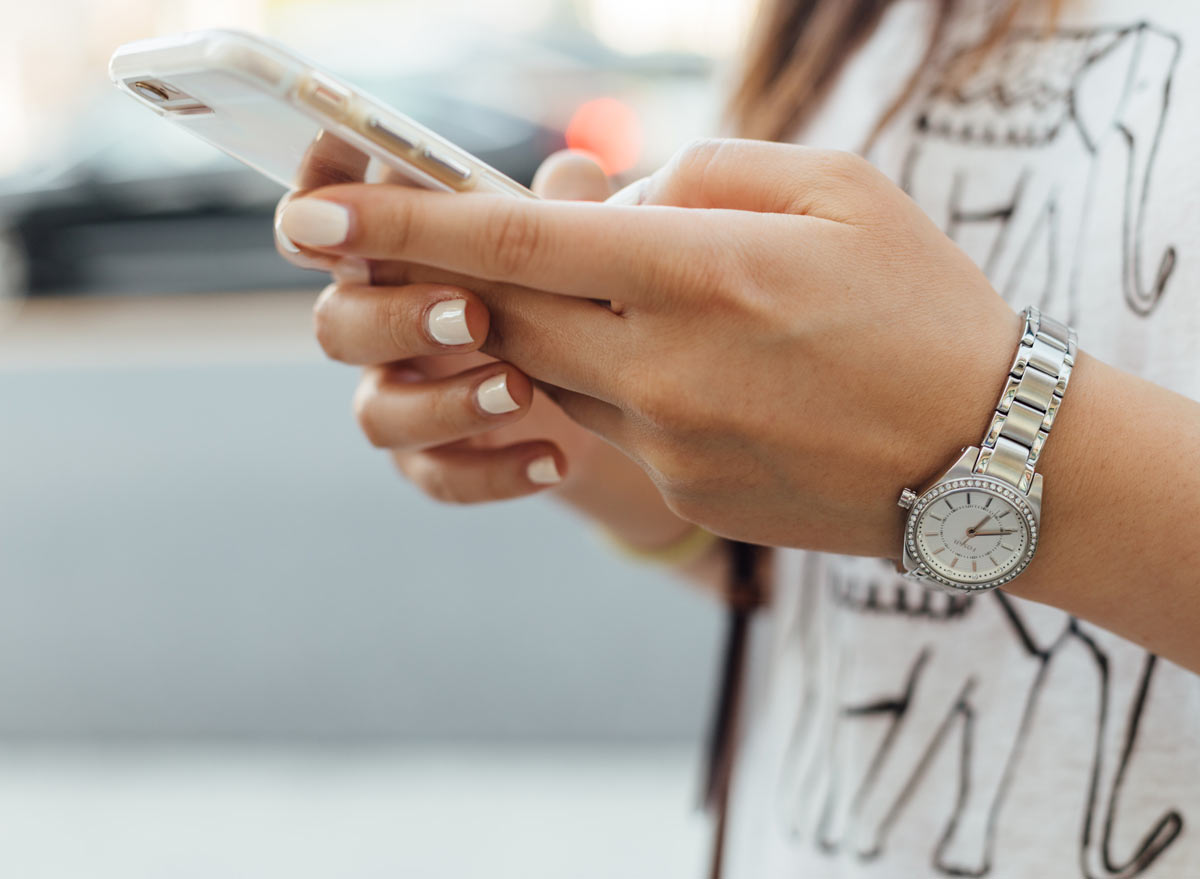 You don't know who might have handled an item at the grocery store before you touch it. To help reduce the spread, avoid unnecessarily touching your face and your phone while you're shopping. Bring along a bottle of hand sanitizer for the ride in your jacket pocket or your purse. Thoroughly wash your hands, and wipe down your phone when you arrive home.
Related: 5 Things You Should Never Bring into a Grocery Store
Wear a face mask to cover your mouth and nose.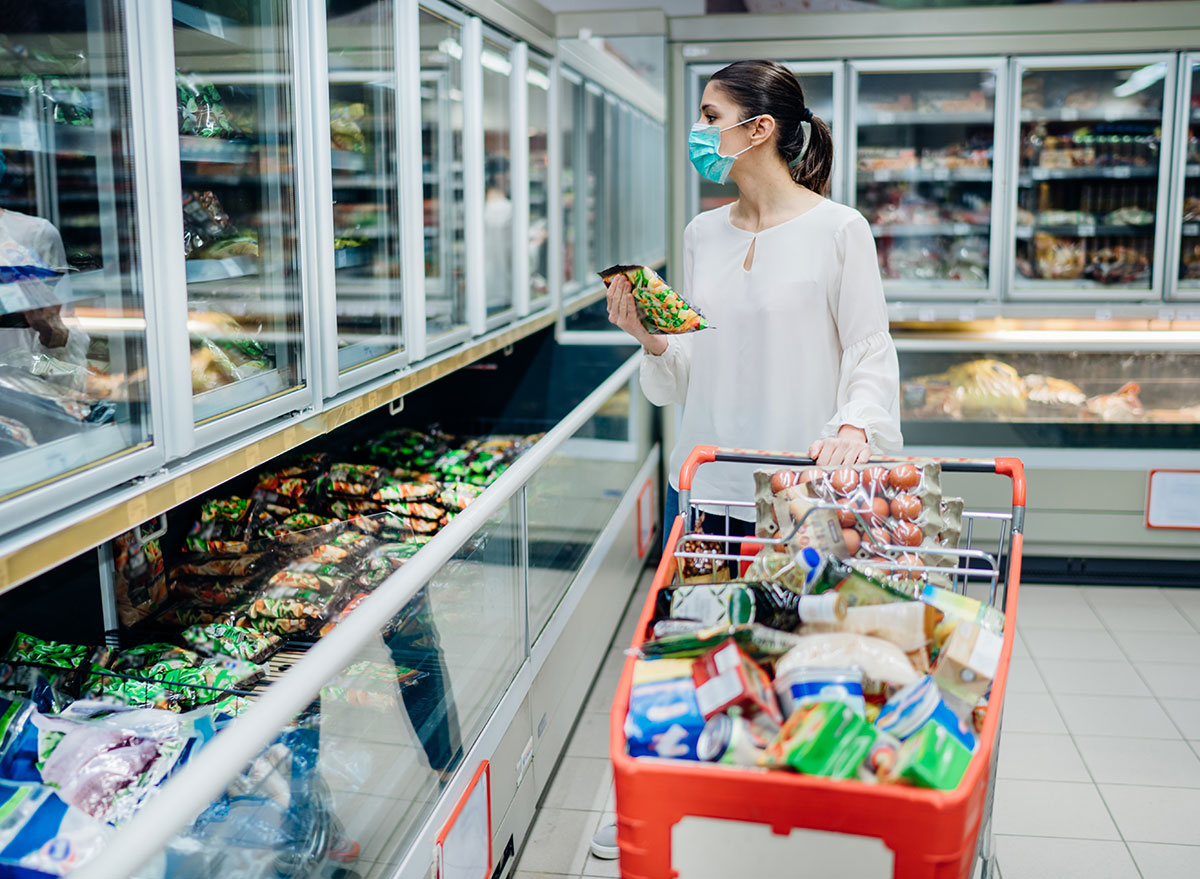 Mask-wearing should be a part of your muscle memory by now, especially out in public. You're not at the grocery store to make a fashion statements—you're there to make sure you get fed. Wearing a mask protects you from airborne transmission, and it also protects others in case you're unknowingly infected with the coronavirus.
For more info on how to stay safe during the pandemic, sign up for our daily newsletter!