15 Costco Frozen Foods You're Crazy Not To Stock Up On
Stock your freezer with bulk foods at bargain prices from America's leading warehouse club.
The product recommendations in this post are recommendations by the writer and/or expert(s) interviewed and do not contain affiliate links. Meaning: If you use these links to buy something, we will not earn a commission.
A fully stocked freezer is essential for so many reasons, but a good one is easily answering the question, "What's for dinner?" It can also save you money and make meal planning a cinch. Costco has a stellar freezer selection, but since the retailer sells virtually everything in bulk, you'll want to strategize on what you actually need.
There are plenty of options to make healthy meals but you'll want to avoid those frozen foods that are high in sodium and preservatives and just plain bad for you. It's OK to include a few frozen treats, though, and maybe a pizza or two for those nights you need something simple. The selection varies from store to store so if you see something you love, make sure to grab it.
Oh, and don't worry if you run out of room, Costco sells freezers, too. Here are 15 items perfect for filling your freezer for any occasion.
Just Bare Chicken Chunks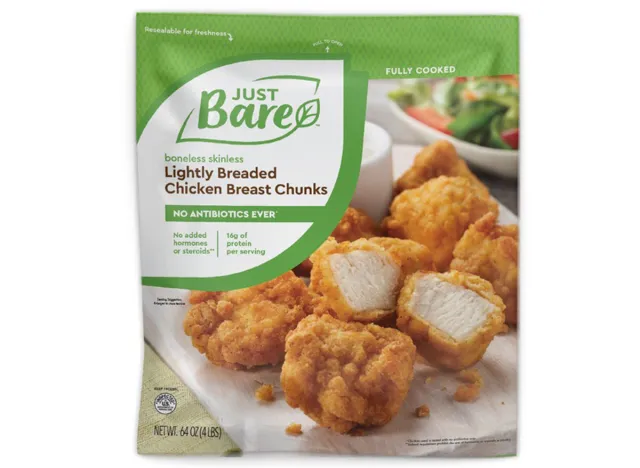 Anyone with kids knows that chicken nuggets are a mandatory freezer item, but the Just Bare variety is so delicious even adults will want to get after them. A four-pound bag of these lightly breaded chunks, which are free of antibiotics, hormones, artificial ingredients, will run you $17.99 at the warehouse ($22.38 via Instacart). They are great in the air fryer and can be made in the oven or microwave, too.
Veggies Made Great Blueberry Oat Muffins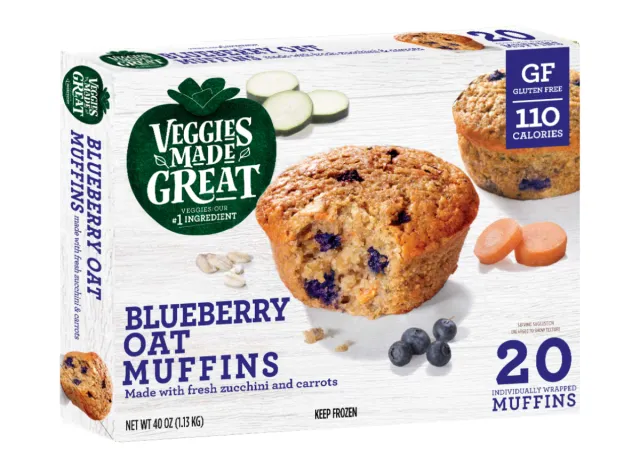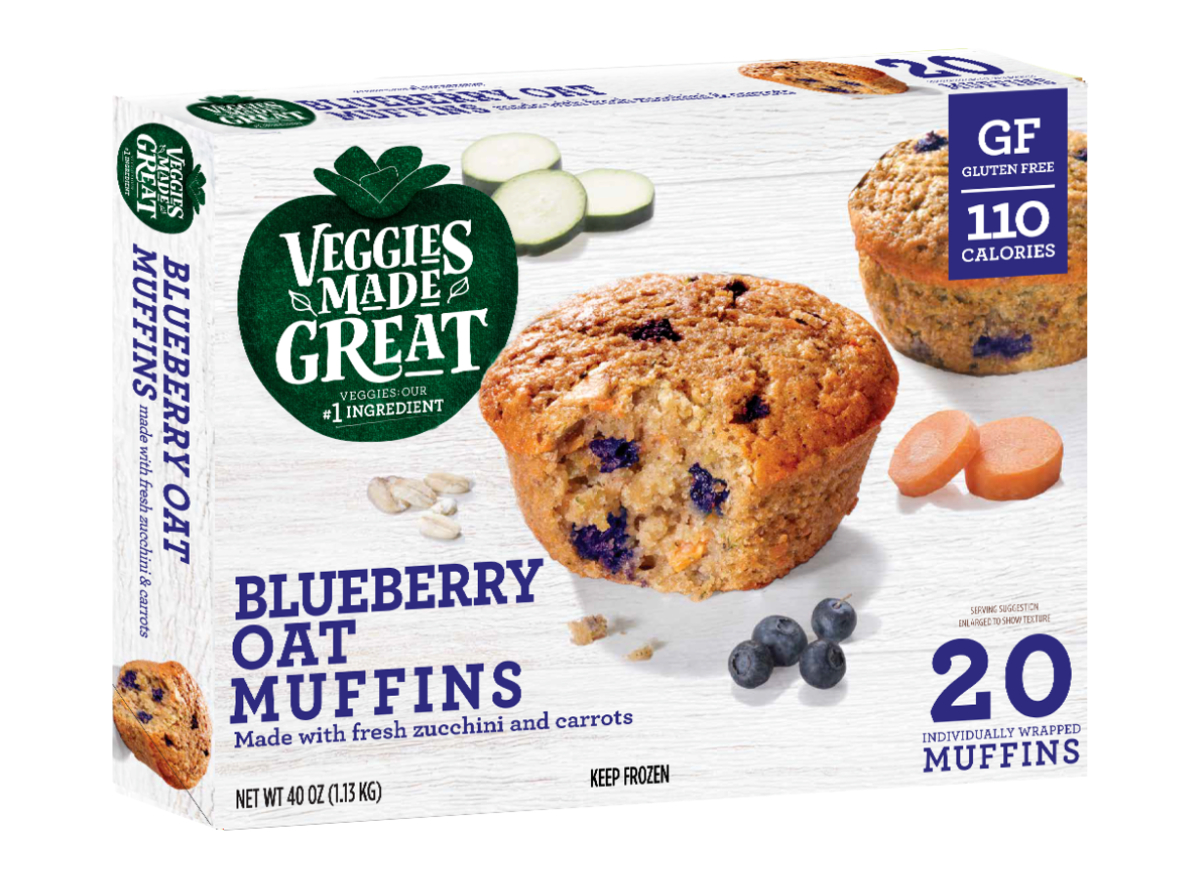 Muffins are often brimming with calories and fat, but these blueberry studded muffins from Veggies Made Great are a healthy choice (packed with zucchini and carrots) and a lifesaver when you're trying to run out the door in the morning. Simply pop them in the microwave and you're good to go.  Costco usually rotates the flavors (snag a double chocolate when you can) so be on the lookout for any variety. A box of 20 will run you $13.49 in the warehouse.6254a4d1642c605c54bf1cab17d50f1e
Kirkland Signature Three Berry Blend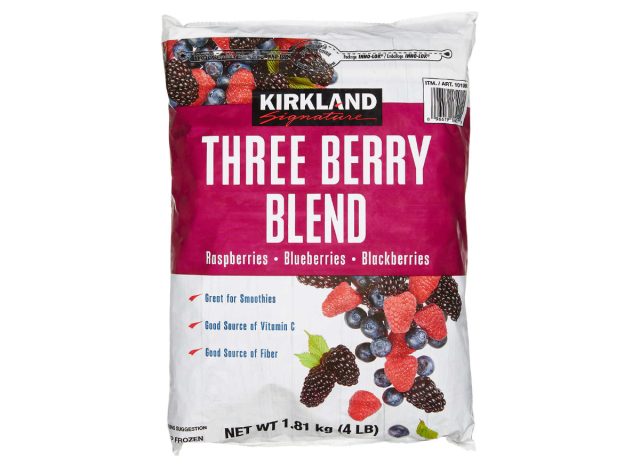 If smoothies are a regular thing in your house, Costco has you covered with an array of frozen fruit. If you store it properly, it should last in the freezer for a very long time. This three berry blend of raspberries, blueberries and blackberries with no added sugars or preservatives will cost $14.99 in the warehouse ($17.49 online) for a four-pound bag.
Caprifoods Organic Riced Cauliflower
Cauliflower rice is such a versatile ingredient, if you have a bag or two stashed in your fridge you can make just about everything from cauliflower mash to cauliflower fried rice and tabbouleh. Costco has five, one-pound bags of this organic cauliflower rice (so you don't have to worry about freezer burn) for $8.49 at the warehouse, a great deal. All you do is pop it in the microwave to start off whatever creation you plan to make. We have a feeling you'll be using these often.
Kirkland Signature Raw Tail Off Farm Raised Shrimp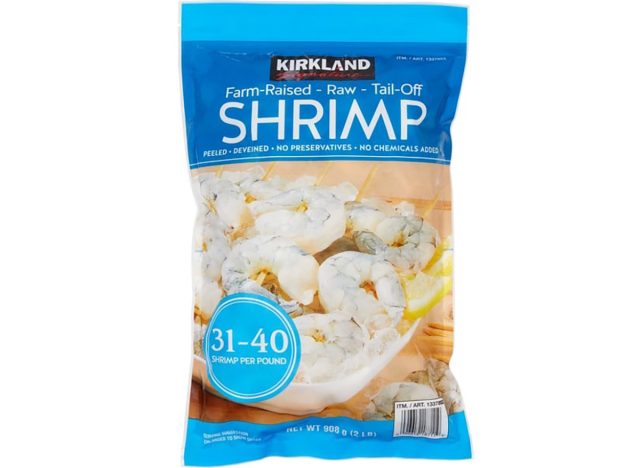 Costco has a great selection of frozen proteins to make whipping up a weeknight dinner super simple. Many of them carry the retailer's own Kirkland Signature label. These raw shrimp are already peeled and deveined with the tails off making them easy to throw into pastas or stir-fry. They defrost fairly quickly. A two-pound bag costs $13.99 at the warehouse ($17.40 via Instacart), and you'll get about 31-40 shrimp per pound.
Tattooed Chef Organic Açai Bowls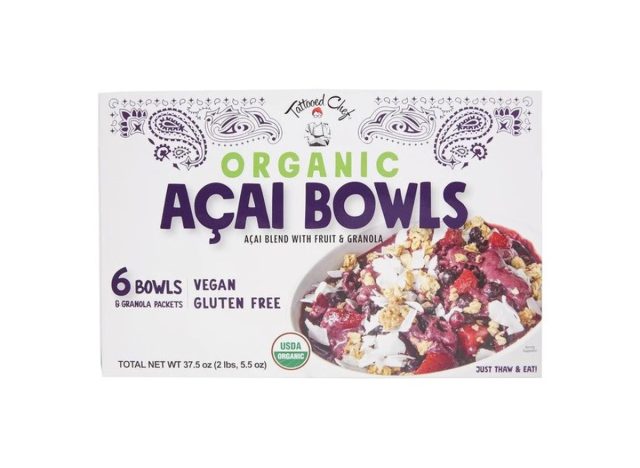 Head to any smoothie shop and an açai bowl will likely run you around $10 or more a pop. These frozen versions from Tattooed Chef are mixed with organic fruit and come with granola on the side and will only cost you $12.99 at your local Costco warehouse for the entire box of six bowls. They are vegan and gluten free, too.
Sweet Potato Fries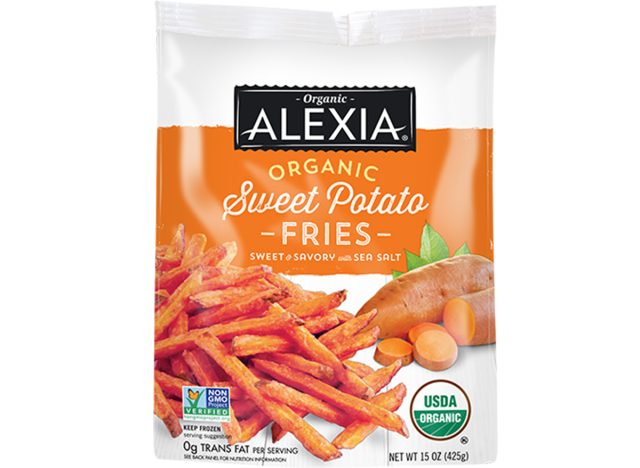 Who doesn't love sweet potato fries? Even chefs do. The brands that Costco carries rotate often (currently Alexia Organic is listed on the website) with some versions gluten free, others organic, and others a little more indulgent. If your warehouse carries one of them, you'll want to snag a bag for an easy side dish that's sure to be a crowd pleaser.
Imperial Garden Organic Edamame
Edamame makes a great snack, additional to a meal or as a vegetable side. These organic edamame pods from Imperial Garden come in eight-ounce steamable bags, making it easy to use them whenever you're in need. High in fiber and high in protein, a box of 12 costs $13.99 at the warehouse ($17.40 via Instacart).
Bibigo Mini Chicken Wontons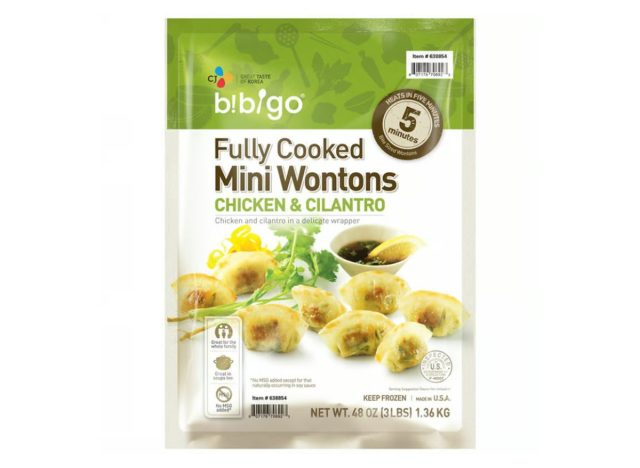 You'll often see these mini chicken and cilantro wontons on sample at Costco because they are wildly popular and with good reason. You can microwave, steam, or pan-fry these fully cooked wontons, which make a great starter, snack, meal or even addition to a soup. A three-pound bag costs $11.49 at the warehouse ($14.54 via Instacart).
Macabee Kosher Pizza Bagels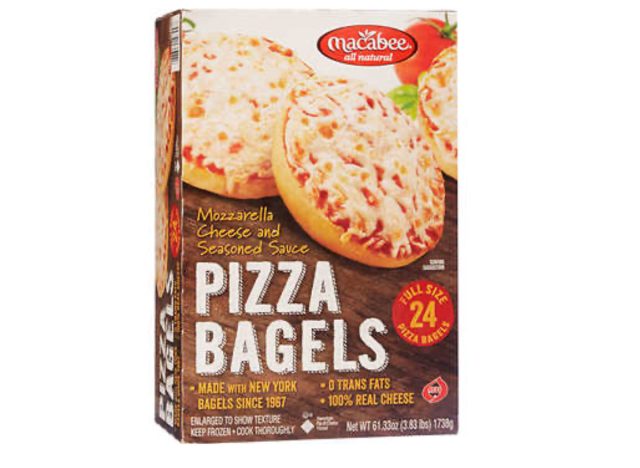 Sometimes you want pizza, and other times you want pizza bagels. This 24-count box of Kosher pizza bagels delivers as a pizza bagel should, a crunchy toasted bagel complimented with a flavorful sauce and real mozzarella cheese. They come in trays so you don't have to make the whole box at once and worry about freezer burn. Add a little extra cheese to the top of them if you like a good cheese pull. The box costs $11.89 at the warehouse.
Uncrustables
Always a must-buy at Costco for their bigger size and better price, these peanut butter and grape jelly sandwiches make lunch time, pre-sports snacks, and road trips that much easier. A box of 18 sandwiches will run you $14.49 at the warehouse and you'll be hard pressed to find a better price elsewhere.
Bubbies Mochi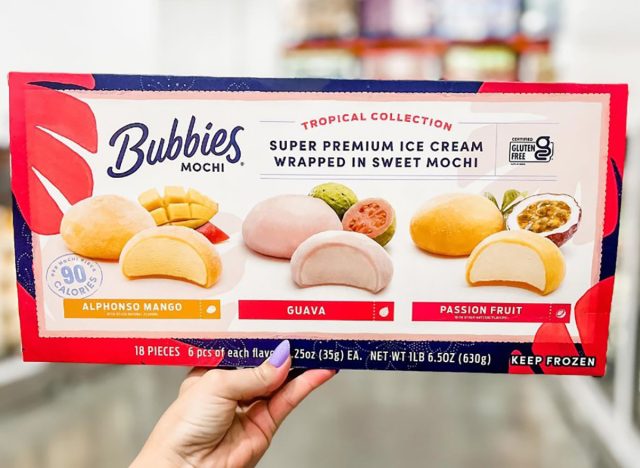 Mochi makes a good little dessert or treat, and the Bubbies Ice Cream mochi is top notch. Costco currently offers its tropical collection: alphonso mango, guava, and passion fruit. You'll get six pieces of each flavor (for a total of 18, priced at $11.49 in stores. All of the mochi are non-GMO and gluten free.
Ajinomoto Tokyo Shoyu Ramen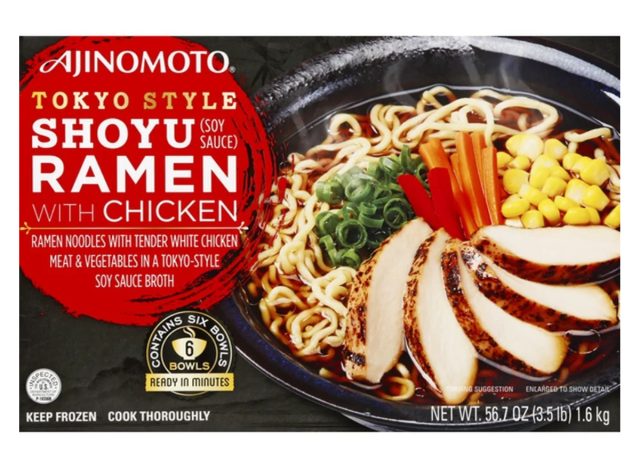 This delicious Tokyo-style ramen is a customer favorite and for good reason. Six bowls of shoyu ramen, complete with white meat chicken, vegetables and, of course, ramen noodles makes for a hearty microwave meal. The six-pack will cost you around $17.99 at the warehouse ($22.28 via Instacart).
SeaPak Morey's Marinated Wild Alaskan Salmon
Costco stocks a great variety of salmon from farm-raised to wild. These SeaPak Morey's marinated wild Alaskan salmon filets are great when you want something that you don't even have to think about – they come pre-seasoned. Many Redditors give these very high ratings. A 2.25-pound box costs $24.99 at the warehouse, which is good for wild-caught salmon. They're individually packed and perfect to throw on the grill or bake.
Happy Village Organic Dark Sweet Cherries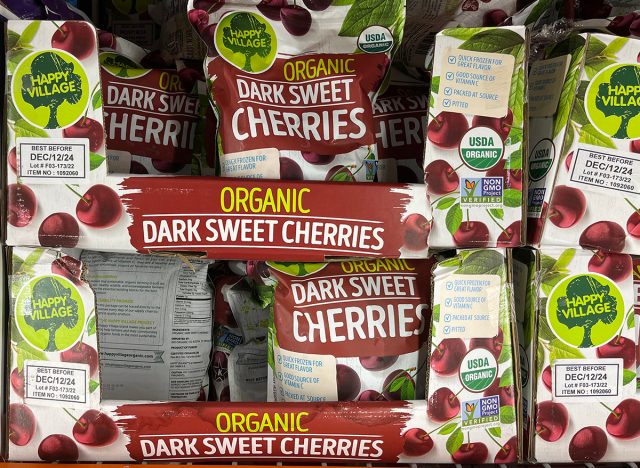 Cherries can be really expensive in stores and unless it's peak season, often hard to find, too. These organic sweet cherries are a great deal, priced at $12.99 at the warehouse ($16.16 via Instacart) for a resealable four-pound bag. Eat them frozen as is, top ice cream with them, add them to oatmeal, and so much more. There are no additives, added sugar or anything, but beware as some may contain pits.
Samantha Lande
Samantha is a freelance writer who covers food, health, wellness and other lifestyle subjects.
Read more about Samantha