Costco's Instantly Controversial Food Court Sandwich Turns Out to Be Huge Hoax
The retailer's controversial new item is, in fact, not real.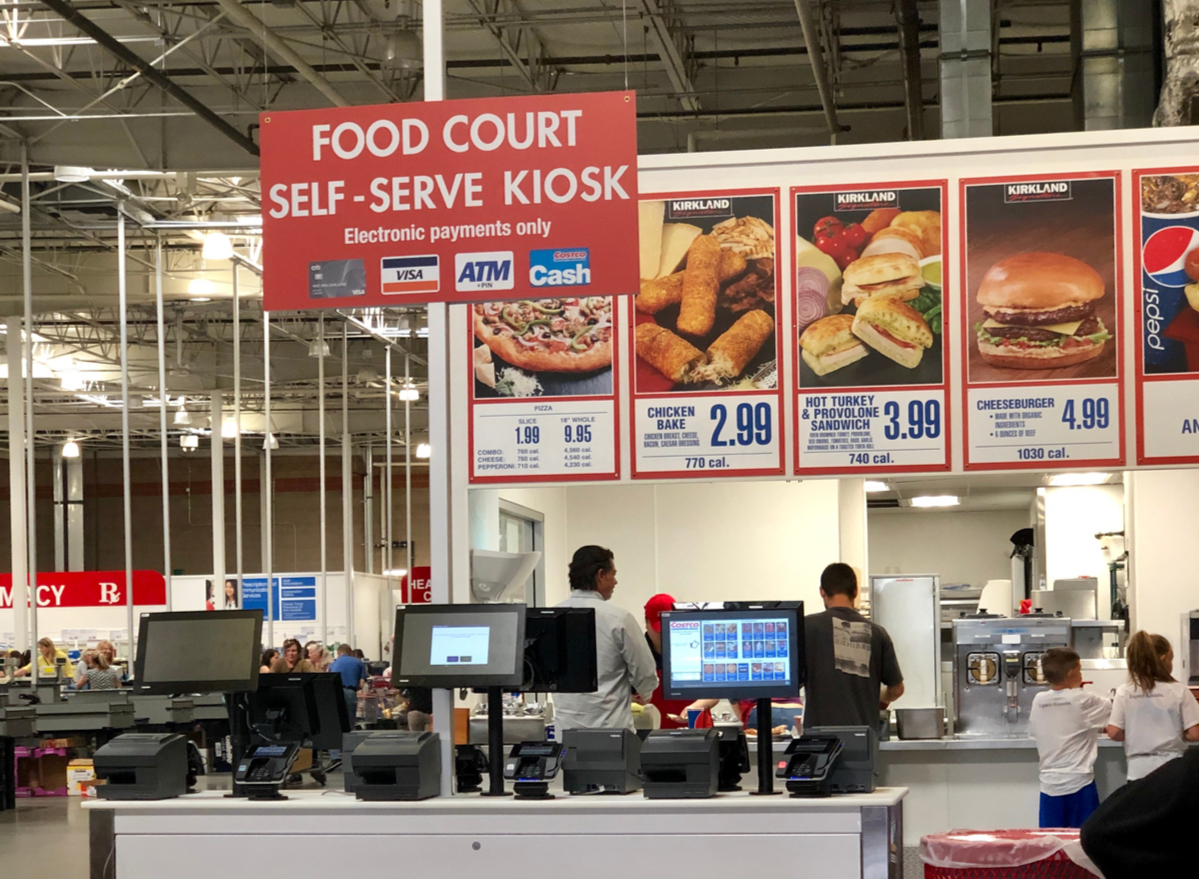 Costco fans are a passionate bunch, especially when it comes to their beloved food court. They flood social media with excited posts when a new food court item debuts or a discontinued item returns to menus. They're also not shy about sharing their outrage or frustration on social media when they feel something is amiss at these in-store eateries.
So, fans were quick to react this week, when news of a brand new food court sandwich began making the rounds on Reddit, complete with a pretty convincing photo of the menu item, purportedly spotted at a warehouse in South Bakersfield, Calif.
That's right—a peanut butter and jelly sandwich!
The make of the item itself seemed very simple, just "creamy peanut butter" and strawberry jelly spread on white bread. But many customers were completely struck by the $2.99 price tag for the item in the photo. Tons of shoppers were outraged that Costco was allegedly selling such a simple sandwich at that price, especially since so many food court items are almost shockingly cheap.
"I thought the food was a real bargain until now. $2.99 for a pb&j???" a customer commented.
"This is awful. For only $0.50 more you can get a slice of pizza with a hot dog and soda. Whoever in corporate is running their food court division is really just throwing anything at the wall to see what sticks," another wrote.
Other customers were so baffled by the sandwich that they questioned if the photo was fake. And as it turns out, their suspicions were spot on.
A Redditor who said they work at the Bakersfield Costco commented on the post to notify other shoppers that it was fake. When reached over the phone, food court employees at both Costco warehouses in Bakersfield confirmed that neither location is currently offering a peanut butter and jelly sandwich.6254a4d1642c605c54bf1cab17d50f1e
The shopper who posted the food court menu photo, u/DCGA3, even owned up to photoshopping the picture in the comments section under the post. The Redditor said that they created the photo "just for a little fun" in light of the recent debate surrounding another new Costco food court item: the roast beef sandwich.
Costco shoppers first spotted this roast beef sandwich in February this year at a Washington warehouse. As was the case with the fake peanut butter and jelly sandwich, they were immediately outraged by the $9.99 price tag on the item.
"$9.99 is way too expensive and roast beef is not that popular," a shopper wrote on Reddit.
Despite the backlash, Costco has debuted the sandwich at several other locations in the past couple of weeks, including the Northeast Denver, Colo., and Buckeye, Ariz., warehouses.
The Redditor, u/DCGA3, did not immediately respond to our queries for comment.
Zoe Strozewski
Zoe Strozewski is a News Writer for Eat This, Not That! A Chicago native who now lives in New Jersey, she graduated from Kean University in 2020 with a bachelor's degree in journalism.
Read more about Zoe