6 Best Costco Food Court Items Of All Time
Only a few select Costco food court items stand out as the most legendary of all time.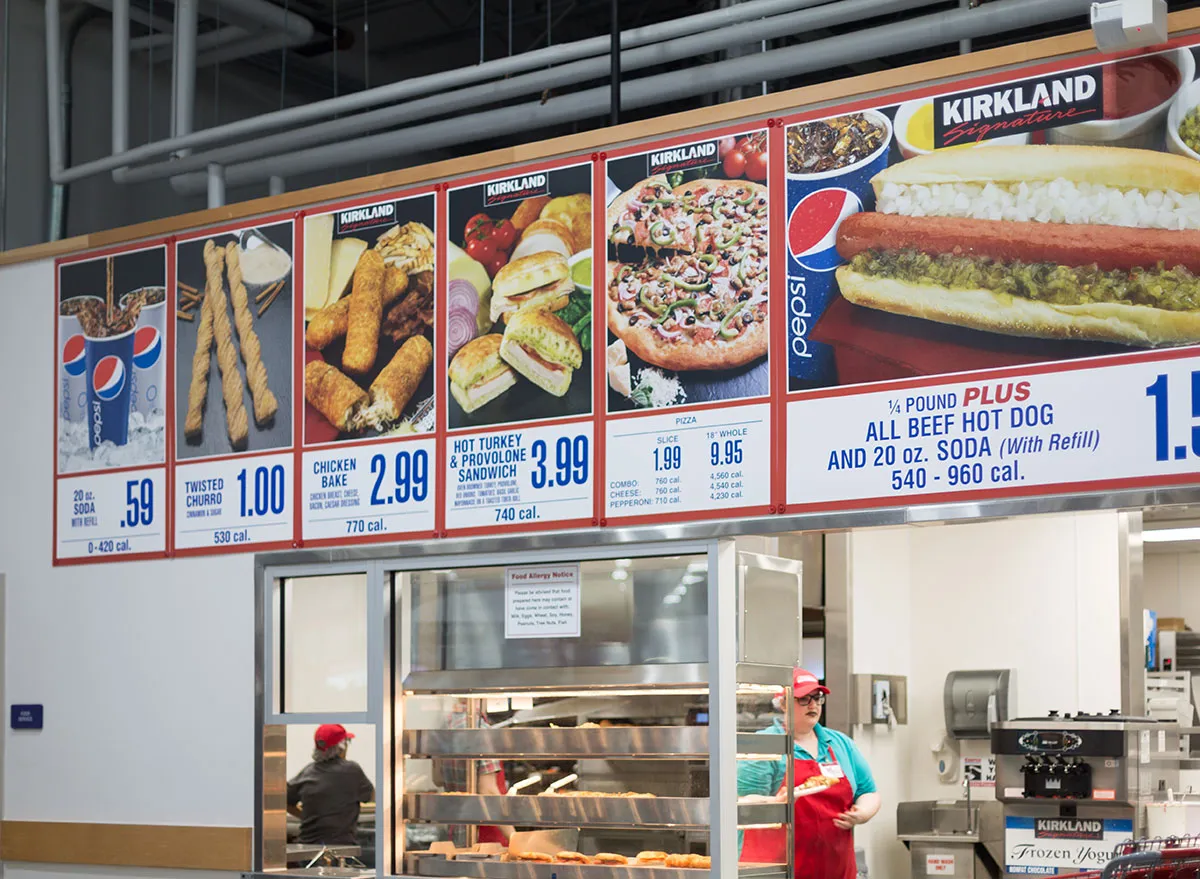 The product recommendations in this post are recommendations by the writer and/or expert(s) interviewed and do not contain affiliate links. Meaning: If you use these links to buy something, we will not earn a commission.
Out of all the great perks that come with being a Costco member, one of the best has to be the food court. These warehouse eateries have a cult following from members who love to feast on their affordable yet tasty foods during a shopping trip.
While all Costco shoppers have their favorites, some food court options are extremely popular across the board. And because Costco has such a large and active community of fans, you only have to look on social media in order to see which food court finds have reached legendary status in the eyes of shoppers across America.
Some of the most beloved Costco food court finds are available for you to buy right now. Other wildly popular food court items have been pulled from menus, but still remain highly requested and popular with fans.
Here are the best Costco food court items of all time—both current and discontinued—based on the rave reviews of members who know these foods best. Costco fans may notice that the Chicken Bake and churro did not make the cut. That's because shoppers reported a downturn in the quality for both items a couple of years ago.
Turkey Provolone Sandwich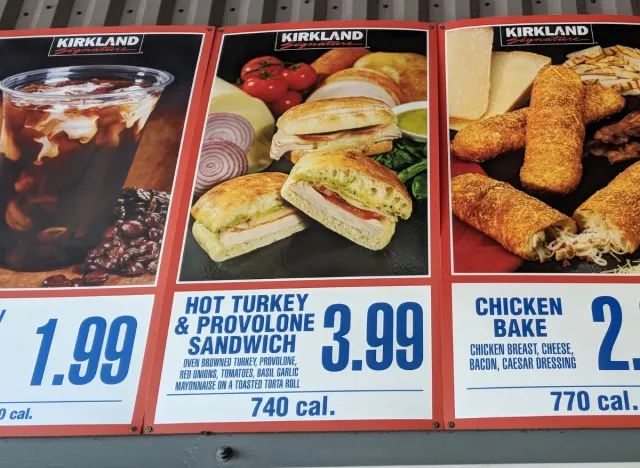 Costco's Hot Turkey and Provolone Sandwich sadly hasn't been available since Costco trimmed the food court menu during the Covid-19 pandemic. But Costco shoppers have never stopped raving about this lunch option or requesting its return in the years since.
The sandwich featured sliced turkey, red onion, tomatoes, mayo, cheese, and basil pesto on a roll. It was filling, flavorful, and very affordable at just $3.99. The fact that it continues to live rent-free in the minds of shoppers to this day should tell you just how legendary it is in the Costco community.
"I miss the turkey sandwich with all my heart," one member wrote on Reddit last year. "Every weekend on our usual trip I stand at the checkout line and stare longingly at the food board hoping one day again I'll see the turkey sandwich. But I fear it will only ever be a dream. My taste buds weep."
Costco's chicken Caesar salad stands out as a surprisingly healthy option next to all of the other rich food court foods. Maybe that's why members were devastated when Costco pulled it from menus in 2020, making it yet another Covid-19 food court casualty.6254a4d1642c605c54bf1cab17d50f1e
But after years of persistent requests from customers to bring it back, Costco finally relented in May 2023. The price of the salad did increase from $3.99 to $6.99 when it came back, and the new version doesn't include the cherry tomatoes from the old salad. Still, many members were ecstatic about the return, cementing the salad's place as one of the best food court options of all time.
"Nature is healing," one shopper wrote on Reddit after the salad was spotted in May.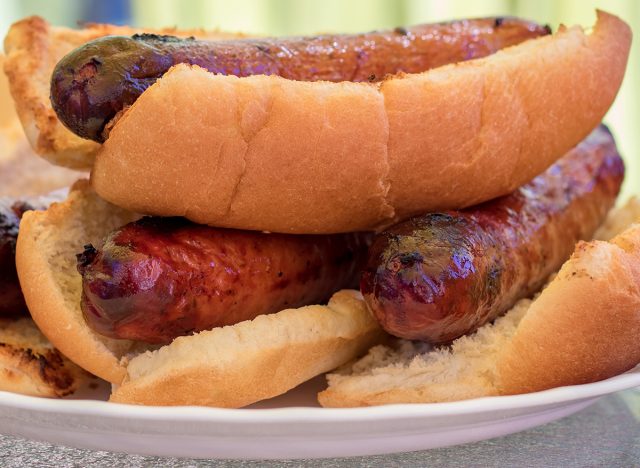 Costco may have discontinued the Polish dogs back in 2018, but customers have never forgotten nor forgiven the loss. The retailer charged $1.50 for a Polish dog and soda combo when they were available.
The sausages are still such an iconic food court option—albeit a discontinued one—that some shoppers even preferred them to Costco's regular all-beef franks because they were more heavily spiced.
In the words of one member: "Ain't nothing better than a Costco Polish dog,"
While American Costco food courts no longer offer these highly-requested dogs, customers can still find them if they ever visit a Costco in Canada.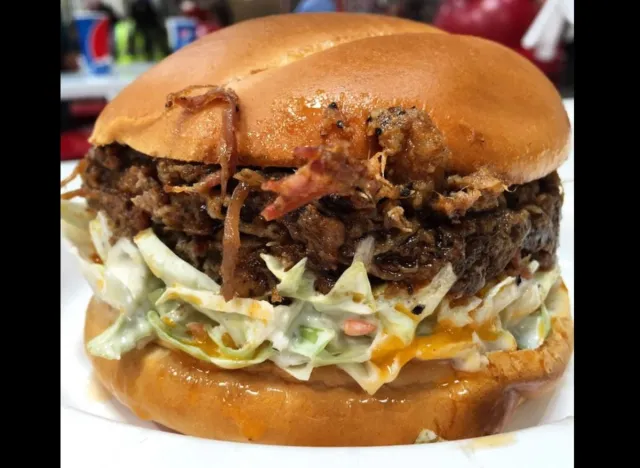 Costco may not be the first place you think of when you're craving good barbecue. But for a few shining years, Costco's food court offered a BBQ Brisket Sandwich that was an extremely hot commodity.
At $4.99, the sandwich was one of the pricier food court items, but customers and reviewers still praised the combination of saucy brisket and coleslaw on a bun. In 2018, Business Insider even declared the sandwich as the absolute best option at Costco's food court.
Shoppers can hold out hope that Costco hears their pleas to bring it back—and the sooner the better.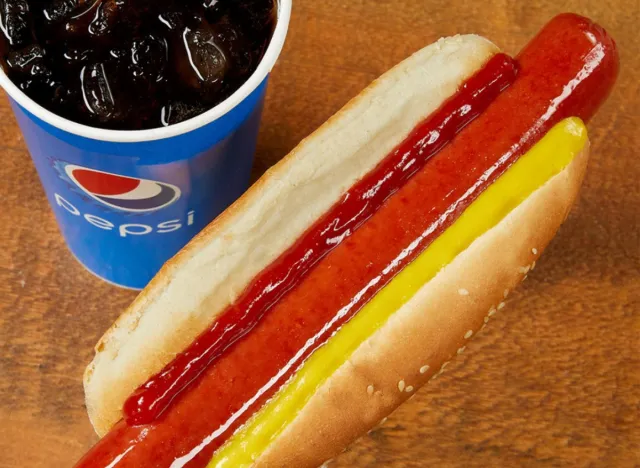 You're never too old to appreciate a good hot dog, especially if you hold a Costco membership card. In what seems like a miracle amid all the inflationary pressures these days, Costco has stubbornly ensured that its food court hotdog and soda combo still only costs mere pocket change in 2023.
The food court hot dog and soda combo has sold for just $1.50 ever since it was introduced back in 1985. Costco's chief financial officer Richard Galanti even suggested last year that it would stay at that low price "forever," per CNBC.
Let's hope that Galanti is right so Costco shoppers have access to a consistently good lunch for under $2 until the end of time.
"The Costco hotdog is the most delicious and well-priced thing on Earth. Humanity peaked when it was released to the public and nothing will ever top it," one especially passionate fan wrote on Reddit last year.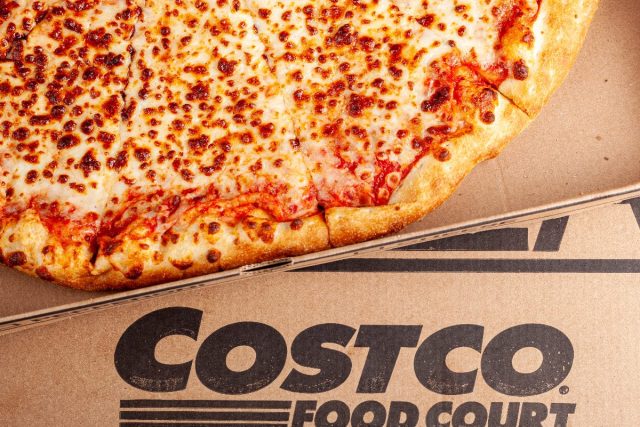 Costco's food court pizza may not be the absolute best or most authentic pie you'll ever try in your life (though some shoppers may disagree). Still, it is one of the most beloved options on the entire menu because it's convenient, tasty, and, most importantly, very affordable.
You can grab single slices for $1.99, or order a whole entire 18-inch pizza for just $9.95. In other words, that's a lot of pizza at a great price.
"If you factor in the collective categories of taste, price, and quickness, convenience, and nostalgia; it ranks pretty high for me," a shopper wrote of Costco's pizza on Reddit earlier this year.
We'd be remiss if we mentioned the food court pizza without giving an honorable mention to the combo pizza, which featured veggies, pepperoni, and sausage. Customers were devastated when Costco pulled the combo pizza from food court menus during the early days of the Covid-19 pandemic. Shoppers can still get plain cheese and pepperoni pizza, but the combo flavor remains one of the most highly-requested Costco food court items to this day.
Zoe Strozewski
Zoe Strozewski is a News Writer for Eat This, Not That! A Chicago native who now lives in New Jersey, she graduated from Kean University in 2020 with a bachelor's degree in journalism.
Read more about Zoe