8 Costco Buys That Are Flying Off Shelves Right Now
Keep an eye out for these hot-ticket foods at the warehouse. They probably won't be around for long!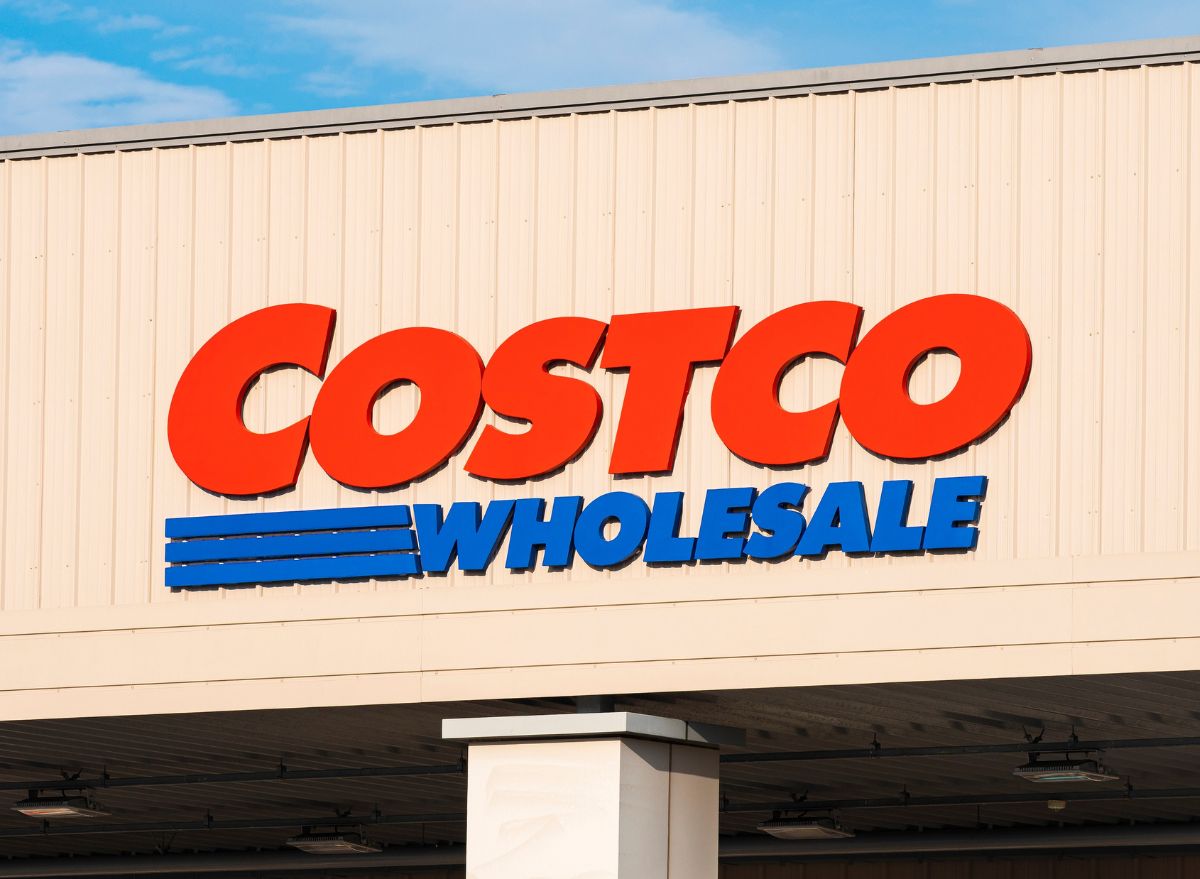 The product recommendations in this post are recommendations by the writer and/or expert(s) interviewed and do not contain affiliate links. Meaning: If you use these links to buy something, we will not earn a commission.
If there is anything Costco members are used to, it's that there always seems to be some hot new item to try. As word gets around the internet, those items can sell out quickly, only upping that item's popularity even more. The item is eventually restocked, only for it to disappear in a flash yet again, if not faster than the first time. The cycle continues.
With the summer season winding down and kids heading back to school, families are heading to their local Costco for those final few bites of Key Lime Pie and Lemon Meringue Cheesecake. Before those fan-favorite fall items arrive, however, there are still plenty of must-have items that are flying off shelves right now.
Be sure to be on the lookout for these grocery items, and grab one (or several) if they happen to be in stock before it's too late.
Mediterranean Orzo Pasta Salad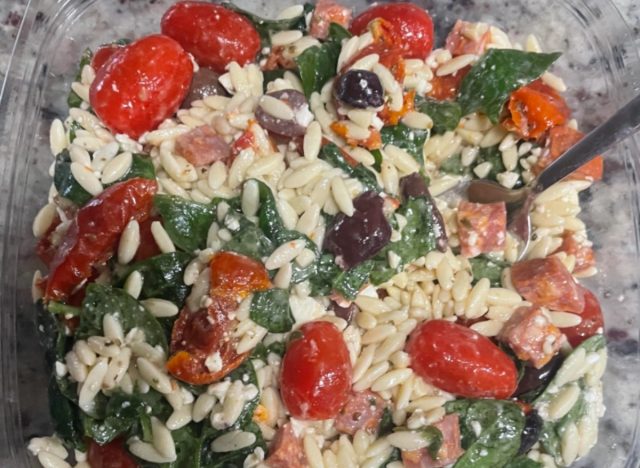 Per Serving (1 cup)
: 330 cal, 20 g fat (6 g saturated fat), 830 mg sodium, 26 g carbs (3 g fiber, 4 g sugar), 12 g protein
Found in the prepared foods section at Costco, the Mediterranean Orzo Pasta Salad has been a go-to staple for many shoppers this summer. If you can find it in stock, you'll enjoy multiple servings of orzo pasta, tomatoes, crumbled feta cheese, baby spinach, olives, and salami. Costco members were quick to get the word out over how much they enjoyed this salad, with one Redditor sharing, "I took one bite and RAN here to spread the word. 10/10, five stars. Now excuse me, I've got more pasta salad to eat."
Another customer shared their thoughts on Reddit, noting how much of a hit the salad is with their family: "I just got some yesterday, and my husband and I had to stop ourselves from finishing the whole thing for lunch lol. We will definitely be getting this again."
Girl Scout Thin Mint Bites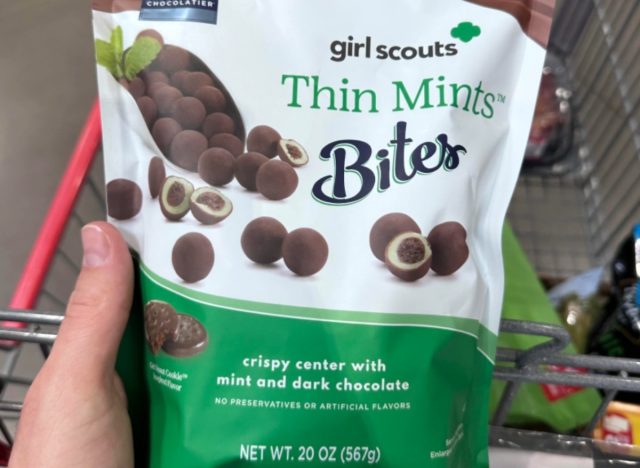 Per Serving (about 9 pieces)
: 140 cal, 7 g fat (5 g saturated fat), 55 mg sodium, 19 g carbs (1 g fiber, 16 g sugar), 1 g protein
Thanks to Costco, Girl Scout Cookie season feels like it lasts all year long. For the past couple of years, shoppers have been able to purchase Thin Mint Pretzels and Thin Mint Almonds to satiate their Girl Scout Cookie cravings, but now there's another bite-size snack on the scene. @costcohotfinds shared the Girl Scout Thin Mint Bites on Instagram, and the commenters were quick to share in the excitement. This snack likely has a high rate of repeat purchasing for some shoppers, as one commented, "Don't buy these- they will be gone in the same day," with another comment adding, "They are so insanely good. They disappear quickly!" With so many shoppers looking to refill their supply quickly, it is a good idea to grab a bag of these fast if spotted at Costco.
SkinnyPop Extra! with Cheddar and J
alapeño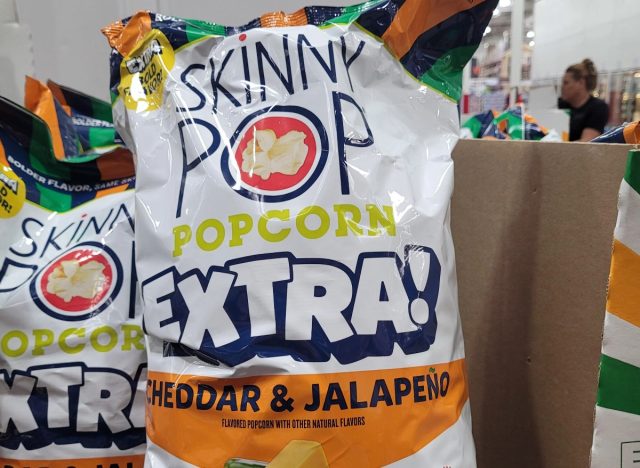 Per Serving (3 cups)
: 140 cal, 8 g fat (1 g saturated fat), 200 mg sodium, 14 g carbs (2 g fiber, 2 g sugar), 2 g protein
A bowl of salty, crunchy popcorn is hard to resist, but thankfully for many calorie-conscious shoppers, SkinnyPop has answered the call of being both tasty and low in calories. The original plain flavor has been available at Costco for some time, but now shoppers can also take advantage of a variety that adds a little extra kick to each bite. Shoppers should keep their eyes peeled for SkinnyPop Extra! with Cheddar and Jalapeño.
Several Costco members that have tried it note that the spice is not overwhelming, with one adding on Reddit, "I've had it, and it is excellent. Their cheddar doesn't use actual cheese, but like the aged cheddar, this stuff does, which is nice. It is incredibly good." Eager shoppers should grab a bag as they appear to come in and out of stock. One Redditor wished, "I loved this stuff, hoping it makes a comeback at my store!"
Belgian Boys Bite-Sized Pancakes
Per Serving (9 pancakes)
: 220 cal, 10 g fat (1 g saturated fat), 240 mg sodium, 29 g carbs (1 g fiber, 6 g sugar), 4 g protein
Pancakes are an oh-so-sweet way to start the day, but the thought of conquering a pile of large, fluffy flapjacks can be too much at times. Luckily, at Costco, members can purchase Belgian Boys Bite-Sized Pancakes for a more portion-friendly option. @costco_doesitagain shared about the product on Instagram, with several commenters adding how great of a breakfast or snack option it is for kids. And with back-to-school season in full swing, shoppers are going to be stocking up on quick and easy morning meal solutions just like this.
Kirkland Signature Green Chile Cornbread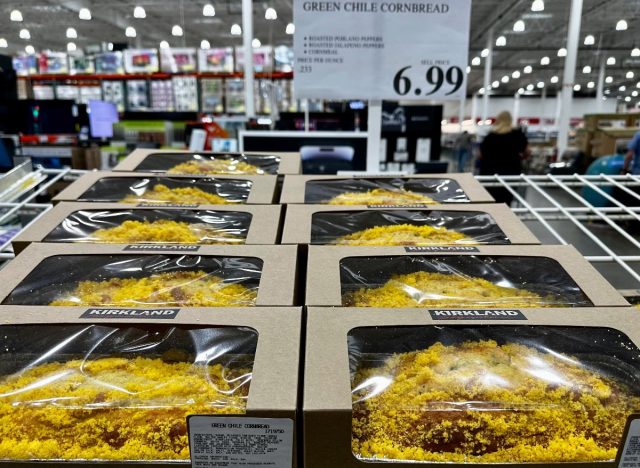 Per Serving
: Nutrition facts unva
Cornbread is quite versatile in that it can be enjoyed as an appetizer, a side dish, or a dessert. No matter the preference, Costco has upped its cornbread game by selling a Kirkland Signature Green Chile Cornbread. @costcodeals shared the new bakery item on Instagram, and many comments included positive things to say about this head-turning loaf made with roasted poblano peppers and roasted jalapeño peppers.6254a4d1642c605c54bf1cab17d50f1e
One Costco shopper already came up with clever ways of serving it, commenting on the post, "Bought it and really liked it. Went great with smoked brisket." The flavor won't land with everyone but expect curious shoppers to pull these loaves off store shelves in a flash.
Zero Brands Fruit Cream Bars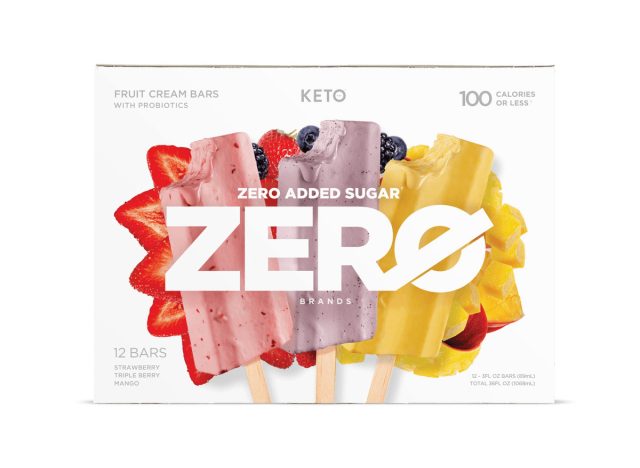 Per Serving (1 bar)
: 100 cal, 5 g fat (3 g saturated fat), 85 mg sodium, 13 g carbs (3 g fiber, 3 g sugar), 4 g protein
The only thing that could be better than a refreshing dessert is one that doesn't come with tons of added sugar. Zero Brands just launched its Fruit Cream Bars at Costco. The popsicles, shared on Instagram by @costcobuys, contain no gluten, no added sugar, and no artificial flavors. Those flavors, by the way, include Strawberry, Triple Berry, and Mango. The hype is building quickly on this product, and if the comments are any indication, these could sell out in a flash. "Yum I can't wait to try!!" one shopper wrote.
Simple Mills Honey Cinnamon Sweet Thins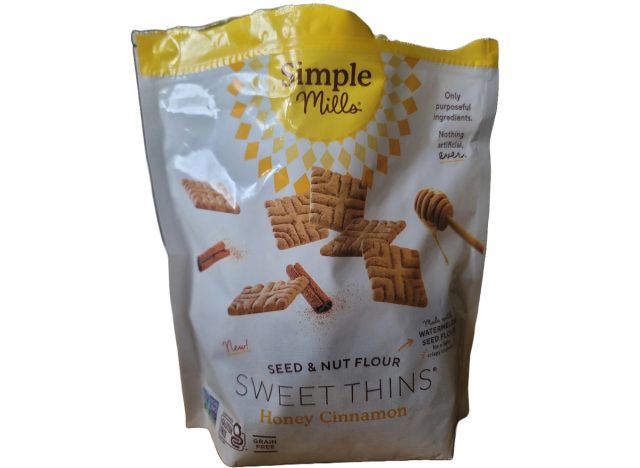 Per Serving (12 thins)
: 140 cal, 6 g fat (3.5 g saturated fat), 100 mg sodium, 20 g carbs (1 g fiber, 7 g sugar), 2 g protein
While some items fly off Costco shelves thanks to their incredible taste, others find their way into everyone's shopping carts when they're on sale. The Simple Mills Honey Cinnamon Sweet Thins are not a new item at Costco, but customers love them all the same. Shoppers have been on the lookout for these snacks for some time, with one Redditor sharing in 2022, "OMG, I love those! Hopefully, my Costco will have them the next time I go."
As @costcohotfinds discovered and shared on Instagram, the sweet thins are marked down at the warehouse for $2.80 off through Aug. 27. As a great school snack that is filled with natural ingredients, don't be surprised if these disappear before the sale ends.
Matcha Green Tea (1 mochi)
: 90 cal, 3 g fat (2 g saturated fat), 25 mg sodium, 15 g carbs (0 g fiber, 10 g sugar), 1 g protein
A great dessert can get Costco members talking, and the buzz these days seems to be all over the Sweety Mochi Ice Cream. @costcodeals shared on Instagram how the dessert was available at Costco in certain regions, with each package containing Ube Purple Yam, Matcha Green Tea, and Vietnamese Coffee flavors.
According to @costcodeals, they are currently available in select markets, with wishful Costco members are crossing their fingers in the hopes that it will expand to other regions. One commenter replied, "I hope they make their way up north!" Another chimed in with emojis exclaiming how they were "running" to their local Costco to pick up a box.
Carly Neil
Carly Neil is a freelance writer specializing in all things food, travel, Disney, and theme parks.
Read more about Carly