18 Clever Ways to Eat Cottage Cheese
This protein-packed product is more versatile than you think! Here's proof cottage cheese doesn't just pair well with fruit.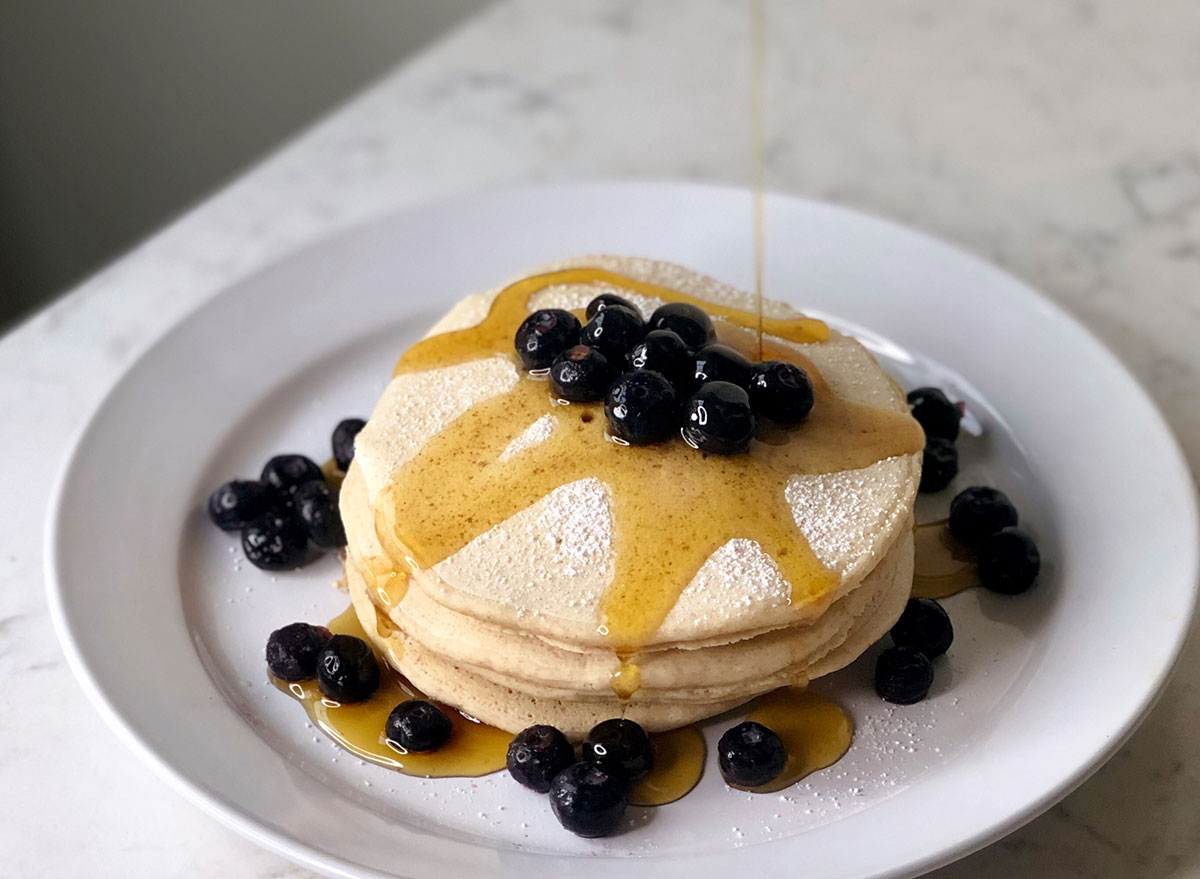 Cottage cheese is the "unsung hero of the cheese aisle," says Palak Patel, chef at the Institute of Culinary Education.
"There's a lot you can do with it, whether it's something sweet or something savory," she says, referencing the mild flavor and versatility of cottage cheese. "And, it's healthier than a lot of other cheeses."
Cottage cheese is low in calories, high in protein, and packed with nutrients like calcium. It's attractive to athletes and a mainstay of high-protein diets like keto, says Malina Malkani, a registered dietitian nutritionist, spokesperson for the Academy of Nutrition and Dietetics, and creator of the Wholitarian Lifestyle. Cottage cheese can help regulate blood pressure and is essential for bone health.
Despite its health properties, cottage cheese has been overshadowed by yogurt in recent years, and many people still see cottage cheese as a diet food straight out of the 1970s. But, as yogurt sales are flattening, cottage cheese (made from separating the curds of pasteurized milk from the whey) is making a comeback.
Though it's most commonly known as a pairing for fruit, there are so many more ways to enjoy it. Here are 18 creative ways to enjoy cottage cheese, straight from experts.
Create smooth, sweet spreads
The lumpy texture or cottage cheese can be off-putting for some, says Lisa Richards, a nutritionist and creator of the Candida Diet. If you're looking to avoid those unsettling lumps, she recommends whizzing it through a food processor or blender to smooth it out.
Richards likes to mix 6 ounces of cottage cheese with a teaspoon each of vanilla extract and honey to spread on toast. She often makes extra to store in the fridge.
Cottage cheese is commonly used in breakfast dishes, like pancakes, especially as people are cutting out white flour or embracing paleo or gluten-free diets, says Patel.
Patel's banana pancakes recipe includes 1/2 cup of buckwheat flour, 1 tablespoon of baking powder, 1 tablespoon of apple cider vinegar, 1/2 cup of cottage cheese puree, 1 banana, 1 egg, 1 teaspoon vanilla, and 1 cup almond milk. Mix the dry and wet ingredients separately, then combine and let it sit for 10 minutes. Use 1/2 cup to ladle into a nonstick pan.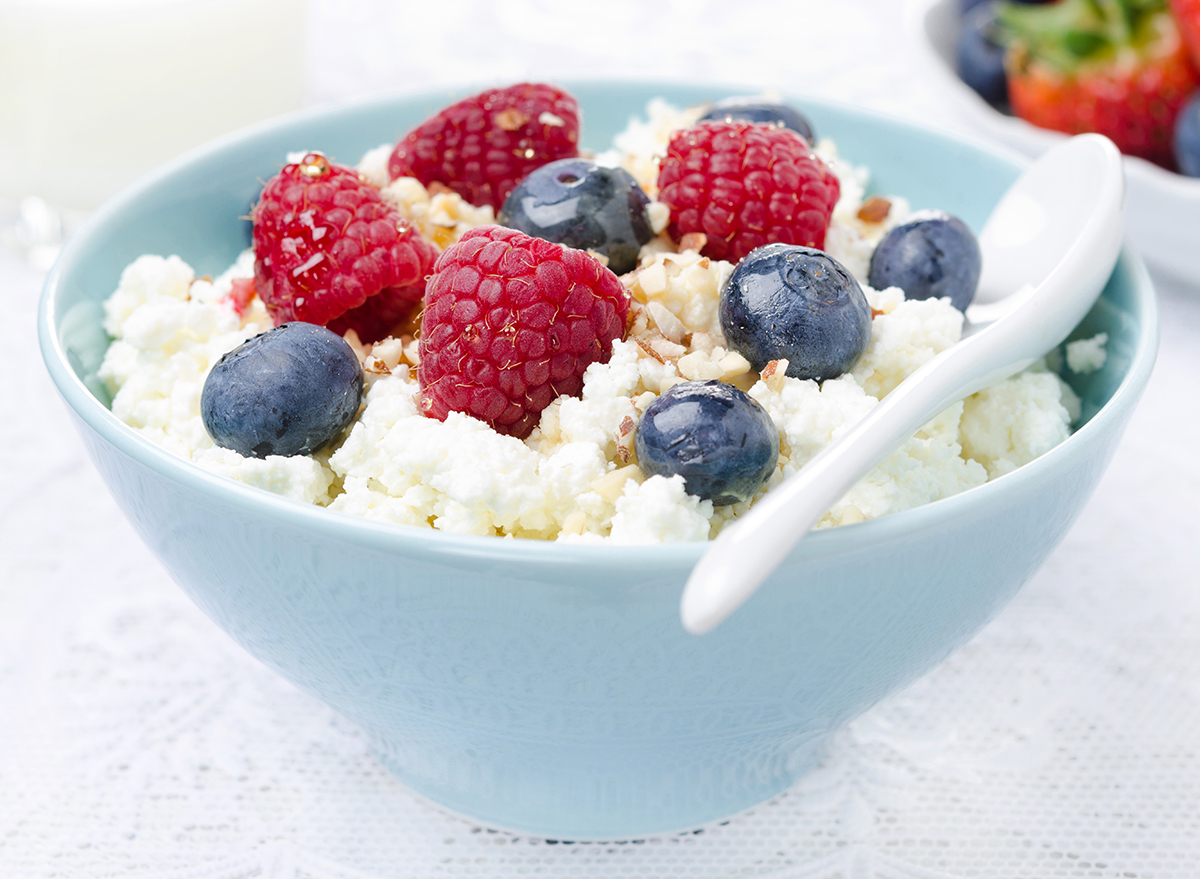 Erin Kaese, managing editor of Athletic-Minded Traveler, swears by her "recovery bowl," which she says she has been eating nearly every day for the past 15 years.
She makes the bowl by combining berries, diced apple, two spoonfuls each of cottage cheese and yogurt, high-fiber cereal and almond milk. She usually enjoys this bowl with a cup of coffee in the early afternoon.
"I love that it has protein, antioxidants, and fiber," she says. "Most important, I love the taste. It's food bliss for me."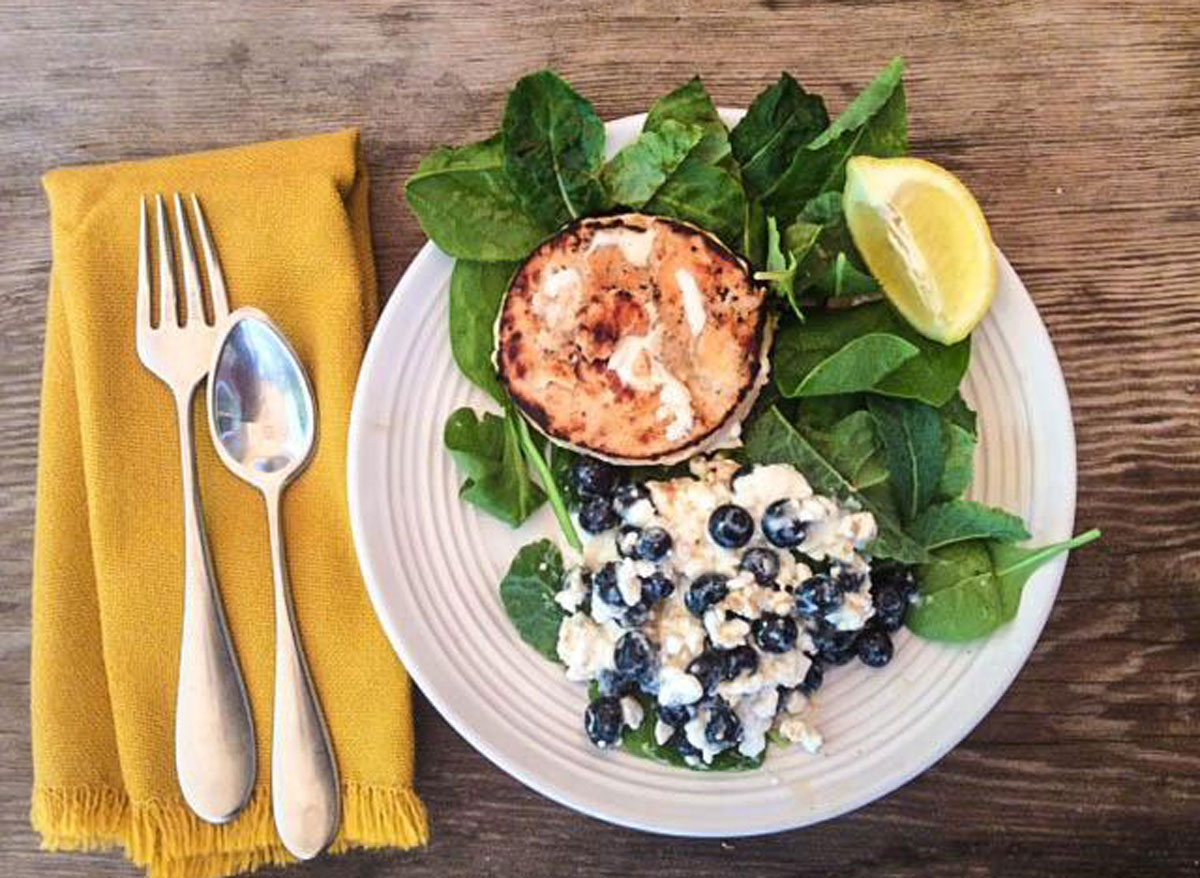 As a spin on the classic "peaches and cream," Lauren O'Connor, a registered dietitian and owner of Nutri Savvy Health, says her lemon-blueberry swirl pairs cottage cheese with fresh or frozen blueberries, lemon, and honey. The "dessert-worthy treat" can be served as a side, a healthy snack, or on toast. Get the full recipe at Nutri Savvy Health.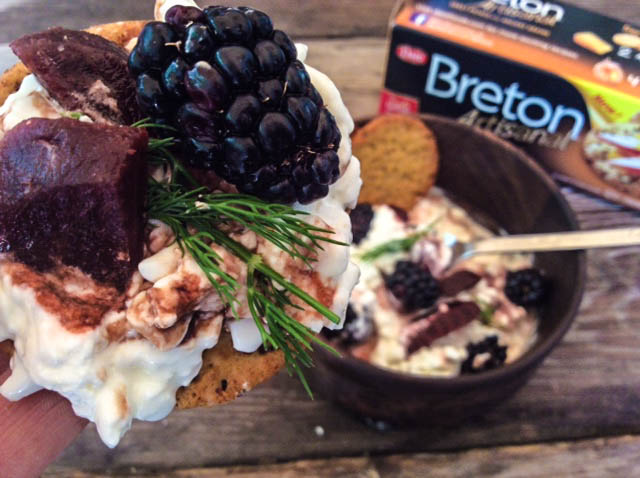 Dips, both sweet and savory, are another natural fit for cottage cheese. O'Connor's beet and berry dip combines both flavors, using a "double cream" base of cottage cheese and sour cream with balsamic beets and blackberries. Get the full recipe at Nutri Savvy Health.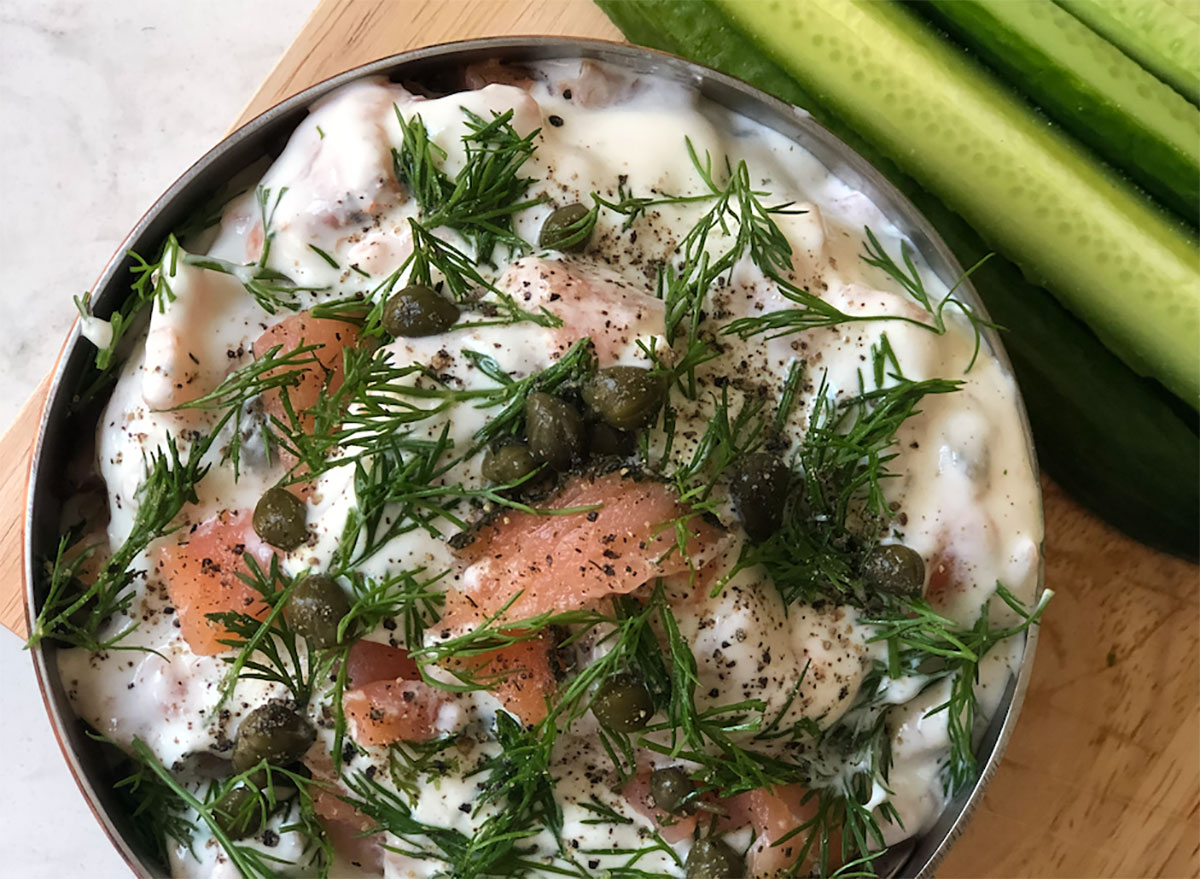 Patel says she enjoys making a variety of dips with pureed cottage cheese. A favorite is smoked salmon dip, with 1 cup of cottage cheese pureed in a blender or food processor, 12 ounces of chopped smoked salmon, 1/4 cup of fresh dill, 1 teaspoon dijon mustard, 2 tablespoons capers, juice of half a lemon, kosher salt to taste, and freshly ground black pepper. Combine all ingredients in a large bowl, and serve with cucumbers.
"These are super simple things, and people can just interchange the herbs, interchange what you put in, whether you want to make it vegetarian or if you want it put dried fish, smoked fish, clams, whatever fits your fancy," Patel says.
Basil and Pine Nut Delight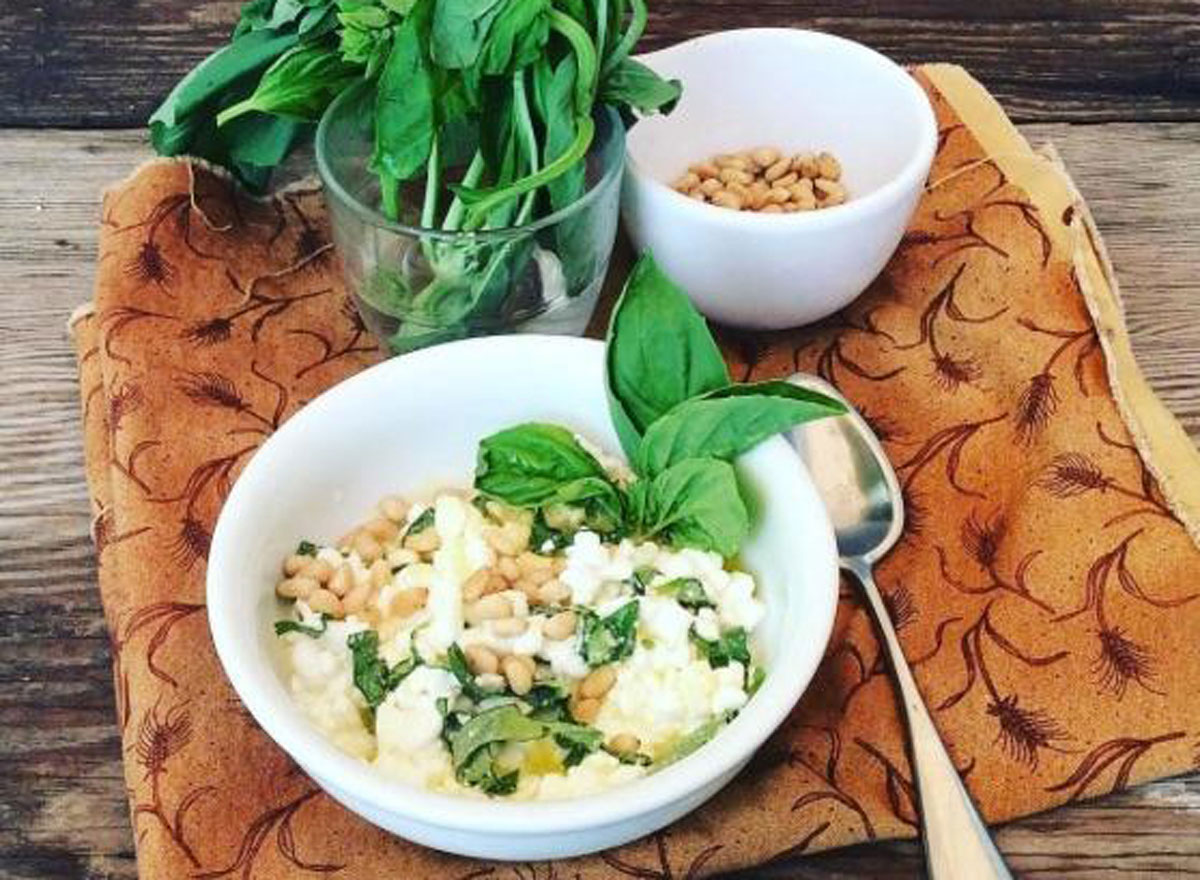 Cottage cheese works well with savory flavors, and adding basil, pine nuts, and olive oil offers a protein-dense, pesto-flavored dish, O'Connor says. Get the full recipe at Nutri Savvy Health.
Creamy Dijon Potato Salad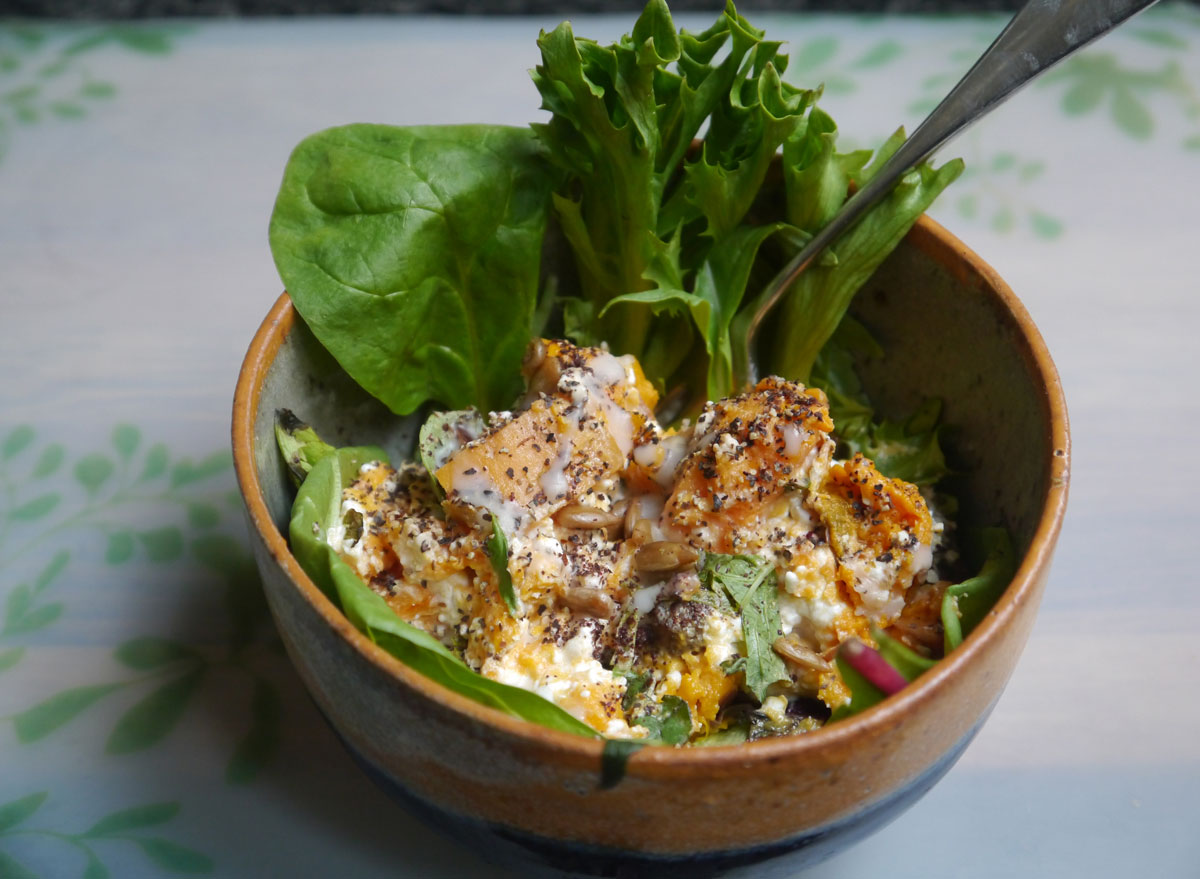 Small-curd or pureed cottage cheese adds extra creaminess to many different dishes, including potato salad. The addition of cottage cheese boosts the protein levels and lightens up the typically mayonnaise-heavy potato salad, O'Connor says.
She also suggests adding dijon mustard, green onions, celery, cottage cheese, and spices to make a tangy picnic staple with lots of texture. Get the full recipe at Nutri Savvy Health.
6254a4d1642c605c54bf1cab17d50f1e
Subbing cottage cheese for mayo makes chicken salad a little healthier, says Laura Licona, executive chef at Fairway Market. The cottage cheese also adds more protein. Add the chicken salad to whole wheat bread for a delicious and easy lunch.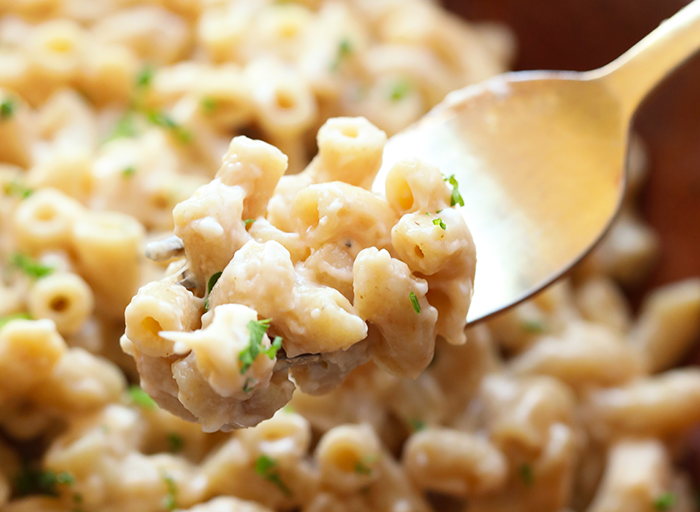 Cottage cheese in mac-and-cheese recipes adds creaminess, texture, and richness, while cutting some of the fat and calories that other cheeses contain, Patel says.
For a full recipe for cottage cheese mac and cheese, check out this one we love from Fit Foodie Finds.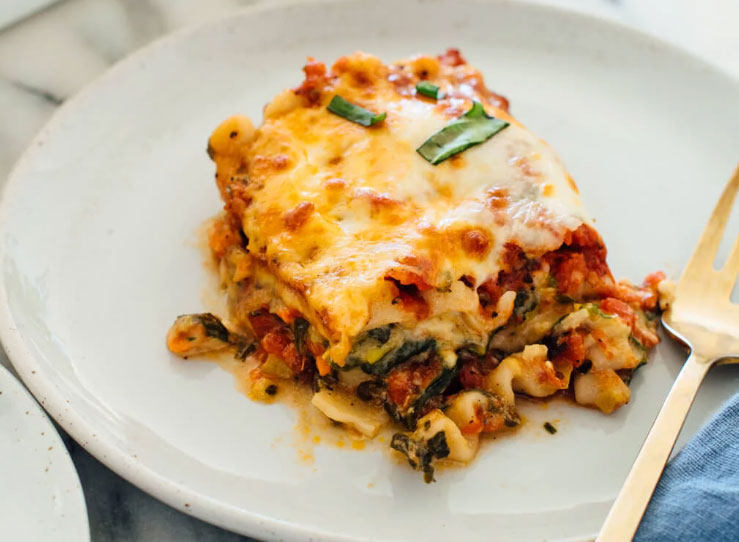 Cottage cheese can be used as a swap for ricotta in lots of different dishes, like lasagna or any creamy pasta sauce, Patel says.
For a lasagna recipe using cottage cheese, check out this recipe we love from Cookie + Kate.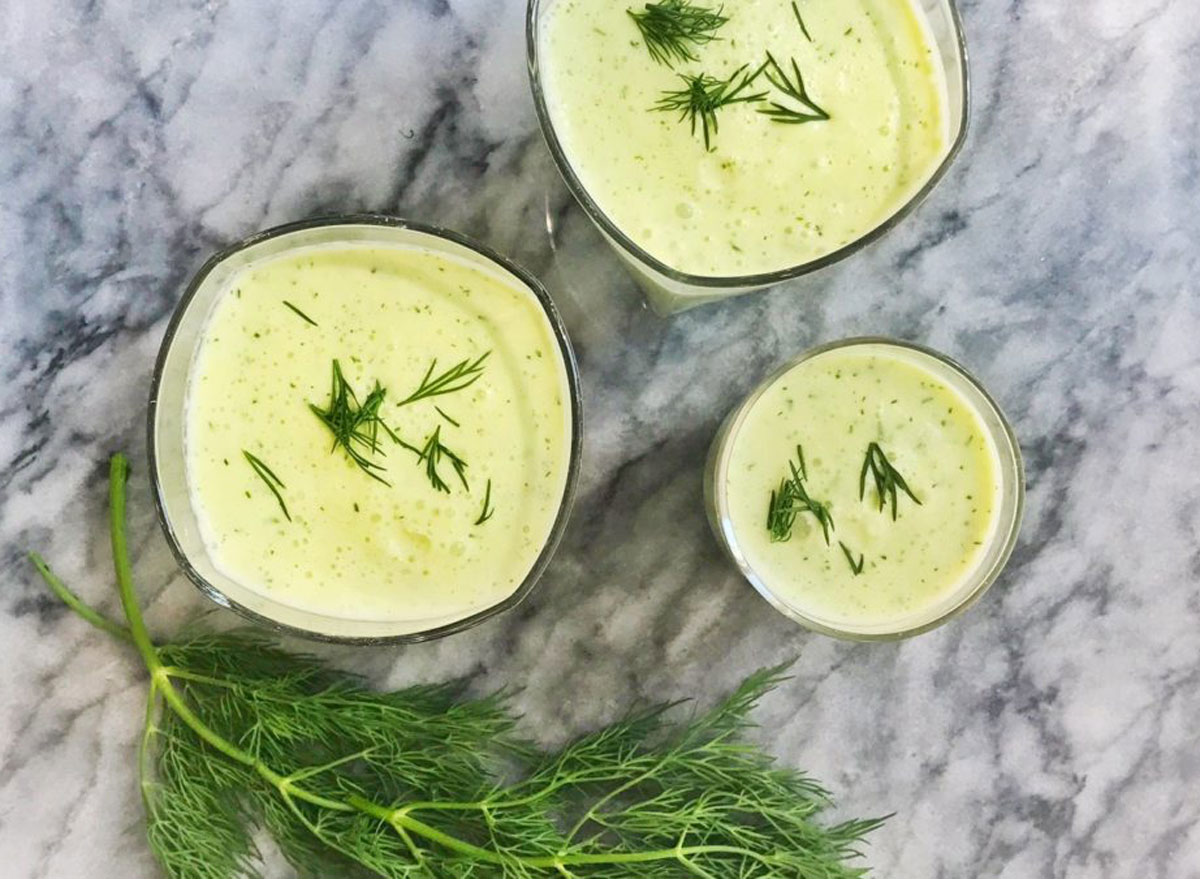 Cottage cheese adds a creamy texture to soups, Malkani says. Also, a dollop of the cheese can be used as a topping for chili and stews. Malkani's recipe for cucumber yogurt soup incorporates cottage cheese, yogurt, and crème fraiche for a light and refreshing meal.
Tomato Confit Toast With Cottage Cheese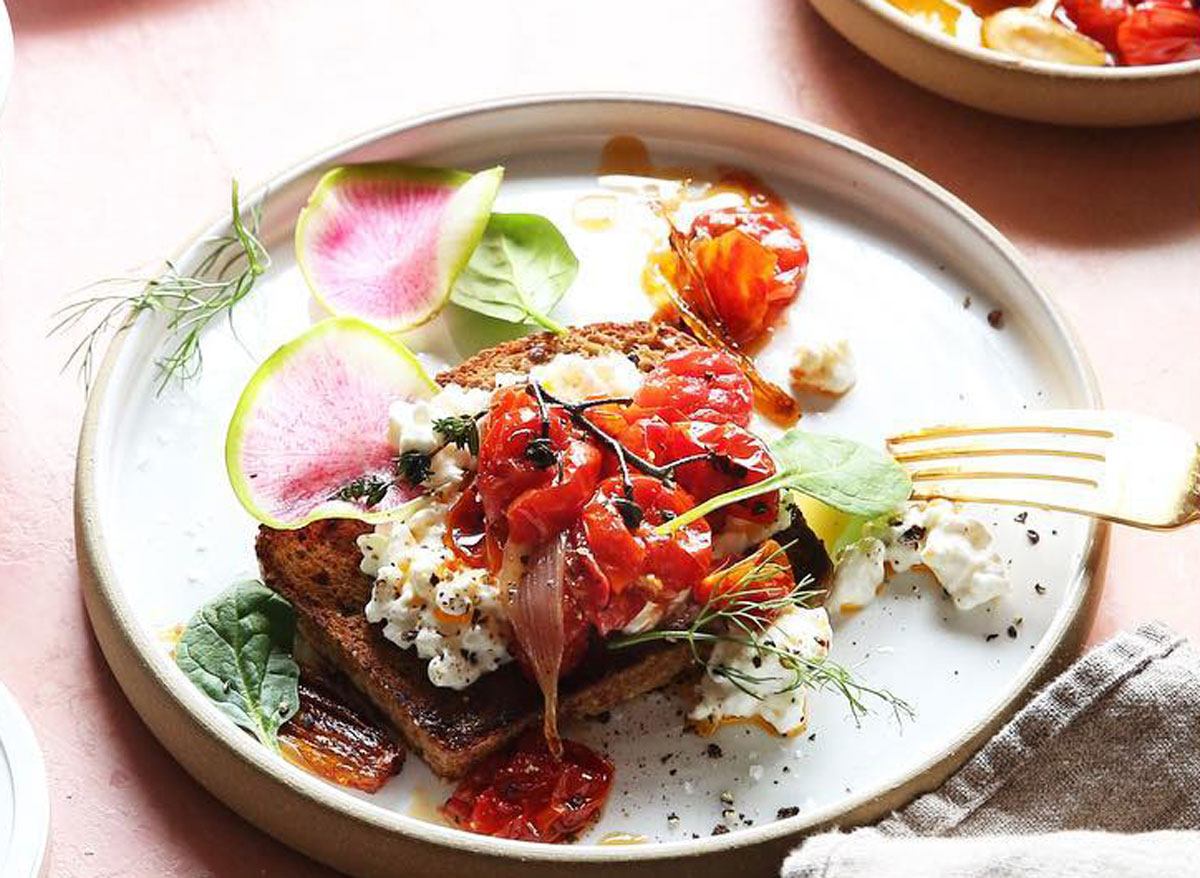 Layering toast with cottage cheese and tomato confit makes a great rustic snack or quick meal, says Judy Kim, a recipe developer who works with Hood Cottage Cheese. An even quicker version uses any prepared tomato sauce that may already be on hand. Get the full recipe here.
Kim says herbed cheese bites, made with cottage cheese, are perfect for entertaining and are "a flavor bomb full of texture."
"I like that the cottage cheese marries well with the other ingredients, like the sesame seeds and almonds, to create a lovely toothsome texture," she says. Get the full recipe here.
Raspberry and Cottage Cheese Tart
Desserts are a natural fit for cottage cheese, because it's so often paired with fruit, and its creamy flavor goes well with raspberry compote, Kim says.
"The dessert comes together very quickly if you make the cookie base in advance, perfect for entertaining or on a weeknight," she says. Get the full recipe here.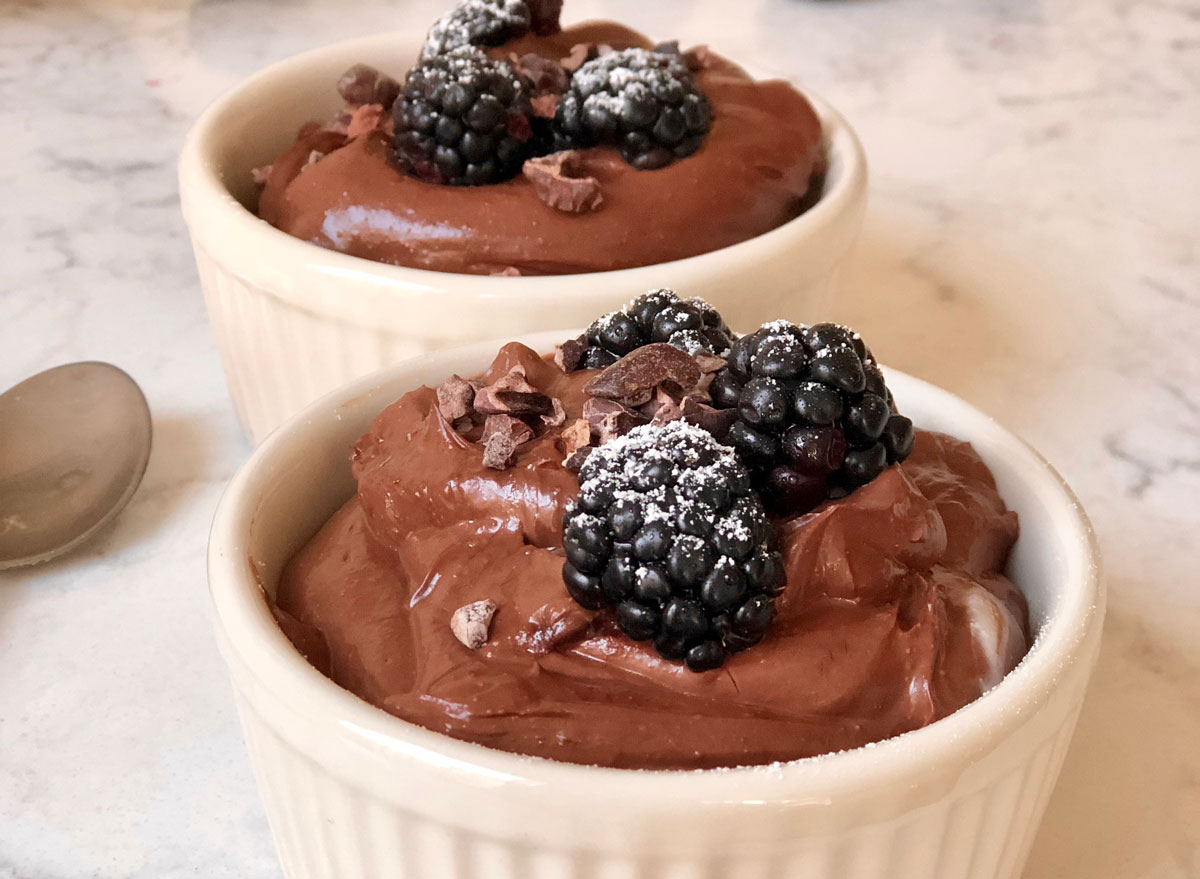 Pairing chocolate and cottage cheese makes an easy no-bake mousse, Patel says.
For her recipe, she uses 1/2 cup of pureed cottage cheese, 1/2 cup of dark chocolate pieces, 1 tablespoon of coconut oil, sea salt, and cinnamon (optional). To make the mousse, melt the chocolate mixed with oil in a microwave-safe dish, add the chocolate to cottage cheese, and chill. Serve it cold, topped with berries, cinnamon, and sea salt.
Patel, who specializes in Indian cuisine, says cottage cheese can be substituted for paneer, a fresh cheese commonly used in Indian cooking. However, cottage cheese needs to be put through a cheesecloth to get rid of its extra moisture. The resulting dried cheese can be served with sautéed onion, garlic, and spices, like cumin and cayenne, and fresh cilantro.
"It's actually a really great breakfast that we eat in India with scrambled eggs or an omelet," she says.
You can try making this Tikka Masala recipe from Well Plated by simply swapping out the paneer for cottage cheese.
Make your own cottage cheese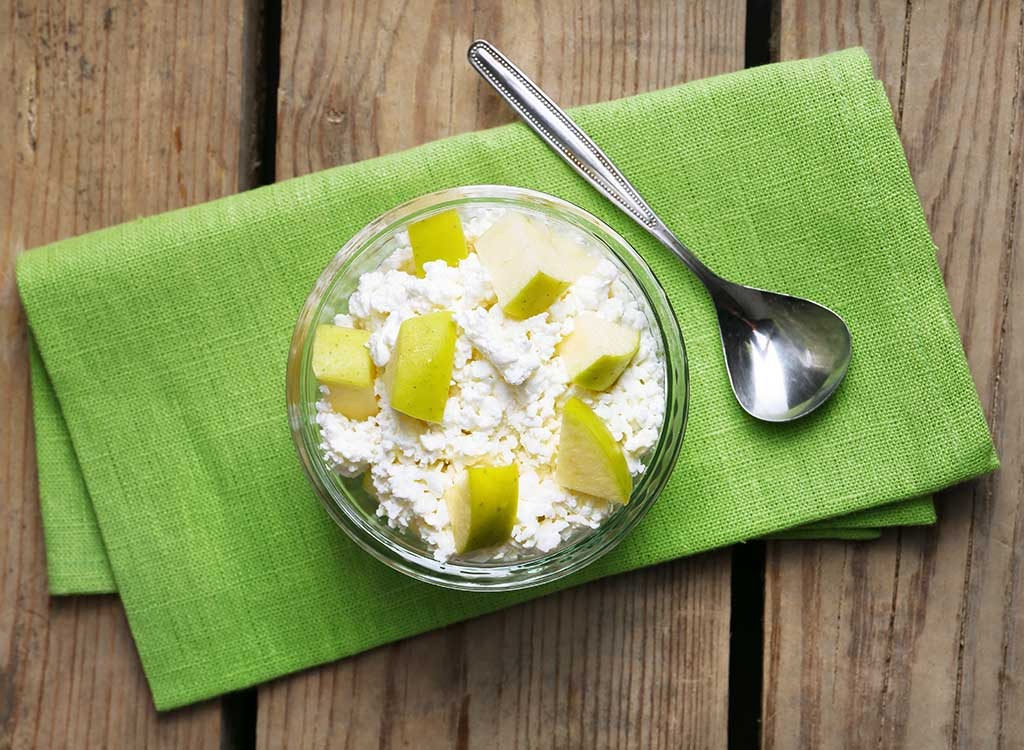 While there are plenty of cottage cheese products, making your own can be a fun, simple at-home science project, Licona says. She recommends this recipe from Food Network's Alton Brown.
"It's like a chemistry project right before your eyes and a cool way to understand the childhood curds and whey nursery rhyme we all grew up with," Licona says.