7 Best Superfoods for a Flat Belly, Say Dietitians
Flatten your belly in a healthy way by adding these expert-approved superfoods to your diet.
Superfoods are chock-full of nutrients such as vitamins, minerals, antioxidants, fiber, and heart-healthy fats. Essentially, a food that's classified as "super" benefits your overall health, which is why the superfood hype is so real. According to Laura Burak MS, RD, founder of GetNaked® Nutrition and author of Slim Down with Smoothies, consuming a variety of superfoods can boost your body's ability to function to the best of its ability. That means keeping your blood sugar levels stable, kicking up your metabolism, and helping you feel more satisfied. All of these are key factors in losing weight naturally. So if you're looking to shed unwanted pounds and achieve a healthier "you," we spoke with dietitians who share some of the best superfoods for a flat belly.
It's important to note that you can't specifically spot reduce your belly, but you can adopt healthy habits—such as eating more superfoods!—that contribute to overall weight loss, which includes your belly region. Some additional good-for-you habits to boost your weight loss efforts and help you debloat include drinking more water, getting your fill of "plants" that are natural sources of fiber, consuming more protein, moving daily, and taking natural supplements like ginger, mint, lemon, and dandelion, Burak suggests.
If you're ready to update your diet with superfoods, keep reading to learn what the experts have to say about the best superfoods for a flat belly. And when you're done, don't miss the 10 Best Superfood Snacks to Strip Away Belly Fat.
Avocados
This list of the best superfoods for a flat belly kicks off with a kitchen staple enjoyed by many: the avocado. "Avocados are hands-down my favorite superfood, not only because they're literally these little green bundles of joy that encompass everything nutritious, but because they're so creamy, satisfying, and delicious," Burak tells us.6254a4d1642c605c54bf1cab17d50f1e
Avocados offer an ideal combination of fiber and healthy fats, which make any meal much more filling. Ultimately, this can help you get a handle on hunger and avoid unhealthy snacking habits. "Avocados are nutrient powerhouses, naturally full of antioxidants, fiber, and heart-healthy fats to keep you full and happy," Burak adds.
Olive Oil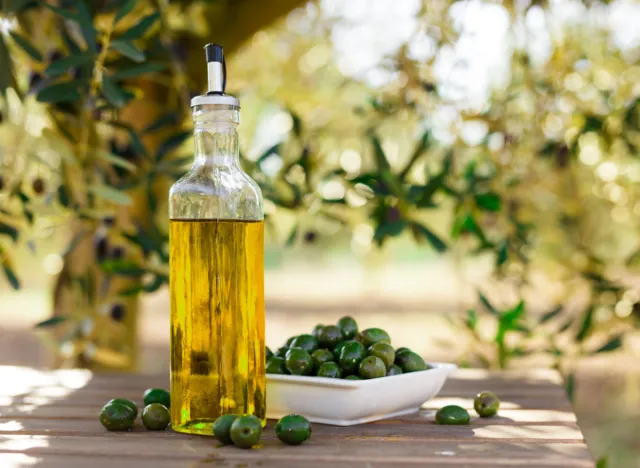 Just like avocados, olive oil is a stellar source of monounsaturated heart-healthy fats, which can boost the satisfaction and taste factor of your homemade cooking. "It is a staple of the Mediterranean diet and has been studied for decades as a key ingredient contributing to longevity in the blue zones, or areas of the world where people live the longest," Burak tells us. Plus, according to research, extra-virgin olive oil consumption is associated with improved blood pressure and reduced body fat.
Chia Seeds
Chia seeds are another "belly-busting" favorite of Burak's, "because they literally expand in your belly when they merge with liquid so they help you feel more full." Chia seeds offer plenty of fiber, which Burak refers to as "a double hunger-crushing whammy." For reference, according to the U.S. Department of Agriculture (USDA), one ounce of dried chia seeds contains almost 10 grams of fiber and 100 grams offers 34 grams of fiber.
The best part about this superfood? You can easily work chia seeds into your diet by making jam or chia pudding with them, or adding them to your morning oats!
Berries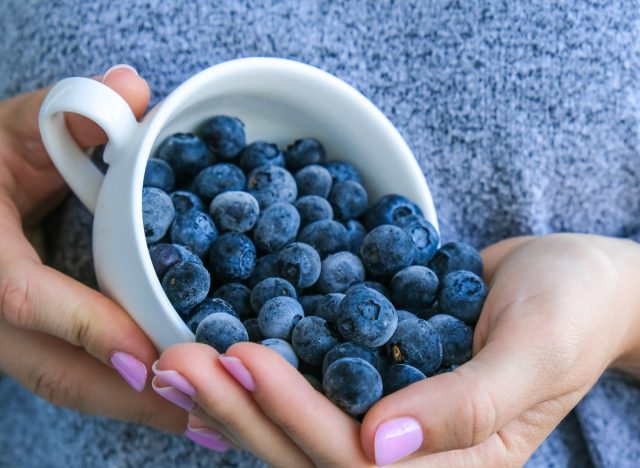 "Berries are a great nutritional bang for your buck, containing even more fiber than other fruits due to their edible seeds," Burak says. "Fiber helps to slow digestion and keep you full, which aids in weight loss."
Lisa Young, Ph.D., RDN, the author of Finally Full, Finally Slim, a nutritionist in private practice, and a member of our Medical Expert Board, specifically gives blueberries a notable shoutout, since they are chock-full of antioxidants, fiber, and vitamins. Blueberries are an excellent addition to your diet without offering a ton of extra calories. "The high fiber content [in blueberries] helps promote satiety thus reducing overeating and contributing to weight loss," Young says. "It aids in digestion to promote a healthy gut and boosts metabolism."
Salmon
Kicking up how much salmon you consume can aid in your weight loss efforts, as it's packed with protein and helps you get a handle on hunger and cravings. According to research, eating salmon can help decrease inflammation, and chronic inflammation is associated with weight gain.
Young stresses this key benefit, telling us, "[Salmon] is a great source of omega-3-fatty which helps reduce inflammation and promote heart health. It contains essential vitamins and minerals including selenium, vitamin B, Vitamin D, and potassium."
Yogurt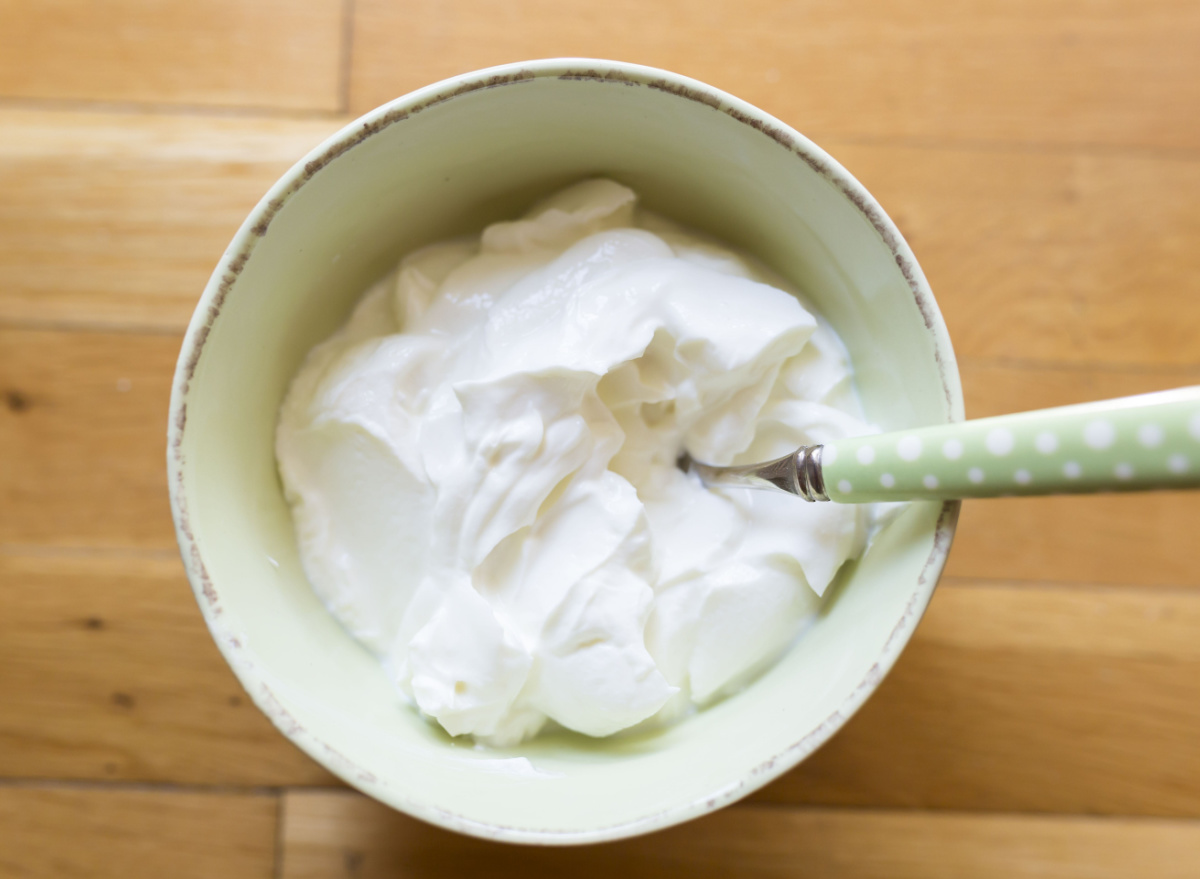 Enjoying a cup of protein-packed Greek yogurt or adding a dollop of it to a bowl of fiber-filled oats can speed up your weight loss efforts to achieve a flat belly. "Yogurt is high in calcium, potassium, and vitamin B," Young explains. "Its calcium content plays a role in the regulation of energy metabolism, which may contribute to weight loss. Yogurt [also] contains probiotics, which help promote healthy gut and digestion and play a role in appetite regulation."
Leafy Greens, like Spinach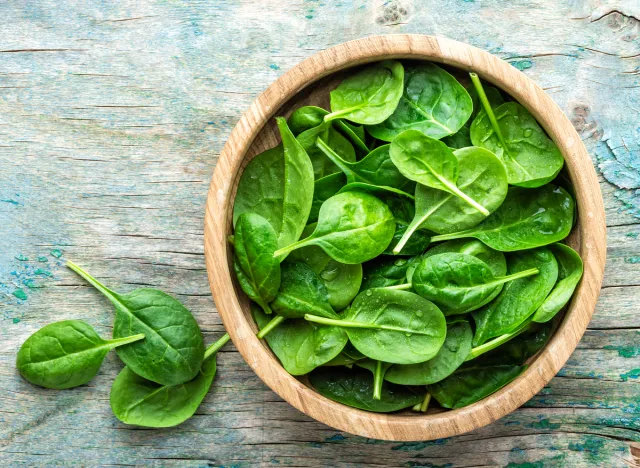 This list of the best superfoods for a flat belly wraps up with leafy greens. "Like most veggies, greens provide tons of volume and nutrients for very [few] calories—a great bang for your buck when it comes to losing and/or maintaining a healthy weight," Burak explains.
Young raves about the weight loss benefits of spinach, specifically, telling us it's a nutrient-dense leafy green that doesn't come with a high calorie count. In addition, she adds, "It is rich in fiber, which helps promote satiety and reduce hunger, beneficial for weight management. It contains essential vitamins and minerals including iron, magnesium, vitamin A, vitamin C, and vitamin K."
You can easily add spinach to your morning omelet, whip up a fresh spinach salad with strawberries and walnuts, or incorporate it into a fresh smoothie or hearty veggie soup.
Alexa Mellardo
Alexa is the Mind + Body Deputy Editor of Eat This, Not That!, overseeing the M+B channel and delivering compelling fitness, wellness, and self-care topics to readers.
Read more about Alexa
Sources referenced in this article