11 Easy Dishes These Expert Chefs Are Making for Themselves at Home During Quarantine
In case your current lineup of recipes are bland, here are some fun (and easy) ones the pros are making.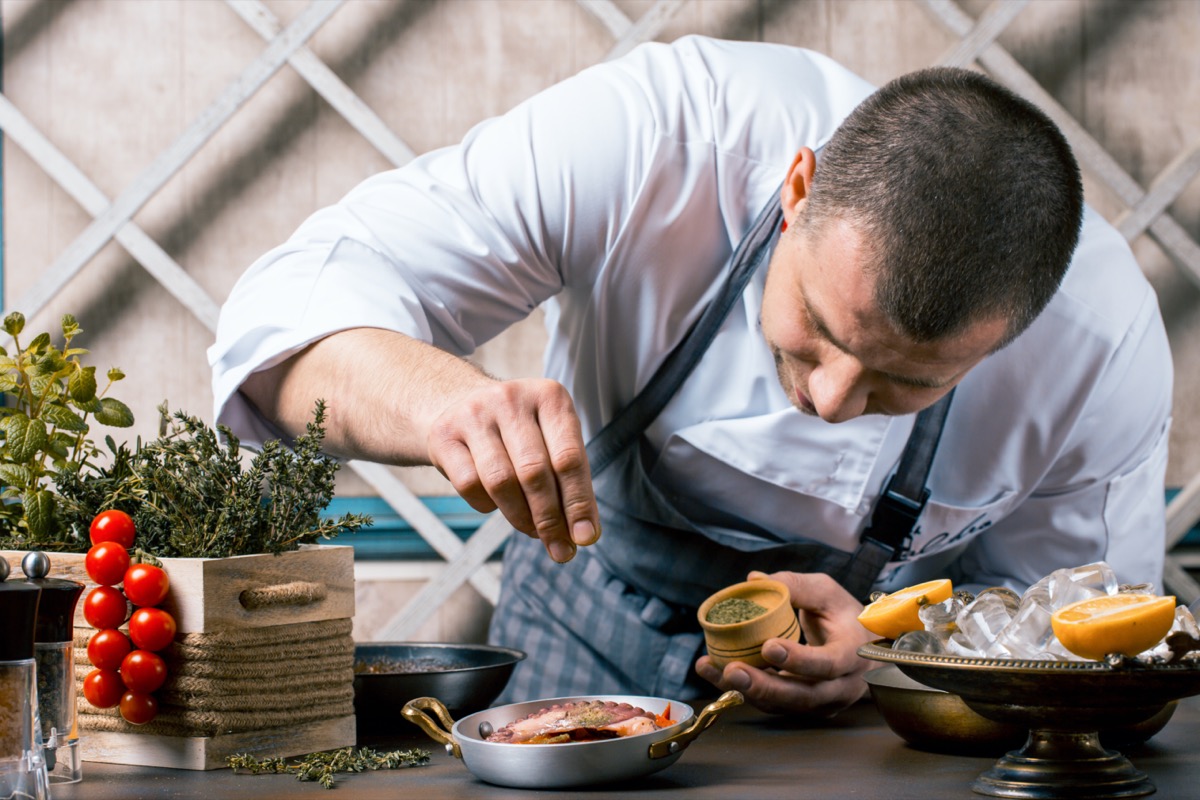 Since we're all quarantined, you probably have more free time than usual on your hands—i.e. a perfect opportunity to try out some new recipes.
We did some perusing on Instagram to see what some of our favorite chefs are cooking up during this time and to our surprise, several of them are sharing their recipes for relatively easy dishes that look absolutely delicious. From three-ingredient open-faced sandwiches to the most elegant cinnamon toast we've ever seen, here are 11 easy dishes some of the well-known chefs around are making during quarantine.
Massimo Bottura: Leftover lunch pasta
Host of Food Network's Girl Meets Farm, cookbook author, and blogger, Molly Yeh has the perfect dish for all of the vegetarian eaters out there: homemade pizza bagels. Instead of crumbling sausage on top of these savory pizza bites, Yeh dreamed up another crunchy topping to add texture to this dish. The secret? A garlic and fennel-seasoned walnut crumble with Parmesan cheese and olive oil. A pantry pizza is the definition of an easy dish.
Alex Guarnaschelli: Sautéed trevisano
Did you also look at this and ask yourself, what is trevisano? Also known as radicchio, this bitter lettuce almost becomes sweet once it's cooked. Chef Guarnaschelli made this dish with her daughter and the recipe is fairly simple. All you have to do is put two tablespoons of olive oil with a pinch of salt into a pan and then add in the trevisano, cut into long wedges. Cook on high heat for three to five minutes and then add in one tablespoon honey and two tablespoons balsamic vinegar, reducing the temperature for another two minutes or so. Not so bad, yeah?
Open-faced sandwiches for lunch? Martha Stewart, we like where your head's at. This dish is both delicious and easy to make. Smoked salmon, salami, cream cheese, and sourdough? Piece of cake!
Candice Kumai: Turmeric kale fried rice
Name something more soul-warming than a piece of sweet and buttery cinnamon toast? Can't think of anything? Yeah, that's what we thought. The pizza cutter really takes this picture to the next level.
Melissa King: Baby back ribs
Top Chef's Melissa King wants you to bring the BBQ indoors with her slow roasted baby back ribs and baked beans. It's shockingly easy to make!
Chloe Coscarelli: Beet fettuccine Alfredo
Chef Chloe has made quite possibly the most radiant homemade, beet fettuccine with vegan Alfredo sauce we've ever laid our eyes on. Even more impressive than the noodles' vibrant pink color is the fact that the recipe will feed the whole family and only requires 10 ingredients.
Michael Symon: Stew with root vegetables
In the Instagram post just before this one, Iron Chef's Michael Symon explains that using a fattier, tougher cut of meat such as a brisket is much more satisfying in this stew than a leaner cut of meat, such as a tenderloin. Why? Fattier meat will be much more tender and will lend a lot of flavor to the broth.
Jeff Mauro: Oatmeal, brown butter, and butterscotch chip cookies
Looking for something sweet to bake? We believe the correct answer here is, always. In his Instagram post, The Sandwich King himself, Jeff Mauro, gives you a step-by-step recipe so you can make these delicious cookies from scratch.
Giada DeLaurentiis: Ziti stufati
Doesn't this photo of Giada's Ziti Stufati make your mouth water? Between the tomato and ricotta sauce, meatballs, and hard-boiled egg there's no way you won't be full for hours. You can see her recipe for this special baked pasta on her website. It's not complicated as you may think!