I Tried 4 Energy Drinks—This Is the One That Actually Kept Me Going
Here's what left me energized, what put me to sleep, and what gave me the jitters.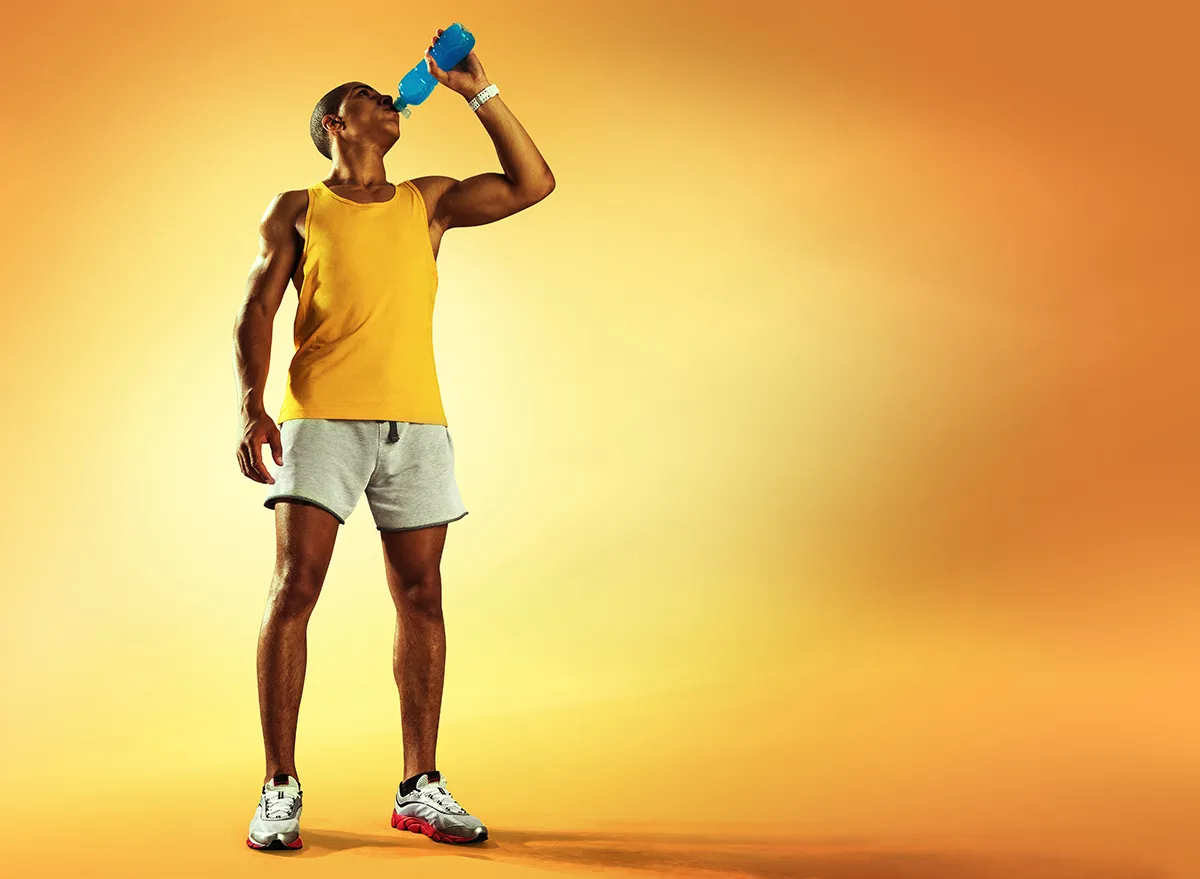 Americans love their energy drinks. According to the National Center for Complementary and Integrative Health (NCCIH), American teens and young adults consume more energy drinks than any other dietary supplement aside from multivitamins. One 2018 survey found that 33% of respondents between 18 and 29 years old and 42% of adults between 30 and 49 years old consumed energy drinks.
As energy drink popularity grows, so does the production. There are now so many companies producing energy drinks that it might be hard to decipher which ones rank the best.
If you're one of the few who can wake up without any sort of caffeine to keep you energized throughout the day, then this article isn't for you. However, if you're one of the (I'm guessing many) people who need something besides pure adrenaline to wake them up in the morning, then I've got you covered. I decided to taste test four energy drinks, ranging from full cans to shots.
Let me preface this by saying my go-to caffeine source is coffee, so I have no idea how energy drinks affect me. This was the perfect time to test it out, as I had no biased opinions about what I was drinking.
What I tried:
Here are the energy drinks worth grabbing on the go, ranked from what I probably wouldn't drink again to the one I'd use to wake me up. If you're looking for more on staying awake, take a look at 4 Worst Foods That Make You Feel Sluggish, Say Dietitians.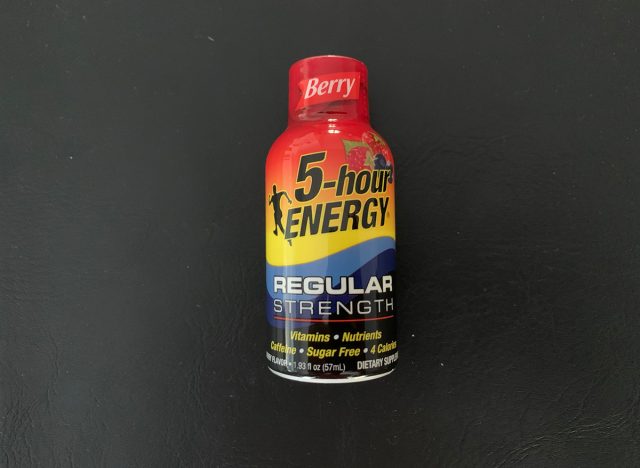 For someone who never drank energy drinks, this particular brand stood out as being one of the most popular ones. In fact, when I think of energy drinks, this brand immediately comes to mind.
With that being said, I didn't think the shot was anything worth bragging about. It's not a terrible energy shot, I just didn't think it was worth a bunch of praise. The website mentions the regular strength shot contains about "as much caffeine as 8 ounces of the leading premium coffee." However, I didn't feel super energized, but only as if it was a small pick-me-up.
The shot itself only has 4 calories, which is great for anyone looking for a boost of energy while watching what they consume. They also contain a "special blend" of essential B vitamins, amino acids, and nutrients, as well as 0 grams of sugar.
The interesting aftertaste it had also added to the reasons why I didn't love this product. So, overall, just an average energy shot.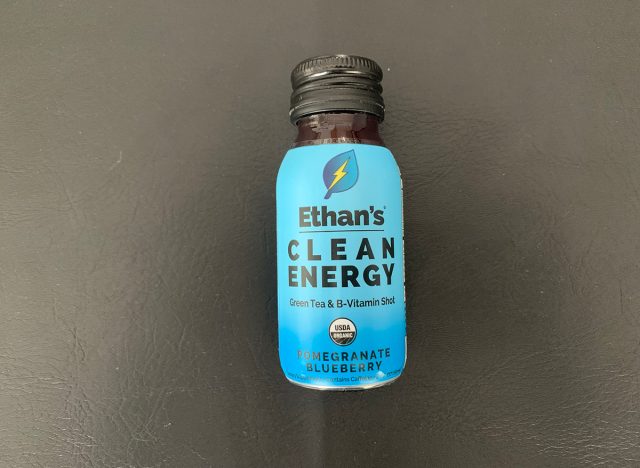 I've never heard of Ethan's before, but found it at my local CVS and thought it was worth a shot (no pun intended). The product is certified USDA Organic and consists of "clean caffeine" from green tea and B vitamins. It is also vegan and gluten-free.
Where they lose points a bit is in their aftertaste and calories. The shot bottle says that it's a boost "without the weird chemical taste." I know most energy drinks do have a weird aftertaste, but this brand was no exception. It may not have the "chemical" taste, but I couldn't pinpoint what I was tasting. It left me with a weird reaction every time I took a sip out of the bottle. This small bottle was also 25 calories with 8 grams of carbs and 3 grams of sugar. To me, it's not worth it.
It did give points back for the flavor before the aftertaste. That pomegranate blueberry flavor gives a nice sweetness at the beginning, which is quite tart and pleasant. I also did feel pretty awake without any unnecessary jitters, and I'm guessing it's from the green tea extract.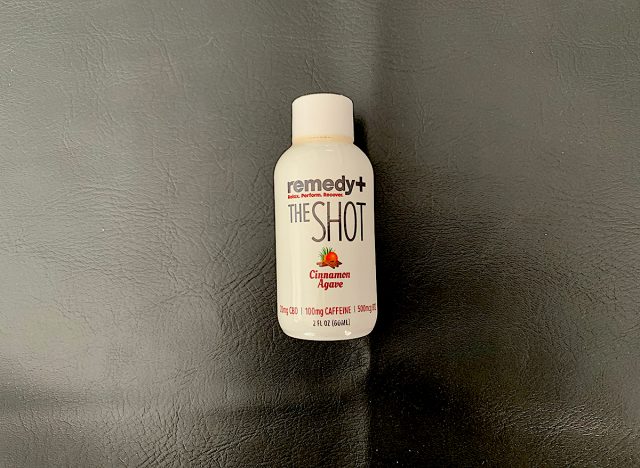 I think the brand itself is a wonderful concept. Remedy+ makes plant-based performance supplements that feature hemp-derived CBD, which is included to help support recovery.
The SHOT provides 100 milligrams of caffeine from pure caffeine as well as ginseng and guarana. It also features energizing ingredients like vitamin B12, the amino acid taurine, and ginkgo. There is some research that shows Ginkgo extracts may lead to a reduction in anxiety. I think is pretty unique, as energy shots and drinks tend to make you all jittery or can have negative side effects when it comes to too much caffeine.
While the product itself is super interesting, and I definitely felt a cool mixture of relaxed and energized at the same time, it ranks second because the flavor was too strong. I enjoyed the idea of cinnamon and agave, but one sip and it was overpowering, Otherwise, I would definitely have it again.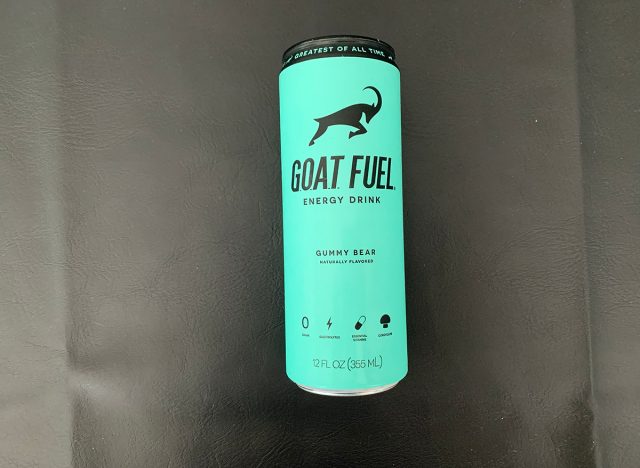 That makes my top choice G.O.A.T Fuel! G.O.A.T stands for "greatest of all time," so it seems fitting that this drink ranked best. This energy drink gets bonus points for its array of vibrant can colors (because I love a good turquoise) and also because of the number of unique flavors. While I tried the "Gummy Bear" flavor, some honorable mentions include Acai Berry, Pink Candy, and Watermelon Fruit Punch.6254a4d1642c605c54bf1cab17d50f1e
Indeed, this drink tasted like a gummy bear. Although that may seem too sweet for some people, it actually doesn't come off too potent, which is nice. And the craziest part? This sweet flavor has zero grams of sugar and is just 10 calories, which is a nice bonus.
The aftertaste is also not as strong on this one as some of the others, which made me enjoy taking sips out of it. Between all these factors, plus more nutrients and wholesome ingredients, this is why I named it #1.
Kayla Garritano
Kayla Garritano graduated from Hofstra University, where she majored in Journalism and double minored in Marketing and Creative Writing.
Read more about Kayla