10 Best Energy Drinks, According to a Dietitian
Sip on these healthy drinks for an energy boost without tons of added sugar or additives.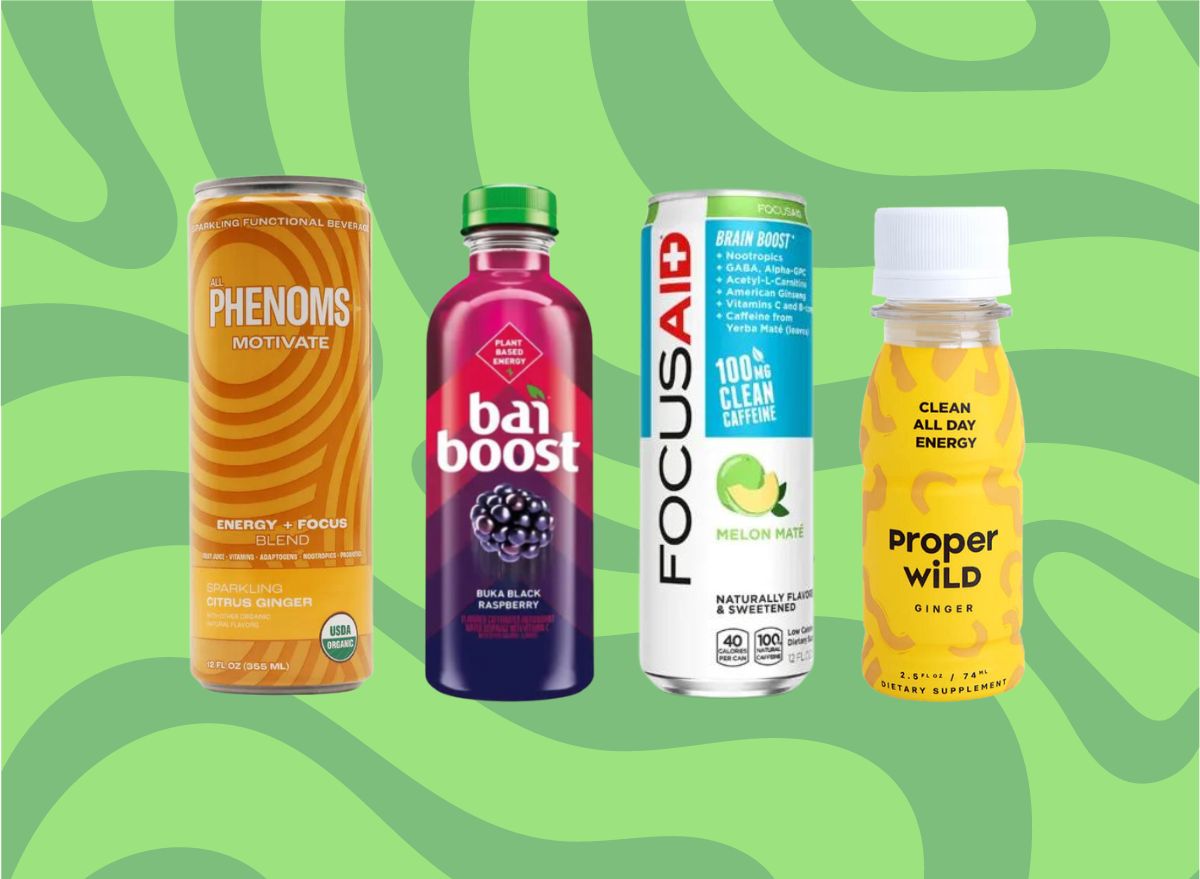 Energy drinks, or drinks that promise to give you a boost of energy, have received a bad rap in recent years. For the most part, many of these mainstream brands have received that label for good reasons. These drinks can be jam-packed with too many added sugars, caffeine, and artificial ingredients. However, not all energy drinks have to be cruddy for you, and with the rising popularity of caffeinated drinks like green tea, there are multiple healthy energy drink options to choose from that won't leave you feeling jittery or anxious when simply trying to wake up for your day.
As you make the switch to better-for-you energy drinks, you'll probably notice that you're drinking fewer added sugars, especially as many cleaner brands utilize sweeteners derived directly from fruit juice or Stevia. These are all important things to look out for as you choose which drinks will fuel your busy day, but of course, this can be hard when you walk down the grocery store aisle. We have sourced 10 of our favorite healthier energy drink brands to help you decide which to put in your cart and which to leave on the shelf, for good.
Just remember that if you find yourself feeling sluggish and constantly reaching for an energy solution like one of these drinks, you may have an underlying health concern that shouldn't be ignored. Factors like iron deficiency, chronic stress, and hypothyroidism can all cause one to feel tired throughout the day. A poor diet can impact energy levels too, so be sure to eat a balanced and nutrient-dense diet to ensure you don't have any nutritional gaps.
How we choose the healthiest energy drinks
While we don't have hard-and-fast rules to stand by when choosing an energy drink, there are some factors that we like to consider:
Low or no added sugar
The American Heart Association suggests that men should consume no more than 36 grams of added sugar per day, and women should aim for a maximum of 25 grams. Consuming too many added sugars is linked to an increased risk of heart health concerns, obesity, and more. Sugary beverages, like energy drinks, are the leading source of added sugars in the American diet.
Ideally, your drink will be free from added sugars. But if it's not, it shouldn't be loaded with the sweet stuff.
No artificial sweeteners or colorings
While the data is mixed regarding whether consuming artificial sweeteners or colorings causes harm, we chose to pick drinks that are free from these additions until more research is available to help us best understand how these additives affect the body. Natural sweeteners, like Stevia, are not considered artificial.
Moderate caffeine levels
If the energy drink selected contains caffeine, we try to keep the caffeine limit to a maximum of 150 milligrams per serving. The FDA suggests most people limit their caffeine intake to 400 milligrams per day, so keeping the limit of 150 milligrams of caffeine per can in mind allows for additional caffeine-containing drinks and food throughout the day, like a cup of morning coffee or a nosh of afternoon chocolate.
The 10 Best Energy Drinks, According to a Dietitian
If you find yourself needing an energy boost during the day (or at night if you are a night owl) and you like leaning on a beverage to give you a jolt, here are some of our top picks. Read on, and for more health tips, check out the 10 Healthiest Juices on Grocery Store Shelves.
Moment Plum Ginseng Adaptogen Drink
20 calories, 0g fat (0g saturated fat), 0mg sodium, 11g carbs (<1 g fiber, 2 g sugar), 0 g protein
What is an adaptogen, you ask? Adaptogens are ingredients that help your body "adapt" to stress.
This adaptogenic drink from Moment includes ginseng, an ingredient that may help people combat fatigue naturally. This drink is made with zero added sugars to help prevent a sugar crash, and it is packed with other adaptogenic ingredients, like L-theanine that may help people focus.
Moment drinks also lean on natural ingredients instead of caffeine to offer some amazing effects, and is free from artificial flavors.
OLIPOP Vintage Cola
35 calories, 0g fat (0g saturated fat), 25mg sodium, 16g carbs (9g fiber, 2g sugar), 0g protein
OLIPOP is an innovative soda that, unlike traditional sodas, is free from anything artificial, is far lower in added sugar, and contains 9 grams of prebiotic fibers.
OLIPOP Vintage Cola is made with green tea caffeine to help this drink give you the boost you need, providing 50 grams of natural caffeine.
Guayakí Yerba Maté Peach Revival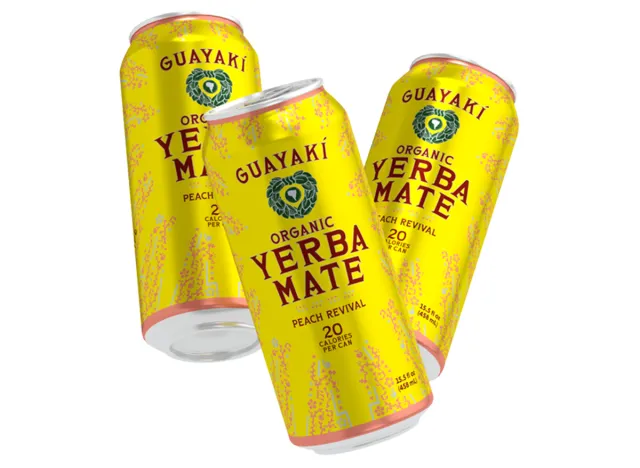 20 calories, 0 g fat (0 g saturated fat), 15 mg sodium, 4 g carbs (0 g fiber, 3 g sugar), 0 g protein
Yerba Maté is a traditional South American tea that has taken the world by storm.
This tea, sourced from the leaves and stems of Ilex paraguariensis, is chocked full of different health benefits, including offering anti-inflammatory benefits. The Peach Revival flavor contains only 3 grams of sugar and a whopping 150 milligrams of caffeine.
As an additional benefit, Yerba Maté may even help you maintain a healthy weight, as drinking this tea before a workout may help you burn additional fat.
FocusAid Clean Energy Melon Maté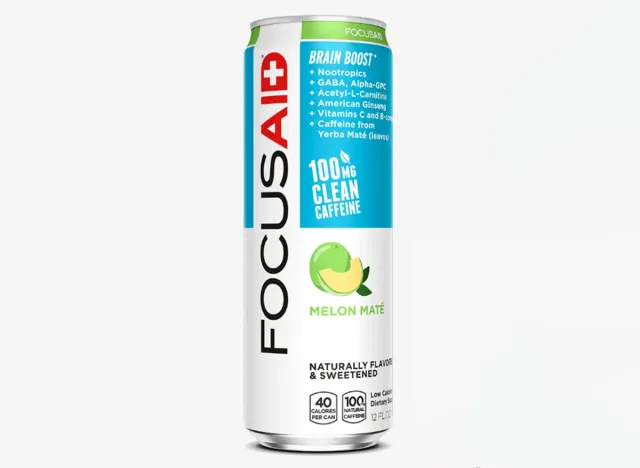 40 calories, 0 g fat (0 g saturated fat), 0 mg sodium, 9 g carbs (0 g fiber, 7 g sugar), 0 g protein
The "Focus" in this title is no joke, with a combination of both Yerba Maté and green tea, this drink has a slower-releasing 100 milligrams of caffeine that doesn't send you into an anxious spiral (we've all been there, right?).
FocusAid provides an abundance of other added vitamins and minerals such as Vitamins C, D3 (essential for bone health), B12 (to support energy levels), and biotin – plus many more!
Made with Stevia instead of artificial sweeteners, you can feel confident that you're not guzzling unhealthy ingredients that are going to make you feel sluggish once the caffeine wears off.
Nuun Energy Berry Blast
15 calories, 0g fat (0g saturated fat), 100mg sodium, 4g carbs (0g fiber, 2g sugar), 0g protein
Not all energy drinks need to come in a wasteful plastic bottle. Companies like Nuun sell effervescent tablets that easily dissolve in your favorite on-the-go cup with only 2 grams of added sugars.
In a variety of flavors, these tablets not only come with caffeine to rejuvenate but also provide 20 milligrams of Panax Ginseng, which may support energy levels. In layman's terms, this means that Nuun Energy promotes calmness and a more regulated nervous system. Therefore, you get the wakefulness of caffeine without the jittery nerves.
Zoa Wild Orange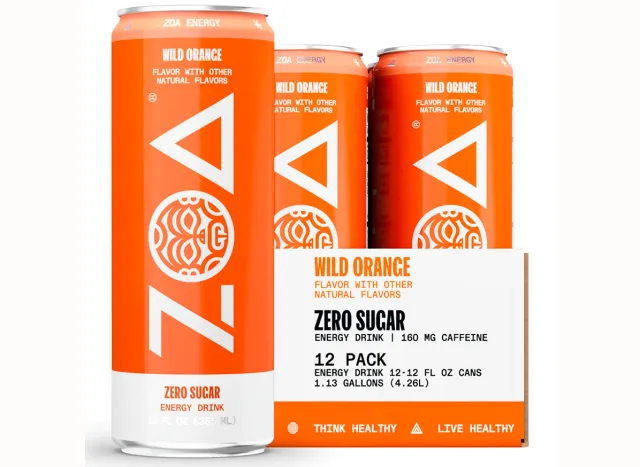 10 calories, 0g fat (0g saturated fat), 110mg sodium, 2g carbs (0g fiber, 0g sugar), 0g protein
Perhaps the most "traditional" of these healthier energy drinks is Zoa's line of zero-sugar energy drinks. The caffeine in Zoa is derived from natural ingredients such as green tea and green coffee beans—which are raw, unroasted coffee beans.6254a4d1642c605c54bf1cab17d50f1e
Without any artificial flavors or colors, this is a great alternative to more mainstream brands. Additionally, this energy drink offers a plethora of vitamins and minerals such as Vitamins B6, B12, and C.
Proper Wild Clean All Day Energy Shots
45 calories, 0g fat (0g saturated fat), 10mg sodium, 11g carbs (0g fiber, 9g sugar), 0g protein
Shots? No, not that kind—energy shots! Instead of jitter-inducing Five Hour Energy shots, Proper Wild Clean Energy Shots contain no artificial colors or sweeteners.
Additionally, these little shots contain no added sugars, with all 9 grams of sugar derived solely from fruit juices. According to Proper Wild's website, these little shots contain 15 times more L-Theanine than a cup of green tea, aiding in stress and anxiety control while also stimulating and promoting focus and alertness when combined with naturally occurring caffeine.
Rebbl: Awake Maca Cold Brew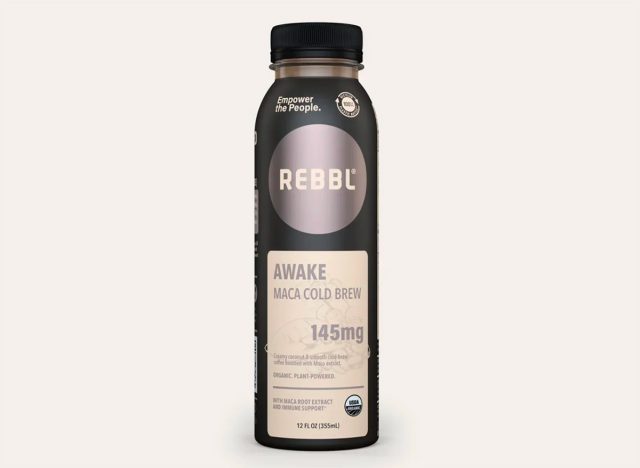 130 calories, 8g fat (7g saturated fat), 125mg sodium, 16g carbs (6g fiber, 7g sugar), 1g protein
Perhaps this isn't the most traditional energy drink, but we wanted to include Rebbl's Awake Maca Cold Brew on our list as this cold brew includes maca, which is an adaptogen that helps the body "adapt" to stress, giving it an added benefit vs. drinking plain old coffee. This cold brew is vegan and gluten-free and made entirely without GMOs.
Bai Boost (Black Raspberry)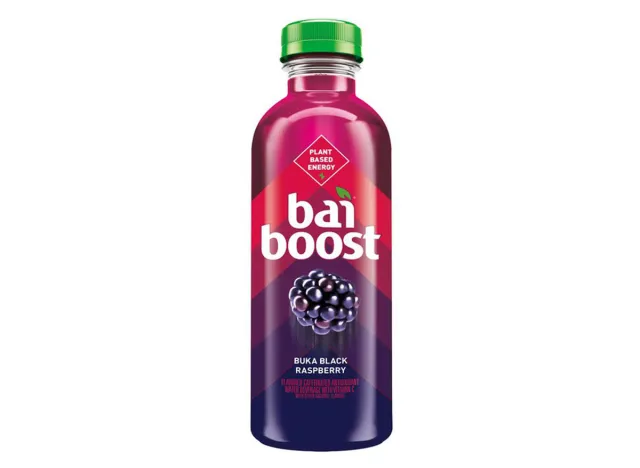 10 calories, 0g fat (0g saturated fat), 5mg sodium, 11g carbs (0g fiber, 1g sugar), 0g protein
Bai Boosts are an energy-boosting addition to Bai's traditional line of antioxidant beverages. With as much caffeine as a cup of coffee—and offered in a variety of flavors—these drinks are both stimulating and hydrating.
Bai Boosts offer a variety of antioxidants that fight free radicals. And what are free radicals? Studies have shown that free radicals may damage DNA, which, in turn, may impact a person's risk of developing certain cancers.
So, why not get your daily fix of antioxidants while energizing for the day ahead?
All Phenoms Motivate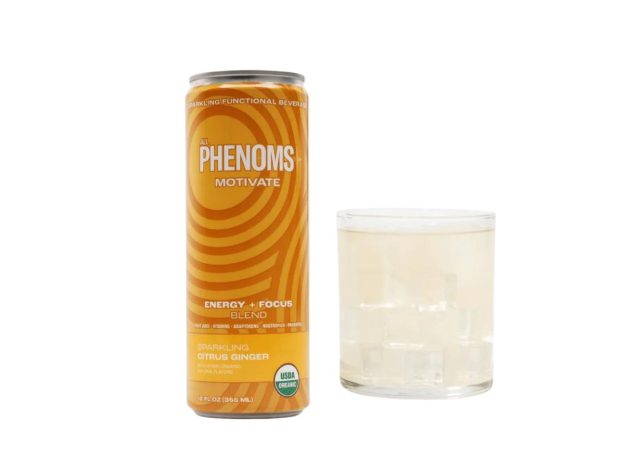 10 calories, 0 g fat (0g saturated fat), 10 mg sodium, 3 g carbs (2 gm fiber, 1 gm sugar), 0 g protein
With 78 milligrams of caffeine, this sparking functional water is organic, vegan, gluten-free, and free from anything artificial. This drink also contains pre and probiotics to support gut health, and additions like B-vitamins, l-theanine, and lion's mane to support energy levels.
Lauren Manaker MS, RDN, LD, CLEC
Lauren Manaker is an award-winning registered dietitian, book author, and recipe developer who has been in practice for almost 20 years.
Read more about Lauren
Sources referenced in this article