'Healthy' Fast Food Menu Items That Are Secretly Terrible For You
These options seem harmless, but it's about time you take a closer look.
We get it—sometimes, you just can't help but take a trip to the drive-thru. It's OK to indulge in a little bit of fast food every now and then, as long as you're not eating it all the time, of course. And there are plenty of "better for you" options to choose from, so it shouldn't be too hard to make a healthier choice.
Unfortunately, there are some seemingly healthier options that are simply fooling you. These meals might look like the better choice compared to their some of their menu counterparts but alas, they're just as bad for you and your waistline as those massive multi-patty burgers.
To help you make the best decision you can, we've rounded up the biggest cons out there. There are the "healthy" fast food menu items that really aren't, well, as healthy as you may think they are.
McDonald's Fruit & Maple Oatmeal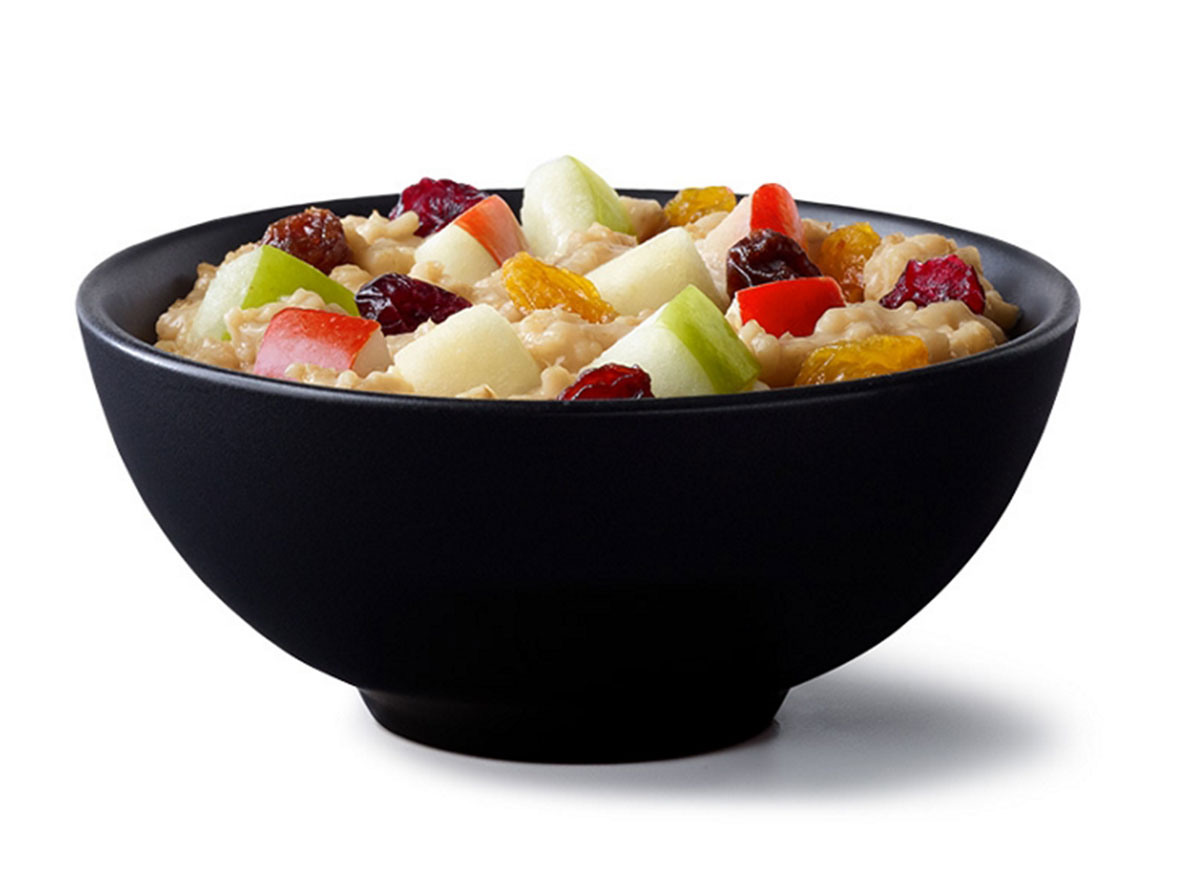 320 calories, 1.5 g fat (12 g saturated fat, 0 g trans fat), 150 mg sodium, 64 g carbs (4 g fiber, 31 g sugar), 6 g protein
It's obviously hard to find something at McDonald's that is low in calories and sodium, so this oatmeal seems too good to be true. It is one of the lowest sodium items on the menu. But there is one aspect of this dish that earns it a spot on this list: the sugar.
This small bowl has 31 grams of the sweet stuff, which is quite a lot to be eating from one meal, and that's without factoring in anything to drink. The American Heart Association recommends men should consume no more than 9 teaspoons or 36 grams of added sugar per day, and women shouldn't have more than 6 teaspoons or 25 grams per day.
Wendy's Cheese Baked Potato
450 calories, 14 g fat (8 g saturated fat, 0 g trans fat), 710 mg sodium, 65 g carbs (7 g fiber, 4 g sugar), 15 g protein
When you're in the potato mood but are looking for something a bit better than fries, a baked potato makes for a solid option. And there are plenty to choose from at Wendy's! But the spud that is dressed in cheese is a no-go. It's topped with a "cheddar cheese sauce," which instantly tacks on calories and sodium.
Instead, be sure to stick with the plain baked potato which clocks in at 270 calories and only 40 milligrams of sodium. Can't beat that!
Chick-fil-A Grilled Chicken Club with American Cheese
430 calories, 14 g fat (5 g saturated fat, 0 g trans fat), 1,160 mg sodium, 42 g carbs (4 g fiber, 9 g sugar), 37 g protein
This chicken sandwich from Chick-fil-A sounds promising. It's described as "a lemon-herb marinated boneless breast of chicken, grilled for a tender and juicy backyard-smokey taste, served on a toasted multigrain brioche bun with cheese, applewood smoked bacon, green leaf lettuce, and tomato, and is served with a honey roasted BBQ sauce." Going for grilled chicken instead of crispy already is a better option, but here, this sandwich is much higher in sodium than we would like to see for something considered healthy, thanks to the addition of the bacon.
Instead, go for the 4-count grilled nuggets which are only 70 calories and 220 milligrams of sodium.
Long John Silver's Grilled Shrimp Rice Bowl, Sweet Chili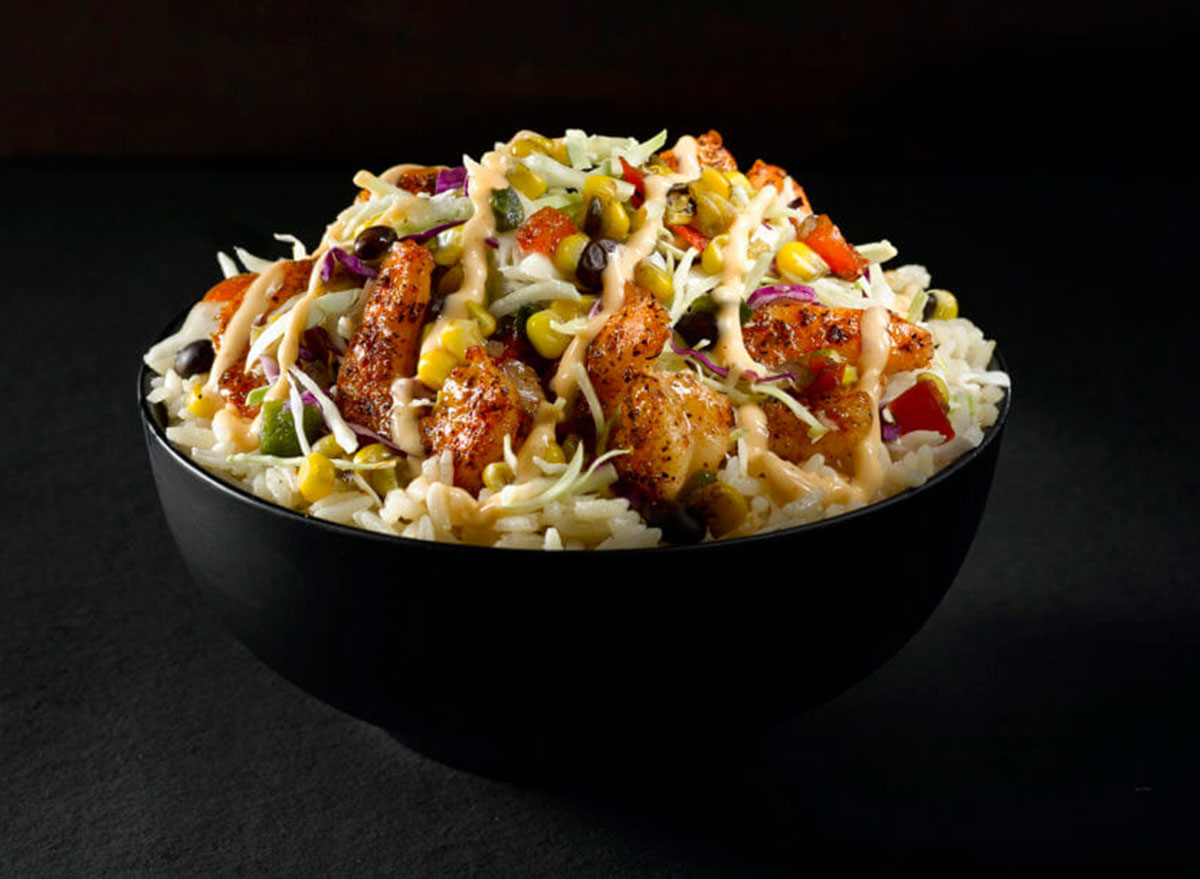 390 calories, 11 g fat (2 g saturated fat, 0 g trans fat), 1,790 mg sodium, 51 g carbs (2 g fiber, 18 g sugar), 21 g protein
Long John Silver's offers up seafood bowls, and shrimp (that is grilled, not fried!) with veggies and rice in a bowl together sounds rather tasty and good for you. Shrimp is packing a ton of protein, after all. Believe it or not, though, you're better off going with one of the shrimp tacos than the bowls.
The Sweet Chili Grilled Shrimp Bowl is rather low-calorie but again, the sodium is just too high here, coming in at nearly 1,800 milligrams. For reference, The American Heart Association recommends no more than 2,300 milligrams a day of sodium, with the goal of moving toward an ideal limit of no more than 1,500 milligrams per day for most adults. This bowl has more than half of your daily allotment and blows that 1,500 milligram limit out of the water.
Arby's Roast Turkey and Swiss Sandwich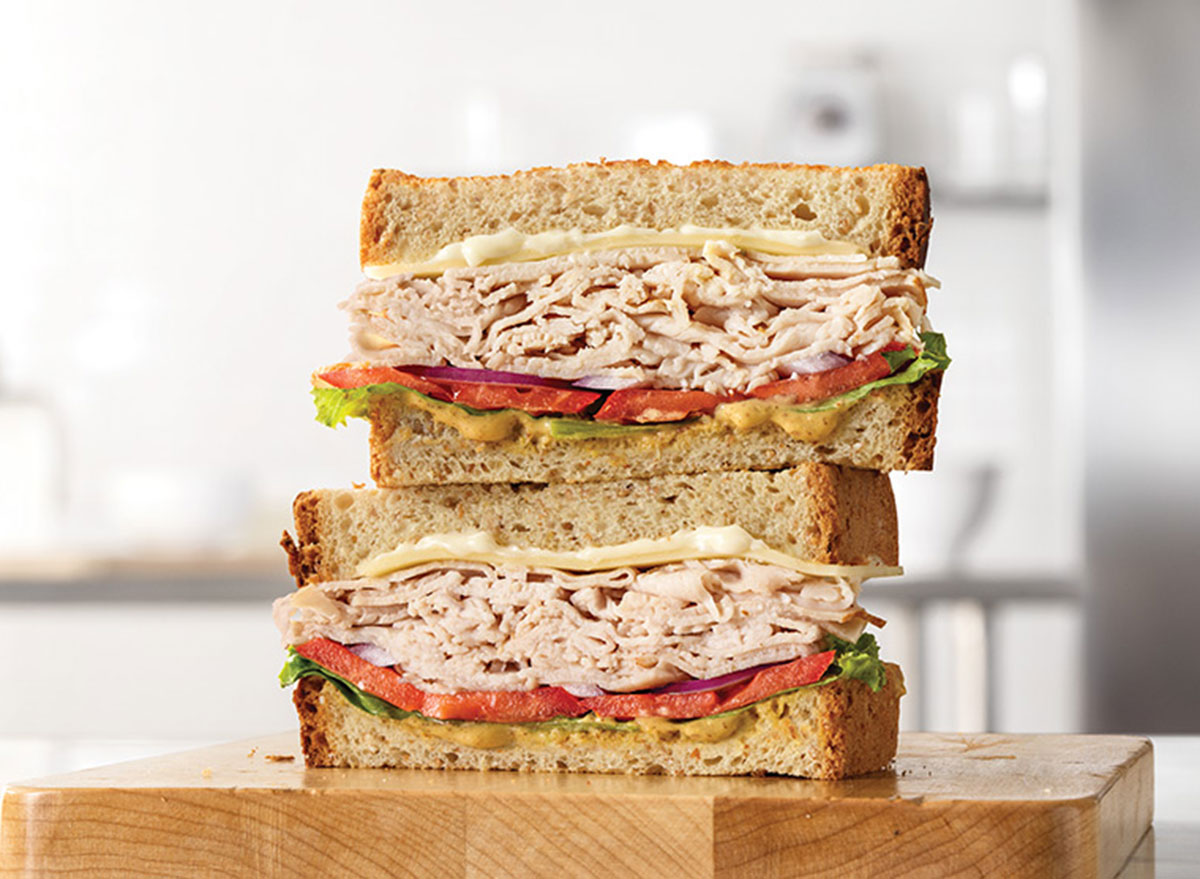 720 calories, 28 g fat (7 g saturated fat, 0 g trans fat), 1,930 mg sodium, 79 g carbs (5 g fiber, 15 g sugar), 38 g protein
It's not always easy to find something low-cal at Arby's—that delicious yet dangerous beloved Jamocha shake is proof! But a turkey and cheese sandwich seems like a hearty, harmless option. Except, remember, this is a fast-food restaurant, so everything is bigger and loaded up. This sandwich is overstuffed with turkey and slathered with both mayo and mustard, creating a sandwich that is 720 calories and has nearly 2,000 milligrams of sodium.
If you're in the mood for this sammie, be sure to take some of this turkey out and skip the mayo.
Zaxby's The Buffalo Blue Zalad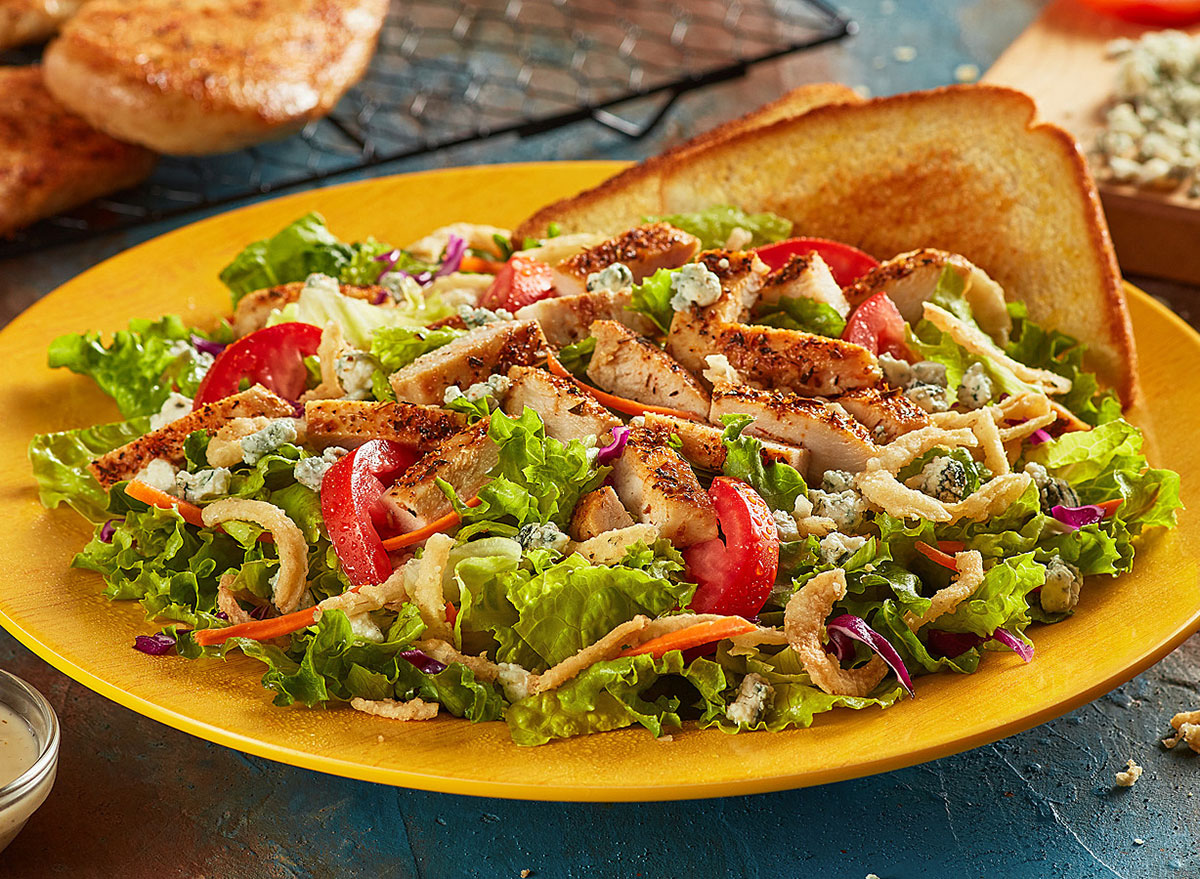 680 calories, 35 g fat (11 g saturated fat, 0 g trans fat), 2,750 mg sodium, 48 g carbs (6 g fiber, 7 g sugar), 41 g protein
A salad typically would be a great option, but at Zaxby's—and just about every fast-food restaurant—that isn't the case. The Buffalo Blue Zalad is high in fat and again, sodium. Granted, the mixed greens, red cabbage, carrots, tomatoes, and chicken are also topped with blue cheese crumbles and fried onions, and it's served along with some Texas Toast. So there goes every healthy aspect to this salad once you add in those toppings. Plus, this dish has more sodium than if you ate 200 Lay's potato chips. Let that sink in.
451 calories, 30 g fat (5 g saturated fat, 0 g trans fat), 780 mg sodium, 33 g carbs (1 g fiber, 4 g sugar), 11 g protein
When you take a trip to Burger King, it's easy to understand that there's a very good chance you're going to choose a sandwich or burger from the menu. The Chicken Jr. is much smaller than the standard options such as the Crispy Chicken and Original Chicken Sandwiches. Plus, it's highlighted in BK's "Chicken and Fish Under 500 Calories" section of the menu. It's still high in fat and sodium, sadly. Instead, go for the 4-piece nuggets to get your chicken fix.6254a4d1642c605c54bf1cab17d50f1e
And if you're looking for inspiration to make dishes like this at home yourself that actually are much healthier, be sure to sign up for our newsletter to get daily recipes and food news in your inbox!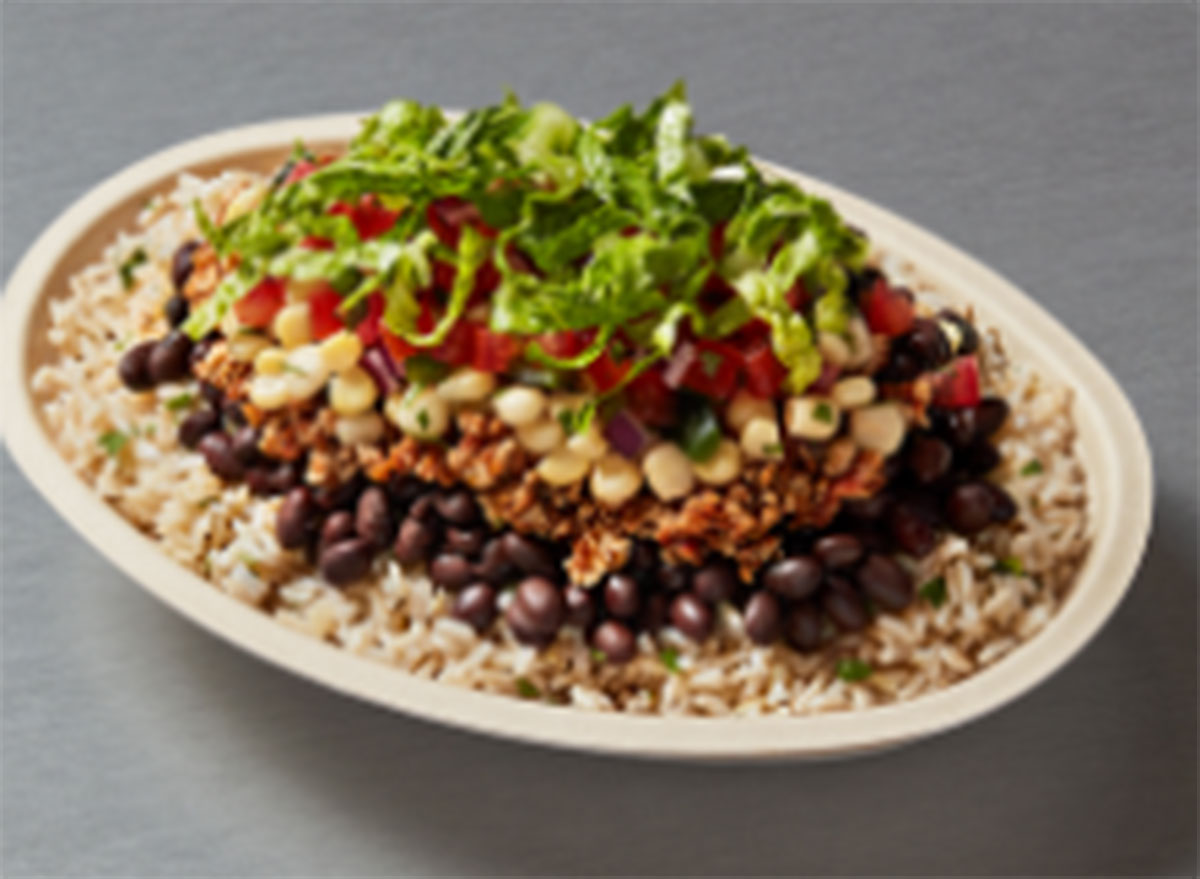 600 calories, 19 g fat (2.5 g saturated fat, 0 g trans fat), 1,840 mg sodium, 88 g carbs (17 g fiber, 12 g sugar), 23 g protein
A vegan bowl? Now, that is refreshing to see. But what earns this Chipotle bowl a spot on our list is the sofritas, which are made from tofu. They happen to be a contributing factor as to why this dish is high in sodium. If you're able to eat half the bowl at one time and save the rest for later, that would be a much better option. We know, that's not easy to do, but it's an easy solution!
Jack in the Box Teriyaki Chicken Bowl with Brown Rice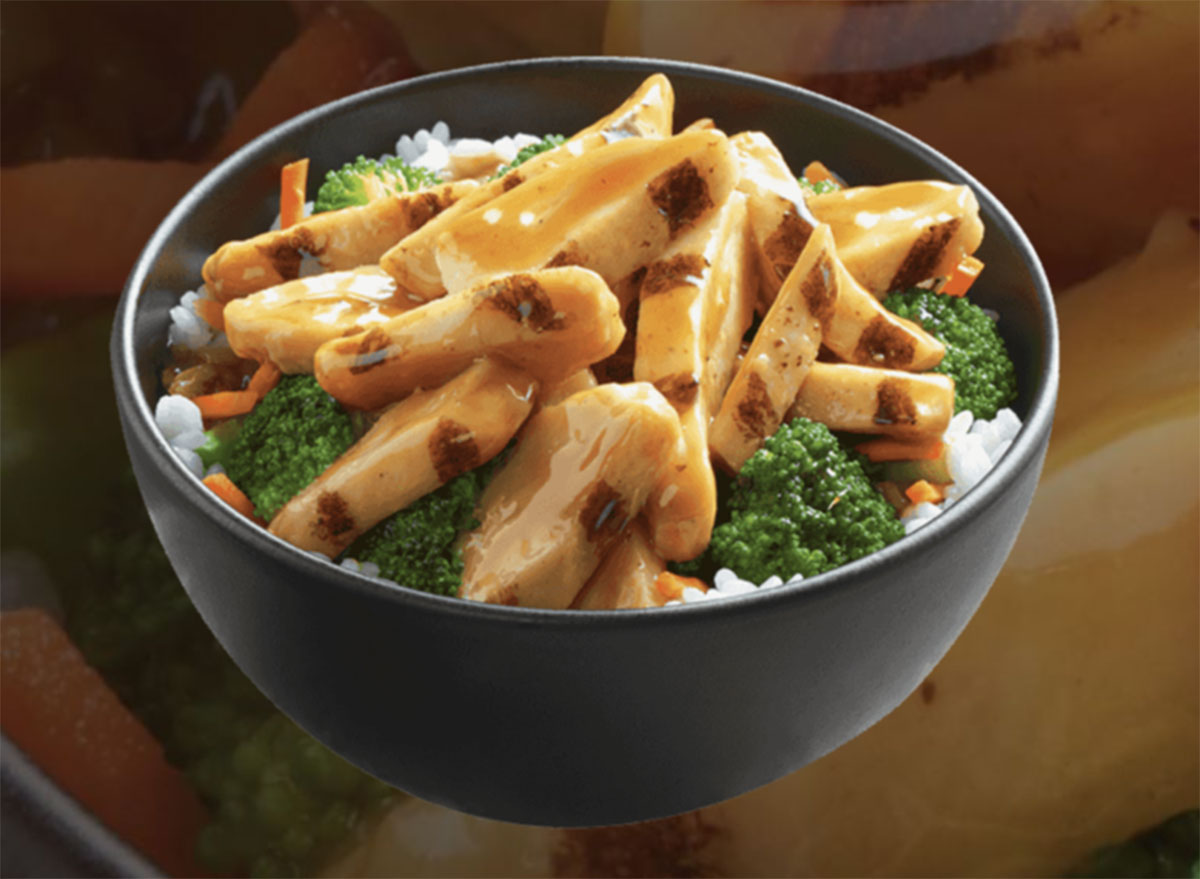 680 calories, 15 g fat (3 g saturated fat, 0 g trans fat), 2,440 mg sodium, 104 g carbs (7 g fiber, 34 g sugar), 35 g protein
This dish is an unexpected find on the Jack in the Box menu and some chicken, veggies, and brown rice sounds like a filling meal. Well, that doesn't quite save this dish, as it's not only high in sodium, but also sugar, thanks to the sauce. This one gets a skip!
Taco Bell Chicken Power Menu Bowl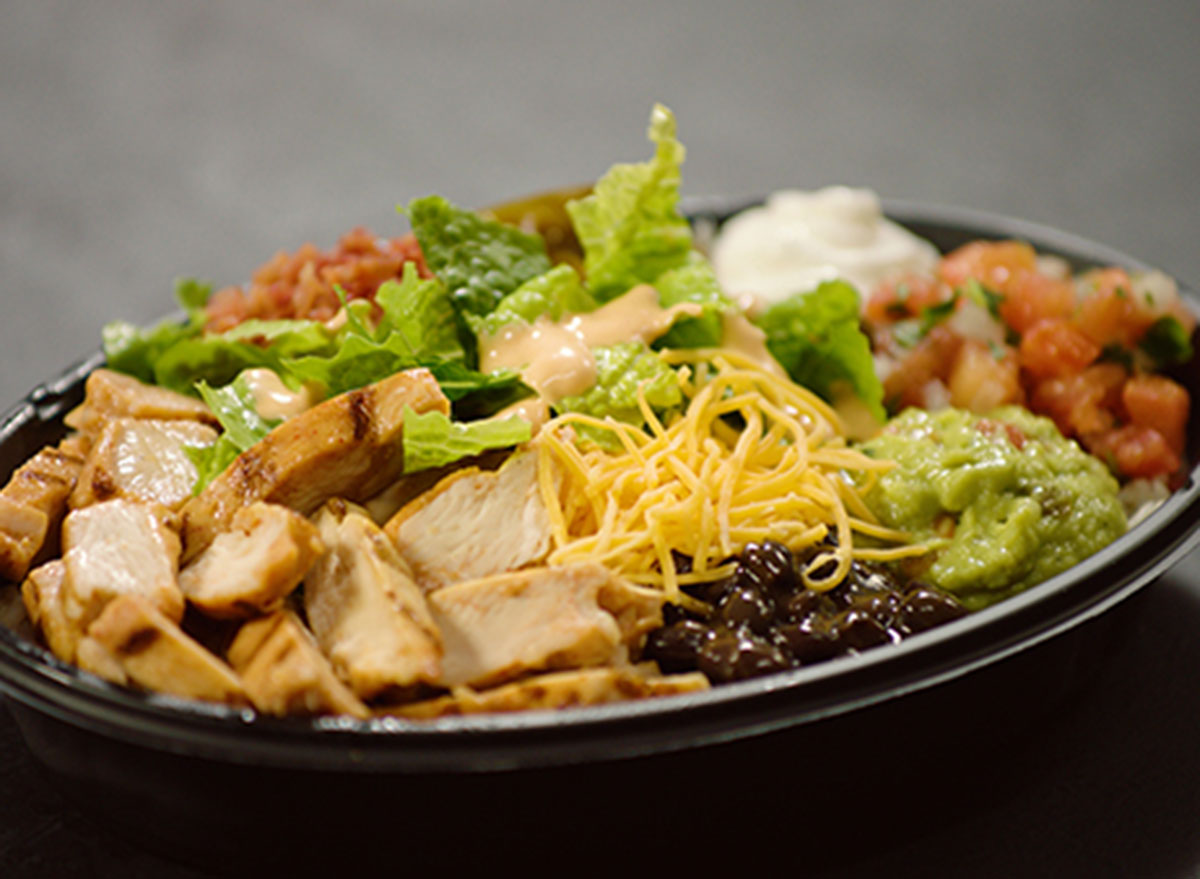 470 calories, 19 g fat (6 g saturated fat, 0 g trans fat), 1,230 mg sodium, 50 g carbs (8 g fiber, 2 g sugar), 26 g protein
One of the benefits of stopping at Taco Bell is that everything is customizable and there is an extensive list of vegetarian-friendly options. The Power Menu Bowl sounds promising, as it's made with chicken, reduced-fat sour cream, real cheddar cheese, guacamole, pico de gallo, and black beans over seasoned rice and lettuce. Plus, it's rather low in calories considering it's a fast-food dish. The sodium is high here though, and you're much better off choosing the Fresco soft chicken taco instead, as it's only 150 calories and has 430 milligrams of sodium.
Jennifer Maldonado
Jennifer Maldonado is a senior editor at Eat This, Not That!, specializing in food and health content.
Read more about Jennifer