"Healthy" Restaurant Meals That Are Secretly Awful For You
Don't be fooled by these seemingly harmless options.
It's always a struggle when you're dining out to eat and you're trying your best to stay on track and not choose a highly caloric meal that is overly packed with fat, sodium, and sugar. And if we're being honest here, it's a lot harder than you may think! So that's why many of your favorite restaurants offering up lighter, healthier meals has been a true gift.
But not so fast.
Sorry to disappoint, but there are some options on this supposed "healthy" section of the menu that are, well, lying to you. Yes, they are just not-so-great meals masquerading as super healthy options. We rounded up the worst menu items so you won't be fooled any longer by these unhealthy "healthy" restaurant meals.
Cheesecake Factory SkinnyLicious Asian Chicken Salad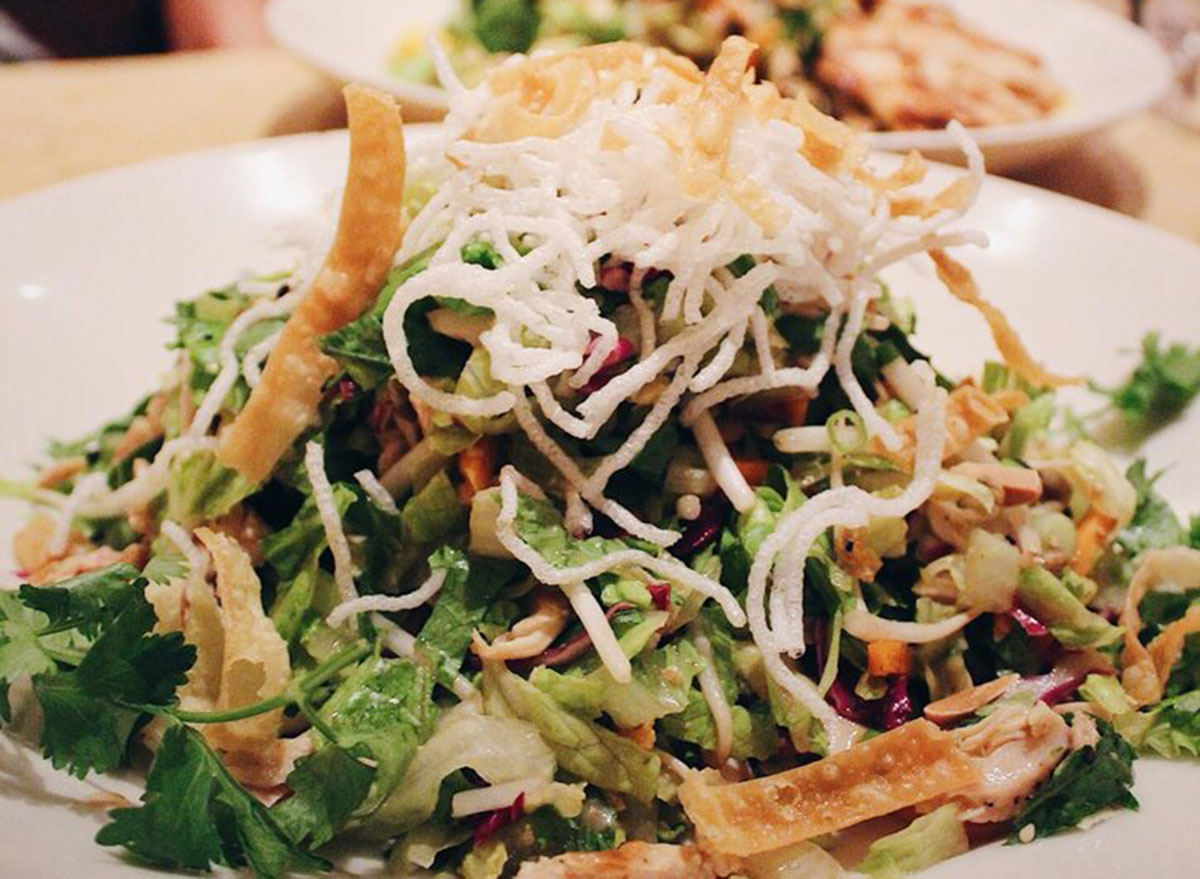 590 calories, 24 g fat (3.5 g saturated fat, 0 g trans fat), 2,710 mg sodium, 53 g carbs (11 g fiber, 18 g sugar), 44 g protein
When you're eating at The Cheesecake Factory, you know you're in for ridiculously large portions, so the SkinnyLicious menu seems like a great place to choose a meal from. And a salad can't be bad, right? Well, the SkinnyLicious Asian Chicken Salad is packing more than 2,700 milligrams of sodium and 53 grams of carbs. For reference, The American Heart Association recommends no more than 2,300 milligrams a day, so you would be exceeding your daily salt allowance on just one salad…
Maggiano's Chicken Piccata (Lighter Take)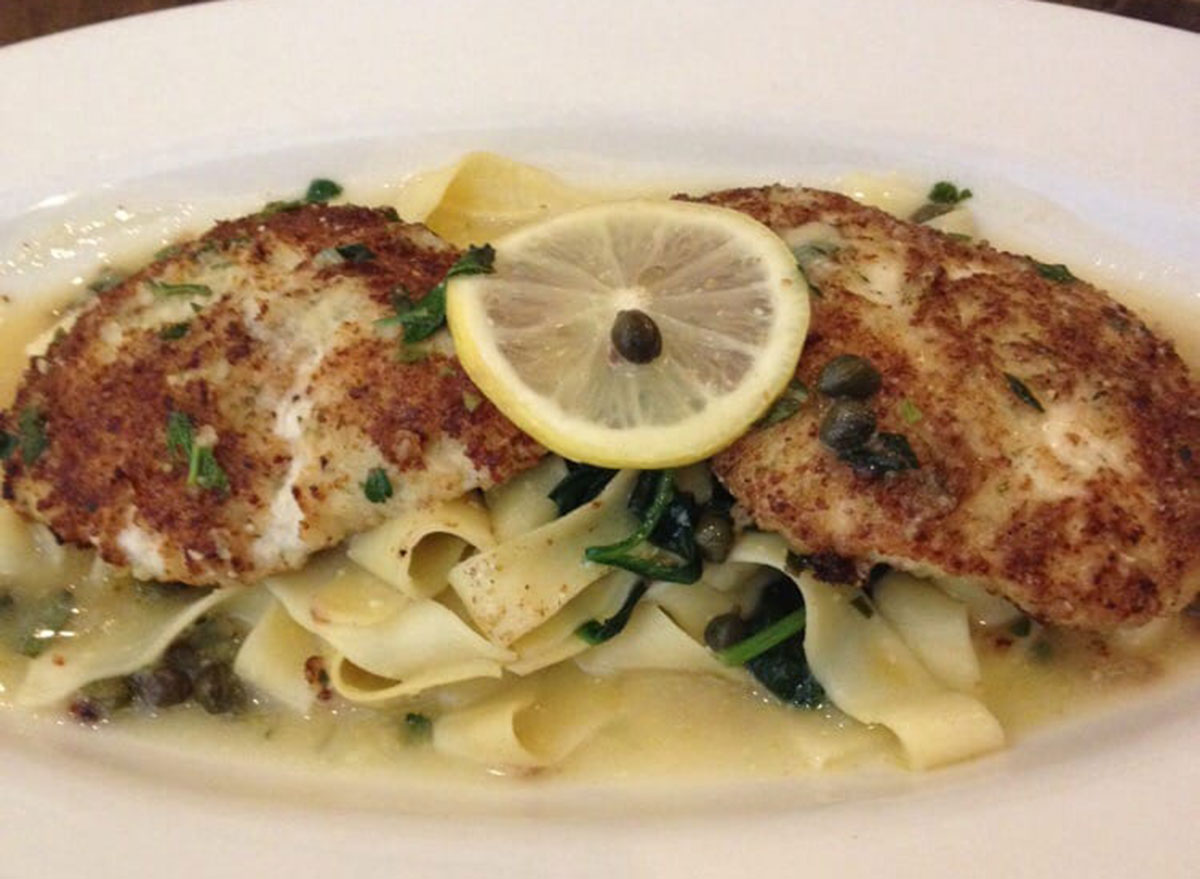 650 calories, 25 g fat (9 g saturated fat, 0 g trans fat), 1,330 mg sodium, 49 g carbs (6 g fiber, 2 g sugar), 63 g protein
At Maggiano's, there are "Lighter Take" versions of popular dishes, so yes, choosing one of these compared to their regularly made counterparts is a better option. But you'll want to be careful when it comes to the Chicken Piccata meal, as it's still high in sodium. (If you're looking for more helpful tips, your ultimate restaurant and supermarket survival guide is here!)
Bob Evans Cranberry Pecan Chicken Salad (Small)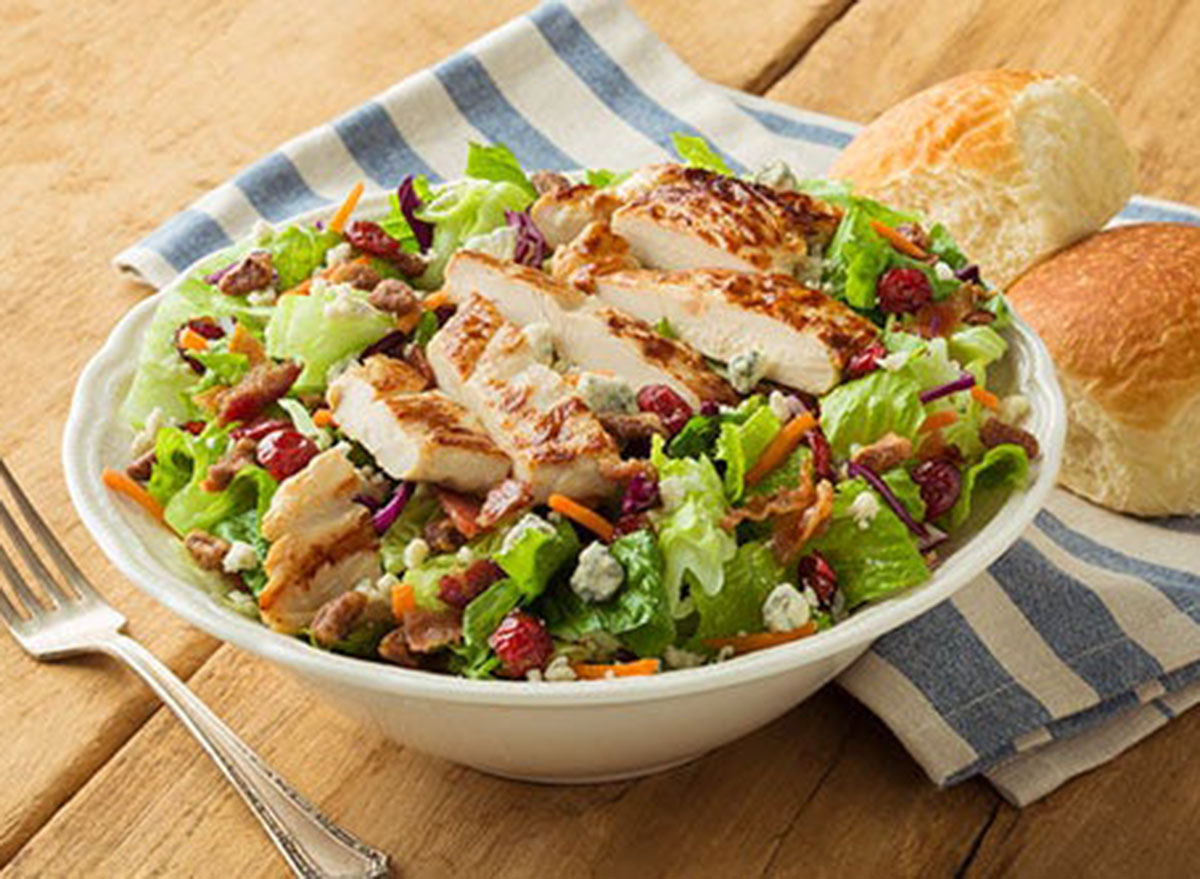 470 calories, 27 g fat (7 g saturated fat, 0 g trans fat), 1,180 mg sodium, 31 g carbs (6 g fiber, 20 g sugar), 28 g protein
Again, don't just see the word "salad" and think it's good for you. At Bob Evans, you might think choosing the small-sized Cranberry Pecan Chicken Salad is the way to go, but it's is topped with grilled chicken, bacon, dried cranberries, blue cheese, and pecans, making for a meal that is high in sodium and sugar. Your salad should just never have as much sugar as two Krispy Kreme donuts!
TGI Friday's Chicken Parmesan Pasta (Half Portion)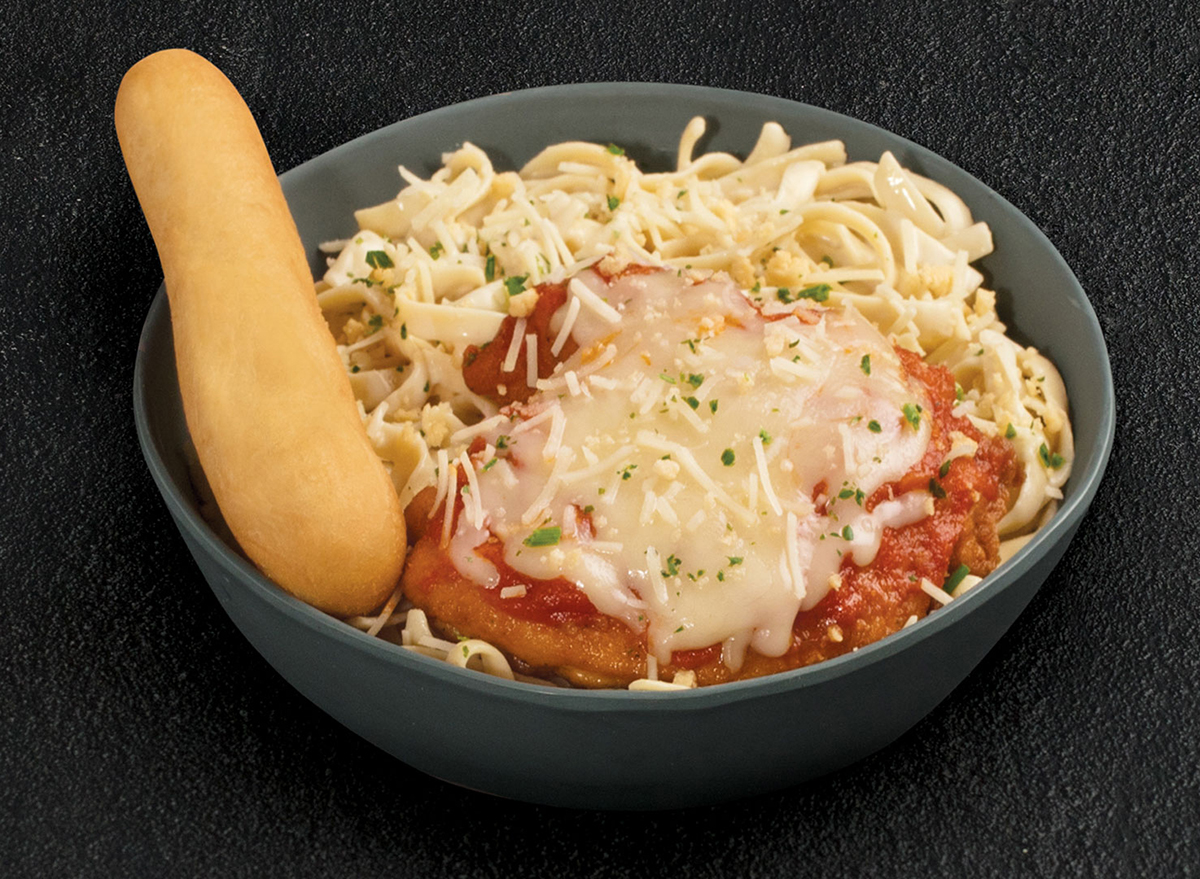 1,390 calories, 85 g fat (30 g saturated fat, 1 g trans fat), 3,540 mg sodium, 97 g carbs (6 g fiber, 19 g sugar), 89 g protein
TGI Friday's offers up half portion-sized meals of classic dishes. So it may seem like it's not as bad for you. But the Chicken Parmesan Pasta is one to stay away from, no matter the size of the meal. The half portion is packing more than 3,500 milligrams of sodium! And the 85 grams of fat, along with 1 gram of trans fat? It's a no-go.
Outback Steakhouse Brisbane Caesar Salad with Shrimp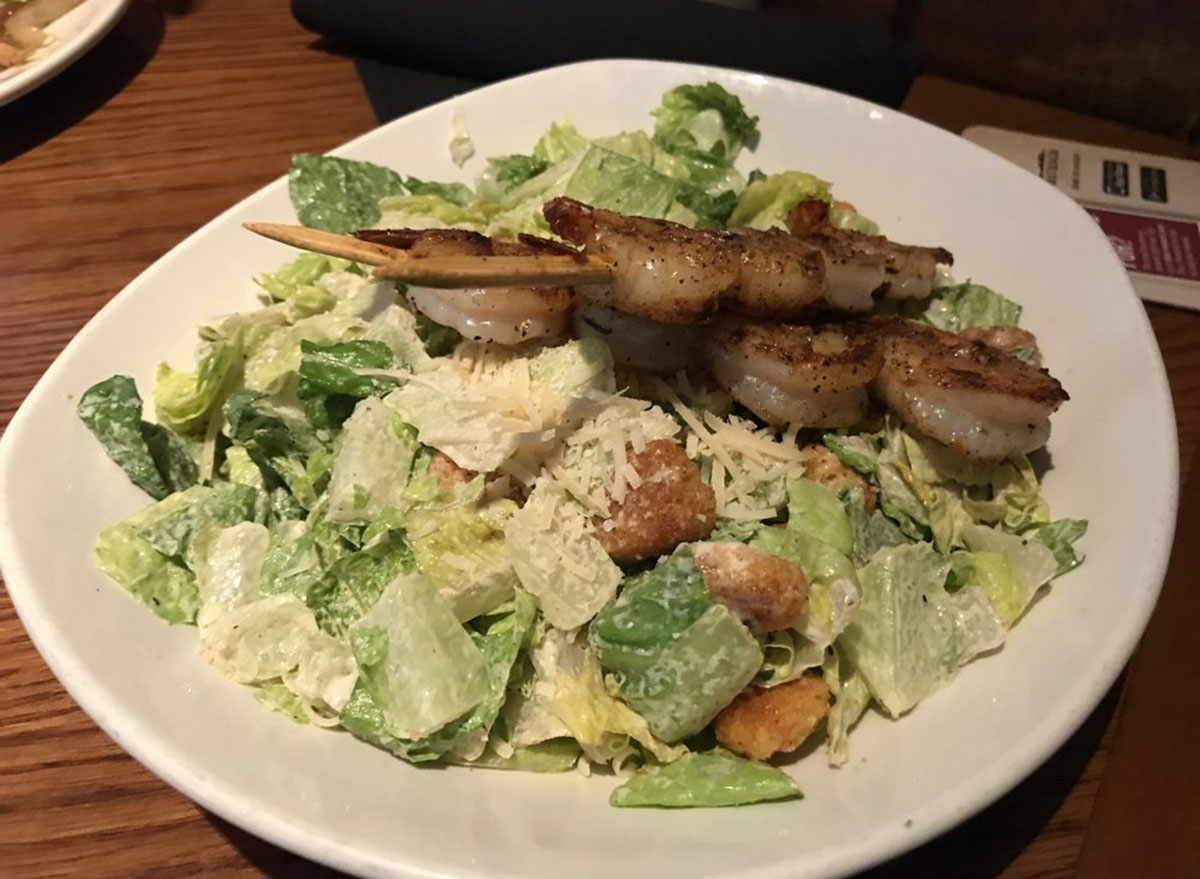 550 calories, 40 g fat (10 g saturated fat, 0 g trans fat), 1,400 mg sodium, 16 g carbs (4 g fiber, 3 g sugar), 35 g protein
This salad is part of Outback Steakhouse's "Under 600 Calories" and while it is considerably lower in calories compared to other salads, it's still not your best option. Caesar dressing and the whole salad, in general, is one that tends to be high in calories and fat. This version is packing a ton of sodium, too.
Ruby Tuesday Hickory Burbon Salmon
409 calories, 17 g fat (4 g saturated fat, 0 g trans fat), 907 mg sodium, 18 g carbs (0 g fiber, 18 g sugar), 42 g protein
Salmon has tons of health benefits, as it's rich in omega-3s and serves up plenty of protein. But when you're at Ruby Tuesday, you'll notice this grilled salmon filet from the Fit and Trim options is glazed with hickory bourbon barbecue sauce, and that's where things go wrong. It's packed with sodium and sugar that you won't get if you go for the plain grilled salmon instead.6254a4d1642c605c54bf1cab17d50f1e
Cheesecake Factory SkinnyLicious Lemon-Garlic Shrimp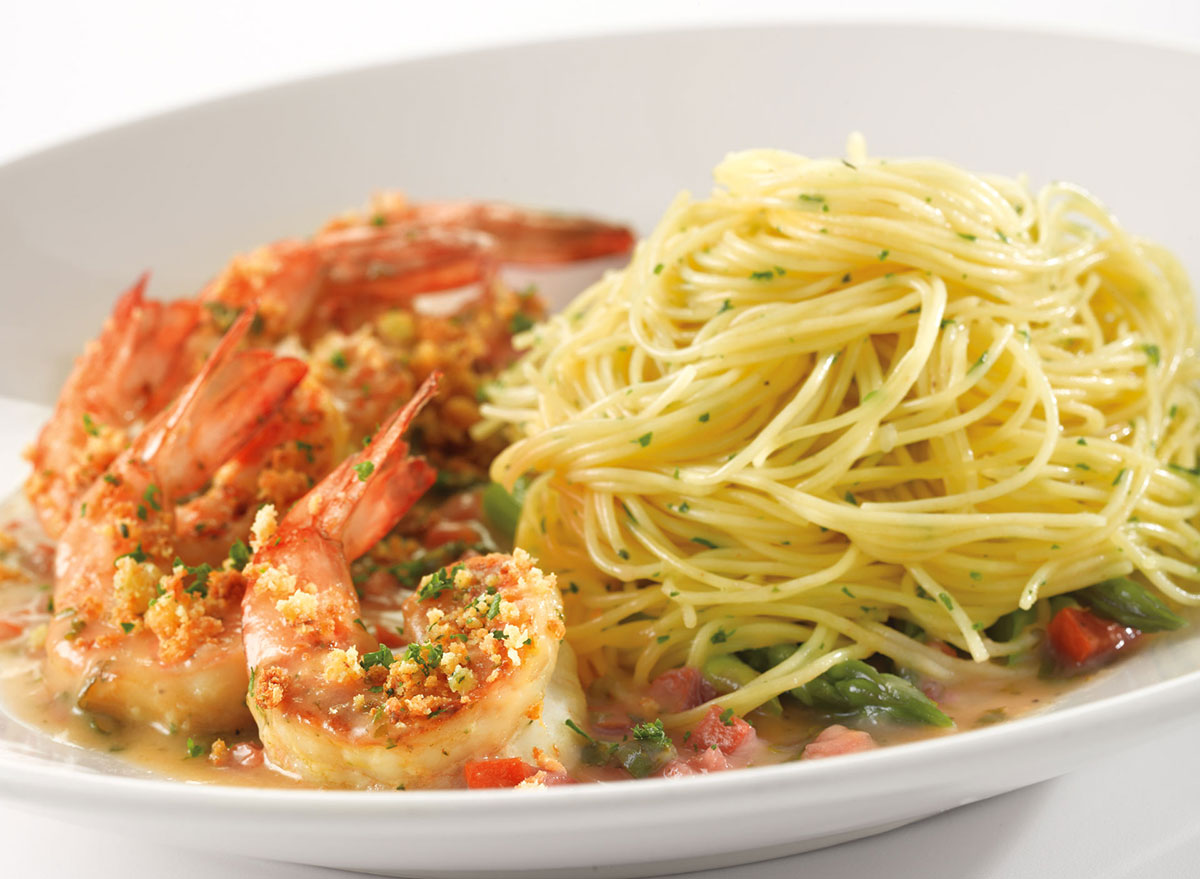 520 calories, 19 g fat (9 g saturated fat, 0.5 g trans fat), 3,460 mg sodium, 51 g carbs (5 g fiber, 3 g sugar), 33 g protein
Cheesecake Factory strikes again! Here, this sauteed shrimp dish that is served with asparagus over angel hair pasta really seems like a stand-out meal. It's a smaller portion size compared to the other pasta meals on the menu and comes in way under 600 calories—not bad! But it's the pesky sodium that earns demerits. Nearly 3,500 milligrams is just too much for one small dish.
On the Border "Border Smart" Chicken Fajitas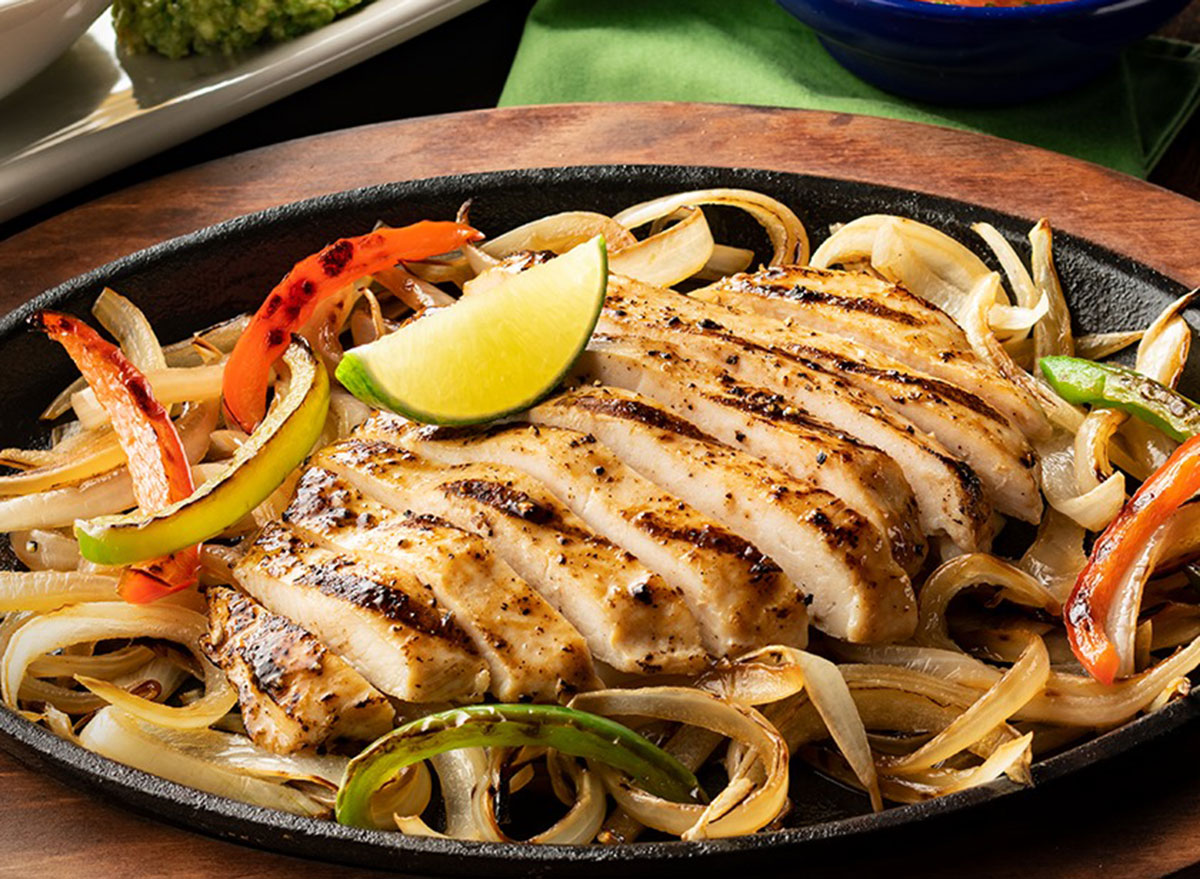 650 calories, 13 g fat (2.5 g saturated fat, 0 g trans fat), 1,500 mg sodium, 80 g carbs (20 g fiber, 8 g sugar), 53 g protein
There are "Border Smart" menu options you can choose from when you're feasting at On the Border, which as you most likely guessed are lighter meal choices. The grilled chicken fajitas have potential, as the chicken is served with sautéed onions and red and green bell peppers, black beans, shredded lettuce, pico de gallo, and guacamole. It does come with white corn tortillas, and it's a bit high sodium-wise when you factor in that there are no other side dishes served here. Tacking on the Mexican rice, for example, takes the sodium up to 2,340 milligrams. Your best bet is to eat half and take the rest to go for you to eat the next day.
Chili's Margarita Grilled Chicken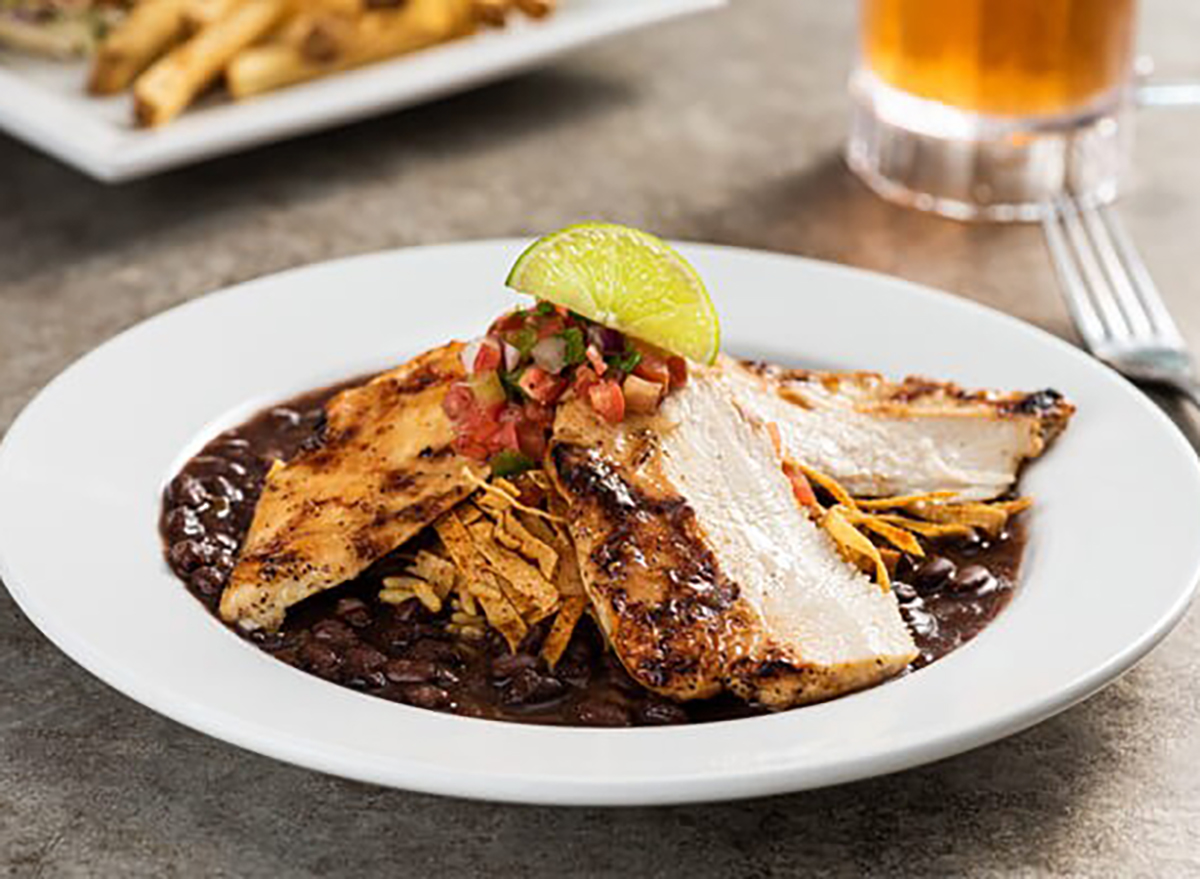 650 calories, 17 g fat (3 g saturated fat, 0 g trans fat), 2,340 mg sodium, 68 g carbs (7 g fiber, 9 g sugar), 55 g protein
Chili's has "Guiltless Grill" options that are much lower in calories than other menu offerings and that's where you'll fine the Margarita Grilled Chicken. It's made with pico, tortilla strips, Mexican rice, and black beans, and is described to "only taste like a guilty pleasure." The sodium content though is far too high to be considered a guilt-free option.
Carrabba's Linguine Positano With Shrimp and Whole Grain Pasta
830 calories, 29 g fat (4 g saturated fat, 0 g trans fat), 2,880 mg sodium, 108 g carbs (17 g fiber, 12 g sugar), 38 g protein
This pasta dish at Carrabba's is an example of how "healthy" meals can be transformed into unhealthy ones very quickly. It features shrimp and whole-grain pasta—two foods that are typically regarded as solid choices. But Carrabba's manages to create a dish that is high in sodium and actually contains 300 milligrams more of the salty stuff than the version of this dish that is made with regular pasta. No thanks!
Jennifer Maldonado
Jennifer Maldonado is a senior editor at Eat This, Not That!, specializing in food and health content.
Read more about Jennifer