The Best & Worst Menu Items at Fazoli's
From pizza to pasta to the beloved breadsticks, these are the foods to have on your radar, according to a registered dietitian.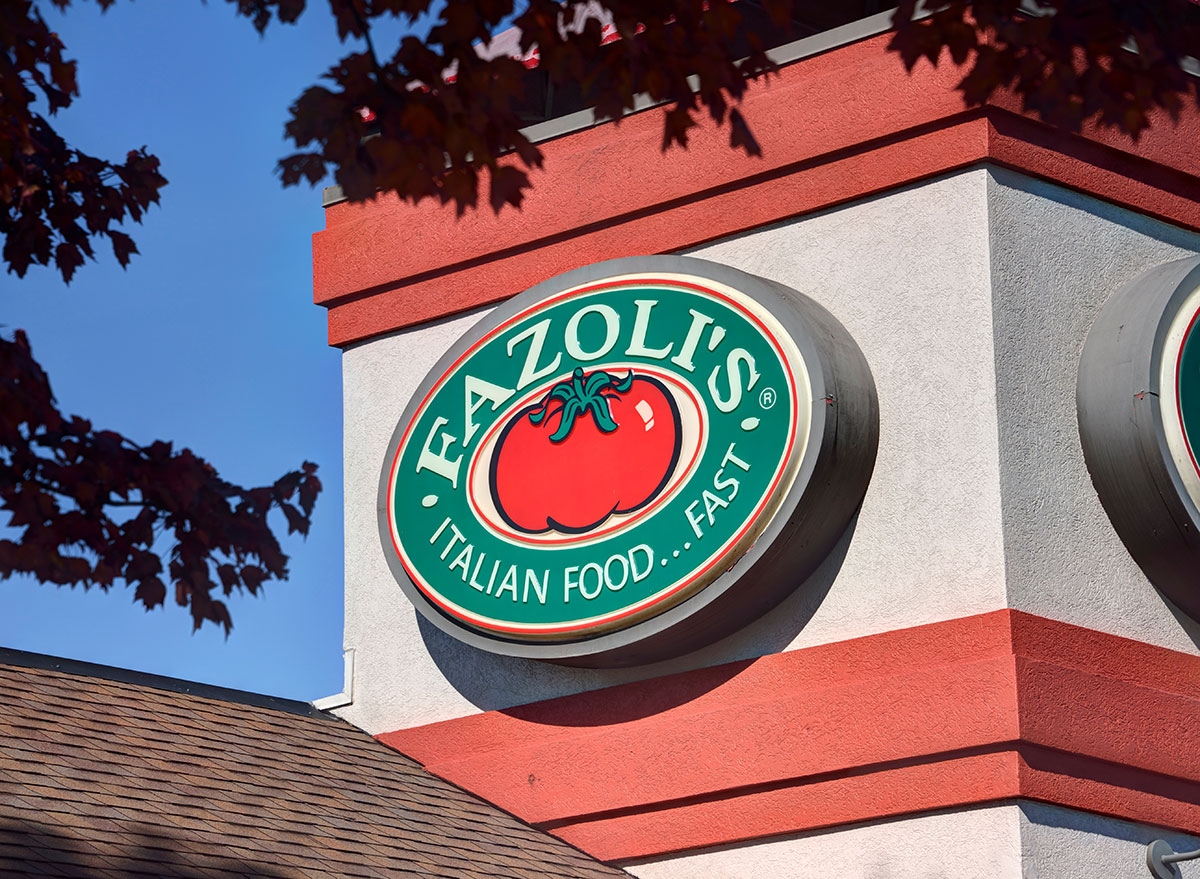 Fazoli's is every bit of comfort food, with its cheesy pizzas, indulgent pastas, and endless and craveable breadsticks. Clearly, a lineup like this also screams saturated fats and carbs on carbs—both of which are fine occasionally in moderation, but not great for your health if this happens to be a common stop for lunch or dinner.
If you find yourself regular rolling through Fazoli's during your lunch break or to grab mountains of pasta and breadsticks for quick family dinners, consider switching up your typical order for something with more health benefits. If you rarely visit Fazoli's, feel free to indulge in those more decadent dishes (we're looking at you, Ultimate Fettuccine).
We spoke with Mascha Davis MPH, RDN, Private Practice Registered Dietitian Nutritionist, founder of NomadistaNutrition.com, and author of Eat Your Vitamins, to help decipher the menu and find items that are more nutritionally balanced as well as those dishes best reserved for special occasions. Here are the best and worst items on the Fazoli's menu.
Salads
Best: House Side Salad, No Dressing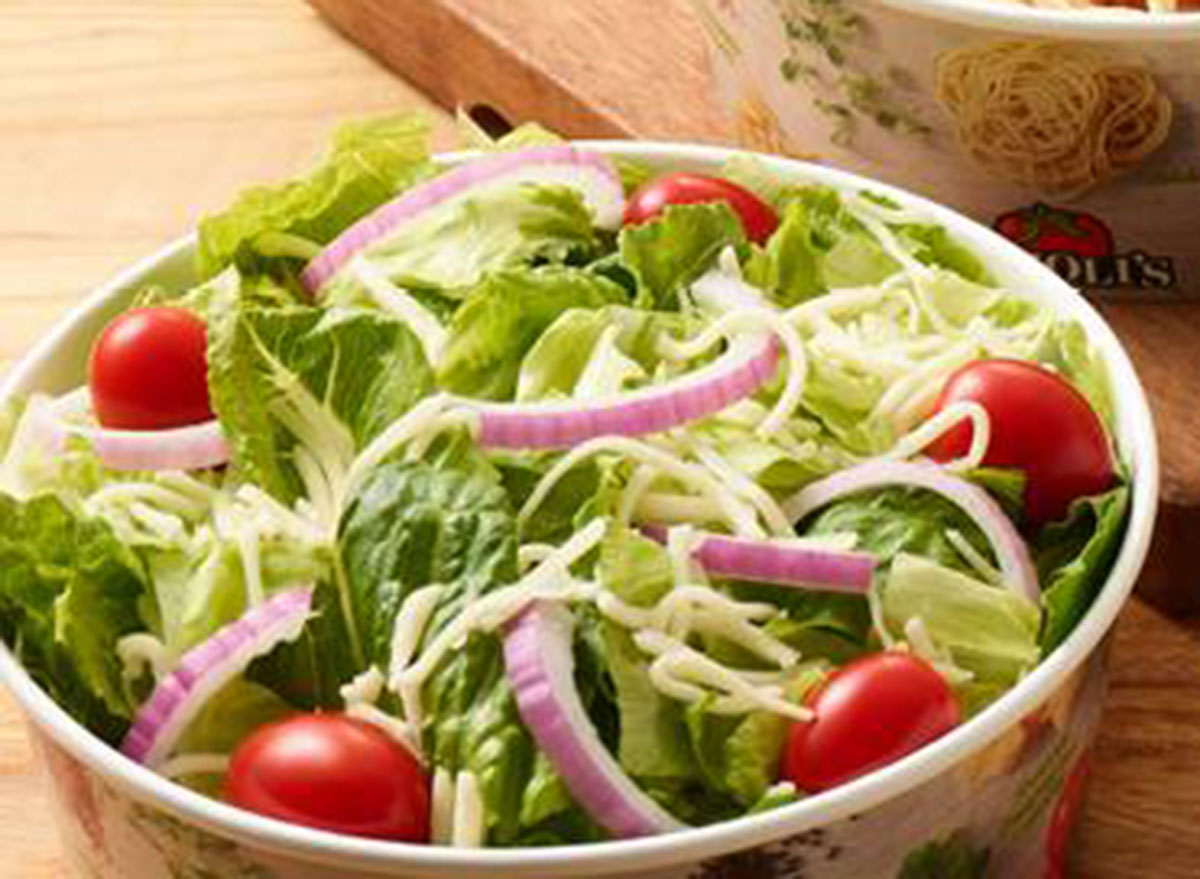 110 calories, 7 g fat (4.5 g saturated fat, 0 g trans fat), 180 mg sodium, 5 g carbs (2 g fiber, 3 g sugar), 7 g protein
This side salad is full of leafy greens with a few fresh toppings, such as red onions and tomatoes, peppered throughout. Without the dressing, it's a pretty low-calorie option to accompany your meal. Davis recommends adding a lighter, low-fat dressing like Italian for a boost of flavor without adding a bunch of fat or sodium.
Worst: Chicken Bacon Caesar With Dressing
600 calories, 40 g fat (9 g saturated fat, 0 g trans fat), 2,240 mg sodium, 18 g carbs (3 g fiber, 6 g sugar), 41 g protein
Salads can be deceptive. What often sounds like a healthy choice can actually be nutritionally worse than just enjoying a slice of pizza! That's the case with the chicken bacon caesar salad at Fazoli's. Davis points out this salad is higher in calories than a slice of the restaurant's pizzas, plus it is high in fat and sodium. In fact, "with 2,240 milligrams, it delivers more than we should have in a whole day," she says.
Primo Submarinos
Best: Turkey Club Classico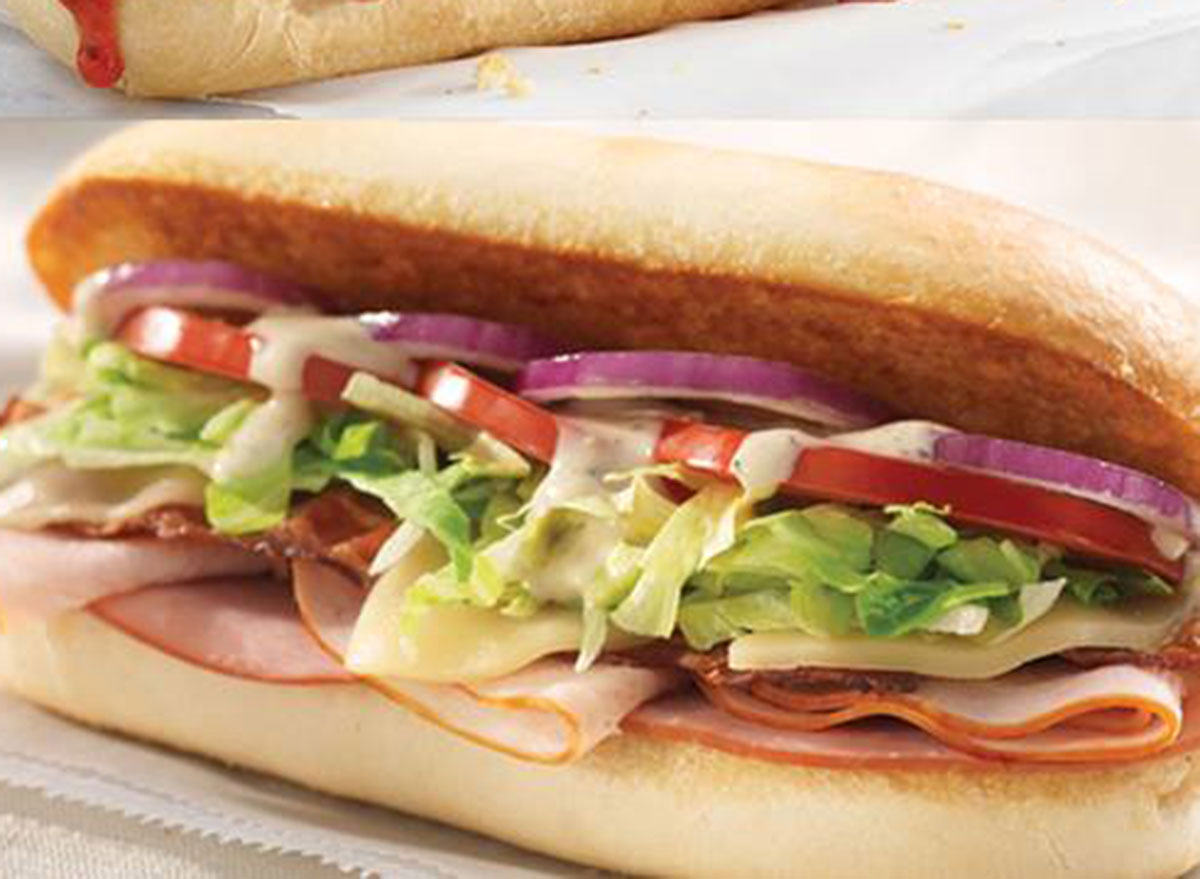 790 calories, 0 g fat (12 g saturated fat, 0 g trans fat), 2,770 mg sodium, 57 g carbs (3 g fiber, 8 g sugar), 53 g protein
Craving a tasty sub? Davis recommends the turkey club.
"Of all options, this one is the lowest in calories and saturated fat. It still is high in sodium and sugar, but among the available options this one would be my pick," she says.
Because this better-for-you option still isn't quite the epitome of health, consider splitting it in half. Enjoy part of it with a side salad, and save the other half for another meal!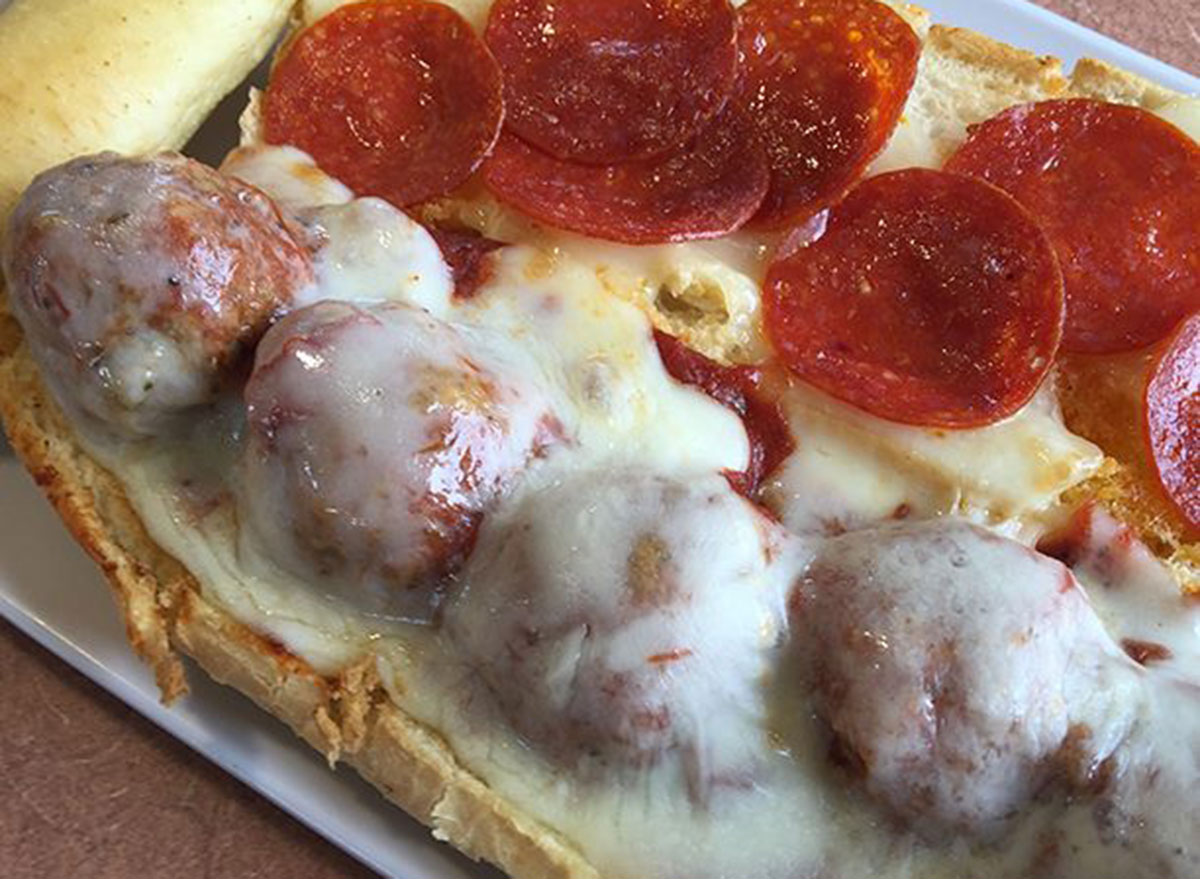 920 calories, 56 g fat (20 g saturated fat, 2 g trans fat), 2,740 mg sodium, 65 g carbs (5 g fiber, 8 g sugar), 36 g protein
Meatball subs are a classic, but you might consider making a healthier option at home. Sure, the calories and saturated fats for this one sandwich are concerning, but it's the trans fats that really bother Davis.
"With 2 grams of trans fats, it is the only primo submarino that contains trans fat. Those fats are very harmful," she says.
Snacks & Shareables
Best: Spicy Italian Breadstick Slider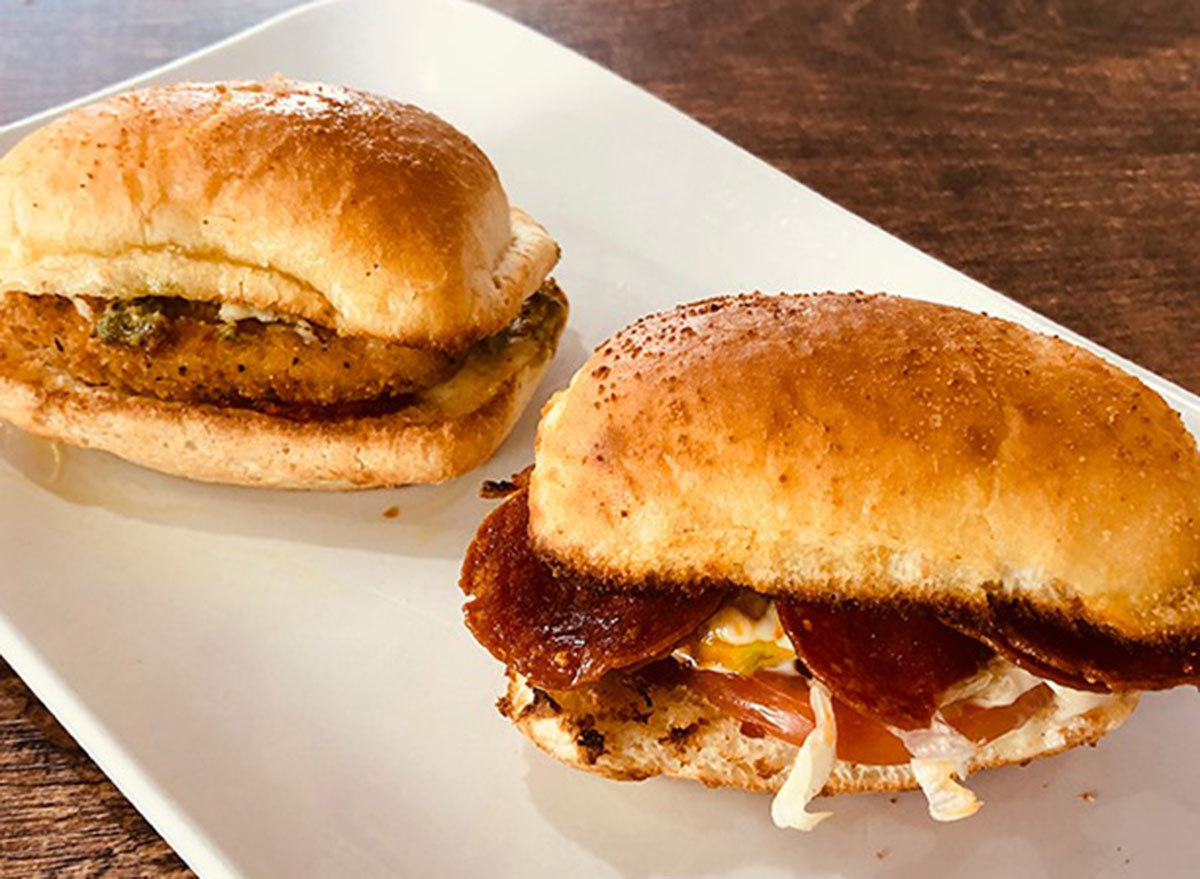 270 calories, 16 g fat (5 g saturated fat, 0 g trans fat), 920 mg sodium, 21 g carbs (1 g fiber, 1 g sugar), 13 g protein
Let's be honest—we're all going to Fazoli's for those tasty little breadsticks. Now, Fazoli's has made them even better by turning them into sandwiches (gasp!). Best of all, this spicy Italian breadstick slider is a low-calorie meal that also helps you meet your daily protein needs.
"This would be a good side to enjoy with your salad," Davis says.
Worst: Pepperoni Pizza Breadsticks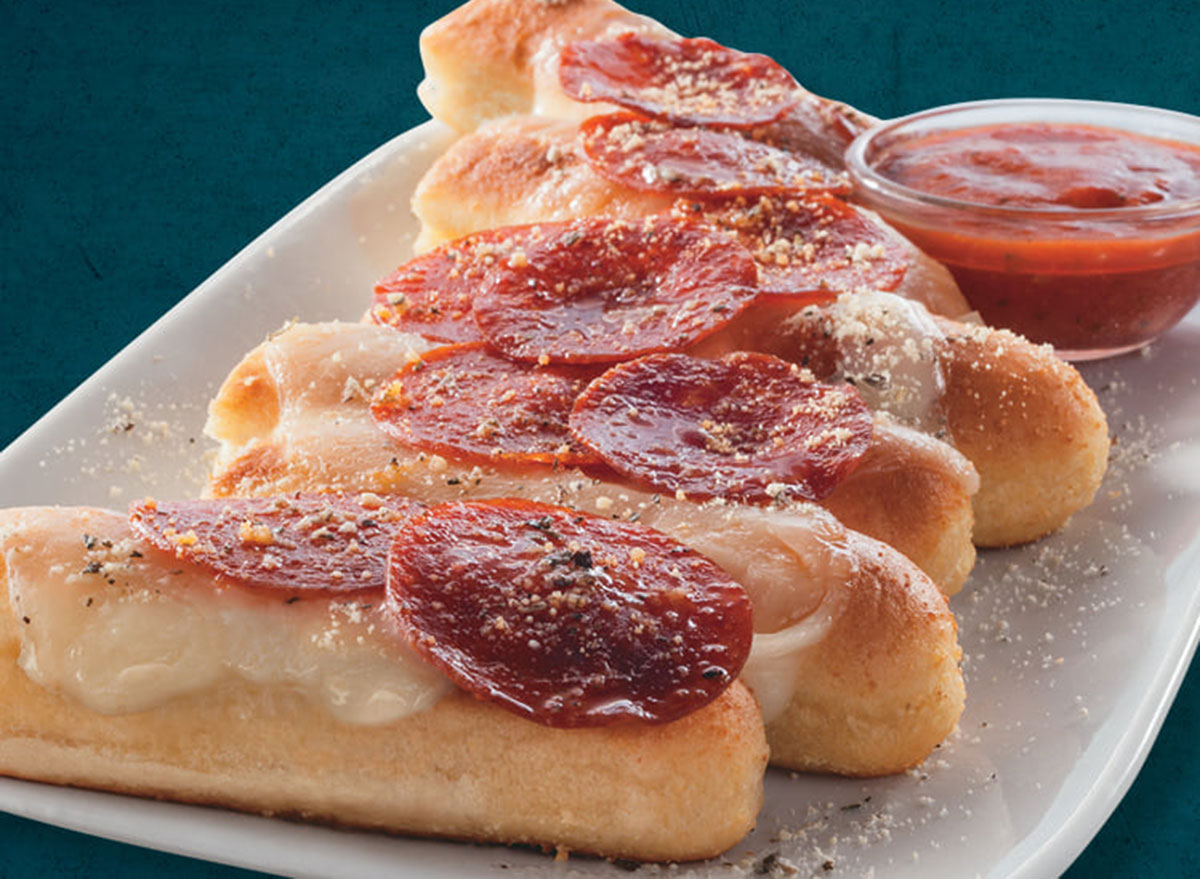 660 calories, 37 g fat (13 g saturated fat, 0 g trans fat), 1,780 mg sodium, 55 g carbs (4 g fiber, 8 g sugar), 28 g protein
The breadsticks in slider form can be a healthier option, but slather the full-size breadsticks in cheese and pepperoni, and you have a greasy, fatty dish best enjoyed on occasion.6254a4d1642c605c54bf1cab17d50f1e
"This side has 660 calories, which makes it a meal (and a pretty decent one, too)," Davis says. "It is high in saturated fat at 37 grams per serving. Saturated fat in high amounts can lead to health complications, such as cardiovascular disease. The sodium, which also contributes to the development of cardiovascular diseases such as hypertension, is very high at 1,780 milligrams."
To put this in perspective, this side dish has more saturated fat than an entire cup of sour cream.
Pastas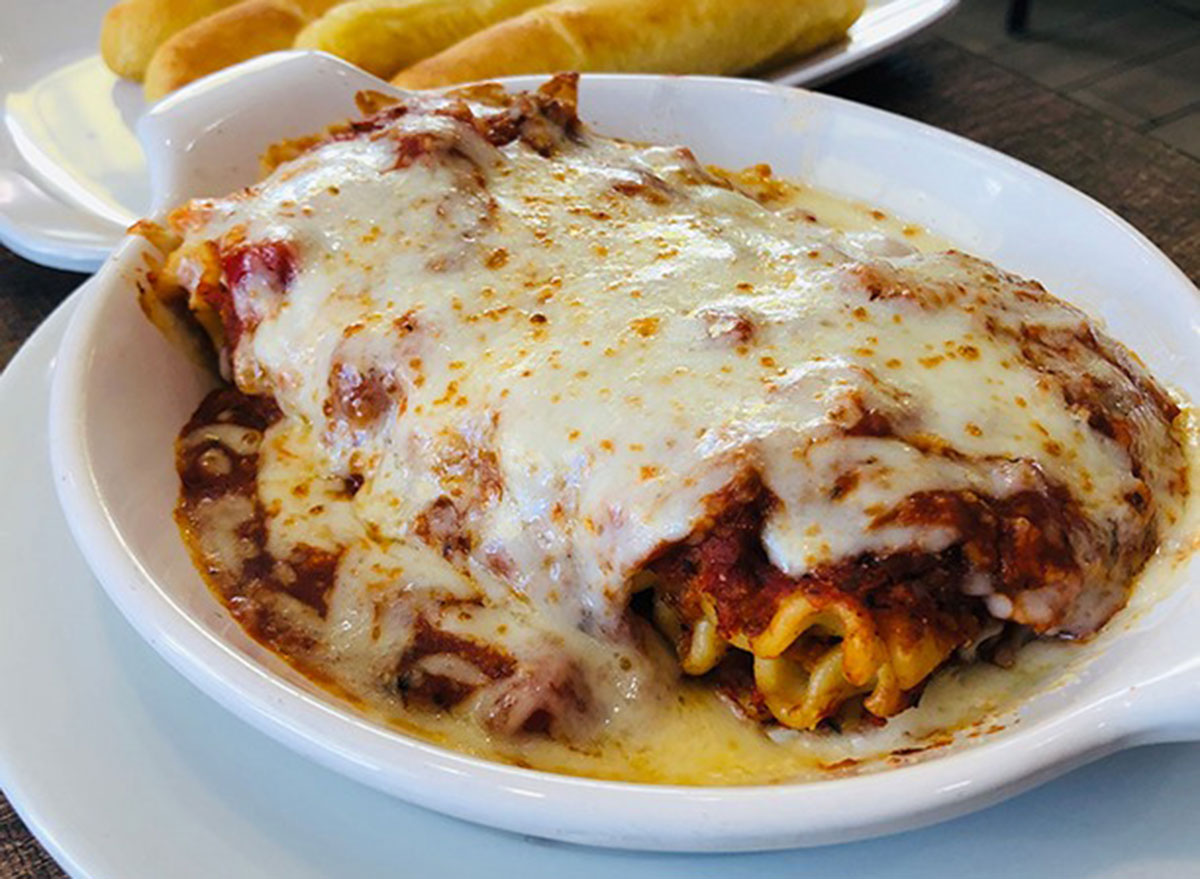 630 calories, 25 g fat (13 g saturated fat, 0 g trans fat), 1,950 mg sodium, 69 g carbs (9 g fiber, 14 g sugar), 32 g protein
Baked lasagna on the best list? Yum! This dish is a decent choice thanks to its high amount of fiber.
"Fiber helps you maintain your health by helping you control blood sugar and blood lipids," Davis says. "You should eat at least 25 grams of fiber per day. The dish is also relatively low in calories and fat." But, keep in mind the high levels of added sugars and sodium.
Worst: Ultimate Fettuccine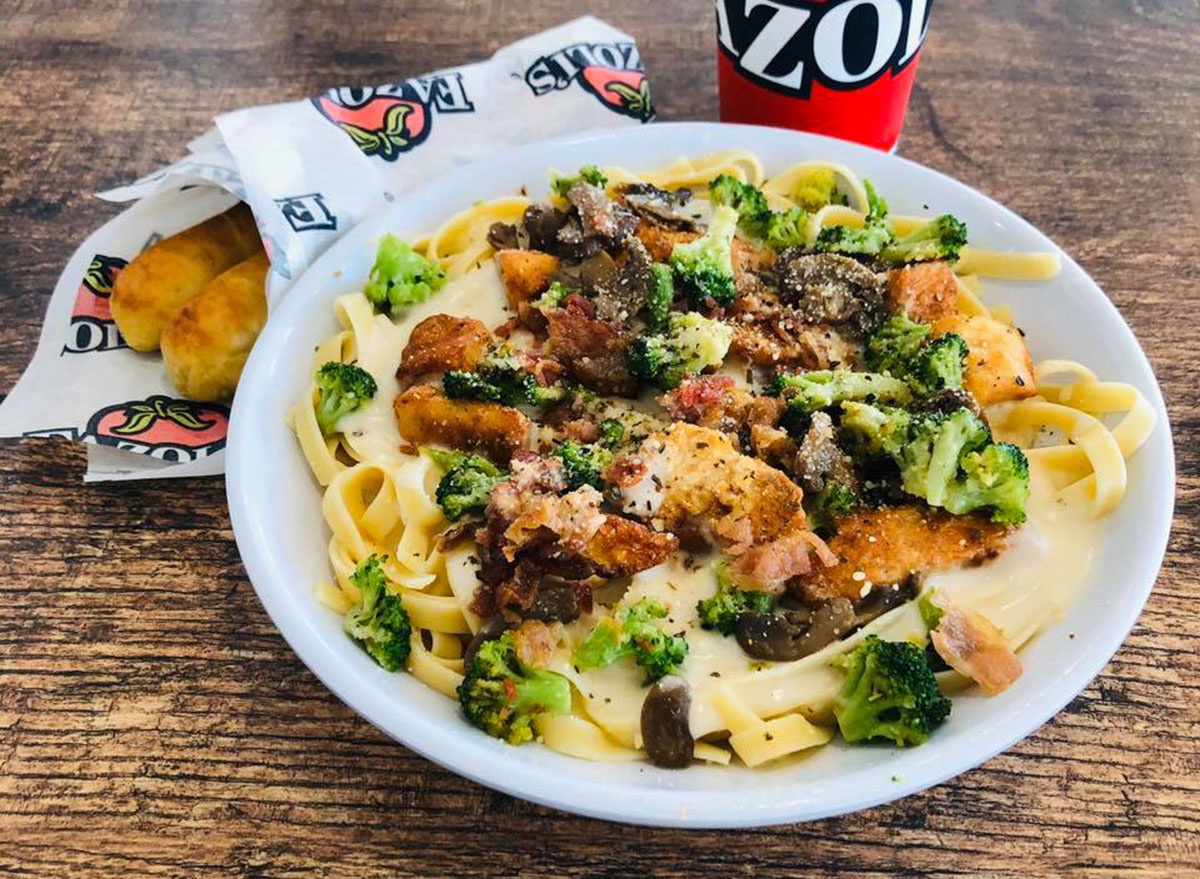 980 calories, 35 g fat (13 g saturated fat, 0 g trans fat), 3,180 mg sodium, 109 g carbs (5 g fiber, 11 g sugar), 54 g protein
Look, it's hard to resist the ultimate fettuccine. But this dish is high in calories, fat, carbs, cholesterol, and especially sodium.
"This is a meal for two," Davis says. "It also has almost double your daily sodium allowance in a serving. With 145 milligrams of cholesterol and 13 grams of saturated fat, it is certainly not a heart-healthy meal."
Seriously, this pasta dishes up nearly the same amount of sodium as nine large servings of French fries from McDonald's.
Pizza by the Slice
Best: Cheese Single Slice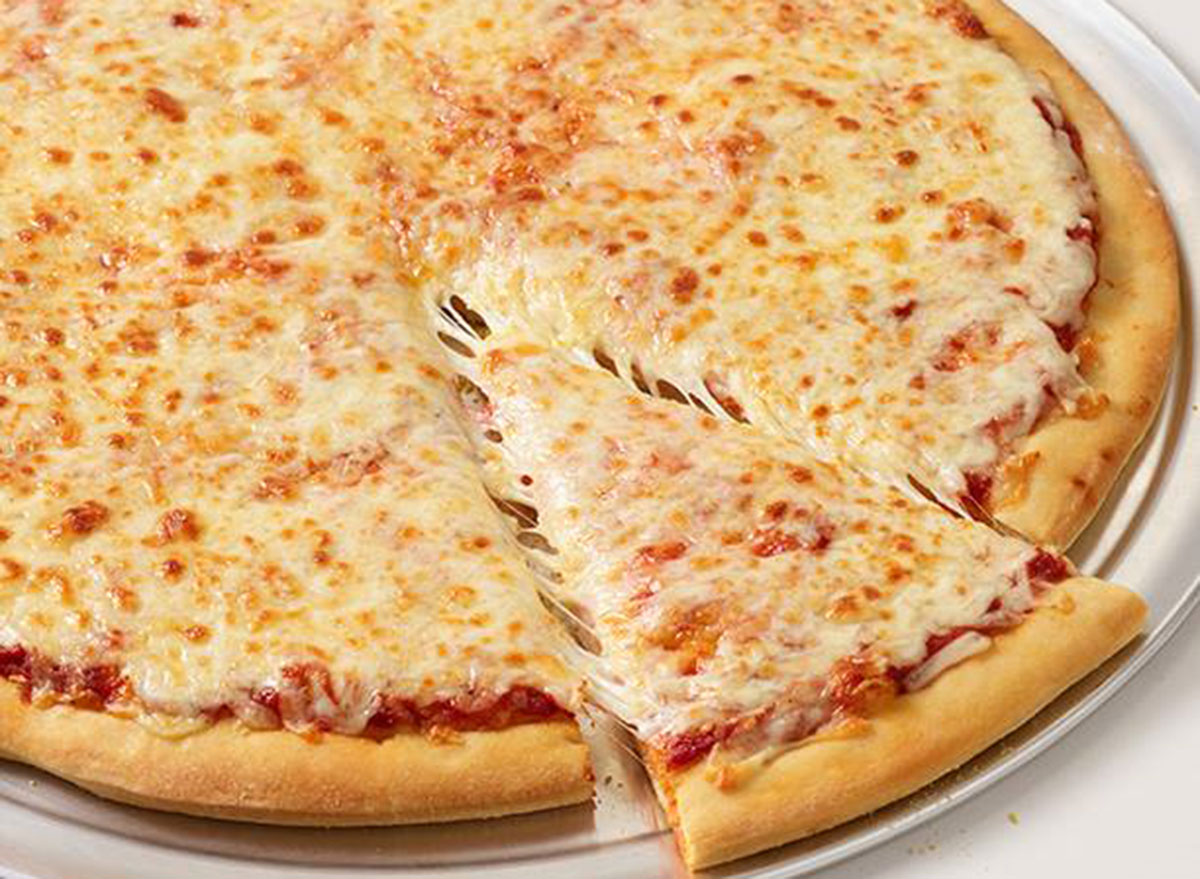 280 calories, 12 g fat (5 g saturated fat, 0 g trans fat), 680 mg sodium, 31 g carbs (2 g fiber, 3 g sugar), 14 g protein
If you want pizza, stick to cheese to avoid the highly processed meat (pepperoni), and go for one slice paired with a side salad.
Worst: Pepperoni Double Slice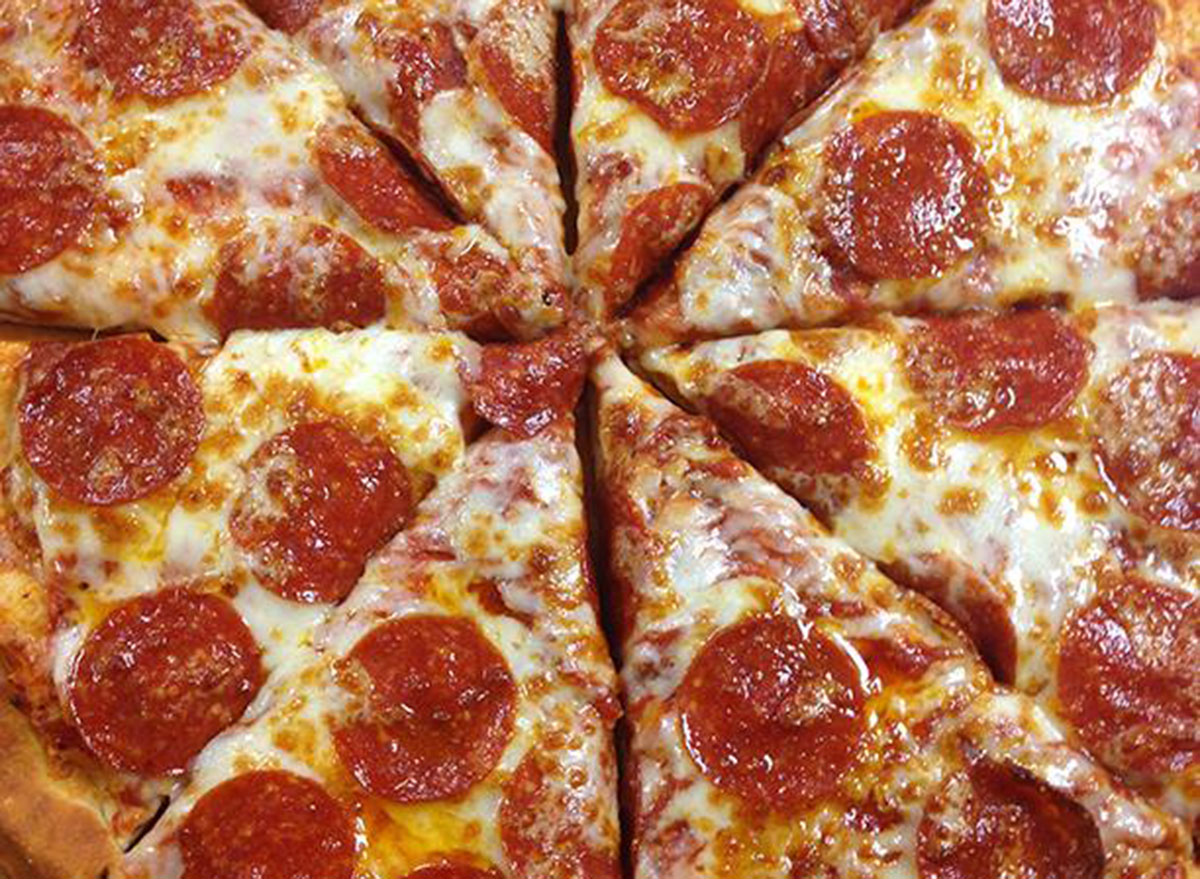 590 calories, 26 g fat (10 g saturated fat, 0 g trans fat), 1550 mg sodium, 63 g carbs (4 g fiber, 5 g sugar), 26 g protein
Davis points out that the pepperoni double slice has, not surprisingly, double the calories of a single slice of the cheese pizza, plus it is high in saturated fat and sodium. Cheese, please!
Treats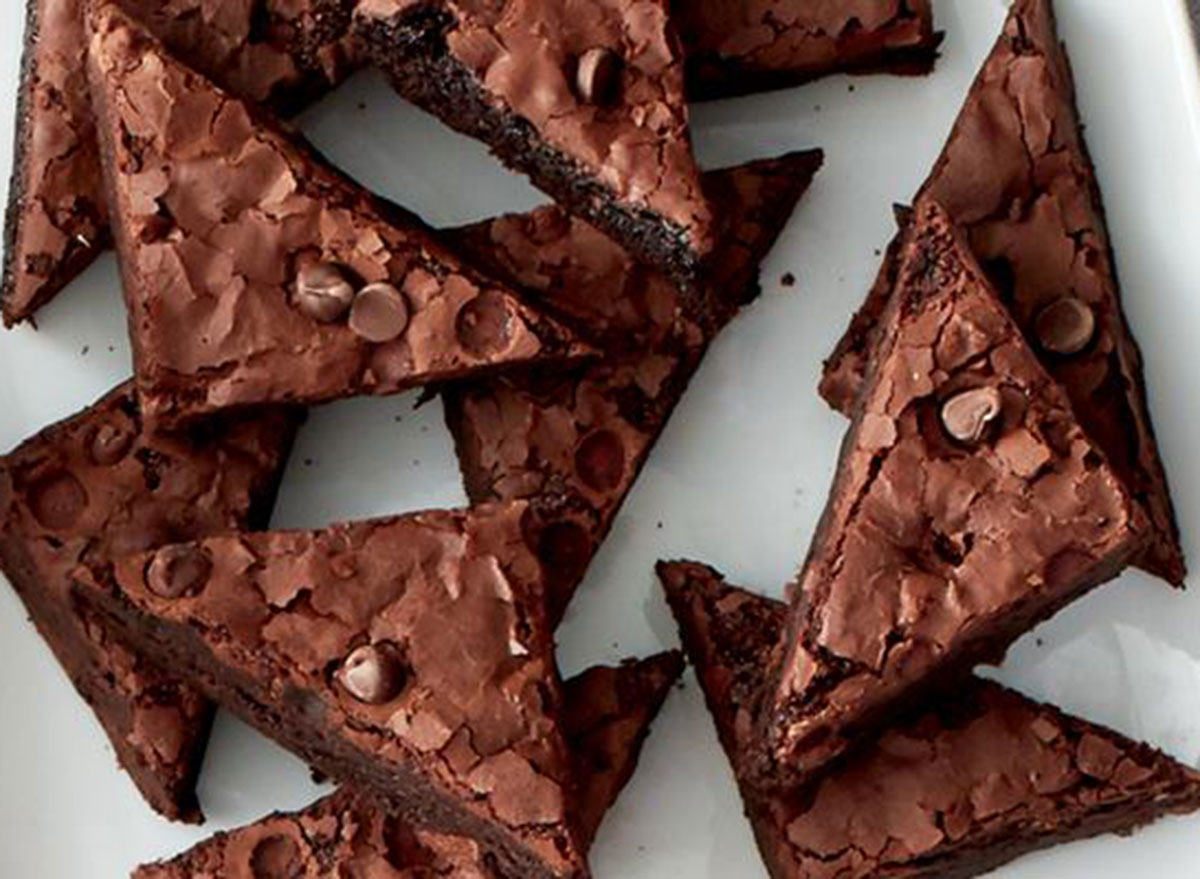 240 calories, 10 g fat (3 g saturated fat, 0 g trans fat), 140 mg sodium, 34 g carbs (2 g fiber, 23 g sugar), 2 g protein
We all deserve to enjoy a treat, but after a heavy dinner, you might want something a bit healthier. While it is still sugary-sweet, the brownie is the best option among the desserts.
"While all treats are high in sugar, I would recommend the brownie," Davis says. "It is lower in calories than the other options and only has 3 grams of saturated fat. At 23 grams per serving, the sugar is lowest in the treat category."
Worst: NY-Style Cheesecake with Strawberry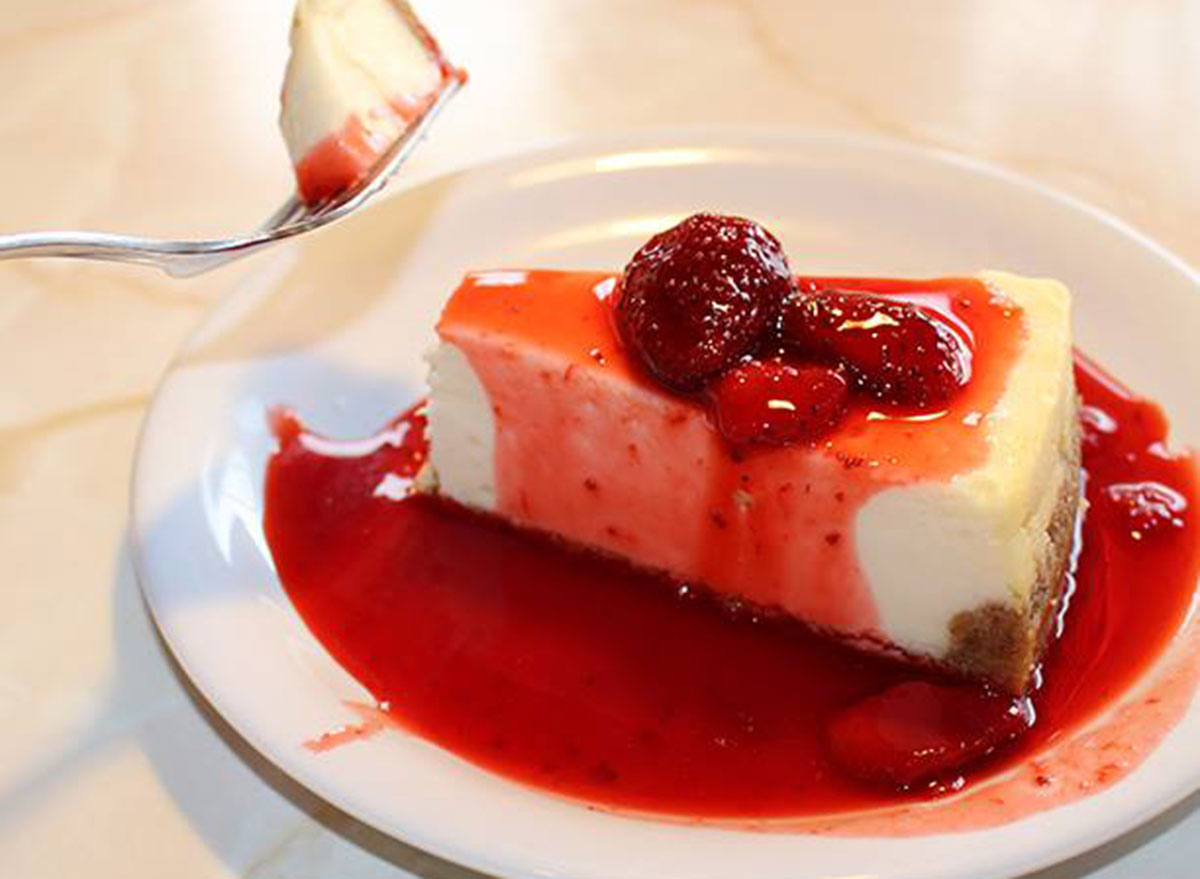 550 calories, 30 g fat (16 g saturated fat, 0 g trans fat), 370 mg sodium, 63 g carbs (0 g fiber, 48 g sugar), 5 g protein
Whether you devoured a salad or a double slice of pepperoni pizza, the NY-style cheesecake with strawberry is going to make you feel sluggish after all of that sugar wears off and makes you crash. This cheesecake has more sugar than a can of Coca-Cola and has nearly the same amount of saturated fat in a half-cup of olive oil.
That doesn't necessarily mean you have to forgo cheesecake if that is what your (figurative) heart wants (your literal heart probably doesn't want 30 grams of fat).
"If you feel like cheesecake, share this with a friend," Davis says.
Paige Bennett
Paige is a Los Angeles-based editor and freelance writer. In addition to writing for Eat This, Not That!, she works as the content editor for Inhabitat.
Read more about Paige