13 Filling Snacks That Satisfy Your Biggest Cravings
When the cravings strike, have some of these healthier (yet delicious) snacks on hand.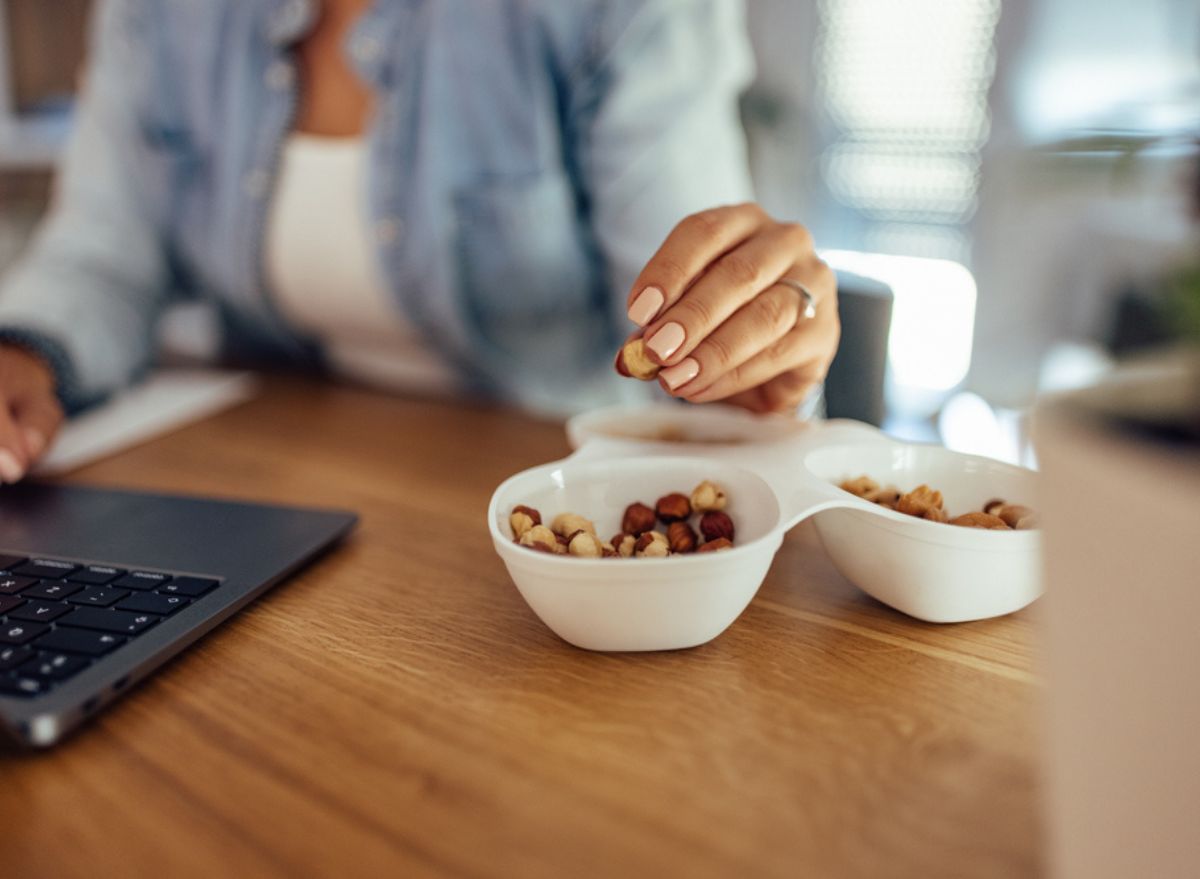 The product recommendations in this post are recommendations by the writer and/or expert(s) interviewed and do not contain affiliate links. Meaning: If you use these links to buy something, we will not earn a commission.
It's never a fun feeling when a midday craving strikes. Whether it's for something salty, sweet, greasy, or all of the above, these cravings can distract you from just about anything until they're satiated. But even though items like potato chips, candy, or ice cream are calling to you from the depths of your kitchen, giving in to these snacks will often just leave you feeling hungrier and unsatisfied. That's why it is important to have more satiating and filling snacks on hand.
For a snack to be filling, it usually needs to have protein or fiber, or a combination of both. For starters, protein has been found to increase feelings of fullness and release satiety hormones. Fiber also helps in creating sensations of fullness by regulating appetite and slowing down digestion. Foods that contain both are the holy grail of filling snacks, but having one or the other is still helpful.
Another important component of a snack that is going to fill you up is choosing one that isn't loaded with too much added sugar. Research has shown that eating meals high in sugar and refined carbohydrates can leave you feeling hungrier, especially if there's not a lot of protein or fiber to balance it out.
The following list contains 13 filling snack options for the most common cravings, like eating roasted chickpeas instead of potato chips or making cottage cheese ice cream instead of regular. Read on, and for more healthy eating tips, check out 10 Ways to Break Your Sugar Addiction.
Instead of chips—Crunchy chickpea snacks
When it's just something crunchy like potato chips that you're craving, but you want something more filling, you can switch to a chickpea or bean snack. For instance, you can take chickpeas (which have 5 grams of protein and 3 grams of fiber per serving), season them with your favorite spices, and roast them in the oven until they're crispy.
If you don't want to make your own, you can also find plenty of these types of snacks at the grocery store, like Saffron Road Crunchy Chickpeas or Bada Bean Bada Boom, which are made from roasted broad beans and have around 6-7 grams of protein and 3-4 grams of fiber.
Instead of regular nachos—Mini pepper nachos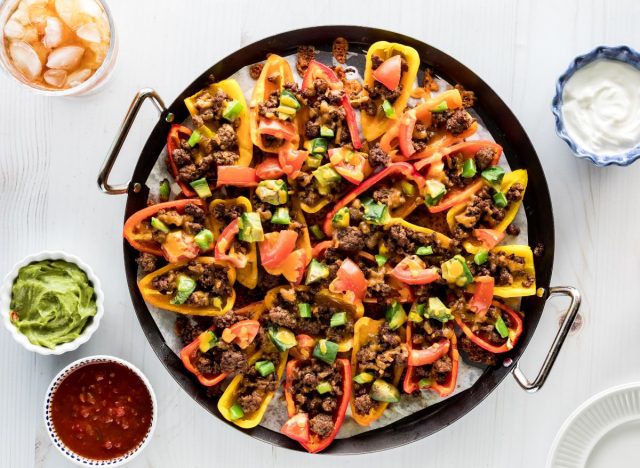 Have you ever been hit with a late-night craving for cheesy nachos? Truthfully, who hasn't? Regular nachos work fine, but if you're looking for a filling snack that is going to be slightly healthier than your standard bowl of chips, cheese, and meat, try an alternative like mini pepper nachos.
These work the same way as your standard nachos but the tortilla chips are replaced with mini bell peppers. Pile on your favorite toppings like meat and vegetables, but go easier on the cheese to lower your saturated fat content if you prefer, and enjoy a healthy, satisfying, high-protein snack.
Instead of butter popcorn—Protein Popcorn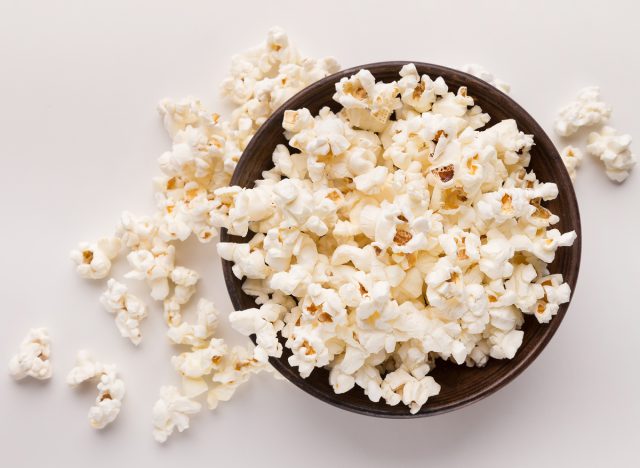 You may crave buttery, salty popcorn when you're cuddling up for a movie night this weekend. Instead of reaching for microwave popcorn like Pop Secret Movie Theater Butter, which only has 3 grams of protein but is loaded with 8 grams of saturated fat, you can try a brand of protein popcorn like Clean Eatz Kitchen–which has between 10-11 grams of protein and zero grams of saturated fat.
Another easy way to make popcorn a more filling snack is to make your own protein popcorn at home. You can do this by air-popping plain popcorn and tossing it in a seasoning made with plain-flavored protein powder, salt, pepper, and your favorite spices.
Instead of white bread—Whole grain peanut butter toast and berries
If it's toast you're craving, try a slice of whole-grain bread instead of white bread, and top it with peanut butter and fresh berries.
One slice of Wonder Bread White has only 2.5 grams of protein and 1.5 grams of fiber, and it's made with refined white flour that won't help fill you up. Instead, we recommend something like Dave's Killer Bread 21 Whole Grains and Seeds, which has 5 grams of protein and 5 grams of fiber per slice.
Top it off with natural peanut butter—like Smucker's Natural Creamy Peanut Butter—which has 8 grams of protein and 3 grams of fiber, and some berries for added fiber.
Instead of candy—Trail mix that contains chocolate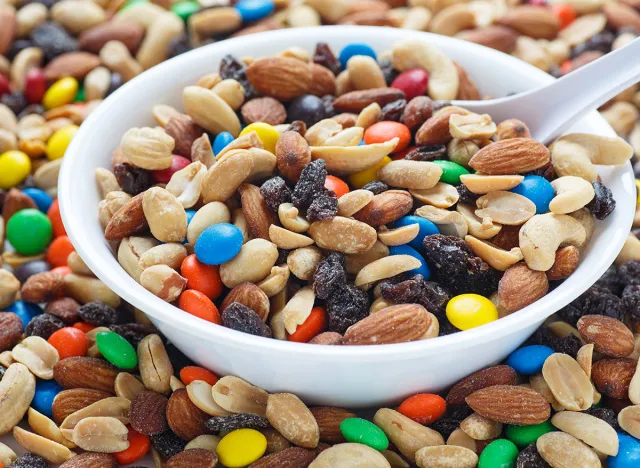 When the sweet cravings strike, it's all too easy to reach for a chocolate bar or your favorite candy, but this type of snack has nothing but added sugars, which won't fill you up and may even cause a rise and crash in your blood sugar.
One easy way to still get your fill of candy while also eating something more satiating is to grab a trail mix that contains chocolate. You can make your own at home with nuts, seeds, and chocolate chips, or you can find a trail mix from the store like Second Nature Dark Chocolate Medley, which comes with almonds, cashews, pecans, and chunks of dark chocolate.
Mixing your chocolate with nuts and seeds instead of eating it on its own will do two things. First, it will help you naturally eat less of the chocolate because you'll also be munching on other things, and secondly, it will provide you with protein and fiber to help balance out the sugar and leave you feeling more satisfied.
Instead of pretzels—Crunchy edamame snacks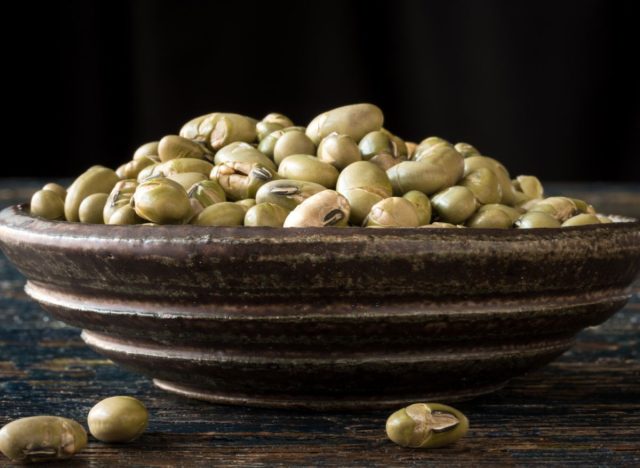 Sometimes all you want is a snack that is both crunchy and salty, so you reach for the potato chips or pretzels. You don't always need to avoid these snacks if it's what you enjoy, but you may be left feeling hungry and without your cravings fully satisfied.
One snack that flies under the radar is roasted edamame, which can satiate both the craving for something salty and something crunchy. On top of tasting delicious, edamame also packs in over 18 grams of protein per cup.
You can roast edamame at home by taking the beans out of the pods and tossing them in olive oil, or you can buy some from the store. We love Seapoint Farms Dry Roasted Edamame, as well as Cruncha Ma.me—which is technically freeze-dried but still delivers on that perfect crunchy, salty combo.
Instead of regular ice cream—Cottage cheese ice cream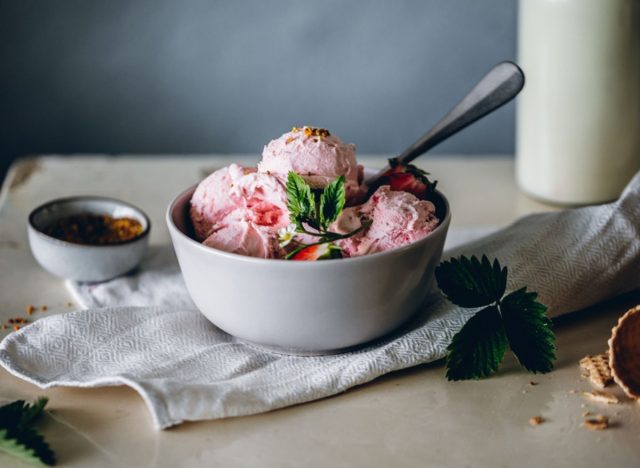 Cottage cheese ice cream went viral this past year for being a healthy, delicious, high-protein alternative to regular ice cream, so if it's a frozen treat you're craving, try making this cottage cheese dessert.
All you need is cottage cheese—which has 28 grams of protein per cup—and your preferred ingredients. Some examples of flavor combinations you can try are chocolate and peanut butter, strawberry and mint, or pumpkin spice.
When you have your ingredients, you can throw the cottage cheese into a food processor and blend until smooth. Once it's smooth, add your ingredients and continue mixing. When everything is combined, place your ice cream in the freezer for about four hours and enjoy it later on.
Instead of Cheetos Puffs—Chickpea or cassava flour puffs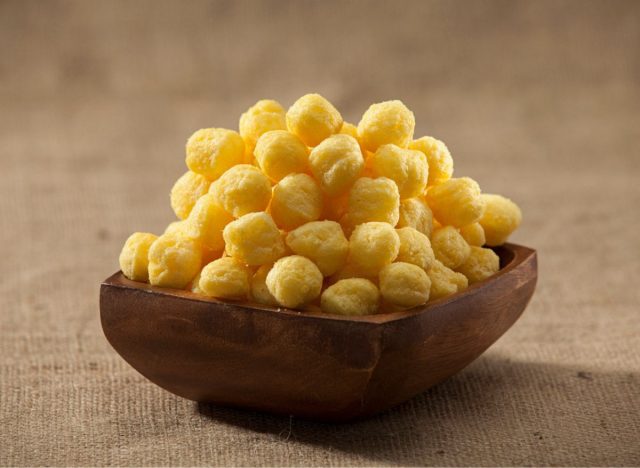 If you're someone who loves Cheeto Puffs so much that you could eat the whole bag, you may also know that they don't always leave you feeling the best physically. If it's a puffy, salty snack you want but are looking for something a bit more nutritious, there are plenty of brands out there that sell healthier puffs made from things like chickpea or cassava flour.
Hippeas Puffs are made with chickpea flour, and although they still only have about 4 grams of protein, they also have 3 grams of fiber to help keep you full afterward. For a snack with a few more grams of protein, we love the Power Curls from Lesser Evil, which are made with cassava flour and have 6 grams of protein per serving.
Instead of regular pudding—Chia seed pudding
Grabbing a chocolate pudding cup from Snack Pack or Jello can be a quick and affordable snack option, but if you have the opportunity to plan a little bit, you can have a few chia puddings in your fridge for a healthier, more filling, grab-and-go snack when you're craving a sweet pudding.
Instead of regular store-bought pudding, which is usually nothing more than added sugars, make yourself some chia seed pudding with yogurt, milk, chia seeds, and any of your favorite toppings like fruit, honey, or granola. Chia seeds are full of fiber and contain some protein as well, so combining these with high-protein yogurt and milk will make for a perfectly filling snack.
The best way to do this is to combine your ingredients in a jar and then place them in the fridge overnight to give the chia seeds a chance to fully soak. If you need some more guidance, we have our recipe for Customizable Overnight Chia Pudding.
Instead of a chocolate bar—Chocolate energy balls
Instead of reaching for a chocolate bar the next time a sweet craving hits, have some chocolate energy balls on hand for a healthier, more filling snack option. You can make these balls in a variety of different ways, but most of them use a base of dates, nuts, and a natural sweetener like honey or maple.6254a4d1642c605c54bf1cab17d50f1e
For a specific chocolate craving, grab some dates, almonds, honey, and cocoa powder, and blend everything in a food processor. You'll get some protein from the almonds, but if you want even more, replace the cocoa powder with a chocolate-flavored protein powder.
Remove the mixture, roll it into balls, and place in the fridge for up to a couple of weeks. This way you'll always have something chocolatey on hand when that craving strikes.
Instead of Nutella—Homemade Nutella on whole grain toast
If you have a food processor at home, then you can whip up some delicious homemade "Nutella"—a much healthier alternative to the original and a snack that will help fill you up.
Instead of store-bought Nutella, which is loaded with added sugars and may cause your blood sugar to spike and crash, make your own with hazelnuts, cocoa powder, and your sweetener of choice. Just blend the nuts in your food processor until they turn to a butter consistency, and then add in your cocoa powder and sweetener.
The hazelnuts provide a boost of protein (10 grams per 1/2 cup) and fiber (6.5 grams per 1/2 cup), and if you spread this "Nutella" on a slice of whole-grain toast, you'll have even more of a nutrient-dense snack.
Instead of sugary yogurt—Greek yogurt with nuts and fruit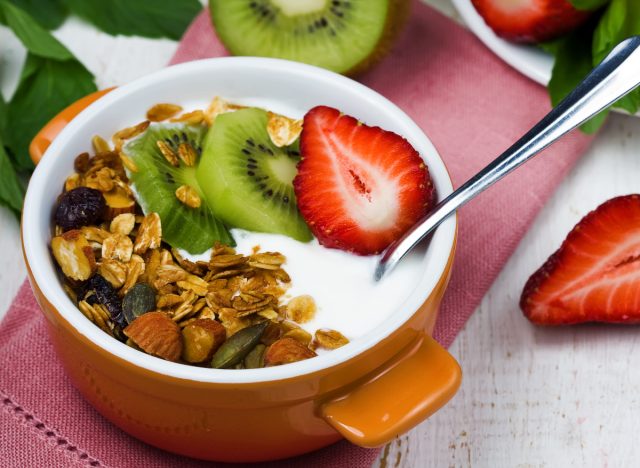 Sometimes when a sweet craving strikes, you may feel like you're making a healthy choice by reaching for a yogurt cup, but many of these store-bought yogurts are nothing but sugar and completely lack protein and fiber.
Make yourself a healthier, more filling snack by combining plain Greek yogurt with some nuts, seeds, and fruit on top. That way you'll have a snack full of protein and fiber that still satiates that desire for something sweet.
Instead of Doritos—Cheese crisps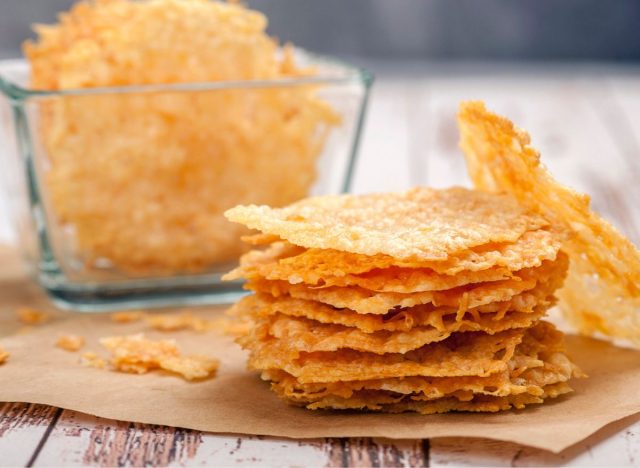 It's normal to have a craving for cheesy nacho chips like Doritos, but this snack may leave you feeling hungry and unsatisfied because it lacks protein. If you're someone who's watching their carbohydrate intake, nacho chips also wouldn't work well for your eating plan.
If you need a healthier alternative but are still craving a cheesy, savory snack, try something like a cheese crisp. You can make some at home by baking shredded cheese in the oven, or you can buy some at the store like the ones from Whisps—which provide 13 grams of protein per serving.
Sources referenced in this article