These Are My 5 Go-To Oatmeal Combos That Give Me All Day Energy
Mix up these combos for a fuel-filled day!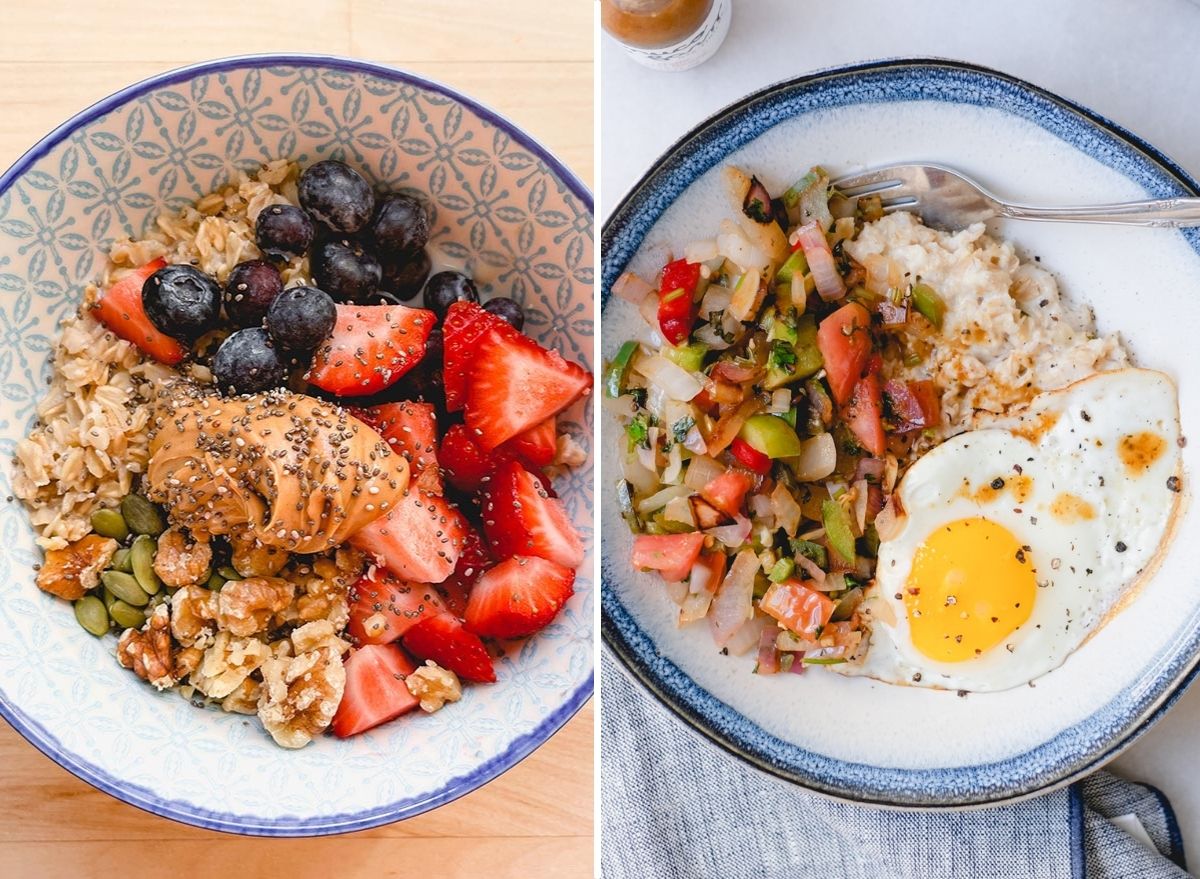 There were a few things I deemed absolutely disgusting as a kid. Mashed potatoes. Cream Cheese. Raisins. And, unfortunately, oatmeal. For some reason the texture just threw me off—a hot bowl of mush doesn't exactly sound appetizing in the morning when you have options like Eggo waffles, Fruit Loops, and Pop-Tarts. But after I (reluctantly) prepared my first batch of overnight oats in an effort to save money in college, I realized how much I was missing. While I did soon come to my senses and start spreading cream cheese on my bagels, I am particularly remorseful for going over 20 years of my life and never enjoying a warm bowl of oatmeal in the morning.
Needless to say, that quickly changed, and I would now consider myself an oatmeal "aficionado." I pretty much enjoy oatmeal in any form—a bursting warm bowl, chilled overnight oat mixtures, gooey oatmeal bakes in the oven. I even blend up oatmeal into batters and make pancakes and waffles with it. Having a large container of oatmeal is an absolute pantry essential in my home, and is a go-to pretty much every single morning.
In the beginning, my oatmeal obsession was all about taste as well as price. A typical 42 oz. container of rolled-cut oats costs me less than $6, and gets me through quite a few mornings before needing to restock. But, over time as I deepened my knowledge of nutrition and health, I've come to learn that oatmeal is also an extremely healthy breakfast to choose in the morning. Not only does it provide your body with a myriad of nutrients that help decrease inflammation, boost immunity, and increase energy levels, but it's also packed with soluble fiber—a gel-like fiber that slows down digestion regulates blood sugar, and even keeps you fuller for longer. Talk about one healthy bowl!
At first, my oatmeal creations were simple—oats with peanut butter and berries are pretty much a given. But as time went on, my oatmeal creativity expanded, and I've developed so many different types of ways to enjoy a bowl of morning oats. Lucky for you, I've taken the time to write up a few of my favorite ways to prepare my oatmeal so you, too, can join in my oatmeal obsession.
After, for even more creative oatmeal tips, check out how 16 Celebs Make Their Oatmeal.
First, here's how I cook my oatmeal.
While there are a lot of different ways to cook up a bowl of oats—including just letting it soak in the fridge—I settle for a good ol' cook on the stove. I mix together 1/2 cup of rolled-cut oats with one cup of unsweetened almond milk and let it cook over medium heat for about 3 to 5 minutes. You know the oats are down when they are thick and bubbling. I like when my texture is a little heartier, but if you enjoy a softer oatmeal texture, I recommend cooking for a little bit longer.
Now you know how to cook up an easy batch of oatmeal, here are the oatmeal combos I rotate through regularly.
The Classic Peanut Butter Bowl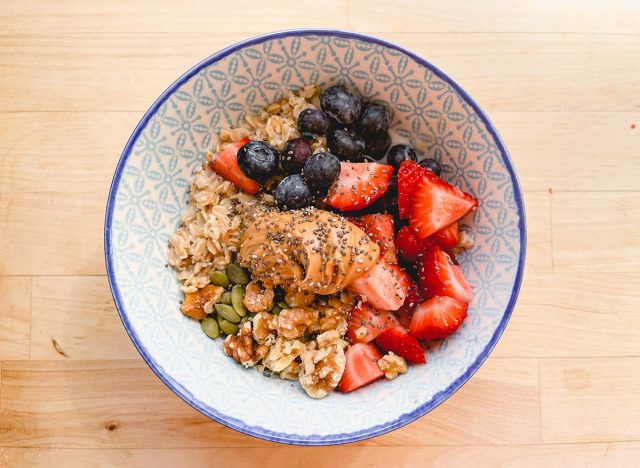 As I said, I love a bowl of plain oatmeal with peanut butter and berries, but this bowl is essentially the upgraded version. Simply make a bowl of oatmeal and top it with a mixture of berries (I have blueberries and strawberries here), one tablespoon of peanut butter, with a sprinkling of walnuts, pepitas (shelled pumpkin seeds), and chia seeds. This bowl is packed with fiber, complex carbohydrates, and plant-based protein, so you'll be feeling full and satisfied for hours to come.
What you'll need:
1/2 cup of rolled-cut oats
1 cup of unsweetened almond milk
1 tablespoon of peanut butter
1/3 cup fresh berries
2 tablespoon crushed walnuts
1 tablespoon pepitas
1/2 teaspoon chia seeds
Chocolate Covered Berry Oatmeal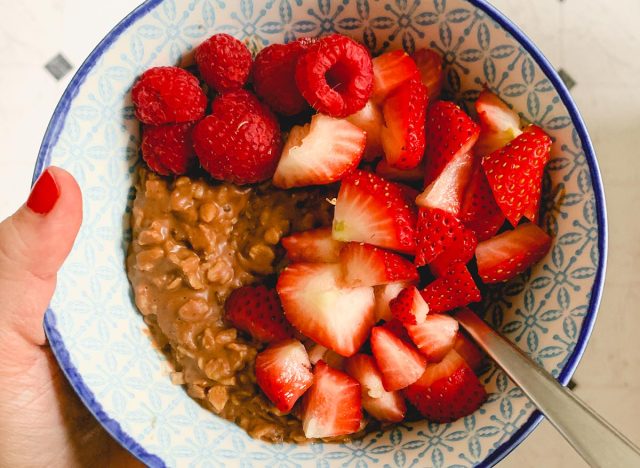 For the chocoholic who craves a little something sweet first thing in the morning, this bowl has your back. Using a dusting of cocoa powder in your oatmeal, you can enjoy all the chocolatey goodness with a mixture of fresh red berries to start your day. Just remember—before you finish cooking your oatmeal, you'll want to mix in the cocoa powder, peanut butter, and maple syrup before transferring to a bowl.
What you'll need:
1/2 cup of rolled-cut oats
1 cup of unsweetened almond milk
1 tablespoon of cocoa powder
1 tablespoon of peanut butter
1 teaspoon of maple syrup
Fresh red berries (strawberries, raspberries)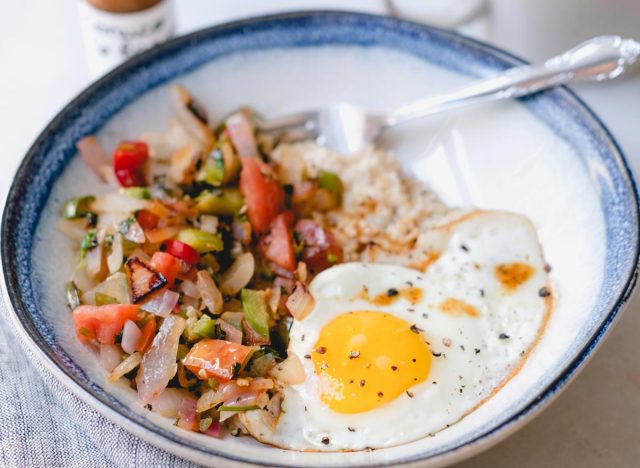 Alright, don't close out this article quite yet—hear me out. While oatmeal is typically enjoyed with sweet toppings—like berries and maple syrup—it's also delicious with savory toppings as well. I like to sauté up some of the leftover veggies I have in the fridge (like peppers and onions) and top it off with an egg. Add salt, fresh cracked pepper, and your favorite hot sauce to give it an extra oomph.6254a4d1642c605c54bf1cab17d50f1e
I admit this is the kind of bowl I would enjoy as a late brunch or even lunch. It works well if you're looking for something spicy and savory without having to splurge on an expensive brunch out.
What you'll need:
1/2 cup rolled cut oats
1 cup milk or milk alternative (unsweetened)
1 egg
1/4 cup bell peppers, diced small
2 tablespoon yellow onion, diced small
Herbs, salt, pepper, hot sauce, optional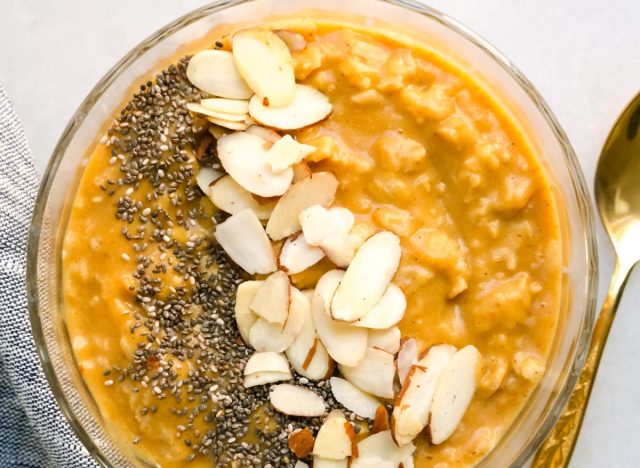 I'm not just calling this "pumpkin" and only telling you to sprinkle in some pumpkin spice, alright? No in this bowl, I mix in real 100% puréed pumpkin. The kind you can buy in a can in the store. Pumpkin adds additional fiber, vitamin A, and natural sweetness to your bowl. Topped with all kinds of nuts and seeds, this oatmeal is perfect for any fall morning with a steaming cup of coffee. Or any morning, really—I'm a fan of eating pumpkin all year round.
For this bowl, you're going to want to actually cook the pureed pumpkin with the oatmeal and the almond milk. Once cooked, stir in the maple syrup and pumpkin spice seasoning before adding it to a bowl and sprinkling on the toppings.
What you'll need:
1/2 cup rolled-cut oat
1/4 cup canned pumpkin
1 cup unsweetened almond milk
1 teaspoon maple syrup
1/4 teaspoon pumpkin spice seasoning
Chia seeds & sliced almonds, or other types of nuts
Blended Baked Banana Oats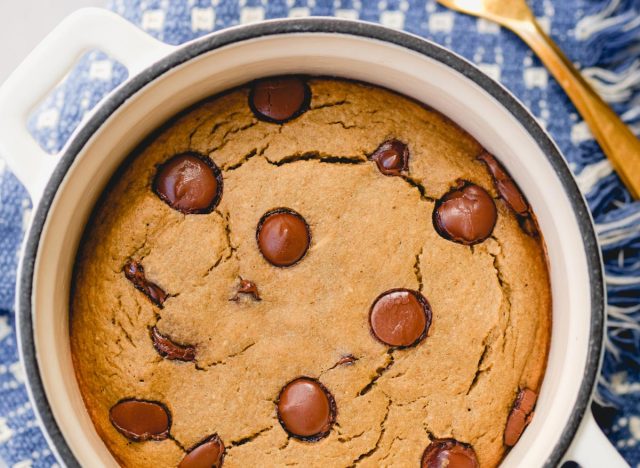 I'm not huge into trying TikTok trends (although that viral feta pasta was the bomb dot com) when an oatmeal trend started popping up around the Internet, you know I had to give it a try. So I made my own creation, which essentially looks like a mini chocolate chip banana bread for one. All you have to do is blend up the ingredients, mix in the chocolate chips, and bake in the oven (either in a ramekin or a mini Dutch oven) at 350 degrees for 20 minutes.
What you'll need:
1/2 cup rolled-cut oats
1 small banana
1 egg
1 teaspoon maple syrup
1/4 teaspoon baking powder
Dash of salt
1 tablespoon chocolate chips, optional