The Best Viral Food Trends in 2021
Who remembers the pesto egg hack? Or maybe Lizzo's favorite "cereal?"
This year has been a year of TikTok trends. Between the dance routines and the catchy tunes, the app has led to so many viral sensations. But, of all the best moments of 2021 brought to us through TikTok, our favorites were definitely the recipes.
Many of these TikTok trends we even got to try out ourselves—so you can trust us when we say these are truly the best viral food trends of 2021. So much so that we have no doubt we're going to be making many of these next year, too.
Here are the viral food trends we will continue making in 2022, and for even more 2021 favorites, check out The Best Trader Joe's Foods of 2021.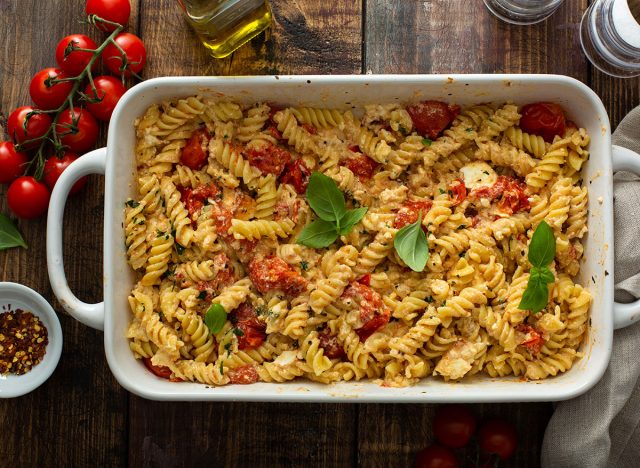 Yes, this was the recipe that made the whole country of Finland run out of feta cheese. Talk about a viral sensation! And we completely get it—what's not to love about a dish with feta cheese, cherry tomatoes, herby basil, and lots of pasta? Absolutely nothing!
But, before you load up your plate with a heaping helping, we transformed this dish into a dip that ditches the pasta to make it a little healthier but is still just as creamy and delicious.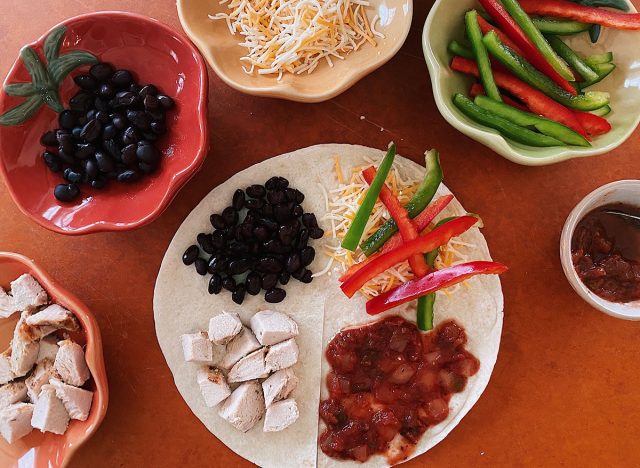 The folded tortilla sandwich trend is one we hope carries into 2022. I mean, what's better than a customizable sandwich with all your favorite foods loaded up inside? What made this sandwich different from any other is that all the toppings are packed in separate quarters of the tortilla and then folded together and grilled on the stove.
We decided to make our version with grilled chicken, black beans, bell peppers, shredded cheese, and salsa—and it was a staple in our work from home lunch routine for weeks.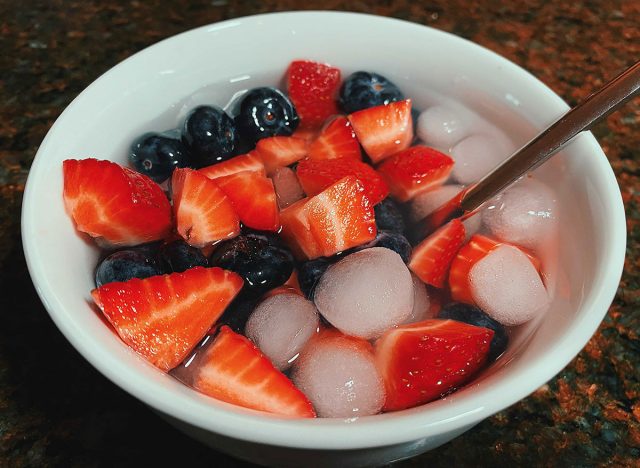 Even Lizzo tried this TikTok trend and loved it, so you know it has to be good. We were definitely a little skeptical when seeing this one at first. Coconut water, fruit, and ice? Nevertheless, it is truly a refreshing and healthy "cereal" option that would make for a great swap out for the sugary cereals out there. Not to mention it's incredibly pretty and you can customize it with all your favorite fruits. We even added pomegranate seeds to ours for a little added crunch!6254a4d1642c605c54bf1cab17d50f1e
Another breakfast favorite this year that came from TikTok is pesto eggs. This egg hack cannot be easier: simply spread some pesto in the pan before cracking your eggs in and cooking them to your liking. You'll be blown away by just how good they taste. How we didn't think of this one sooner, we'll never know.
Talk about the perfect side dish—this corn ribs recipe not only looks adorable, but it adds so much flavor to your typical ear of corn. Essentially, they're bite-sized ears of corn that are loaded with spices and topped with cotija cheese. TikTok user @spicednice got over 1.8 million likes on her recipe, and so many others tried this trend out as well.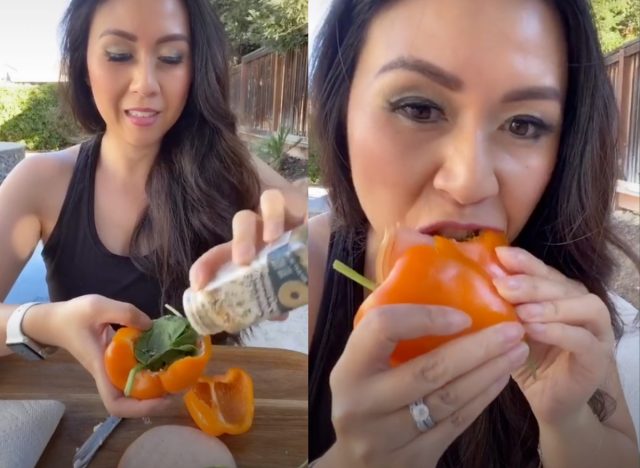 This bell pepper sandwich trend took the low-carb and keto dieters by storm—and even many people who don't follow those diets were giving this new sandwich idea a try. This was another fully customizable food trend that took over TikTok, the only requirement: swapping out a bell pepper for your typical sandwich bread.
Even though it's a healthier option, not all TikTokers were a fan of this recipe. In a duet to one of the original bell pepper sandwich videos, Chef Gordon Ramsay called this creation "an idiot sandwich." Yet, despite Ramsay's reaction, the sandwich still became one of the top food trends of 2021.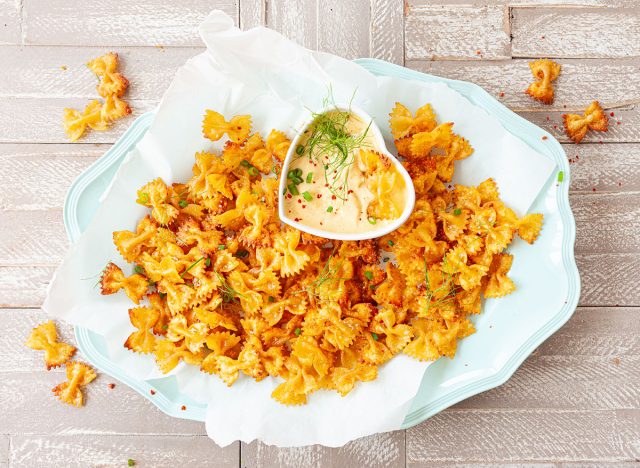 If you didn't have an air fryer before, you likely bought one during the pandemic—especially after watching this clever pasta chip hack take the Internet by storm. Instead of just air-frying potatoes or veggies, TikTokers started popping pasta in the air fryer and making crunchy pasta chips that went absolutely viral.
Many served these chips with marinara sauce or a whipped feta dip—but either way, they were so easy to make, and quickly made their way all over the TikTok #FYP (for you page).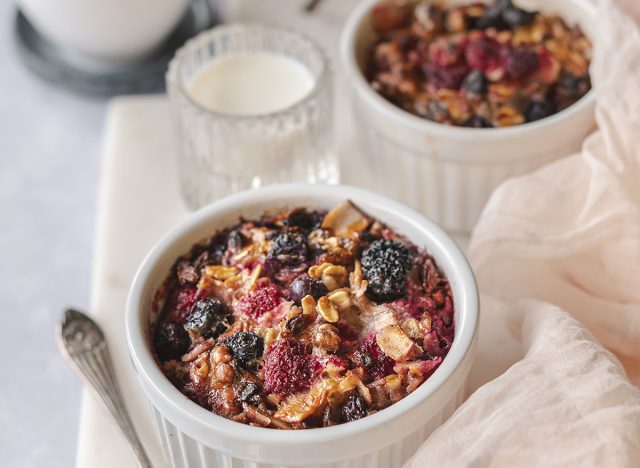 Out of all of the viral TikTok breakfast food trends we tried, this one took us most by surprise. We had no idea that simply blending all of your typical oatmeal ingredients and baking the batter in the oven would make your oatmeal taste less like breakfast and more like dessert.
Our low-calorie baked oats recipe is packed with peanut butter and banana, giving it tons of added flavor—not to mention protein—which will keep you fuller for longer. It may take a little bit longer in the morning, but we'd say it's definitely worth it.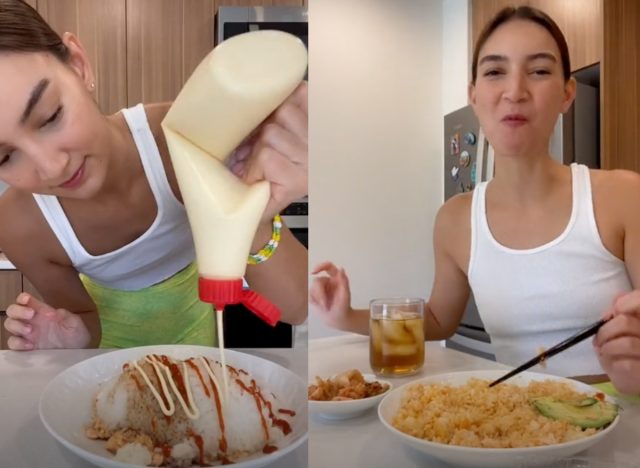 You don't even need to be on TikTok to know the name Emily Mariko by now. She became a viral social media sensation over the past few months thanks to her Salmon Rice Bowl—made entirely from leftovers—and viewers just can't get enough.
Her video got over 5 million likes—and many TikTokers tried it out and gave the dish their stamp of approval. If you've never considered mashing up your leftover salmon and rice, the popularity of this dish says you might want to give it a try.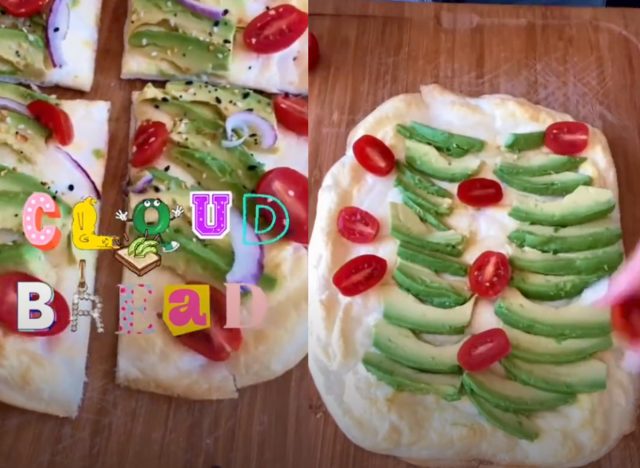 Our own medical expert board member, Ilana Muhlstein, RD, got this cloud bread recipe all over TikTok. She even got creative with it, using the cloud bread recipe to make pizza dough and avocado toast. It's a low-carb "bread" that's made with eggs, and these dishes dress it up in ways TikTok had never seen before.
This is definitely a trend to keep on your radar even into the New Year, especially if you're considering any weight-loss-related New Year's resolutions.
Rachel Linder
Rachel is an Associate Editor responsible for compiling the daily Eat This, Not That! newsletter, making TikTok and YouTube videos for the brand, writing articles for the site, creating original graphics and providing direct assistance to the editors when needed.
Read more about Rachel