I Tried 7 Frozen Burritos & There Was One Clear Winner
The freezer aisle is stocked with burrito options, but which grocery store wrap tastes the best?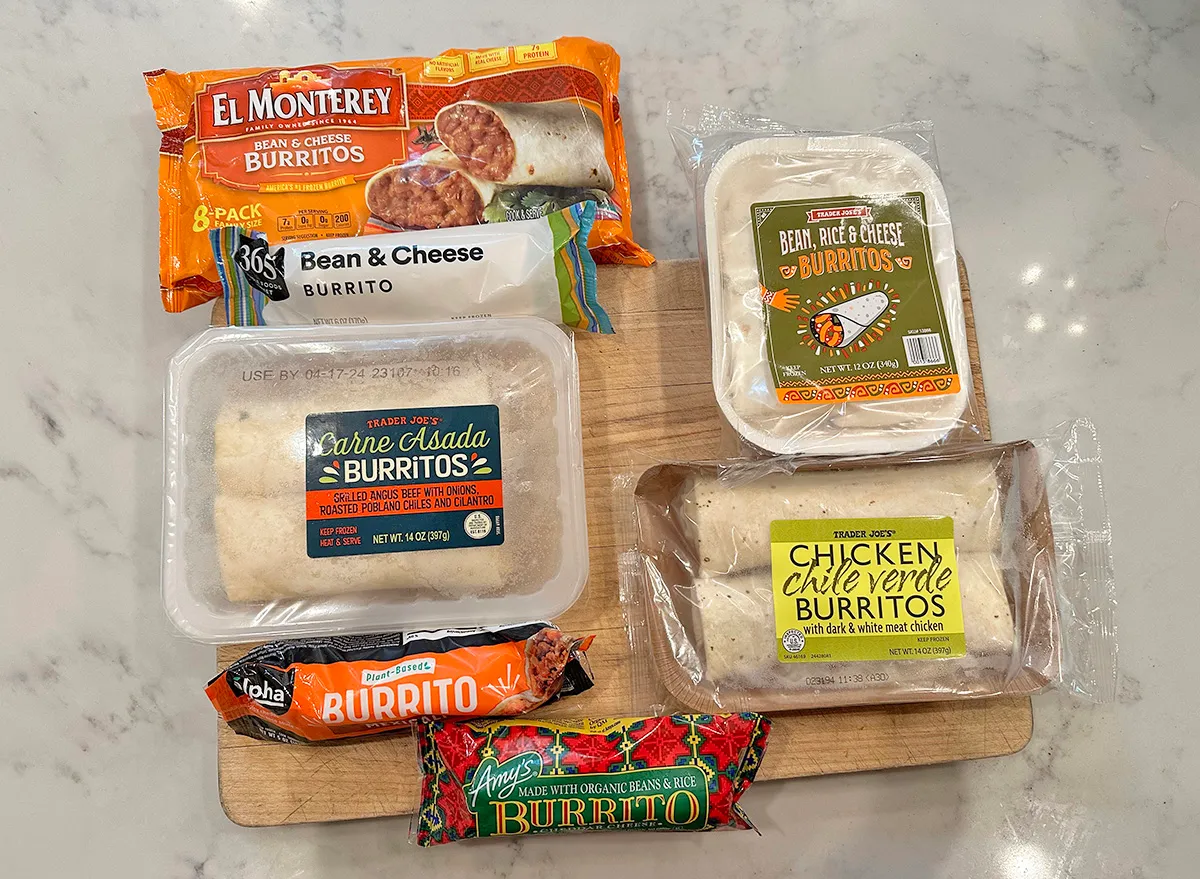 The product recommendations in this post are recommendations by the writer and/or expert(s) interviewed and do not contain affiliate links. Meaning: If you use these links to buy something, we will not earn a commission.
Burritos are one of the most affordable and most delicious things on the planet. Hand over $10 at any Mexican-themed restaurant, and you'll be treated to piles of meat, rice, and beans—with toppings, if you're lucky—all wrapped in one of humanity's greatest discoveries: the tortilla. 
There may truly be nothing that gives you more bang for your buck in terms of flavor and calorie count in the entire culinary world. But, if you don't want to spend the whole night making one and then cleaning up after yourself, or if you're just feeling a little too lazy to go out and get your fix, there's a little box attached to your refrigerator keeping burritos on ice for just this kind of emergency. 
The freezer aisle at your local supermarket is likely stocked with all kinds of different burritos, but which one tastes the best? I've rounded up seven enticing options from Giant, Trader Joe's, and Whole Foods, to figure out what you should be putting on your plate.
Every product has been cooked to the suggested time on the packaging. Each will be evaluated by taste, as well as look and preparation method. In this instance, cooking instructions offer a microwave and an oven option. I've opted for the oven in an attempt to get the very best out of each product. 
Since every single one of these has the outward appearance of a plain tortilla, and nobody wants to read the phrase "white with brown spots" over and over, I'll be judging each one's appearance based on its cross section view. It has to look good, taste good, and be easy to cook to win. Let's get started!
Alpha Mexicali Plant-Based Burrito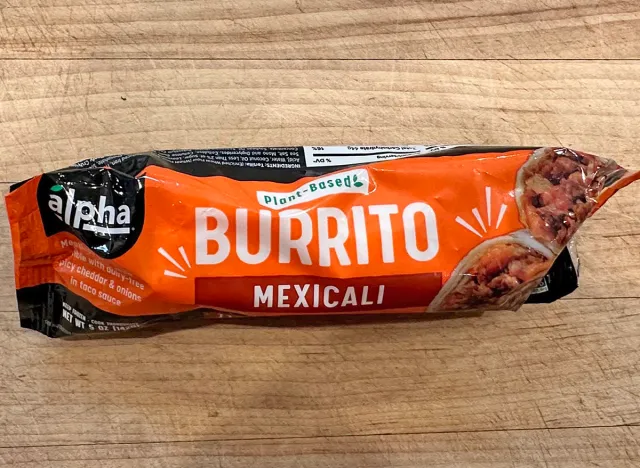 Per Serving
: 340 calories, 13 g fat (7 g saturated fat, 0 g trans fat), 500 mg sodium, 44 g carbs (4 g fiber, 5 g sugar), 11 g protein 
Alpha Foods is a plant-based company that delivers "a different kind of delicious," according to the product's wrapper. "You'll never guess it's plant based." Let's put that slogan to the test. The brand's vegan Mexicali Burrito is available from many retailers. I got mine from Giant Foods for $3.49. 
The Prep: Fairly easy. Put your oven to 400 degrees and cook for 12 minutes, flip, and cook for another 12. I will say, it seems that that approach overcooked it, so some adjustments may be in order if you eat this. But, please don't eat this. Ever.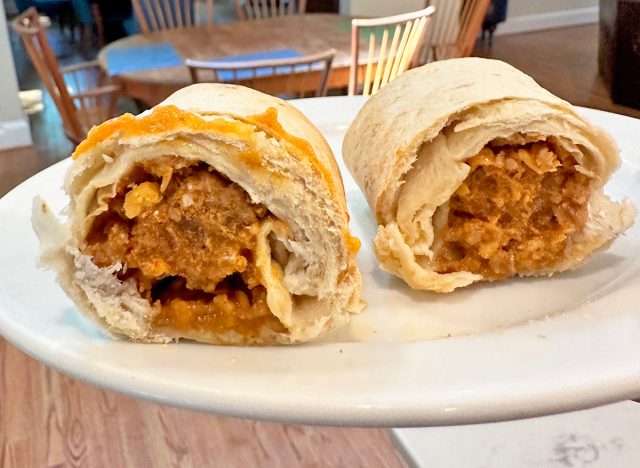 The Look: I started praying the moment I cut this in half, and my prayers were ignored today. The tortilla is easily half an inch thick, which I didn't even know tortillas could do. The "meat" in the middle, accompanied by the thick tortilla, gives it the outward appearance of a sausage roll. Which, to be clear, is not a burrito. Also, this is rock hard. If I dropped this on your foot, we'd have to go to the emergency room. This is less of a burrito and more of a blunt object. 
The Taste: It's sweet. I'm not sure why, but it's sweet. It's somehow cloyingly sweet while having the ingredients and flavor profile of something savory. Imagine eating a tomato that has the sugar content of chocolate syrup. Can I tell it's plant based? No, the meat substitute actually did a solid job of mimicking the real thing. The issue is, everything else in this burrito tastes awful. I've got the "Mexicali Blues," and not the fun, Grateful Dead kind. 
El Monterey Bean & Cheese Burrito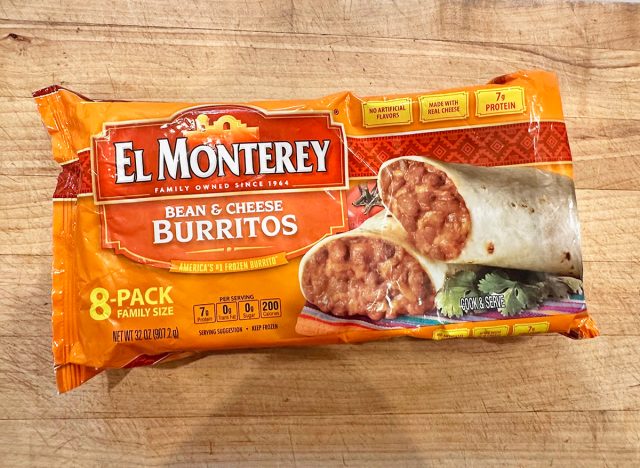 Per Serving
: 200 calories, 4 g fat (0.5 g saturated fat, 0 g trans fat), 250 mg sodium, 33 g carbs (3 g fiber, 0 g sugar), 7 g protein
El Monterey prides itself as "America's #1 Frozen Mexican Food." On its website, the brand describes its Bean & Cheese Burritos as "flavorful beans, delicious cheese and authentic Mexican spices wrapped in a fresh-baked flour tortilla." Aside from the words flavorful, authentic, and spices, I think that holds up. These retail at Target as an eight-pack for $5.69—a price point that, frankly, I find terrifying. I don't know how you make money on less than a dollar per burrito, so I'm a little scared to eat it. 
The Prep: Turn your oven to 350 degrees, place these all on a baking sheet about one inch apart, and cook for 28 minutes. Easy peasy. If you need a quick dinner for the whole family, and you don't really care much about what your loved ones put into their bodies, then this is for you.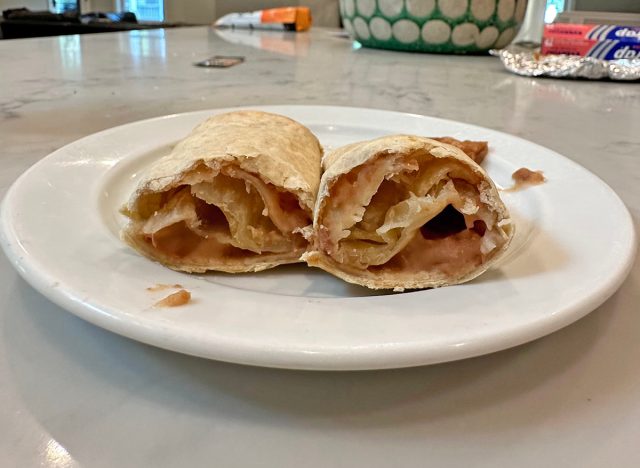 The Look: This burrito is bare minimum: 90% tortilla, and the rest is essentially air. There's hardly any bean in this bean and cheese burrito, and if you can see cheese, you've got better eyes than me. If this burrito was a conversation, the tortilla would be talking so much that the bean and cheese couldn't get a word in edgewise. The issue is, tortilla really doesn't have that much to say. 
The Taste: Bland. The tortilla dominated the entire thing, and still seemed a little raw in the middle, even after cooking according to the directions. The beans were absolutely flavorless, to the point that I had to eat something else to make sure I wasn't losing my sense of taste. Thumbs down. 
Amy's Cheddar Cheese, Bean & Rice Burrito
Per Serving
: 340 calories, 11 g fat (2.5 g saturated fat), 620 mg sodium, 47 g carbs (6 g fiber, 2 g sugar), 12 g protein
Amy's has been a titan of the frozen food aisle for decades now, offering meals that taste good and are better for you. All you need is a microwave. You can find Amy's Cheddar Cheese, Bean & Rice Burrito at many national retailers including Target and Walmart. I picked one up at Whole Foods for $4.29. 
The Prep: The microwave instructions call for just two minutes with a flip in the middle, while the oven calls for about 50 to 55 minutes at 350 degrees. While I indulged the oven instructions for the sake of this experiment, I'd highly recommend just using the microwave for this.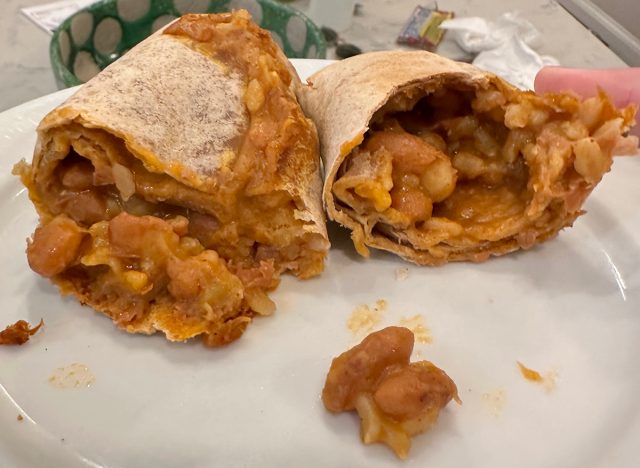 The Look: Bombed out. As you can see, I had a bit of a bean explosion. But, I won't deduct points for the eruption, because that's more my fault than anything. Beyond the blow-up, the whole wheat tortilla gives this burrito a certain gray-ish look, which is understandable and perhaps a fair trade-off for a healthier alternative. But, it's still gray and brown. Gray and brown is a great combo for suits, but not so much on burritos. The look was unappetizing. 
The Taste: While I love Amy's-brand food in general, this definitely falls on the weaker end of the spectrum. Really exceptional Mexican-style beans are a flavor to die for. There's richness, a smooth texture, and the proper spices all combine for a perfect bite. Add a little rice for some integrity, and I'm in heaven. While this certainly doesn't lack flavor of any kind, it doesn't deliver on what you expect from a brand of this quality, or a dish of this high standing. Bonus points for creating better texture with rice included, but overall this felt like a dud compared to some of the others.  I've been eating this burrito since my childhood, and I can tell you the oven actually made this one a little worse. The tortilla got entirely too crispy, and the beans exploded. In the case of Amy's, trust your microwave.
RELATED: I Tried 7 Frozen Mac & Cheeses & One Was the Absolute Best6254a4d1642c605c54bf1cab17d50f1e
Trader Joe's Chicken Chile Verde Burritos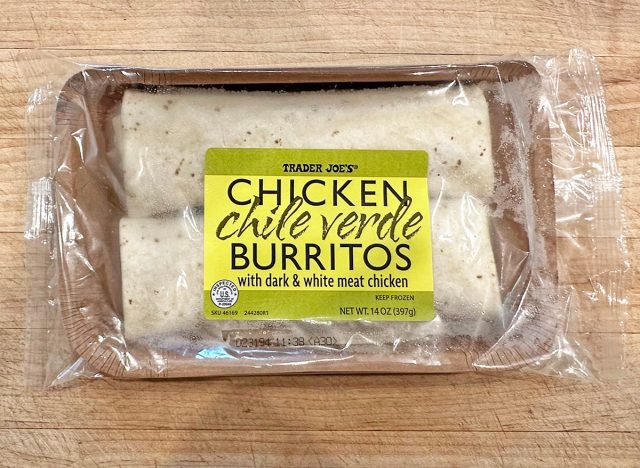 Per Serving
: 390 calories, 12 g fat (2.5 g saturated fat), 1110 mg sodium, 47 g carbs (2 g fiber, 1 g sugar), 22 g protein 
Trader Joe's consistently makes great frozen products that provide a higher quality meal than many of its competitors, and the retailer offers several burrito options in the freezer aisle. A pack of two TJ's Chicken Chile Verde Burritos cost me $3.99. 
The Prep: Place this on a baking sheet and put it in the oven at 450 for 10 minutes. After those ten minutes, wrap it in foil and go for another 15 to 20 minutes. It's a long process, but provided by far the most stable burritos on this list.
The Look: It's definitely flatter than the rest, which made it a bit underwhelming, but certainly not unappetizing. One look into that cross section reveals juicy chicken enveloped by a lovely-looking verde sauce. 
The Taste: This scored the lowest of the three Trader Joe's burritos that I tried, and the reason is fairly clear. While the others provided a depth of flavor, this is one note. It's a good note, but a single one nonetheless. Instead of sweet, salty, savory, or any of those descriptors, this falls under one simple category: acidic. Which is a great component of a good salsa verde, but it lacked the depth of flavor that a truly great burrito would possess. That acidity is softened a little by the chicken flavor, but overall this sauce might be better suited for a fattier meat like pork or beef. 
Trader Joe's Bean, Rice & Cheese Burrito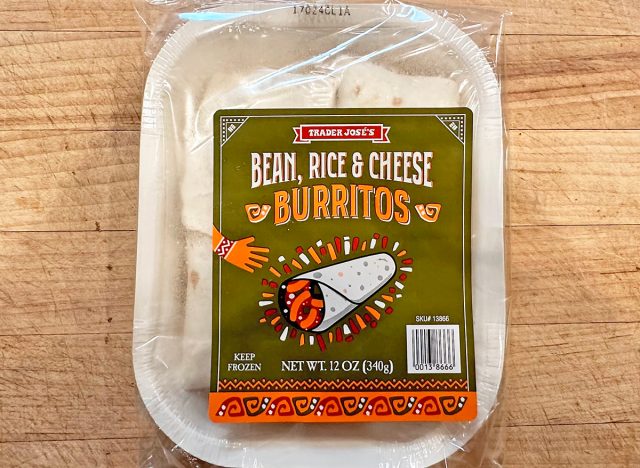 Per Serving
: 240 calories, 1 g fat (0 g saturated fat, 0 g trans fat), 550 mg sodium, 42 g carbs (5 g fiber, 1 g sugar), 13 g protein 
Frozen-food giant Trader Joe's offers another enticing option, with these Bean, Rice & Cheese Cheese Burritos, which come in a package of two for $3.99. 
The Prep: Place this on a baking sheet and let it go for 10 minutes in the oven at 450 degrees. Then, take it out, wrap it in foil, and put it back in for 15 to 20 minutes. It's definitely a little tedious, but it's probably worth the effort. If microwaved, I imagine this would be floppy and underwhelming.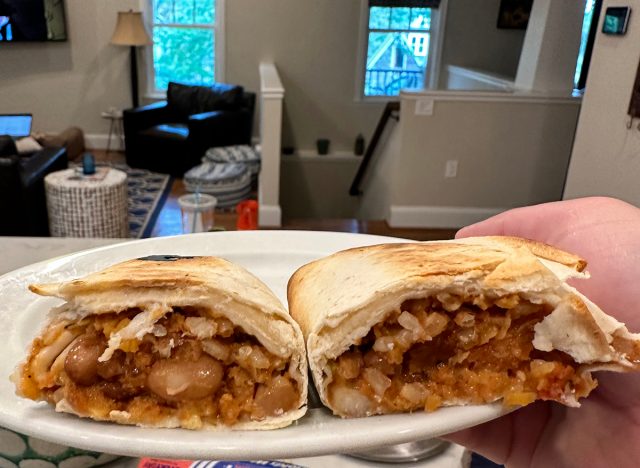 The Look: The tortilla held its integrity remarkably well in the oven, which is a good start. It looks a lot better than the ones that did explode, and I'm not wiping refried beans off my baking sheet. It doesn't have that shiny allure that you might want, but nothing screams "no!" 
The Taste: Similar to Amy's, the inclusion of the rice gave the overall taste here big bonus points. Without rice, refried beans have the consistency of paste, so the rice in there gives this the integrity to keep you going back for more. The flavor isn't quite as strong as some of the ones ahead, but the overall flavor profile is great without absolutely blowing you out of the water. You've got salty, you've got savory, and you've got the tortilla to keep those strong flavors contained and balanced.
Whole Foods 365 Bean and Cheese Burrito
Per Serving
: 320 calories, 9 g fat (2.5 g saturated fat, 0 g trans fat), 570 mg sodium, 45 g carbs (4 g fiber, <1 g sugar), 12 g protein 
While the average consumer doesn't exactly associate Whole Foods with cost efficiency, the Amazon-owned grocery chain does offer more affordably priced products under its house brand, 365, which the retailer describes as "high quality ingredients at a price you can get down with." This Bean & Cheese Burrito, for one, cost me $2.39.
The Prep: While not nearly as tedious as Amy's 55-minute cook time, these oven instructions suggest wrapping in foil and cooking for 20 to 30 minutes at 350 degrees. I did 25 minutes, and it came out just right. However, I can't say it made such a monumental difference that the oven method likely supersedes the suggested three minutes in the microwave.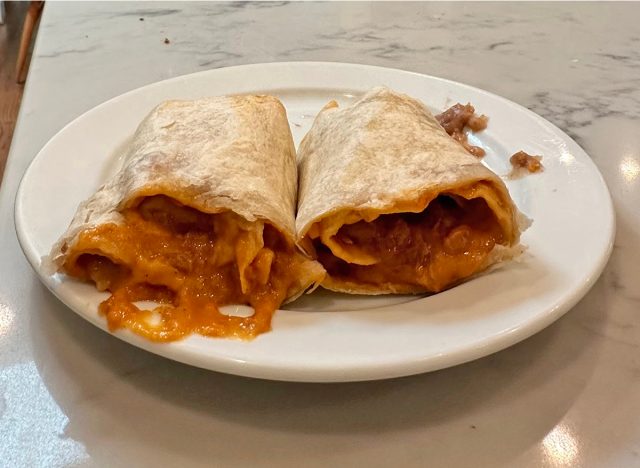 The Look: Inviting! The beans are just bursting down the sides, with a bright shade of brown that implies seasoning and ingredients that were delivered upon. 
The Taste: The beans provide a depth of flavor I've rarely encountered in frozen foods. You can taste tomato, onion, and spices that accentuate your entire experience in a lovely way. While you can't see the cheese, it's folded into the beans in a way that makes for a rich and delicious bite. While the tortilla was a little underwhelming, it was thin enough that it didn't interfere with the flavor whatsoever while keeping the structural integrity intact. I ate the entire thing. It was that good. Even so, there's one burrito that I liked ever better!
Trader Joe's Carne Asada Burritos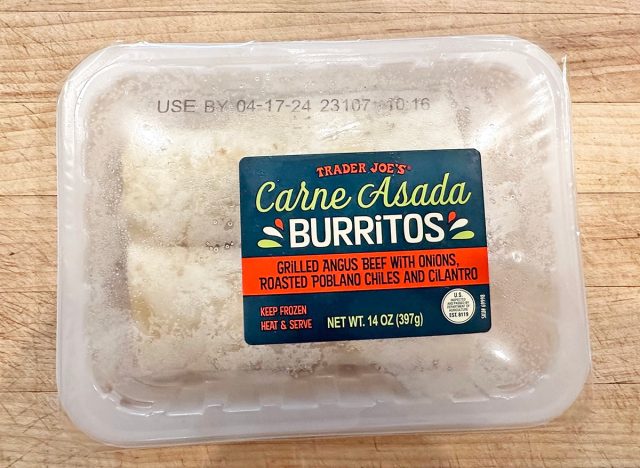 Per Serving (1 tbsp)
: 490 calories, 19 g fat (5 g saturated fat, 0 g trans fat), 880 mg sodium, 55 g carbs (3 g fiber, 2 g sugar), 22 g protein
Priced at $4.99, these beefy burritos from Trader Joe's are meant to emulate something you'd get from a taco stand or a Mexican restaurant. "By Joe, we did it!" the retailer boasts on its website. Let's see if they actually did. 
The Prep: Wrap it in foil, put your oven at 450 degrees, and pop this in for 20 minutes. It's certainly a little fussier than others, but with what you get out of it, it's probably worth it.
The Look: I mean, it's not a presentation that'll knock your socks off, but which one of these burritos did? It's a burrito. You see that alluring, marinated meat, so juicy that it's literally dripping out the sides. 
The Taste: The meat is tasty and seasoned very well, and the marinade makes its presence felt. While the beef is rich and fatty, the marinade cuts into that with an acidic bite that balances this whole thing out perfectly. A lovely balanced bite with the kind of flavor punch you expect from a legit burrito. 
Does it taste as good as a fresh-rolled carne asada burrito from a great Mexican restaurant? Of course not! There's no substitute for the real thing. Still, it gets closer than any of the other frozen products.
By Joe, I think it's just good enough!
Robby Haynos
Robby loves eating as much as he loves writing. After graduating from Bates College, Robby is turning his passion for food writing, found during his time with the college newspaper, into a career. He has written for Celebrity Page TV and runs a blog reviewing restaurants in his home towns of Takoma Park, Md., and Rehoboth Beach, Del.
Read more about Robby