9 Healthiest Subway Sandwiches To Order, According to Dietitians
Experts share the healthiest Subway sandwiches for you to order next time you head to this sandwich shop.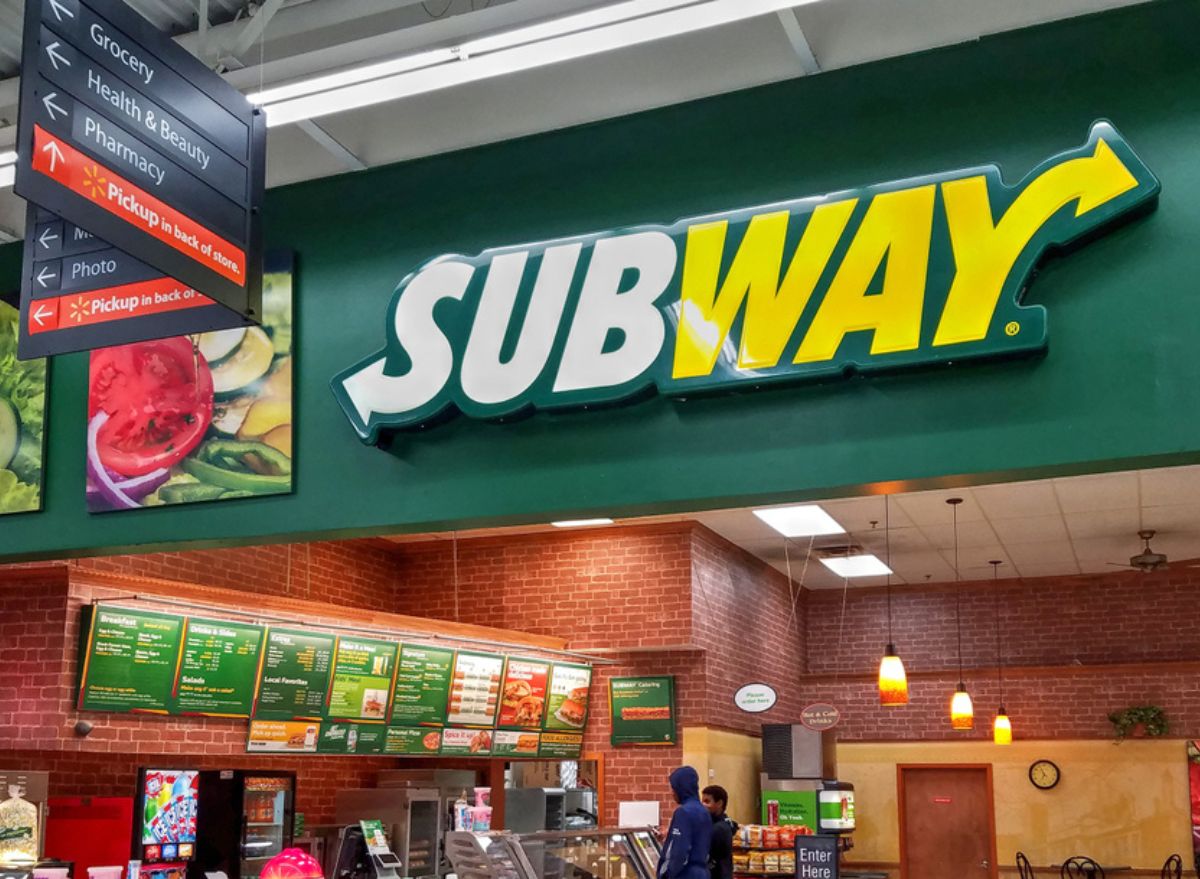 Fast food gets a bad rap when it comes to healthy offerings. But among the many drive throughs that sling deep fried potatoes and super-sugary milkshakes, there is Subway—a quick-service restaurant that makes sandwiches packed with fresh veggies, whole grain bread, and lean meats.
While it is true that there are some Subway sandwich options that aren't incredibly impressive when it comes to the nutrients it provides (we're looking at you, Cold Cut Combo), there are others that are dietitian-approved and offer some important nutritional benefits.
Generally, if you are opting for a 6-inch serving, you are skipping rich sauces, you aren't including too many high-fat ingredients like bacon, and you are loading your sandwich up with vegetables, you should be in good shape. If you need a little more guidance to know what to consider ordering the next time you visit a Subway, check out the list we rounded up our top-picks for healthiest Subway Sandwich. Then, make sure to check out 60 Healthy, Low-Calorie Fast-Food Options Under 500 Calories.
Oven Roasted Turkey
Per 6-inch sub
: 260 calories, 4 grams fat, 1 gram saturated fat, 3 grams fiber, 990 mg sodium, 19 grams protein
According to Toby Amidor, MS, RD, CDN, FAND award winning nutrition expert and Wall Street Journal bestselling author of The Family Immunity Cookbook, one of the healthiest Subway sandwiches you can get is the Oven Roasted Turkey on a 6-inch whole grain roll, topped with lettuce, tomatoes, pickles, olives, and mustard.
"I tend to order Subway when I am on the road and I know this combo is lighter on the calories and saturated fat than most quick service restaurants that I pass on my drives," says Amidor. "Oftentimes if I eat a sandwich that is fried or has many calories, I may get heartburn and get tired and that is the last thing I want when I am on a road trip with hours ahead of me to drive. Plus, I do have high cholesterol and always try to minimize consumption of saturated fat if possible."
Rotisserie Style Chicken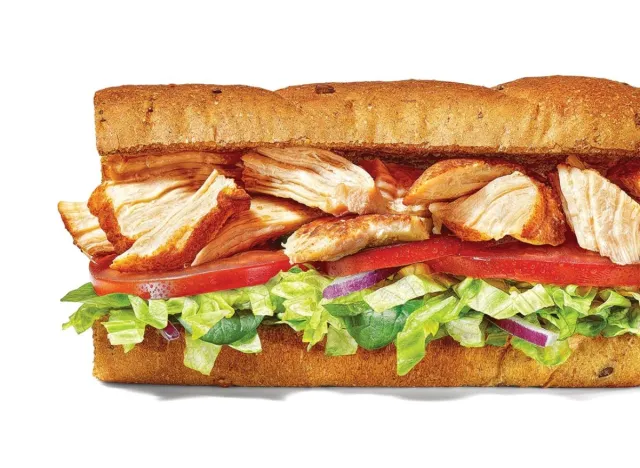 Per 6-inch sub
: 370 calories, 8 grams fat, 2 grams saturated fat, 3 grams fiber, 980 mg sodium, 26 grams protein
Another healthy Subway option, according to Lauren Harris-Pincus, MS, RDN, founder of Nutrition Starring YOU and author of The Everything Easy Pre-Diabetes Cookbook, is their Rotisserie Style Chicken on toasted hearty multigrain bread stuffed with lettuce, spinach, tomatoes, cucumbers, green peppers, red onions, jalapeños, and banana peppers, with a drizzle of buffalo sauce for extra spice.
"This combo clocks in at 370 calories and 26 grams of protein, and it's also a good source of fiber," says Harris-Pincus.
Subway Club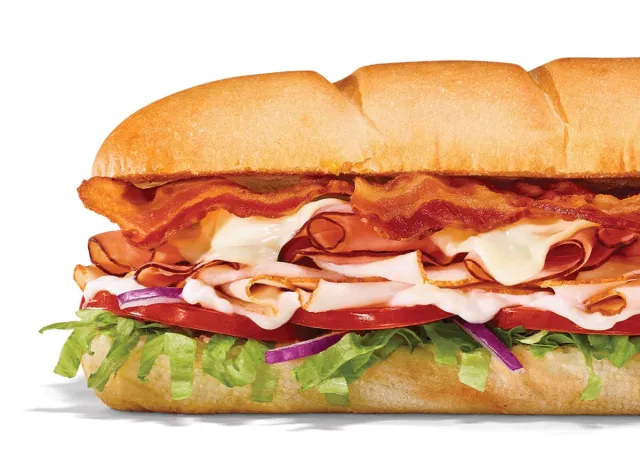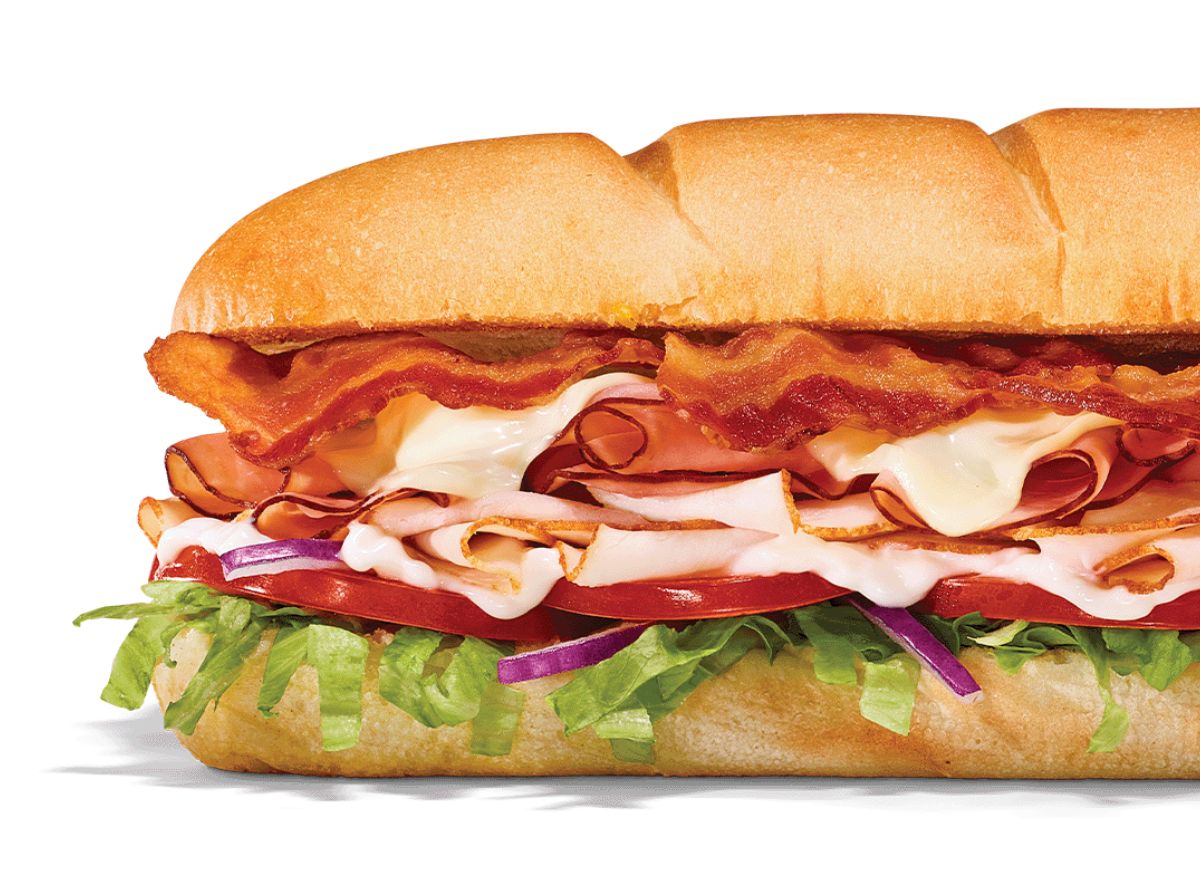 Per 6-inch sub
: 460  calories, 20 grams fat, 5 grams saturated fat,  1200 mg sodium, 4 grams fiber, 29 grams protein
While this sub is relatively high in sodium, it is also a source of fiber and protein, which makes for a satisfying option. Skip the bacon for some serious calorie and fat savings!
Black Forest Ham
Per 6-inch sub
: 270 calories 4 grams fat 1 gram saturated fat 810 mg sodium 4 grams fiber 18 grams protein
Clocking in at under 300 calories per serving, this sandwich is a low-calorie choice that is a great option when you need something to eat quickly. Load up on the vegetable toppings and enjoy it with a calorie-free beverage for a healthy mid-day meal.6254a4d1642c605c54bf1cab17d50f1e
Veggie Delite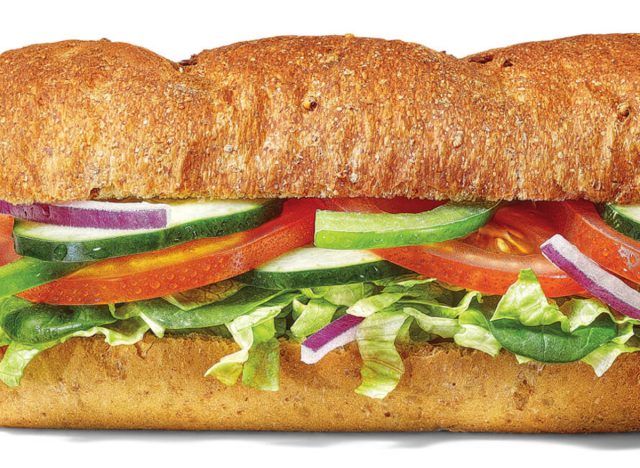 Per 6-inch sub
: 200 calories 2 grams fat 0 grams saturated fat 320 mg sodium, 4 grams fiber, 30 grams protein
Skipping the meat can help limit the sodium and fat you get in your Subway sandwich. The Veggie Delite clocks in at just 200 calories and provides a whopping 4 grams of fiber per serving.
Kid's Mini Sub – Turkey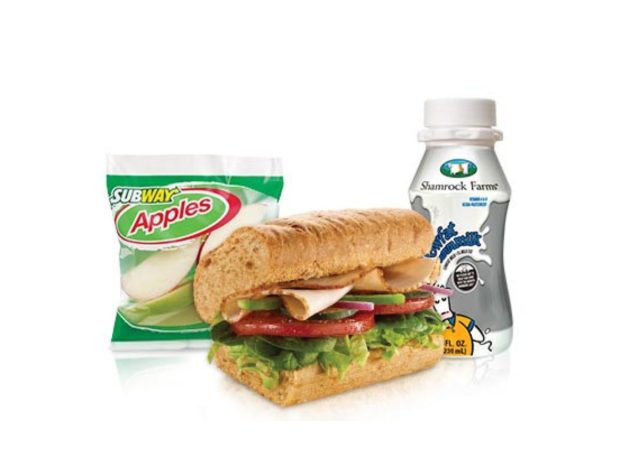 Per kid's meal
: 160 calories, 2 grams fat, 0 grams saturated fat, 450 mg sodium, 3 grams fiber, 11 grams protein
Kid's side sandwiches are a great lower-calorie choice that can be a helpful solution if you aren't incredibly hungry around mealtime.
Roast Beef
Per 6-inch sub
: 300 calories 5 grams fat 2 grams saturated fat 740 mg sodium, 4 grams fiber, 22 Grams protein
Subway Roast Beef sandwiches are one of the sandwiches that contains the lowest amount of sodium—which is a great thing! Plus, a 6-inch version contains only 300 calories, making it a great choice for people who are focused on losing weight or cutting calories.
BLT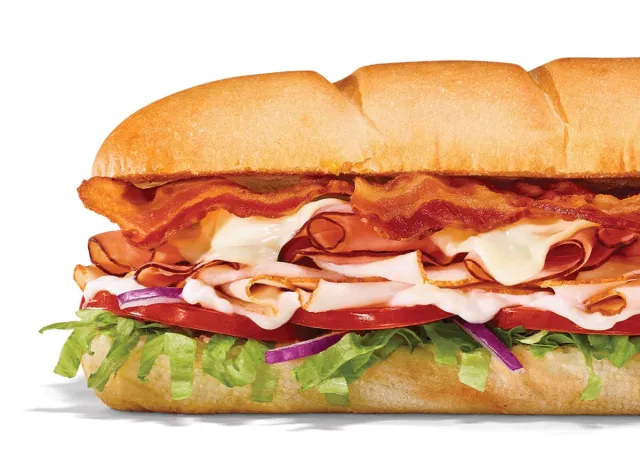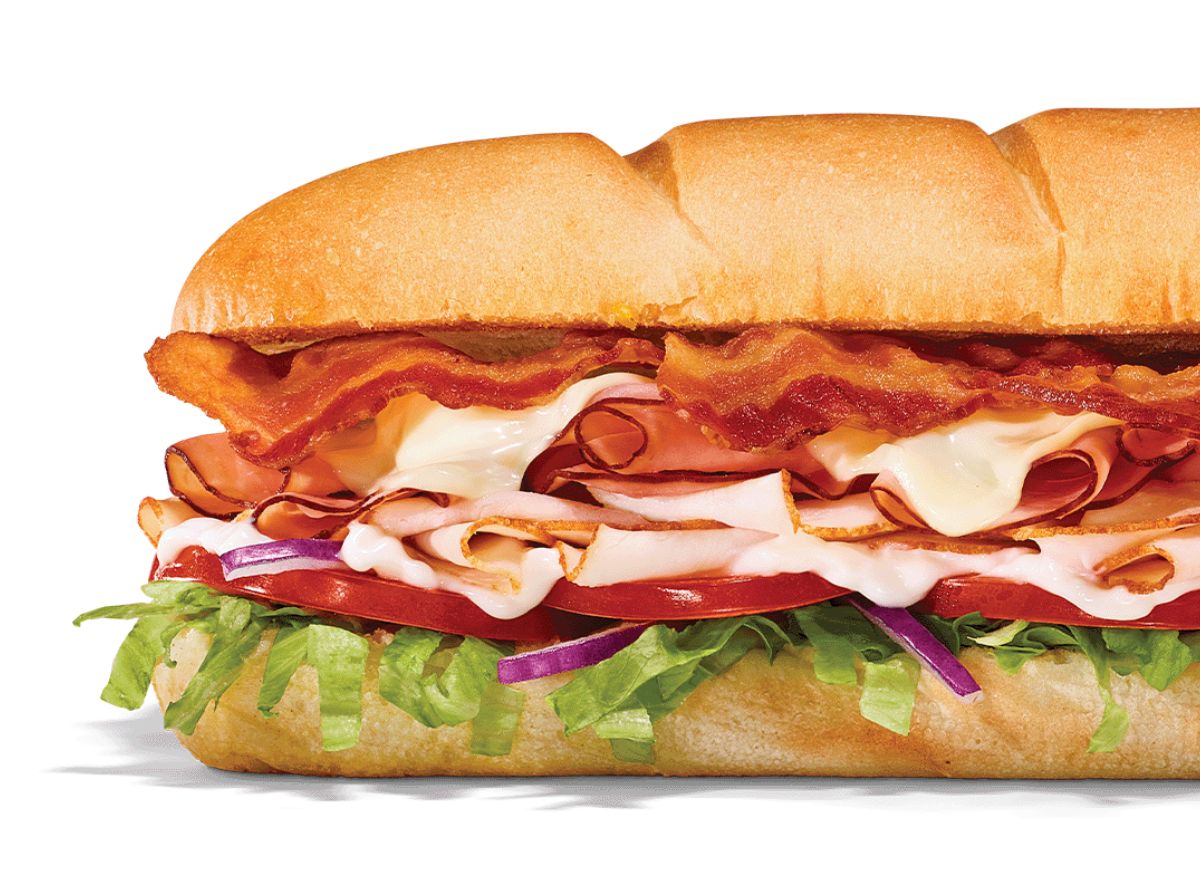 Per 6-inch sub
: 330 calories 14 grams of fat 5 grams saturated fat 700 mg sodium 3 grams fiber 10 grams protein
While bacon isn't often included as an ingredient in healthier Subway sandwiches, this combo results in a sub that can fit into a healthy diet. Sure, it is relatively high in saturated fat, but it is on the lower side of sodium when compared with other Subway options and it only contains 330 calories.
Egg and Cheese
Per 6-inch sub
: 320 calories, 10 grams fat, 7 grams saturated fat, 1000 mg sodium, 5 grams fiber, 22 grams protein
"Let's not snooze on Subway's premier breakfast offering," says Jaclyn London, MS, RD, CDN, NYC dietitian, CPG food consultant, and author. "To make this a more satisfying option, I'd recommend selecting the 'more' option from the menu and adding more vegetables (spinach, tomatoes, green peppers, black olives, jalapeño peppers, banana peppers) to that sandwich for extra fiber, plus an extra egg on there for more protein."
Lauren Manaker MS, RDN, LD, CLEC
Lauren Manaker is an award-winning registered dietitian, book author, and recipe developer who has been in practice for almost 20 years.
Read more about Lauren