5 Healthy Eating Habits That Camila Cabello Swears By
The new coach for "The Voice" takes great care of herself.
Just announced as the next "The Voice" coach for Season 22, Camila Cabello has been in the spotlight a lot recently. Between replacing Kelly Clarkson on the singing competition show, strutting the red carpet at the Met, and releasing her latest album "Familia," we can't help but notice how stunning she is.
But it comes as no surprise– the star has been pretty open about taking care of her body. She frequently posts photos on Instagram about her workouts with celebrity trainer Jenna Willis. And her trainer even shared Cabello's full-body workout with Shape.
But the "Señorita" singer can't just workout to look that good. She also has some healthy eating habits that keep her feeling great, but dieting is actually not one of them. Read on to find out how Cabello approaches her meals.
And next, check out This Is Kendall Jenner's Exact Breakfast, Lunch, and Dinner.
She avoids super strict diets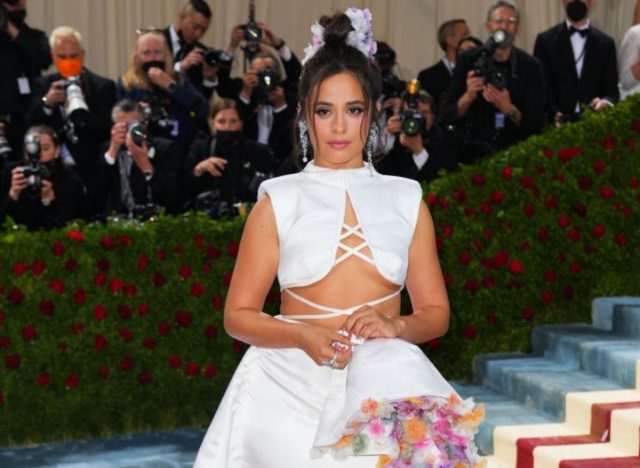 The #1 eating habit that Cabello follows? No diets. Her trainer Jenna Willis told HollywoodLife: "I tell my clients crash diets and overdoing workouts can be like a bad relationship. If they seem too good to be true, they are."
Although she may have tried dieting in the past, Cabello now focuses on balanced, healthy meals that make her feel good.
"While at first, it may feel exciting since change seems to be happening, but then all of a sudden, all the pitfalls that challenged your previous relationships will sneak back in and you'll find yourself right where you started," Jenna told HollywoodLife. With help from her trainer, Cabello learned that intense dieting does not work for her.
She practices intuitive eating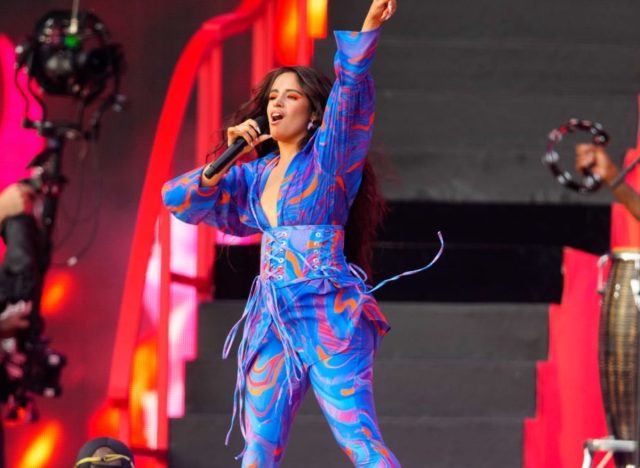 Instead of dieting, Cabello does intuitive eating: listening to her body and providing it with the food it needs.
"Photoshop, restrictive eating, over exercising, and choosing angles that make our bodies look different…I remind myself of this, listen to podcasts on intuitive eating, follow women who accept their cellulite, stretch marks, bellies, bloating, and weight fluctuations," Cabello posted on Instagram.
Previous Eat This, Not That! reporting shows that intuitive eating may help you break emotional eating habits, be honest about when you're hungry, and respect your body. The singer also told BuzzFeed that she loves chocolate and Hawaiian pizza, so intuitive eating allows her to indulge in her favorites every now and then.
She connects with her culture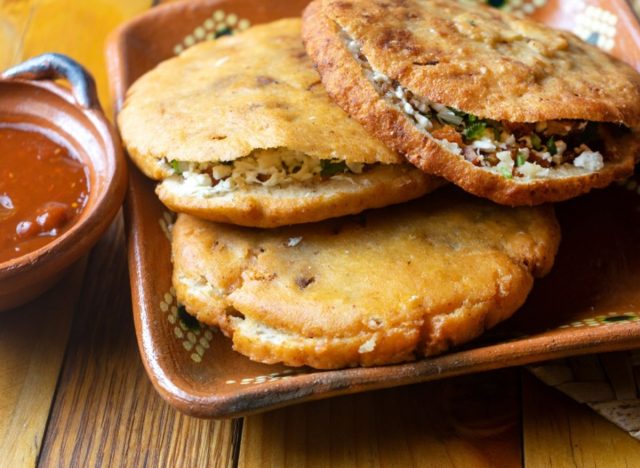 Born in Cuba, the ex-Fifth Harmony singer seeks out food that reminds her of home. Food and culture go hand in hand for Cabello.
"When I looked up 'gorditas' on my Yelp and found a place that seemed not touristy and authentically mexican I felt desperate for it," she posted on Instagram. "And I realized it wasn't just the food I was craving, but the feeling of comfort and familiarity and the feeling of ground-ness it gave me."
She eats small, balanced meals
While Cabello doesn't follow any strict diet, she does try to eat small meals full of whole foods and nutrients. "It isn't about dieting, it's about healthy lifestyling," her trainer told Hello Magazine. "This means eating nutrient-dense foods, enjoying smaller meals." Other celebs like Megan Fox have been known to manage portion control as well, eating smaller meals throughout the day.6254a4d1642c605c54bf1cab17d50f1e
She eats slow
Even though Cabello is really busy, she tries to take her time eating. That's because her trainer recommends slowing down meals for intuitive eating to be most effective.
"A lot of times we don't realize we're full until it's too late. Another little tip is to chew all of the food in your mouth before taking the next bite. This is one of the best ways to avoid overeating," Willis told Hello Magazine.
Want to read more about how celebs stay fit? Check out The 3 Eating Habits LeBron James Swears By.
Mia Salas
Mia is a freelance writer for several publications and a soon-to-be graduate from Princeton University with a degree in English.
Read more about Mia