The Healthy Habits Sharon Stone Lives by at 64 Are Spot-on
Stone's healthy habits are, well, basically instinctual.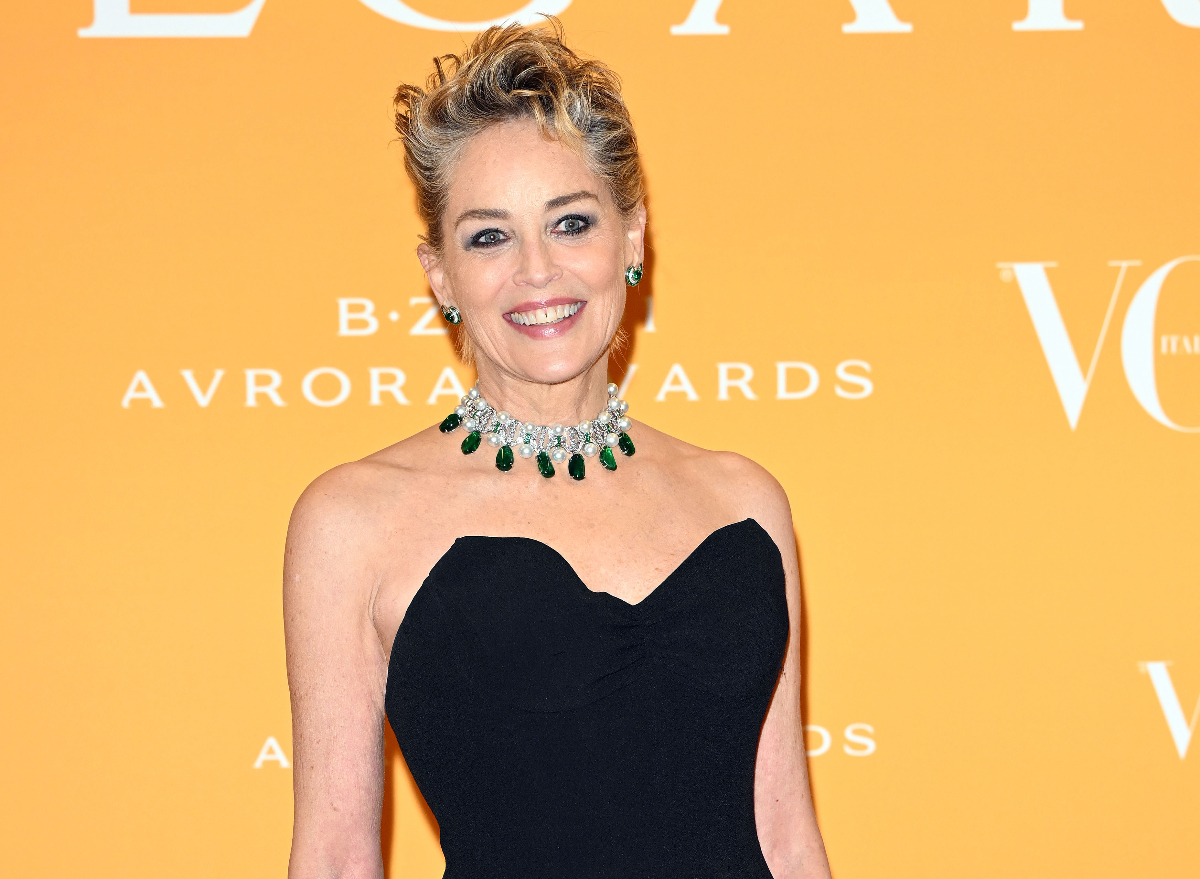 Sharon Stone looks amazing at 64 years old, and we're here with her secrets. The "Basic Instinct" star has a dedicated work ethic for everything she does, including self-care. "I work for it. I work at everything. To me, discipline is a kind of freedom," Stone is quoted saying (via Hello!). Her fitness and wellness secrets that keep her healthy and happy at 64 are clearly working, so read on to find out what they are.
Consistency is key, and Sharon Stone shakes up her fitness with variety.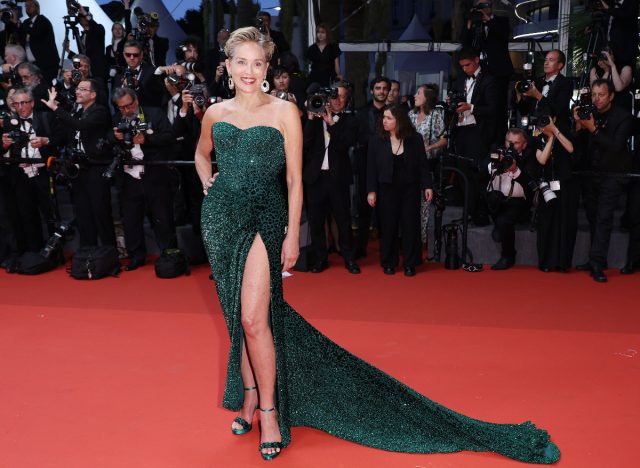 Consistency is essential when it comes to staying in great shape, and it's clear that Stone makes her mind and body fitness a top priority. The celeb does what it takes, including exercising up to five days each week. "Every time I exercise, I do something different based on which areas need to get in motion," Stone reveals to Shape (via Hello!).
Related: The Healthy Habits of Harrison Ford Make Indiana Jones Look Great at 80
Her workouts include a mix of yoga, full-body stretches, pilates, dance, and strength training.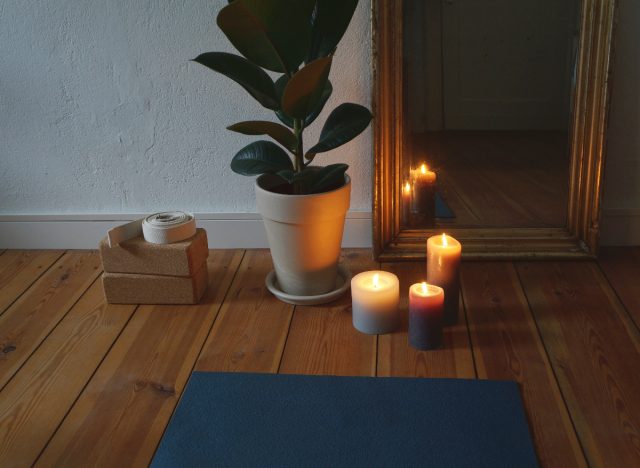 Her routines include a solid mix of yoga, full-body stretches, pilates, dance, strength training, and even water resistance leg lifts, according to Hello!. The Suzanne Somers ThighMaster is something Stone also adds to her fitness routine, saying, "I put that between my legs while I'm watching TV, and my kids and all their teenage friends think it's hilarious but they do it too" (via Vogue).6254a4d1642c605c54bf1cab17d50f1e
She makes sure to move her body throughout each day and makes use of arm bracelet weights.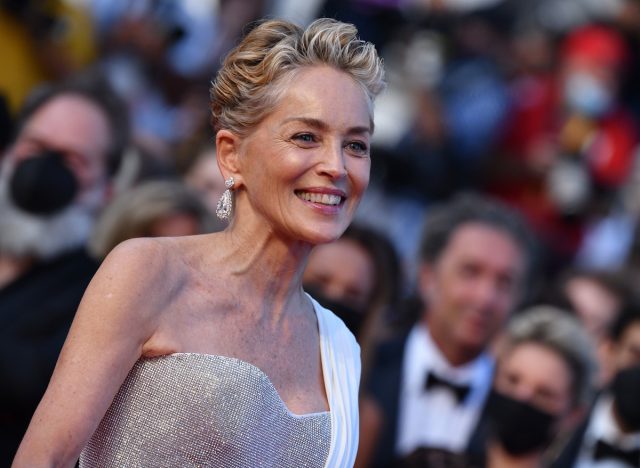 "Periodically throughout the day, I just move my body. I do it when I'm on set. I do leg lifts and back kicks and pop down on the ground and do some jackknifes. My crew is always like, 'That's so cool that you just throw down and do some kickbacks,'" Stone reveals to Vogue, adding, "Also, I do all my 'arm jazz' with these lead weights. Pushing upwards for 15 minutes with a lead weight in your hand makes a lot of difference. I have little arm strap-on weight bracelets too, and I put them on while I'm on my computer or at my desk and just leave them on all day because you'd be amazed how much working out you can do on your computer with a couple of pounds on your arms."
Related: Healthy Habits Daniel Craig Follows at 54 To Stay in the Best Shape
Body, mind, and spiritual wellness are priorities.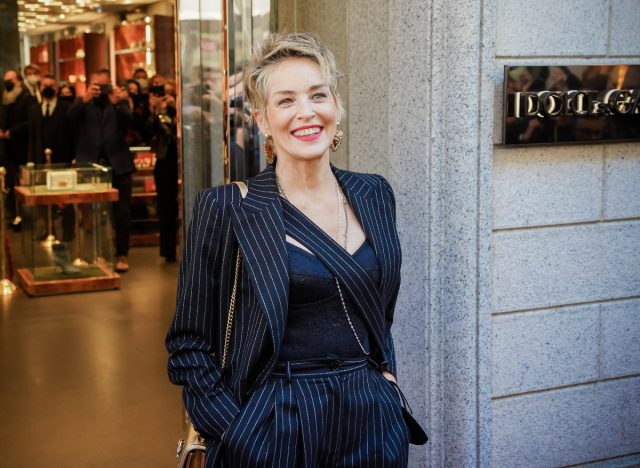 In addition to having a solid workout regimen and making it a point to move consistently every day to maintain a healthy, fit body, Sharon Stone is also quite mindful of feeding her spiritual and mindful wellness, too. She shares her secrets with Vogue, saying, "We have to ask ourselves, 'Have we contributed to our body wellness, our mental wellness, and our spiritual wellness today?'" Stone prioritizes meditation, nourishing her mind with Buddhist scriptures by Bukkyo Dendo Kyokai.
"I listen to this meditation by Kiva called the Green Tara chant that I like a lot. Usually, I just sit at my meditation table in front of my bedroom couch, ring my bowl, and read from my texts," she adds.
A brush with death led Stone to love, heal, and find purpose.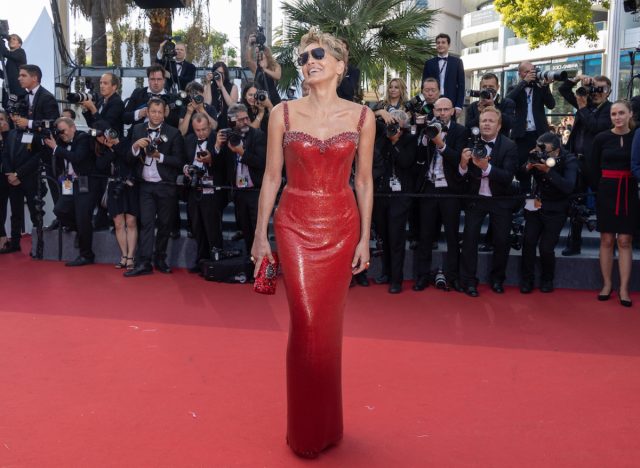 The actress almost died in 2001 from a stroke that resulted in a seven-year recovery period. She shares with Oprah in a Super Soul interview the profound deficit it left her with. "It's a radiance and a magnetism and a presence [I lost] … it comes from health and well-being and youth. It comes from confidence too," she says (via Today Online).
Being so close to mortality taught Stone a great deal about love, how to heal, and how to find purpose in one's life. She addresses all in her New York Times bestselling autobiography, The Beauty of Living Twice.
Balancing family time and doing what she loves is #goals.
Sharon Stone keeps life in focus, prioritizing what she loves. She values family time and balances her personal life and acting with a laidback, relaxed approach. She tells Vanity Fair, "So, the acting thing: I do still like it. Actually, I like it more than before. I feel much more comfortable in it, and it's a whole lot easier to do. I feel less pressure when I do it now, as it is not my entire world. I have also had more profound life experiences to bring to it. When the workday is over, good or bad—and it's mostly always good—I go home to a house full of love, so no big deal."
This powerhouse embraces her 64 years, and we are here for it. "I don't choose to make growing older a negative. I choose to get older. Growing older is my goal," Stone tells The Hollywood Reporter (via Hello!). She adds, "I was in an ICU for nine days and the survival rate for what I went through is very low. I don't need someone to make me feel bad about growing older. I'll tell you what makes you feel bad: when you think you might not."
Healthy eating habits are routine for Stone.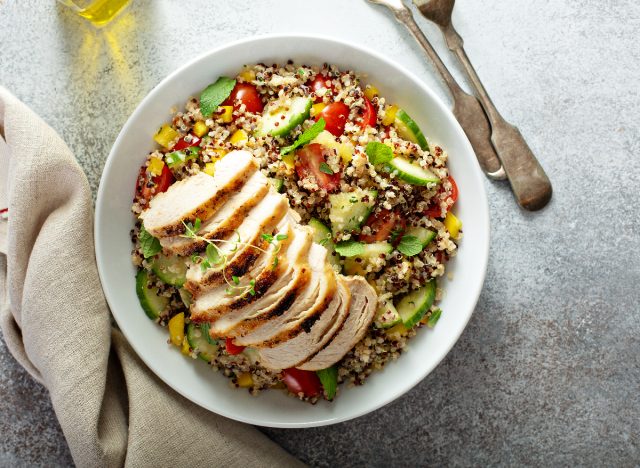 Healthy eating habits are routine for Stone, including eggs, lean meat, and fish. She also sticks with low-glycemic choices, including lentils, quinoa, and veggies. "I don't eat a lot of processed food, though I haven't been able to get potato chips out of my mind," Stone reveals to WebMD (via Hello!). Decaffeinated herbal teas are her preference over coffee.
Alexa Mellardo
Alexa is the Mind + Body Deputy Editor of Eat This, Not That!, overseeing the M+B channel and delivering compelling fitness, wellness, and self-care topics to readers.
Read more about Alexa