12 Best & Worst Oatmeal Brands, According to Dietitians
The healthiest oatmeal brands are low in sugar and high in flavor, fiber, and protein.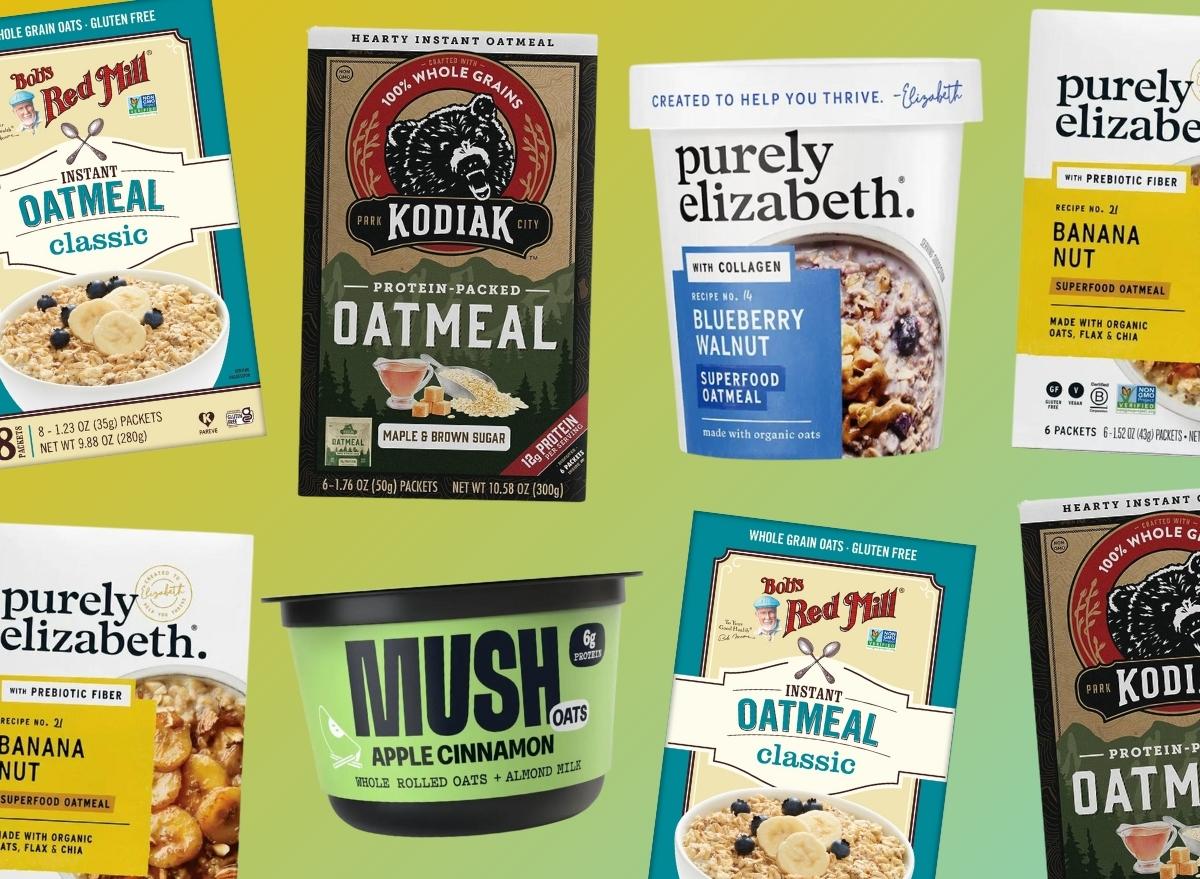 The product recommendations in this post are recommendations by the writer and/or expert(s) interviewed and do not contain affiliate links. Meaning: If you use these links to buy something, we will not earn a commission.
It's hard to think of a healthier breakfast than oatmeal—or a more versatile one. This whole grain offers the ultimate filling combo of protein and fiber, while its mild, blank canvas of flavor adopts any flavors you can think to add.
Pre-made oatmeal cups and packets make oats even easier at breakfast time. Gone are the days of stirring over the stovetop! With just a minute or two in the microwave, these handy products get your morning moving in a flash.
But much like breakfast cereals, which come in a spectrum from mega-healthy to candy in disguise, packaged oatmeals also range in their healthfulness. That's why we tapped dietitians for their most recommended packaged oatmeals. Make the best choice at breakfast with these seven healthy oatmeals—plus five to leave on grocery store shelves. 
What are the health benefits of oatmeal?
Many of oats' health benefits stem from their fiber content. The fiber in oatmeal not only smooths the digestive process, but it also promotes a balanced microbiome since oats are rich in prebiotic fiber that feeds healthy gut bacteria. Plus, the soluble fiber in oats can help lower cholesterol.
Oats also contain a type of fiber called beta-glucan, known for its potential to combat obesity and metabolic syndrome, as well as possibly boost milk production in breastfeeding women.
Need more evidence of oats' superfood status? People who eat more whole grains like oats are more likely to have a healthier weight, lower risk of type 2 diabetes, and lower blood pressure.
How to choose the best healthy oatmeal
Spot the sugar: Oats all by themselves are sugar-free—so it's only natural to want to sweeten them up for a morning treat. But too many added sugars are a recipe for health problems like weight gain and tooth decay. Check nutrition facts labels for the amount of added sugars in an oatmeal packet. Eight to 10 grams and up is rather high.
Check for protein: Starting your day with protein can help you stay full until lunch. As a whole grain, oats naturally pack protein, but some packets are more protein-rich than others. Look for oatmeals with 5 grams or more. (And consider adding another protein-based food at breakfast like these options.)
Assess the mix-ins: You can add just about anything to oatmeal—and manufacturers do! For due diligence in choosing a healthy oatmeal, scan the ingredient list. Steer clear of products with artificial flavors, high-calorie mix-ins, and funky fillers.
The 7 Healthiest Oatmeals
Below you'll find our dietitians' picks for the best oatmeal brands you can buy!
Purely Elizabeth Banana Nut Superfood Oatmeal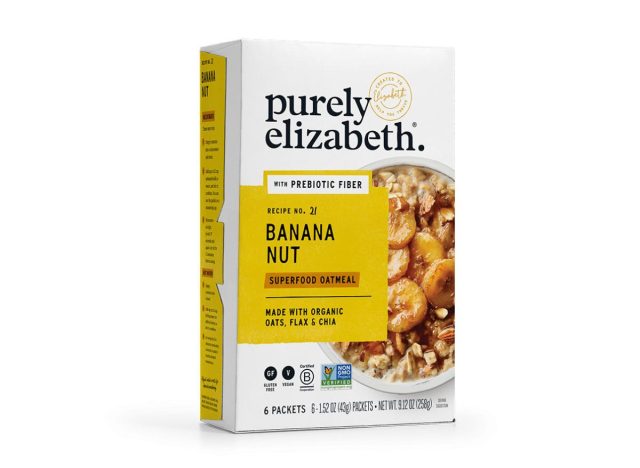 Per serving
: 160 calories, 4 g fat (0 g saturated fat), 110 mg sodium, 30 g carbs (6 g fiber, 8 g sugar), 5 g protein
Look to Purely Elizabeth for a variety of good-for-you packaged oatmeals. "Purely Elizabeth's Banana Nut Superfood Oatmeal is one of my top favorites for an on-the-go breakfast, and is a life-saver for travel, especially for those who struggle with constipation," says Madeleine Putzi MS, RD. "Packed with flax and chia seed, one pack provides 21% of your daily value for fiber, a nutrient that nearly 95% of US adults fall short on."
Kodiak Cakes Carb-Conscious Maple Almond Oatmeal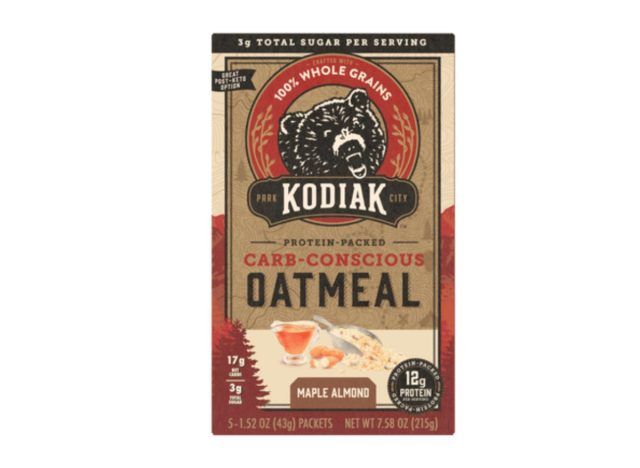 Per serving
: 170 calories, 5g fat (0.5 g saturated fat), 180 mg sodium, 22 g carbs (5 g fiber, 3 g sugar), 12 g protein
Watching your carbs? You don't have to ditch oatmeal for breakfast. Kodiak Cakes' Carb-Conscious Maple Almond Oatmeal keeps carbs under control. "I recommend this oatmeal because it's high in fiber and provides almost three times the protein compared to other instant oatmeal options," says Vandana Sheth, RDN, CDCES, FAND, author of My Indian Table. "The higher fiber and protein provides satisfaction, helps you feel full longer, and can help with blood sugar management."
Purely Elizabeth Original Superfood Oatmeal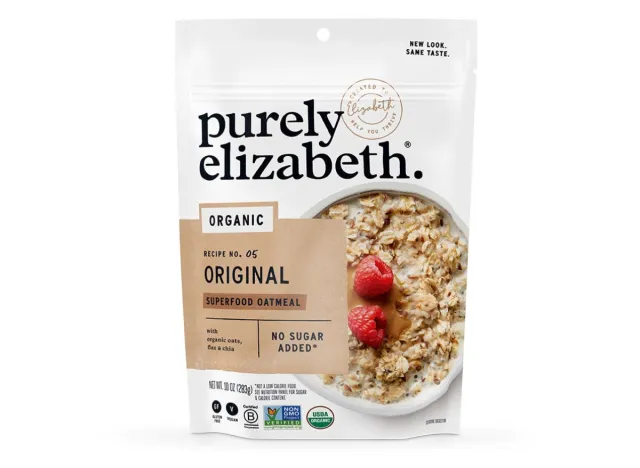 Per serving
: 160 calories, 3.5 g fat (0 g saturated fat), 0 mg sodium, 26 g carbs (5 g fiber, 0 g sugar), 5 g protein
For a healthy breakfast in 60 seconds, check out Purely Elizabeth's original oatmeal packets. "This quick-cooking oatmeal is ready in just one minute in the microwave and boasts 5 grams of protein and 5 grams of fiber, thanks to the addition of flax, chia, quinoa, and amaranth," notes Sarah Anzlovar, MS, RDN, LDN, intuitive eating dietitian for moms. "Unlike many instant oats, it also doesn't contain any added sugar or sweeteners, so you can add your own flavor if you'd like." Try fresh or frozen berries or a teaspoon or two of maple syrup for a hint of sweetness.
Kodiak Cakes Maple Brown Sugar Instant Oatmeal
Per serving
: 190 calories, 2.5 g fat (0 g saturated fat), 180 mg sodium, 31 g carbs (3 g fiber, 10 g sugar), 12 g protein
Oatmeal, maple syrup, and brown sugar are a flavor match made in heaven. Kodiak Cakes' instant packets let you enjoy this winning combination in a low-fat, high-protein package. "This instant oatmeal is only 190 calories per serving, relatively low in fat, moderate in carbohydrates, and even has 12 grams of protein," says Amber Trejo, MS, RDN, NASM-CPT. "From a macronutrient standpoint, this is a pretty well-rounded breakfast."6254a4d1642c605c54bf1cab17d50f1e
Mush Oats Apple Cinnamon Cup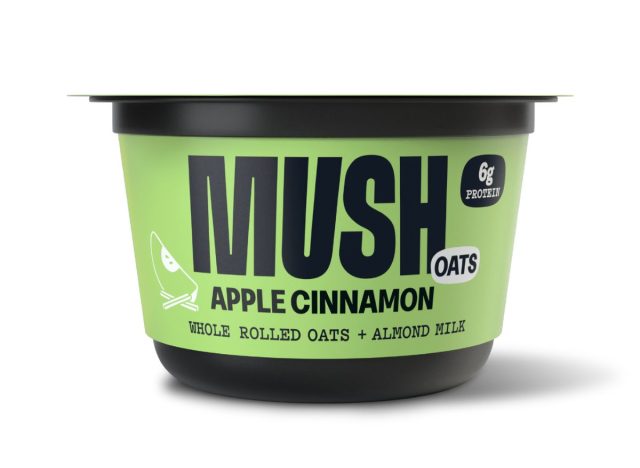 Per serving
: 200 calories, 6 g fat (0.5 g saturated fat), 120 mg sodium, 31 g carbs (5 g fiber, 8 g sugar), 6 g protein
Move over, hot oatmeal—refrigerated oats would like a word. Mush offers a variety of intriguing flavors served cold. Their apple cinnamon cup is naturally sweetened with dates and contains just five wholesome ingredients. The result: an all-natural, high-fiber breakfast that doesn't even require a microwave.
Purely Elizabeth Blueberry Walnut Superfood Oat Cup with Collagen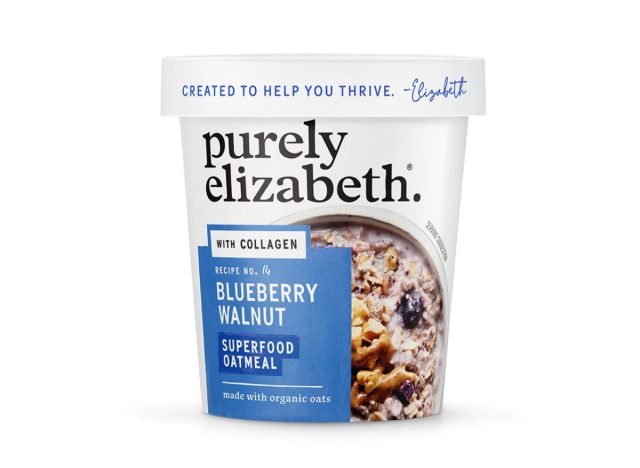 Per serving
: 230 calories, 5 g fat (0.5 g saturated fat), 135 mg sodium, 37 g carbs (5 g fiber, 9 g sugar), 9 g protein
Dietitians agree: Purely Elizabeth's oatmeals are among the best on the market. Next on the RD-approved list is this oat cup fortified with collagen protein. "One single-serve container contains not only 9 grams of protein from bovine collagen but also 5 grams of filling fiber and only 6 grams of added sugar," says Lainey Younkin, MS, RD, weight loss dietitian at Lainey Younkin Nutrition. "Made with gluten-free oats, this oatmeal also has chia seeds and walnuts, which deliver healthy omega-3 fats."
Bob's Red Mill Classic Instant Oatmeal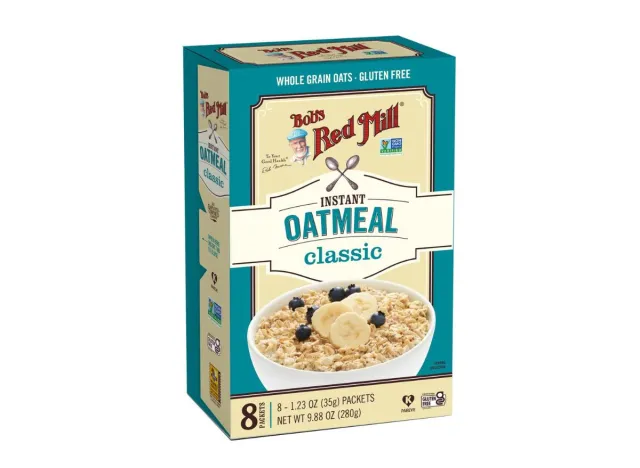 Per serving
: 140 calories, 3.5 g fat (0.5 g saturated fat), 105 mg sodium, 23 g carbs (4 g fiber, 0 g sugar), 4 g protein
Bob's Red Mill is known for its many high-quality grain products. The classic instant oatmeal is no exception. This quick oat breakfast shines for its simplicity. "I recommend this because it's made from just a few simple ingredients—whole grain rolled oats, flaxseeds, and salt," says Sheth. But don't let that stop you from adding any favorite mix-ins!
The 5 Worst Oatmeals
Worst: Great Value Apples and Cinnamon Instant Oatmeal
Per serving
: 130 calories, 1.5 g fat (0 g saturated fat), 200 mg sodium, 27 g carbs (3 g fiber, 12 g sugar), 3 g protein
Wan Na Chun, MPH, CPT, RD, of One Pot Wellness says to skip Great Value's apples and cinnamon instant oatmeal. "This is one of the worst store-bought oatmeals because of its added sugar content. It contains 12 grams of added sugar per serving," she says. "Consuming excess added sugar is unhealthy due to its association with chronic diseases, inflammation, weight gain, and tooth decay."
Worst: McCann's Instant Oatmeal Apple & Cinnamon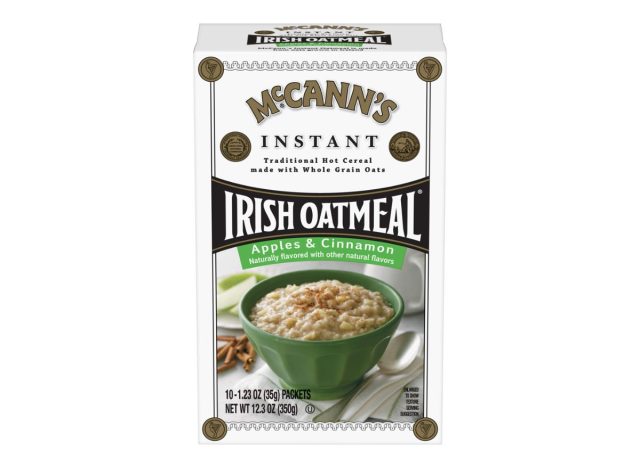 Per serving
: 130 calories, 1 g fat (0 g saturated fat), 170 mg sodium, 29 g carbs (3 g fiber, 12 g sugar), 2 g protein
Not all apple oatmeals get their fruity flavor from actual fruit. In McCann's Instant Apple Cinnamon Oatmeal, "sugar is the second ingredient listed, with a total of 12 grams (9 of which are added)," notes Michelle Rauch, MS, RDN, registered dietitian for the Actors Fund Home. Rauch says this is as much sugar as two Chips Ahoy chocolate chip cookies!
Worst: Great Value Strawberries and Cream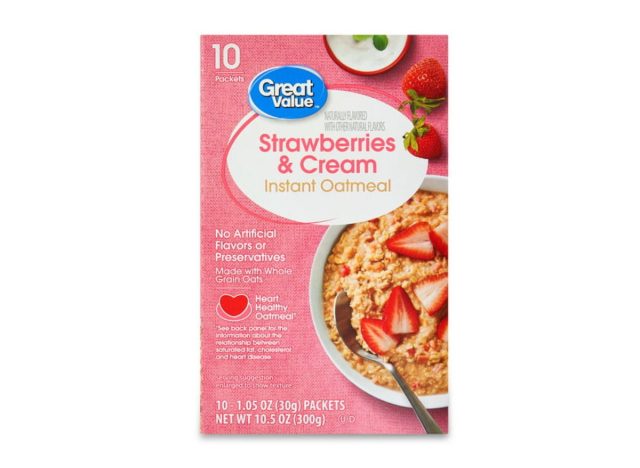 Per serving
: 110 calories, 1.5 g fat (0 g saturated fat), 115 mg sodium, 22 g carbs (2 g fiber, 8 g sugar), 3 g protein
Ingredient reading never fails to reveal a food's true colors—sometimes literally. "The second ingredient in this instant oatmeal is sugar, followed by artificial flavoring and red 40, which has been linked to increased hyperactivity in children due to a compound called benzidine," says Trejo.
Worst: Quaker Maple & Brown Sugar Instant Oatmeal
Per serving
: 160 calories, 2 g fat (0.5 g saturated fat), 260 mg sodium, 33 g carbs (3 g fiber, 12 g sugar), 4 g protein
"When it comes to instant meals, it's important to keep an eye on sugar, sodium, and other additives," says Marisela Gomez Raffo, RDN. Quaker's Maple & Brown Sugar Instant Oatmeal is a particular offender in the sodium department, with 260 milligrams per packet. That's 17% of the American Heart Association's recommendation of 1,500 milligrams per day for adults with high blood pressure.
Worst: Quaker Dinosaur Egg Oatmeal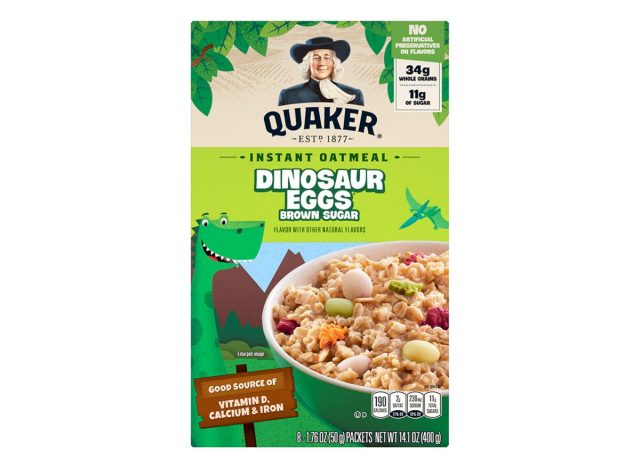 Per serving
: 190 calories, 4.5 g fat (2 g saturated fat), 230 mg sodium, 36 g carbs (3 g fiber, 11 g sugar), 5 g protein
Lots of mix-ins belong in oatmeal, but dinosaur eggs probably aren't one of them. Quaker's Dinosaur Egg Oatmeal contains "eggs" made of sugar, hydrogenated palm oil, carnauba wax, and other questionable ingredients. "The saturated fat- and sugar-encased colored dinos give this oatmeal a mediocre ranking compared to other brands," says Joanna Ayallore, MS, RD, LDN, owner of Nutrition Kept Simple. If you're going to add eggs to your breakfast, make them the real kind, not the candy kind.
Sarah Garone, NDTR
Sarah Garone, NDTR, is a registered nutrition and dietetic technician, and a health, nutrition, and food writer.
Read more about Sarah
Sources referenced in this article