Score A First Look At Hershey's First New Candy Bar Since 1995
Hershey's new golden bar is nothing of the norm, but will chocolate fans approve?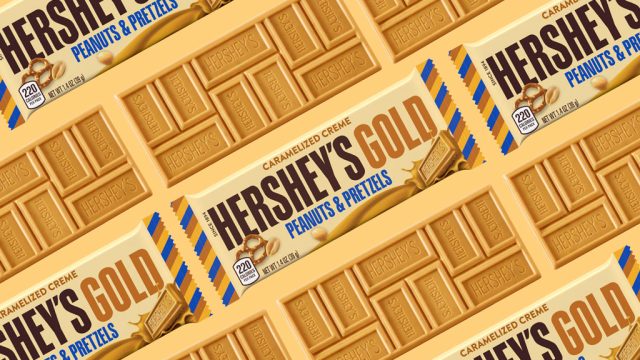 When Hershey's releases a brand new bar for the first time in 22 long years, we expect it to be creamy, decadent, and most certainly chocolate. That's not what the candy company had in mind—well, not entirely.
Hershey's new bar, dubbed the Hershey's Gold, takes a different spin on your favorite wrapped treat: the bar itself is made of caramelized creme featuring tiny bits of peanuts and pretzels that are, surprisingly, seamlessly incorporated rather than chunky and distracting. "We use a proprietary cooking process to transform the white creme into a golden bar by caramelizing the creme, which helps maintain a sweet, creamy taste," Melinda Lewis, senior director/general manager, Hershey's Franchise at The Hershey Company said in a press release. And there's no chocolate in sight! "The launch of Hershey's Gold will introduce Americans to a new flavor and a new experience unlike any others before."
We were able to get a sneak peek of the buttery bar before its release at an exclusive product preview event with Hershey's Master Chocolatier Jim St. John in NYC. Our observations? When you first tear open the golden wrapper and unveil the candy bar, right off the bat you'll notice that the breakable squares feature a spanking new shape that deviates from its usual symmetry. And taste-wise, we can confirm that it definitely satisfies those sweet and salty cravings—but for an expensive price of 20 grams of sugar. So how does it stack up to the confectioner's classic candies? We break down the nutrition below.

Per bar
: 220 calories, 14 g fat (7 g saturated fat, 0 g trans fat), 85 mg sodium, 22 g carbs (0 g fiber, 20 g sugar), 3 g protein
The first new flavor since 1995, Hershey's Gold packs in 17 grams of added sugars in addition to the naturally occurring three grams of sugar. If you're going for the Gold, make sure to split it with a friend given its high sugar and saturated fat content.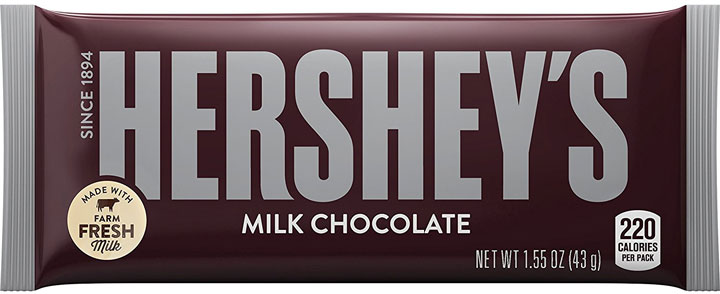 Per bar
: 220 calories, 13 g fat (8 g saturated fat, 0 g trans fat), 35 mg sodium, 26 g carbs (1 g fiber, 24 g sugar), 3 g protein
This classic bar has been around the longest—since 1900!—and boasts the nostalgic chocolate flavor we know and love. Surprisingly, this milk bar has the highest sugar content of them all, which means you should definitely enjoy in moderation.
Per bar
: 190 calories, 12 g fat (8 g saturated fat, 0 g trans fat), 15 mg sodium, 25 g carbs (3 g fiber, 21 g sugar), 2 g protein
This rich bar stole the hearts of many true chocolate devotees since its inception in 1939. It's the least caloric and boasts the highest fiber content out of the bunch, deeming it our best pick.
Hershey's Cookies 'n' Creme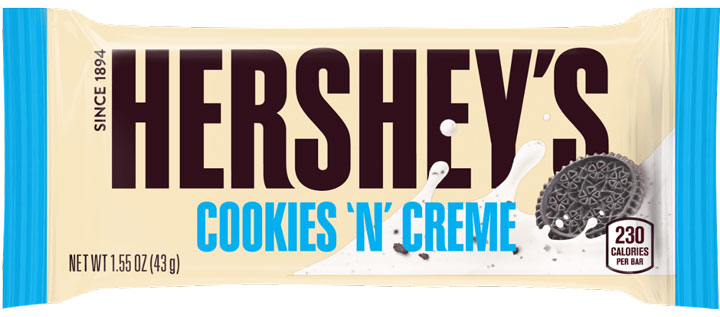 Per bar
: 230 calories, 12 g fat (7 g saturated fat, 0 g trans fat), 105 mg sodium, 28 g carbs (0 g fiber, 21 g sugar), 3 g protein
If you're an Oreo fan, this vanilla-based bar is definitely for you. Stick to a half-bar serving size so that the cookie bits and pieces don't show up as inches on your waistline.
All in all, if you're into the combo of caramel, nuts, and pretzels, we're giving you the green light to grab a Hershey's Gold when it hits nationwide shelves on December 1. Just remember not to finish off the entire thing in one sitting, as the calorie, sugar, and fat contents are considerably high. If you're looking for antioxidant-rich chocolate bar that's safe to snack on everyday, pick the healthy options in our ranking of The 17 Best and Worst Dark Chocolates.