7 Best High-Intensity Workouts for Women To Crush Their Goals
Blast body fat and improve your aerobic fitness with these killer routines.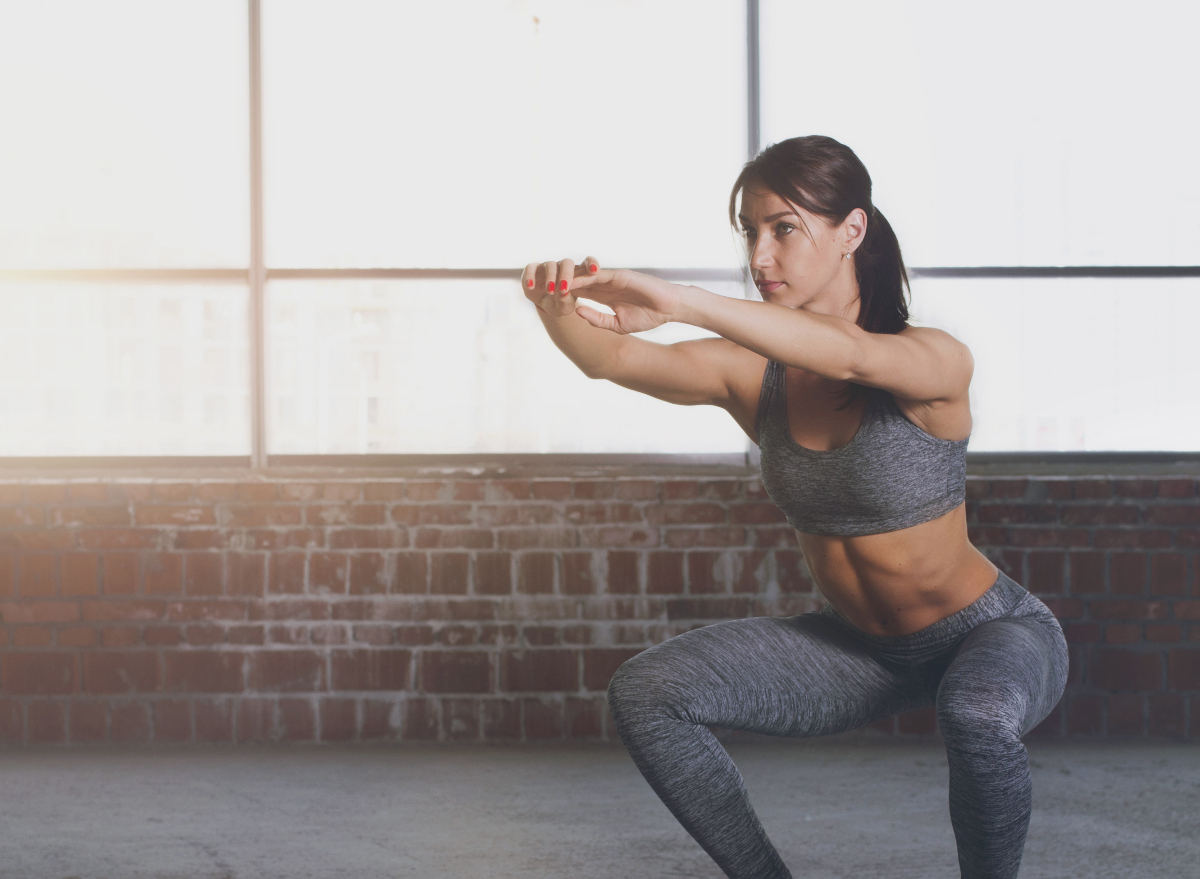 Cardio is a must when it comes to sculpting a lean physique, keeping your body fat down, and ensuring your heart and aerobic system remain fit and healthy for the long haul. Like most, your schedule is typically packed to the brim with work commitments, social plans, and daily to-do's. The last thing you want to do after a long day is to spend hours on aerobic equipment at the gym or running endless miles on the track. The good news is that some of the most effective cardio workouts take far less time than you might think and can be performed from the comfort of your own home. We have some of the best high-intensity workouts for women to crush their cardio goals—and then some.
The following YouTube HIIT workouts are our top recommendations for women who want to improve their aerobic fitness and crush their cardio goals without going to the gym or spending an excessive amount of time working out. Complete two to three of these per week in conjunction with a healthy diet to quickly reach your fitness goals.
Keep reading for seven of the best high-intensity workouts for women to crush their cardio goals and get into shape. And when you're done, don't miss these 9 Floor Exercises Women Should Do Every Day To Stay Fit & Firm.
30-MIN CALORIE KILLER HIIT Workout
This 30-minute HIIT workout from growingannanas includes 50 seconds of work and 10 seconds of rest without repeating a single exercise. This is great to keep you from getting bored or burned out on a certain exercise and makes the workout feel like it goes by much quicker. You also get a five-minute cooldown stretch session at the end of the video. A convenient workout timer on the screen ensures you know exactly how long you have left on each exercise. This is a great option if you have a longer workout time and want a very cardio-focused workout.
30-Min Full-Body Fat Burn HIIT (NO JUMPING)
This 30-minute workout from Emi Wong includes exercises for your entire body, ensuring you hit every muscle for a complete HIIT workout. Additionally, none of the exercises involve jumping, which prevents any wear and tear on your joints or discomfort from impact.
The workout begins with lower-intensity movements before progressing to more intense exercises. You'll perform each exercise for 40 seconds, followed by 20 seconds of rest. The onscreen timer keeps you informed on exactly where you are during each cycle. Overall, this workout is a good balance between strength and cardio.
Best 10-Min Beginner Full-Body HIIT for Fat Burn—NO JUMPING
This short-but-intense fat-burning HIIT circuit also keeps you from doing any jumping exercises. The short duration means you can fit it into even the busiest of schedules. As with all of Emi Wong's videos, the simple onscreen interface makes following along simple and straightforward. You'll complete a total of 10 exercises, doing each move for 40 seconds, then taking a 20-second break in between. Gear up to work your arms, core, abs, chest, back, thighs, butt, and calves.6254a4d1642c605c54bf1cab17d50f1e
BURN 500 CALORIES with this 20-Minute Cardio HIIT Workout (No Equipment, No Repeats)
This 20-minute cardio HIIT workout from Nobadaddiction is fairly intense so you can burn a full 500 calories in just 20 minutes. However, you don't have to repeat any exercises, which always keeps things way more interesting. The 500 calories you burn puts you at a nice deficit that will help you reach your fat loss goals. The 30-second intervals on this routine allow you to maintain a high intensity for every cycle. In addition, the helpful onscreen interface keeps you focused throughout the whole workout. Get ready for exercises like squat + crunch, plank jacks, and pop squats.
Nine-Minute HIIT Workout For Beginners to Start Your Fitness Journey
This quick nine-minute HIIT workout by 8fit is more beginner-friendly than some of the others. The simple exercises can be scaled to your intensity and fitness needs and do not involve explosive or fast-paced movements unless you make them so. Unfortunately, this one does not have an onscreen timer, but you are talked through every single cycle, so you should be able to easily follow along without any issues. This is a great choice if you are really new to HIIT-style training and feel overwhelmed by some of the earlier videos.
30-Minute HIIT Cardio Workout with Warm-Up
This fast-paced HIIT workout by SELF is not for the faint of heart, but it will get your aerobic system pumping. It does include a warm-up which is helpful. There is no rest between exercises, so you are moving for the entire round. The workout is broken into three rounds of six minutes with 45 seconds of rest between each full round.
A great perk of this routine is you're able to modify the exercises if you feel like you're struggling to keep up. The instructor also provides plenty of form cues throughout the workout. The exercises do include explosive movements, so if you need to stick with low-impact exercises, consider a different workout. However, this routine will definitely get you to your aerobic goals if you are able to complete it.
25-MIN FULL-BODY HIIT for Beginners—No Equipment—No Repeat Home Workout
This 25-minute HIIT workout is a great combination of a long-duration workout that gets a serious heart rate pump and aerobic burn while remaining beginner-friendly by sticking with low-impact movements. The great onscreen interface ensures you can follow along every step of the way without any issues, queuing up the next exercise along with displaying your remaining time for each cycle. I highly recommend this one if you are a beginner but want to reach your goals quickly and have the time to complete a slightly longer workout.
Tyler Read
Tyler Read is a personal trainer and has been involved in health and fitness for the past 15 years.
Read more about Tyler