The 8 Best Belly Fat-Burning Workouts You'll Find on YouTube
Blast your core with a trainer's top-recommended workout videos.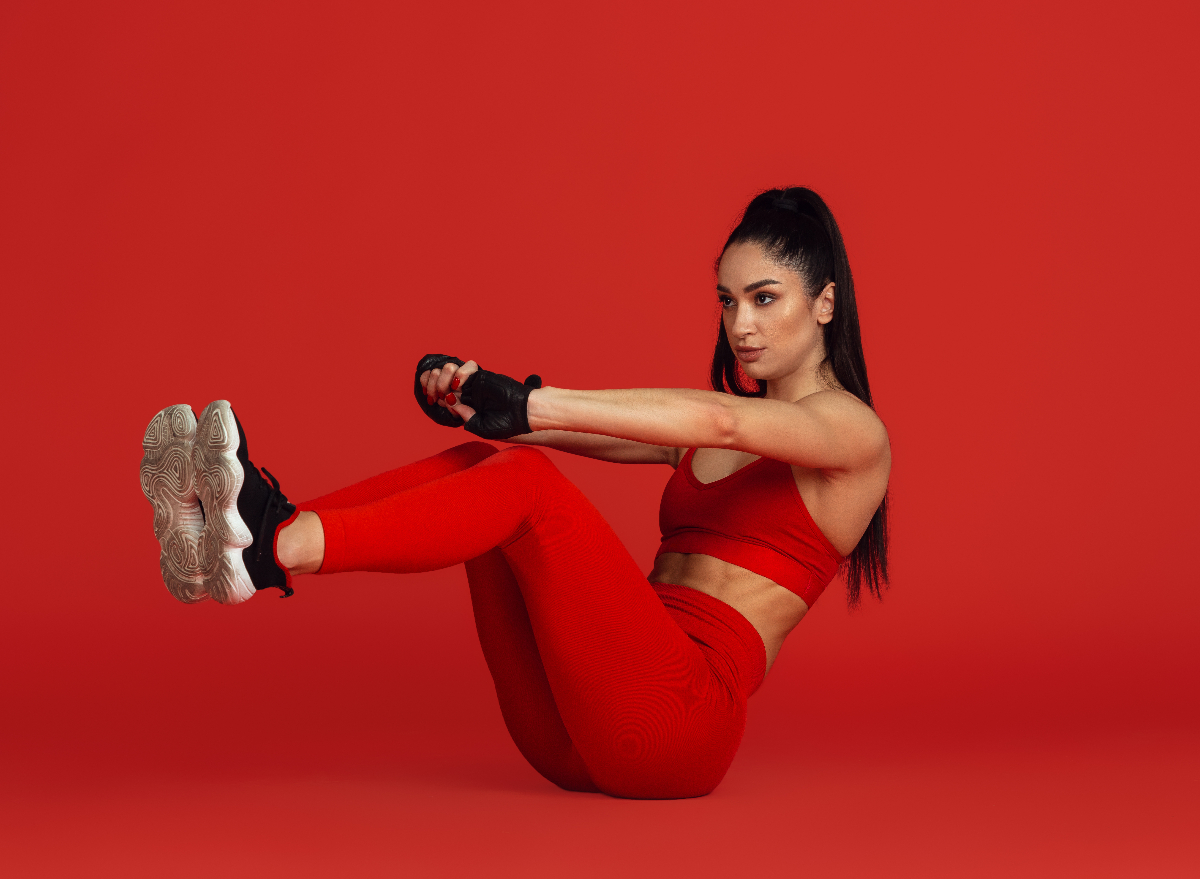 If you're trying to burn belly fat, listen up. Whether you're tired of following the same old workout program and want to spice things up, or you don't have access to group fitness classes, we have some great news to share. We know the belly fat loss process can be grueling and time-consuming, so we did some digging on the internet and are sharing eight of the best belly fat workouts on YouTube you can start doing today.
Get excited, because YouTube is a wealth of fitness inspiration featuring an impressive variety of belly fat workouts you can easily work into your daily routine. Some great highlights? The below videos are free and provide virtually the whole workout class experience. Plus, you don't have to leave your home in order to get in a solid sweat session. As a fitness professional, I find that YouTube fat-burning workouts are an amazing alternative for my clients who hate lifting weights and cannot make it to a group exercise class.
Now that we've convinced you to kick your YouTube workout mode into high gear, we have eight of the best belly fat workouts you can find on YouTube (that are trainer-approved). Keep reading to learn all about them, and when you're finished, be sure to check out the 5 Best Belly Fat Exercises You Can Do in Just 10 Minutes a Day. Without further ago, let's dive in!
1. Roberta's Gym 30-Minute Exercise Routine to Lose Belly Fat
Roberta's "Gym 30-Minute Exercise Routine to Lose Belly Fat" is a great fat-blasting workout video that consists of a combination of core, plyometric, lower, and upper-body exercises. The convenient cartoon guides you through every single exercise, so you do not have any doubt as to the proper form.
The workout is timed for you, allowing you to simply follow along, resting as assigned in the video, and keeping you from doing any guesswork or manual timing of your workout routine. Beware, though—this is a challenging workout. You can build up to the full duration if you cannot initially complete the entire program.
2. Fit With Sally's 10-Min Love Handles And Lower Belly Fat Workout
This no-break 10-minute belly fat blaster workout consists of standing exercises for the core, upper, and lower body with no equipment. There are no breaks throughout the entire video, so you get through it much quicker than traditional workouts.6254a4d1642c605c54bf1cab17d50f1e
The trainer Sally demonstrates and completes the entire workout with you, so you can easily follow along. An on-screen timer keeps you in the loop about where you are throughout the entire duration of the workout. I like this one for individuals who prefer being on their feet and are crunched for time. (Pun intended!)
3. Growwithjo's 20-Min Intense Standing Lower Belly Fat Workout
This 20-minute workout focuses mostly on cardio-based dance-like standing movements instead of traditional ab exercises or squats, lunges, etc. Jo demonstrates each movement and completes the workout with you, making it seamless to follow along and enjoy the music. Additionally, there's a preview for the next move so you can easily flow right into it. The on-screen countdown makes everything super convenient.
4. Cult Fit's Lose Belly Fat In 7 Days Challenge
This program is shorter for each workout but is designed to be performed every day for seven days. It consists of eight different exercises such as mountain climbers, planks, jumping jacks, and Russian twists. This is a great option if you want to exercise daily but are on a tight schedule. The bar at the bottom of the screen shows you exactly how far you are into each workout, which can be helpful when you are out of breath and wondering about the light at the end of the tunnel.
5. Zumba Class's 23-Minute Exercise Routine To Lose Belly Fat
If you like the fast pace of Zumba and seek a productive alternative to traditional exercise, then the Zumba Class 23-minute exercise routine to lose belly fat is an excellent option. It consists of a nonstop class of various Zumba-based dance movements.
One thing I like in particular is the electronic dance music in the background. The class starts out with an EDM version of Britney Spears's "Toxic" (Who doesn't love jamming out to Britney when working out?) kicking the workout into high gear from the get-go. The screen has less going on with no timers or other widgets on display, which can be helpful if you just want to get in the zone and dance it up.
6. Emi Wong's 30-Min Walking Cardio Workout | Intense Full Body Fat Burn at Home
This 30-minute walking workout with Emi Wong is a way you can perform walking-based training without needing to step foot outdoors. Each exercise is performed for 40 seconds with 15 seconds of rest between each exercise. The exercise starts with basic walking in place before heading into more advanced walking exercises. This is another great option as an alternative to traditional core exercises.
7. Cult Fit's Belly Fat Workout For Men
This next belly fat workout is geared toward men. As with all Cult Fit workouts, a progress bar gives you a convenient tracker throughout the workout. The movements tend to be a bit more intense than the previous exercises such as burpees, full pushups, and other higher-intensity exercises, so gear up to feel the burn and work up a sweat.
8. DanceWithDeepti's 30 Mins Daily Belly Fat Burn Workout
This is another dance-based workout that will get you moving and melting belly fat in no time. This video brings together a fun mix of dance/workout combo exercises that put a great spin on traditional exercises like squats and lunges. You get the best of both worlds since many of the dance-based exercises in other programs miss out on the full range of motion squats, while traditional workouts can sometimes get mundane and lack variety.
Tyler Read
Tyler Read is a personal trainer and has been involved in health and fitness for the past 15 years.
Read more about Tyler