15 Store-Bought, High-Protein Breakfast Products for Busy Mornings
If you're usually too busy to eat in the a.m., then we have a solution for you.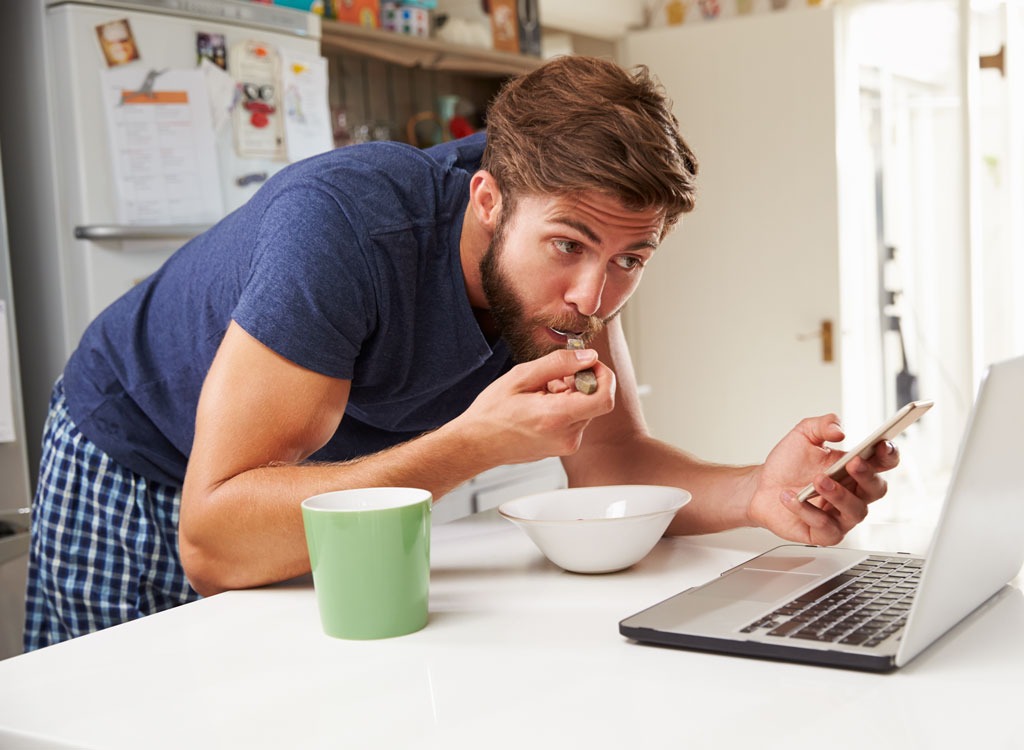 Not eating breakfast shouldn't be an option. The most important meal of the day boosts your metabolism, manages energy levels, and maintains your blood sugar. And on top of simply eating this morning meal, another flat belly tip is to make sure your breakfast includes enough protein.
"Protein is key to weight loss because it slows down the absorption of carbohydrates," says Jim White, RD, ACSM HFS, Owner of Jim White Fitness and Nutrition Studios. And while you need carbs in the morning to replenish your energy levels, carb-heavy breakfasts are often the culprit of feeling drained by the time you get to work or running your early errands. On the other hand, breakfasts packed with protein can delay the start of sugar highs and lows, which can trigger fat storage, and keep you feeling full and energized for hours.
You may be surprised to read that these high-protein breakfasts are actually super easy to make. All you need is a trip to the grocery store and this list. We here at Eat This, Not That! found 15 breakfast options you can nab from the supermarket that each have at least 10 grams of protein per serving. Some are ready to be popped in your mouth, others are ready to be popped in the microwave. So whether you're looking to refuel in the morning in under 5 minutes, or even if you plan on eating your morning meal on the go, try out these protein-packed bites and then don't miss these 30 Breakfast Secrets For Weight Loss for continued a.m. success.
FlapJacked Strawberry Banana Protein Smoothie
Per 2 scoops: 160 calories, 1.5 g fat (0 g saturated fat), 50 mg sodium, 17 g carbs (1 g fiber, 15 g sugar), 20 g protein
When it comes to finding a powerful smoothie mix that is sure to keep you satiated, FlapJacked does it right. Made with Greek Yogurt, this flavor filled powder is fortified with flax and acai (two superfoods we go crazy for!) To gain a healthy dose of probiotics, omega-3's, and 20 percent of your daily recommended intake of calcium, all you have to do is throw two scoops of the smoothie mix into 8 ounces of muscle-building milk and shake this mess-free breakfast up. You'll stay full all morning, and you'll be out the door within minutes of mixing it all together. If you like cutting down on prep time, don't miss these 12 Easy, Healthy Breakfasts You Can Make The Night Before.
Good Food Made Simple Southwestern Veggie Breakfast Bowl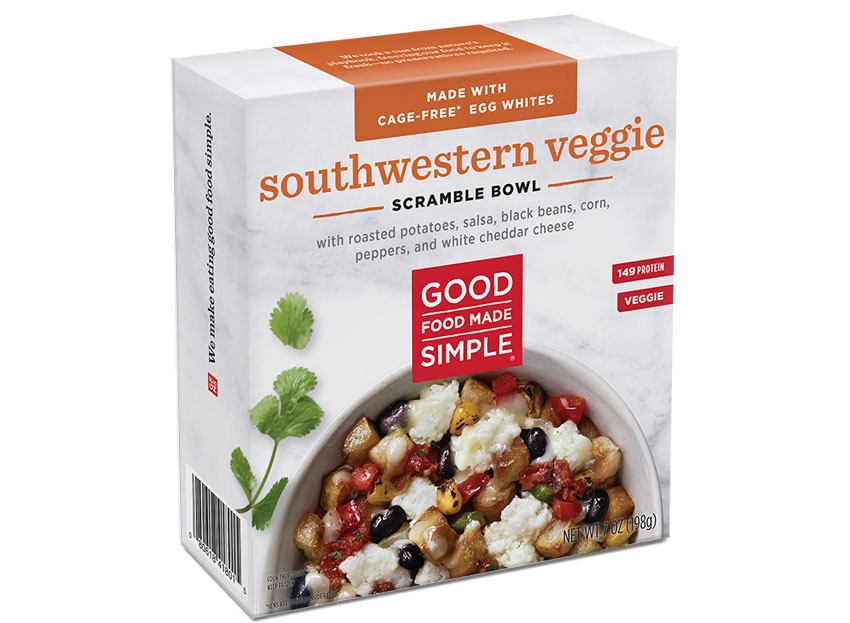 Per 1 Bowl: 190 calories, 7 g fat (4 g saturated fat), 490 mg sodium, 20 g carbs (3 g fiber, 3 g sugar), 14 g protein
We're not sure why, but everything seems a little bit better when served in a bowl. Good Food was onto something when they created this dish made from only natural ingredients, using organic vegetables and cage free eggs whites. By offering you a load of 14 grams of protein, this dish is sure to start your day on the right foot.
Per 1 Burrito: 270 calories, 8 g fat (1 g saturated fat), 540 mg sodium, 38 carbs (6 g fiber, 3 g sugar), 12 g protein
This vegetarian breakfast provides plenty of hunger-killing protein with the help of tofu and organic black beans — and it's a way better alternative than the one you may get at a drive-through. Save yourself the calories and chemicals. Amy's burrito has 12 grams of protein and 6 grams of fiber; competitors at Taco Bell have 8 times the fat and 60 percent more sodium!
Per 1 container: 100 calories, 0 g fat (0 g saturated fat), 55 mg sodium, 6 g carbs ( 0 g fiber, 3 g sugar), 17 g protein
There's a reason we rated Siggis #1 on our list of the best yogurts for weight loss. This Icelandic style yogurt contains less sugar than most yogurts on the market. It's delightful tart and semi-sweet taste packs you with a whopping 17 grams of protein. With an easy addition of colorful berries, like raspberries and blueberries, you're starting your day with plenty of fiber and protein!
ThinkThin Farmers Market Berry Crumble Single Serving Bowl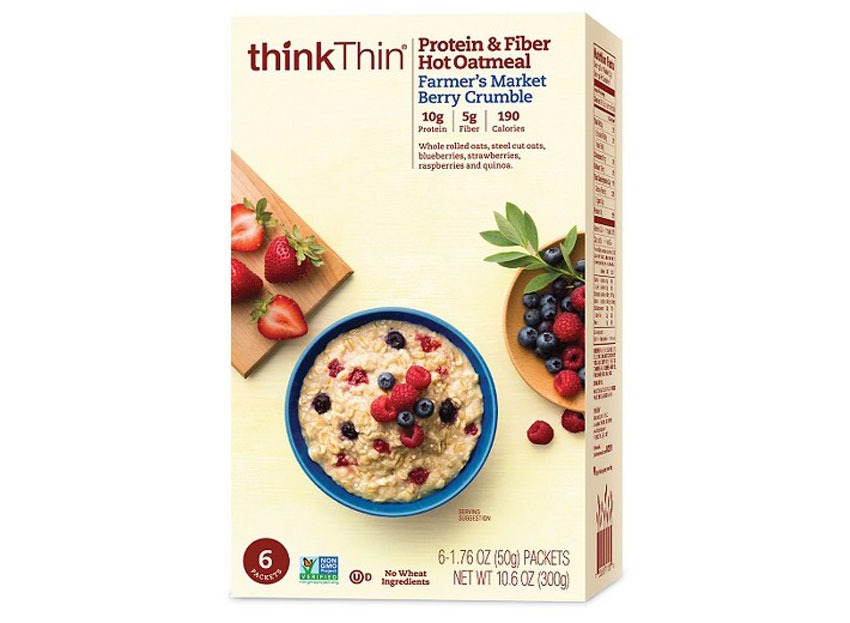 Per 1 container: 190 calories, 2 g fat (0 g saturated fat), 140 mg sodium, 33 g carb ( 5 g fiber, 10 g sugar), 10 g protein
Serving you 10 grams of protein, these microwavable breakfast bowls have just enough fiber and protein to keep your hunger at bay for the start of your morning. But to play it safe than sorry, add some nuts into the mix to boost protein count. Not only will this keep your hunger at bay, but the addition of crunchy nuts will enhance the texture of the creamy oatmeal.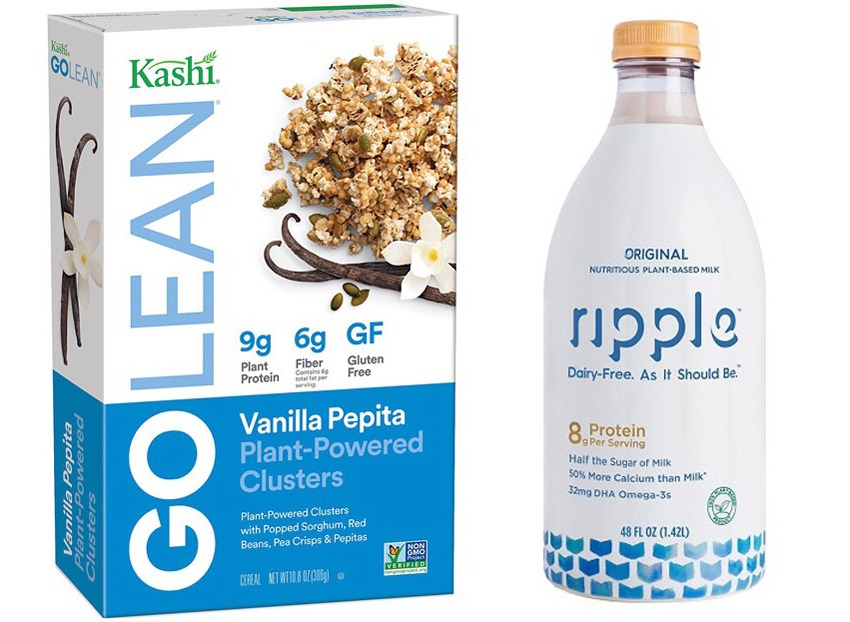 Kashi GoLean Clusters Cereal, Vanilla Pepita
Per 1 cup: 230 calories, 6 g fat (1 g saturated fat), 85 mg sodium, 37 g carbs (6 g fiber, 9 g sugar), 9 g protein
Ripple Original Nutritious Pea Milk
Per 8 fl oz, 1 cup: 100 calories, 4.5 g fat (0.5 g saturated fat), 130 mg sodium, 6 g carbs (n/a fiber, 6 g sugar), 8 g protein
It's rare to find a cereal to go crazy over. But Kashi's Vanilla Pepita Cereal does just that. Wondering why? The brand known to keep you "lean," uses sorghum as their first ingredient. Said to be "the next quinoa," this ancient grain is free of gluten and packed with fiber and protein. In fact, in just a ¼ cup the grain serves you 3.2 grams of fiber! Quinoa would serve you 0. We like pairing this cereal with a cup of protein-packed pea milk — the combo hits you with 17 grams of protein!
Ripple is a dairy-free alternative knocks its competitors right off the shelf. This pea-based milk is so protein packed, just one serving carries 8 grams of protein. One serving of cow's milk may do the same, but compared to other dairy-free alternatives this choice has 50 percent more calcium, way less saturated fat, and even uses 99 percent less water than dairy milk to produce a single carton!
Purely Elizabeth Cranberry Pumpkin Seed Ancient Grain Oatmeal Cup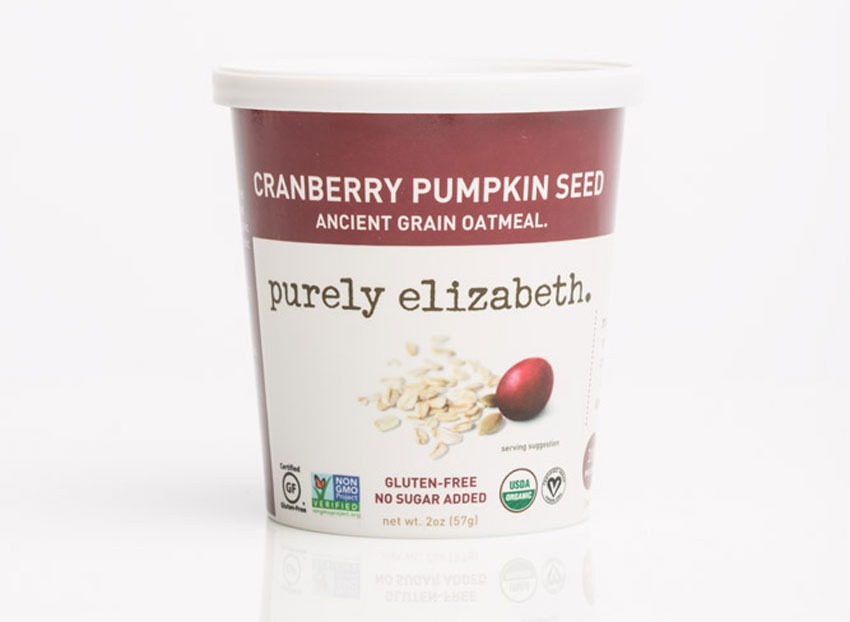 Per 1 serving: 230 calories, 6 g fat (1 g saturated fat), 0 mg sodium, 36 g carbs (7 g fiber, 3 g sugar), 10 g protein
Finding an instant oatmeal with a low-sugar content is always a struggle. But Purely Elizabeth put that hunt to rest. With only 3 grams of sugar, 7 grams of fiber, and 10 grams of protein this breakfast is a perfect option for when you're in a rush. Made with energy enhancing pumpkin seeds, blood sugar stabilizing chia seeds, and hunger-squashing quinoa you're sure to stay full and focused throughout your morning.
Amy's Breakfast Scramble Wrap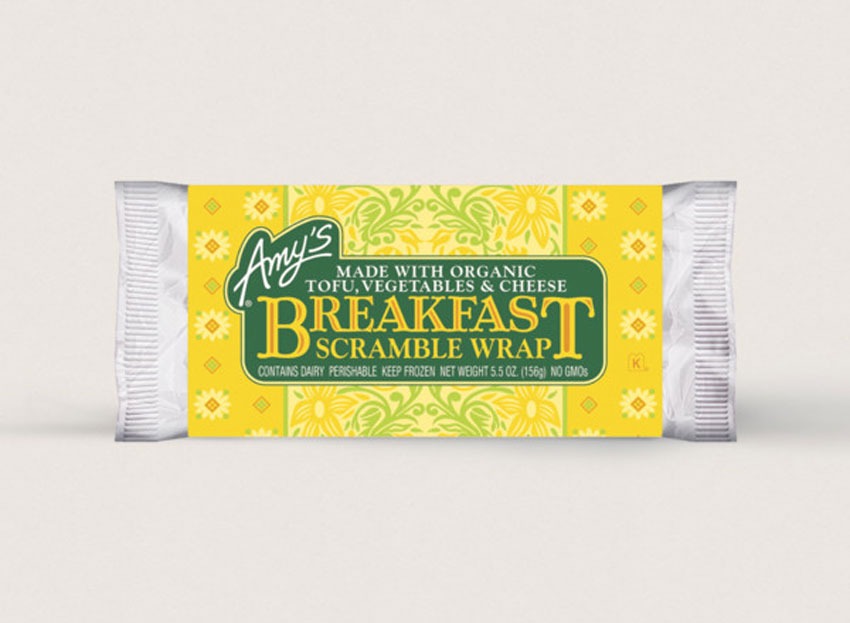 Per 1 Burrito: 380 calories, 19 g fat (4.5 g saturated fat), 490 mg sodium, 30 g carbs (4 g fiber, 1 g sugar), 21 g protein
A burrito is always a great idea for breakfast on the go. After a few short of minutes, you're able to dig into a savory dish packed with 21 grams of protein — that's more than three scrambled eggs! Added with cheese and veggies, your taste buds will go crazy over this breakfast style burrito.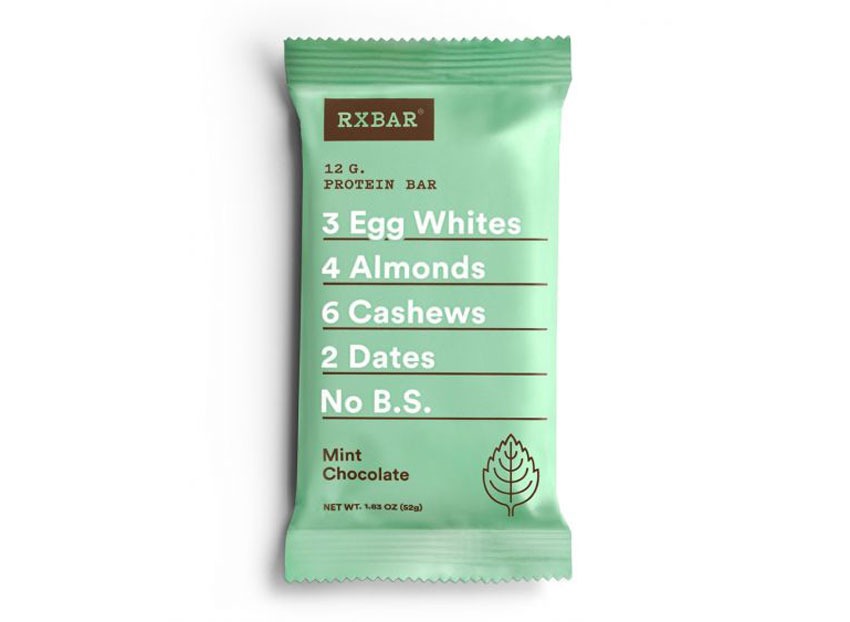 Per 1 bar: 210 calories, 9 g fat (2 g saturated fat), 200 mg sodium, 24 g carbs (6 g fiber, 14 g sugar), 12 g protein
RX bars happen to be one of our favorites when it comes to replacing a meal in just a few short bites. These nutritious bars are made with ingredients we can pronounce, better yet they are free of any protein powders, added sugars, or even preservatives. The label is right, with this bar, there's "no B.S." The deliciously sweet mint chocolate bar serves you a whopping 12 grams of protein, and tastes as good as a candy bar! Only this time you're eating 3 egg whites, 4 almonds, 6 cashews, and 2 dates — does it get any better than that in a bar!? We think, not.
Kashi Overnight Muesli, Cherry Cinnamon & Cardamon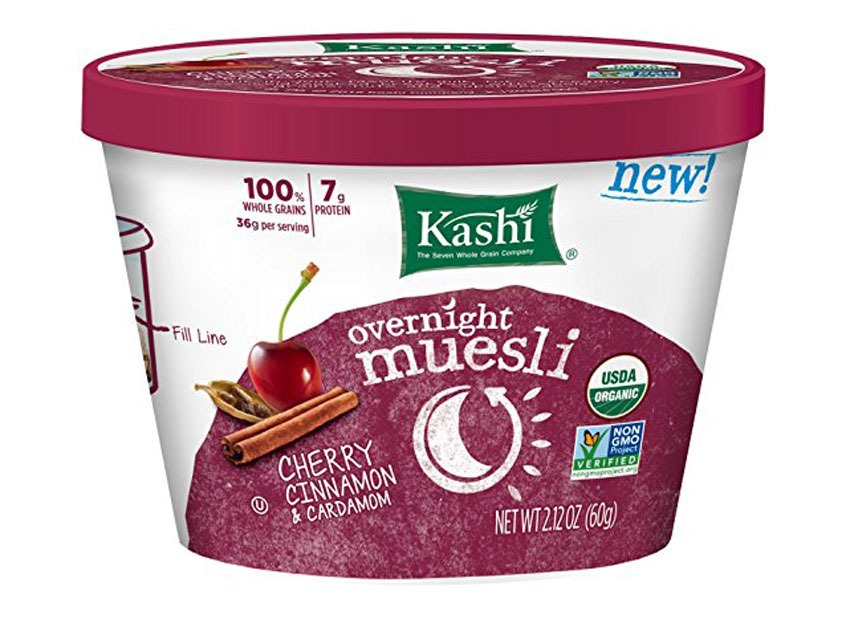 Per 1 serving: 220 calories, 6 g fat (0.5 g saturated), 70 mg sodium, 41 g carbs (8 g fiber, 9 g sugar), 7 g protein
To make this breakfast, all it takes is the simple addition of a cup of protein-packed milk the night before. Then, when you wake up, you have a fresh bowl of muesli ready to go in the package it came in. Yes, with no clean-up necessary, you can get nearly 15 grams of protein and 8 grams of fiber, sure to keep you full and focused throughout your busy morning!
Evol Lean & Fit: Chicken Apple Sausage, Egg White & Cheddar Breakfast Sandwich
Per 1 bar: 200 calories 6 g fat (2.5 g saturated fat), 490 mg sodium, 18 g carbs ( 2 g fiber, 2 g sugar), 16 g protein
The irresistible taste of a breakfast sandwich just got so much better in our book. Everyone loves a good sausage, egg, and cheese. Thanks to Evol, this sandwich alternative ensures a low-fat content by using chicken sausage compared to popular sandwiches made with pork. This lean and flavor-packed sandwich has less than half the calories and a quarter of the fat compared to McDonald's Sausage Egg McMuffin.
Good Culture Organic Cottage Cheese
6254a4d1642c605c54bf1cab17d50f1e
Per 1 container: 150 calories, 6 g fat (3.5 g saturated fat), 450 mg sodium, 4 g carbs (0 g fiber, 3 g sugar), 19 g protein
We love Good Culture Cottage cheese, that's because they make their dairy products with live and active cultures. This good-for-your-gut product is filled with 19 grams of muscle-defining protein and is kept low-cal.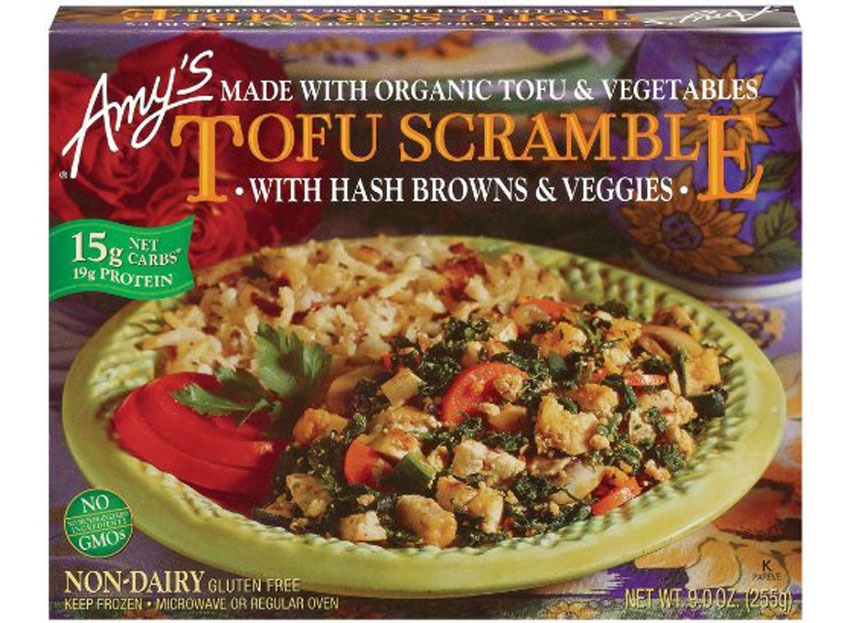 Per 1 container: 340 calories, 19 g fat (3 g saturated fat), 580 mg sodium, 19 carbs (4 g fiber, 4 g sugar) 22 g protein
This dish has more protein than any other on the list. Made with tofu, organic vegetables, and EVOO you're consuming a meal packed with protein, healthy fats, and an entire serving of vegetables. When it comes to eating a breakfast that you put very little thought into, It can't get much better than that!
Special K Portabella, Kale & Quinoa Quiche
Per 1 quiche: 130 calories, 8 g fat (3.5 g saturated fat), 500 mg sodium, 8 g carbs ( 2 g fiber, 2 g sugar), 10 g protein
Special K has done it again! And by it, we mean created a flat-belly-friendly dish that's sure to please your taste buds and make your day run even smoother. This crustless quiche is a lighter alternative to what you used to have for family brunch, and is filled with portabella mushrooms, quinoa, kale and delicious cheese! With little to no time to make an omelet, you can pop these in the microwave for 2 minutes and enjoy a protein-packed breakfast, without the hassle of cracking eggs, and carefully watching the stove. On top of eating protein-rich breakfast every day, here are an additional 40 Tips That Double Weight Loss.