Hilary Swank Is Fit, Gorgeous, and Pregnant at 48
This million dollar baby's fitness habits are clearly working!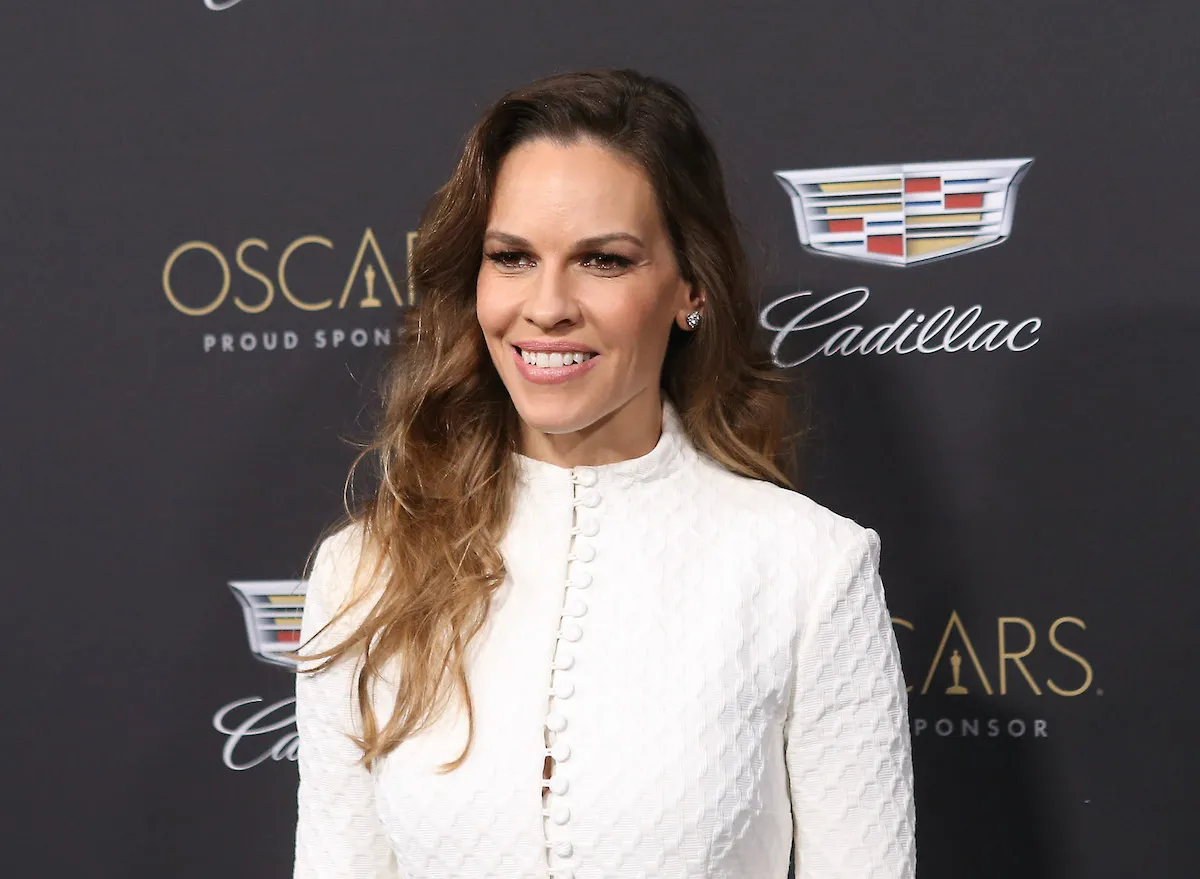 Hilary Swank is healthy, fit, gorgeous, and pregnant at 48 years old. The two-time Oscar winner tells Good Morning America of her pregnancy, "This is something that I've been wanting for a long time, and my next thing is I'm gonna be a mom!" She quickly adds, "and not just of one, but of two. I can't believe it. It's so nice to be able to talk about it and share it." The fitness and self-care habits of this million-dollar baby are clearly working! Read on to learn what they are.
Hilary Swank loves sharing #FitnessFriday content, complete with her rock climbing and kayaking skills.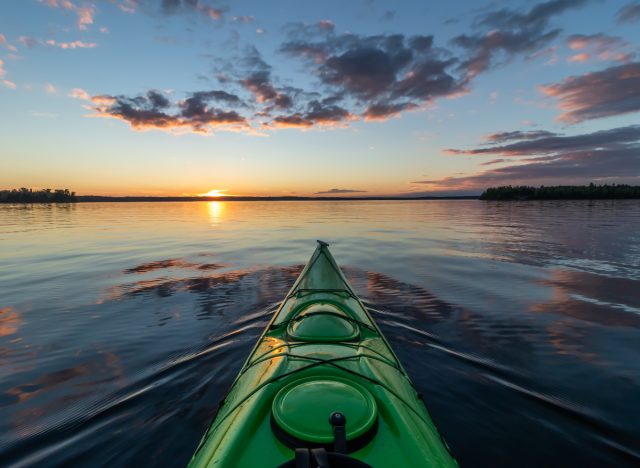 The adventurer, dog lover, philanthropist, and CEO shared a glowing video and huge smile with her 1.2M followers on Instagram, which she captioned, "Coming soon…DOUBLE feature!" Swank has also shared pics on the 'gram that show her healthy fitness habits. You'll see a #FitnessFriday video of the celeb performing an intense workout with a barbell. There's another impressive video of the star rock climbing and a clip of Swank kayaking with her pup. The "mother of twins to be" is very much into her overall wellness—and nature!
Related: This Chef's Just-under 100-Pound Weight Loss Journey Is So Inspiring
She enjoys hiking, taking meditative walks, and soaking up the great outdoors.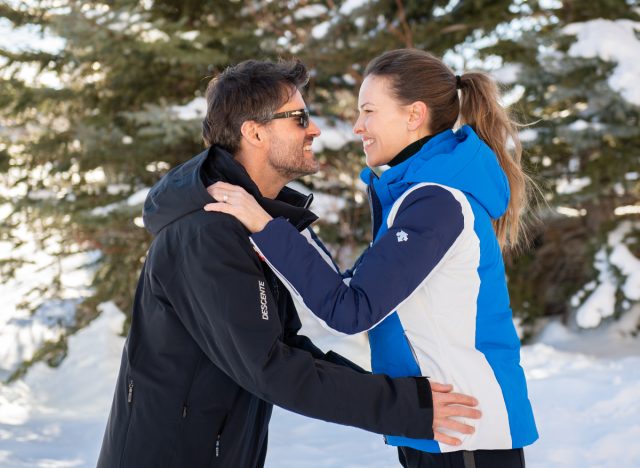 Hilary Swank grew up in the Northwest and finds embracing nature quite tranquil. "Hiking is part of relaxing to me, strangely, because it's a way to let my mind go," she reveals to Condé Nast Traveler. "I love walking through the big redwood trees where I grew up. And wherever I am, I try to find somewhere to smell the trees and flowers and bark and moss and rain… It's one of my biggest joys."
According to Yahoo Life's The Unwind, Swank thinks nothing of hopping into her off-road Ranger, complete with everything needed for a camping adventure, fresh air, outdoor activities, and meditative walks. She says it's great to "get outdoors and soak in nature and let it absorb any of the stuff you don't want anymore." The celeb also explains, "Nature to me is everything, and I have to have it. If I'm ever feeling a little off, I go back to that and it reminds me of those times. And it just reconnects you back to yourself, back to your breath."
Related: Mark Wahlberg, 51, Lives by These Fitness Habits
Working out is important to Swank; she's a fan of resistance training and power Pilates.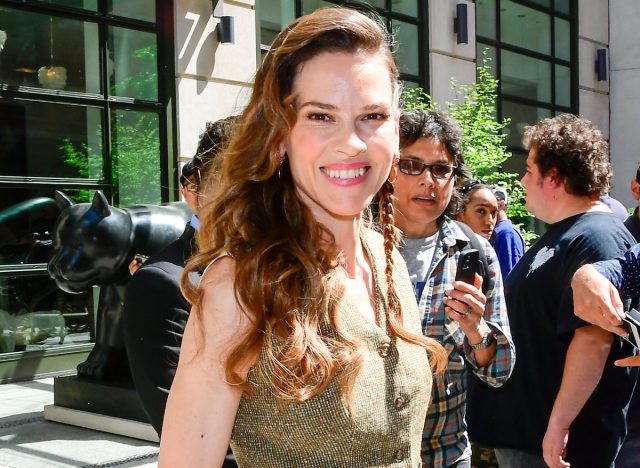 Working out is important to Swank and comes naturally to her. She explains to Repeller, "I grew up playing sports, so for me, exercise is like braiding hair. I was a gymnast, a swimmer, I played basketball. But swimming was really my thing."
Swank does resistance training so she can "stay flexible." She also gets some great exercise while hiking trails with her pooches and is a fan of power Pilates. "I really appreciate exercise because I think it's a great stress relief," she reveals, via PEOPLE. "I do this thing called power Pilates, which I love, love, love." She also admits that having great genes helps, saying, "I try and get out as much as I can, but I think in the end I really have to give it up to my genes."6254a4d1642c605c54bf1cab17d50f1e
Sunscreen and moisturizer are musts in this celeb's skincare routine.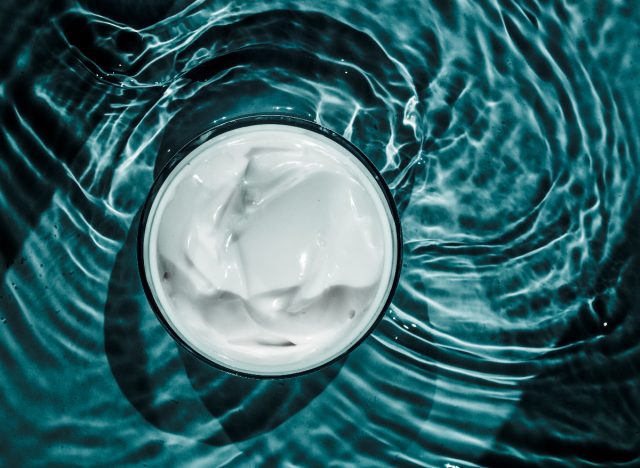 As far as makeup is concerned, Hilary Swank loves a natural look—and it's clear the look loves her back! She tells InStyle, "As you can see, I don't really wear a lot of makeup. Tonight I have some mascara on and some lipstick and a little blush, but I'm not big makeup wearer in general. I think it's super important in this day and age, when women are so trivialized and objectified, to really show the real when we can."
Swank keeps things pretty simple—but consistent—when it comes to her skincare routines. According to an interview with Repeller, she shares that her morning regimen is really quick. In fact, she only washes her face once per day, and it's at night. Every AM, she applies SPF 45 sunscreen, "even when it's raining," along with eye cream and moisturizer prior to her gym workout, hiking with her pups, or playing tennis, according to InStyle (via Women's Health).
Moisturizer is a must—especially when the star is traveling. She tells Coveteur, "It's super important to always keep moisturized. I feel really dry and dehydrated—especially on long flights," adding, "I'm constantly dabbing that on, and then using some type of rosewater spray to keep my skin hydrated."
It's quite clear that Hilary Swank is crushing the fitness and wellness game, and we can all take more than a few notes from her healthy habits. Keep an eye out for this celeb as she takes on the role of newspaper reporter Eileen Fitzgerald in the newly-debuted TV series, "Alaska Daily," streaming on ABC.
Alexa Mellardo
Alexa is the Mind + Body Deputy Editor of Eat This, Not That!, overseeing the M+B channel and delivering compelling fitness, wellness, and self-care topics to readers.
Read more about Alexa