This Chef's Just-under 100-Pound Weight Loss Journey Is So Inspiring
This substantial weight loss deserves a round of applause.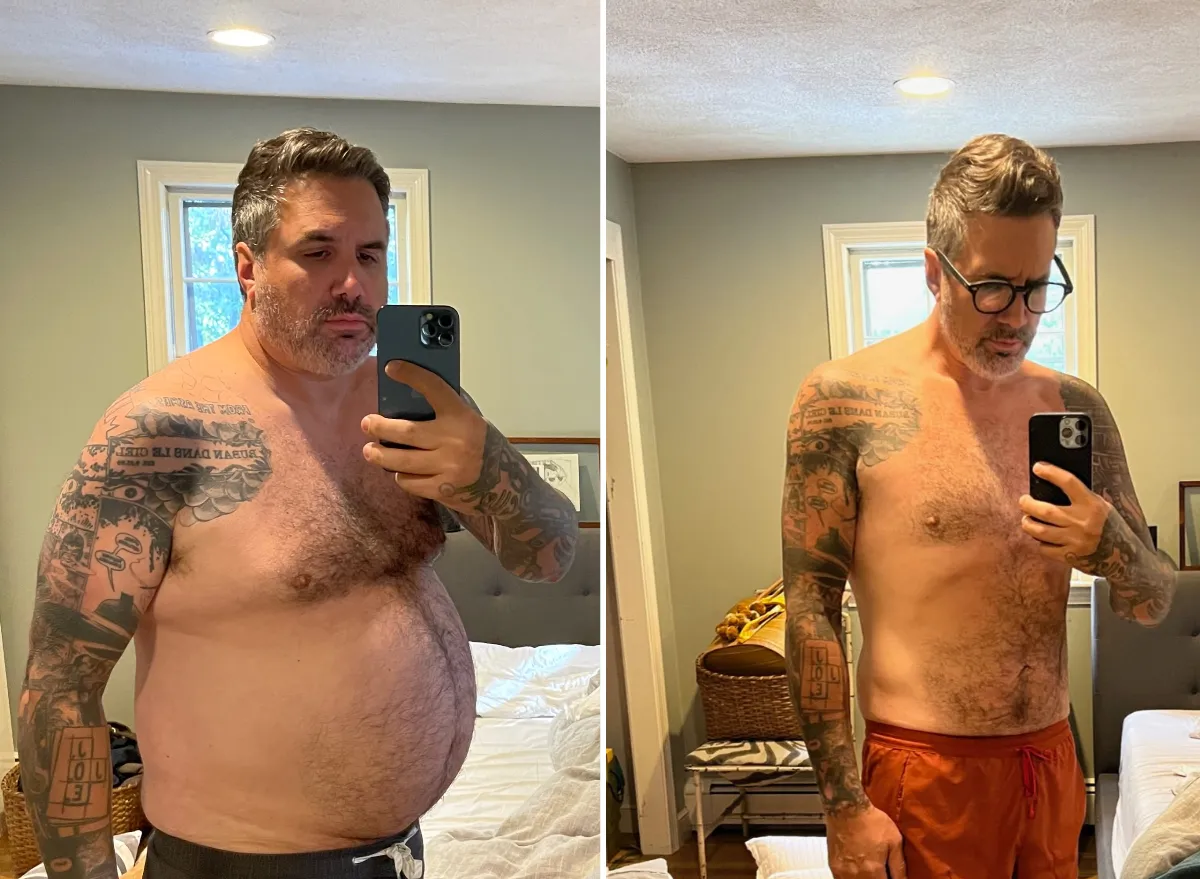 Whether you call Boston home sweet home or consider yourself a passionate foodie (or both!), you may know of Michael Scelfo. This proud father and Boston-based chef owns internationally acclaimed restaurants, including Waypoint, The Longfellow Bar, and Alden & Harlow. Scelfo has also been featured in Food & Wine's "Best New Restaurants," Condé Nast Traveler's "Best Restaurants in the World," and Bon Appétit's "America's Best New Restaurants." Recently, Scelfo has taken his family, friends, and fans through an inspirational journey, documenting his just-under 100-pound weight loss transformation on Instagram.
If you're trying to lose a substantial amount of weight, but feel like nothing's doing the trick, or you need a solid dose of motivation to get back on track at the gym, we're here to share this chef's moving story with you. Keep reading to learn more about his just-under 100-pound weight loss.
Scelfo took family, friends, and fans on Instagram through his inspiring weight loss journey.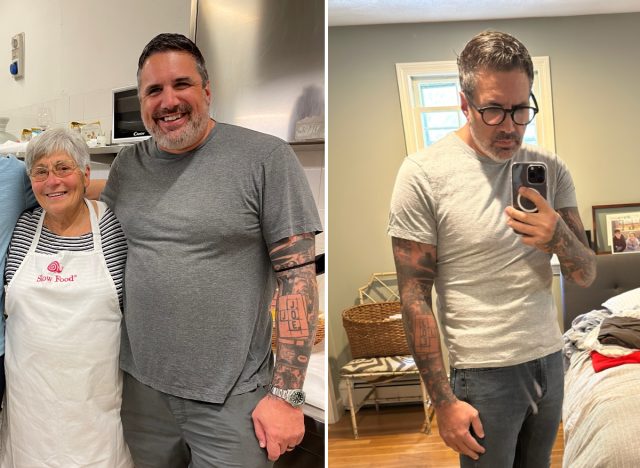 Four weeks ago, Scelfo posted side-by-side shirtless photos of himself on Instagram, writing, "85 pounds, 306 days ago. focus, determination, willpower, perspective, healing." Most recently, on September 21, the chef posted another comparison before and after he dropped almost 100 pounds, captioning his post, "A little mid week motivation for us, just over a year ago, and almost 100 pounds heavier. I've started adding some daily physical routine to the diet (walking, planks, etc), nothing too crazy, but it's adding another dimension and another layer for me to latch on to. Doing what works for me, in the hopes you'll do the same. Gonna hit you with some healthy turkey stuffed peppers on the reel soon too. Keep at it! LFG."
We had the opportunity to speak with Scelfo, and he shares exactly what his routine consisted of to lose almost 100 pounds.
Related: This Man's 30-Pound Weight Loss Has Him Feeling Younger Than 50
His exercise mostly consisted of walking.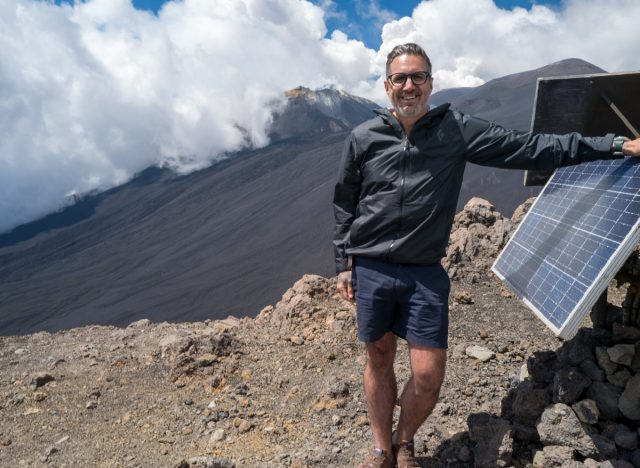 With a history of heart issues within his family, Scelfo was motivated to begin his weight loss journey. "My blood pressure was becoming a problem, and emotionally, I was at the bottom and really needed a life change," he shares.
How did Scelfo accomplish his just-under 100-pound weight loss? His exercise consisted mostly of walking, saying, "I really wanted to make changes that felt comfortable and sustainable to who I am. As time has gone on, and I've been motivated by results, I've added more physicality to the routine because I want to add levels now."
Related: The #1 Machine Workout To Shrink Belly Fat and Slow Aging
His diet is protein-forward, with lots of veggies, certain fruits, and minimal dairy.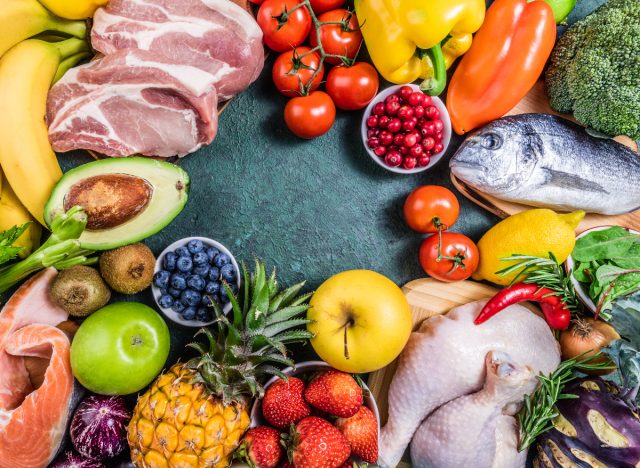 As far as nutrition is concerned, Scelfo followed a "very regimented diet." Now that he's lost a substantial amount of weight, he occasionally indulges "modestly" on weekends. On an everyday basis, he maintains a strict diet, keeping his calories to about 1,500. That number is reevaluated consistently based on his doctor's feedback. Scelfo tells us, "It's very protein-forward, tons of veggies, and a bit of certain fruits. Generally, it's no sugar, carbs, oils, and fats and very minimal dairy."6254a4d1642c605c54bf1cab17d50f1e
He went from 279 to 189 pounds, dropping a substantial amount of weight.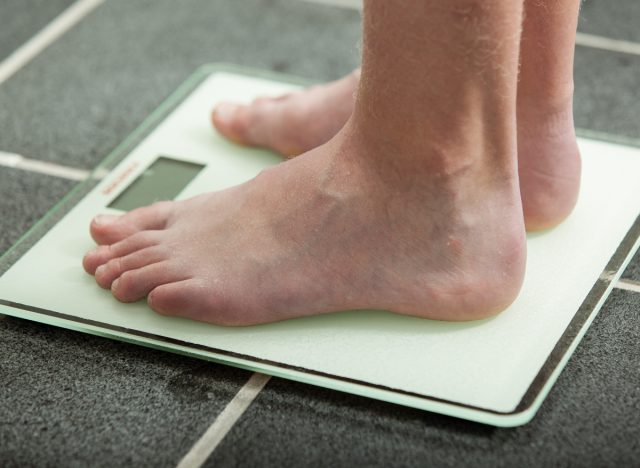 This chef's goal was to drop 50 pounds within six months, then hit 190 on the scale, which he accomplished four months after. Now, Scelfo is focusing on tightening things up and developing his muscles. He weighed 279 pounds when he first started his weight loss journey and is currently 189 pounds.
This weight loss journey has been life-changing for Scelfo; his motivation and positivity have increased dramatically.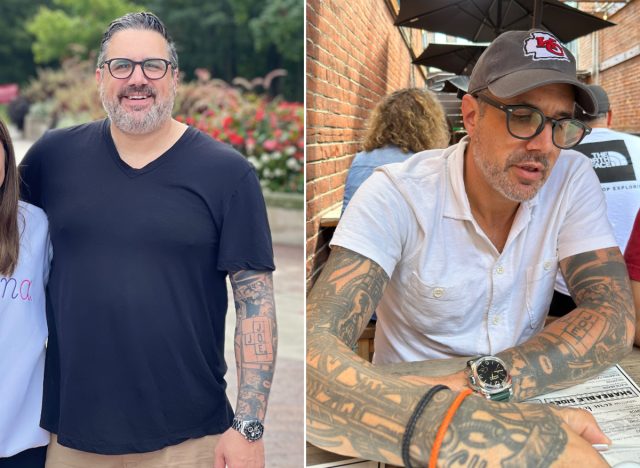 Scelfo reveals the journey has been life-changing in many ways. His motivation and positivity have increased dramatically, and he's able to breathe so much better.
He shares advice for others who hope to lose a significant amount of weight or simply kickstart their fitness journey, "I would just say, at the risk of being cliche, that you just really have to commit and believe in yourself. You really have to find the bottom in a lot of ways before you can truly make a change. At least for me that's what happened. And that's different for everyone. The thing I tell people the most is that 'it feels good to feel good,' and that's about so much more than weight."
Alexa Mellardo
Alexa is the Mind + Body Deputy Editor of Eat This, Not That!, overseeing the M+B channel and delivering compelling fitness, wellness, and self-care topics to readers.
Read more about Alexa