I Tried 4 Pairs of HOKA Sneakers & One Beats the Rest By a Mile
I tested out the colorful sneakers everyone's obsessed with—here's my honest review.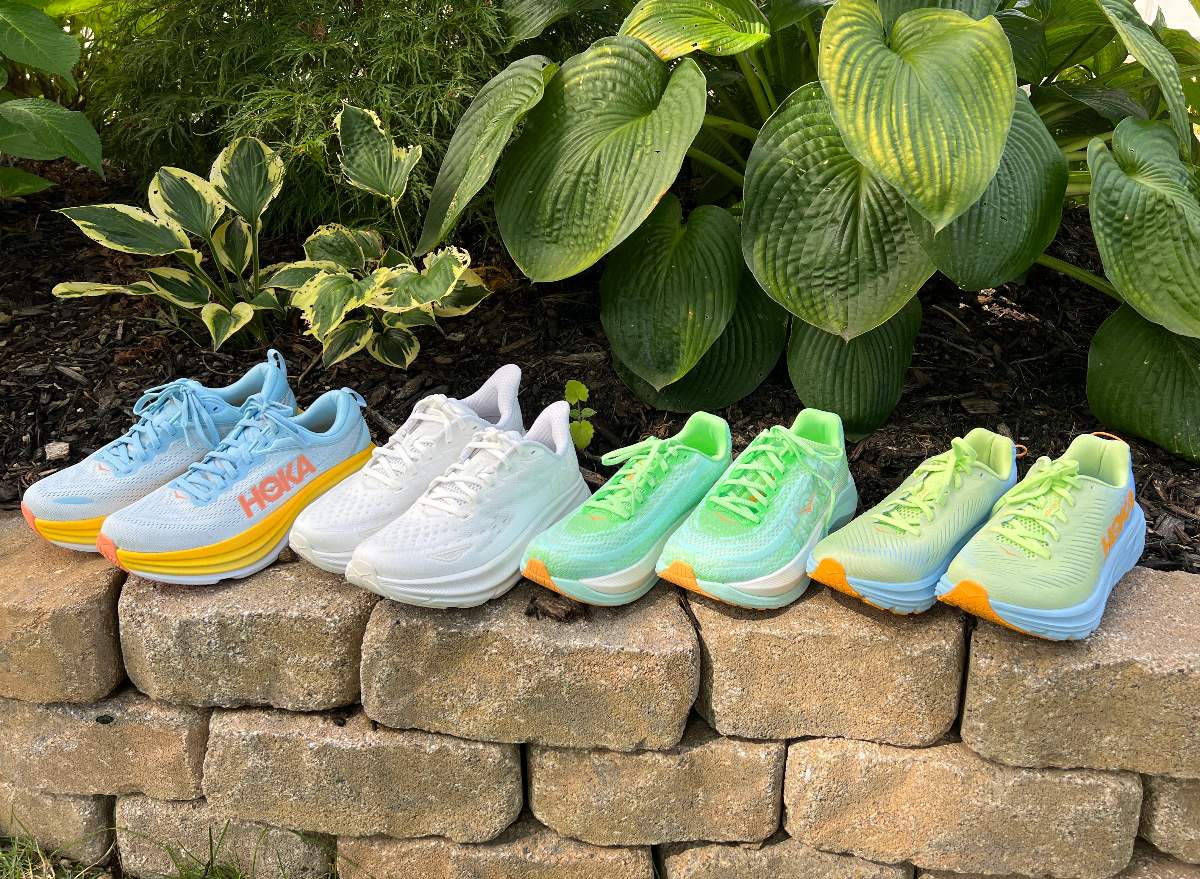 The product recommendations in this post are recommendations by the writer and/or expert(s) interviewed and do not contain affiliate links. Meaning: If you use these links to buy something, we will not earn a commission.
If you're always on the lookout for fresh new kicks to upgrade your workout attire, you've likely stumbled upon the trendy sneaker brand known as HOKA. Everyone's obsessed with the company's colorful sneakers, which are taking over TikTok and beyond—and for good reason. I spent a month testing out four sneaker styles (courtesy of the brand), and found that one pair was the clear winner. But before we get into my review of HOKA's sneakers, let's talk a little bit about this hyped-up sneaker brand.
The Backstory: What makes HOKA sneakers special?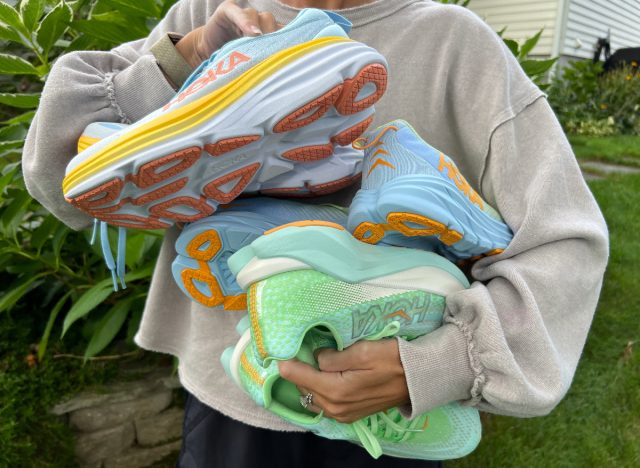 Of all the sneaker brands to choose from, influencers and serious runners alike have flocked to HOKA in recent years, but why, exactly? It's a valid question—and one I found myself asking as well. So naturally, in the course of my testing, I also did some research.
Per HOKA's website, the brand was born out of a vision to create a sneaker that could "let people fly down mountains." The goal was to construct running shoes that wouldn't cause wear and tear on the body while remaining "world-class fast." HOKA originated in the French Alps, and the word itself means to fly or soar, which seems to align with its mission. The sneakers are beloved for their uniquely thick midsoles that offer a ton of cushioning, whether you're walking or running.
HOKA's website also asserts that every style is designed to provide the wearer with a certain experience: Hikers can be more comfortable, marathoners can be faster, and trail runners will have confidence with every stride, they claim.
Additionally, the brand's shoes feature a curved "Meta-Rocker," designed to prevent the athlete from landing flat on their feet. The curve assists in thrusting you forward while providing each step "the right boost of propulsion at just the right time, for a ride that's always smooth—no matter the pace."
Another reason some people gravitate toward HOKA is that it's planet-friendly. More than 97% of the brand's footwear is made with a minimum of one "preferred material," which means a renewed, recycled, or naturally sourced material. The brand proudly emphasizes that its efforts to recycle paper have rescued more than 802,000 trees in the past seven years.
The Methodology: How I rated the best HOKA sneakers
As a fitness editor, I was pretty excited to test out four different styles of HOKA sneakers during my walks and workouts. My ratings were based on a combination of cushioning, overall comfort, performance, and style. For this review, I tried the Clifton 9, Mach X, Rincon 3, and Bondi 8. Read on for my full assessment of each pair, ranked from my least favorite to the best.
My HOKA Reviews:
Bondi 8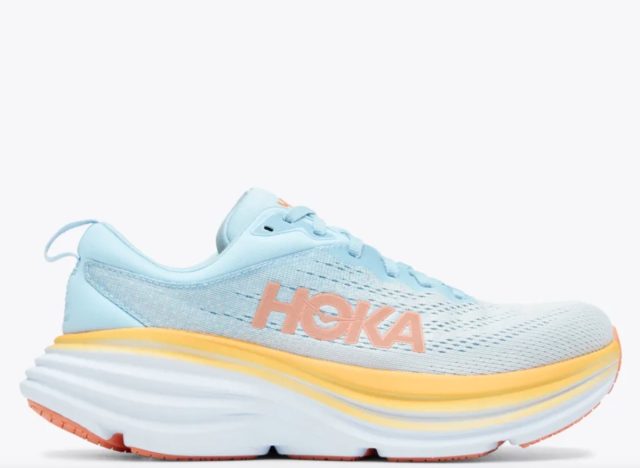 Highlights:
Offers the most cushioning
A great comfort shoe
Heaviest out of the bunch
Extensive color selection, with 20 options to choose from
Weight: 8.9 oz
Heel-to-toe drop: 4.0 mm
Let's first chat about the Bondi 8. Of the four styles I tried, this one provides the most cushioning. I could really feel the higher bed of plush cushioning in the Bondi 8's, which helps absorb impact. This shoe also offers a thick, cushioned tongue, which adds to the overall comfort.
This style is the heaviest out of the styles I tried, coming in at 8.9 oz. It's also definitely a "chunkier" shoe compared to the Rincon 3 and Mach X.
All in all, this shoe received an average of four and a half stars from other reviewers (and has the most reviews with over 5,000), and I found that it is an excellent choice if you're looking for comfort over anything. The only reason why the Bondi 8 is last in my ranking is it is the chunkiest style, and I have a very petite frame and narrow feet, so for smaller people, it may not be the best option.
Mach X
Highlights:
Sleek look
Propels you forward
Offers a "low-profile cushion bed"
Weight: 7.3 oz
Heel-to-toe drop: 5.0 mm
The Mach X is a shoe that's designated for everyday running and racing—which you can tell simply by looking at its sleek frame. The new version of the Mach X I tested out offers a layer of PEBA foam that's 34% more flexible than the Carbon X3 foam. It offers a "low-profile cushion bed," where your foot is close to the ground. Its firm material aids in a productive send-off for each stride.
I found the Mach X fits true to size, offers comfort and support, and is lightweight, which is a common theme among most of the styles. I enjoyed the feeling of being propelled forward with each step and stride. (The shoe has a propulsive Pebax® plate in it.) It was a relatively close call between this shoe and the next for my second slot, as I liked them both, but the Mach X takes third place, because the next pair proved to be a better running and walking shoe for me personally. (And keep in mind that if color is a deal-breaker for you, there are currently only four colors to choose from in this style.)
For what it's worth, reviewers noted this style is an excellent choice for a running shoe, with one giving the Mach X five stars and noting, "[They] improved my time from 9.34 mile to 9.27 mile on [the] same course."
Rincon 3
Highlights:
A lightweight, athletic option for daily jogs and runs
Airy and breathable
Extensive color selection, with 20 options to choose from
Weight: 7.2 oz
Heel-to-toe drop: 5.0 mm
The Rincon 3 is recommended for everyday runs along with races, so I laced mine up and took them on some runs. I was impressed with how lightweight and airy they felt with each stride, while still offering sufficient support and grip to the road. They are true to size and kept my feet snug in the shoe for the entire run. Although there is sufficient cushion, this style made me feel lower and more connected to the ground compared to the others I tested out.
I think the Rincon 3 could be a great running shoe option to consider for beginners and more advanced runners alike, and it's the second-best option of the four I tested. This style didn't feel as high and chunky as some of the others. Many reviewers note that they favor this pair for daily walking and running.6254a4d1642c605c54bf1cab17d50f1e
As far as style is concerned, I'm surprised to say my #1 "winner" below trumps the Rincon 3s. (Which I didn't initially think would be the case!) I also prefer a thicker, softer tongue to the thin asymmetrical tongue featured on the Rincon 3's. But if you're just looking to upgrade your running shoes, I wouldn't hesitate to choose the Rincon 3s.
The Winner: Clifton 9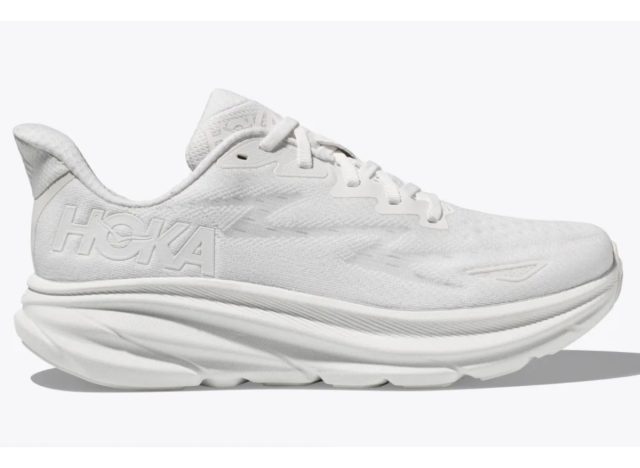 Highlights:
An ideal walking shoe
Cushioning is a 10/10
A bit "chunky," but not too overpowering for my small frame
Weight: 7.3 oz
Heel-to-toe drop: 5.0 mm
Drumroll, please! The winner of this test is the Clifton 9! This shoe has a reputation for offering more cushion (3mm of stack height) and for being very lightweight (7.3 ounces), and that was confirmed by my experience. I wore my Clifton 9s on some walks and jogs, and this shoe offered the perfect amount of cushion for my feet—not too little and not too much. I even felt bouncy! And as previously mentioned, I prefer a thick, gusseted tongue, which is exactly what the Clifton 9s offer.
I can't overstate how much I liked the lightweight but sturdy construction. I was surprised that such a light sneaker could still offer adequate support and performance benefits.
As far as style points go, I'm a major fan of a whimsically colored shoe—which HOKA is well-known for—but I can't deny I love a classic white sneaker that goes with everything, and not all of the styles I tried offer an all-white option. And let's be honest: Everyone can use a staple white workout shoe in their fitness wardrobe. (If you're more into a fun color palette, though, the Clifton 9 offers 14 different colorways in addition to the all-white model.) Also, I wasn't sure if this style would look too "chunky" on my petite frame, but it did not.
Overall, the fabric breathes, it was a comfy fit (true to size) with peak cushioning, they looked great, and they were perfect for my brisk four-mile walks.
Alexa Mellardo
Alexa is the Mind + Body Deputy Editor of Eat This, Not That!, overseeing the M+B channel and delivering compelling fitness, wellness, and self-care topics to readers.
Read more about Alexa