12 Tastiest Homemade Coffee Drinks From a Nutritionist
Skip the PSL and make one of these tasty coffee drinks at home instead.
Starbucks' Pumpkin Spice Latte may reign supreme as the signature hot beverage of fall, but its nutrition profile isn't one to make you skip giddily through autumn leaves. A 16-ounce PSL provides 380 calories, more sugar than three Twinkies, and a startling 40% of your daily saturated fat. This is why making your very own homemade coffee drinks would likely be a much healthier option.
As a nutritionist, I'll happily drink the occasional PSL, but I'm always on the hunt for a satisfying hot drink that doesn't overdo it on sugar, calories, and unhealthy fats. I find that making my own comforting cup at home can usually let me keep all the fall feels—without the nutritional excesses. I recommend these lightened-up (but still super flavorful) homemade coffee drinks for sweater weather. And if you're looking for more healthy eating tips, check out our list of 21 Best Healthy Cooking Hacks of All Time.
Keto Bulletproof Coffee
For those on a low-carb diet, coffeeshop drinks can be a danger zone. Scale back on carbs with a keto-friendly bulletproof coffee. Creative flavor options like spiced brown butter with whipped coconut cream, mocha with coffee whipped cream, and orange cinnamon hot maca means you won't feel like you're missing out.
Get our recipe for Bulletproof Coffee Three Ways.
Whipped Coffee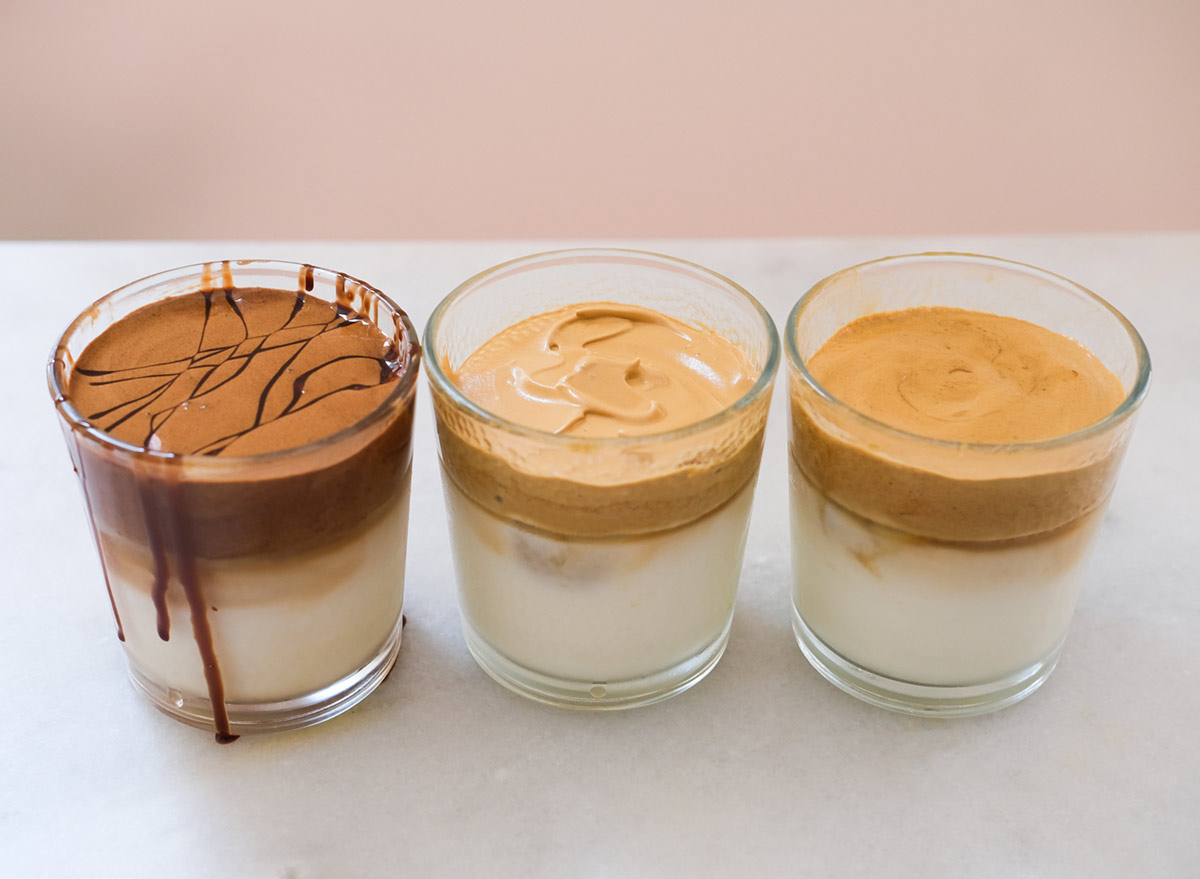 Even if you can't take a trip to Asia right now, a bit of frothy Korean-style whipped coffee isn't necessarily out of reach. This DIY version has a simple ingredient list that lets you mix and match your preferred flavor (cocoa, caramel, or vanilla). No whipped cream required!
Get our recipe for Whipped Coffee Three Ways.
Maple Almond Latte
Maple and almond are a flavor match made in heaven. Add coffee to the mix and you've got a trifecta of deliciousness! This maple almond latte comes together in just five minutes to get you out the door with something tasty and healthy in hand.
Get the recipe on A Love Letter to Food.
Cashew Coffee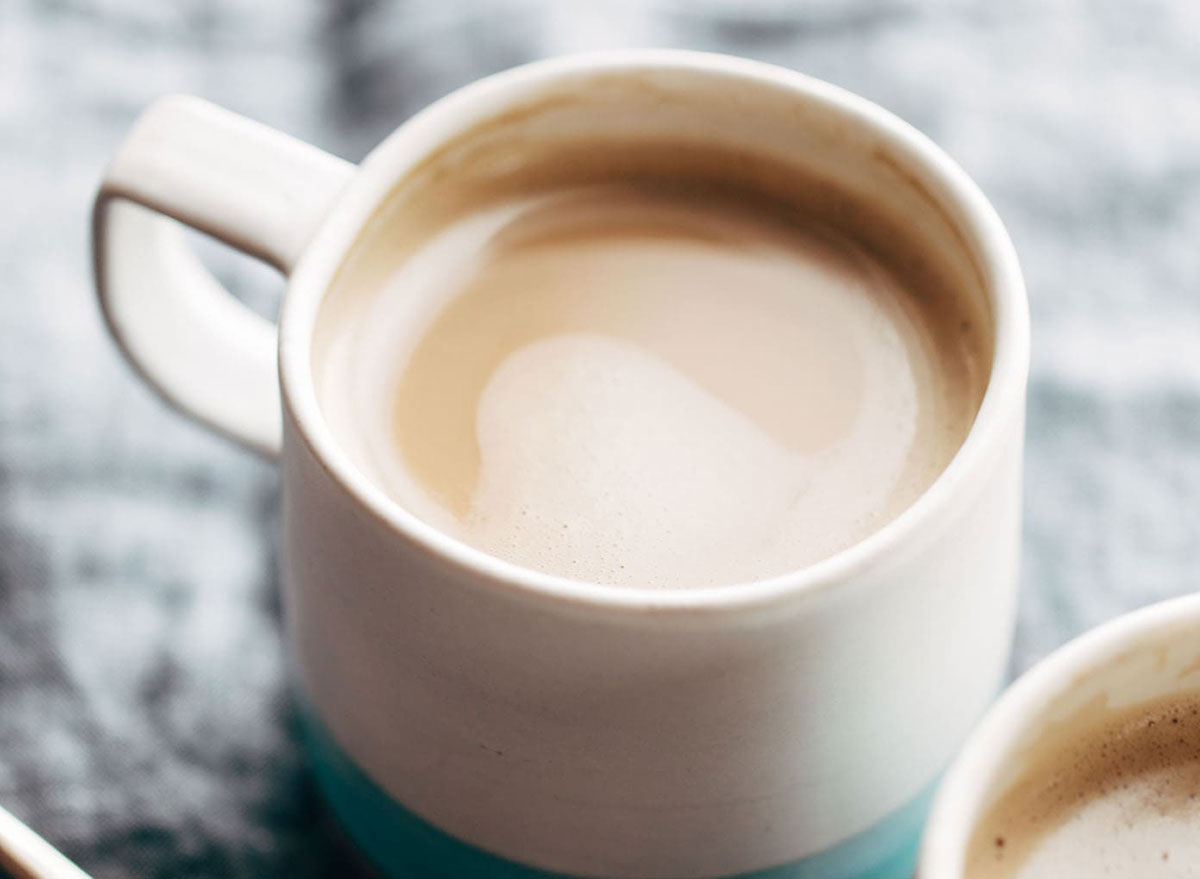 Cashews are a great source of plant-based protein and the mono- and polyunsaturated fats are known to boost heart health. Plus, the C-shaped nuts add creaminess to all sorts of recipes. Why not let them work their magic in coffee? In this easy beverage, you'll blend cashews right into your cup of joe. Add a drizzle of honey and a pinch of sea salt to round out the nutty flavor.
Get the recipe from Pinch of Yum.
Vegan Gingerbread Latte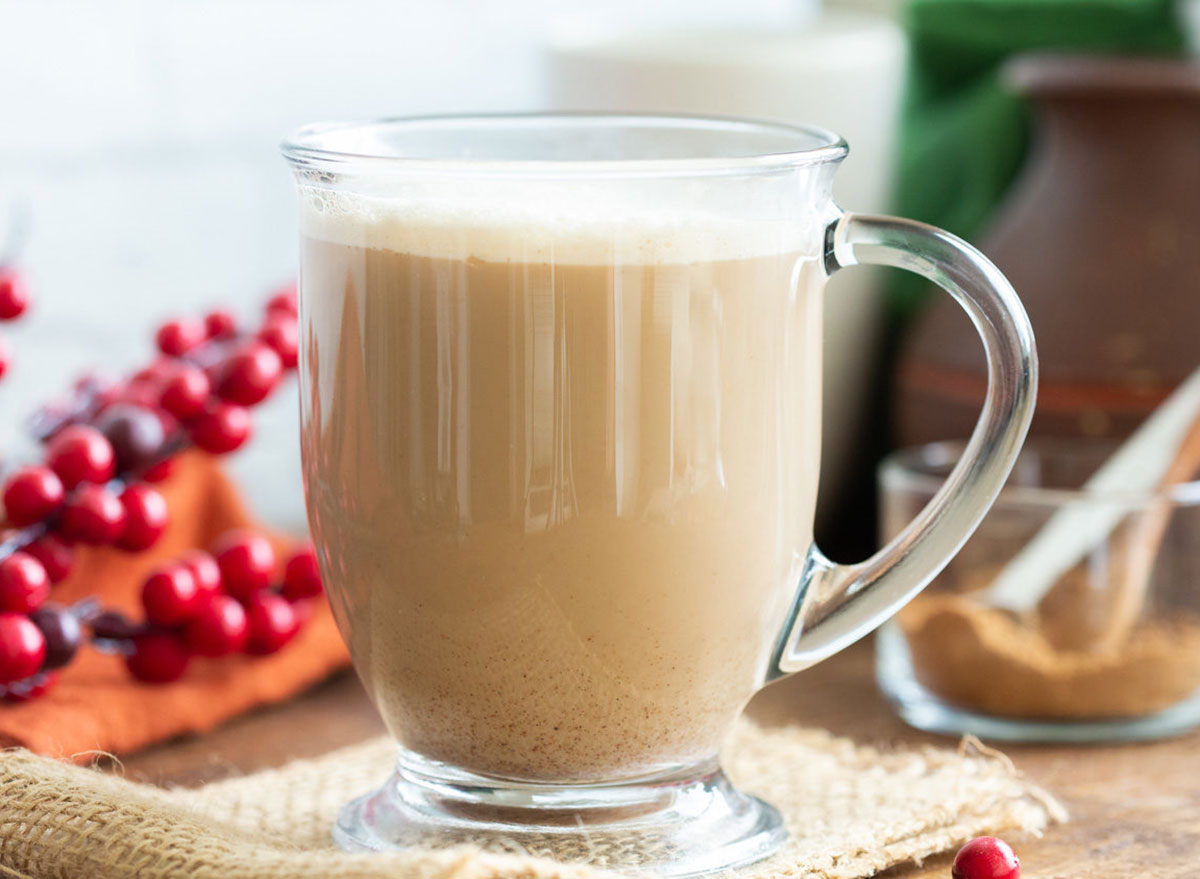 For a sweet treat, there's nothing like a warm gingerbread cookie—hence the popularity of gingerbread lattes. Make a low-calorie vegan version by using non-dairy milk. Then opt for molasses as a sweetener to amp up the authentic gingerbread taste. This recipe has just 52 calories per serving.6254a4d1642c605c54bf1cab17d50f1e
Get the recipe from Vegan Richa.
Simple Skinny Vanilla Latte
When you're really pressed for time, forget about standing in the Starbucks line. Make your own lightning-fast vanilla latte with instant coffee and just three additional ingredients. Stevia keeps sugars low in this tasty creation.
Get the recipe from Simple Green Moms.
Mocha Oat Milk Latte
For those who can't do dairy, oat milk is a pleasantly thick alternative to cow's milk—making it an ideal choice to put in your coffee. Plus, it's typically fortified with calcium and vitamin D so you don't fall short on micronutrients. This blogger's post offers four different ways to make a latte with oat milk, but the mocha version is my personal fave.
Get the recipe from The Healthy Maven.
Brûlée Caramel Coffee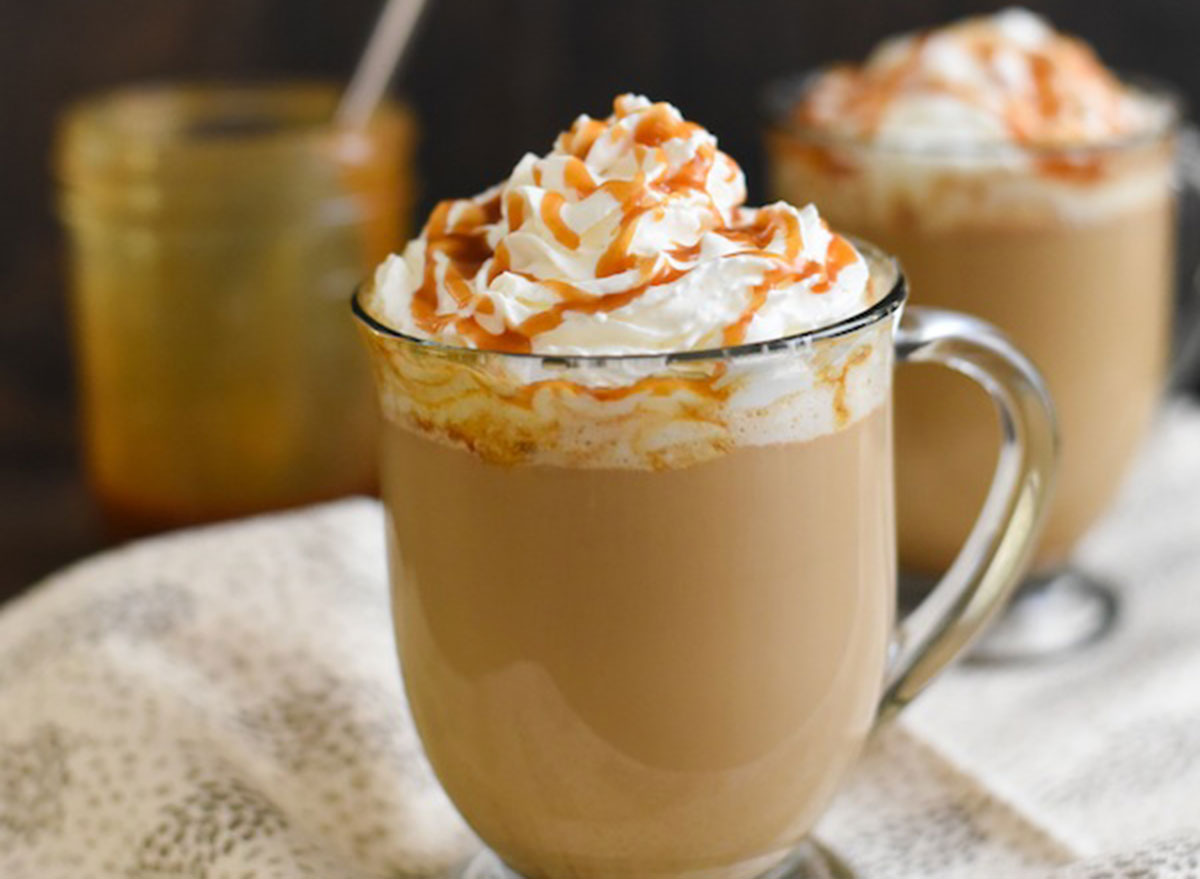 Caramel macchiatos are another best-loved Starbucks pick-me-up. But, like the PSL, their nutrition facts aren't so sweet. This homemade take on the classic comes in at 168 calories, 2 grams of saturated fat, and 25 grams of sugar–compared to a 16-ounce Starbucks version with 250 calories, 4.5 grams of saturated fat, and 33 grams of sugar.
Get the recipe from Foxes Love Lemons.
Cinnamon Dolce Latte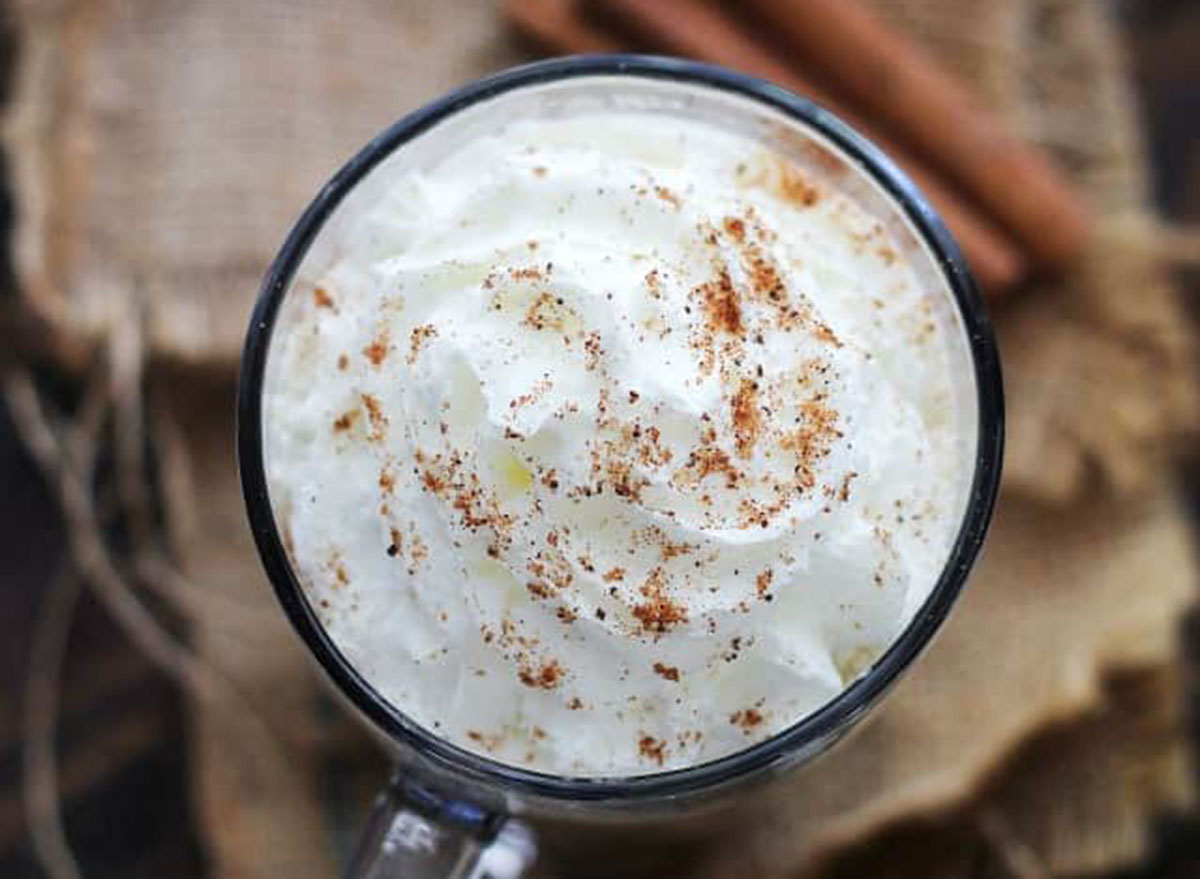 Turn to your spice cabinet for yet another healthified Starbucks copycat. For less than one-third the calories of the original, an at-home brew of cinnamon, espresso, and milk produces spot-on flavor. Bonus: You can make this one entirely in your microwave!
Get the recipe from Diethood.
Vanilla Lavender Latte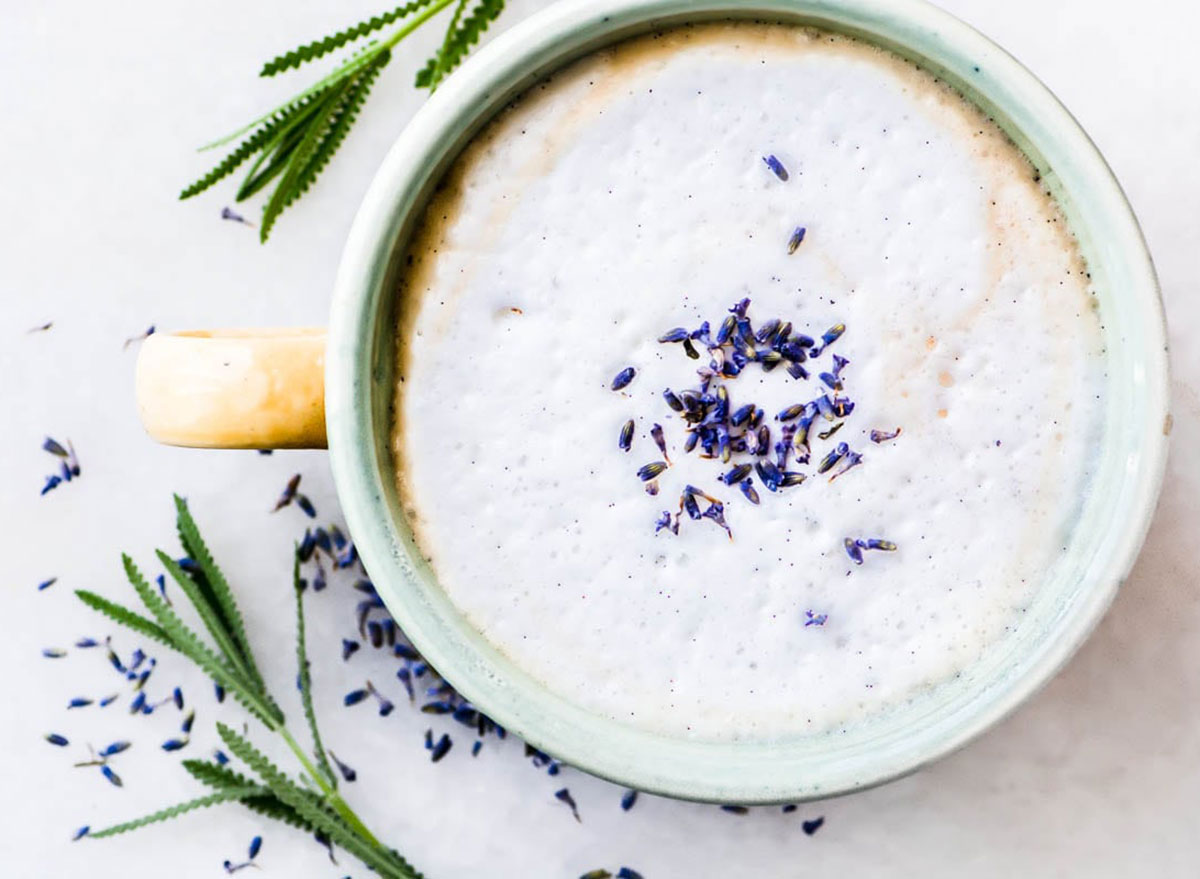 Start your day—or end your evening—with the soothing scent of lavender in your cup. Culinary-grade lavender brings its delightful scent and calming properties to this unusual low-fat latte. A scattering of purple buds on top completes the pretty, healthy picture.
Get the recipe from The View From Great Island.
Pumpkin Spice Latte
I'd be remiss if I didn't mention a couple of lighter DIY versions of Starbucks' pumpkin-y drink. This recipe uses real pumpkin for a boost of fiber and vitamin A, while brown sugar and pumpkin pie spice help recreate PSL's trademark spicy flavor. The finished product nets you just 180 calories—200 less than the original.
Get the recipe from Dietood.
Pumpkin Spice Oatmeal Latte
Last but not least, another homemade PSL—this time with a unique twist. For those who like oatmeal with their morning coffee, a pumpkin spice oatmeal latte marries the two into one hearty beverage. The soluble fiber you'll get from oats is known for improving heart health, and may keep you full all the way until lunch. Can you say the same for most mainstream coffee drinks?
Get the recipe from Half Baked Harvest.
Now that you have a few healthy coffee drinks to make, make sure to avoid these 7 Things You Should Never Add to Your Coffee.
Sarah Garone, NDTR
Sarah Garone, NDTR, is a registered nutrition and dietetic technician, and a health, nutrition, and food writer.
Read more about Sarah